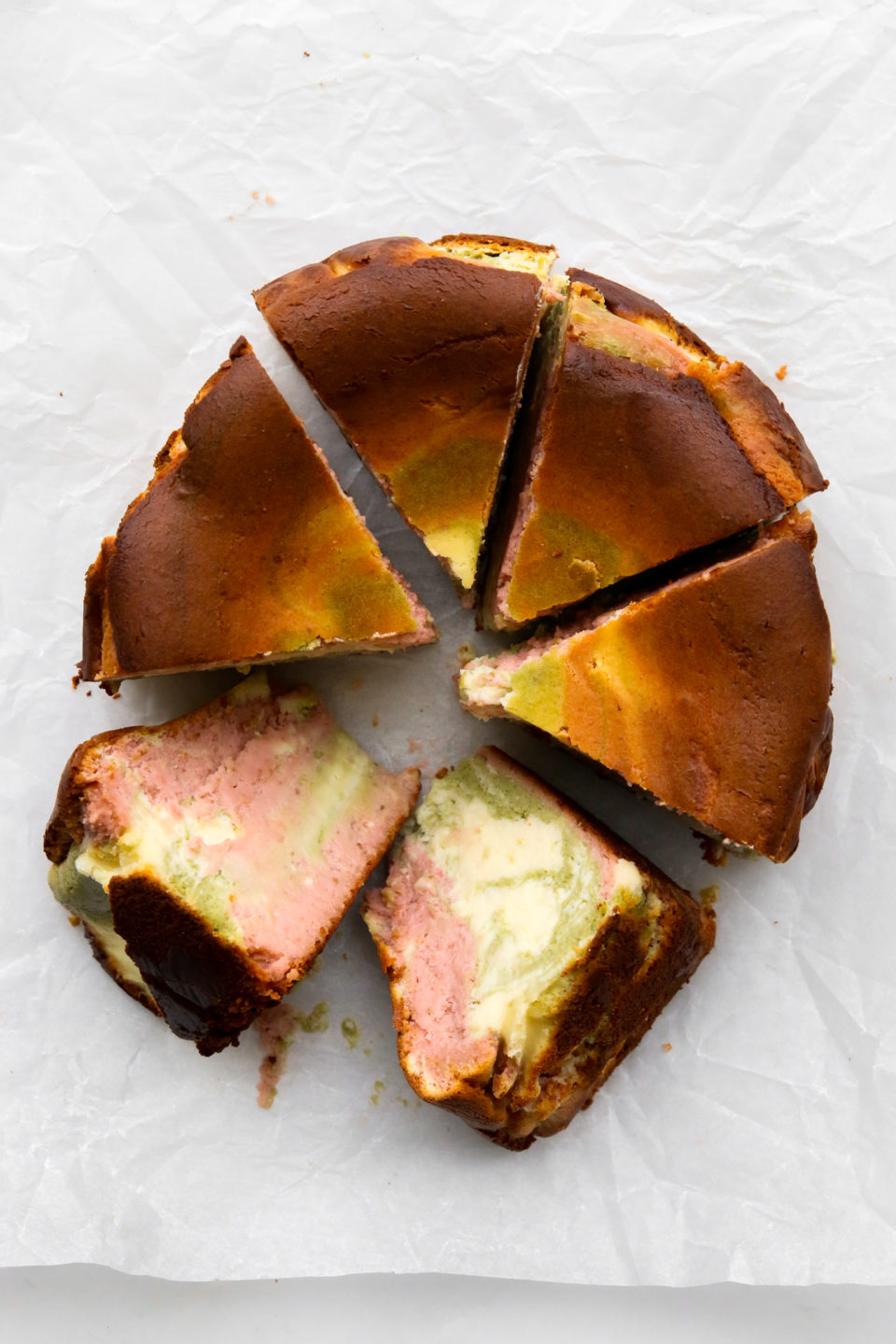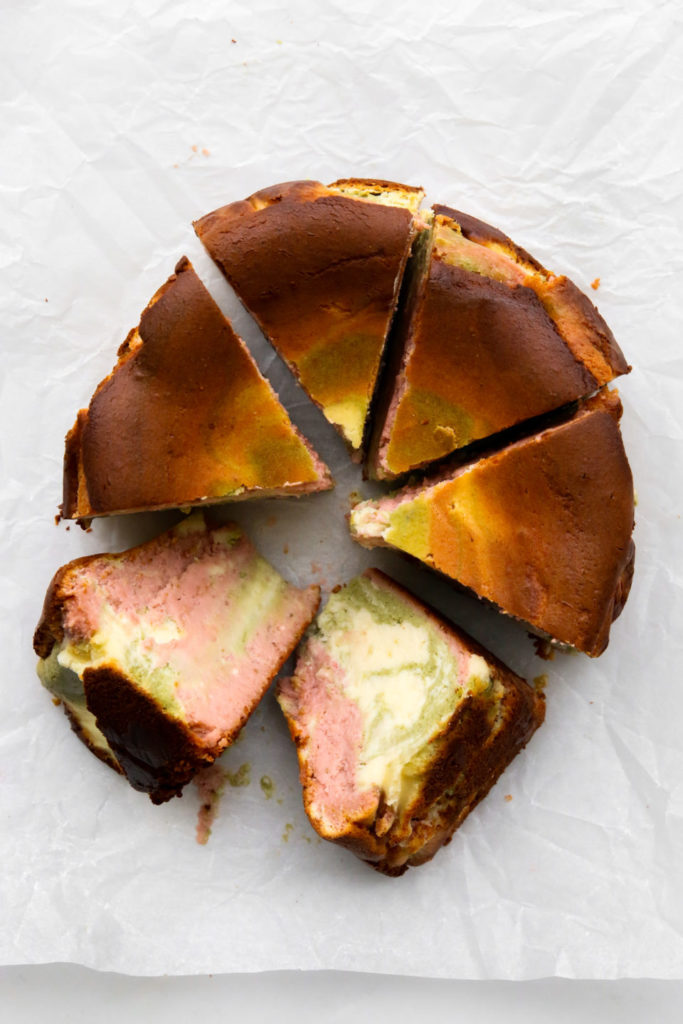 If you have been following along on Instagram for a while, you will be familiar with a matcha neapolitan basque cheesecake I started testing last year. There was a brief (read: two years) hiatus in between then and now because there was a cream cheese shortage and a girl can only test and consecutively eat so many cheesecakes in a period of time even though cheesecake is probably my favourite dessert. I feel like there was a big basque cheesecake phase back in 2020 when everyone all at once discovered this dessert and was making a basque cheesecake. I totally understand the frenzy though — a dramatic, cheesecake that is so smooth and luxurious in the centre contrasts its deeply golden and toasty top. What I love most about making a this specific style of cheesecake is that it doesn't have to look perfect. The edges are meant to be rough and irregular and no slice will look identical. Also unlike a traditional cheesecake recipe, a basque cheesecake doesn't require a water bath, which is one of the reasons why I don't make cheesecake more often despite loving it so much.
This cheesecake originates from the Basque region of Spain, and most recipes share a plain or vanilla version of the cake. Because I love anything with matcha and especially matcha neapolitan (yes, like my cookies!), I flavoured my basque cheesecake with matcha, strawberry, and vanilla. I swirled the three flavours much like how flavours and jams are swirled into a New York cheesecake. I used culinary grade matcha for the matcha component and freeze-dried strawberry powder for the strawberry component. The measurements I provide for these flavours are based on what I personally prefer — you can always add more matcha powder if you really enjoy the bitter, grassy notes of matcha and freeze-dried strawberry powder can be swapped with blueberry or raspberry powders if you like those berries more. The tangy berry flavour really brightens up the whole cheesecake.
A basque cheesecake comes together really easily but there are a few important things to remember when making it:

Cream cheese: the cream cheese must be at room temperature before you start making your cheesecake. If the cream cheese is colder than room temperature, the cream cheese won't fully incorporate with the sugar, resulting in lumps of cream cheese. Also make sure you scrape down the bowl while the cream cheese is being mixed with the sugar.

Heavy cream: heavy cream or heavy whipping cream is what makes the cheesecake extra creamy. Try and find heavy cream that has 36% milk fat. 33% cream will do in a pinch but do not substitute with anything less than that.

Baking time & temperature: I have made so many basque cheesecakes before sharing this post, mostly to test the bake time. I knew the temperature had to be higher than the usual baking temperature of 350F (like for cakes and cookies) to achieve the golden tops with a barely set, creamy centre. But it was the timing that threw me off. When baked for too long, it has the texture of a New York cheesecake (not a bad thing at all!!!) but we want something a bit softer than that for a basque cheesecake. I underbaked so many cheesecakes, where the filling completely oozed out which caused the cake to collapse. I After more cheesecakes than I can count, baking the cheesecake at 425F for 30 – 35 minutes was what created the ideal texture. If you like it a bit softer, take it out at 30 minutes.
Cooling time: please! allow! your! cheesecake! to! cool! completely! I was impatient a handful of times and didn't allow the cheesecake to fully come to room temperature before cutting it — complete chaos. The centre didn't have enough time to set and it was like cheesecake lava everywhere. The above bake time and temperature must be coupled cooling to achieve the perfect cheesecake.
Size of pan: most basque cheesecake recipes out there creates a 8-inch or 10-inch cake, but we use a 6-inch pan here and the baking time and temperature of the recipe is written for a 6-inch pan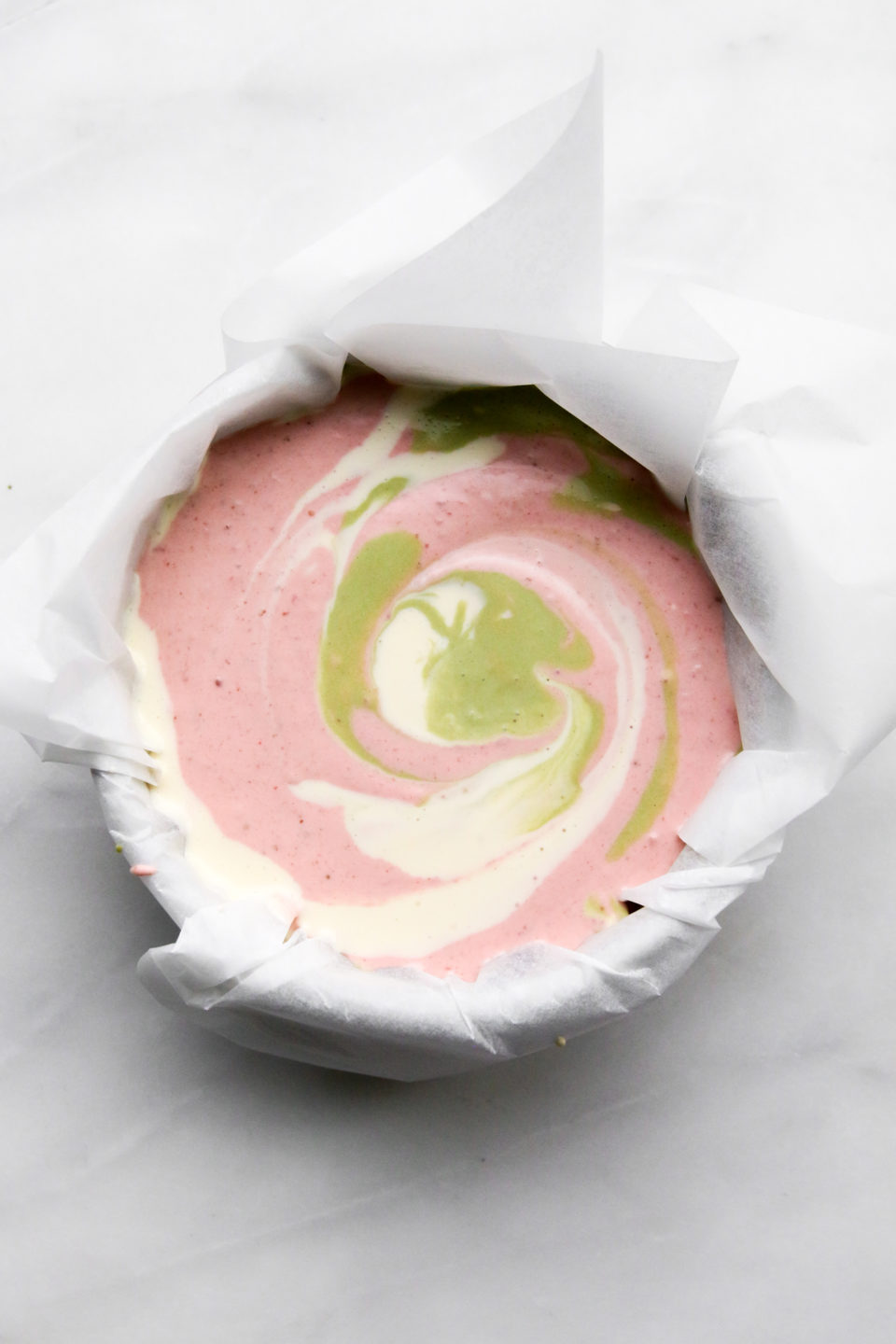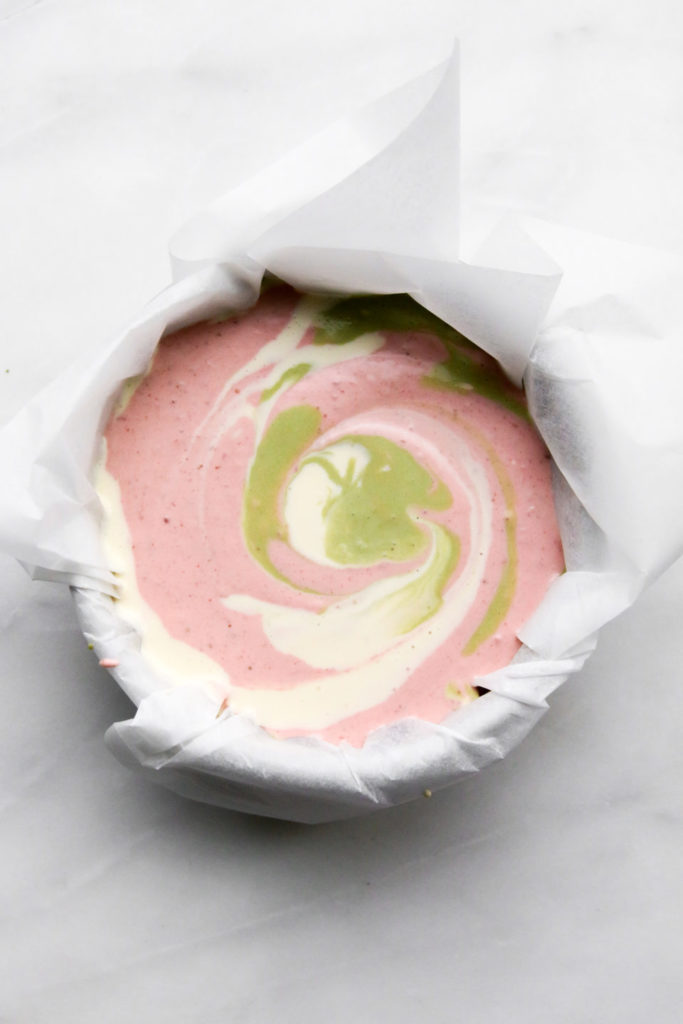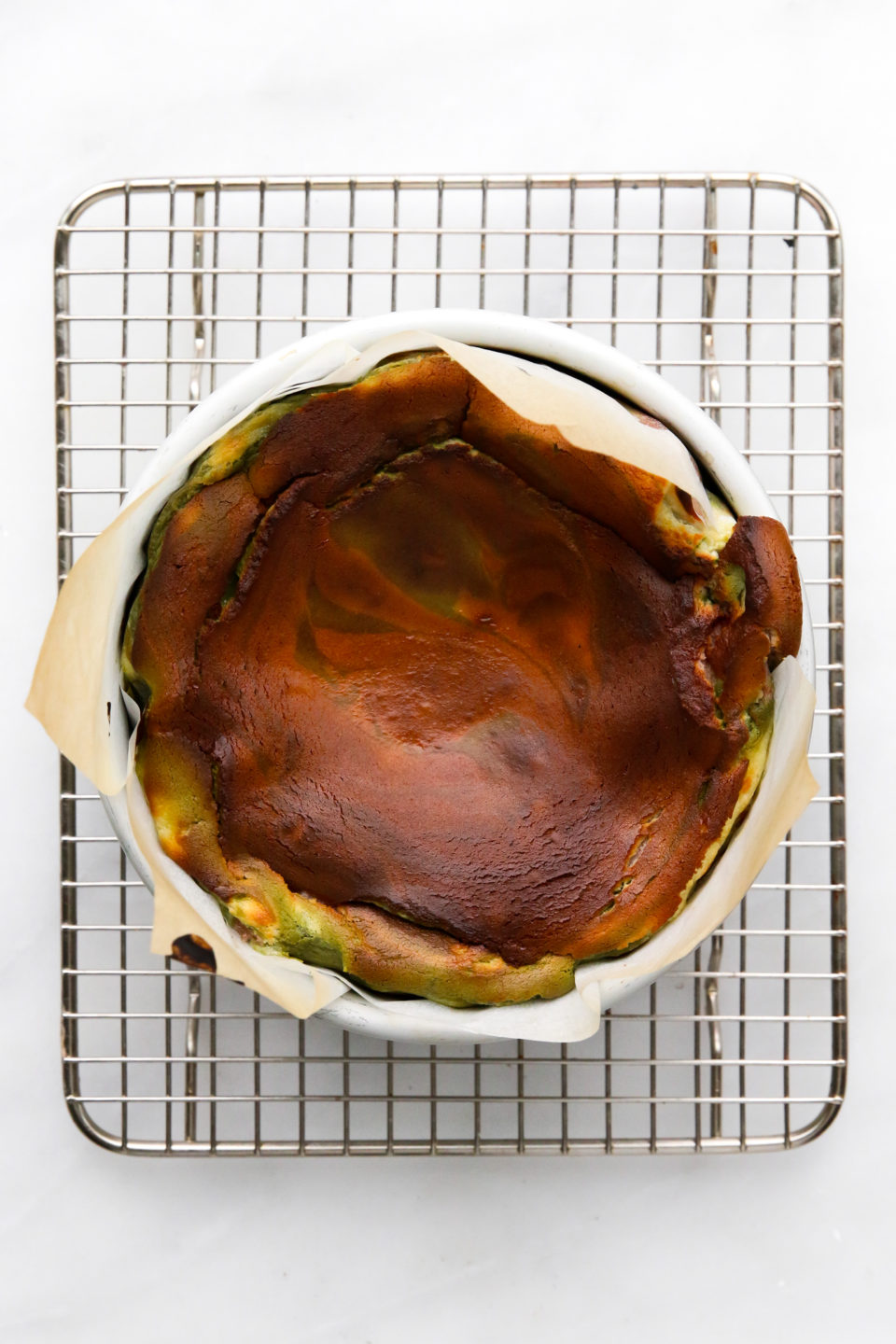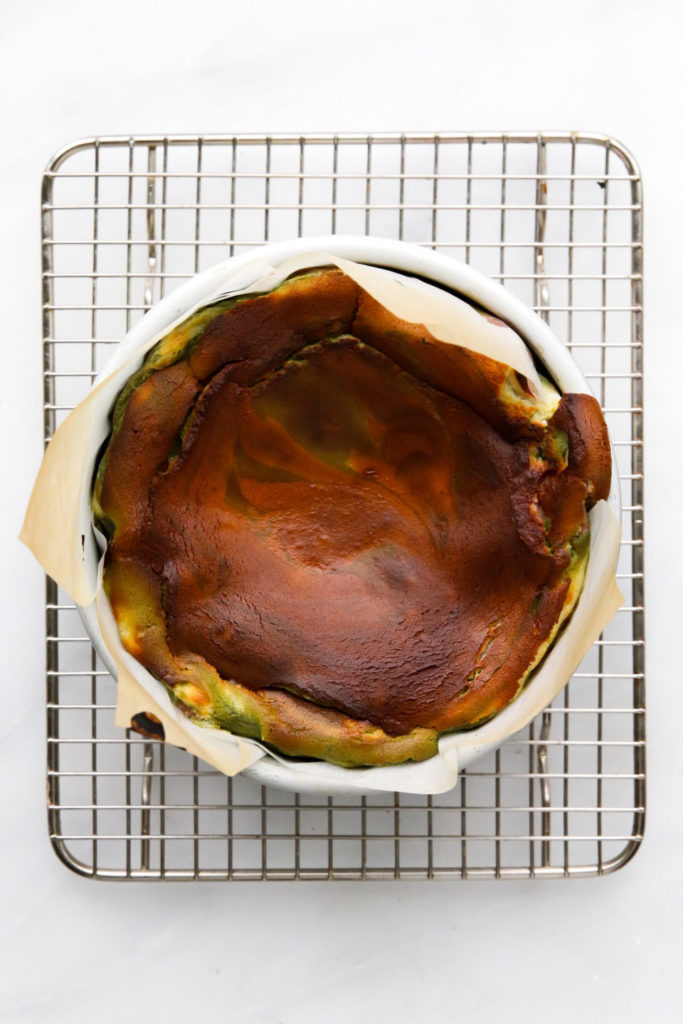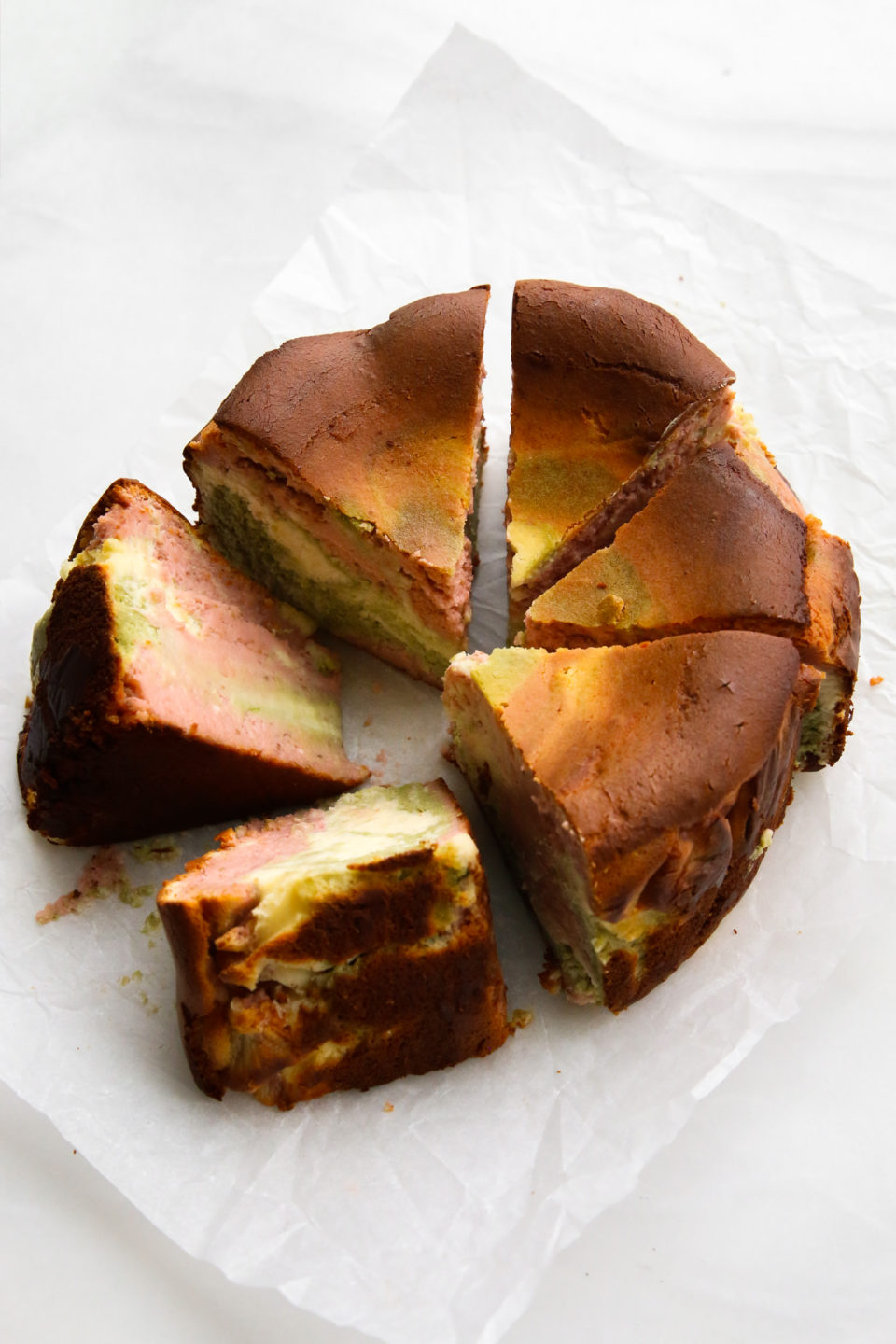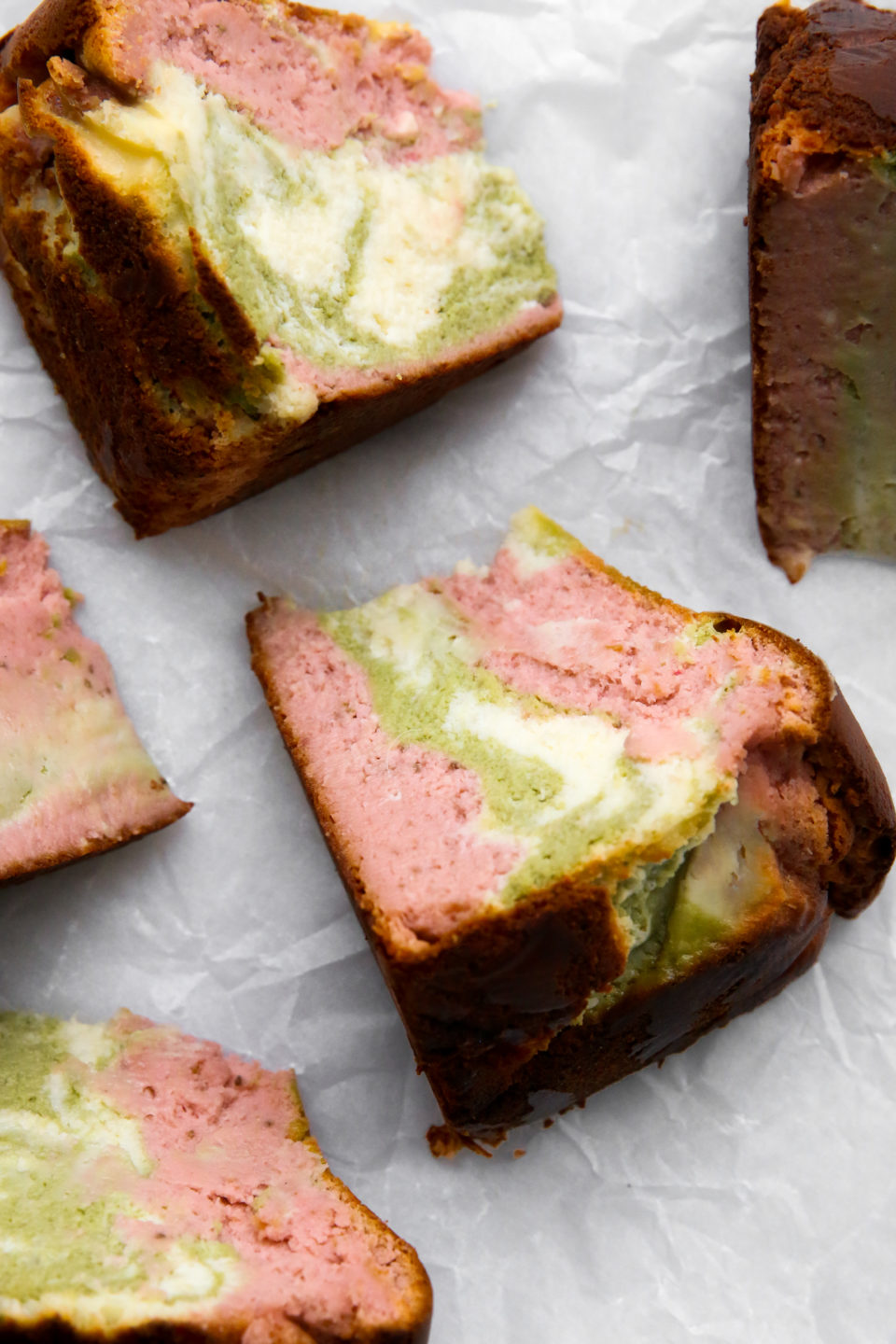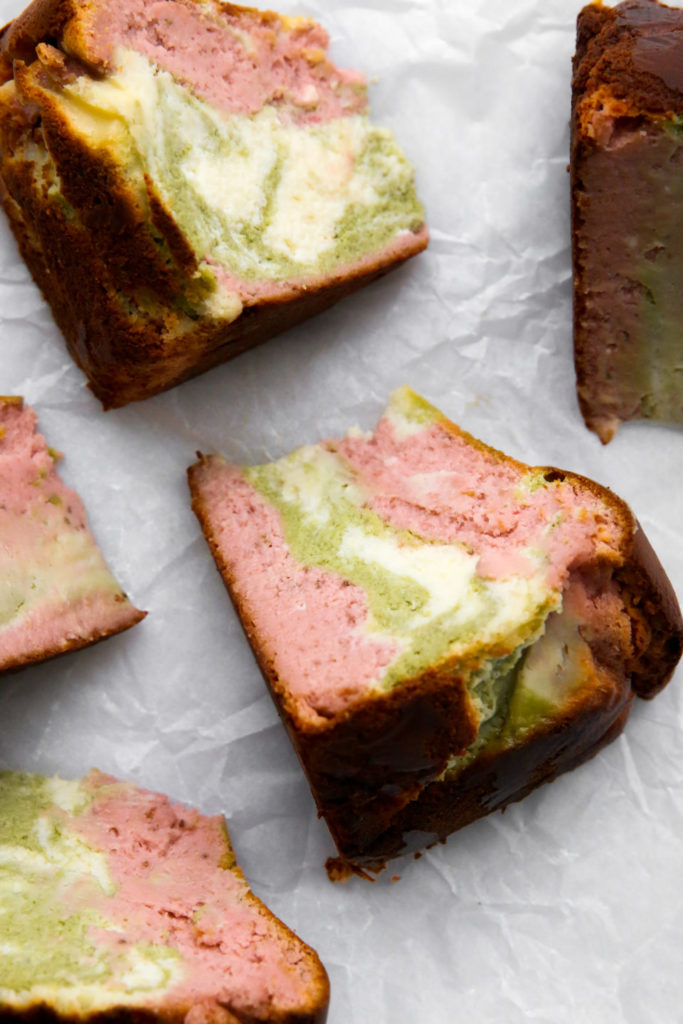 Matcha Neapolitan Basque Cheesecake
A dramatic basque cheesecake that is deep golden on top with the most velvety centre. This cheesecake is twist on the classic neapolitan flavour combination — matcha, strawberry, and vanilla.
Ingredients
500

g

(2 blocks) full-fat cream cheese

,

room temperature

150

g

(3/4 cup) granulated sugar

3

large eggs

,

room temperature

240

ml

(1 cup) heavy cream

1

tsp

vanilla

1/2

tsp

salt

18

g

(3 tbsp) all-purpose flour

25

g

(2 tbsp) matcha powder

40

g

(3 tbsp) freeze-dried strawberry powder

Red food colouring

,

optional
Instructions
Preheat oven to 425F and line a tall (3+ inches) 6-inch cake pan with a removable bottom (or springform pan) with parchment paper. You want the parchment to go beyond the edges of the pan. Set aside.

In the bowl of stand mixer fitted with a paddle attachment, beat cream cheese and granulated sugar on medium-high speed until very smooth, about 2 minutes.

With the mixture on low, add in eggs one at a time, only adding the next after the first egg has been incorporated. Mix until combined.

Add the heavy cream, vanilla, and salt. Mix to combine.

Sift flour over batter and mix until smooth.

Divide the batter into three equal portions. Set aside.

Whisk together matcha with 2-3 tablespoons of hot water, until it's a thick paste. Add 1/2 teaspoon more water if necessary. Add to one portion of the batter and mix well.

Add freeze-dried strawberry powder to one portion of batter. Mix until no lumps remain. (Optional: add a few drops of red food colouring to make the batter more vibrant.)

Add the cheesecake batter to the prepared pan, alternating between the three batters.

When all the batter is in the cake pan, take a butter knife and gently swirl the batter once.

Place cake pan on a sheet pan (to prevent any spills into the oven) and bake the cake for 30 – 35 minutes. The top should be a deep golden colour while the centre of the cake is still jiggly.

Remove from oven and allow the cheesecake to cool completely before cutting. If you like a firmer consistency, allow the cheesecake to chill in the fridge overnight.
Reader Interactions