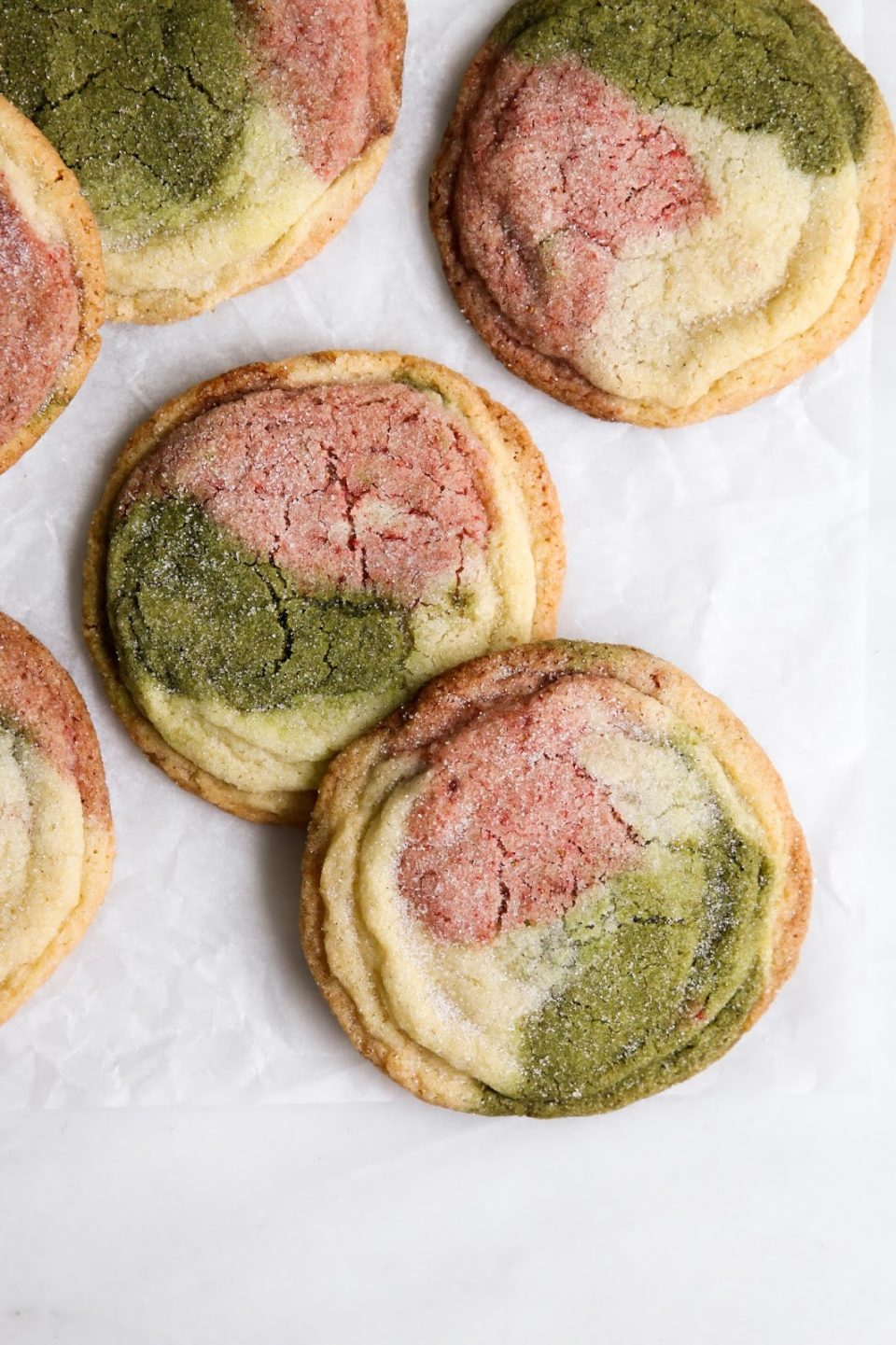 I will always have a soft spot for Neapolitan ice cream, especially if it comes in a paper carton. It is the ice cream flavour I grew up eating because my parents thought this was the best way to appease an indecisive child that preferred strawberry ice cream on most days but would only eat chocolate and vanilla on the odd day. For me, Neapolitan will always be the classic combination of chocolate, strawberry, and vanilla, and it was not until recently that I started seeing variations of this tri-coloured and flavoured ice cream. One of the most notable ones is Japanese Neapolitan ice cream with matcha, hojicha, and black sesame flavoured ice cream. I also feel like a combination of Hong Kong milk tea, red bean, and soy milk would also make an amazing Chinese-style Neapolitan.
Today we are not making ice cream but we are borrowing the three-flavour concept of Neapolitan ice cream. These are a variation of the lavender Earl Grey sugar cookies that are in my cookbook Blooms and Baking (we are using a similar chewy sugar cookie base) but instead of being floral and tea-flavoured, we are making the cookie with three distinct but complementary flavours. Vanilla, matcha, and strawberry sugar cookie dough is gently rolled together to create a cookie of three colours and flavours. After making the base vanilla sugar cookie dough, I divide the dough into three equal portions and fold in matcha powder into one portion, fold freeze-dried strawberry powder into another, while leaving one portion plain (vanilla). The best way to add bold strawberry flavour into a baked good without changing the ratios of wet to dry ingredients too much is by adding freeze-dried strawberry powder. It is essentially dried strawberries (freeze drying removes even more moisture than dehydrating!) that have been ground into a very fine powder. In additional to adding bold strawberry flavours to the dough, it also colours the dough into a vibrant pink colour. If you want a more marbled look, you can mix the three doughs together a bit more, but be careful not to over-mix. Over-mixing will produce a cookie with muddled flavours and colour.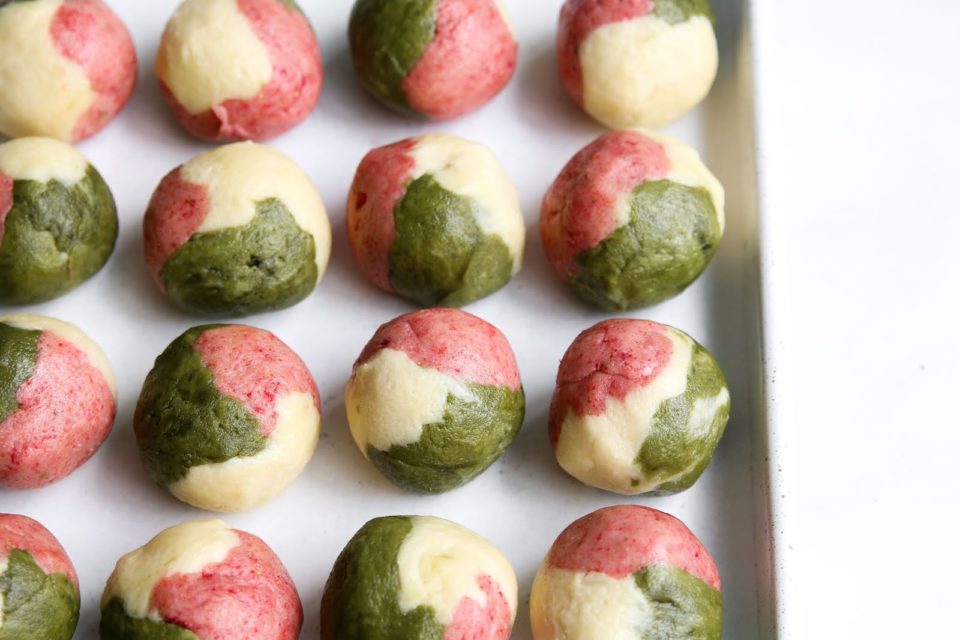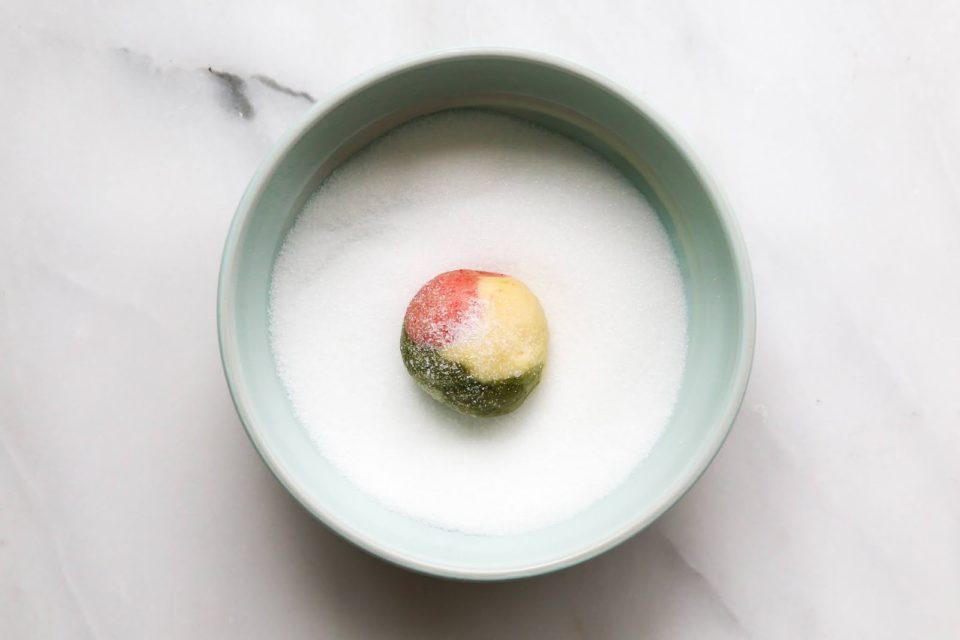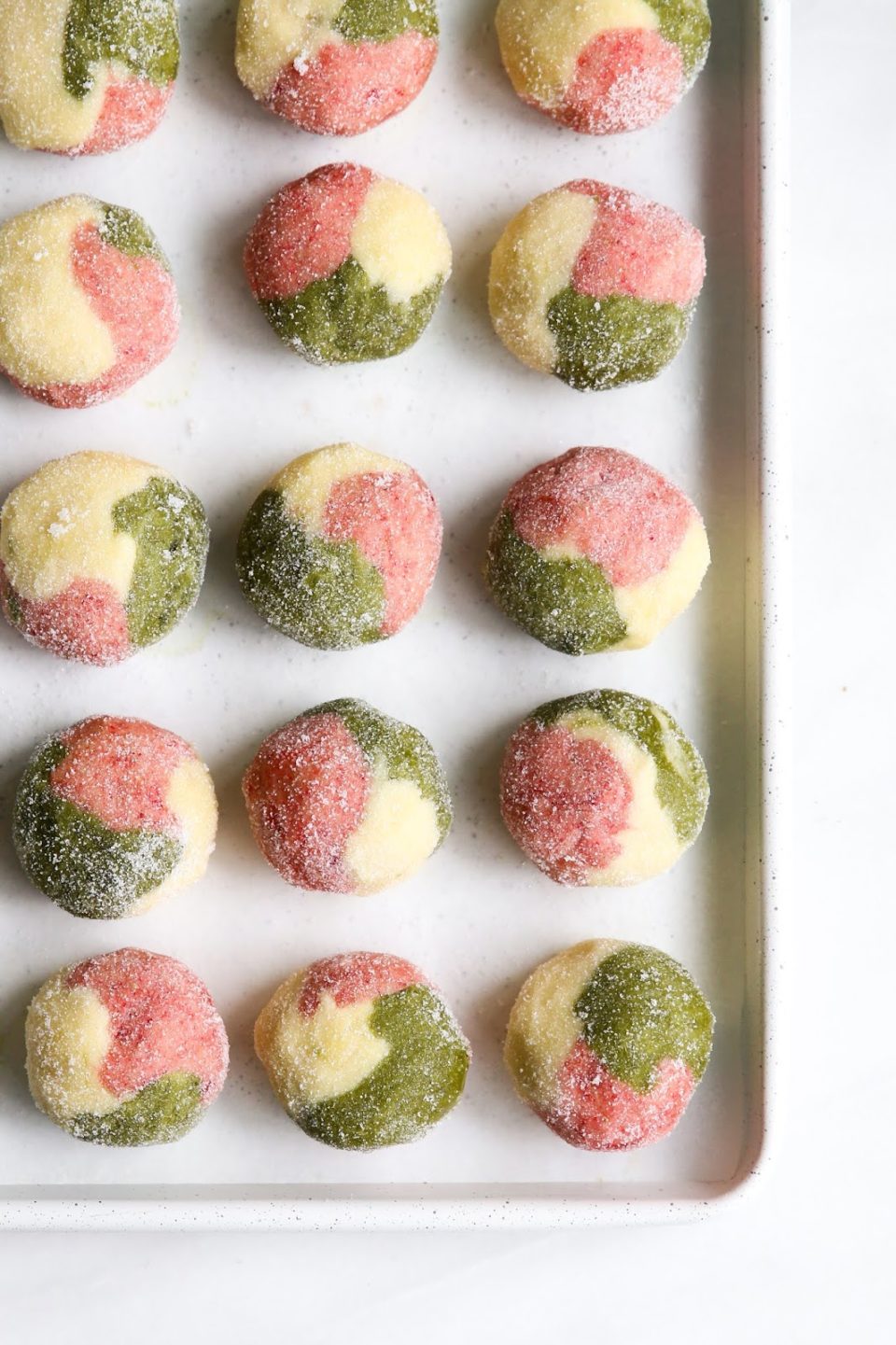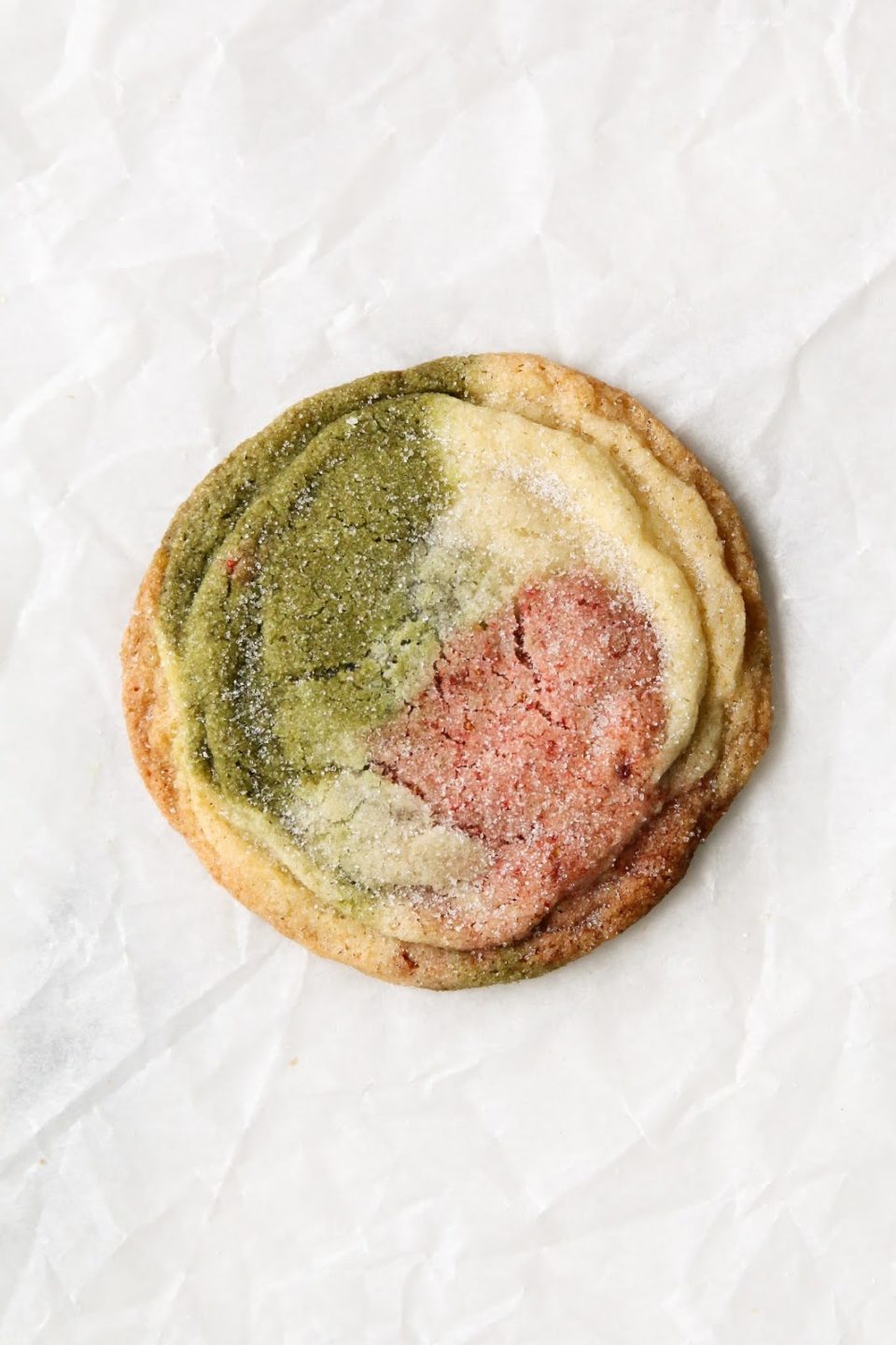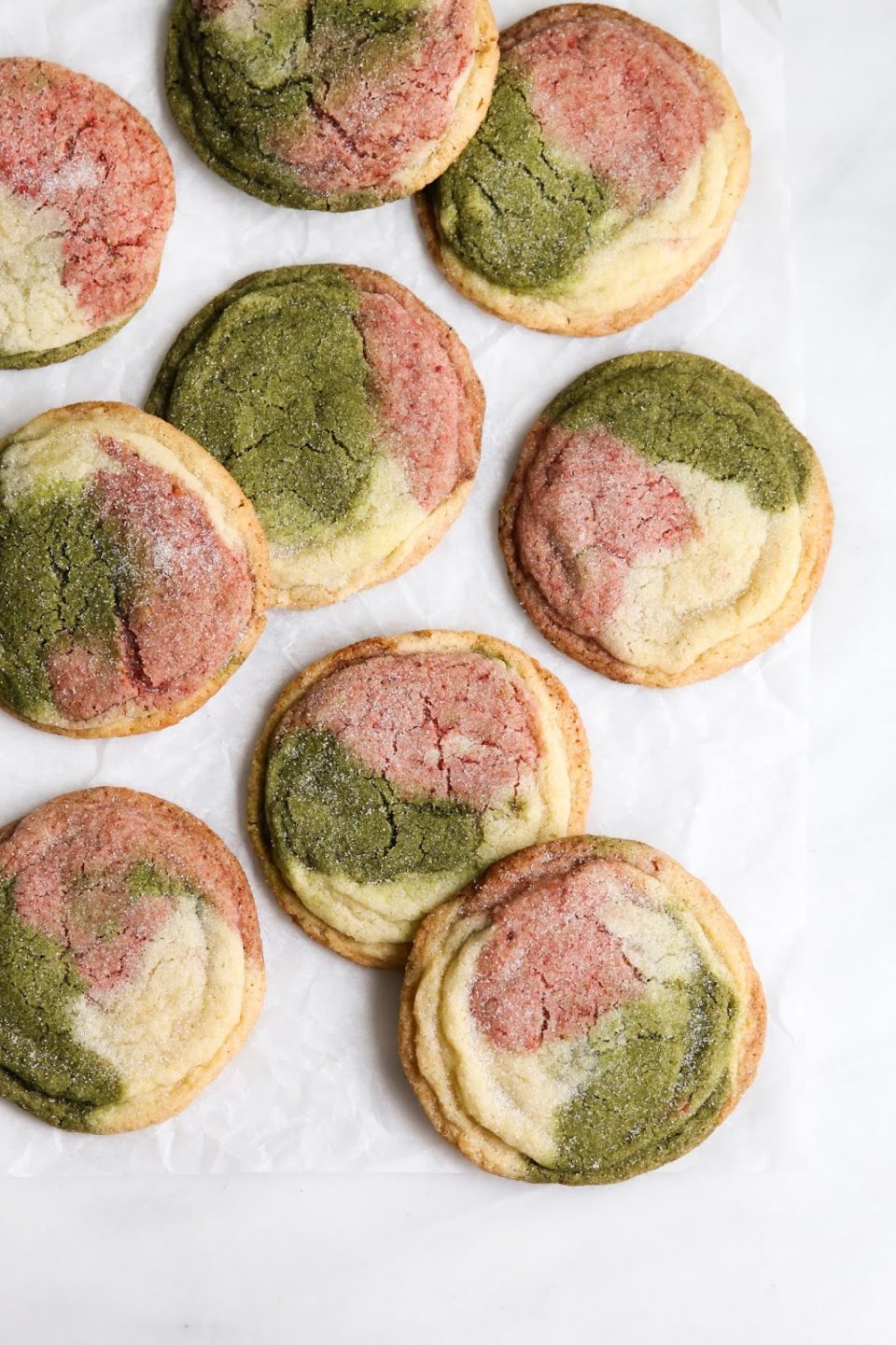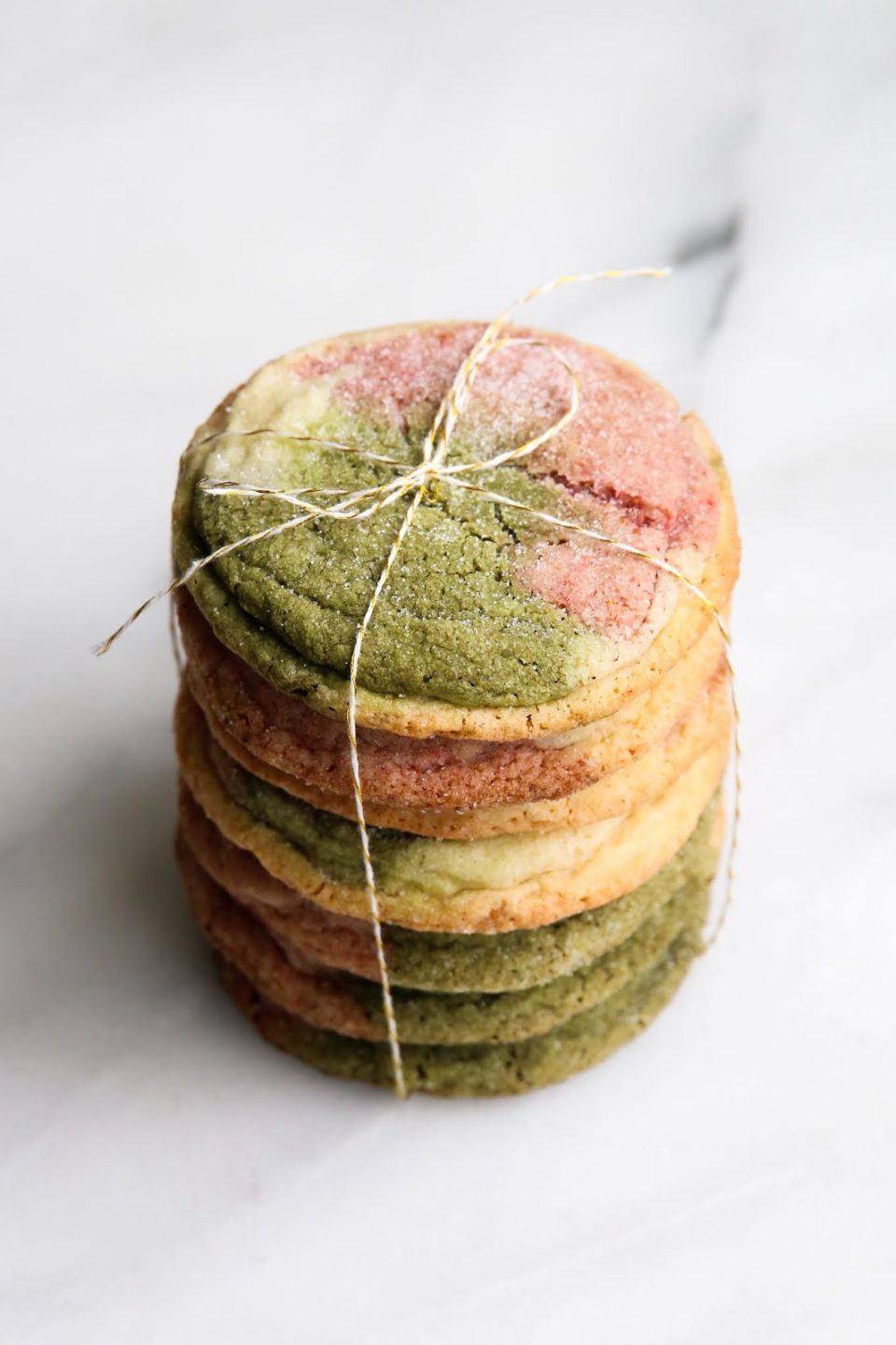 Ingredients
1

cup

227 g unsalted butter, at room temperature

11

⁄4 cups

,

250 g granulated sugar (and more for rolling)

1

large egg

,

at room temperature

2

teaspoons

10 ml vanilla extract

2 1

⁄4 cups

,

270 g all-purpose flour

1

⁄2 teaspoon baking powder

1

⁄4 teaspoon baking soda

1

⁄2 teaspoon salt

3

tablespoons

freeze-dried strawberry powder

2

tablespoons

matcha powder
Instructions
Preheat the oven to 350°F (177°C). Line a large baking sheet with parchment paper. Set the baking sheet aside.

In the bowl of a stand mixer fitted with a paddle attachment, beat together the butter and 11⁄4 cups (250 g) of the sugar on medium speed until they are smooth, about 30 seconds. Add the egg and vanilla and beat to combine.

In a medium bowl, whisk together the flour, baking powder, baking soda, and salt.

Add the flour mixture to the butter mixture and mix on low speed until just combined and no more streaks of the flour mixture remain, about 45 seconds.

Divide the dough into three equal portions. Add strawberry powder to one bowl, matcha powder to the next, while leaving one portion of dough plain.

Take a tablespoon of each dough and combine the dough by rolling between the palms of your hands.

Toss the dough balls in a bowl of sugar until dough ball is coated.

Place the dough balls on the prepared baking sheet, leaving 2 inches between each ball. Bake the cookies for 10 to 13 minutes, until the edges of the cookies are light golden brown. Do not overbake the cookies. Remove the cookies from the oven and allow them to cool on the baking sheet for 10 minutes before transferring them to a wire rack to cool completely.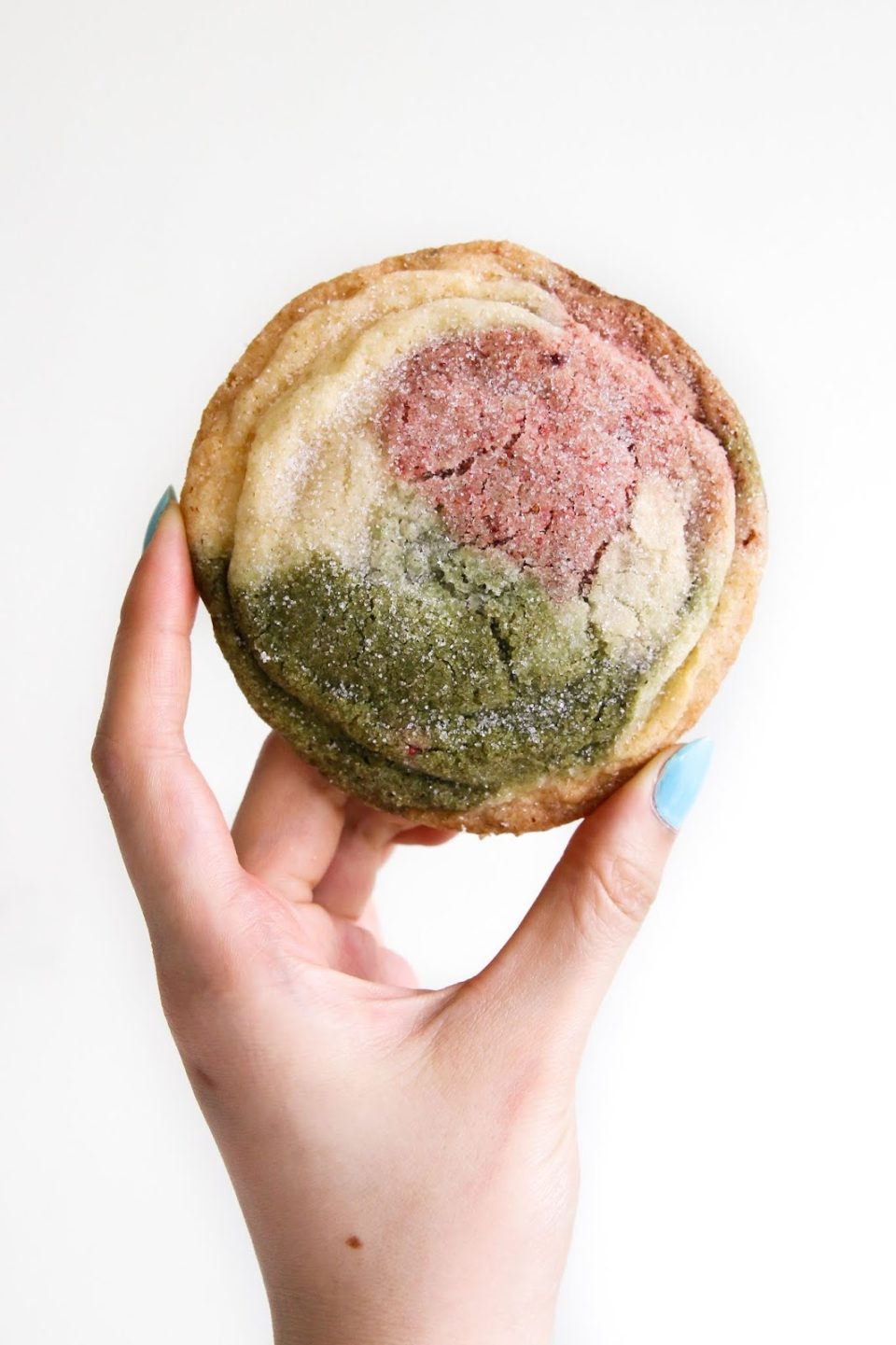 Happy baking!
Reader Interactions