Blooms and Baking is filled with recipes and decorating tutorials inspired by one of my favourite things in the world — flowers.
You can expect to find recipes like:
Jasmine and Honey Éclairs, Chocolate Bundt Cake with Orange Blossom Ganache
Peach Galette with Lavender Whipped Cream
Cherry Blossom Sablés
In additional to floral recipes, there is a large chapter on decorating with fresh flowers and creating buttercream flowers.
Every recipe is accompanied by at least a photo (most of the recipes have several) and each tutorial features many step-by-step photos so you can create the perfect ruffled peony and ranunculus from silky buttercream. Each recipe and tutorial makes my heart feel like its in full bloom and I hope it makes you fall more in love with flowers as well.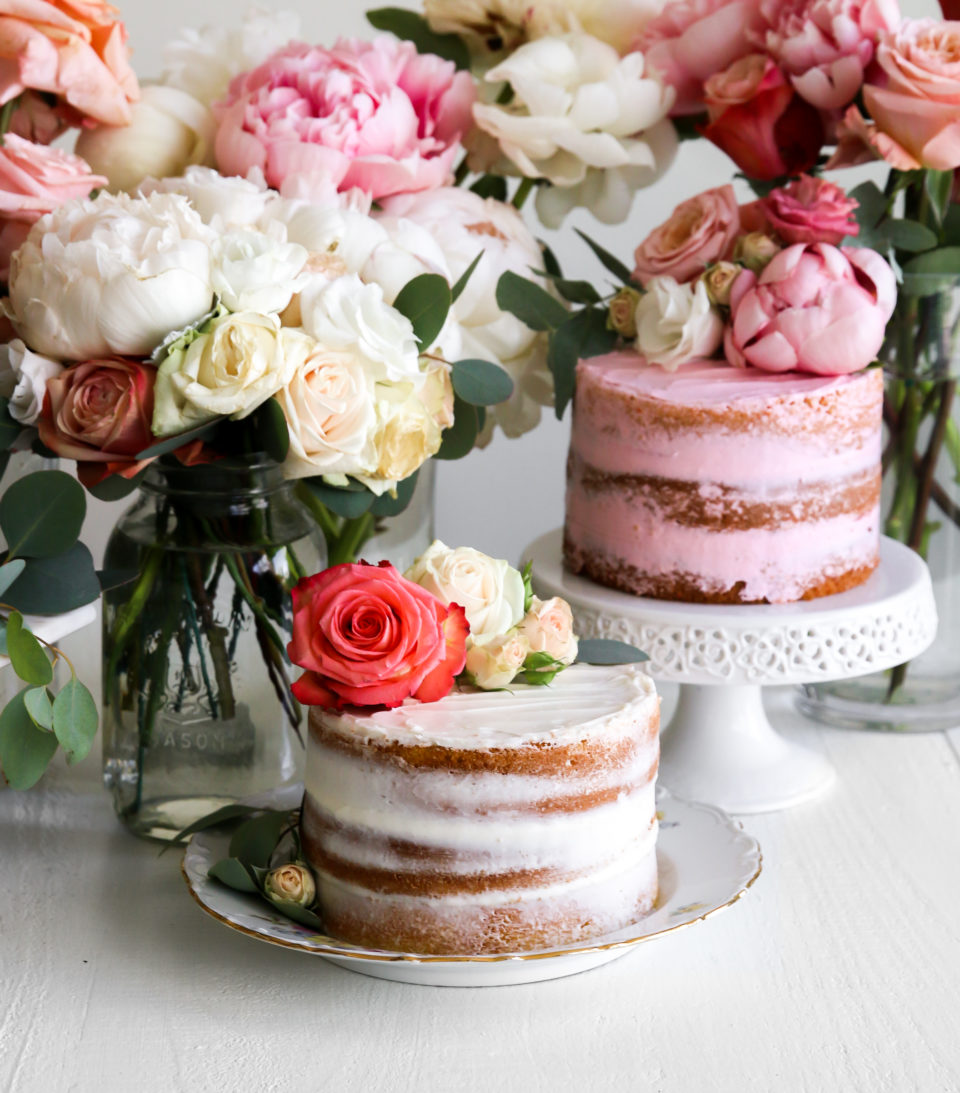 About two years ago, my publisher reached out about making a cookbook, one that is an extension of my blog. After several several meetings and brainstorming sessions (Do we want to make a cookie book? How about a cake decorating book? Should we divide the book chapters up based on seasons? How about a floral theme?), I dedicated every weeknight and weekend outside of my day job to write about flowers, cakes, and the magic of butter and sugar. Creating a cookbook is terrifying because there is always self doubt that lingers in the back of my mind. That self-doubt subsided temporarily when I bit into the lavender mocha cookies and lemon elderflower ricotta cupcakes I made for the book. I developed, tested, re-tested (many times), and wrote down everything I made in the last two years for this book. I poured my heart into Blooms and Baking and I cannot wait to share it with you.
Some friends and colleagues said the most wonderful things about the book:
0Amy Ho has created an inspiring collection of ingenious and beautiful ways to work flowers into every bit of our baking, so we can enjoy the fragrance and flavor of our favorite ephemeral blooms just a little bit longer and in new and exciting ways (hello Chocolate Lilac Cake!). She covers everything, from infusing the flavors of flowers into cakes, cookies, and creams, to piping floral decorations, candying fresh flowers, and of course, decorating with fresh flowers. Amy's obvious talents are on full display here, and I'm so excited that she decided to share her lovely ideas with all of us. Susan SpungenCookbook Author of Open Kitchen and Food Stylist
1Whenever I see one of Amy's posts on Instagram or Pinterest, it's instantly recognizable as one of her recipes. Amy has one of the most unique creative voices in the blogging world; her signature cookies and cakes are always decorated SO beautifully, with her signature care and flourish. I'm so excited that she's finally sharing all her tips and tricks in this cookbook!Michelle LopezCookbook Author of Weeknight Baking
2Get excited to taste and explore your way through an edible garden of treats. In Blooms and Baking, each dessert is as gorgeous as it is delicious! Amy's beautiful designs and invigorating flavor combinations have me preheating my oven and readying my piping bags.Tessa HuffAuthor of Layered and Icing on the Cake
3If you can't decide between flowers or cake for the centerpiece of your next celebration, look no further than this AMAZING book by Amy Ho! I'm always so inspired by everything she creates and things have certainly been taken to the next level in this combination of floral meets delicious cake collection of recipes and tutorials!Brian Hart HoffmanEditor-in-chief of Bake from Scratch Magazine
4Amy Ho has the remarkable ability partner whimsy with technical precision and her imaginative creations never fail to delight. From her blog, to her collaborations, and now to her book, Amy brings a romantic sensibility to modern baking. Tara O'BradyFood Writer and Author of Seven Spoons
Press:
This Up-and-Coming Vancouver Baker's New Cookbook Arrived Just in Time for #QuarantineBaking
Whether or not you've conquered sourdough, spring's new cookbooks offer plenty of culinary challenge
Blooms and Baking Brings Fragrant Blossoms Into Your Home-Baked Goods
8 Essential Tips for New Bakers From Canadian Cookbook Author Amy Ho
Mother's Day: Here's How to Make Jasmine and Vanilla Bundt Cake From the New Blooms and Baking Cookbook
These No-Churn Rose-Pistachio Ice Cream Sandwiches Need Just 8 Ingredients
Cakes and Sugarcraft Magazine, July/August 2020 in-print review
Locally grown fruits inspire fresh culinary ideas
Florals add incredible depth to desserts
New 'Blooms and Baking' cookbook adds a floral touch
Thank you so much for following along on this baking journey. This blog and this upcoming book would not exist without each and everyone of you. This book is as much mine as it is yours. I am forever grateful.
Lots of love and flowers, Amy