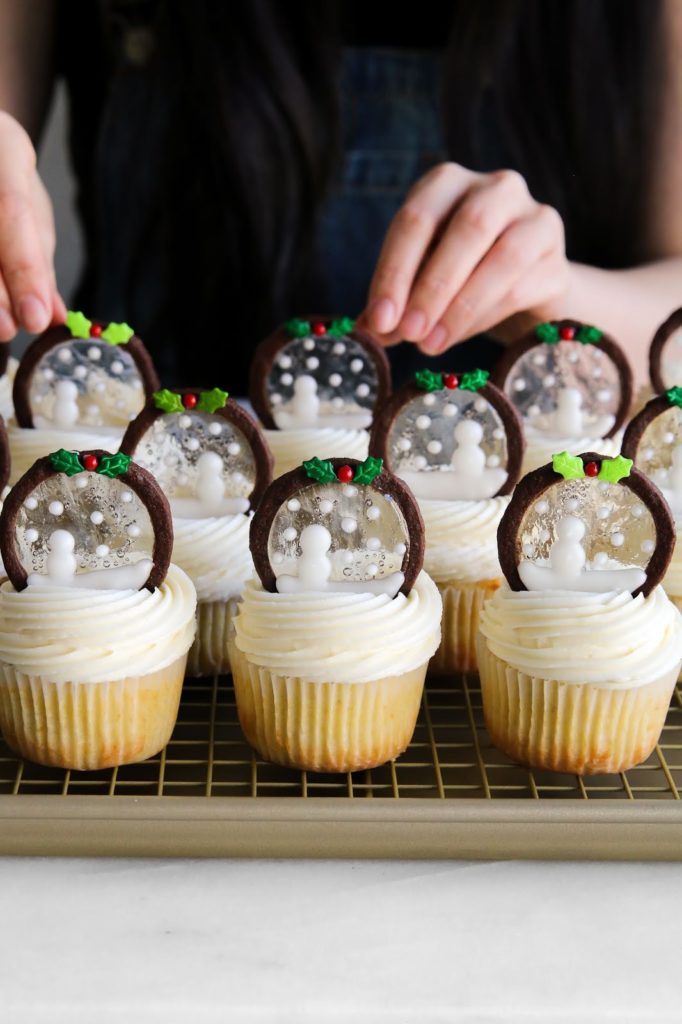 I don't know about you, but holiday baking is still in full swing in my kitchen and I don't expect it to stop until 11:59pm on December 25th. This month, I have kept my holiday cookie cutters out on the kitchen counter every day and I don't even bother putting away my holiday sprinkles just in case inspiration hits and I want to squeeze in more holiday baking. (Spoiler: this happens very often.) Even though I'm not hanging out my friends and family this holiday season, I'm still making an effort to safely drop off festive baked goods to them on their doorstep, 6 feet away. Holiday cookies are my go-to when it comes to holiday baking and gifting, but I've also been making more cupcakes this year because: a) they're so portable and easy to share and b) everyone still deserves cake during the holidays even though the holidays are a bit different this year. These snow globe cupcakes combine my love for holiday cookies and cupcake making.
My favourite thing about these cupcakes, besides the fact there's an edible snow globe on top of each cupcake (duh!), is the fact that you can make the cookie portion of the snow globe with any leftover cookie dough you have remaining from your holiday cookie baking. Sugar cookie, shortbread, gingerbread dough all works really well. I was making chocolate shortbread cookies prior to this, so I saved a bit of dough from that project for this one. I gathered the dough from that batch of cookies, rolled it out, and used to different-sized circle cookie cutters to punch out the shapes. To make the 'glass' of the snow globe, you simply crush clear candies like mints or Jolly Ranchers, fill the cookie cut-outs, and bake. It's much like making 'stained glass cookies' you often see during the holidays.
In addition to sharing my tips for making your own snow globe cupcakes today, I'm also sharing a recipe for a super plush toasted coconut cupcake with coconut mascarpone buttercream. This cupcake is a small batch which is great if you're only baking for your household this holiday season or you can double it if you want to do some curbside drop offs to friends.
I think one key thing to make holiday baking more seamless and enjoyable is to use! good! bakeware! Thank you, Williams Sonoma Canada, for partnering with me for this holiday baking project and sending me this Goldtouch® Nonstick 6-Piece Essentials Bakeware Set. I always get a ton of questions asking: "why is it important to invest in sturdy bakeware like cookie sheets?" Over the years I've used many types and brands of cookie sheets. Poor quality baking sheets are much thinner and tend to warp over time which means crooked cookies and uneven baking. The Goldtouch® Nonstick pans are really sturdy and ensures your cookies bake evenly and flat every time.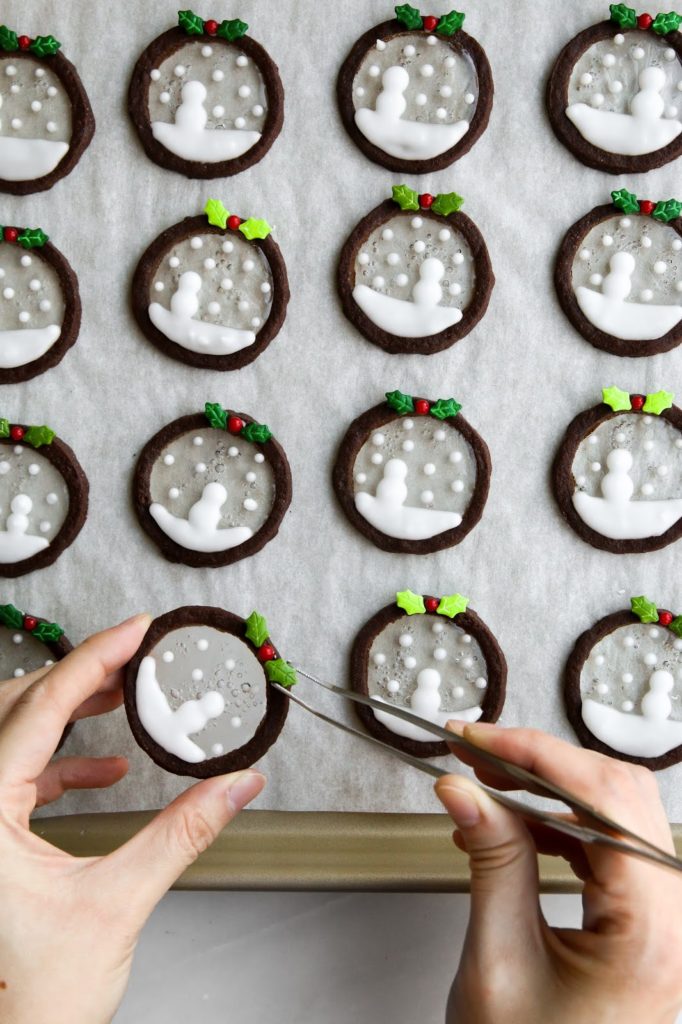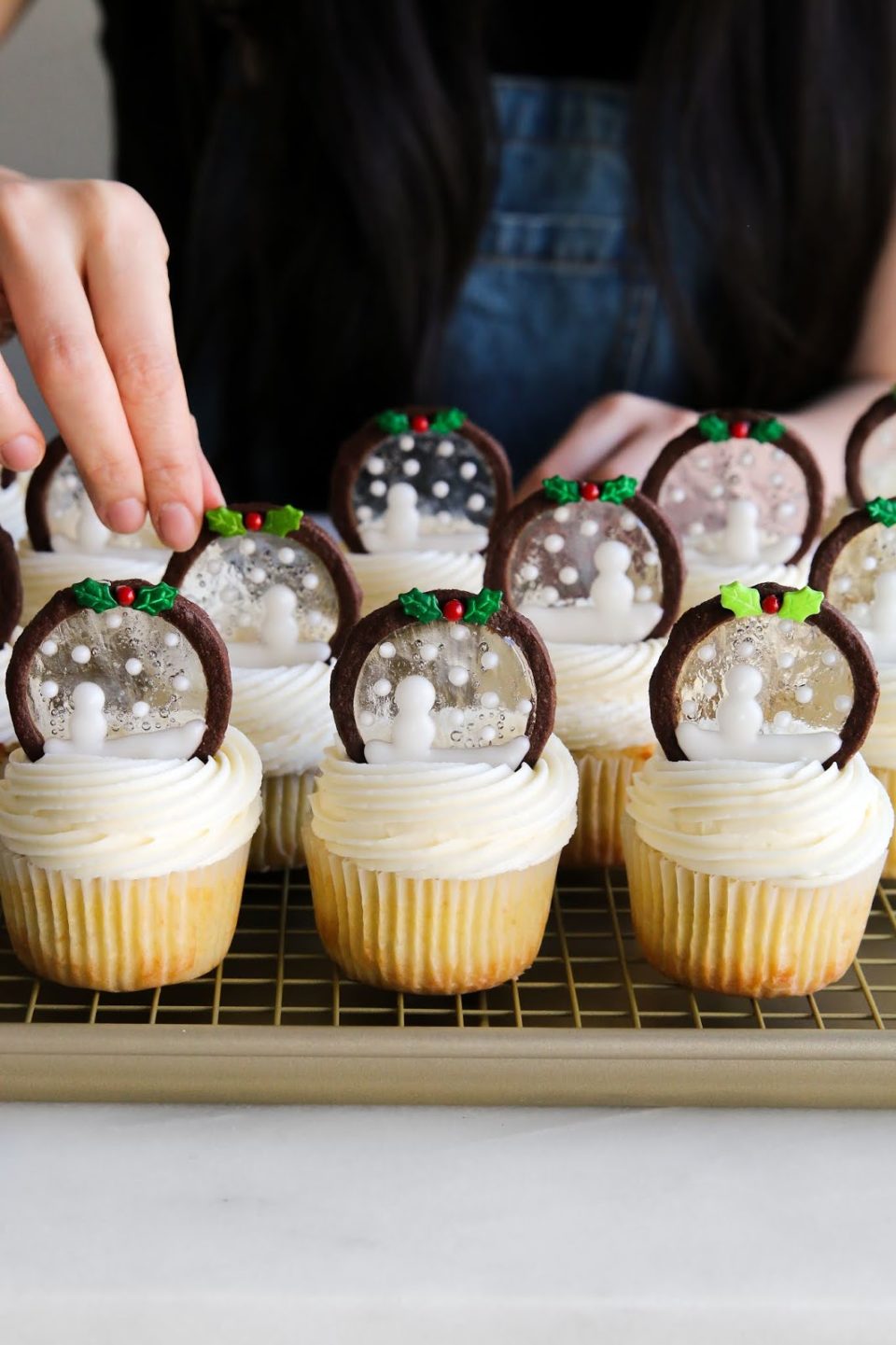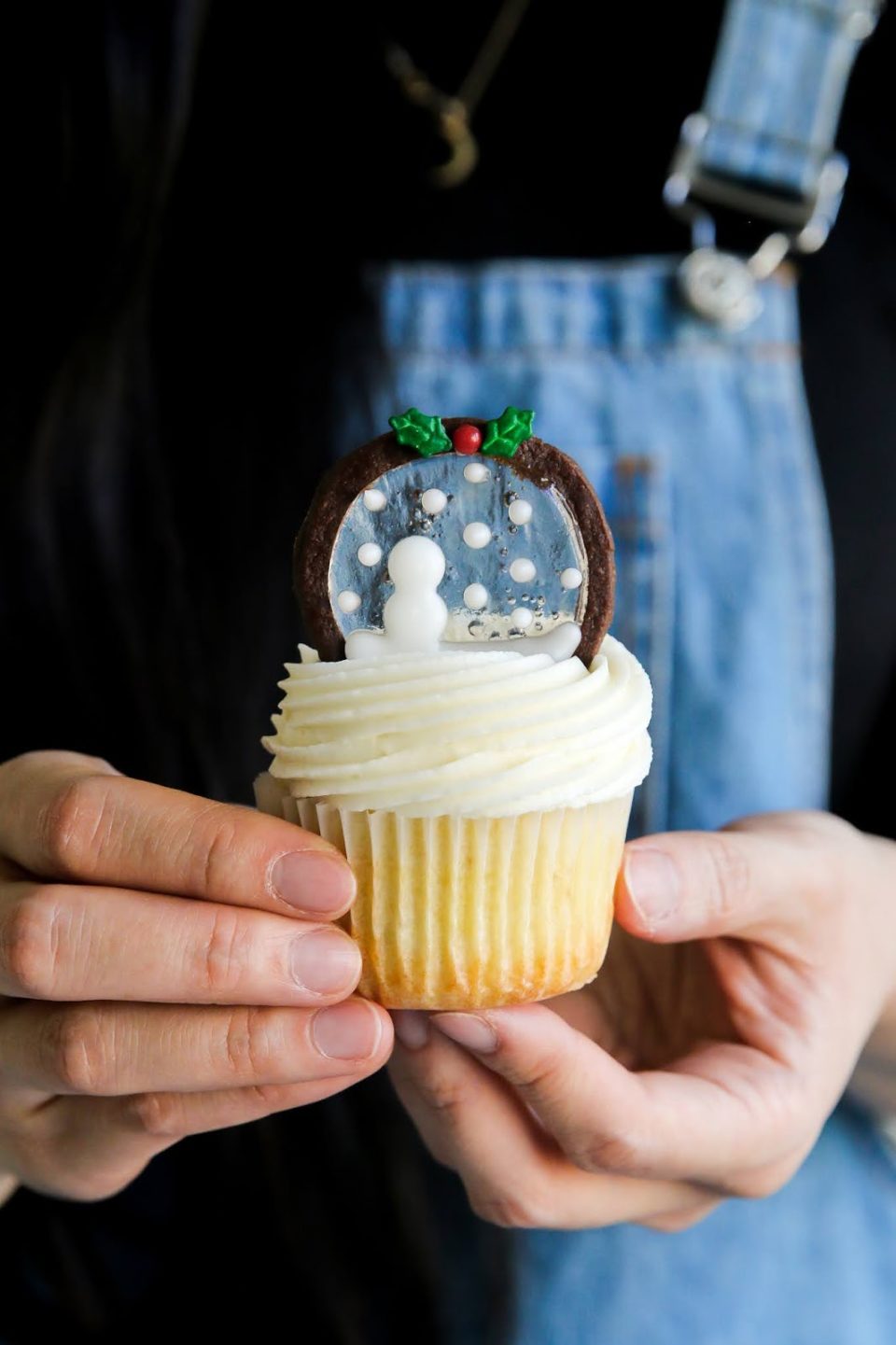 Ingredients
Toasted Coconut Cupcakes
¼

cup

(57g) unsalted butter, at room temperature

½

cup

(100g) granulated sugar

1

egg

,

at room temperature

¾

cup

(90g) all-purpose flour

1/3

cup

toasted unsweetened shredded coconut

½

tsp

baking powder

¼

tsp

salt

½

cup

(120ml) full-fat coconut milk
Coconut Mascarpone Buttercream
1/2

cup

(113 g) unsalted butter, at room temperature

6

tbsp

(85 g) mascarpone, at room temperature

2 to 3

cups

(240 to 360 g) powdered sugar

3

tbsp

whole-fat coconut milk

2

tsp

pure vanilla extract
For Snow Globe Decorations
Cookie dough of your choice

,

shortbread, sugar cookie, or gingerbread will all work!; you will only need very little!

Clear hard candies

,

crushed

Holiday sprinkles

Royal icing
Instructions
Toasted Coconut Cupcakes
Preheat oven to 350F. Grease muffin pan or line with cupcake liners. Set aside.

In the bowl of a stand mixer, beat unsalted butter and granulated sugar together on medium speed until light and fluffy, about 2 minutes. Add egg and beat until fully combined.

In a medium-sized bowl, whisk together flour, toasted shredded coconut, baking powder, and salt.

Add half of the dry ingredients and coconut milk to the butter mixture and mix on low speed until just combined. Add the remainder of the dry mixture and mix until no streaks of dry ingredients remain.

Using an ice cream scoop, portion out cupcake batter into prepared pan. Bake for 14 – 16 minutes, or until a tester comes out clean.

Allow cupcakes to cool completely before frosting.
Coconut Mascarpone Buttercream
In the bowl of a stand mixer fitted with a paddle attachment, beat together the butter and mascarpone on medium speed until the mixture is smooth, about 1 minute. With the mixer running on low speed, slowly add the powdered sugar 1 cup at a time. Add the coconut milk and vanilla. Increase the speed to high and beat the mixture until it is smooth and fluffy, about 3 minutes. Transfer the buttercream to a pastry bag fitted with a large round or open-star piping tip. Pipe two rings of buttercream on top of each cupcake.
For Snow Globe Decorations
Preheat oven to 350F.

In between two sheets of parchment paper, roll out your cookie dough to just a little under ¼-inch in thickness. Transfer the dough to the fridge or freezer for 15 minutes. Because we are punching out such thin cut-outs, you want to make sure your cookie dough is firm and won't lose its shape when you are punching it out. Using a larger circle cookie cutter, punch out the circle and transfer it to a baking sheet. Using a smaller circle cookie cutter, punch out the centre of the cut out that is already on the baking sheet. This will become the border of your snow globe. I recommend punching out the smaller circle once your cut outs have been transferred to your baking sheet because it's very easy for your thin cut outs to lose shape if you punch out the centres before transferring them!

Once you have all of your cut outs on the baking sheet, fill the cavity of each circle with crushed hard candy. Clear mints or blue Jolly Ranchers are great for this. The candy will melt during the baking process to form the 'glass.'

Bake your cookies at 350F for about 6 – 7 minutes. Keep a close eye on your cookies since the cut outs are so thin and will brown quite easily. Once the cookies are ready, carefully remove them from the oven and allow the candy centre to set completely before removing them from the baking sheet.

Place one snow globe decoration on top of each frosted cupcake.
Happy baking!
Reader Interactions