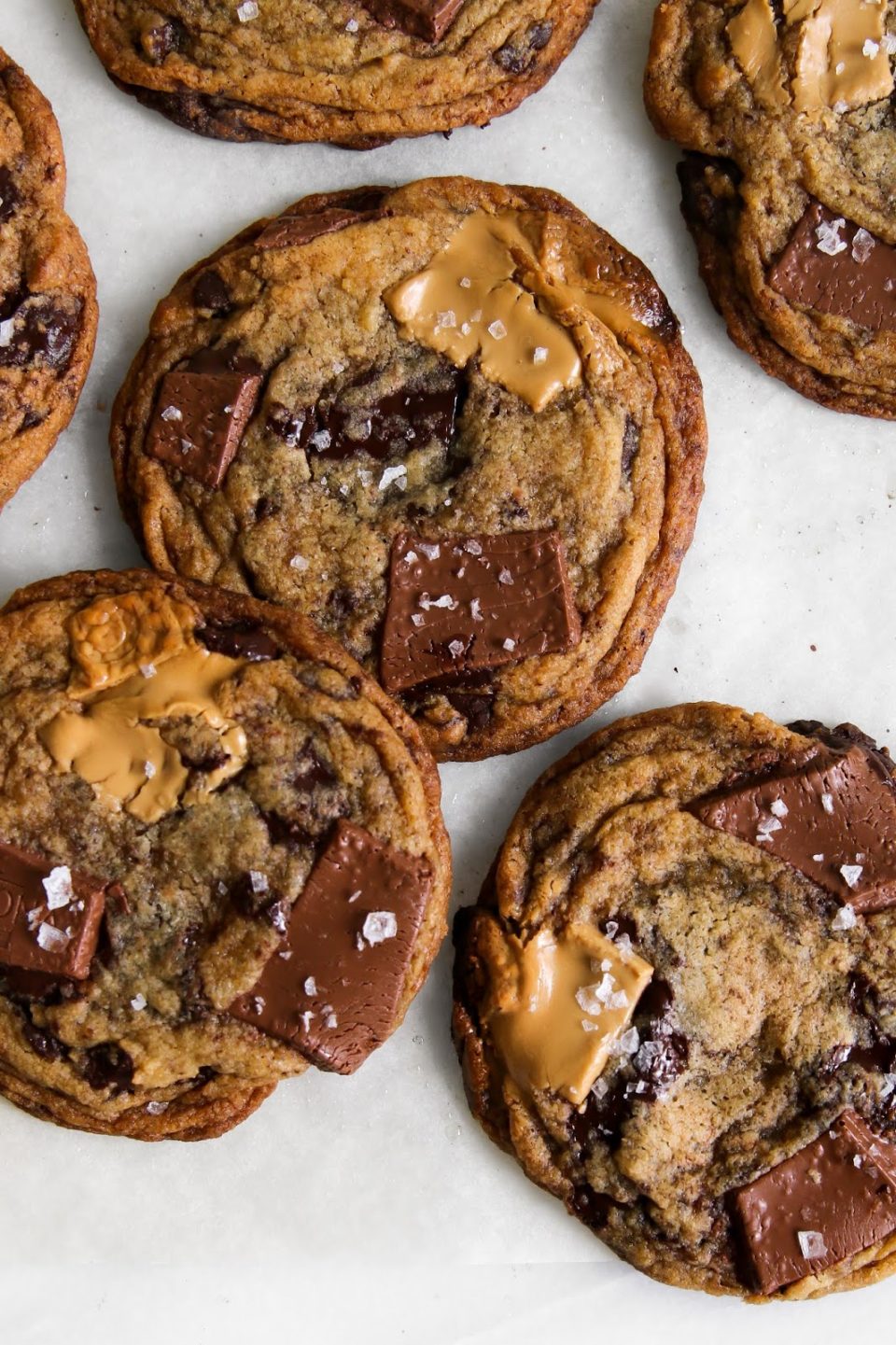 I refrained from naming this recipe 'the best chocolate chip cookie' or some other title containing a superlative because there are so many amazing chocolate chip/chunk cookies out there and each one is special in its own way. I could never claim mine is the best because there are so many other cookie recipes that I truly love. I love Tara O'Brady's chocolate chip cookie recipe that calls for melted butter and it is my go-to when I do not have room temperature butter handy. I always make Thalia's recipe whenever I want a cookie with lots of 'chocolate puddles,' which is a term I learned from her. I love the brown butter toffee cookies by Kate Davis on the Bon Appetit website and I always have Skor bars in the pantry reserved for those cookies. And Sarah Kieffer's pan-banging technique takes any cookie to a whole new level. I actually love everyone else's recipe so much that I never really cared to share my own cookie recipe.
I developed the original version of this recipe for my cookbook, and that floral version is studded with white and dark chocolate and has culinary lavender incorporated into the dough. This one I am sharing today is more of a classic – no floral elements – but still has everything I love about that original cookie — crispy edges, chewy centres, and large pools of chocolate. This cookie dough is a really good canvas for whatever mix-ins or chocolates you like. I usually use a mixture of dark and milk chocolates, but will also fold in some blond or caramelized white chocolate to make them extra special. I love using Valrhona chocolates for my cookies but any good quality chocolate will work. To get the largest chocolate 'puddles,' refrain from using chocolate chips and opt for a chocolate bar that you can coarsely chop up yourself. I also save larger pieces of chocolate to top each dough ball before baking.
So this is all I have to say about the cookies. I love them. I hope you love them too.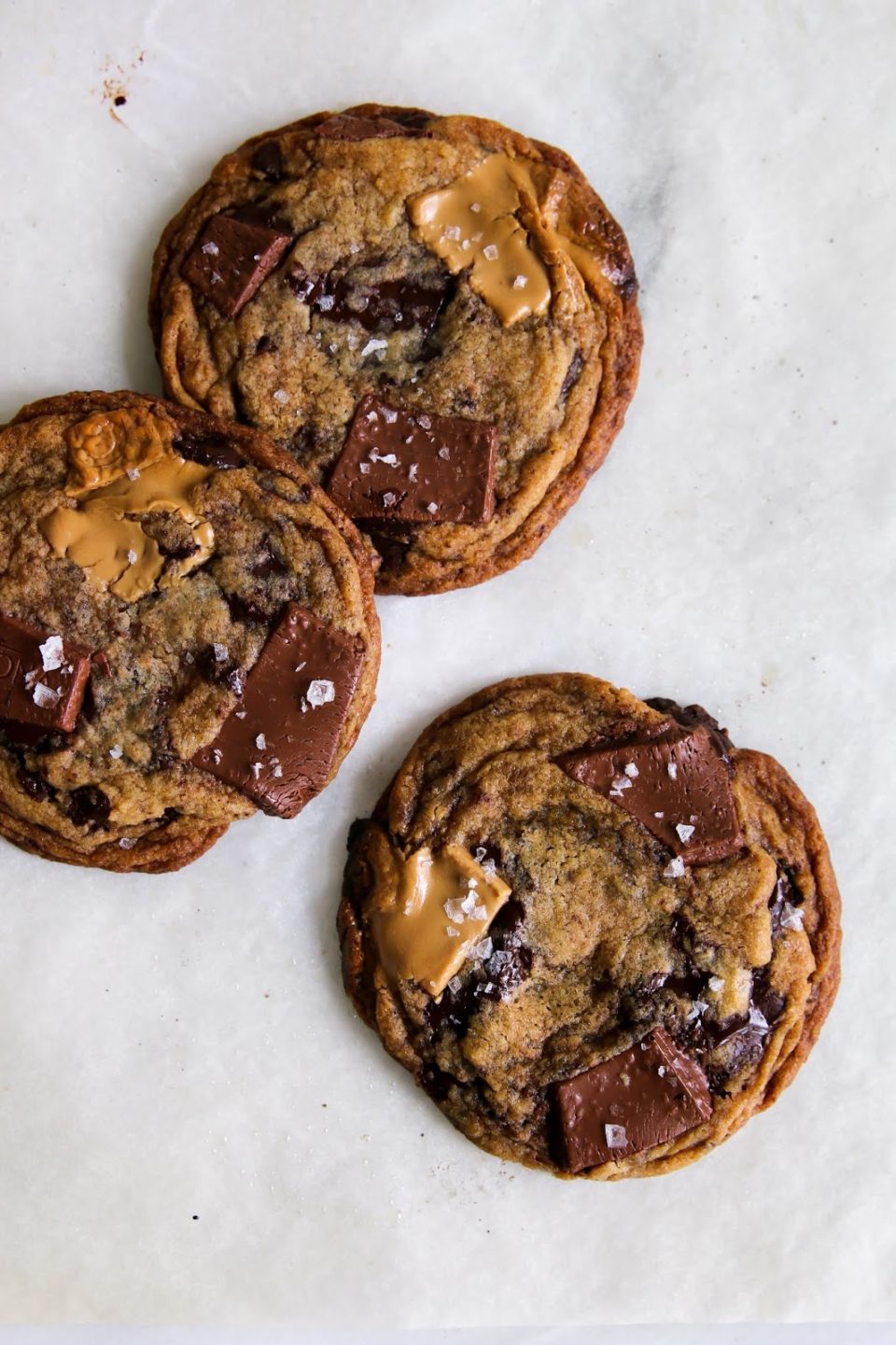 Happy baking!
Ingredients
1/2

cup

plus 2 tbsp (113g plus 28g) unsalted butter

,

at room temperature

1/2

cup

plus 2 tbsp (100g plus 26g) brown sugar

1/2

cup

(100g) granulated sugar

2

tsp

pure vanilla extract

1

large egg

,

at room temperature

1 3/4

cups

plus 2 tbsp (210g plus 10g) all-purpose flour

1

tsp

salt

3/4

tsp

baking powder

1/2

tsp

baking soda

2/3

cup

(117g) coarsely chopped dark chocolate

2/3

cup

(117g) coarsely chopped milk chocolate (I prefer Valrhona Caramelia 36%)

1/3

cup

(60g) coarsely chopped blond chocolate (I prefer Valrhona Dulcey 32%)

,

Optional

Maldon sea salt flakes

,

as needed
Instructions
In the bowl of a stand mixer fitted with a paddle attachment, cream the butter, brown sugar, and granulated sugar on medium speed until they are smooth, about 1 minute.

Add the vanilla and egg to the butter mixture and mix on medium speed until they are fully incorporated, scraping down the sides of the bowl as needed.

In a medium bowl, whisk together the flour, salt, baking powder, and baking soda. With the mixer on low speed, add the flour mixture in two batches to the butter mixture, and mix until the ingredients are just combined, about 1 minute.

Separate the chopped chocolates into two portions; I like to reserve the larger pieces to top each cookie dough ball before baking. Add one portion of the chocolates to the bowl, and mix until they are just incorporated with the dough, about 30 seconds. Set second portion of chocolates aside.

Preheat the oven to 350°F (177°C). Line a large baking sheet with parchment paper.

With a standard ice cream scoop, form balls of dough and place them about 2 inches (5 cm) apart on the baking sheet. Place several pieces of reserved chocolate onto each dough ball.

Bake the cookies for 12 to 14 minutes, or until the cookies are browned and caramelized along the edges and the centres are just set. If you would like your cookies to have the crinkled edges, give the pan a few taps on the oven rack before you take them out of the oven.

Top each cookie with a sprinkling of the Maldon sea salt flakes. Allow the cookies to cool on the baking sheet for 5 minutes, then transfer them to a wire rack to cool completely.
Notes
The cookie dough freezes really well. After portioning the dough into dough balls, you can freeze the dough balls to be baked off at a later date. If you feel like you only want six cookies today, save the other six dough balls for next week. Future you will thank the present you.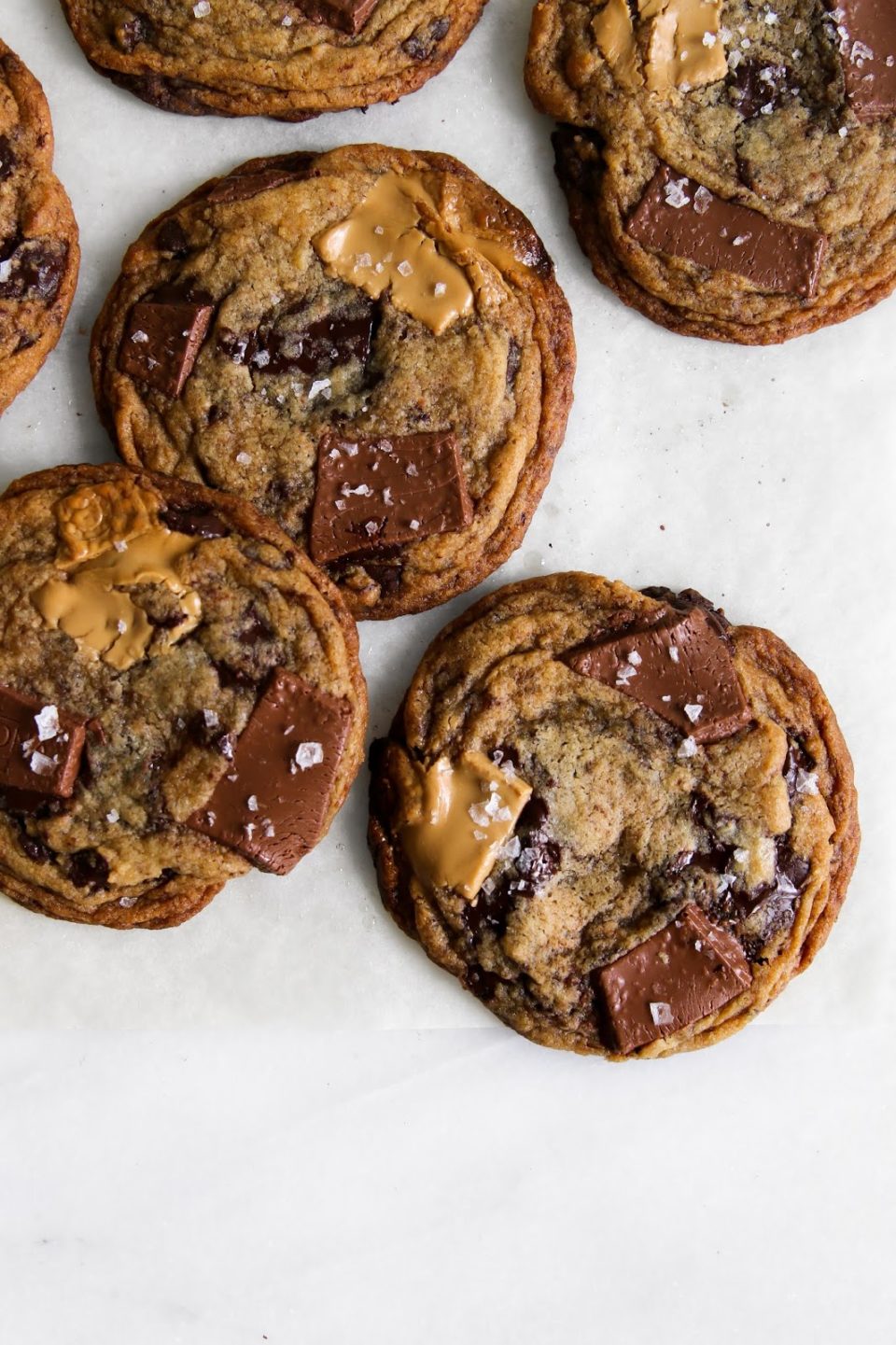 Reader Interactions