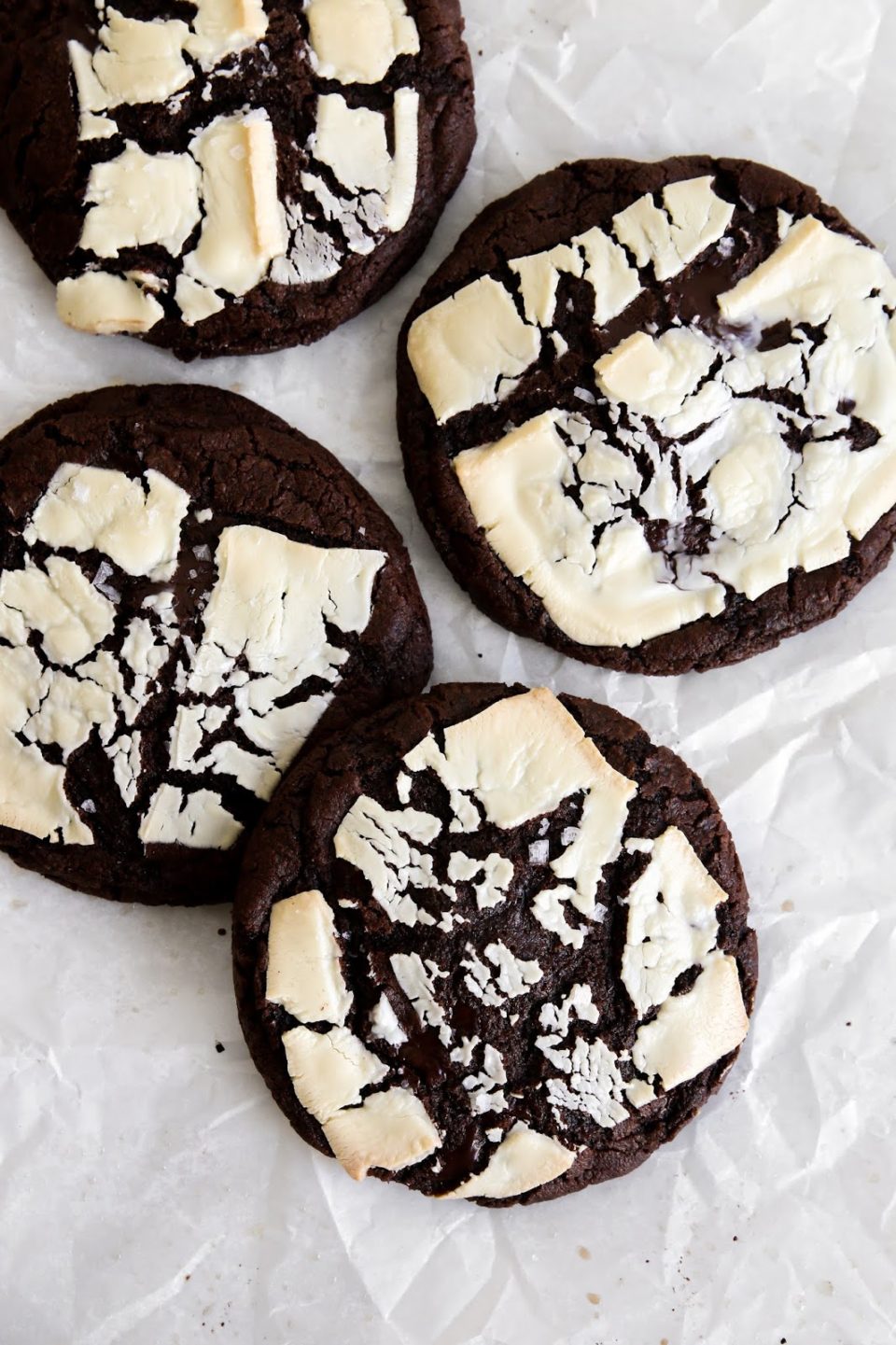 I really loved attending the University of British Columbia. I loved most of my professors and courses I chose, I loved the campus itself, and I loved all the wonderful people I met. Most importantly, I loved Blue Chip Cookie, a small cafe in the Student Union Building (now in The Nest) that offered what I thought then (but probably still holds true now) the best cookies. What made their cookies so memorable? The cookies were the size of my face and Blue Chip was never shy to add even more chocolate to a cookie. The Brazil Nut Cookie they offered was great and some of my friends loved the Ranger Cookie, but everyone would unanimously agree that the Marbelous Cookie is the cookie to get there. So what is the Marbelous? Well let me tell you. It is a chocolate cookie base with an iconic white chocolate slab on top. And when I say slab, I mean SLAB. The cookie is slightly crisp on the outside and extremely soft and tender on the inside. The cookie is quite tall and has a somewhat under-baked centre. The slab of white chocolate adds a lot of creaminess to the dark chocolate cookie base. It is perfection. Am I giving too much praise to a cafeteria cookie? Probably, but the Marbelous deserves it.
My point, the TL;DR, is that of all the things I miss about UBC, the thing I miss most is eating its 10,000 calorie cookie on a weekly basis. I rarely visit the campus so I challenged myself to recreate this cookie in my kitchen. They key to making a Marbelous cookie is to have a generous amount of white chocolate on top of each cookie. To get the iconic look, use a sharp knife or vegetable peeler to create a large, thin slice of white chocolate to top each cookie dough ball before baking. I do not recall Blue Chip putting sea salt on top of their cookies, but I add some on mine because salt makes everything better.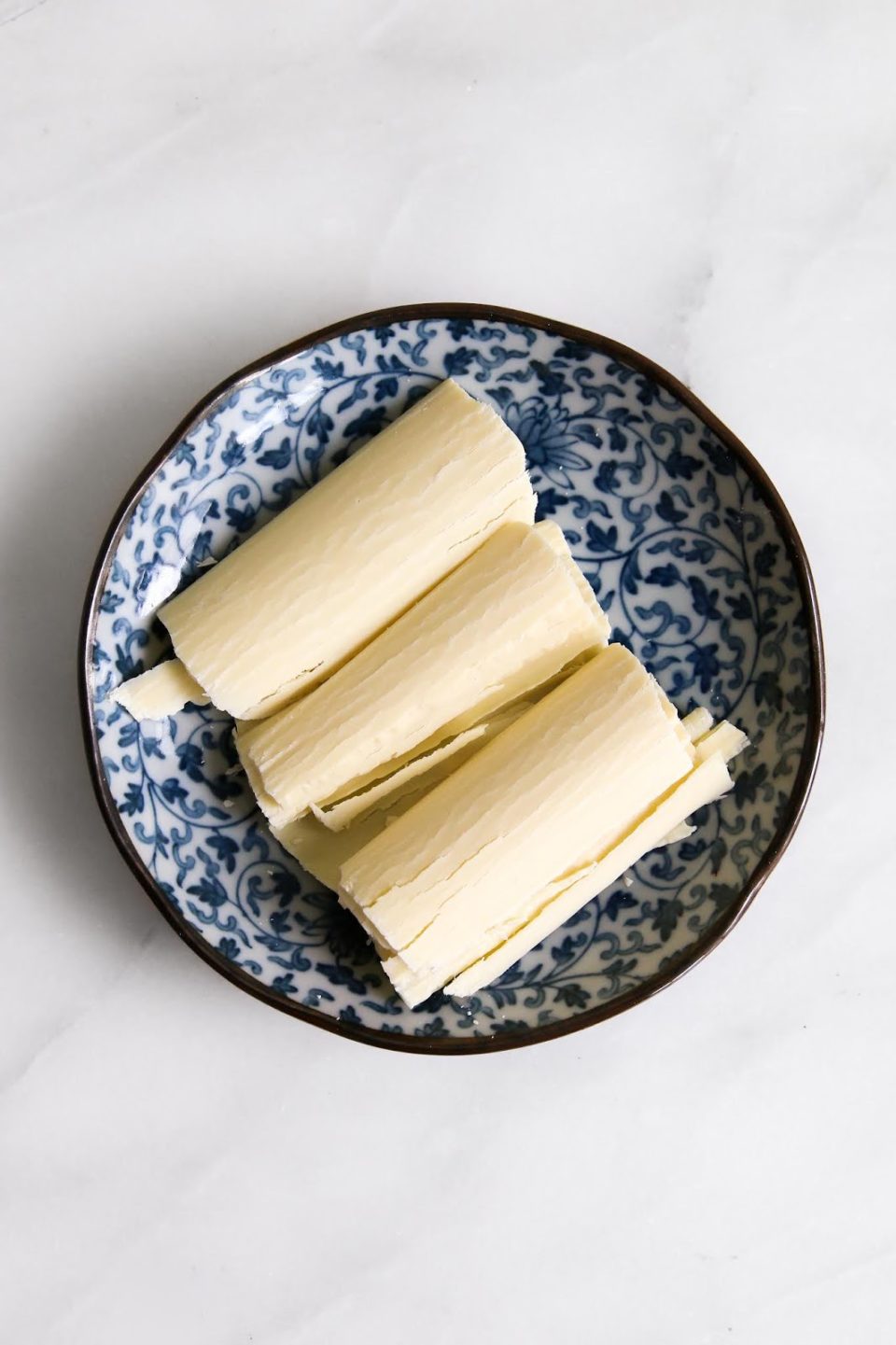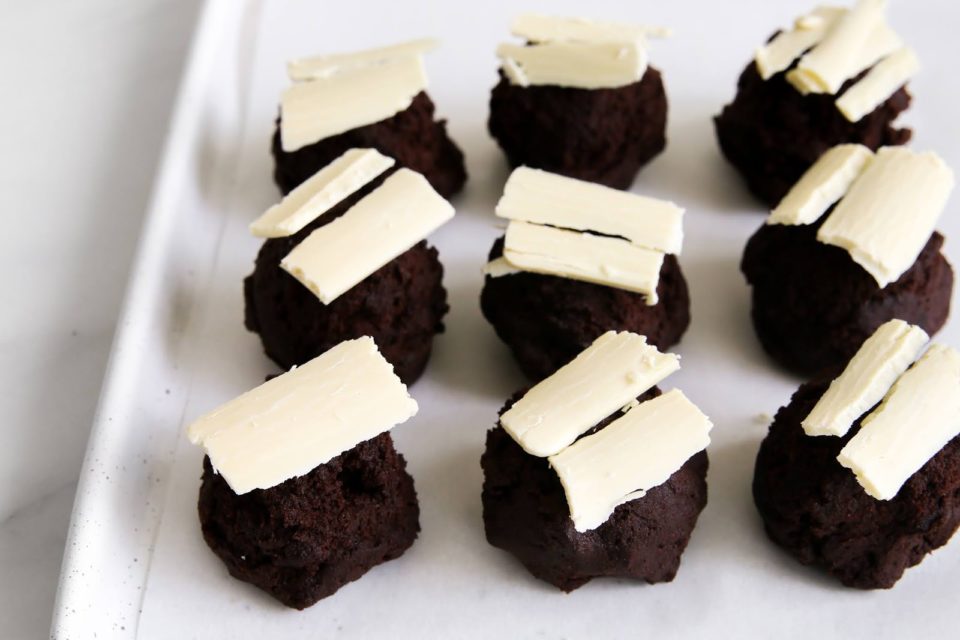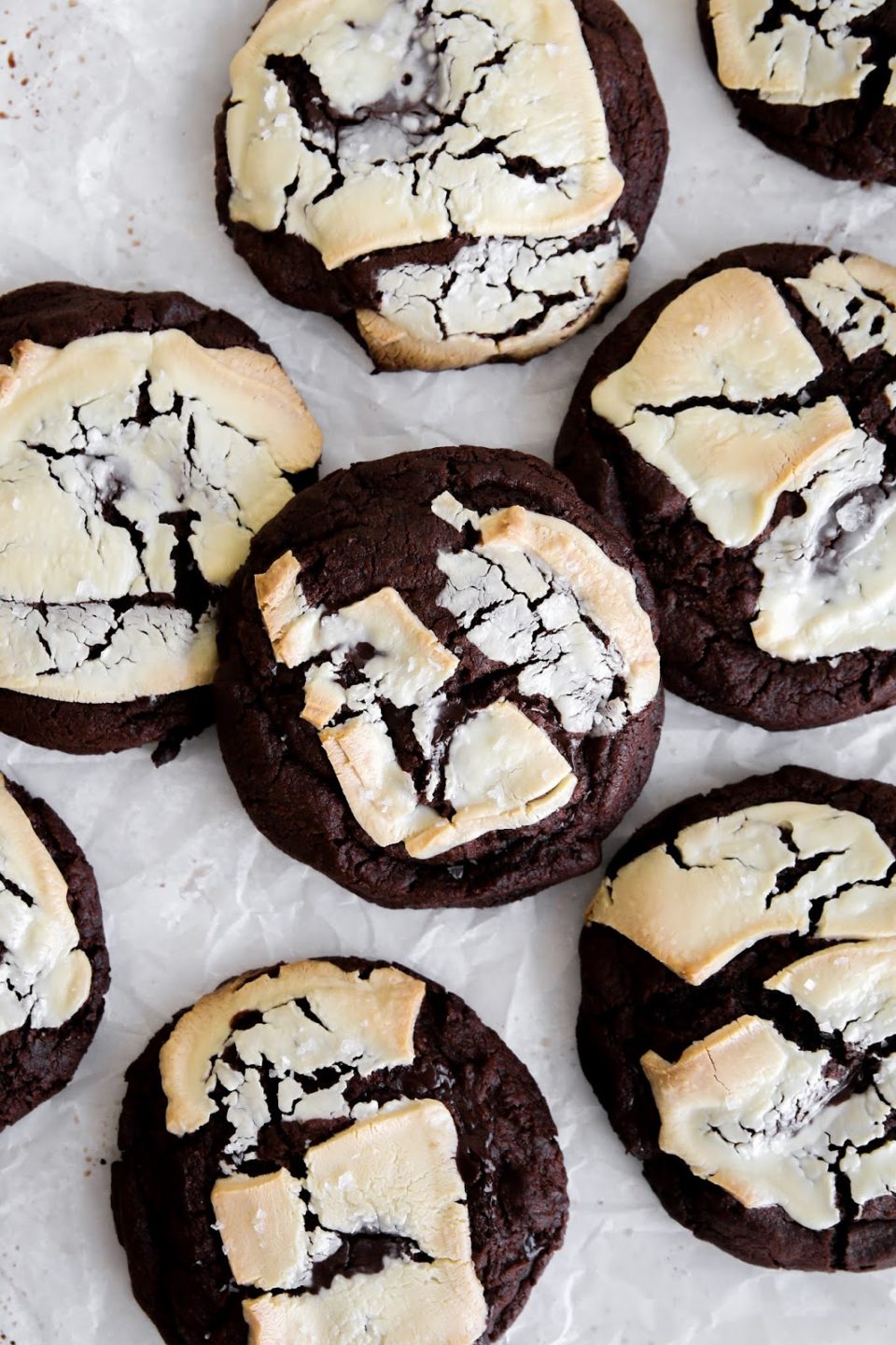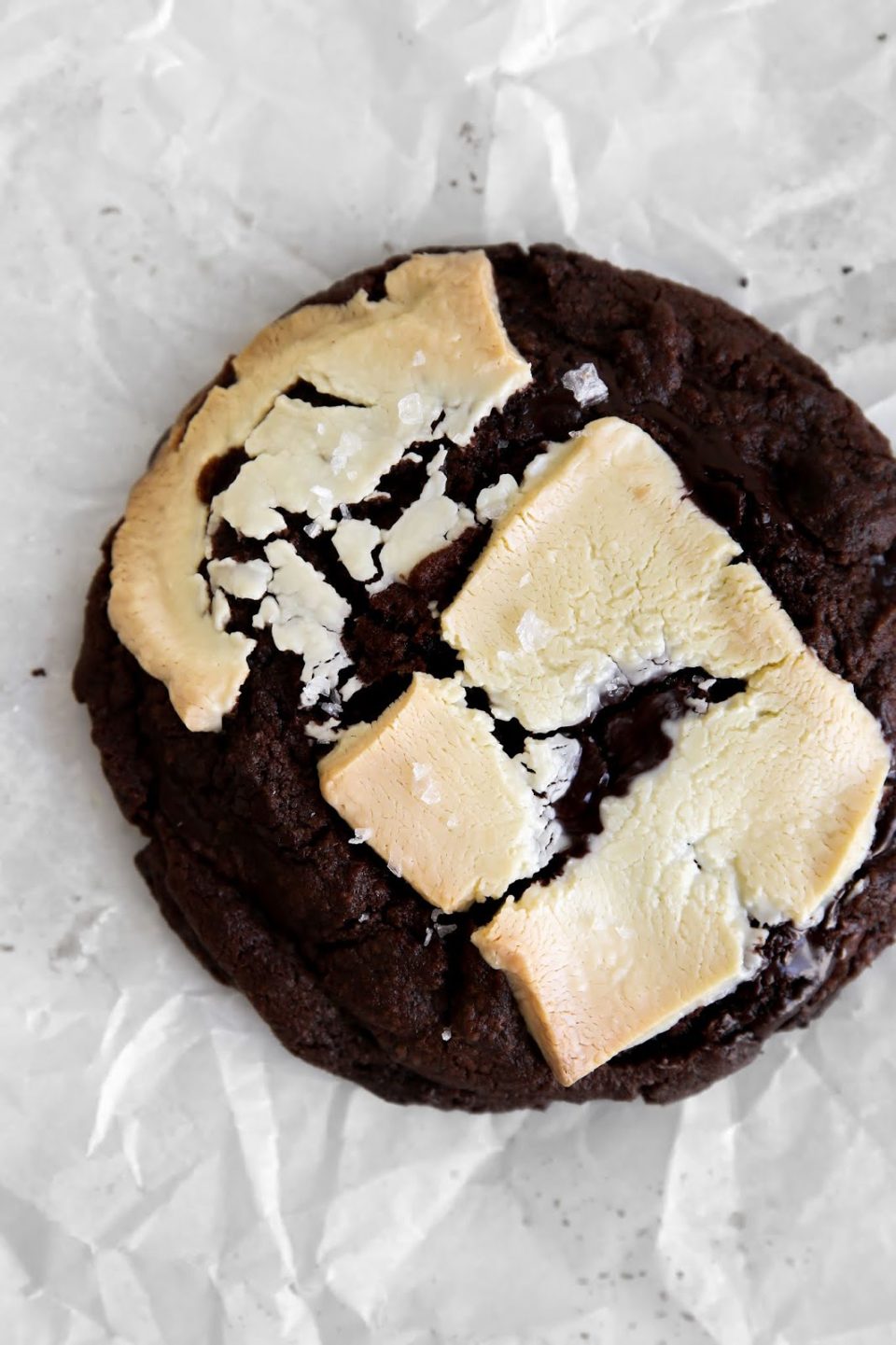 Ingredients
1/2

cup

plus 2 tbsp (113 g plus 28 g) unsalted butter

,

at room temperature

1/2

cup

plus 2 tbsp (100 g plus 26 g) brown sugar

1/2

cup

(100 g) granulated sugar

2

tsp

(10 ml) pure vanilla extract

1

large egg

,

at room temperature

1 1/3

cup

(160g) all-purpose flour

1/2

cup

and 2 tbsp (43g and10g) cocoa powder

3/4

tsp

salt

3/4

tsp

baking powder

1

⁄2 tsp baking soda

3/4

cup

(130 g) coarsely chopped dark chocolate

2/3

cup

(110 g) coarsely chopped milk chocolate

White chocolate pieces

,

for topping

Maldon sea salt flakes

,

as needed
Instructions
Preheat the oven to 350°F (177°C). Line a large baking sheet with parchment paper.

In the bowl of a stand mixer fitted with a paddle attachment, cream the butter, brown sugar, and granulated sugar on medium speed until they are smooth, about 1 minute.

Add the vanilla and egg to the butter mixture and mix on medium speed until they are fully incorporated, scraping down the sides of the bowl as needed.

In a medium bowl, whisk together the flour, cocoa powder, salt, baking powder, and baking soda. With the mixer on low speed, add the flour mixture in two batches to the butter mixture, and mix until the ingredients are just combined, about 1 minute.

Add the dark chocolate and milk chocolate, and mix until they are just incorporated with the dough, about 30 seconds.

Portion the dough into 10 dough balls of equal size and place them about 2 – 3 inches apart on the baking sheet. Top each dough ball with a big piece of white chocolate. I like using a sharp knife or vegetable peeler to get very thin, large pieces of white chocolate.

Bake the cookies for 12 to 14 minutes, or until the cookies are caramelized along the edges and the centres are just set. The white chocolate should start to turn slightly golden.

Remove cookies from oven and top each cookie with a sprinkling of the Maldon sea salt flakes. Allow the cookies to cool on the baking sheet for 5 minutes, then transfer them to a wire rack to cool completely.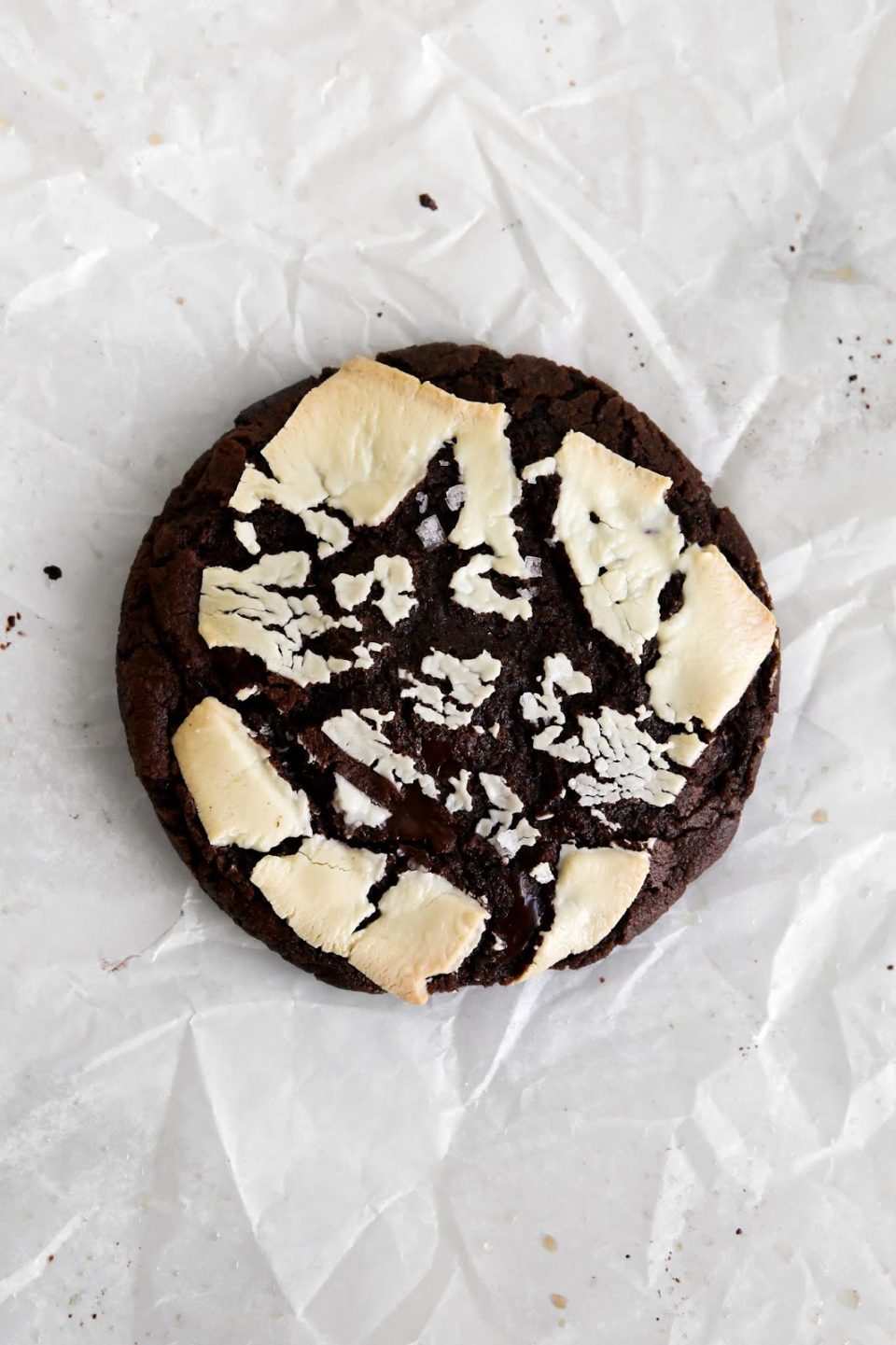 Happy baking!
Reader Interactions