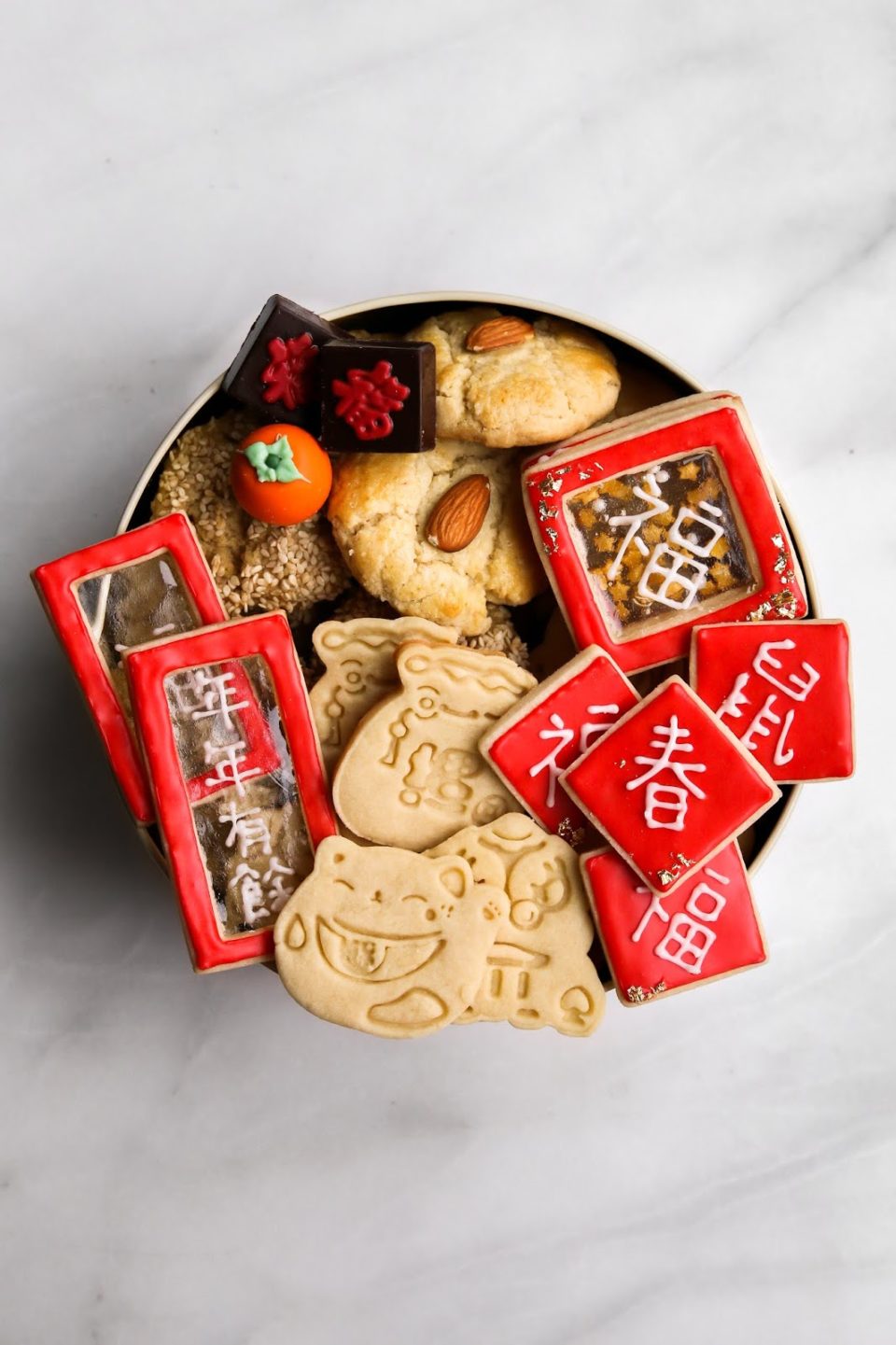 Happy almost Chinese new year! I celebrate all the other holidays of the year by baking elaborate cookie boxes and shaker cookies but I have never really done anything too big or extravagant for Chinese new year. I made these nian gao-stuffed cookies last year (they were so much fun!) but not much else beyond that. I promised myself that this year will be the year I do more for this special holiday because it is one of my favourite Chinese (and in general) holidays of the year. As I mentioned in the previous year, Chinese new year is celebrated with lots and lots of food — from sticky nian gao rice cake, to savoury taro and daikon cakes, and to trays of assorted sweets called Trays of Togetherness. This year I decided to make my own version of this tray of treats, but in a cookie box form (of course). This year, my tray is filled with classic stamped shortbread, shaker cookies, window cookies to represent fai chun, Chinese almond cookies, and chewy sesame cookies. 
I have shared a tutorial on my shaker cookies before but I have updated it with even greater detail this time around to make sure you end up with the shaker cookies of your dreams. Of course these Chinese new year shaker cookies are filled with gold sprinkles and topped with edible gold leaf — you cannot celebrate Chinese new year without any gold. All the shaker cookies and fai chun cookies are made with the same shortbread dough as the stamped cookies and they are adorn with lucky Chinese characters or sayings — 年年有餘 (you will have surplus every year), 心想事成 (may all your wishes come true), and 笑口常開 (may you always have laughter and happiness), just to name a few. All the writing was done with royal icing, the same way you would decorate regular sugar cookies. I loved the way the royal icing writing turned out on the shiny isomalt.
Lastly, we have one chewy cookie in the mix. I made a chewy sesame cookie inspired by crispy sesame balls you often find in Trays of Togetherness and at dim sum restaurants or Chinese bakeries. They are like a chewy sugar cookie but the addition of brown sugar and sesame seeds gives these cookies a great nuttiness. These would be just as great with black sesame seeds. All the treats are arranged in an old tin cookie box my mom saved for me (she loves saving old tins for me to use as future cookie boxes). I will keep this blog post short because I have so many recipes to share below. PS. White Rabbit candies are often found in Trays of Togetherness and these White Rabbit cupcakes would be so much fun for the new year celebrations as well.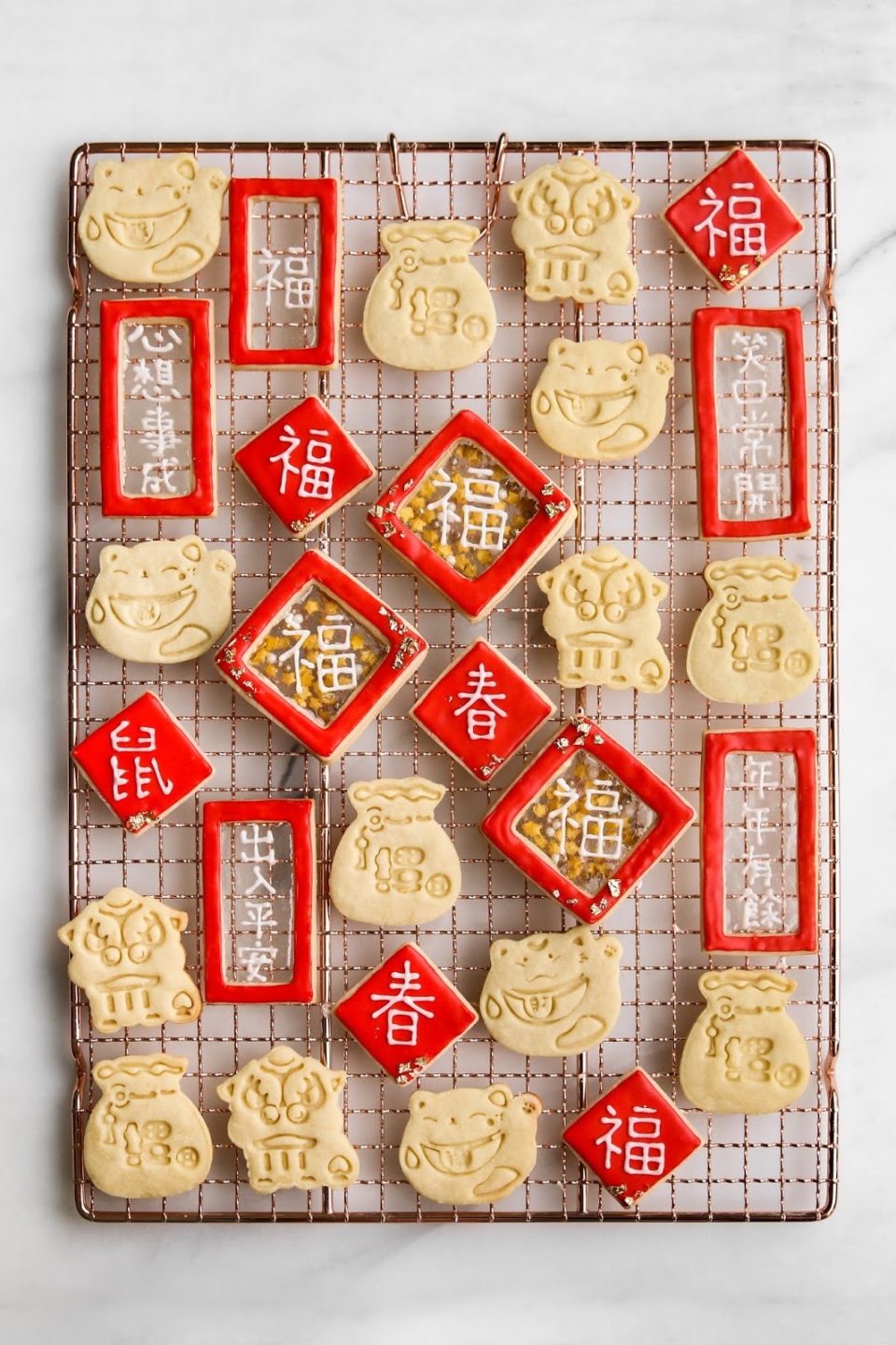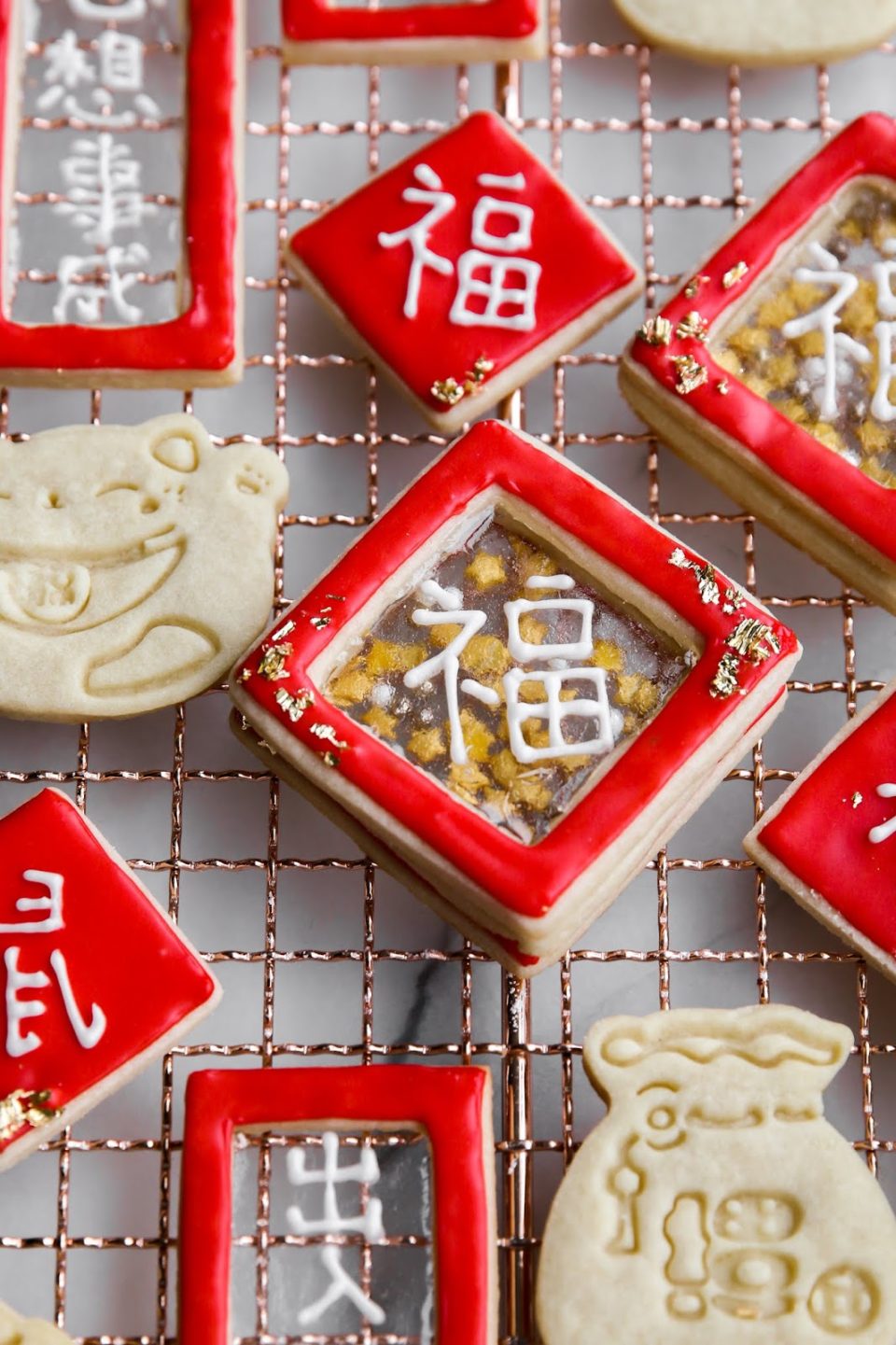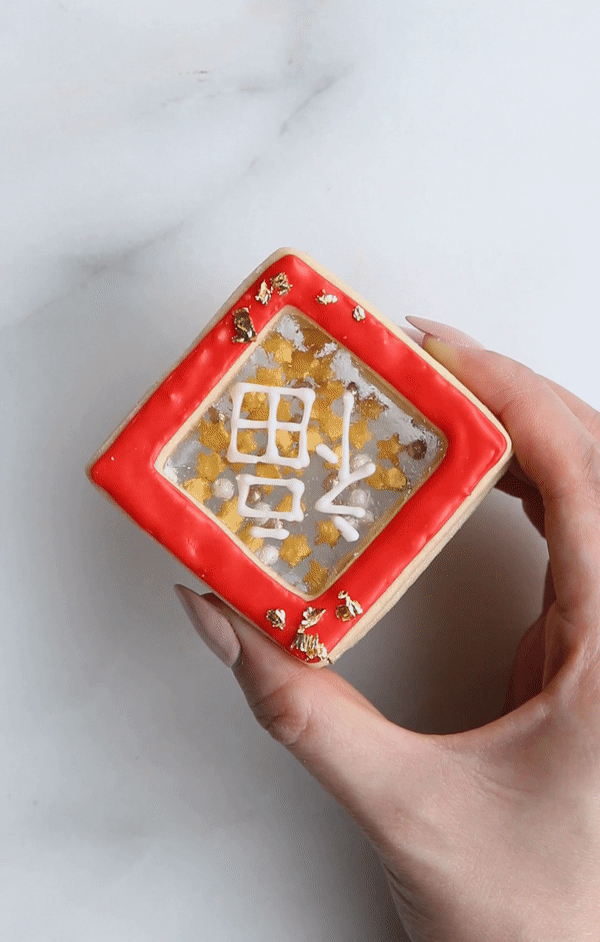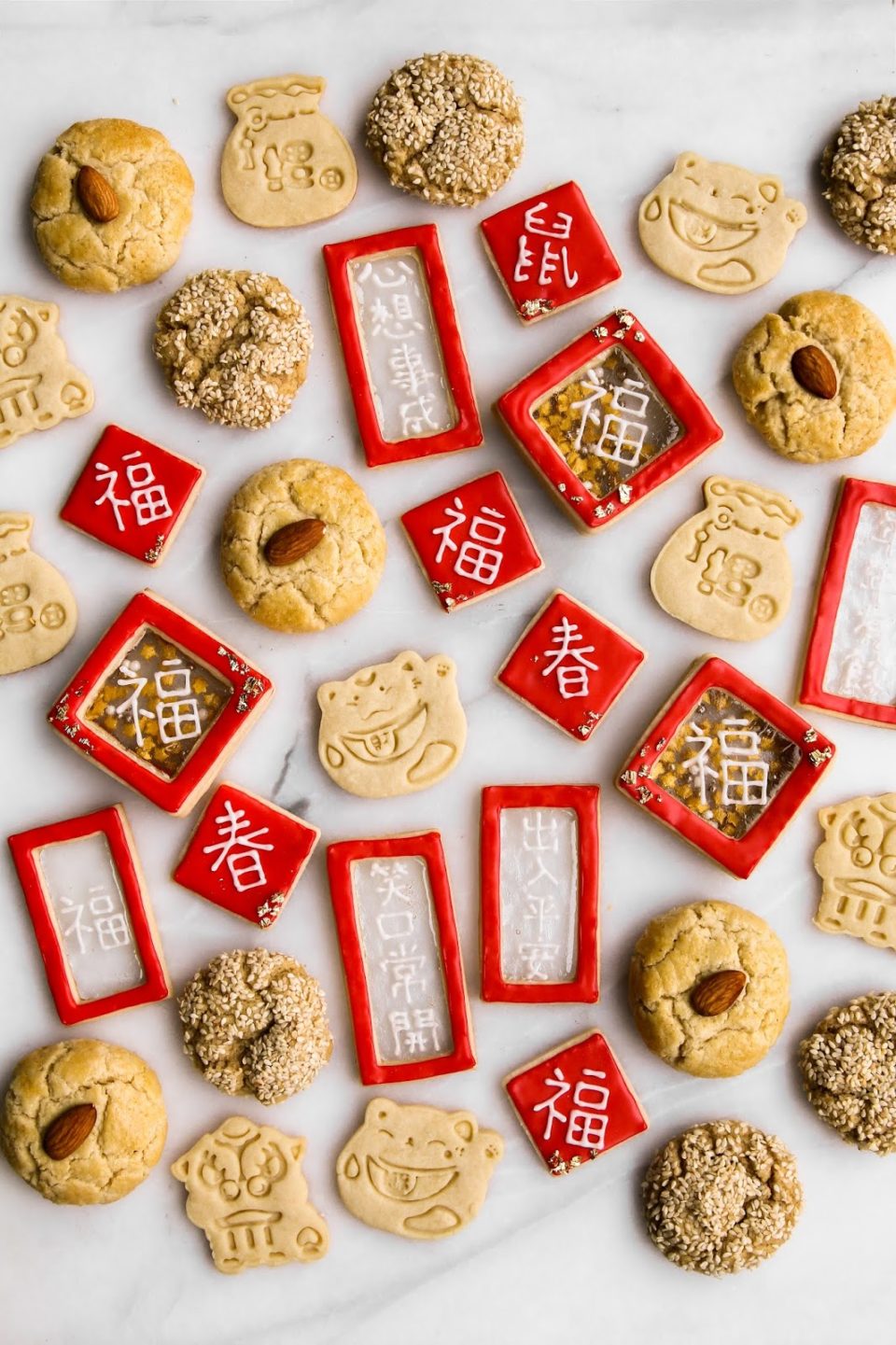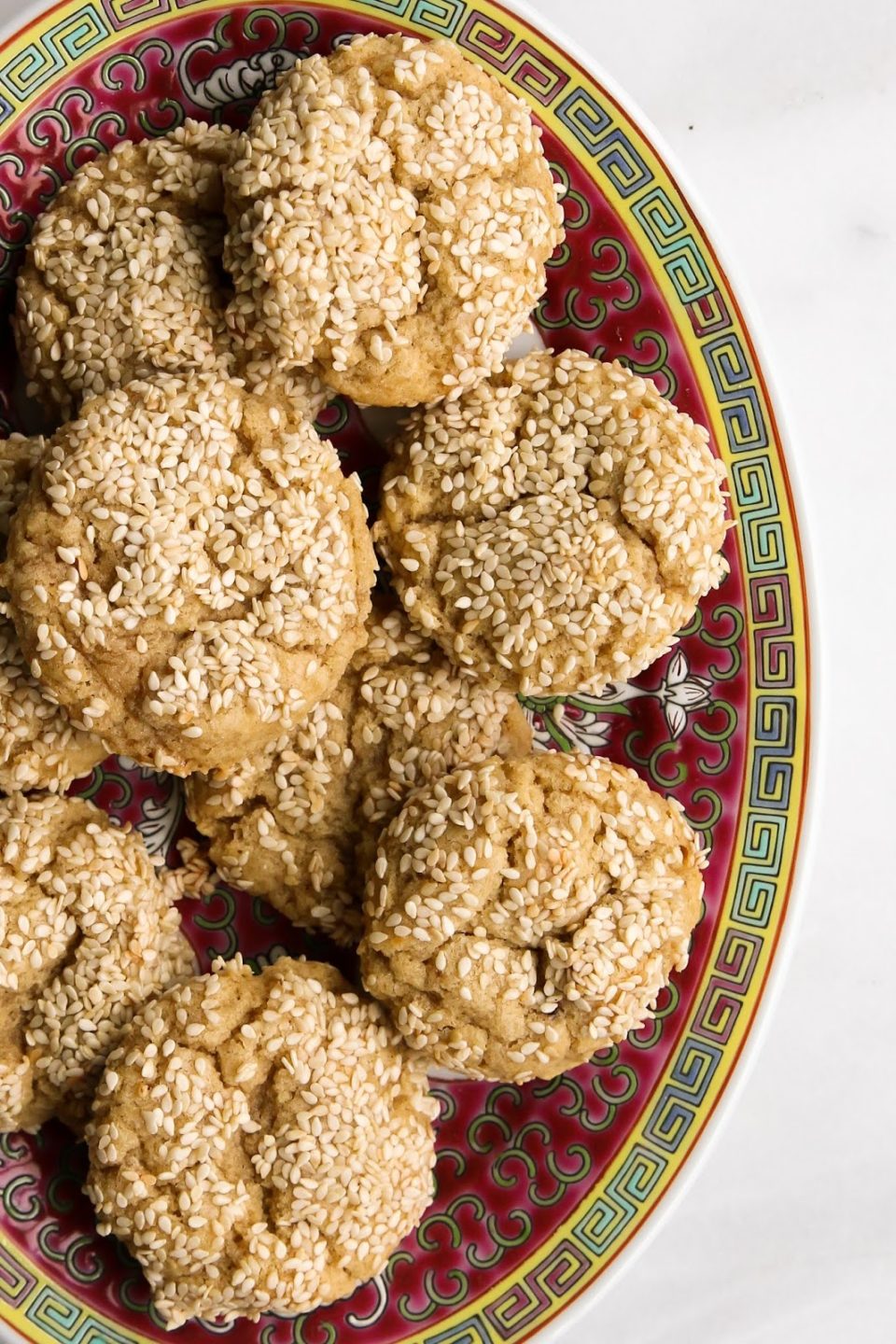 Happy Lunar New Year!
Equipment
Two square cookie cutters of different sizes
Ingredients
Blank Canvas Shortbread
1

cup

unsalted butter

,

at room temperature

1

cup

powdered sugar

2

teaspoon

vanilla 
extract

1 1/4

teaspoon

kosher salt

2

cups

all-purpose flour
Chinese New Year Shaker Cookies
*1/2 recipe of Blank Canvas Shortbread

1/2

cup

isomalt crystals

1

tablespoon

water

Royal icing

,

for decorating

Sprinkles of choice

,

for filling the cookies
Chewy Sesame Cookies
1 1/4

cup

all-purpose flour

1/3

teaspoon

baking powder

1/4

teaspoon

baking soda

1/4

teaspoon

salt

1/2

cup

unsalted butter

,

at room temperature

1/4

cup

granulated sugar

1/4

cup

brown sugar

1

large egg

,

yolk and white separated

1

teaspoon

vanilla extract

1/2

cup

white sesame seeds

,

as needed
Instructions
Blank Canvas Shortbread
In the bowl of a stand mixer fitted with a paddle attachment, beat the butter on low speed until smooth. Add the sugar, vanilla, and salt. Mix on low speed until well creamy and smooth. Add the flour and mix on low speed until just uniform in texture.

Gather the dough into a ball, divide the ball into two, and flatten each portion into a disc. Wrap tightly and refrigerate for at least 3 hours. If you are running low on time, throw it in the freezer for about 30 minutes.

Once the dough is chilled, take on of the discs and transfer it to a piece of parchment paper, cover with a second piece of parchment and flatten to form a rectangle about 1/4-inch thick.

When ready to bake, preheat the oven to 350 degrees. Line a baking sheet with parchment paper. Cut the dough with cookie cutters of choice and place them on the lined baking sheet. These won't spread too much, if at all. Repeat with second portion of dough. If cookie cut outs are starting to get soft by the time you have finished cutting out all the shapes, pop the baking sheet in the freezer for 10 – 15 minutes to allow the cut outs to firm up. A chilled dough will retain its shape better when baking.

Bake until golden around the edges, approximately 10 – 12 minutes. Remove pan from the oven and allow the cookies to cool on baking sheet for at least 10 minutes before transferring them to a wire rack to cool completely.
Chinese New Year Shaker Cookies
For the cookie squares
Make the shortbread dough recipe as listed above.  When rolling out the chilled shortbread dough, roll the dough to just a bit thinner than 1/4-inch thickness. With the larger square cookie cutter, cut out as many large squares as you can and transfer the square cut outs to a lined baking sheet. With the smaller square cookie cutter, punch out a square in the centre of each larger square. It is important that you make the smaller square cut out once the larger square has been transferred to the cookie sheet, or else the cookie will lose its shape when you try to transfer it. Gather the smaller square cut outs that you have removed from the larger square. Re-roll that dough and repeat the previous steps until all the cookie dough has been used up. If the dough starts to get soft, chill the dough again before cutting out the shapes.

Bake the squares for 6 – 7 minutes, until the edges of the cookies are golden. Keep a close eye on the cookies at the 5 minute mark because the cookies are thin and will start browning really quickly. Remove the cookies from the oven and allow them to cool completely on the baking sheet before handling. They will be very delicate. Transfer the cookies onto another baking sheet lined with a clean piece of parchment. We will be pouring the isomalt on this surface.
Keep in mind that you will need three squares per shaker cookie
Top cookie which will be filled with isomalt and decorated

Middle cookie to 'raise' the cookie so the sprinkles can move freely inside the cookie

Bottom cookie which will be filled with isomalt
For the isomalt
Preheat oven to 265F.

Place the isomalt crystals in a small pot over medium heat and allow the isomalt crystals to melt without stirring them. Once the isomalt is boiling, remove the small pot from heat. Isomalt will be very bubbly. Hold the small pot off of the heat until the bubbles settle down.

Once the bubbles have settled down, place the pot back down on the burner and stir in the water, a little at a time. Steam will aggressively come off of the sugar as the water is now cooling it down. Isomalt will still be very bubbly.

Reduce the amount of air bubbles in the hot isomalt by placing it in the oven at 265F for 10 minutes. If you skip this step, the bubbles will stay in the isomalt and will harden with the bubbles still visible.  After 10 minutes, carefully remove pot of isomalt from oven and use the isomalt while it is still hot. Carefully pour the hot isomalt into the centres of each cookie cut out and spread the isomalt to the edges and corners of each cookie with a small spoon. If the isomalt starts to thicken, place it back in the oven for 2 – 3 minutes until it liquefies again. Allow the isomalt to cool completely before moving the cookies, at least 10 minutes

Once the isomalt has set, take a piece of paper towel and dab it in a small dish of oil (I use vegetable oil). Gently polish the back side of the isomalt (the side that was on the sheet tray). This will make the isomalt extra clear and see through.
To assemble
Place one isomalt-filled cookie down. Apply royal icing to the edges of the cookie, being cautious to not get any icing on the 'glass.' Stack the hollow cookie before the royal icing dries. Fill your cookie with sprinkles of choice. Attach last isomalt-filled cookie with royal icing to 'seal' the cookie. Decorate the top of each cookie.
Chewy Sesame Cookies
In a medium bowl, whisk together flour, baking powder, baking soda, and salt. Set aside.

In a bowl of a stand mixer, beat together butter and sugars until creamy and smooth. Add egg yolk and vanilla and beat until combined. Add the dry ingredients in two increments and mix until just combined. Chill the dough, covered, for at least one hour.

When dough has been chilled, portion dough into 14 equally-sized dough balls. Dip each ball into egg white before rolling in sesame seeds to cover the entire ball. Transfer covered dough balls to a lined baking sheet, placed 2 inches apart.

Bake dough balls at 325F for 12 – 15 minutes until the edges are a light golden brown and the centres are just set. Allow cookies to cool on baking sheet for ten minutes before transferring them to a wire rack to cool completely.
Notes
Blank Canvas Shortbread
Yields approximately 2 dozen (depends on size and shape of cookie cutters)
Two square cookie cutters of different sizes (I have this set!)
Chewy Sesame Cookies
Yields 14 – 16 cookies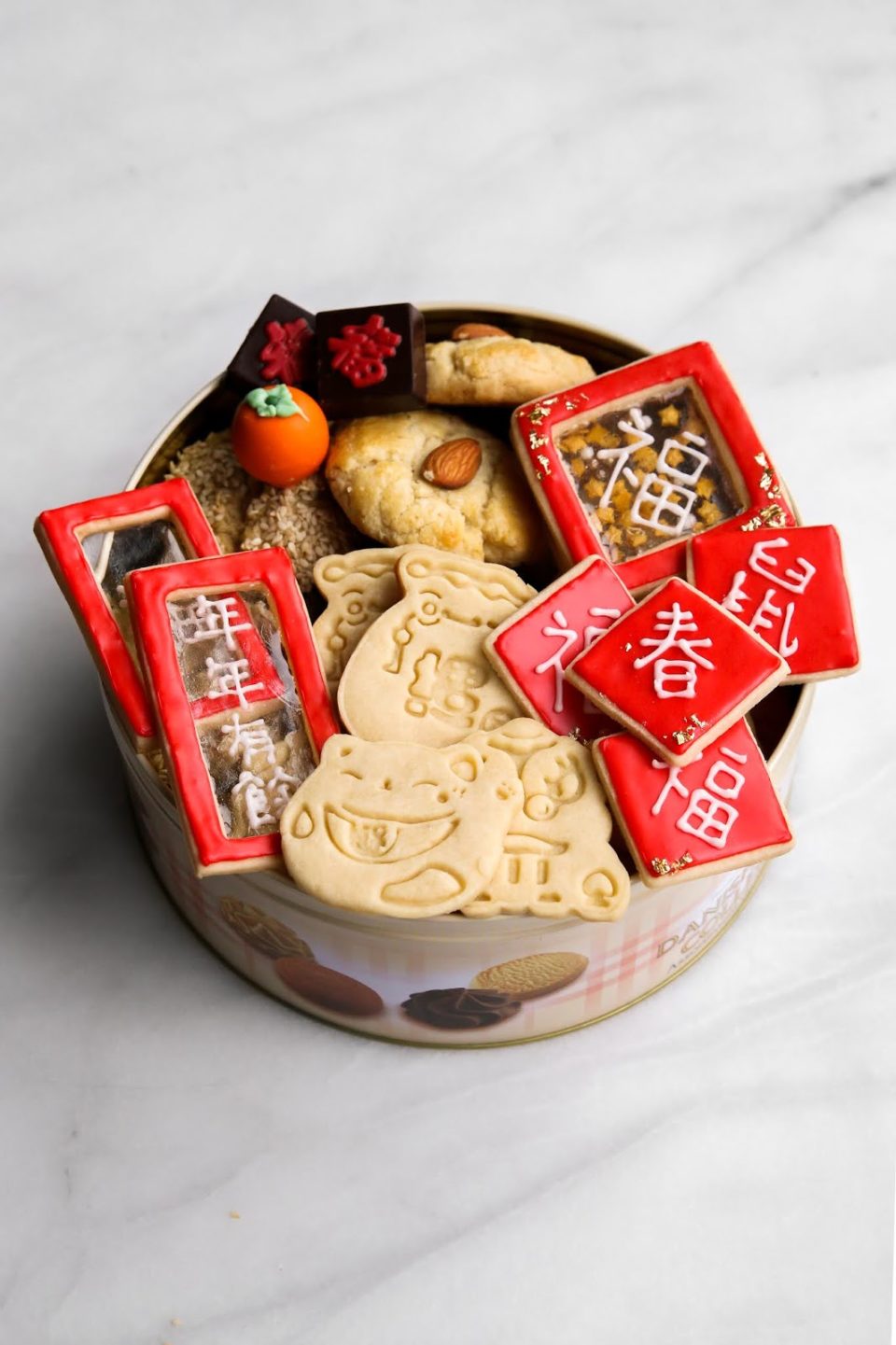 Reader Interactions