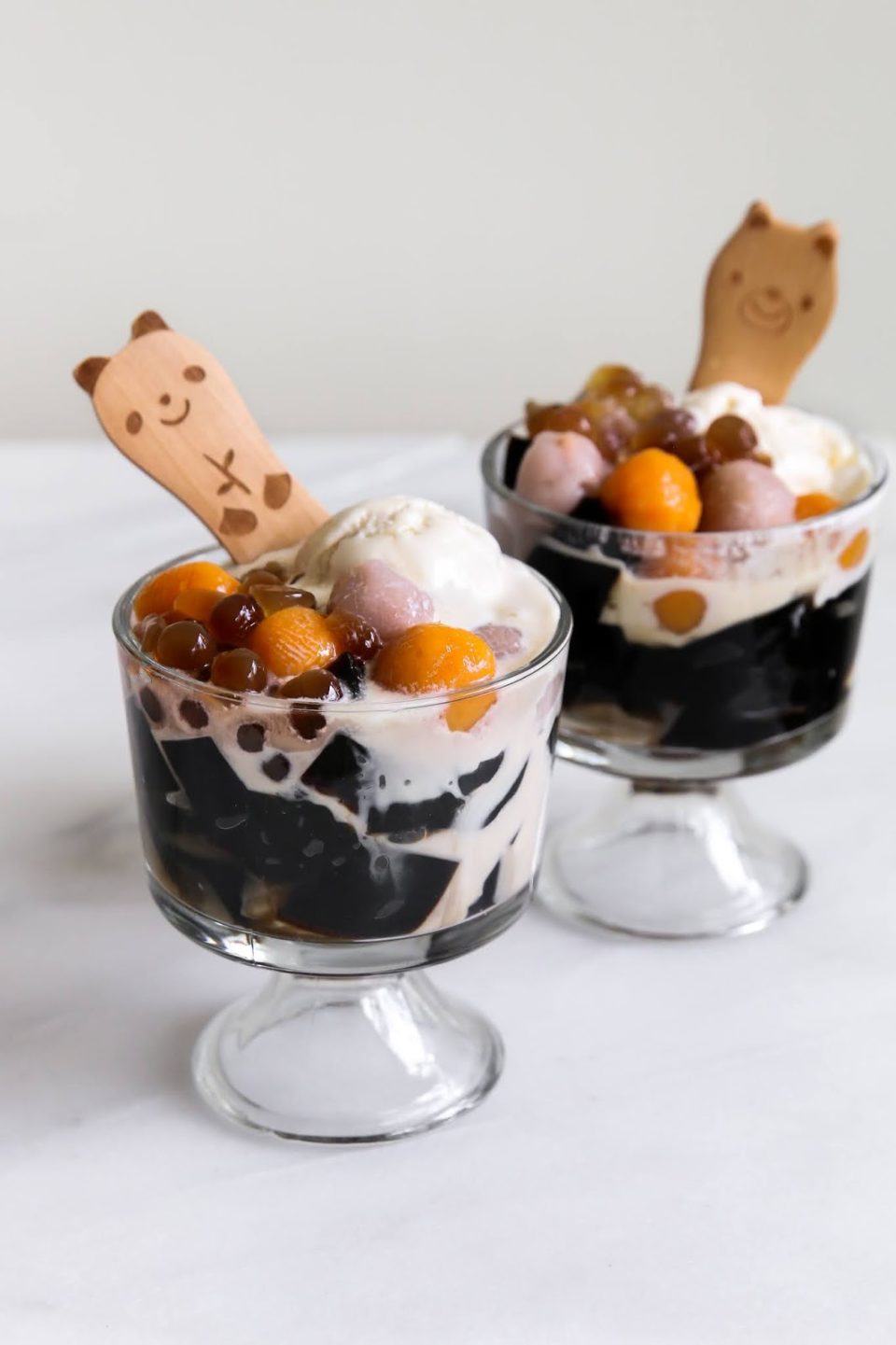 Perhaps it is because I grew up eating it a lot more, I find myself craving Chinese dessert more often than non-Chinese desserts. I always want dessert 'soups' with coconut milk, grass jelly, and cubes of fresh fruit. I will always say yes to my mom's pearl barley and bean curd dessert. And you know I will be having at least two bowls of 楊枝甘露 (chilled mango pomelo sago) during warm summer days. Most of these aforementioned Chinese desserts are often homemade and enjoyed in the comforts of my parents' home. When we are out, we opt for dessert options that are more laborious if we were to make it at home. I love frequenting dessert shops that specialize in taro desserts. Taro is very common ingredient and flavour in Chinese desserts and I am here for it. I grew up eating shaved ice with tender taro chunks and taro balls and nowadays, I always find an excuse to go to Meet Fresh or Blackball for their signature taro desserts.
Over the last few weeks, I have started making my own version of these desserts and have found so much joy learning more and more about all the different types of rice flours and starches used in Chinese sweets. Through making many batches of taro balls, yam balls, and sweet potato balls, I think I have found the ideal ratio of these root vegetables to tapioca starch. My mom loves everything taro as much I do, so I made a build-your-own dessert bowl type of situation for her for Mother's Day. The set up is exactly like the set up at Meet Fresh or Blackball — grass jelly, yam balls, taro balls, boba pearls, brown sugar syrup, evaporated milk, condensed milk and homemade ice cream ready to be layered in a dessert cup or bowl. I am so excited to share my love of this Chinese dessert with you, which in my opinion, is the perfect summer treat.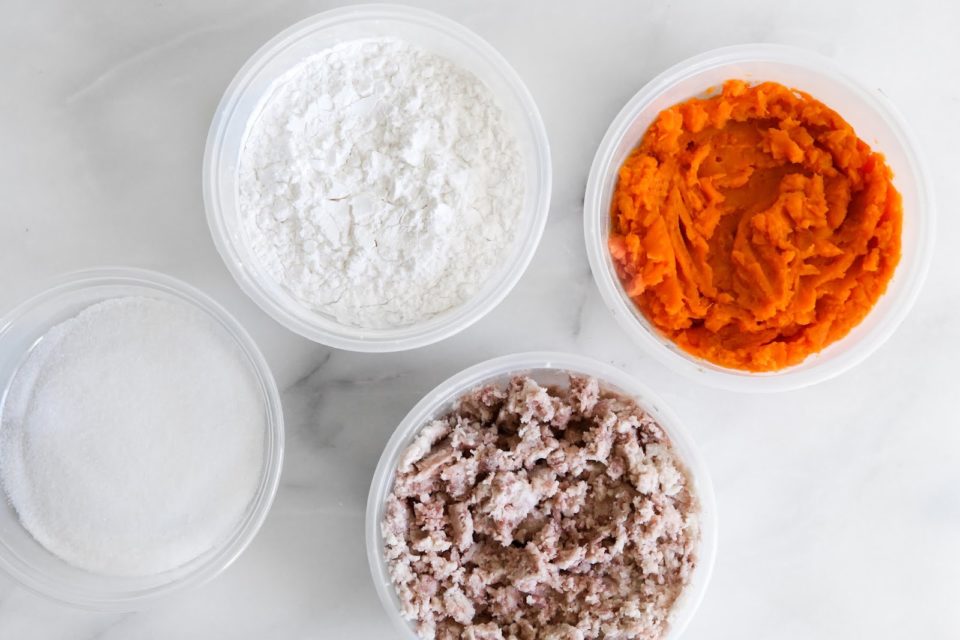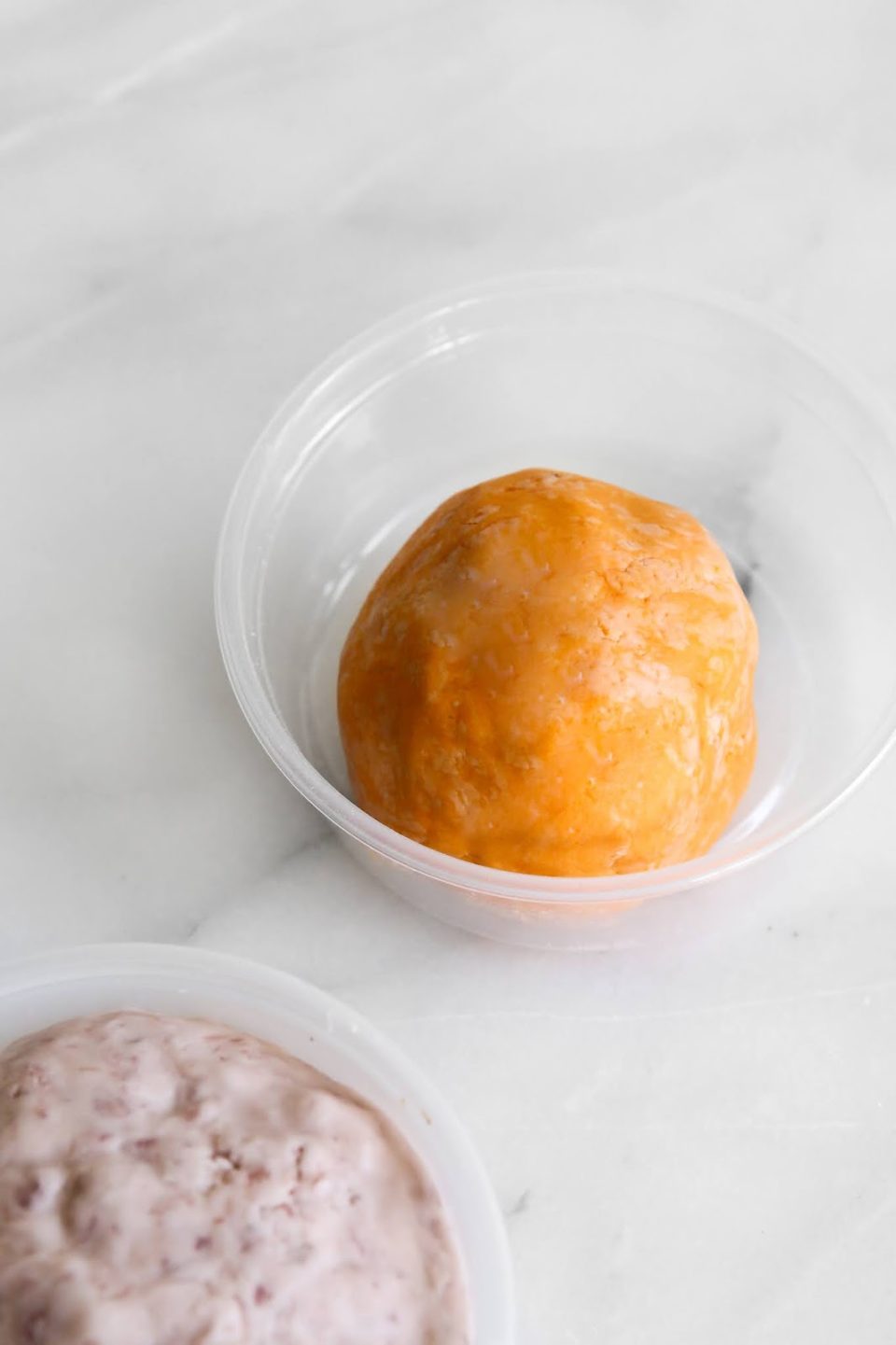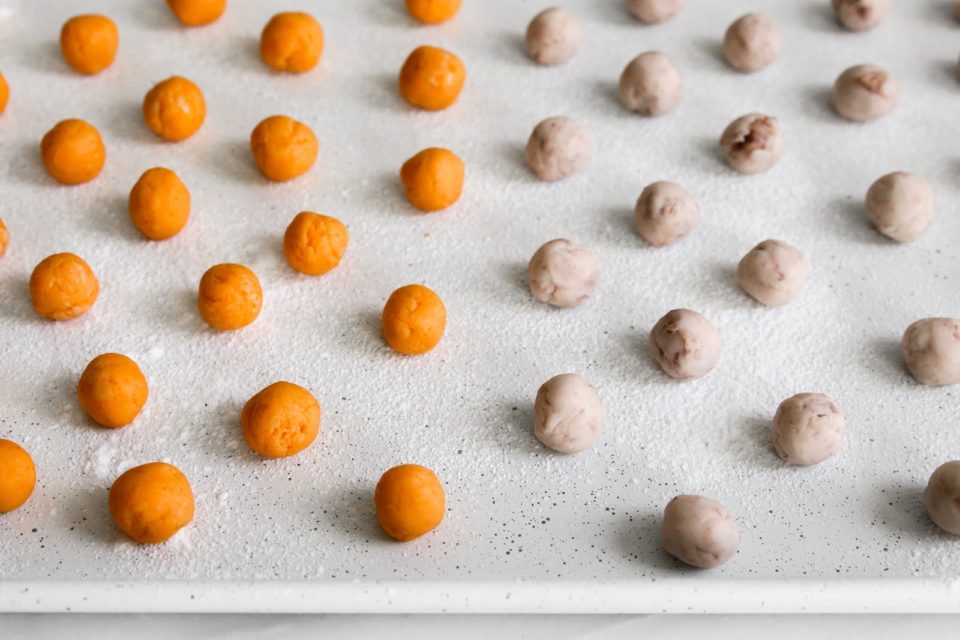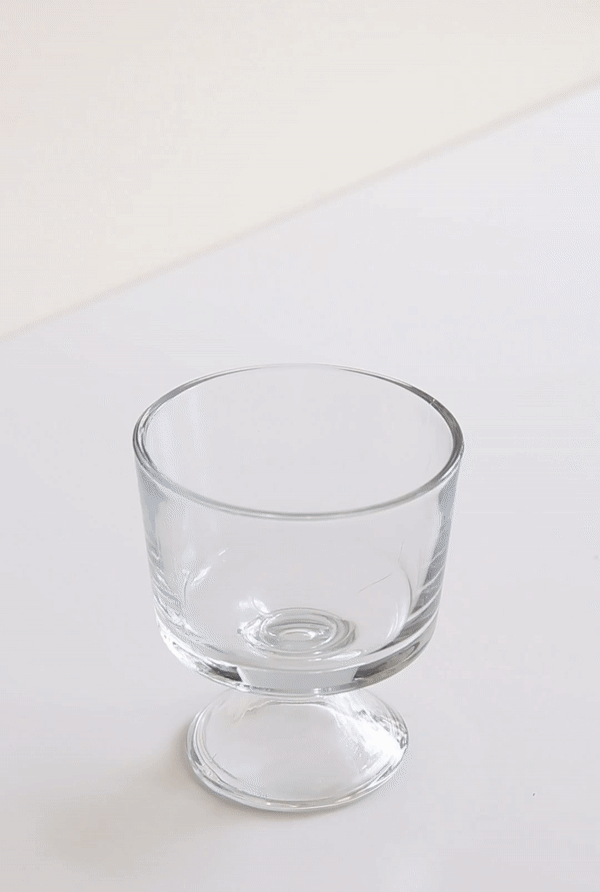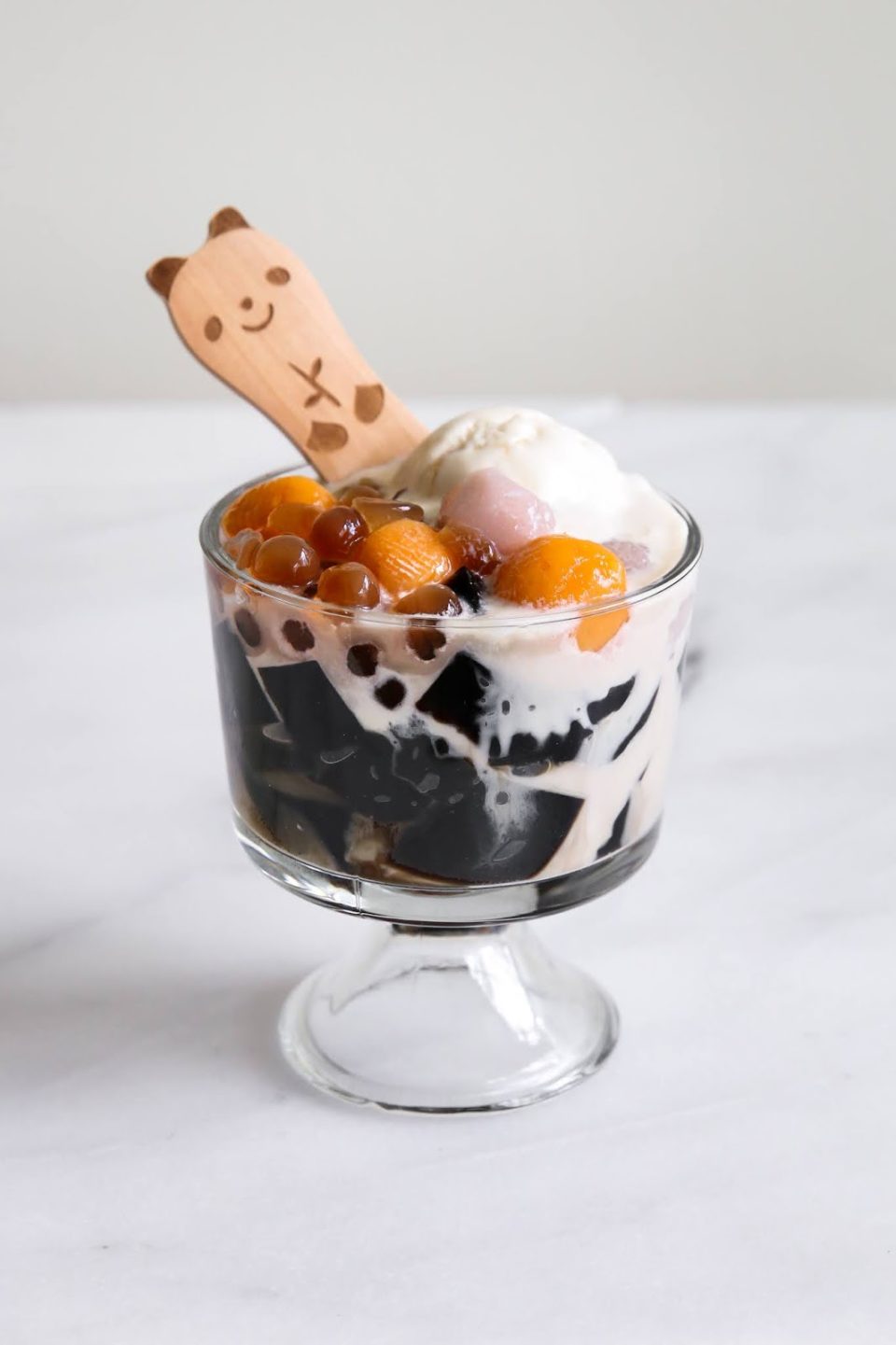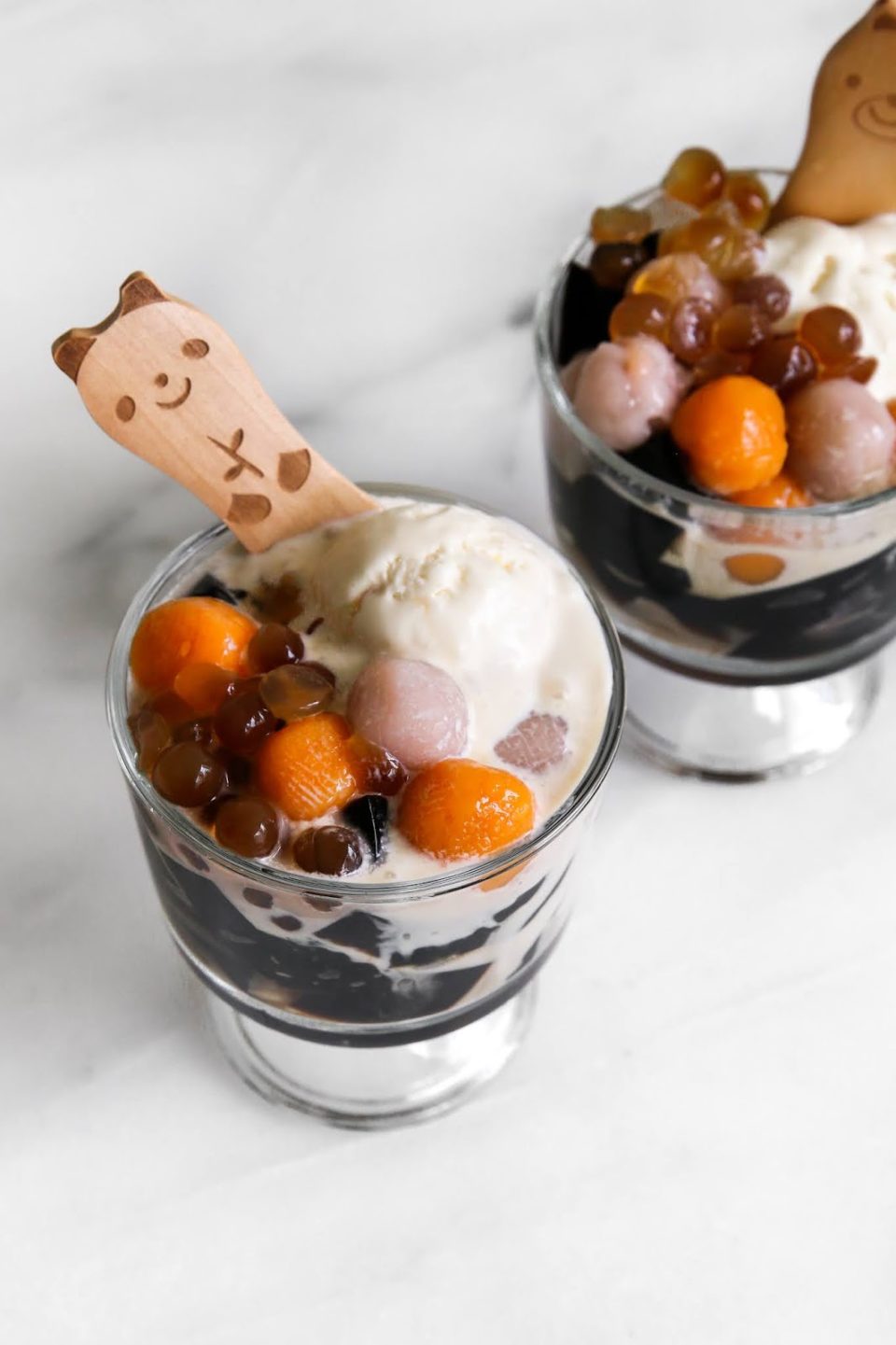 Happy baking!
Ingredients
Taro Balls
250

g

taro steamed and mashed (~about 1/4 of a large taro root)

85

g

tapioca starch

3

tablespoons

(up to 5) water

1

tablespoon

granulated sugar
Yam Balls
150

g

yam

,

steamed and mashed (~about 1 medium-sized yam)

45

g

tapioca starch
Brown Sugar Syrup
5

tablespoons

brown sugar

4

tablespoons

water
Instructions
Yam Balls
Clean and remove the skin of taro root and yams. Cut the root vegetables into large cubes and place inside a steamer basket above a large pot of water. Steam until root vegetables are fork-tender, about 15 minutes.

Once the root vegetables are tender, transfer the taro to one bowl (250g) and the yams (150g) to another bowl. Use a fork and mash the root vegetables. Leaving small chunks is okay, it will give more texture to the balls.
For Taro balls
Add tapioca starch, water, and sugar to the taro paste and mix until fully combined. If you taro dough is too crumbly or dry, add more water, 1 tablespoon at a time until the dough comes together.
For yam balls
Add tapioca starch to the yam paste and mix until fully combined. Unlike taro root, yams contains quite a bit of moisture and sweetness, so we can omit adding any water or sugar to the mixture.

Shape the dough into balls, slightly larger than the size of boba pearl (my dad says the size of a Malteser is perfect).

Bring a large pot of water to a boil and drop the taro and yam balls into the pot. Turn the heat down to medium and cook until the pearls float to the top, about 5 – 7 minutes.

Transfer the cooked balls to a bowl of cold water to prevent it from cooking further.

Remove from cold water and set the balls aside.
Brown Sugar Syrup
In small pot over medium heat, combine brown sugar and water. Bring the mixture to a boil and cook until mixture thickens a bit and becomes syrupy. Remove from heat and allow syrup to cool down a bit, about 10 minutes.
To assemble
Grass jelly

Taro and yam balls

Cooked boba pearls

Brown sugar syrup

Evaporated milk

Ice cream

To assemble, fill half a cup or small bowl with grass jelly, top with taro balls, yam balls, boba pearls, and any other toppings of choice. Drizzle brown sugar syrup and evaporated milk to taste. Top with a big scoop of ice cream. Enjoy immediately.
Notes
Note you can always scale up or down the recipe to make more or less taro and yam balls. You just want to make sure you keep the ratios of ingredients the same.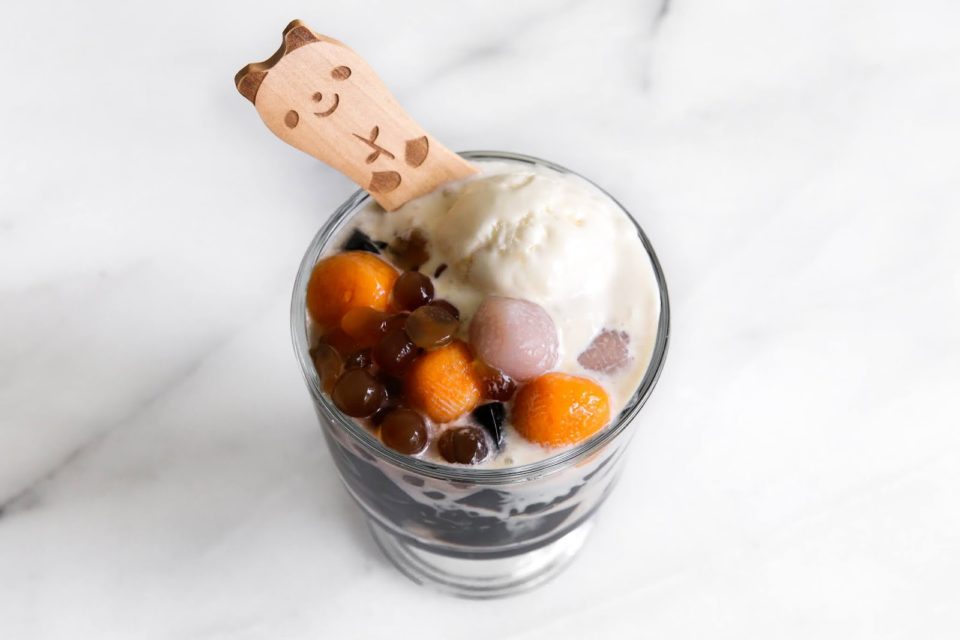 Reader Interactions