In elementary school, one of my favourite things to receive in my little Valentine's Day "mailbox" was a Hershey's Kisses chocolate. I did not care for cinnamon hearts or conversation hearts. All I wanted was one the iconic flat-bottom teardrop-shaped chocolate in its signature metal foil wrapping attached to my Valentine's Day card. I preferred the ones in the pink foil of course, but would not complain if I received a silver one. For this Valentine's Day I am not only gifting Hershey Kisses chocolates, but also Hershey Kisses-shaped sugar cookies. These cookies are extremely easy to make and they do not require a deft hand for the decorating component. The cookies are iced and then dipped in metallic sanding sugar to give the cookies the signature foil look. A Hershey's Kisses is not truly a Kiss unless it has its KISSES tag attached so I used the paper tags from the actual chocolates, which also meant I got to snack on a few while making these cookies.
Equipment
Heart-shaped cookie cutter

Piping bag

Piping tip

Royal icing

Sanding sugar (preferably metallic)

Hershey's Kisses tags
Instructions
Make the cookie dough according to the instructions of your recipe and chill the dough for at least an hour.

Between two sheets of parchment paper, roll out the chilled dough to 1/4-inch in thickness. Using a heart-shaped cookie cutter, press the bottom end of the heart cutter into the dough without pressing down the end with the two rounded halves.

Using a small knife, connect the two ends to form the bottom of the Hershey's Kisses. Repeat. Transfer the cutouts to a large lined baking sheet.

Transfer the baking sheet with the cutouts to the freezer for 15 minutes to help the dough firm up. A thoroughly chilled dough will ensure that the cookies will retain their shape when baking.

Bake the cookies according to the instructions of your recipe. Allow the cookies to cool completely before decorating.

Fill a piping bag fitted with a small round piping tip with royal icing. Draw an outline on each Hershey's Kisses cookie and then fill in the cookie with royal icing. Before the icing dries, dip the cookie into the coloured sanding sugar. Take a Hershey's Kisses tag and tuck it into one side of the cookie.

Allow cookies to dry completely before stacking.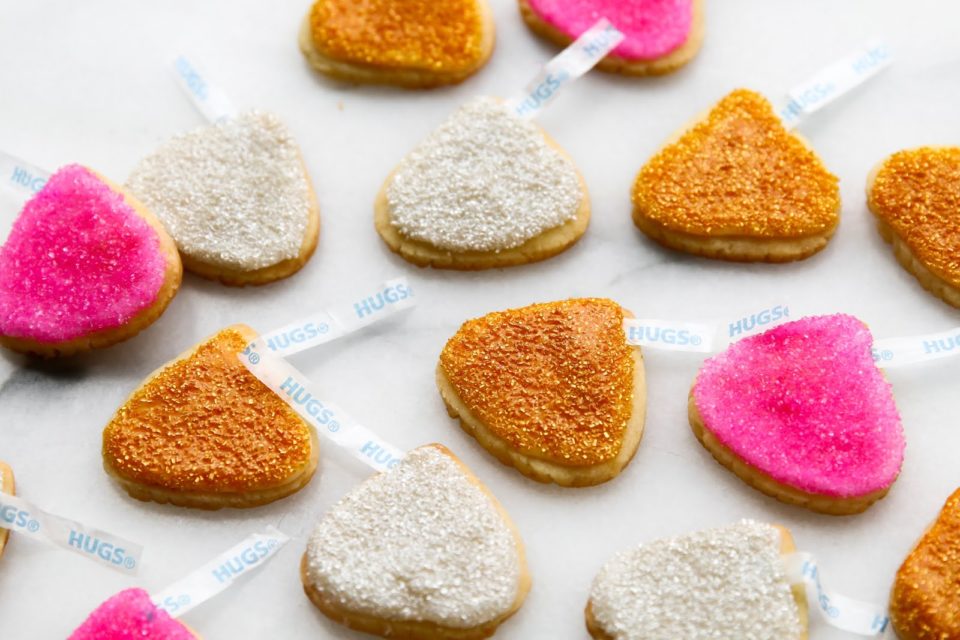 Happy baking!