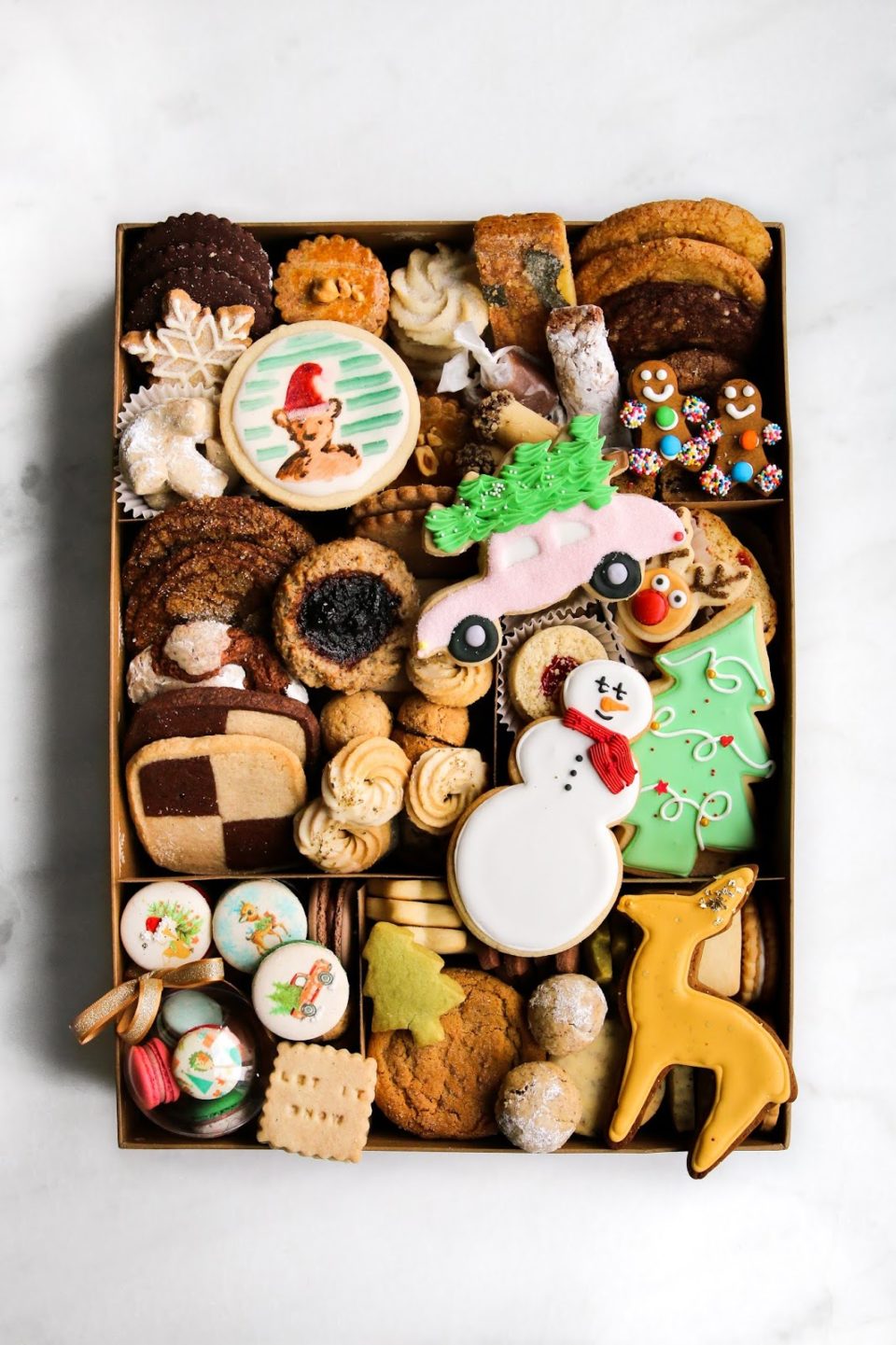 Two years ago, I dedicated a day in early December to gather holiday cookies from a few Vancouver bakeries known for their holiday treats. I collected the cookies and assembled a large cookie box accompanied by a cookie box assembly 101, with helpful tips and tricks to answer all your questions on creating the perfect holiday treat box. Those tips and tricks still hold true so for this year's holiday cookie round-up, we will be focusing on the cookies themselves. This past weekend, Rich and I revisited some of our favourite bakeries from two years ago and added a few new ones to our list (new to offering holiday baked goods and not necessary a new bakery that recently opened). Compared to two years ago, we doubled (!!) the amount of cookies and variety of cookies in our box to make sure there was a perfect cookie for everyone.
A million photos later, Rich and I tasted all the cookies. We found our comfy spot on our small couch and tasted e v e r y single cookie because ~science~. I even made him (and my parents the next day) do a blind taste test. We each picked our favourites and swore we could not eat anymore cookies for the next little while. (Plot twist: we ate more cookies this evening.) Before I let you know which were my favourite ones, I need to preface it with the fact that I generally prefer a shortbread cookie over a chewy cookie. Unpopular opinion, I know. So let's talk about every single cookie holiday cookie.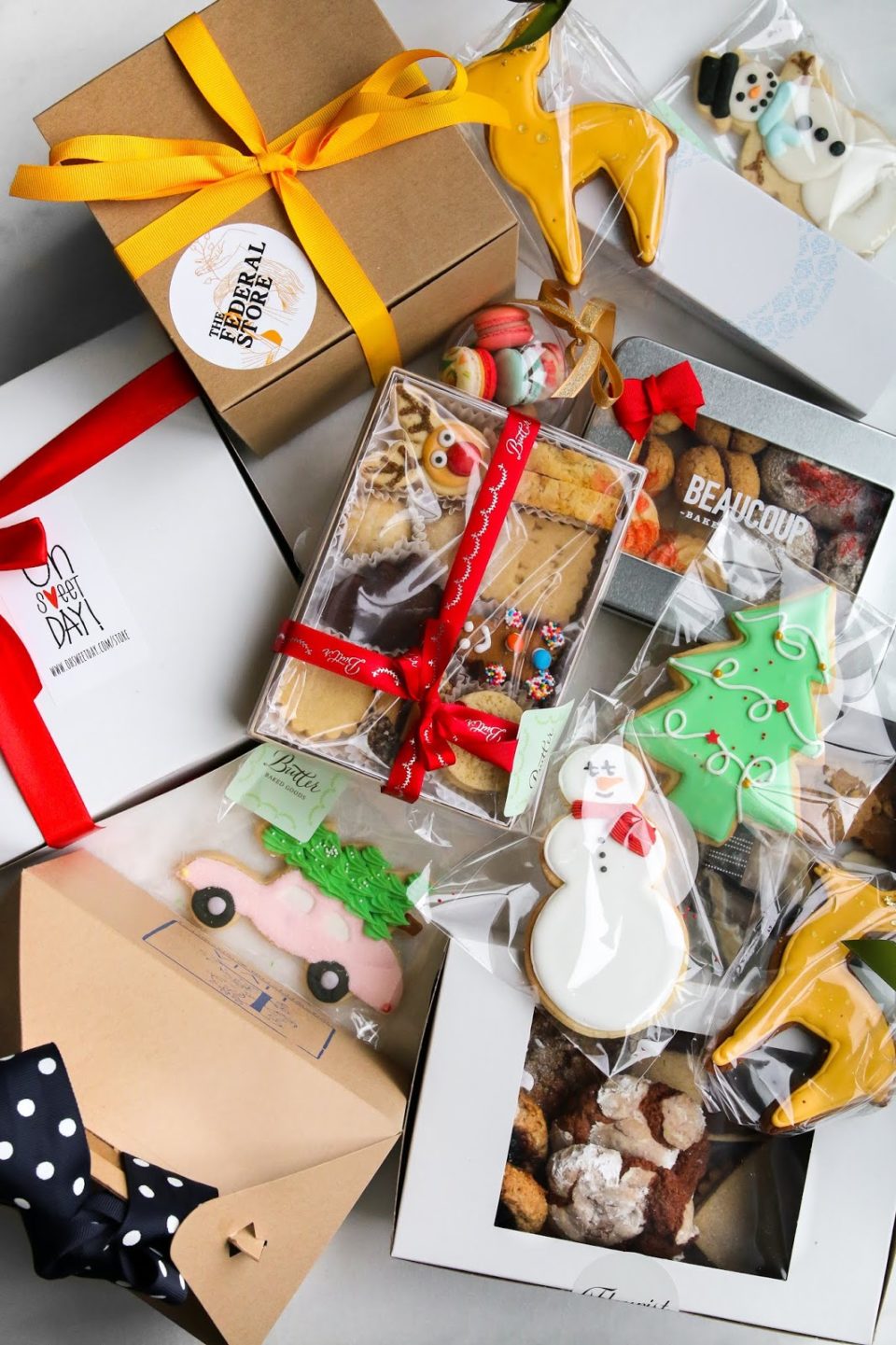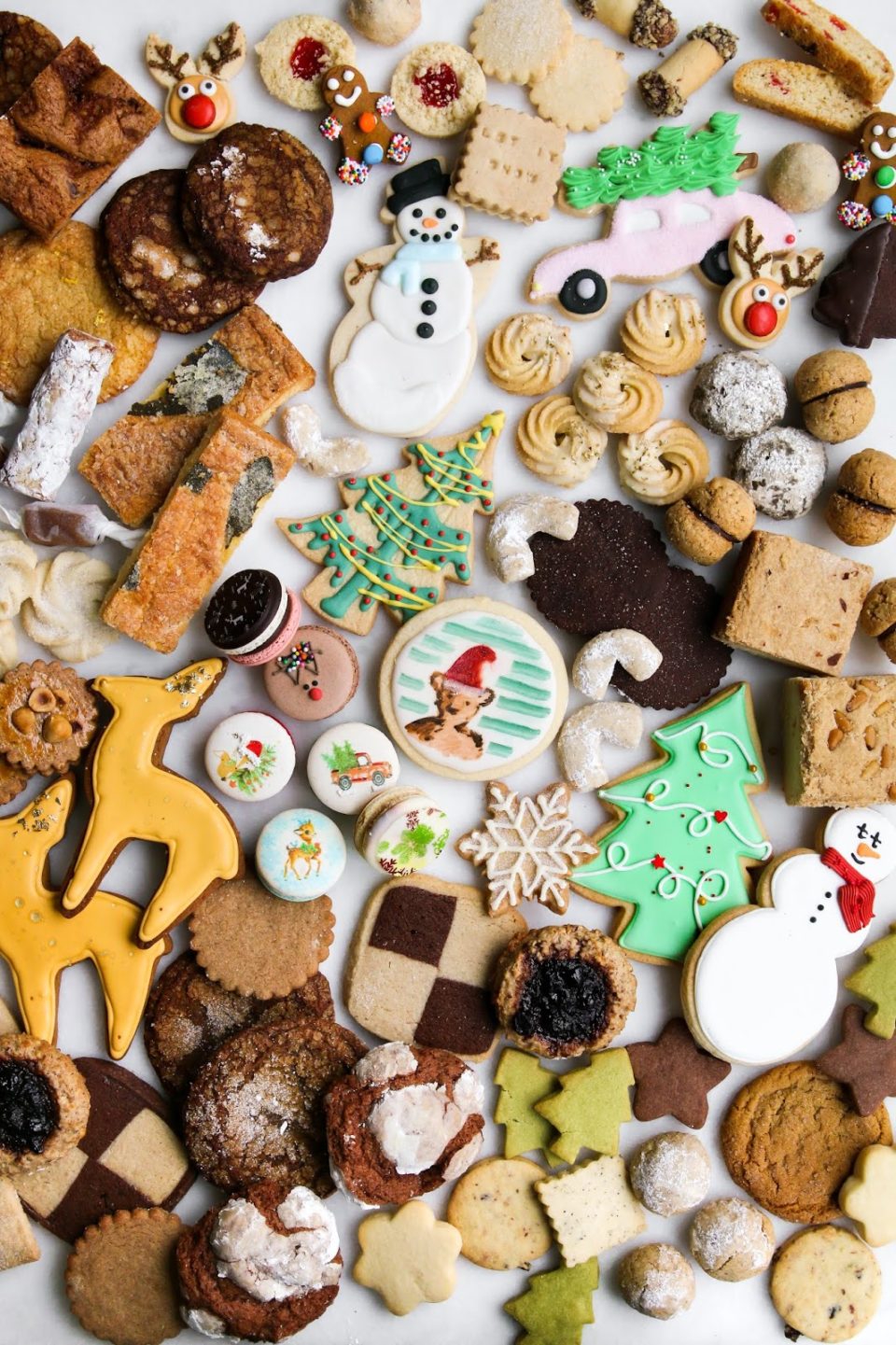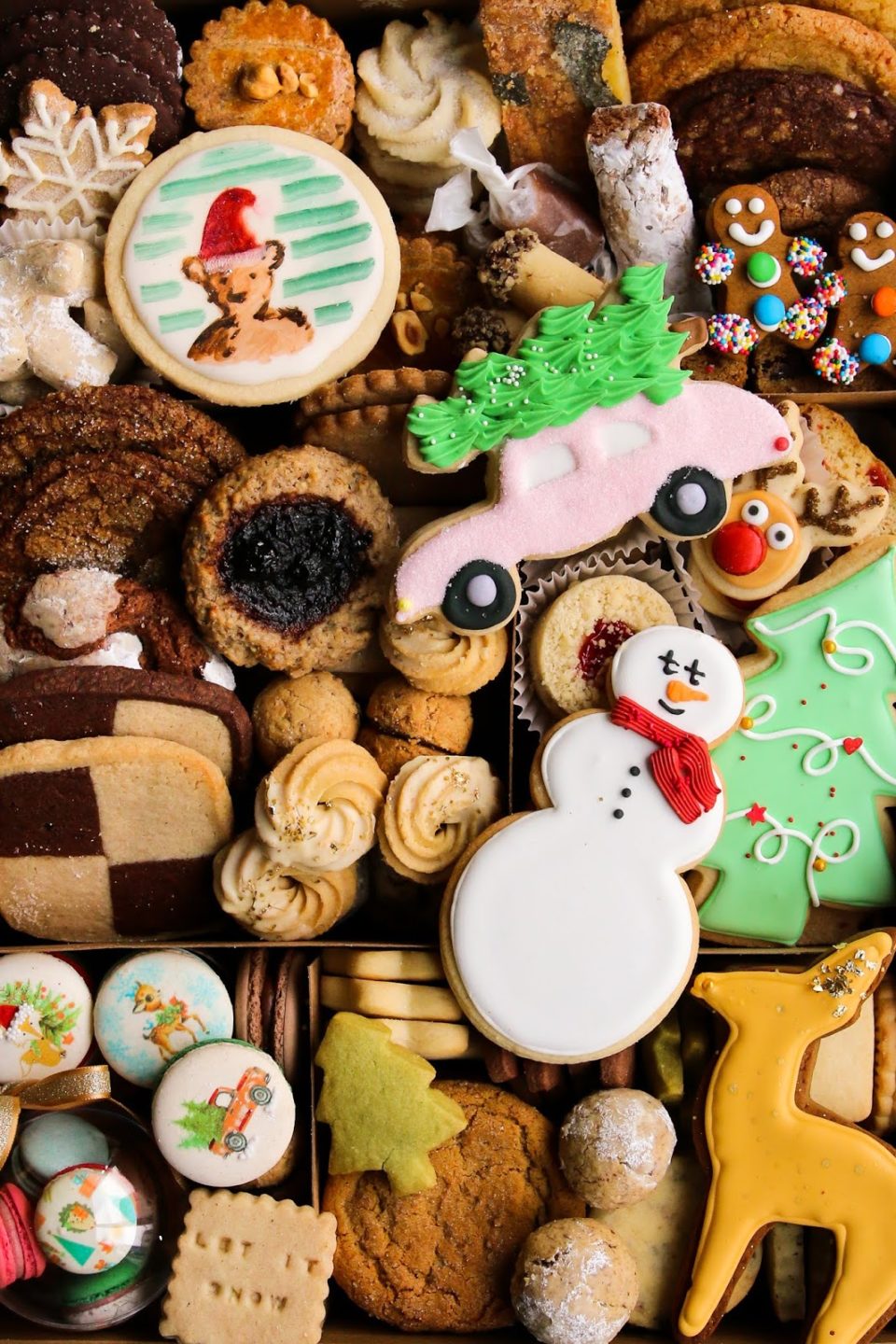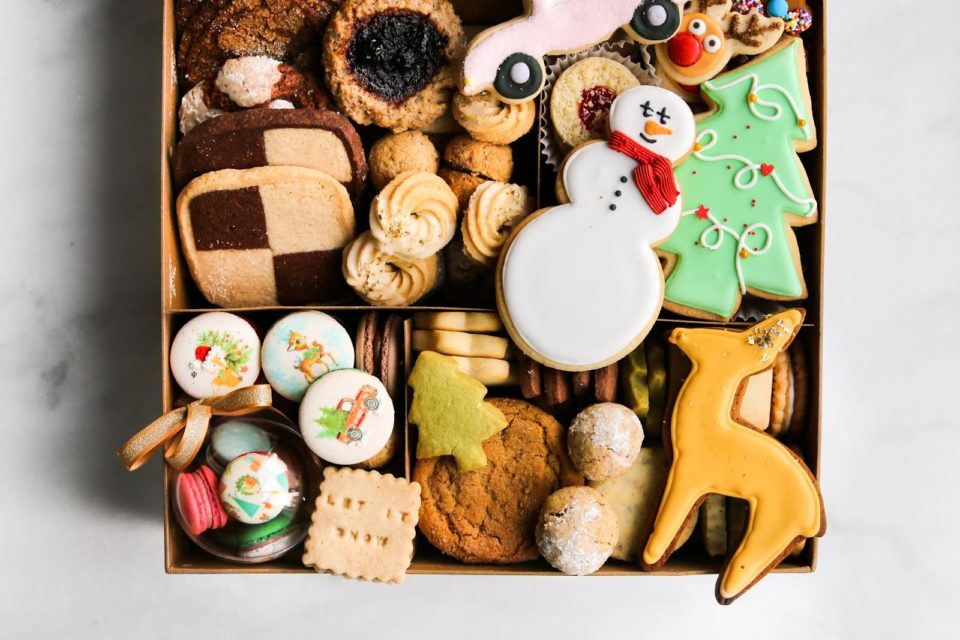 All the cookies featured in this box: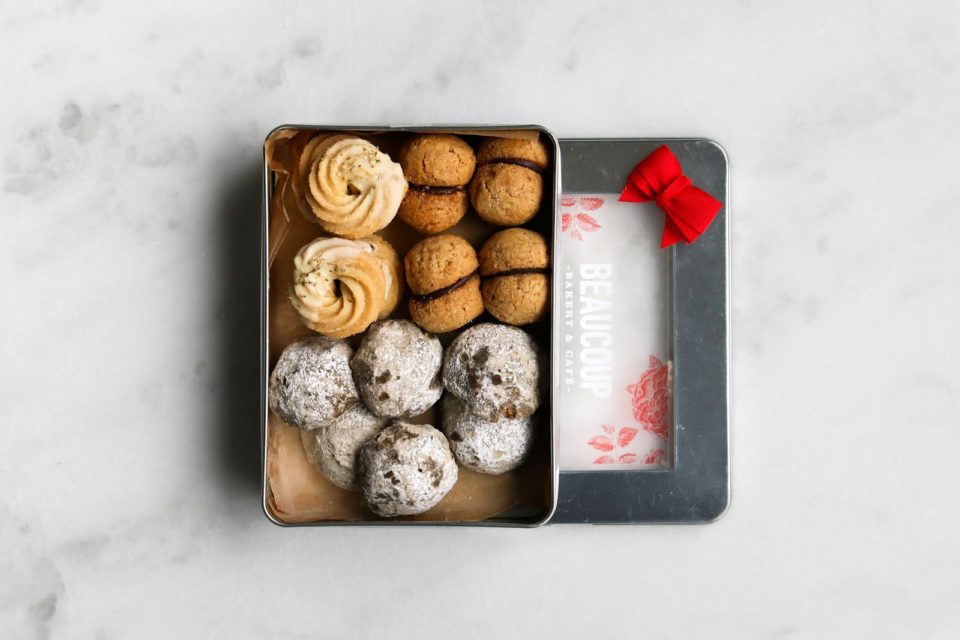 Beaucoup Bakery
A cookie box of hojicha walnut snowballs, baci di dama cookies, yuzu fennel wreaths. Comes in both small and large sizes.
Beaucoup Bakery does it again with this year's cookie box. I was so impressed by last year's holiday cookie tin and was so happy to see that they are continuing the tradition again this year. Unlike last year's box, which feature more traditional cookies like palmiers, sablés and florentines, this year tin features traditional Christmas cookies but with an Asian twist. The super tender hojicha walnut snowball was one of my favourite cookies of all the cookies this year and the pairing of bright yuzu with earthy fennel was so lovely. I was originally going to get the small tin but I am really happy that I got the large one instead.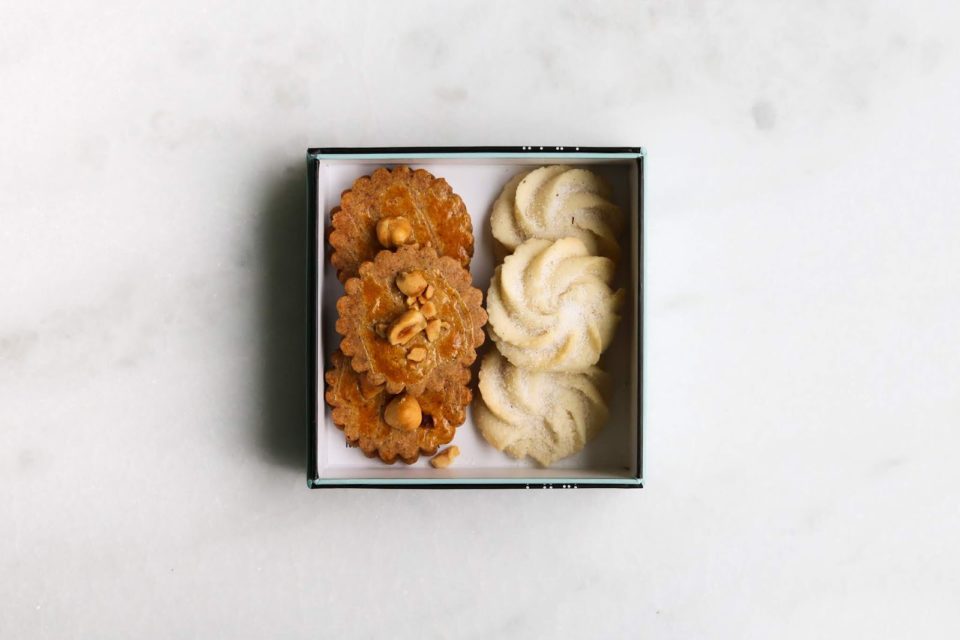 Bel Café
Vanilla shortbread, hazelnut linzer with raspberry jam
When I was initially putting together my list of bakeries to visit, Bel Café slipped my mind. I missed Bel Café at first because I was thinking of more traditional bakeries when compiling this list but I am so glad I was able to squeeze in a visit to their Kitsilano location this weekend. I have had a few of the savoury items on Bel's menu before but this was one of the first times I am trying their sweets. These are two of their three holiday cookie options (I am missing their macaron) and I really enjoyed both, especially the vanilla shortbread. I love a piped tender shortbread in general but this one was pretty much perfect. This melt-in-your-mouth vanilla shortbread had such a good amount of salt in it that it really made it stand out among all the other shortbread cookies this year.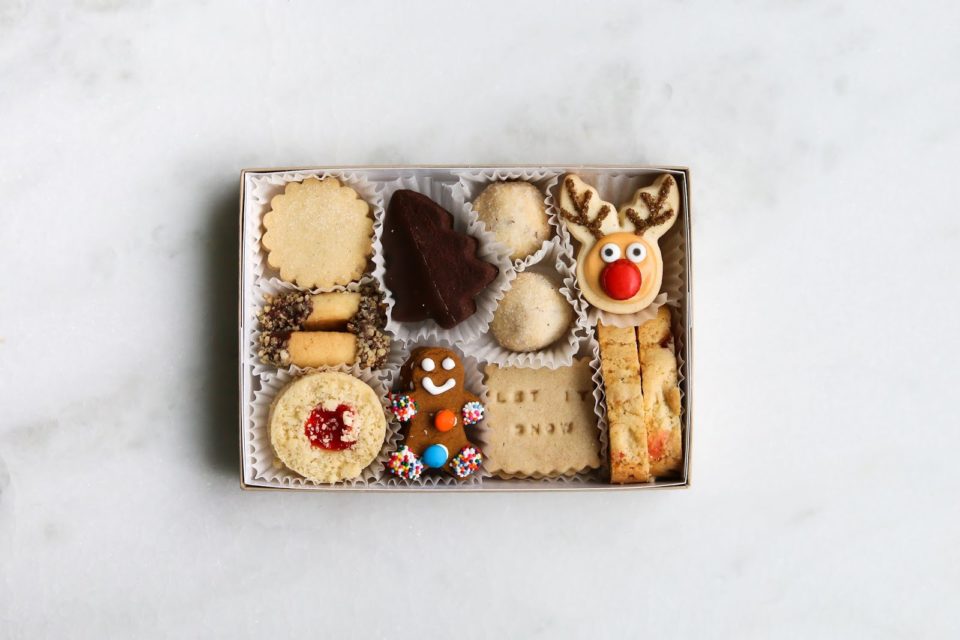 Butter Baked Goods
Assorted cookie box and decorated sugar cookies
Butter is always at the top of my mind when it comes to holiday cookies and treats. My favourite seasonal treats from Butter are always from Mother's Day (so pretty!) and Christmas (so festive!). This year, I opted for similar treats as the previous years — an assorted cookie box (mini sugar cookies, chocolate sandwich cookie, snowballs, shortbread cookies, and more) and two of their classic decorated sugar cookies. Butter's sugar cookies are always tender and very (as their name suggests) buttery.
Cadeaux
Gingerbread cookies


During the holidays, many bakeries make decorated sugar cookies but Cadeaux makes beautifully decorated gingerbread cookies. Instead of the classic gingerbread man shape, the cookies this year are gold-themed (topped with gold leaf too!) and deer-shaped. Cadeaux's gingerbread is always reliable and has everything you would want in a good gingerbread and this year is no exception.
Federal Store
Sage shortbread, orange amaretti, dark chocolate and butterscotch blondies, ginger molasses cookies, lemon sugar cookies, and salted caramels. A small box includes three of each cookie while the large box includes five of each
I think this is the first year Federal Store is offering cookie boxes for preorder. This box includes six different types of treats and a beautifully-illustrated postcard with the all the cookies and their descriptions. The packaging was also one of my favourites of the bunch. My favourite treat of the box was the sage shortbread. I love a herby cookie.
Flourist
Speculoos, shortbread, crinkle cookies, ginger chews, checkerboard cookies, hazelnut jam cookies. Each box contains three of each cookie
Flourist is one of the new additions to this year's cookie round-up. I have always been a big fan of Shira's work so I was excited to see that her new bakery and flour shop Flourist was offering a collection of holiday cookies. Flourist's cookie box includes more traditional cookies, all made with their freshly-milled flour. The box includes their signature hazelnut jam cookie that I always see people ordering in the shop and at their pop-ups.
Livia
Hand-painted sugar cookie (!!), rose petal shortbread, pine nut shortbread, christmas tree lemon cookie, chocolate sablé cookies, hazelnut crescents, and snowflake cookie
Livia is also one of the new additions to this year's holiday cookie round-up but Livia is not new to the scene here in Vancouver. Livia may have only opened this year but owner Livia has been selling her baked goods in local farmer's markets for years. I love Livia's rose petal shortbread no matter what time it is in the year so I was so happy to see that she included her signature shortbread in her cookie box. The box also includes a variation of that cookie — a pine nut shortbread. What really caught my eye was her hand-painted woodland sugar cookie. Each box contains a unique cookie (I saw her painting a festive otter in her Instagram Stories) and I am so happy I got this bear. I cannot comment more on the flavour of the woodland creature sugar cookie because it really is too beautiful to eat (I might frame it haha!) but everything else was really enjoyable.
Oh Sweet Day!
Variety of shortbread cookies, ginger molasses cookies, and snowballs. Each box contains 32 cookies (8 varieties).
Like Livia, Oh Sweet Day! can be found at local farmer's market. Fanny of Oh Sweet Day is known for her cheesecakes and shortbread cookies. If you are a fan of shortbread then this cookie box is the dream box. It features six different varieties of shortbread as well as ginger molasses cookies and snowballs. Oh Sweet Day's cookies are not as sweet as other cookies, so if that is what you are looking for, you have found it. My favourite of the bunch was the cranberry shortbread.
Soirette
Assorted decorated holiday macarons and mini macaron ornament
Mini macaron-filled ornaments! Ah! Should I eat it? Should I just admire it on my tree all season long? Good thing I got a box of their holiday macarons as well. Each macaron has a unique design and it's not just a single drizzle or a brush of gold, but a full design! My favourite design is the little reindeer in the snow. Their holiday macaron flavours include: cookie dough, wildberry hot chocolate, roasted chestnut and fig, apricot vanilla bean, hazelnut pear, and ruby chocolate.
Their There (by Sweet Bake Shop)
Decorated sugar cookies
A new bakery cafe on the list! Their There has a killer coffee and pastries program (featured in Bon Appetit here!) and for the holidays they are offering detailed custom sugar cookies made by Sweet Bake Shape. Love the tt eye details (their logo!) on the snowman and the sugar cookie was delicious. The sugar cookie leans more on crisp sugar cookie side of the spectrum (compared to Butter and other bakeries) and has a perfectly light golden brown bottom. I want another one right now.
*Post blind taste test, in pure bliss*
Happy holidays!