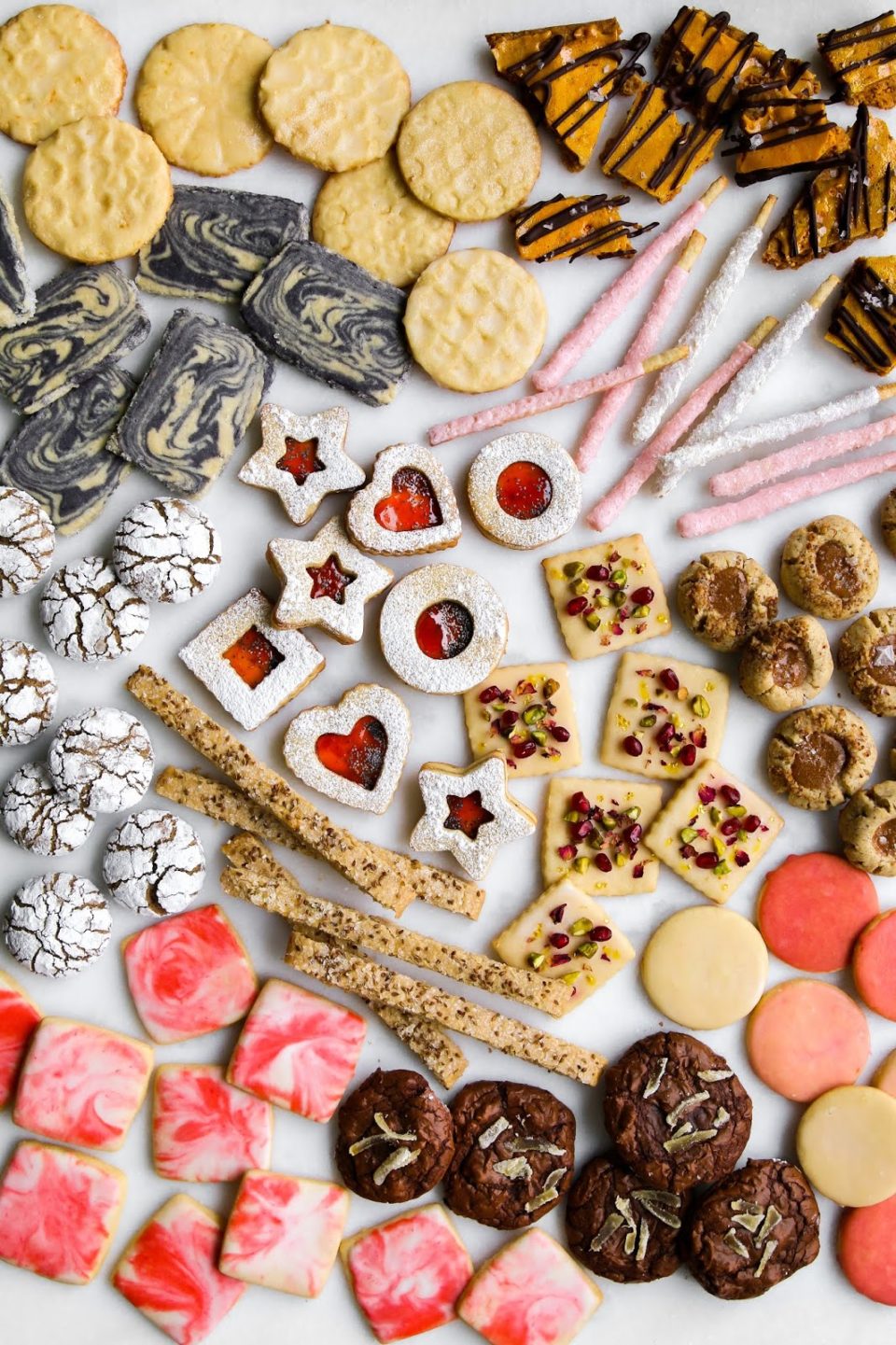 I made all six types of holiday cookies in the newest issue of Bon Appetit last weekend and before I even had the chance to try all the cookies, New York Times Cooking goes right ahead and shares their line-up of holiday cookies. All 12 of them. This year's NYT cookie collection is courtesy of Susan Spungen, a super talented food stylist and recipe developer whose work I have been admiring for the longest time. When I saw the photo Susan shared, I knew I had to make all the make the recipes. I was a bit intimidated at first because I wanted to make all the recipes at once but making 12 different recipes in one day can be quite overwhelming. The Bon Appetit collection of 6 cookie recipes took roughly nine hours so I could not imagine making double the amount. That is when one of my favourrrrrrite people (hi Jules!) volunteered to help me bake all! the! things! We bought all the ingredients on Friday night, starting baking at 3:30pm on Saturday Afternoon, and finished everything at 2:15am on Sunday morning (night?). Jules took on the task of measuring the dry ingredients of all the recipes (the task I hated the most besides cleaning) and I took care of all the wet ingredients. We shaped and cut out all the cookies together. Our strategy was that we would start a new recipe when the previous batch of dough was chilling in the fridge or in the oven and we grouped similar cookies together because we would have all the ingredients out on the counter already. All the decorating was saved for the end. Jules and I watched a few youtube videos, three Disney movies, and three Hallmark Christmas movies while making all 12 recipes and it was one of the best baking dates I have ever had. We even made a 13th recipe for dinner that day (hello, mushroom carbonara).
I hope that was a detailed enough response to the question 'how long did this take?' so I can move on to the next question you probably have — 'which cookie was the best one?' To answer that question I feel like I need to tell you that I generally prefer a buttery crisp cookie like a shortbread over a softer, chewier cookie. Unpopular opinion, I know. My favourites (notice the plural there) would be: peanut shortbread with honeycomb, pecan thumbprints with dulce de leche, and the brown sugar-anise shortbread. The peanut shortbread calls for both ground and chopped peanuts in the dough and it creates this intensely peanutty and rich crisp cookie. A honeycomb, dark chocolate, flakey salt layer sits on top of the shortbread base and it is everything. I also loved the thumbprints because like the peanut shortbread, the recipe calls for ground up toasted pecans in the dough. I really enjoy a cookie with a nut flour/meal in the dough because it adds so much flavour. I would definitely make these again with a different nut as well. Pistachio would be extremely tasty. The brown sugar-anise was also a big hit because there are not a lot of anise-flavoured cookie recipes out there and the flavour really works with brown sugar. The cookie itself is extremely tender and flakey but the anise and coarse sugar layer adds amazing texture. To be honest, every cookie from the collection were impressive and I would make them all again if I had another 11 hours to spare on a weekend.
Here are the cookies we made:
Peanut Shortbread with Honeycomb
Gingery Brownie Crinkle Cookies
Thumbprints with Dulce de Leche
Blood Orange Poppyseed Window Cookies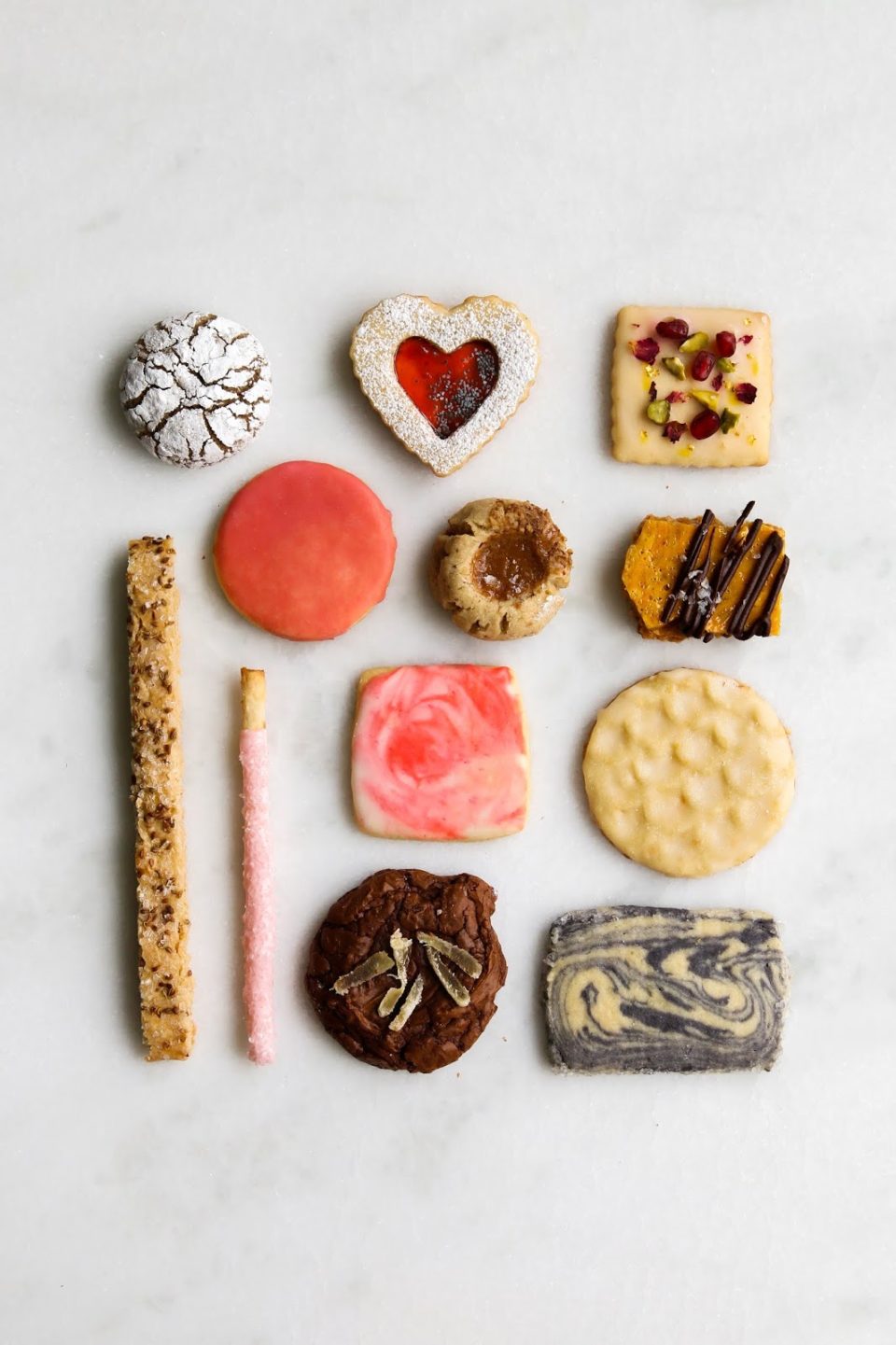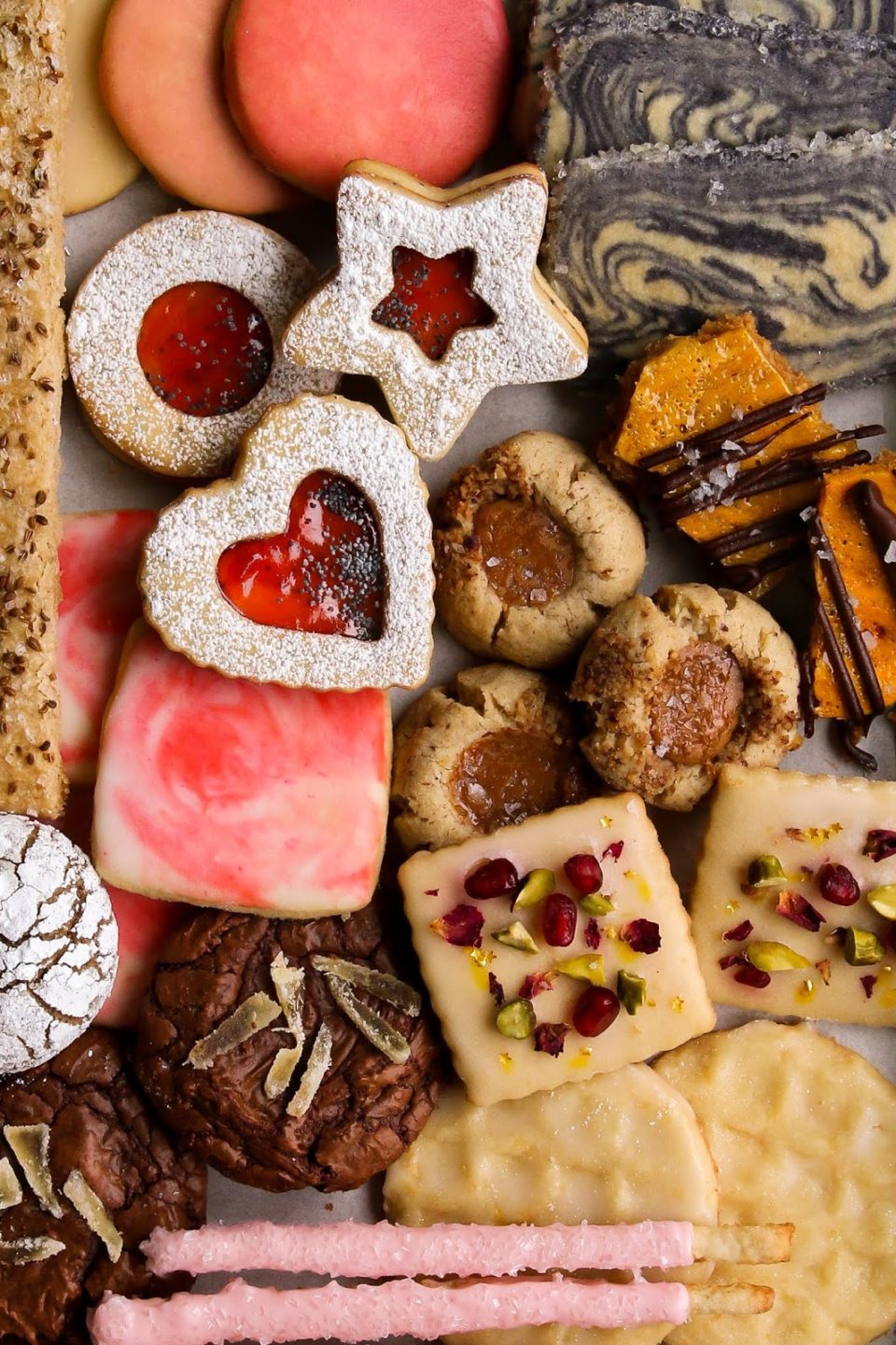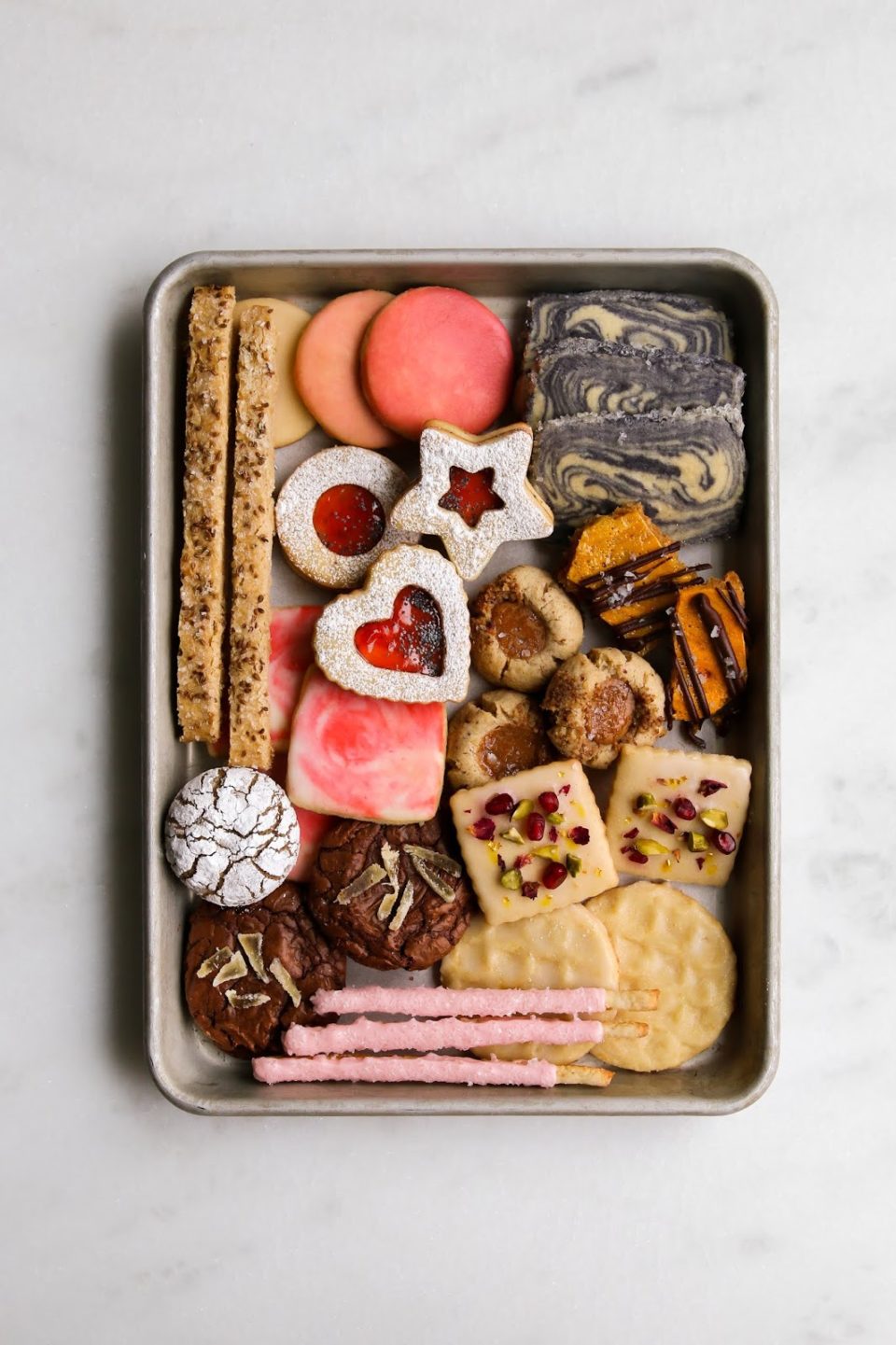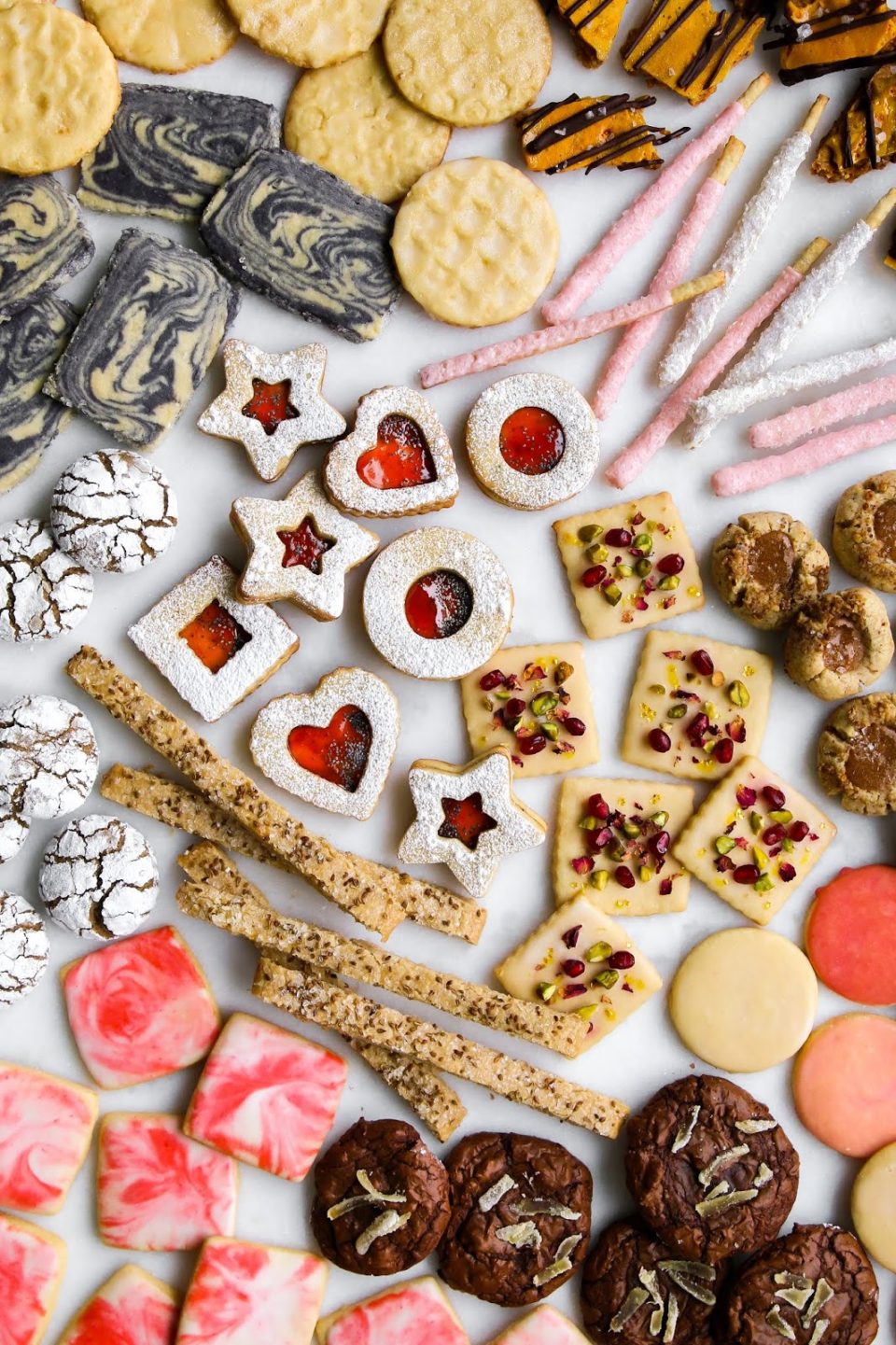 Happy baking!