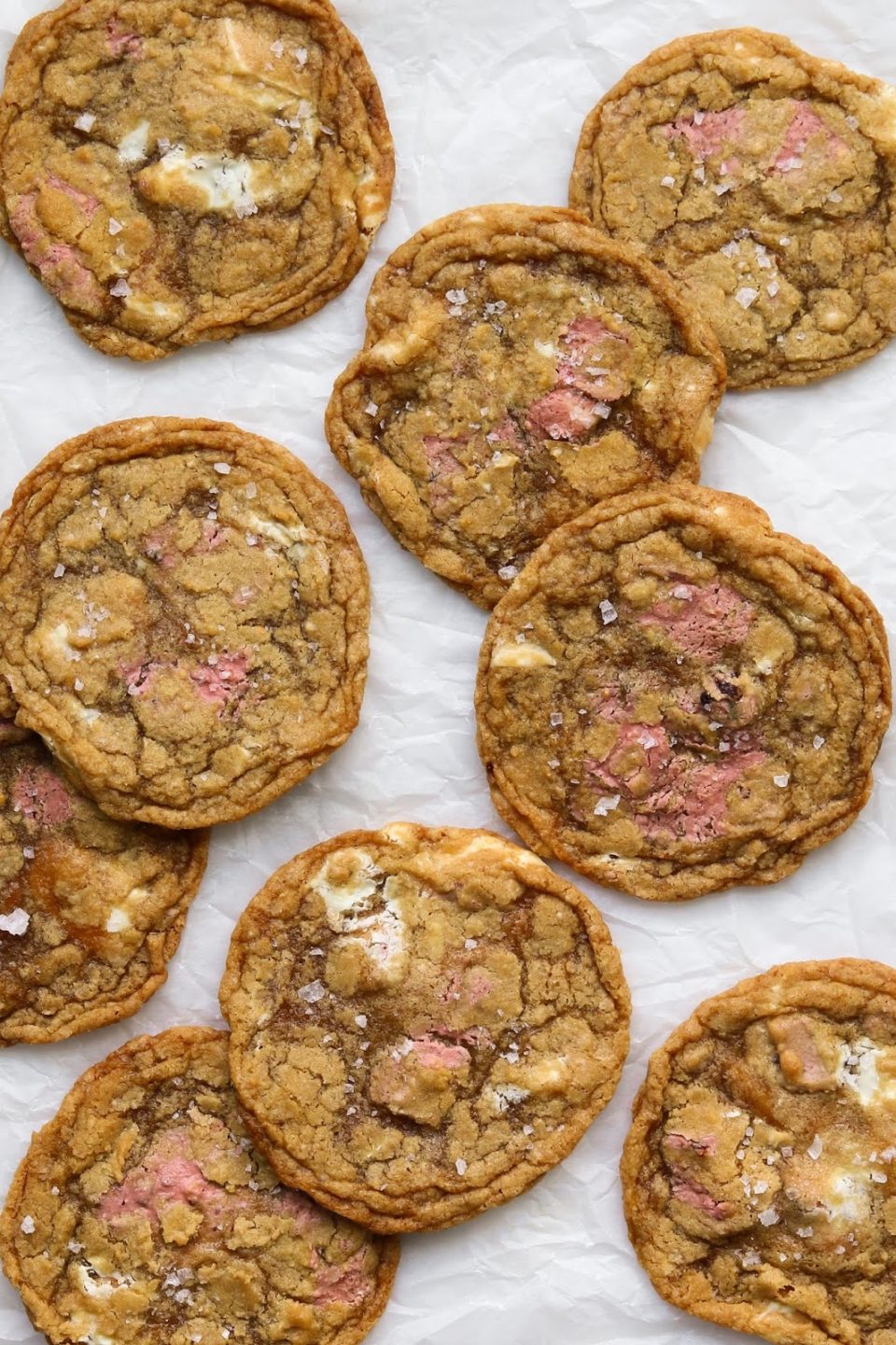 I can't believe it took me this long to make something with ruby chocolate. I have seen it in its original Callebaut Ruby form and in the form of Ruby Kit Kat bars that made their debut in Japan and Korea. Callebeaut markets it as the fourth chocolate next to dark, milk, and white. The flavour of ruby chocolate is neither the flavour profile of white chocolate or milk chocolate, but if you needed a good reference point for the taste of ruby chocolate, I would say it is most similar to white chocolate with berry fruitiness (specifically raspberry) and luscious smoothness. It might be weird to say that it is a "refreshing" chocolate but that is definitely a word I would use to describe it. Since it is still a relatively new product, finding it might be a bit harder than finding other types of chocolate for your cookies. A specialty bakeware in Vancouver sells ruby couverture and I like using nicer than chocolate chips for cookies. I heard you can buy ruby chocolate wafers from Trader Joe's so that might be worth a try.
These cookies are a good mix of chewy and crispy and they get their ripples from Sarah Keiffer's pan-banging technique. There are puddles of both ruby chocolate and good-quality white chocolate to give variations in chocolate flavour. I also really like the look of having both pink and white puddles peeping through the cookie. The secret to chocolate puddles in a cookie is to use coarsely-chopped, good-quality chocolate and not chips that tend to retain their shape. There might be a time and place for chocolate chips, but this is not one of them. Lastly, I give these cookies a generous sprinkle of flaky sea salt which, in my opinion, is extremely necessary for any cookie.
Happy baking!
Ingredients
1/2

cup

+ 2 tablespoon unsalted butter

,

room temperature

1/2

cup

and 2 tablespoons brown sugar

1/2

cup

granulated sugar

2

teaspoon

vanilla extract

1

large egg

1 1/2

cup

+ 6 tablespoons all-purpose flour

1

teaspoon

sea salt

3/4

teaspoon

baking powder

1/2

teaspoon

baking soda

4.5

oz

~3/4 cup ruby chocolate, coarsely chopped

3

oz

~1/2 cup white chocolate, coarsely chopped

Maldon flakey salt

,

to sprinkle
Instructions
In the bowl of a stand mixer fitted with a paddle attachment, cream the butter and sugars until smooth, about 1 minute.

Add the vanilla extract and egg to the butter mixture and mix on medium speed until fully incorporated, scraping down the sides of the bowl as needed.

In a separate bowl, whisk together the flour, salt, baking powder, and baking soda. With the mixer on low, add the dry ingredients to the butter mixture and mix until just combined.

Add the chocolate and mix until just incorporated.

Cover the dough with plastic wrap or place in an airtight container, and then refrigerate it for at least one hour.

After an hour, preheat the oven to 350°F and line a baking sheet with parchment paper.

With a standard ice cream scoop, scoop balls of dough and place them about 2 inches apart on the trays. These cookies will spread a bit.

Bake for about 12 minutes and remove the pan from the oven and bang it on the top of the counter to produce the first layer of ripples. Return pan to the oven and bake again for another 1 – 1.5 minutes before removing it and repeating the banging step. Bake the cookies for a total of 15 – 16 minutes, or until the cookies are browned and caramelized along the edges and centres are just set.

Top each cookie with a sprinkling of the flakey salt. Allow cookies to cool on trays for 5 minutes and transfer to a rack to continue cooling.
Reader Interactions