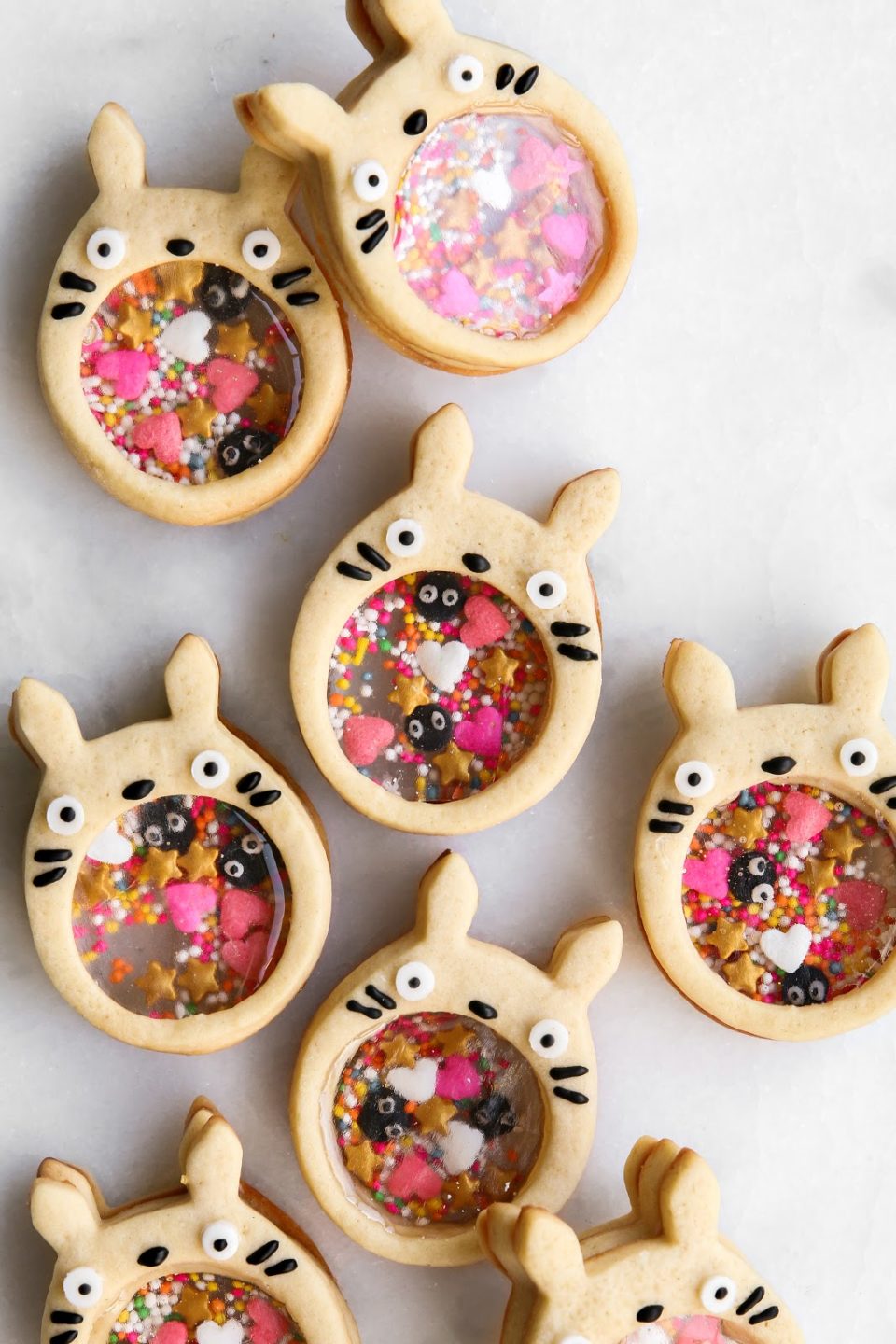 Happy New Year! I hope 2018 was everything that you wanted and dreamed of and I also hope that your 2019 is even better. The past week I would argue was one of the busiest but most wonderful weeks of the year. It was extremely busy because of all the holidays and my irrational (yet delicious) decision to make a different type of Christmas cookies every day of the week. Despite all the busyness, the week has been a reflective one. Busyness always renders itself as a tool that helps me prioritize what is important and what I want to focus on more in the upcoming year. Between work, all the holiday baking, and holiday preparations in general, I took some time to sit down and write down all the things I want to accomplish in the next little while. I would not call these hard-to-achieve 'resolutions' but gentle reminders of what's important and achievable goals that promote growth whether it is growth in baking or myself in general.
I am proud of myself for all the new things I tried and skills I attained this past year — I made choux pastry for the first time and immediately fell in love with making it despite the first few batches falling a bit flat; I taught myself how to pipe buttercream flowers by watching some YouTube videos and giving myself lots of time (and buttercream) to practice; and I made moon cakes, a seasonal treat I grew up eating during Mid-Autumn Festival, for the first time. Besides learning to make new kinds of desserts, I invested in my new favourite lens (my 24-70!) for my camera and shot a lot more. I was determined to get to know my camera better so I could produce more beautiful content to share with you.
I think 2019 is going to be a big year. I have some really exciting projects coming up and I cannot wait to share them with you. I am kicking off the new year with a new baking project. It is not my usual buttercream-coated and flower-adorn type of creation, but one that is a mix between a baking project and a DIY. I have been obsessed with all the insanely cute Japanese cookies I see on Pinterest and Instagram, especially the cookies that have a clear see-through element and shaped into characters of Japanese cartoons I grew up watching. I am creating one of these cookies on the blog for you today and sharing some tips and tricks I learned about working with isomalt through many batches of failed cookies that did not resemble what you see here in this post. I would not call these everyday cookies but over-the-top cookies that add to any celebration.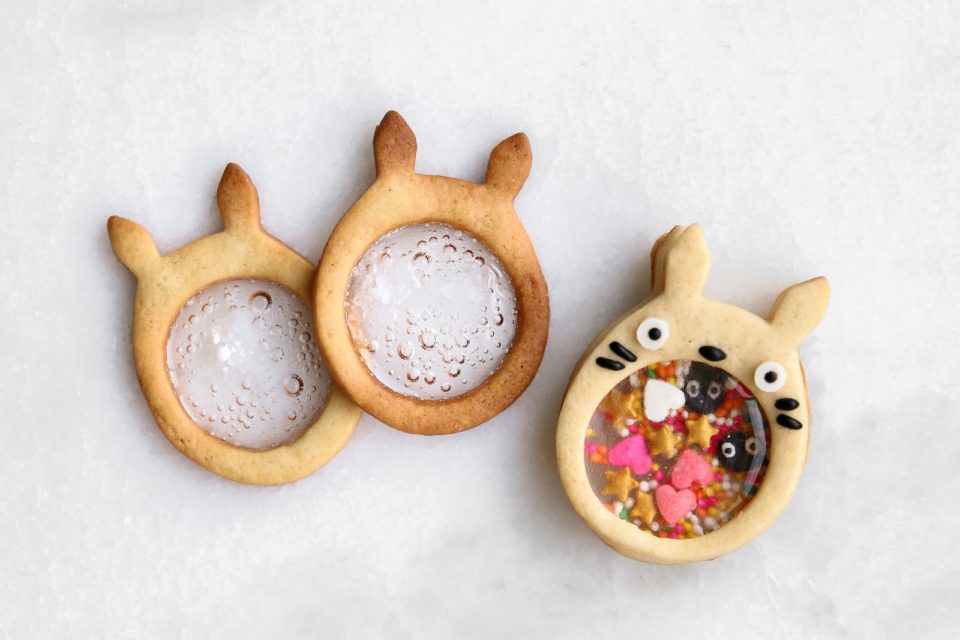 Bubbly isomalt vs. clear isomalt that was in the oven for 10 minutes
What is isomalt? Isomalt is a sugar substitute derived from beets that is commonly used by sugar artists to create sugar sculptures, cake toppers, gems and other cake decorations. It is preferred for sugar work over regular granular sugar because it holds up better in heat and humidity. It is sold in crystal form, with granules that are around the size of coarse salt. You will not find it in your regular grocery store, but you should not have a problem finding it in your local cake decorating or specialty cooking/kitchen store. If you cannot find isomalt but want to create cookies with a see-through centre, you can easily substitute isomalt with crushed up clear candies. The clear candies will not create a 'glass' as clear as isomalt, but will still have the transparent quality we are looking for. I have made a batch with crushed clear candy and I was still able to see the sprinkles clearly!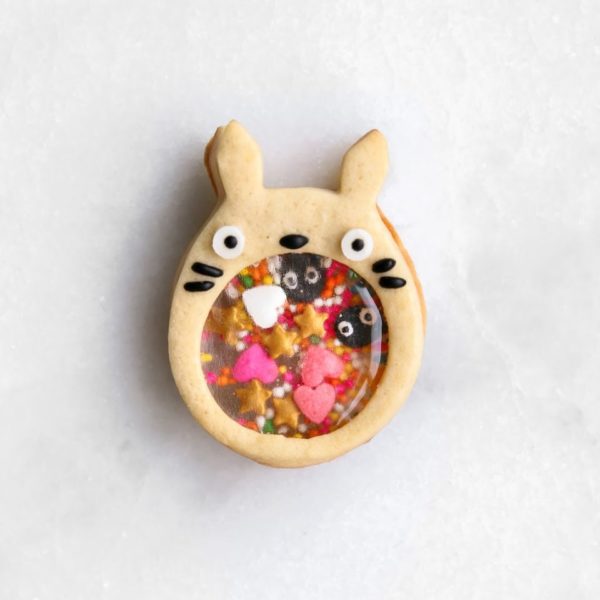 Playing with Isomalt + Totoro Shaker Cookie
Instructions
How do I melt isomalt? 
You will only need two ingredients to cook clear isomalt: isomalt and water.

For every cup of isomalt you cook, the water volume will be approximately 1/8 of that amount of isomalt (ex. 1/8 cup of water for every 1 cup of isomalt).

Place the isomalt in a small pot over medium heat

Allow the isomalt crystals to melt without stirring them

Once the isomalt is boiling, remove the isomalt from heat. Isomalt will be very bubbly.

Hold the small pot off of the heat until the bubbles settle down.

Once the bubbles have settled down, place the pot back down on the burner and stir in the water, a little at a time. Steam will aggressively come off of the sugar as the water is now cooling it down. Isomalt will still be very bubbly.

Reduce the amount of air bubbles in the hot isomalt by placing it in the oven at 265F for 10 minutes. If you skip this step, the bubbles will stay in the isomalt and will harden like the cookies on the left in the above picture.

After 10 minutes, carefully remove pot of isomalt from oven and use the isomalt while it is still hot. If the isomalt starts to thicken, place it back in the oven for 2 – 3 minutes until it liquefies again
How do I make these cookies with isomalt? 
You will need your favourite sugar cookie or shortbread cookie recipe (i.e., a cookie that does not spread much in the oven), liquid isomalt, royal icing, and your favourite sprinkles.

Follow your recipe's instructions to prepare the cookie dough. After you have rolled out your cookies and cut them into the desired shape and then cut a hole where you want the isomalt to fill. Bake the cookies according to recipe.

Allow the cookies to cool on the baking sheet as you prepare the isomalt according to instructions above.

Once the isomalt is ready to be used, carefully pour the isomalt into the hole of the baked cookie. Allow the isomalt to cool undisturbed for at least 20 minutes, until it has completely set.

Once the isomalt has set, place one isomalt-filled cookie down. Apply royal icing to the edges of the cookie, being cautious to not get any icing on the 'glass.' Stack the hollow cookie before the royal icing dries. Fill your cookie with sprinkles of choice. Attach last isomalt-filled cookie with royal icing to 'seal' the cookie.

Shake, shake, shake!
Notes
To make one sprinkle-filled cookie, you will need 3 cookie cut-outs. Two of the cookie cut-outs will be filled with isomalt. These two filled cookies will be on the outside your assembled stacked cookie. The order you stack them should be: isomalt-filled cookie, hollow cookie, isomalt-filled cookie. The purpose of the hollow cookie in the centre is to add extra height to the stacked cookie, which then allow the sprinkles to move freely.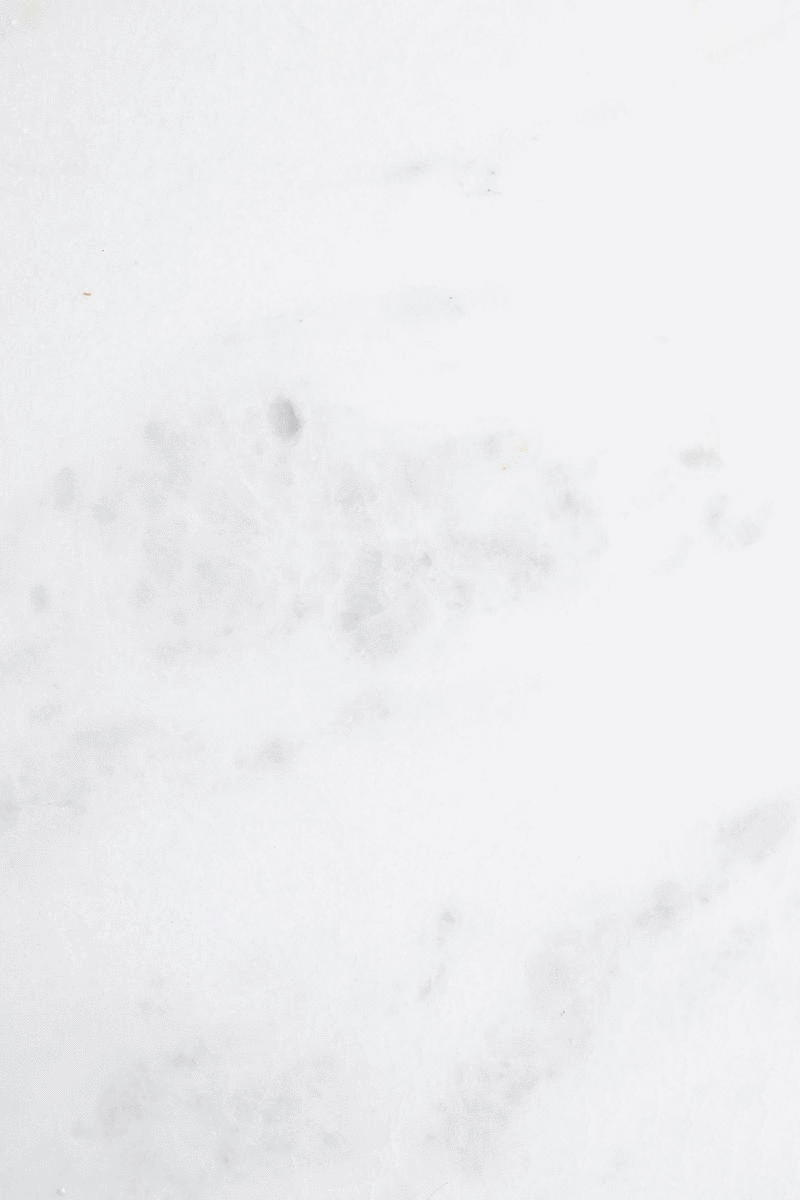 I cannot wait to make different varieties of these isomalt sprinkle cookies for other holidays. Perhaps heart-shaped cookies for Valentine's Day, confetti-filled Easter egg cookies in the spring, and of course snow globe cookies for next Christmas. I saw the cutest flamingo sprinkles at my craft store the other day and I am tempted to make a little swimming pool cookies filled with flamingo sprinkles and blue sanding sugar. You can also make your own filling or sprinkles for these cookies. I made these little soot sprite 'sprinkles' inside my Totoro cookies by cutting out circles of black fondant with the opening of a piping tip and attaching smaller white balls of fondant for the eyes. It was quite time-consuming but I love how they turned out.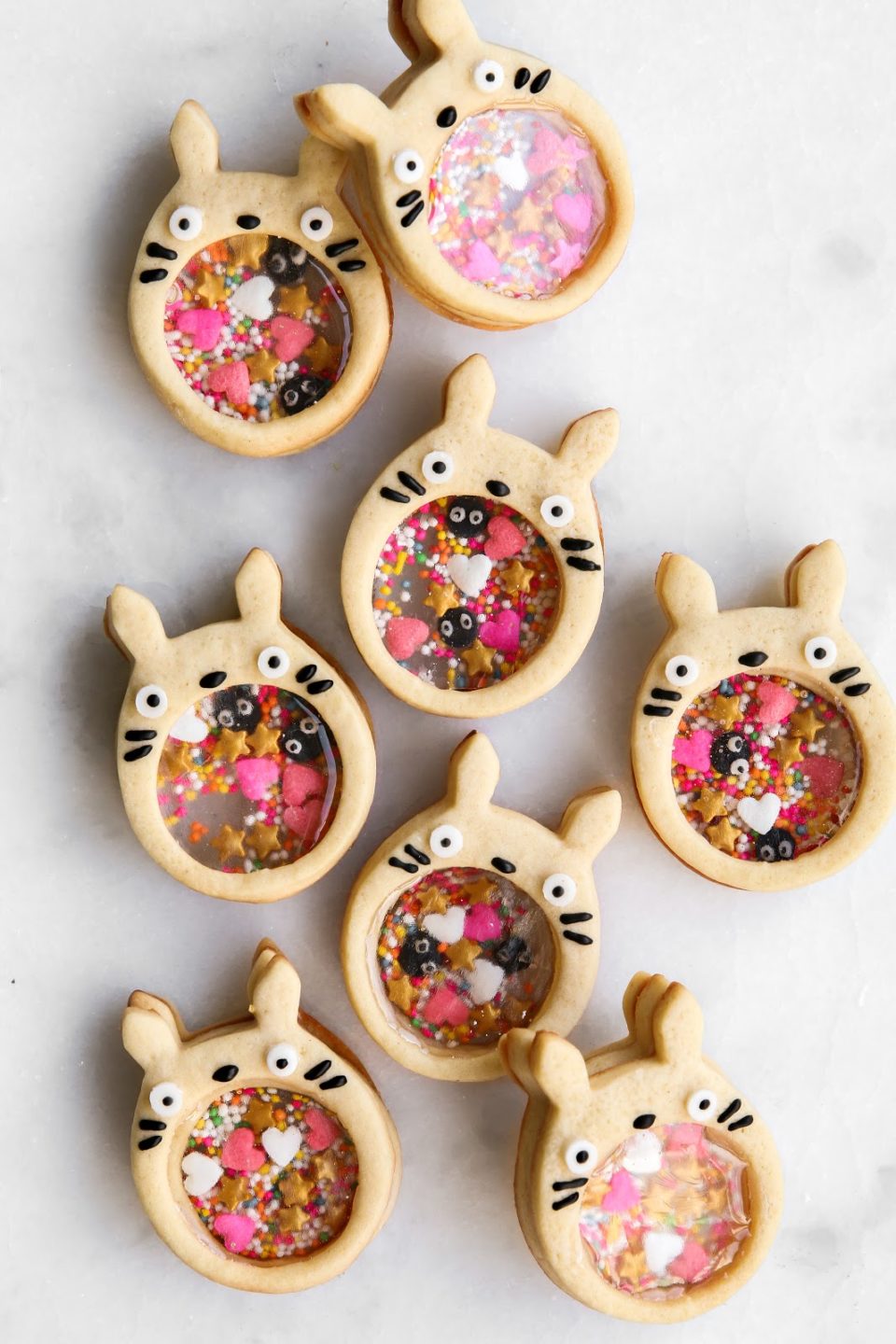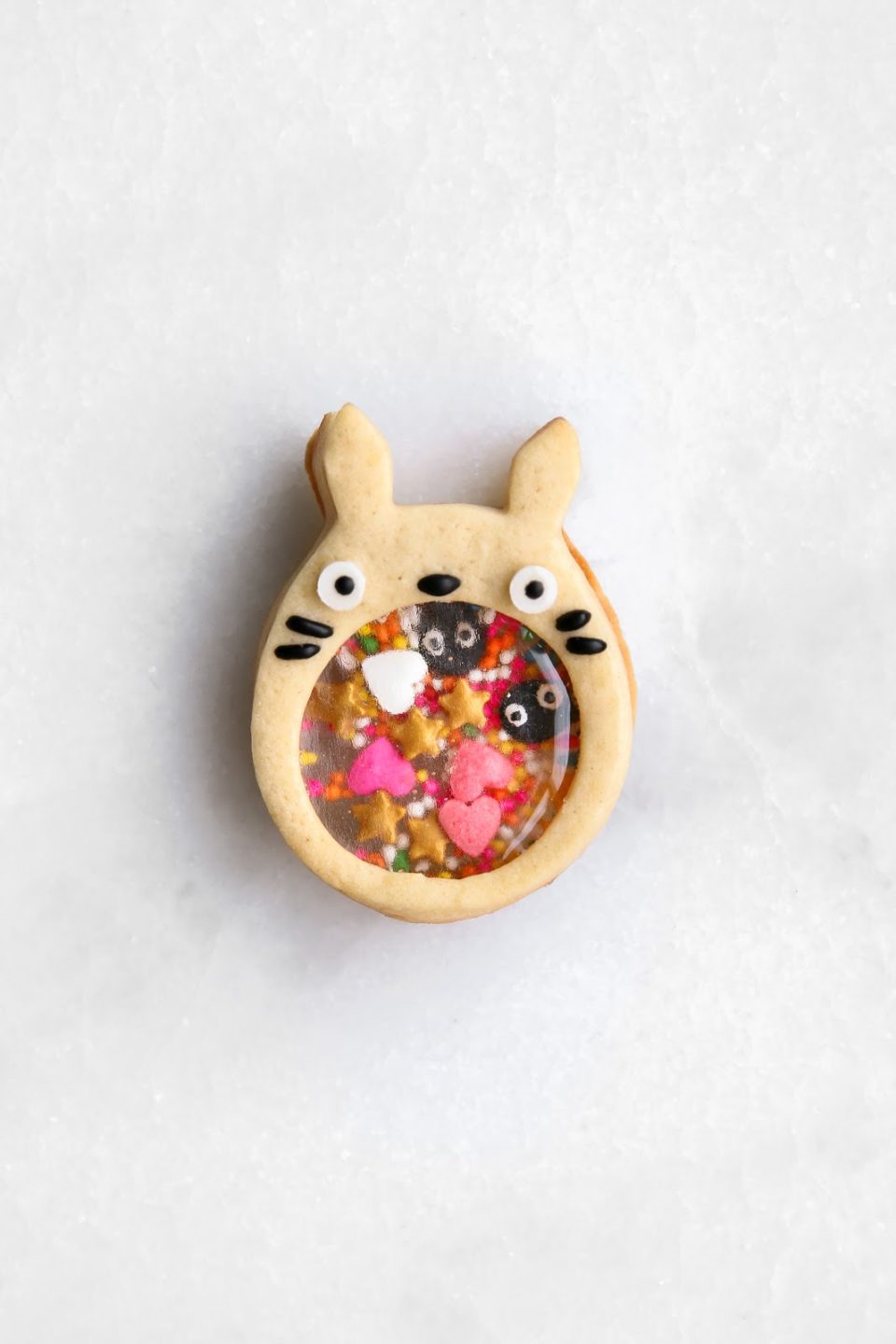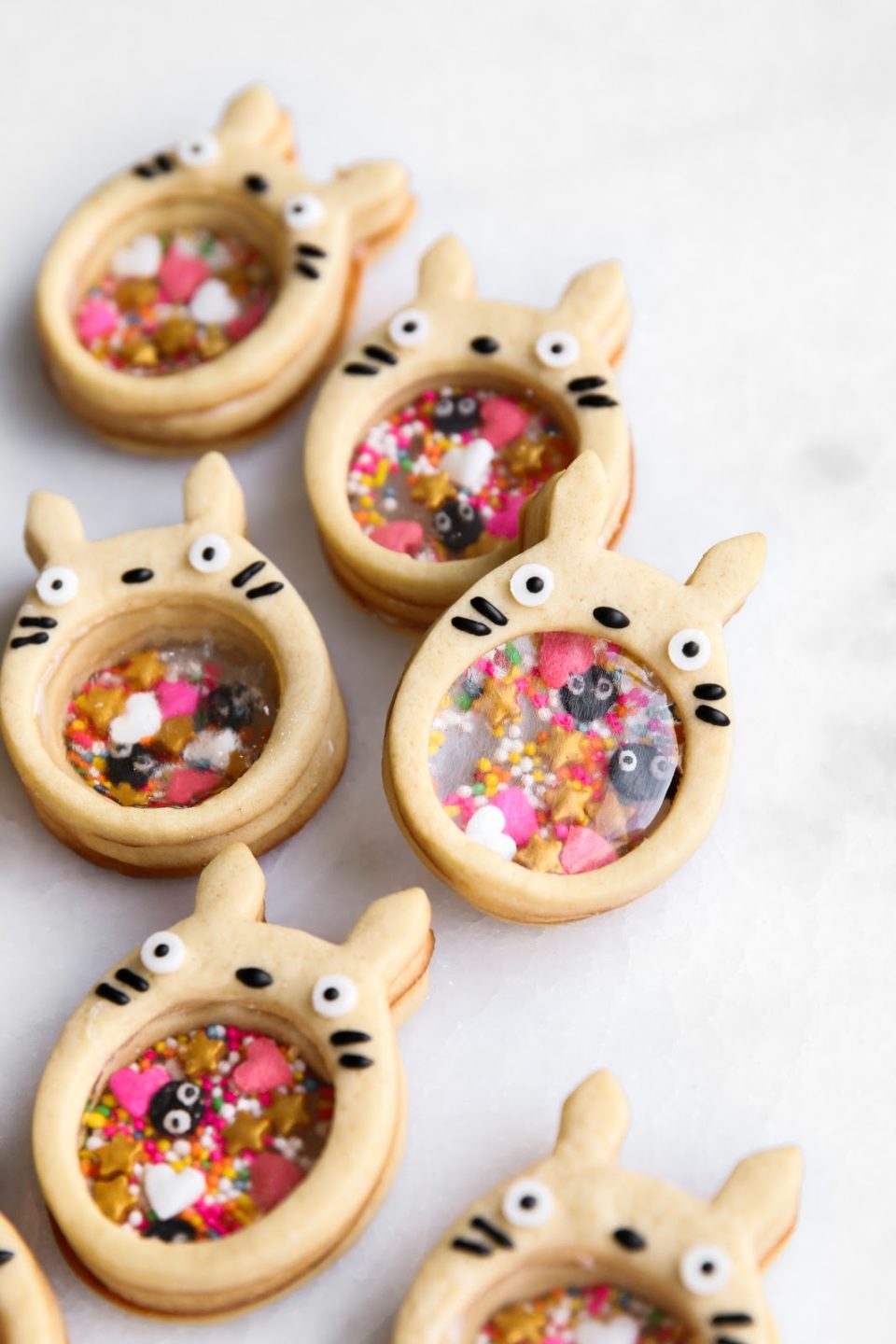 Happy baking and happy new year!