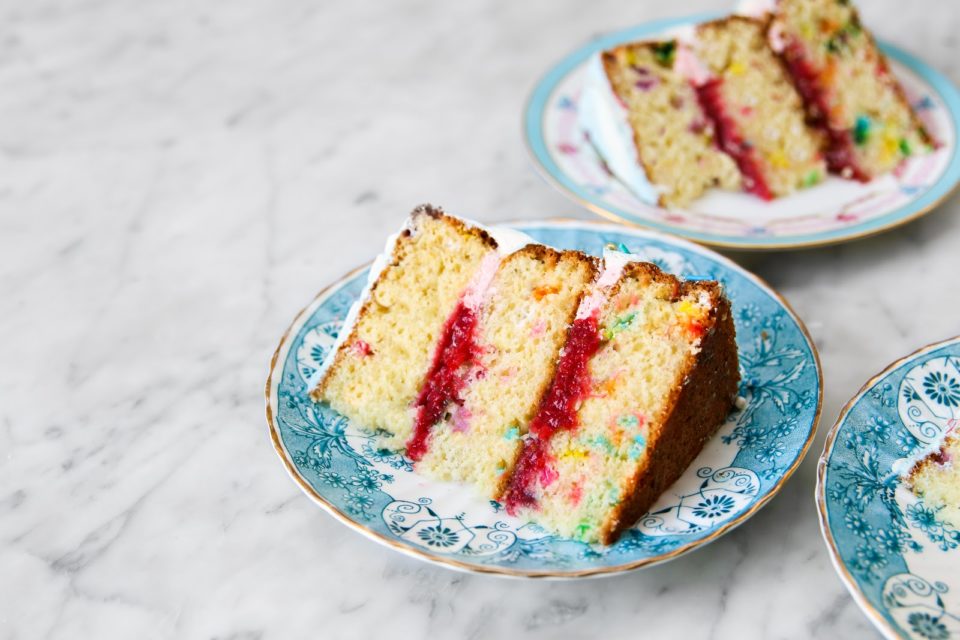 I know it might sound weird and unconventional to pair confetti cake with something fruity instead of the usual pairing of classic vanilla or cream cheese frosting. I promise it still tastes like childhood because: a) strawberry jam (but we make our own easy peasy stovetop strawberry compote here), b) clear imitation vanilla extract (the type that makes everything taste like childhood nostalgia sheet cake), and c) sprinkles. I always feel like I need to make cakes that are super seasonal and inventive, something that no one has ever done before. Sometimes that pressure gets the best of me and I don't end up making anything. So today I am overcoming that and sharing with you a confetti cake and telling you that it is okay to share something just because you like it and it is what you are craving at the moment. (I am still working on the perfect pea cake but it putting peas into cake is hard. That will be my cool and creative cake for you in the near future.)
If you have been following this blog or my instagram for a while you might have noticed a decrease in rustic floral cakes and an increase in buttercream-heavy decorated cakes like this succulent one and my newest favourite, this flamingo cake. I hope you're okay with that be I am really enjoying piping all the things and exploring what piping tips can do. I will still be making many floral cakes (because I will always remember how I started) but in between all the fresh flowers you might find a buttercream rose or succulent.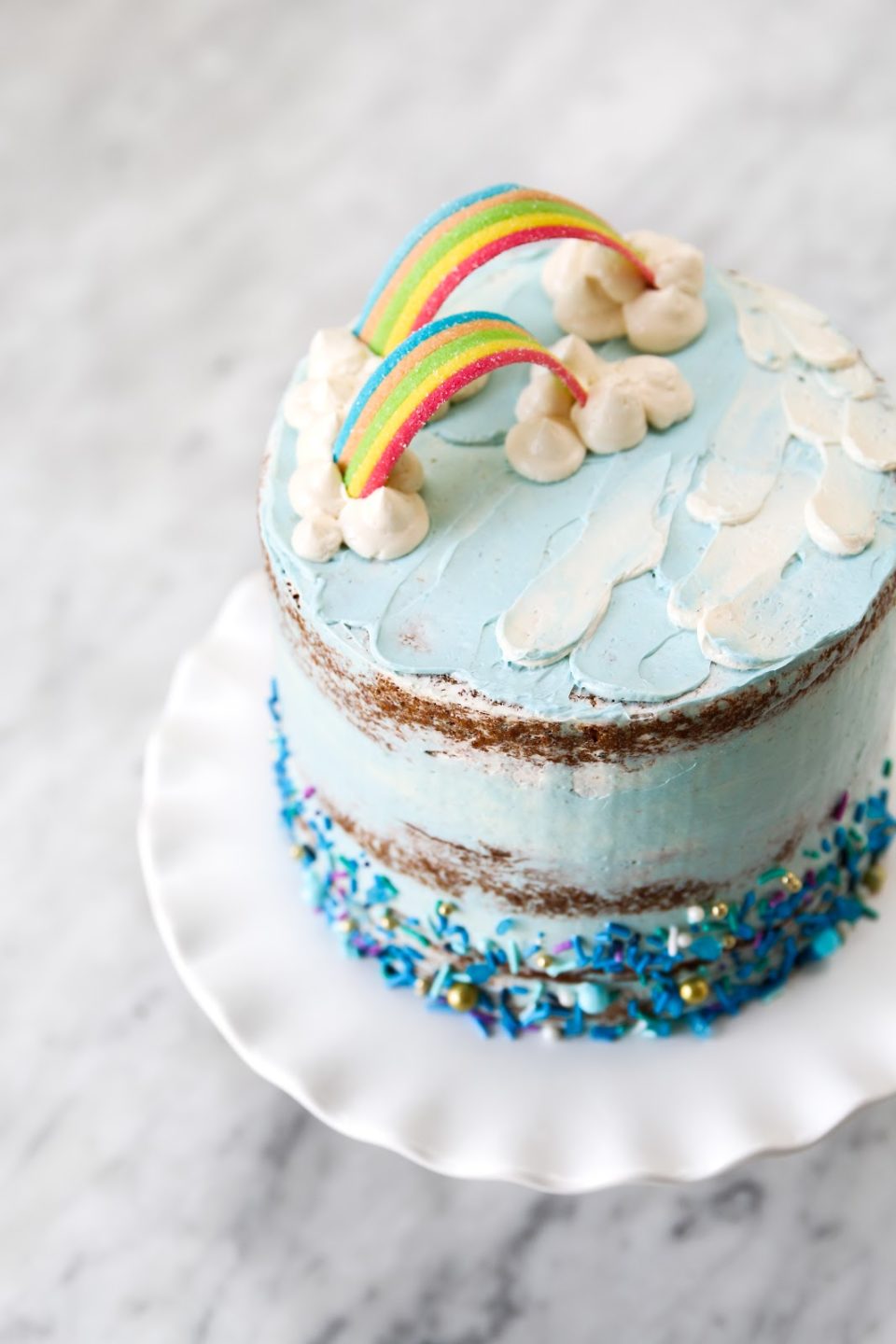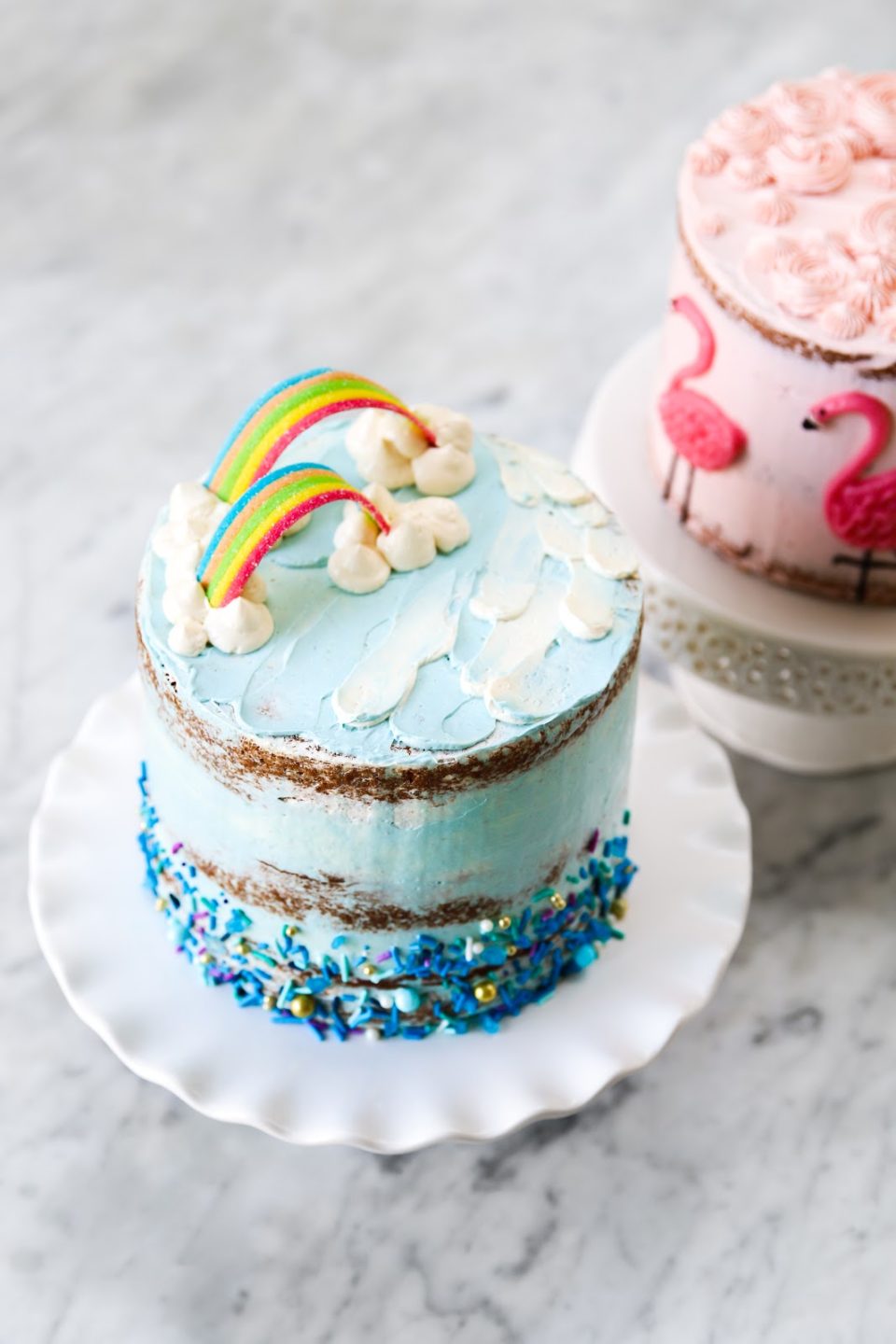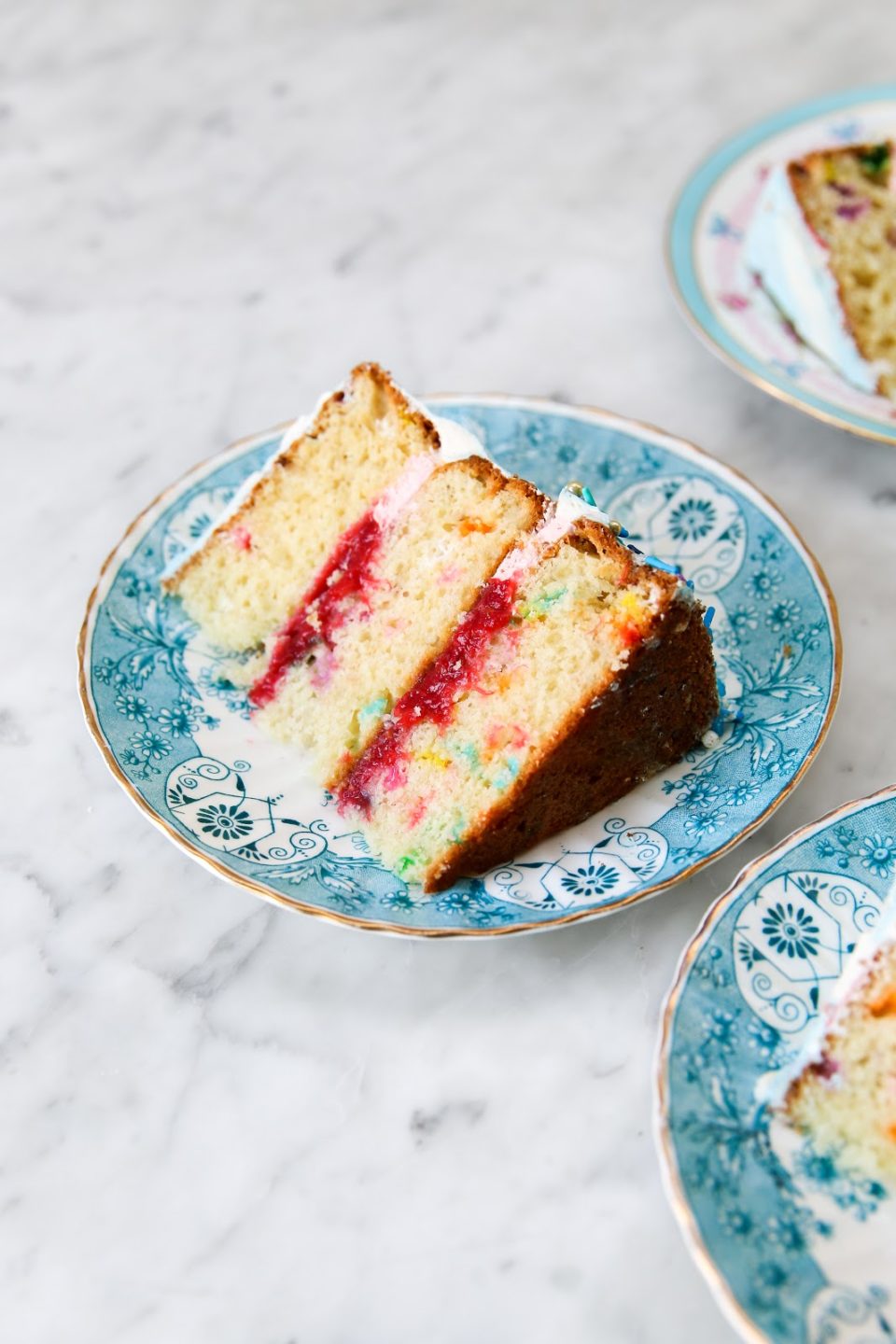 Happy baking and happy pride weekend!
Ingredients
Confetti Cake
1

cup

unsalted butter

,

softened

2

cups

granulated sugar

1

tablespoon

clear imitation vanilla extract

2

eggs

3

egg yolks

3

cups

minus 2 tablespoon all-purpose flour

2

tablespoon

cornstarch

1

tablespoon

baking powder

1/2

teaspoon

baking soda

3/4

teaspoon

salt

1/2

cup

and 2 tablespoon sour cream

1

cup

whole milk

1/2

cup

rainbow sprinkles

,

(quins and jimmies won't bleed into the batter!)
Strawberry Compote
200

g

strawberries

,

cut into ½-inch chunks

2

tablespoons

granulated sugar

1

tablespoon

butter

1 1/2

teaspoon

vanilla extract
Vanilla Swiss Meringue Buttercream
1/2

cup

egg whites

,

(*not from a carton)

1

cup

granulated sugar

1 1/2

cups

unsalted butter

,

at room temperature, cubed

2

teaspoons

vanilla extract
Instructions
Confetti Cake
Preheat oven to 350°F.  Grease three 6-inch round cake pans.

In a medium bowl, whisk together dry ingredients together. Set aside.

In a measuring cup, combine milk and sour cream. Set aside.

With a stand mixer, beat butter until creamy. On medium speed, beat butter with sugar and vanilla until the mixture is fluffy and pale in colour.

Add eggs and eggs yolks, one at a time, making sure each egg is incorporated before adding the next.

Add in half of the flour mixture and half of the milk mixture.  Mix on low until just incorporated.

Add the remainder of the ingredients and mix until just combined.

Pour batter into prepared cake pans. Bake for 26 – 28 minutes or until wooden pick inserted in centre comes out clean.

Cool cakes on a wire rack for about 15 minutes before remove cakes from pans to cool completely.
Strawberry Compote
In a medium bowl, toss to combine strawberries and sugar.

In a heavy medium saucepan over medium heat, melt the butter. When the butter has melted, add the strawberry mixture and add vanilla extract.

Allow to cook, undisturbed, for 2 minutes. Then gently stir and continue to cook, stirring occasionally, until the strawberry is tender and juices become thick, 10 to 12 minutes.

Let compote cool completely before assembling cake.
Vanilla Swiss Meringue Buttercream
In the bowl, whisk together egg whites and sugar until combined.

Create a double-boiler for the egg white and sugar mixture. Fill a sauce pan with a few inches of water and bring to a simmer.  Place the bowl with the egg white mixture on top to create a double-boiler. The water should not touch the bottom of the bowl.  The double-boiler acts as indirect heat for the egg white mixture.

Whisk the mixture continuously to make sure the egg whites don't get cooked. Whisk until all the sugar granules have dissolved.

Once the egg white mixture is hot and no sugar granules remain, carefully transfer the mixture into the bowl of a stand mixer.  Fitted with the whisk attachment, beat the mixture on high speed for about 6 – 7 minutes (meringue should form medium-stiff peaks and be cooled to room temperature)

Stop the mixer and swap out the whisk for the paddle attachment.

With the mixer on low, begin adding in the butter a couple tablespoons at a time. It is very important the the butter is at room temperature

Once the butter has been mixed in, add the vanilla extract.

Turn the mixer up to medium speed and mix until silky smooth.
Assembly
2 large round piping tips

Blue gel food colouring

Pink gel food colouring

2 pieces of rainbow belt candy

Divide the buttercream into three bowls — with half the buttercream into a large bowl and the remaining half divided into two smaller bowls. The larger portion of buttercream will be coloured blue for the sky. One of the smaller bowls of buttercream will be coloured pink while the other small bowl will remain white.

Transfer pink buttercream into a piping bag fitted with a large round piping tip. Do the same for the white buttercream

Place first layer of cake onto cake plate/stand.

Pipe a thick border of pink buttercream around the edge of the first cake layer.

Fill the centre with half of the cooled strawberry compote.

Gently place second cake layer and repeat previous step.

Once the top layer of cake has been placed, gently coat the sides and top of the cake with the blue buttercream for the "sky."

Fitted with a large round piping tip, pipe large dollops of white buttercream on the top of the cake to resemble the "clouds" to anchor the rainbow. Five or six dollops for each cloud is a good amount.

Place rainbow candy from the centre of one cloud to the centre of the other.

With any excess white buttercream, pipe dollops on to the top of the cake. Using an offset spatula, smooth of the buttercream to roughly blend into the sky.

Optional: add blue sprinkles to the bottom of the cake for extra fun!
Reader Interactions