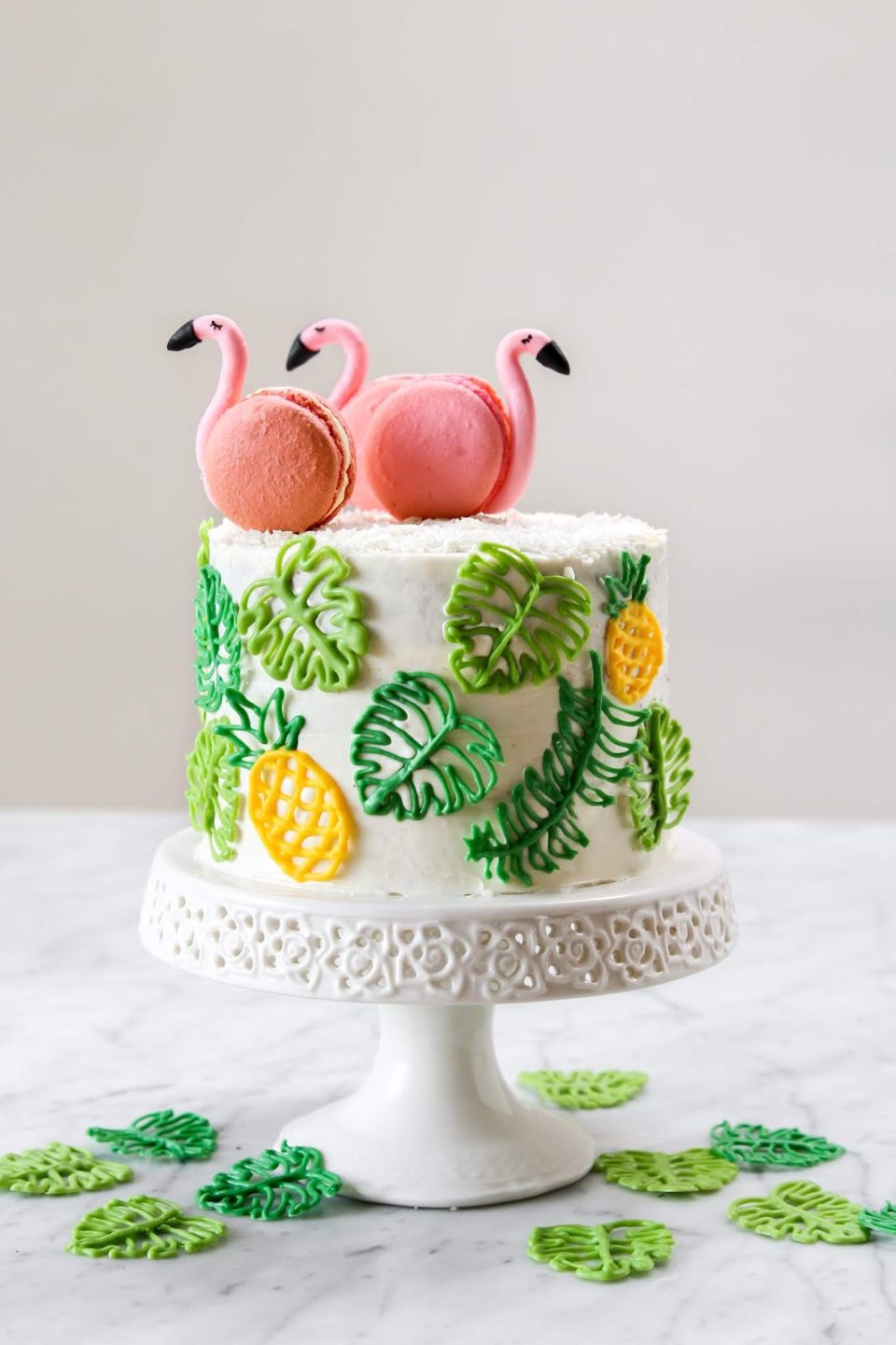 This post is sponsored by Saputo. The opinions on this blog, as
always, are my own. Thank you Saputo for supporting Constellation Inspiration!
It might be winter, but by no way does that mean I am giving up on bright, tropical flavours. Holiday cookie season with all the warm spices and brown butter notes might be the one that I thrive in, but I jump at any opportunity to bake a cake that is reminiscent of warmer, sunnier days. For my little tropical escape in the winter time, I combined two fruits that are most redolent of summer to me — pineapple and coconut. Think of this as a piña colada in cake form. There are three layers of coconut cake, a creamy pineapple coconut curd, a bright pineapple jam, and a simple coconut whipped cream frosting. The cake layers are made with coconut oil and toasted shredded coconut for double the coconut flavour. Instead of the addition of butter to make the curd extra creamy, the additional of coconut oil to the pineapple curd is the main fat component and adds an extra piña colada touch. The pineapple jam is something that I had growing up. I grew up eating Taiwanese pineapples cakes, a square-shaped buttery pastry filled with golden yellow pineapple jam. The pineapple adds some texture to the filling and adds a pop of freshness. Lastly, a simple two-ingredient whipped coconut cream finishes the cake. With the use of coconut oil and Dairyland lactose free milk, this entire cake is actually lactose-free, but just as delicious as any treat that would use butter or normal milk.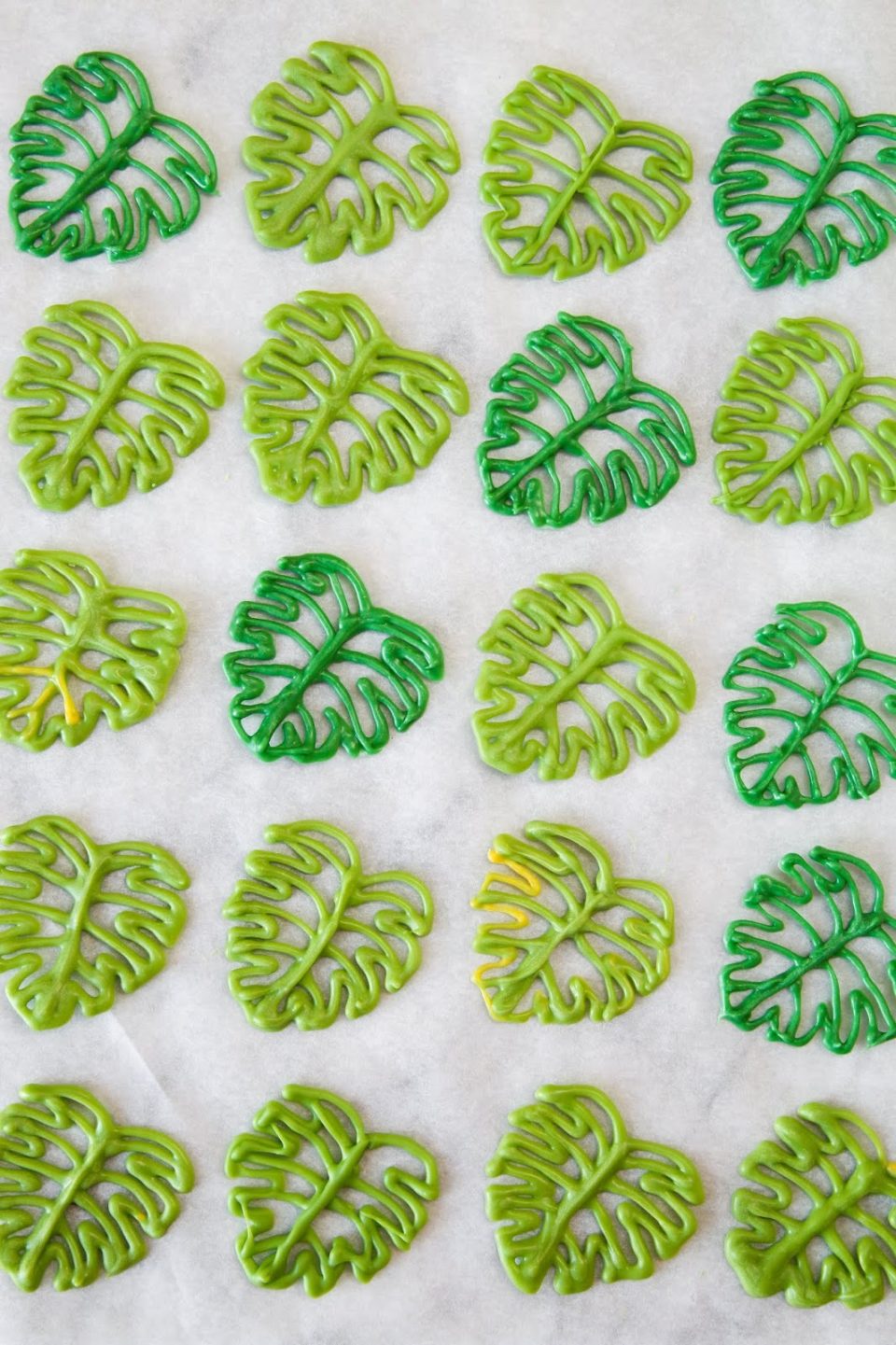 You can decorate this cake however you like — have it simply frosted with the coconut whipped cream or topped with your favourite sprinkles. I chose to play on the tropical theme some more. I melted down some confectionery coating (candy melts) and piped out monstera leaves and pineapples for the side of the cake. You can do this free-hand or you can print out a drawing of your leaves of choice and place it under a piece of parchment paper so you can trace out the design. My favourite part of the cake? The little DIY flamingo macarons that sit on top. You can add little paper umbrellas and pineapple wedges to play on the piña colada theme even more.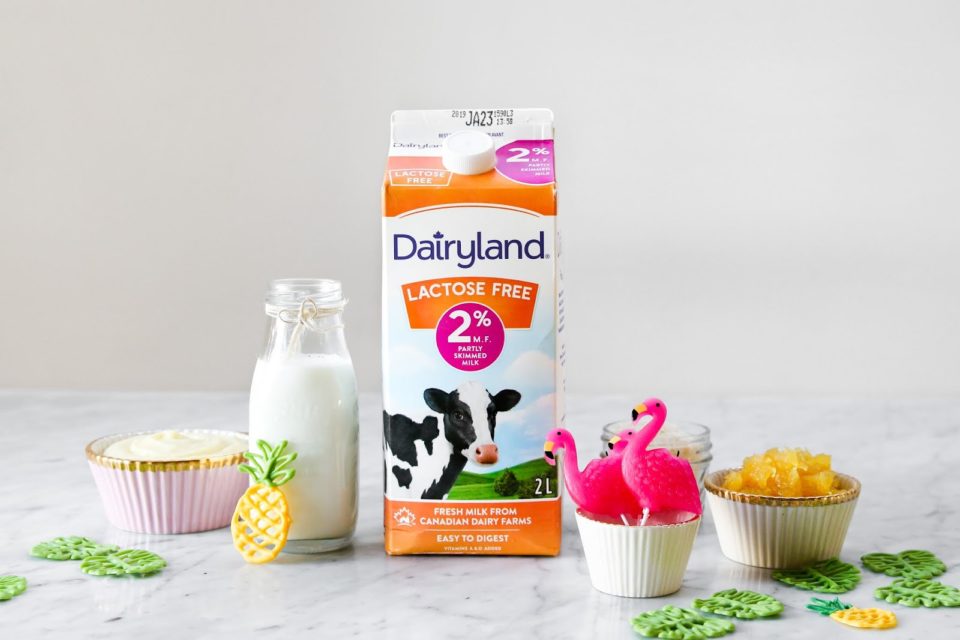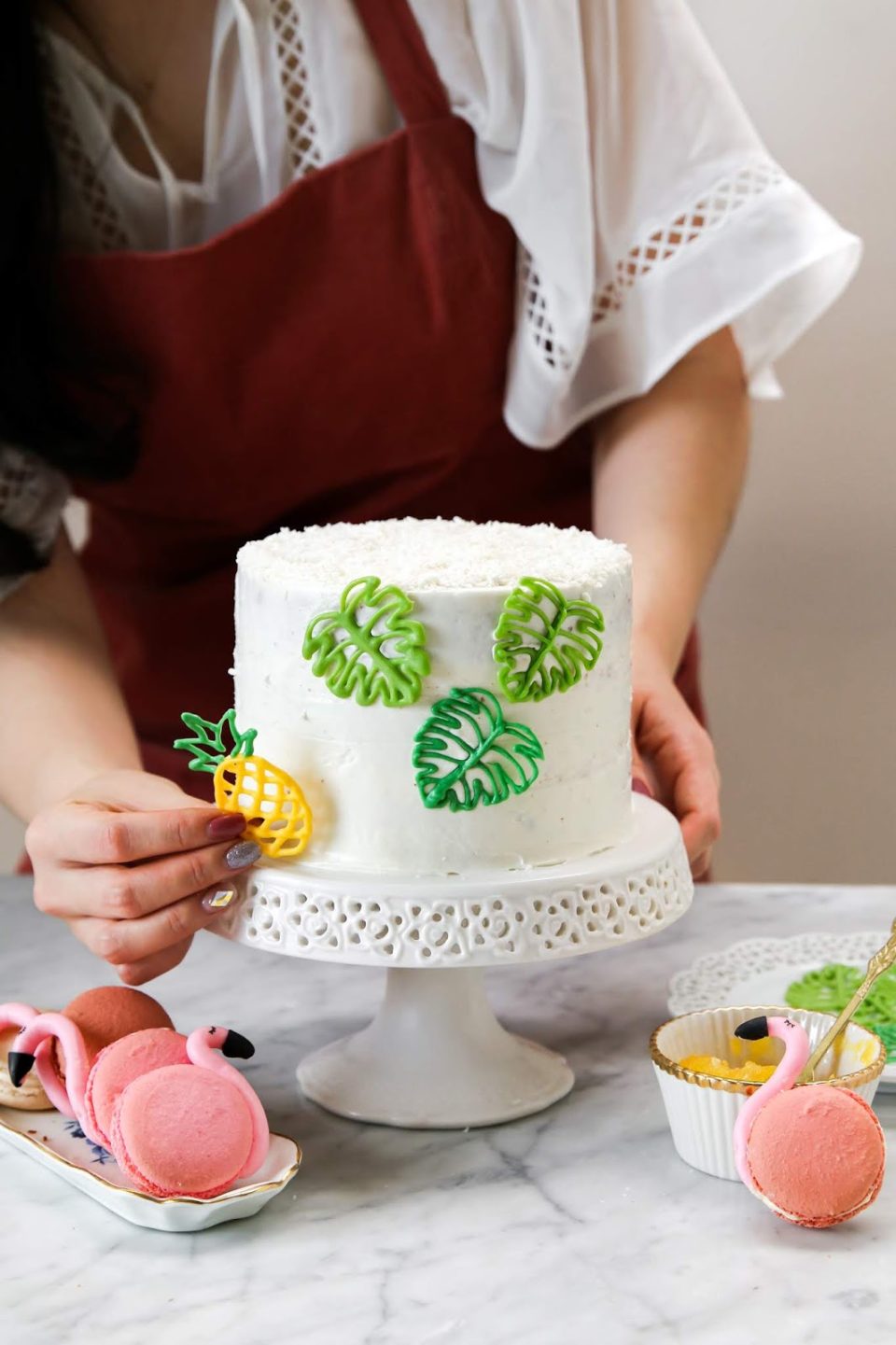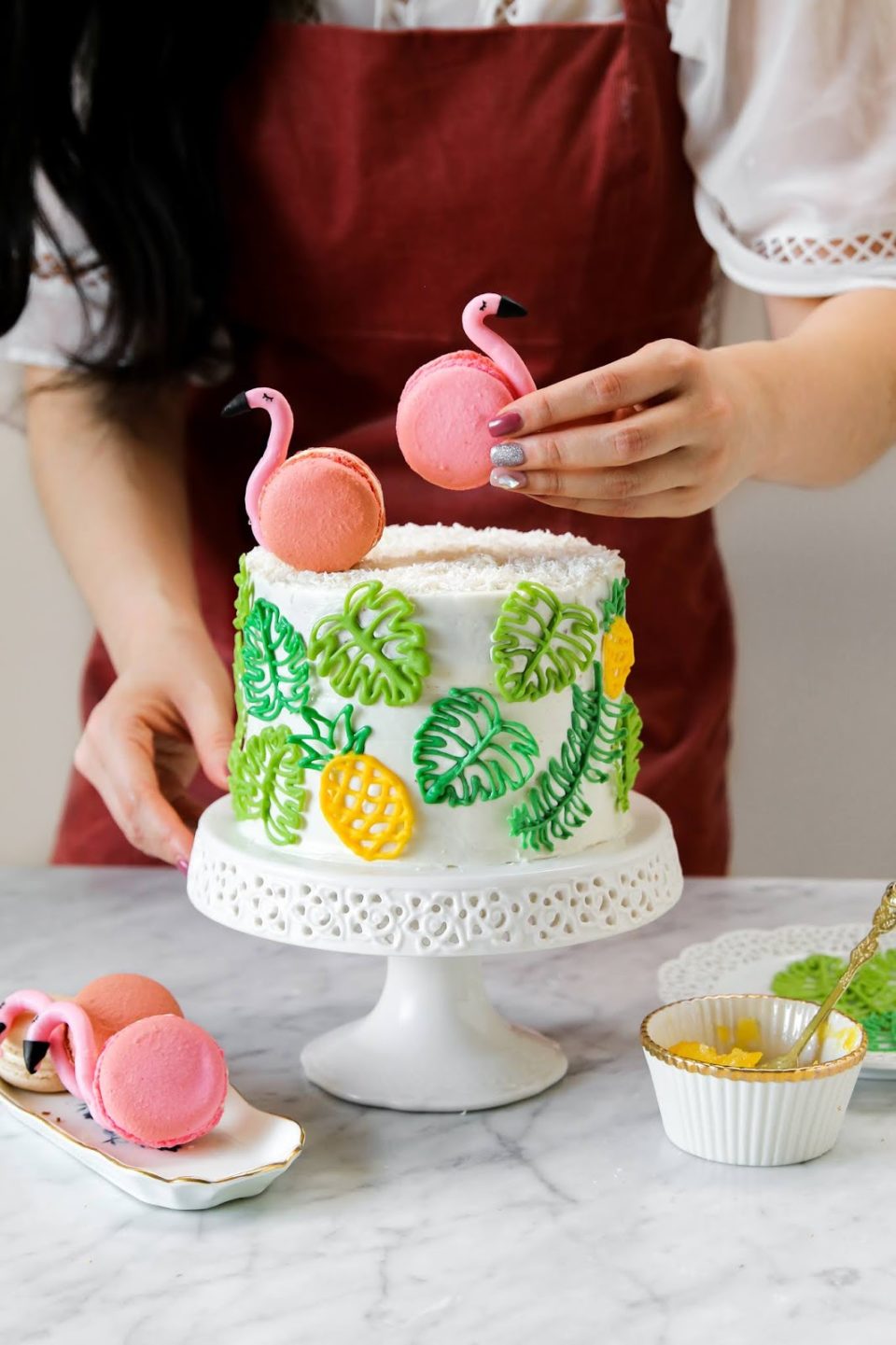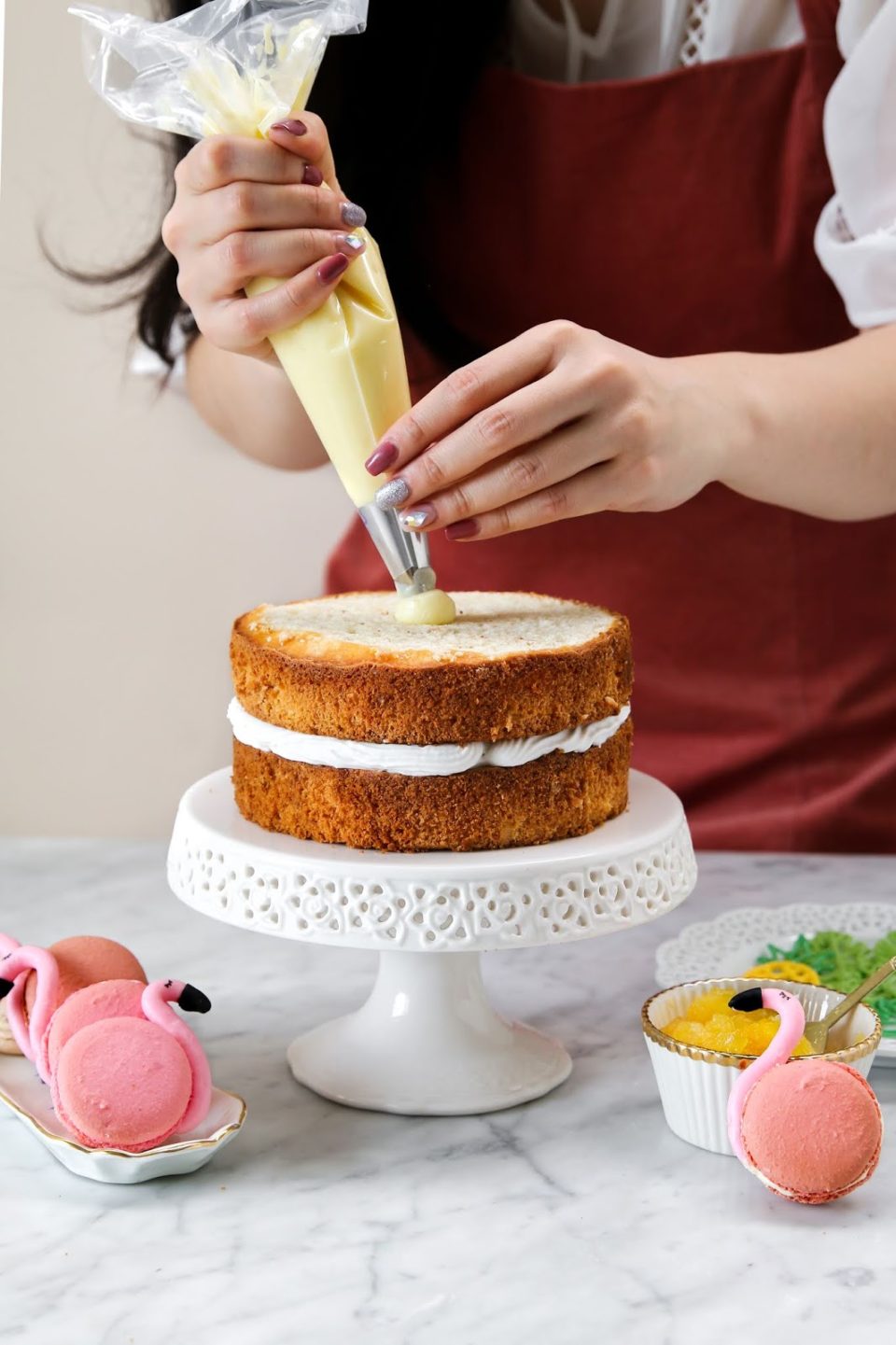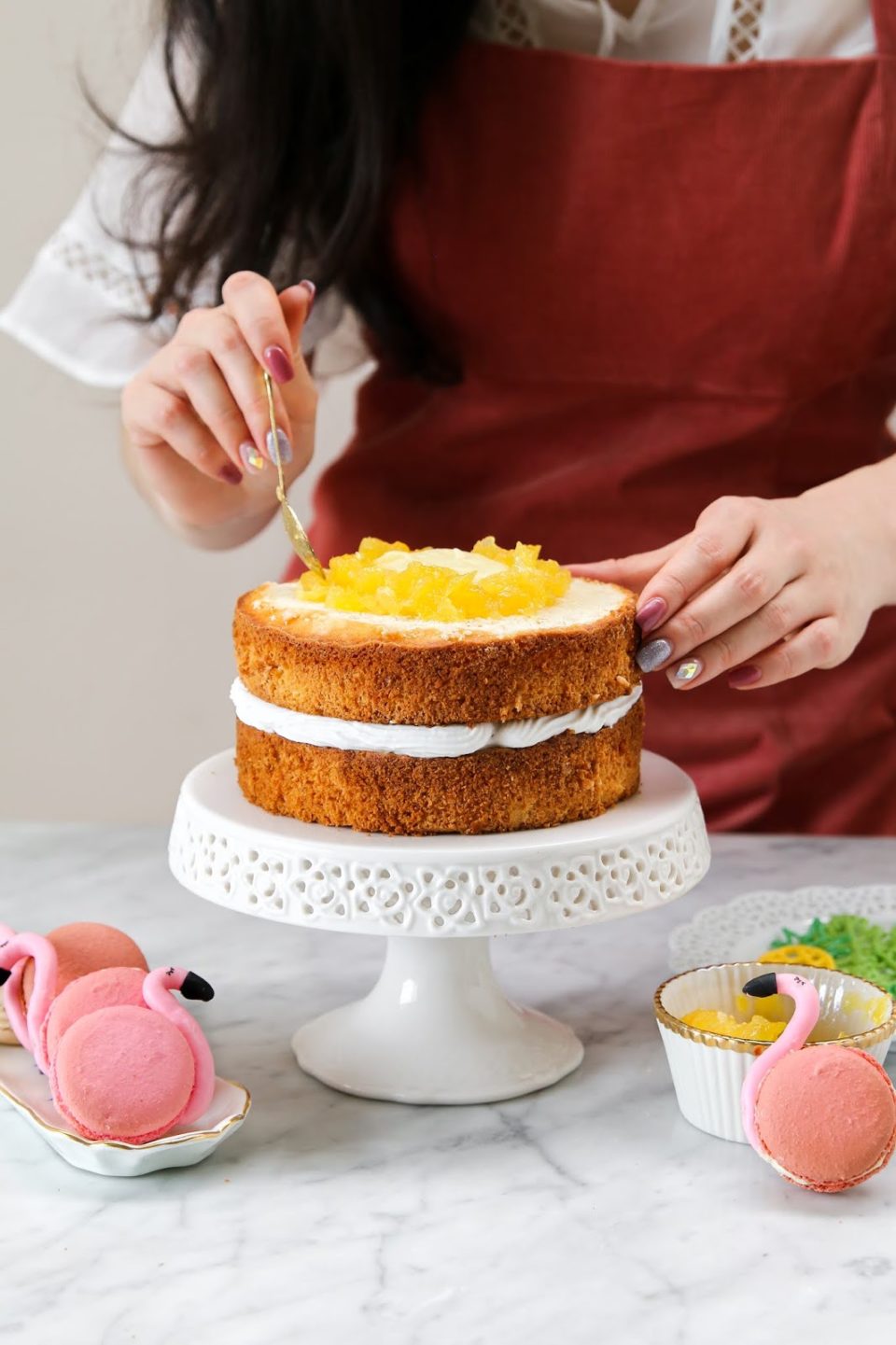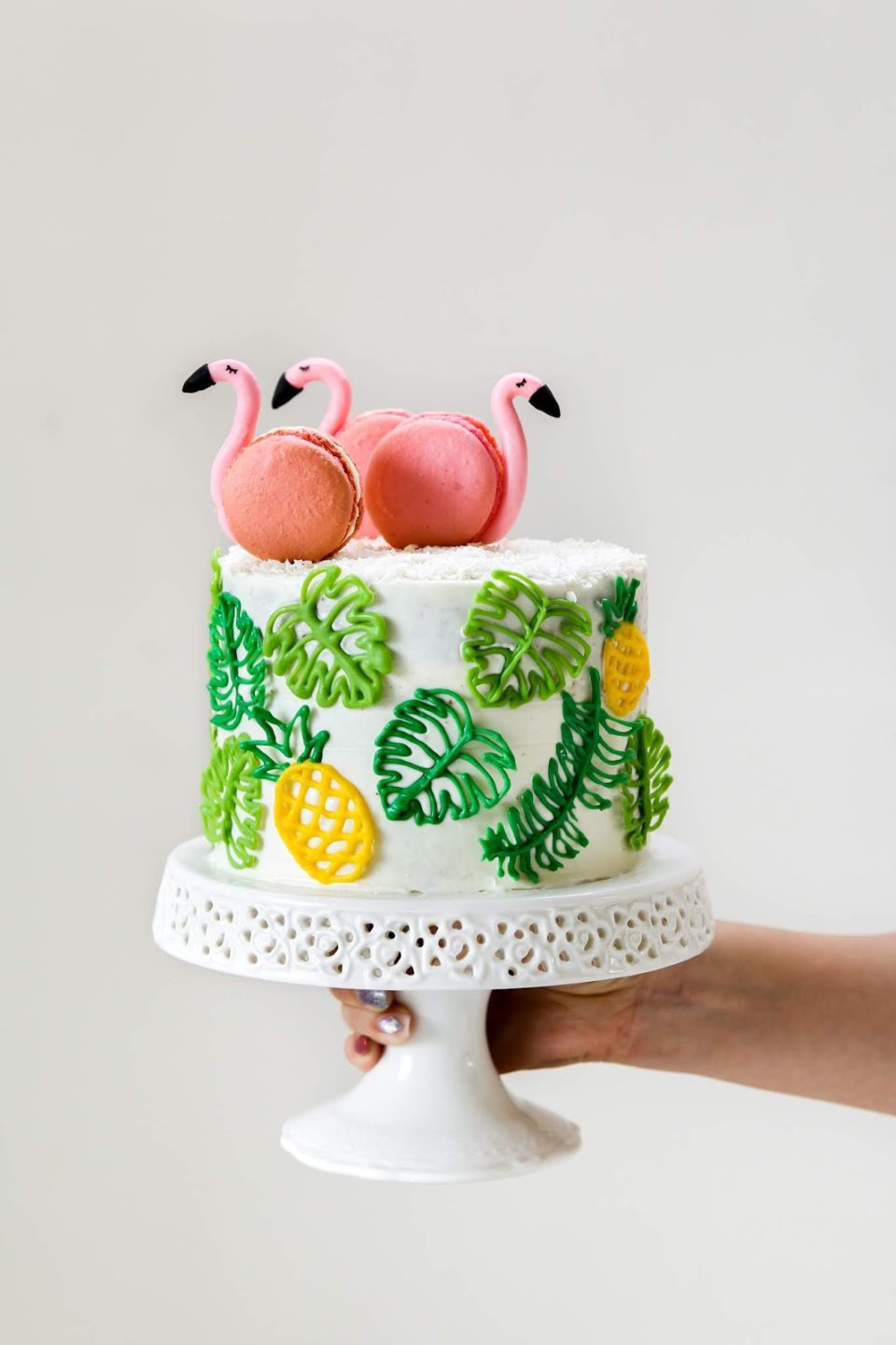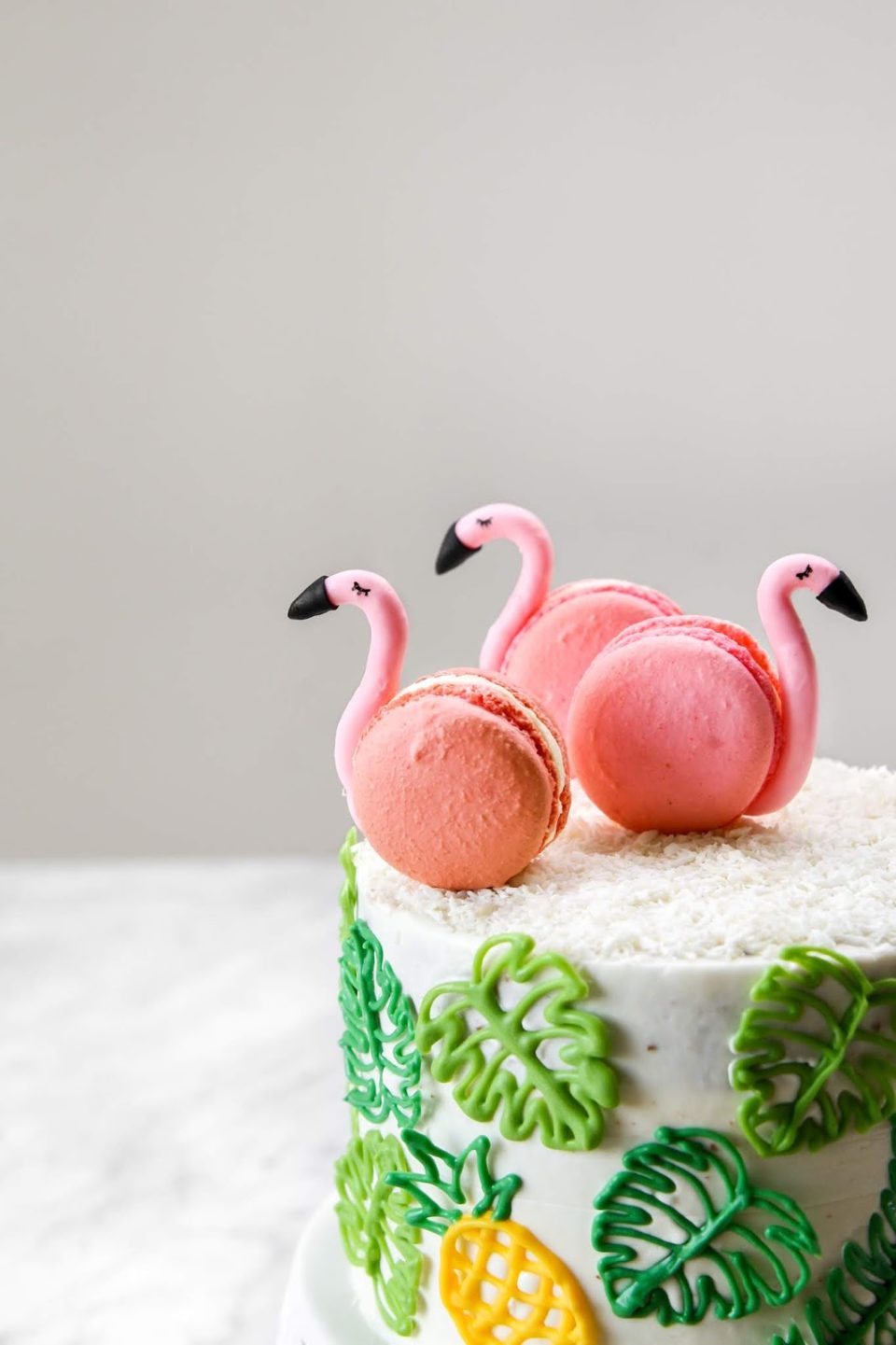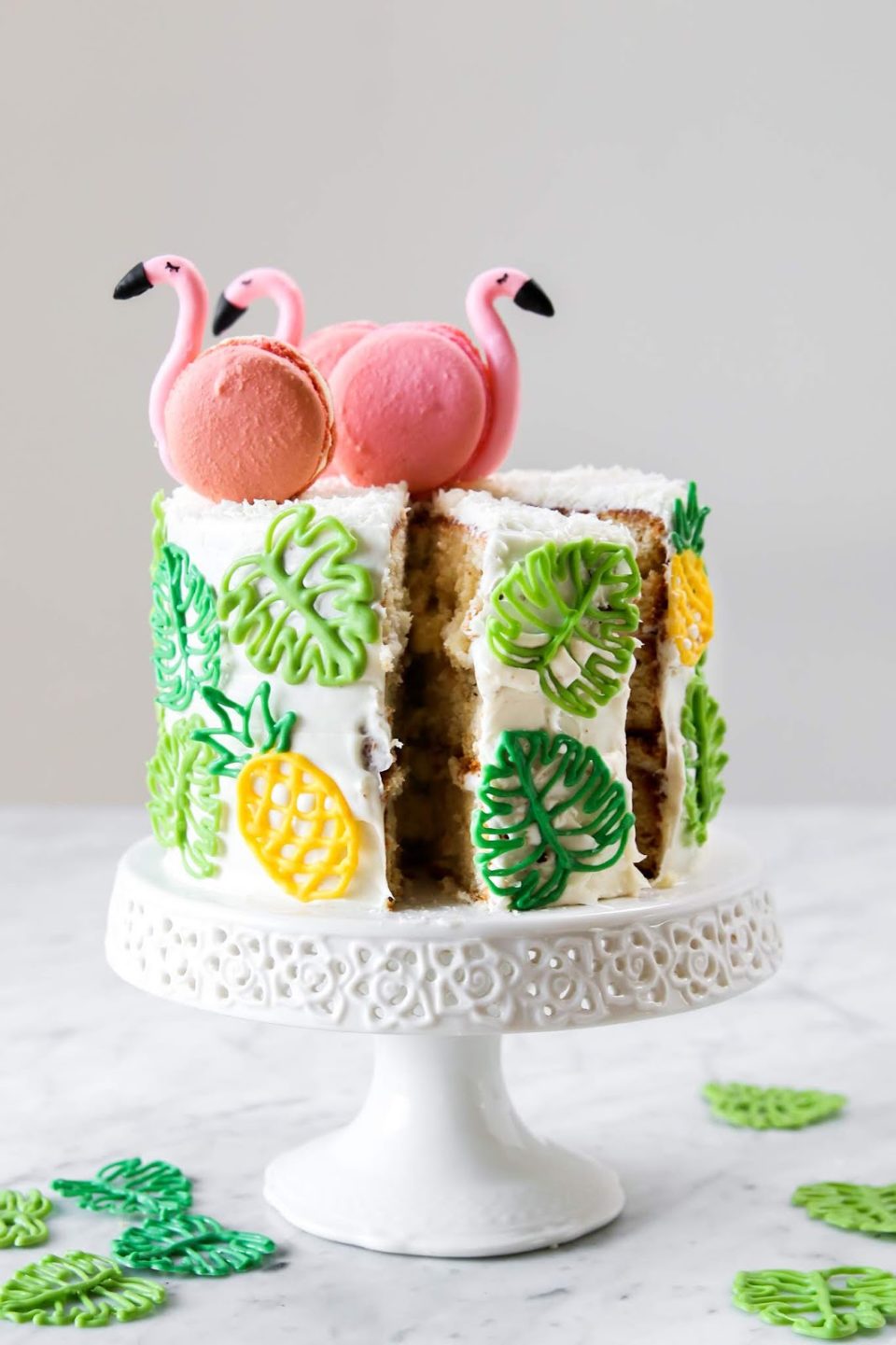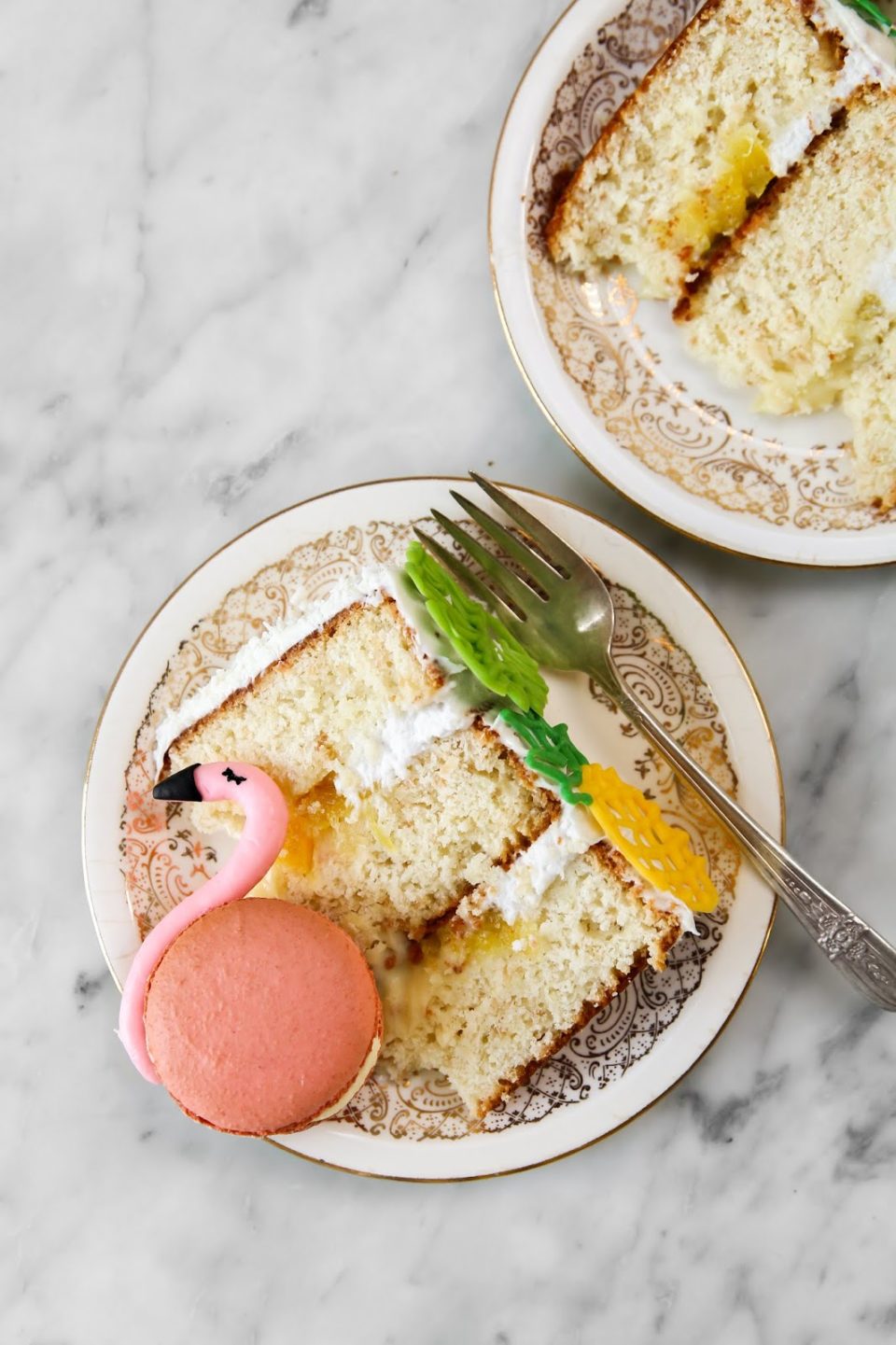 Happy baking!
Ingredients
Toasted Coconut Cake
3/4

cup

and 2 tablespoon

,

(185 g) coconut oil, solid

1 2/3

cup

granulated sugar

3

large eggs

,

room temperature

2 1/4

cup

all-purpose flour

2 1/4

tsp

baking powder

1

tsp

salt

3/4

cup

toasted unsweetened shredded coconut

1 1/3

cup

Dairyland lactose free 2% milk
Pineapple Coconut Curd
4

large egg yolks

1/3

cup

granulated sugar

2

tablespoon

cornstarch

1/4

tsp

salt

2/3

cup

canned pineapple juice

4

tablespoon

coconut oil

,

solid

1

tablespoon

fresh lemon juice

,

(optional)
Pineapple Jam
5

oz

canned crushed pineapple

6

tablespoons

granulated sugar

Coconut Whipped Cream

2

cans

,

(14 oz x 2) coconut cream

1/2

cup

icing sugar

1/2

tsp

vanilla
Instructions
Toasted Coconut Cake
Preheat oven to 350F.

Line three 6-inch baking pans with parchment paper and set aside.

In a large bowl, whisk together flour, baking powder, salt, and shredded coconut. Set aside.

In the bowl of a mixer, beat coconut oil and sugar on high until smooth.

Add eggs, one at a time, ensuring mixture is smooth before adding next egg.

Evenly divide the cake batter into the three baking pans and bake for 30 – 35 minutes, until a cake tester or toothpick comes out clean when poked into the centre of the cake.

Let cake layers cool before frosting.
Pineapple Coconut Curd
In a large stainless steel bowl, combine the egg yolks, cornstarch, sugar, and salt. Whisk until well combined. Once mixture is smooth, whisk in pineapple juice.

Set the bowl over a saucepan of simmering water and cook, stirring constantly with a rubber saptula until the mixture thickens and can coat the back of spatula, about 10 minutes. Remove mixture from heat.

Strain the curd through a fine-mesh sieve to remove any lumps.

Fold in the coconut oil until it is fully melted and mixed in.

Cover the curd with plastic wrap. Make sure the plastic wrap is touching the surface of the curd to prevent a skin from forming.

Refrigerate until cold. The curd will thicken as it cools.
Pineapple Jam
In a small sauce pan, combine crushed pineapple and sugar over medium heat.

Continuously stir the pineapple to prevent mixture from sticking to the bottom of the pan.

Cook for 10 – 15minutes, until mixture is syrupy.

Set aside to let cool.
Coconut Whipped Cream
Chill your coconut cream or coconut milk in the refrigerator overnight, being sure not to shake or tip the can to encourage separation of the cream and liquid.

The next day, remove the coconut cream or milk from the fridge without tipping or shaking and remove the lid.

Scrape out the top, thickened cream and leave the liquid behind.

Place hardened cream in your mixing bowl. Beat for 30 seconds with a mixer until creamy.

Add vanilla and powdered sugar and mix until creamy and smooth. Taste and adjust sweetness as needed.

Keep in refrigerator until ready to use.
Assembly
Place first layer down on cake stand/plate. Pipe a large dollop of pineapple coconut curd in the centre. Fill the majority of the remaining space with pineapple jam, leaving enough room for a ring of whipped coconut cream to be piped around the perimeter. Pipe whipped coconut cream so that it is the 'barrier' for the two types of pineapple fillings.

Place second cake layer on top and repeat previous step.

Place final cake layer, cut side down.

Frost entire cake with whipped coconut cream and decorate however you like!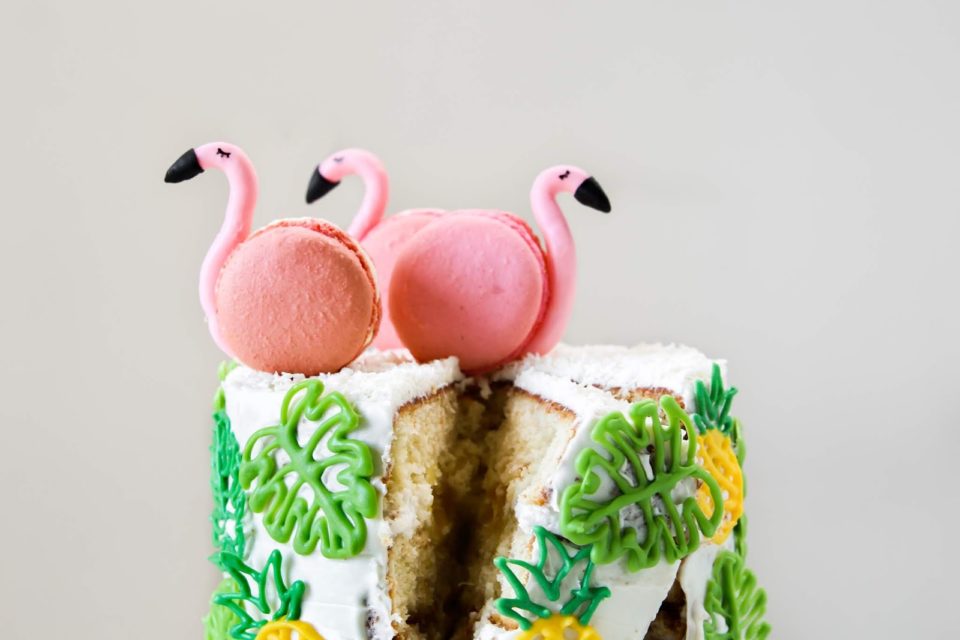 Reader Interactions