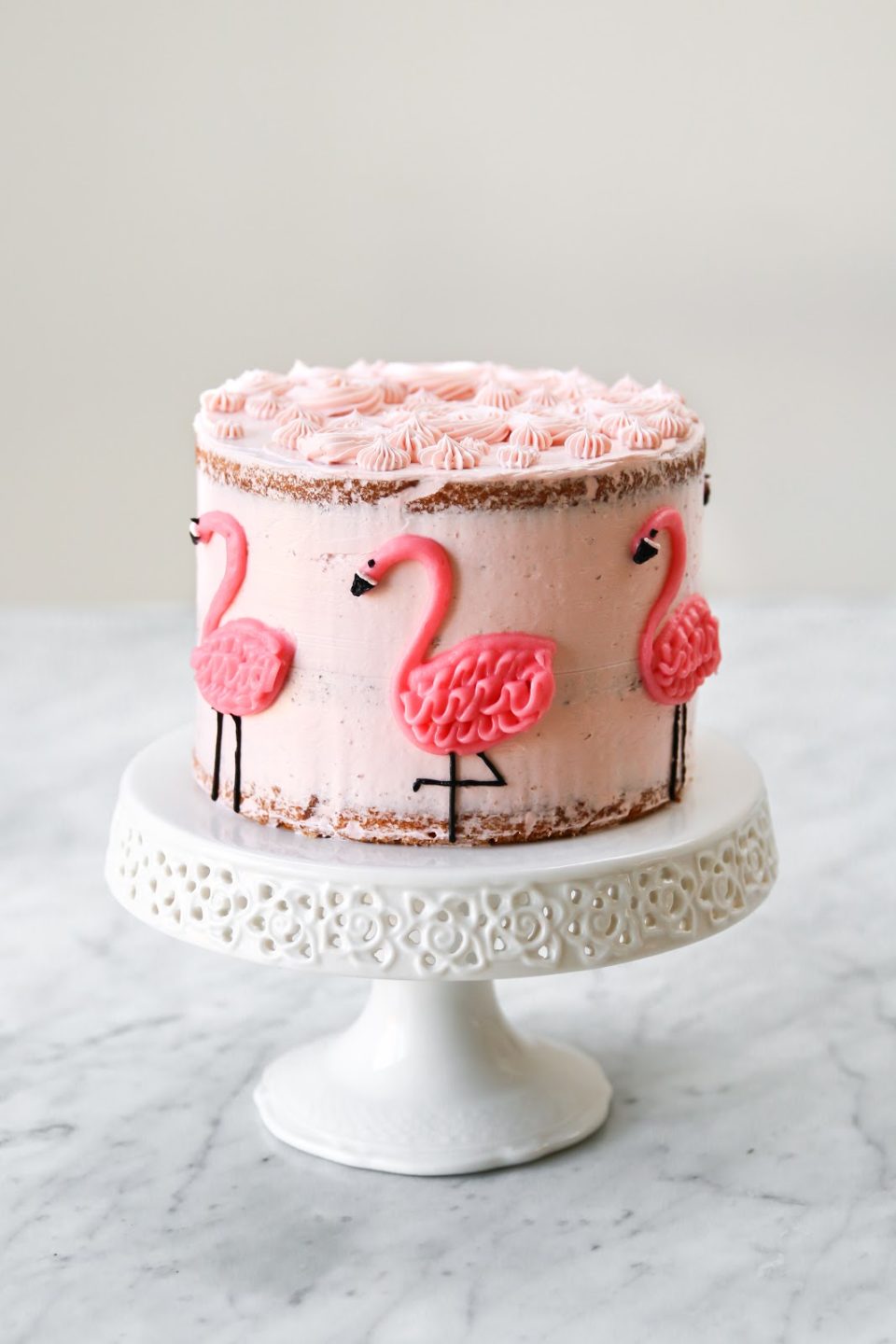 I actually made this cake last summer, when last year's rhubarb was in season and strawberries were in abundance at the farmers markets. I made the cake toward the end of rhubarb season and was not quick enough to get my act together and write a full blog post for the cake. So here we are, 11 months later. This cake consists of layers of vanilla cake with freeze-dried strawberry powder folded in the batter for its pink colour, the best strawberry rhubarb compote (and I mean THE best), and vanilla swiss meringue buttercream. Because I made you wait a whole year for this, I am going to skip all the chit chat and get right to the recipe. Even if you do not make the cake, make the compote. I always have a big batch handy of it in my fridge. The compote is just as amazing on top of plain yogurt, on toast, or on oatmeal. I recently put a generous dollop of it inside homemade pop tarts and it was the perfect picnic treat.
If you need any other cute-birds-on-the-side-of-a-cake inspo, this swan cake is for youuuuuu!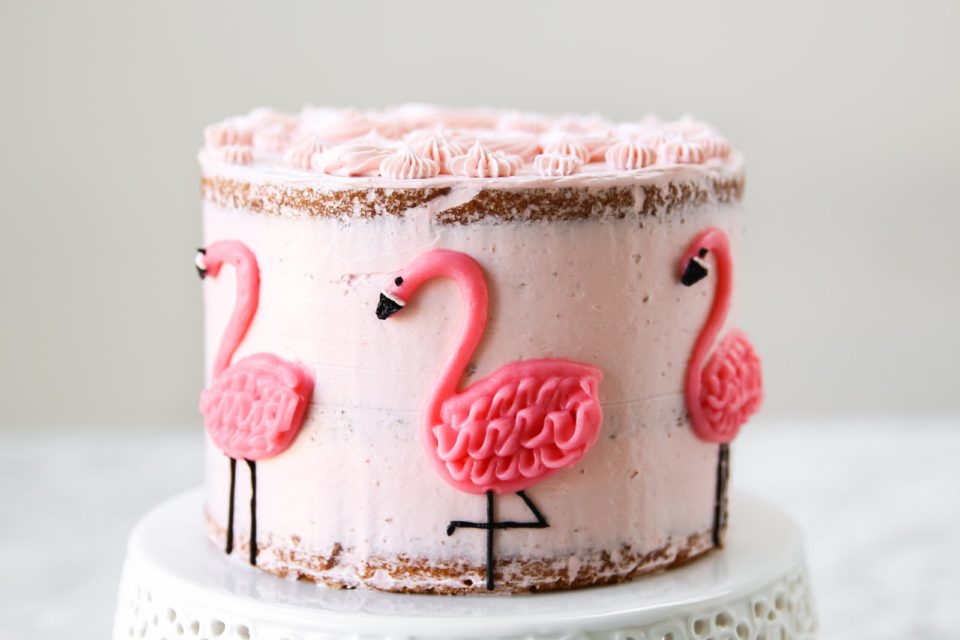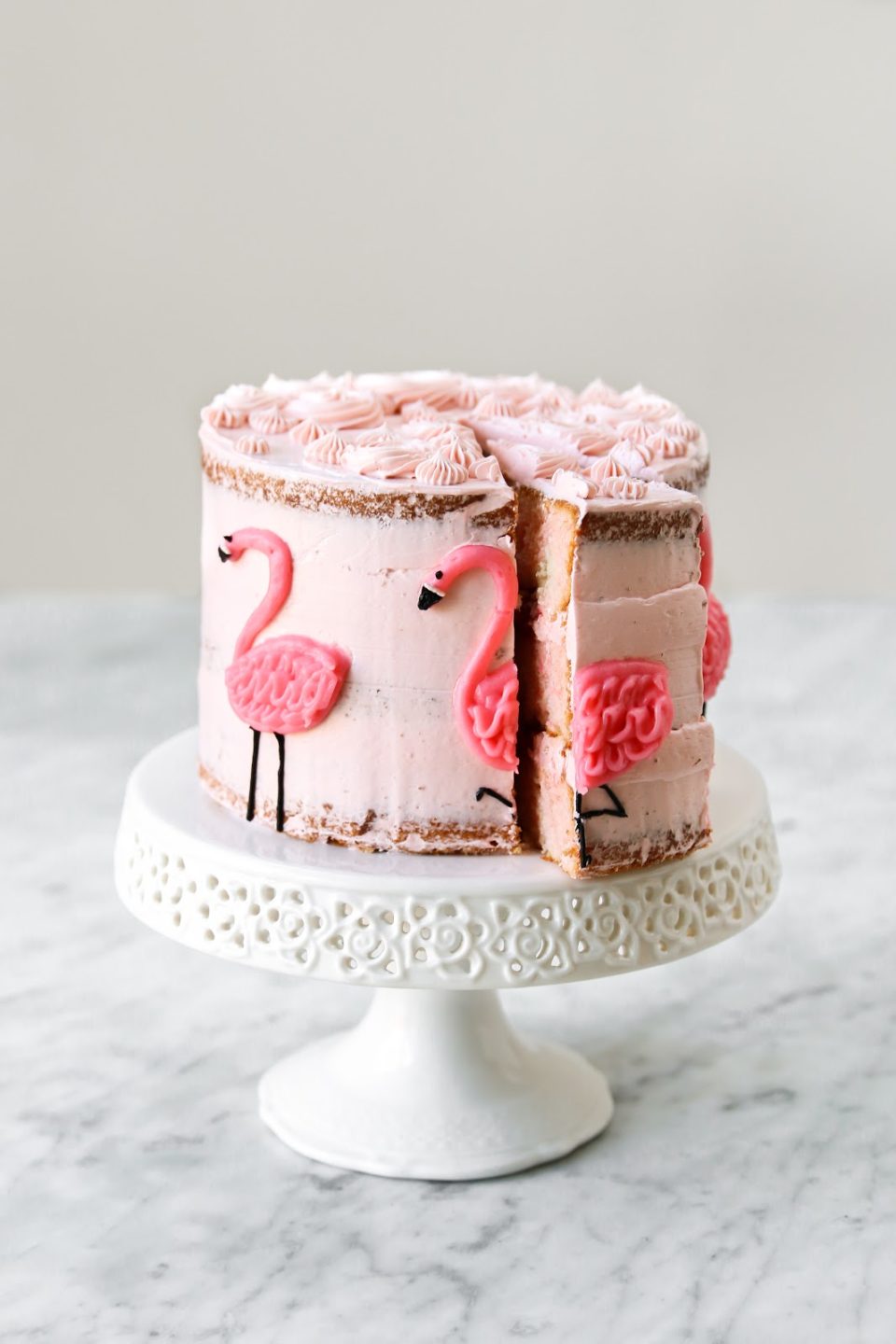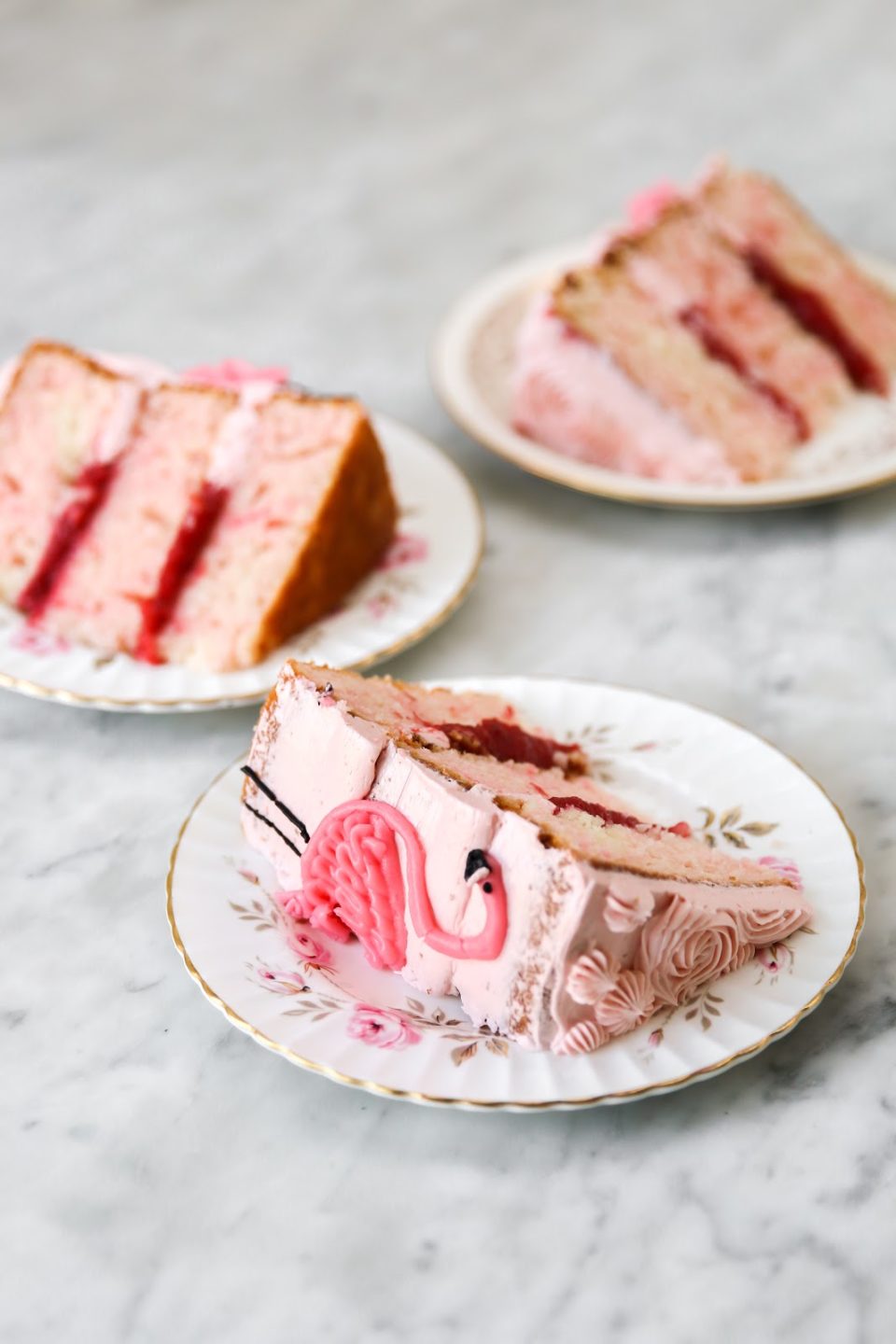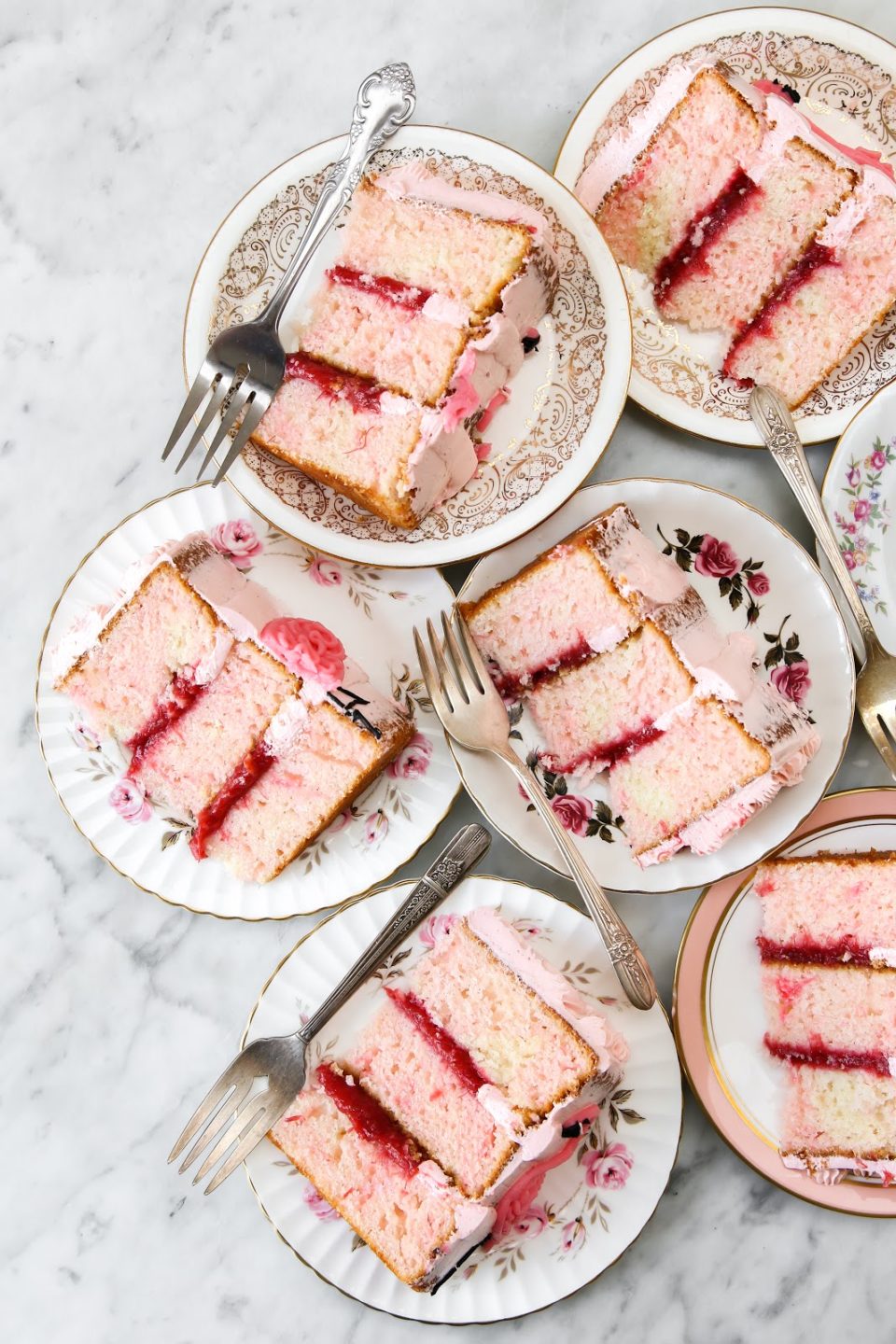 Happy baking!
Ingredients
Pink Velvet Cake
1

cup

unsalted butter

,

softened

1 3/4

cups

granulated sugar

1

tablespoon

clear imitation vanilla extract

2

eggs

3

egg yolks

3

cups

minus 2 tablespoon all-purpose flour

2

tablespoon

cornstarch

1

tablespoon

baking powder

1/2

teaspoon

baking soda

3/4

teaspoon

salt

1/2

cup

and 2 tablespoon sour cream

1

cup

whole milk

3

tablespoons

freeze-dried strawberry powder
Strawberry Rhubarb Compote
1

cup

(100g) rhubarb, trimmed and chopped

1

cup

(145g) strawberries, chopped

1/3

cup

sugar

2

teaspoon

vanilla extract

1

tablespoon

unsalted butter
Vanilla Swiss Meringue Buttercream
4

egg whites

1

cup

granulated sugar

1

cup

unsalted butter

,

cubed, at room temperature

1

tablespoom vanilla extract
Instructions
Pink Velvet Cake
Preheat oven to 350°F.  Grease three 6-inch round cake pans.

In a medium bowl, whisk together dry ingredients together. Set aside.

In a measuring cup, combine milk and sour cream. Set aside.

With a stand mixer, beat butter until creamy. On medium speed, beat butter with sugar and vanilla until the mixture is fluffy and pale in colour.

Add eggs and eggs yolks, one at a time, making sure each egg is incorporated before adding the next.

Add in half of the flour mixture and half of the milk mixture.  Mix on low until just incorporated.

Add the remainder of the ingredients and mix until just combined.

Gently fold in freeze-dried strawberry powder. Do not mix fully to achieve pink marbling effect.

Pour batter into prepared cake pans. Bake for 34 – 36 minutes or until wooden pick inserted in centre comes out clean.

Cool cakes on a wire rack for about 15 minutes before remove cakes from pans to cool completely.
Strawberry Rhubarb Compote
In a heavy medium saucepan over medium heat, melt the butter.

When the butter has melted, add the remaining ingredients to the pan. Allow to cook, undisturbed, for 2 minutes.

Gently stir and continue to cook, stirring occasionally, until the rhubarb is tender and juices become thick (10 to 15 minutes).

Remove from heat and let compote cool.
Vanilla Swiss Meringue Buttercream
In the bowl of a stand mixer, add the egg whites and granulated sugar and gently whisk by hand.

Fill a sauce pan with a few inches of water and bring to a simmer.  Place the mixer bowl with the egg white mixture on top to create a double-boiler. The water should be kept at a simmer but should not touch the bottom of the bowl.

While stirring the mixture, heat the egg white mixture the sugar has dissolved.

Once all the sugar gas dissolved, return the bowl to the stand mixer.

With the whisk attachment on the mixer, beat the mixture on high speed for about 7 – 8 minutes.  This will form a shiny, medium-stiff meringue. At this point, the meringue should be close to room temperature.

With the paddle attachment on the mixer and the speed of the mixer set to low, begin adding in the butter a couple cubes at a time.  When the previous addition of butter has been incorporated, add a few more cubes. Repeat until all the butter has been incorporated.

Once the butter has been mixed in, the vanilla extract.

Turn the mixer up to medium speed and mix until silky smooth.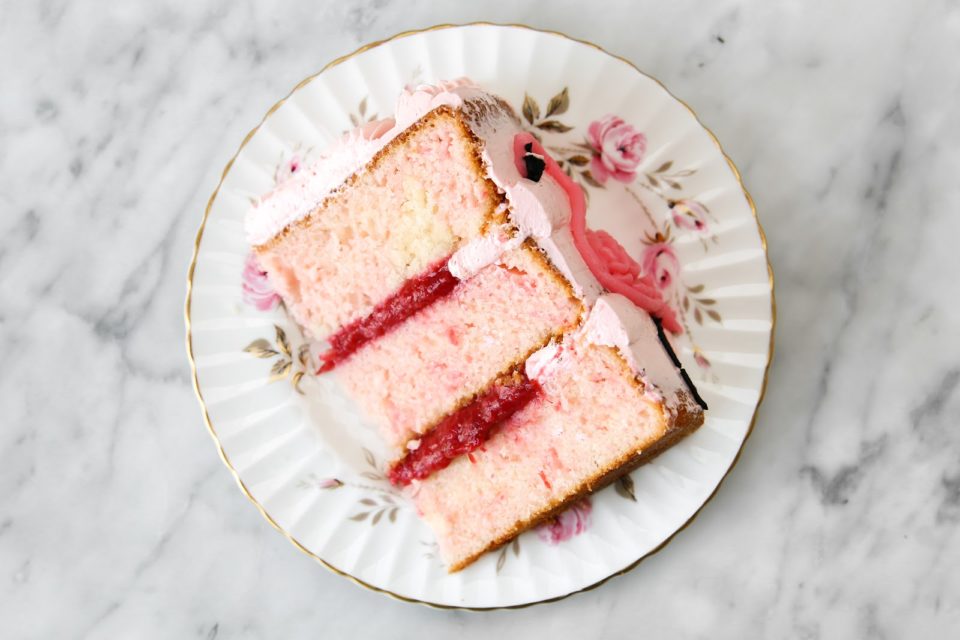 Reader Interactions