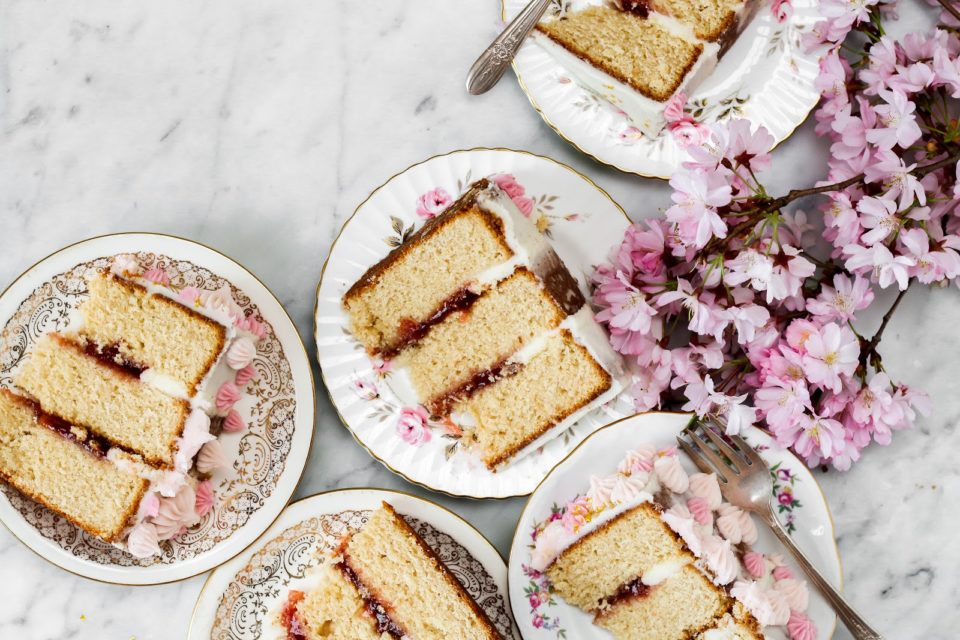 …and then another year has passed by. It seems like it was just yesterday when I was writing about turning 26 and how 25 has been a year of change that I did not expect but learned to fully accept. It seemed like it was just yesterday when I was talking about unintentional indifference and how sometimes absolutes turn out to be conditional. I was sharing all those sentiments along with images of a celebratory rich chocolate cake with vanilla buttercream. I took last year's lessons and kept them in my pocket for safe keeping for all of this year. This past year has been a year of new beginnings instead of termination. It has been a year full of cliché-sounding (which does not make it any less true nonetheless) self-discovery; I am now surer of what it is I want, though I recognize that desires may not be unwavering and stagnant across time.
How are we celebrating 27? An everyday childhood staple rendered a bit more celebratory with a tad more maturity. It is the classic combination of peanut butter and jelly in a tall and layered form – moist peanut buttery cake layers and sweet strawberry jam. You can use a homemade strawberry compote in between the layers, but a store-bought seedless strawberry jam is exactly what I need to bring me back. Then, a vanilla buttercream encases all this childhood nostalgia. One thing I love about having an April birthday is that it is peak cherry blossom season. I dress the cake with fresh cherry blossom and blossom-toned piped buttercream to continue the cascading effect of the blossoms. Finally, the addition of edible gold stars and gold candles make the cake even more worthy as the centrepiece of a celebration.
Thank you Wilton for sending over so many goodies so I can make the perfect birthday cake. You can find all the products I used to make this cake (including the gold stars so many of you having been asking about!) in the assembly instructions below. For more birthday cake ideas and inspiration, click here!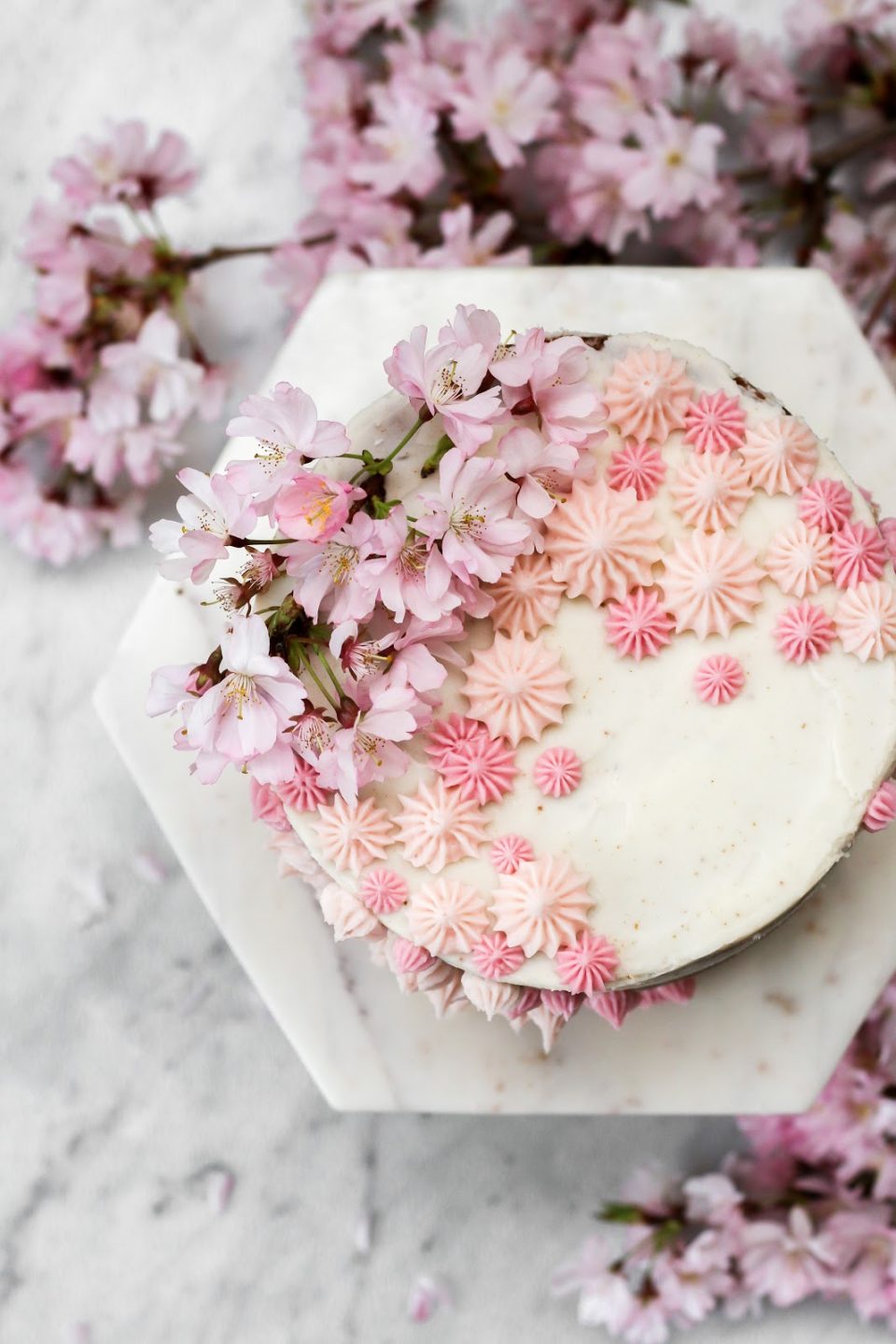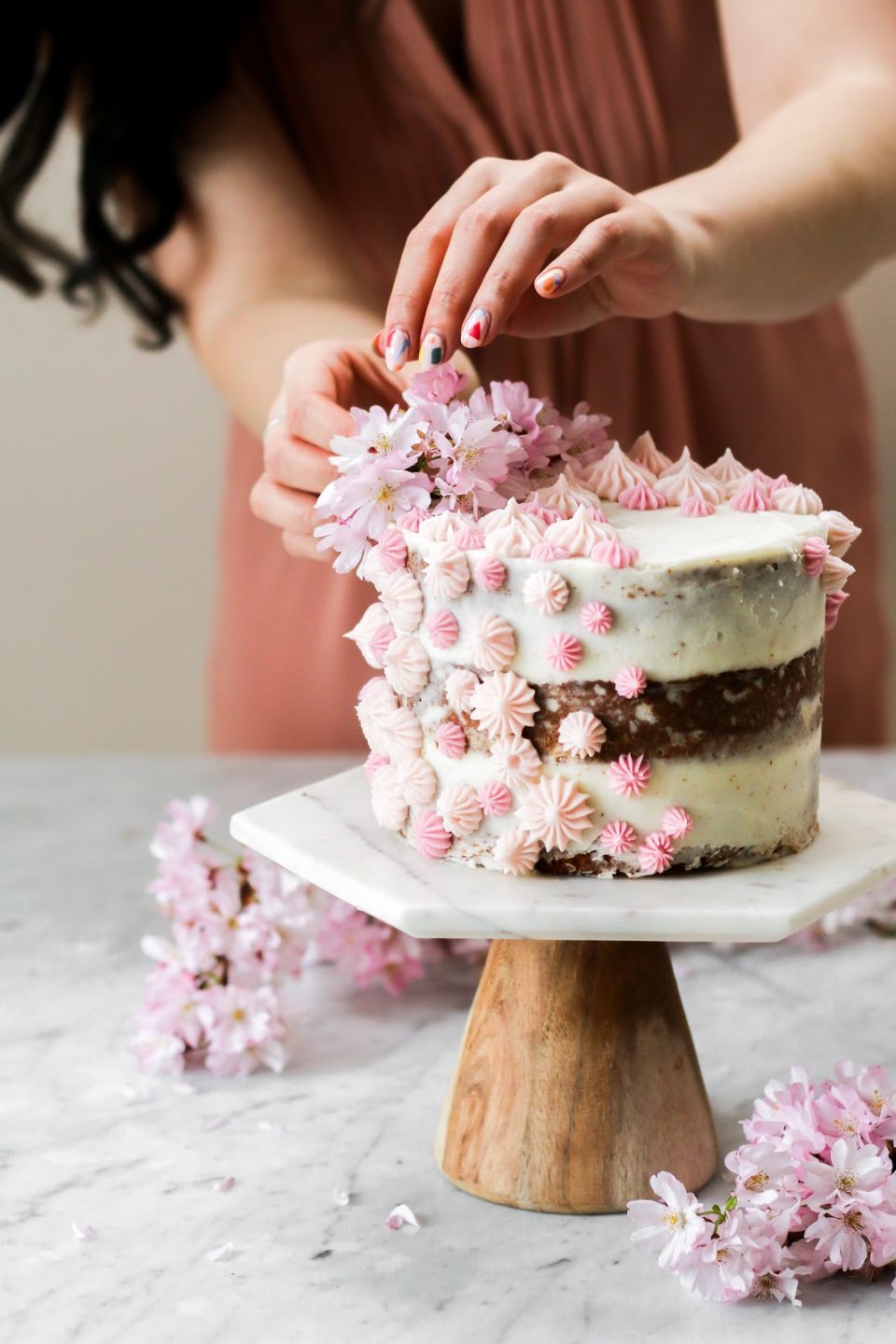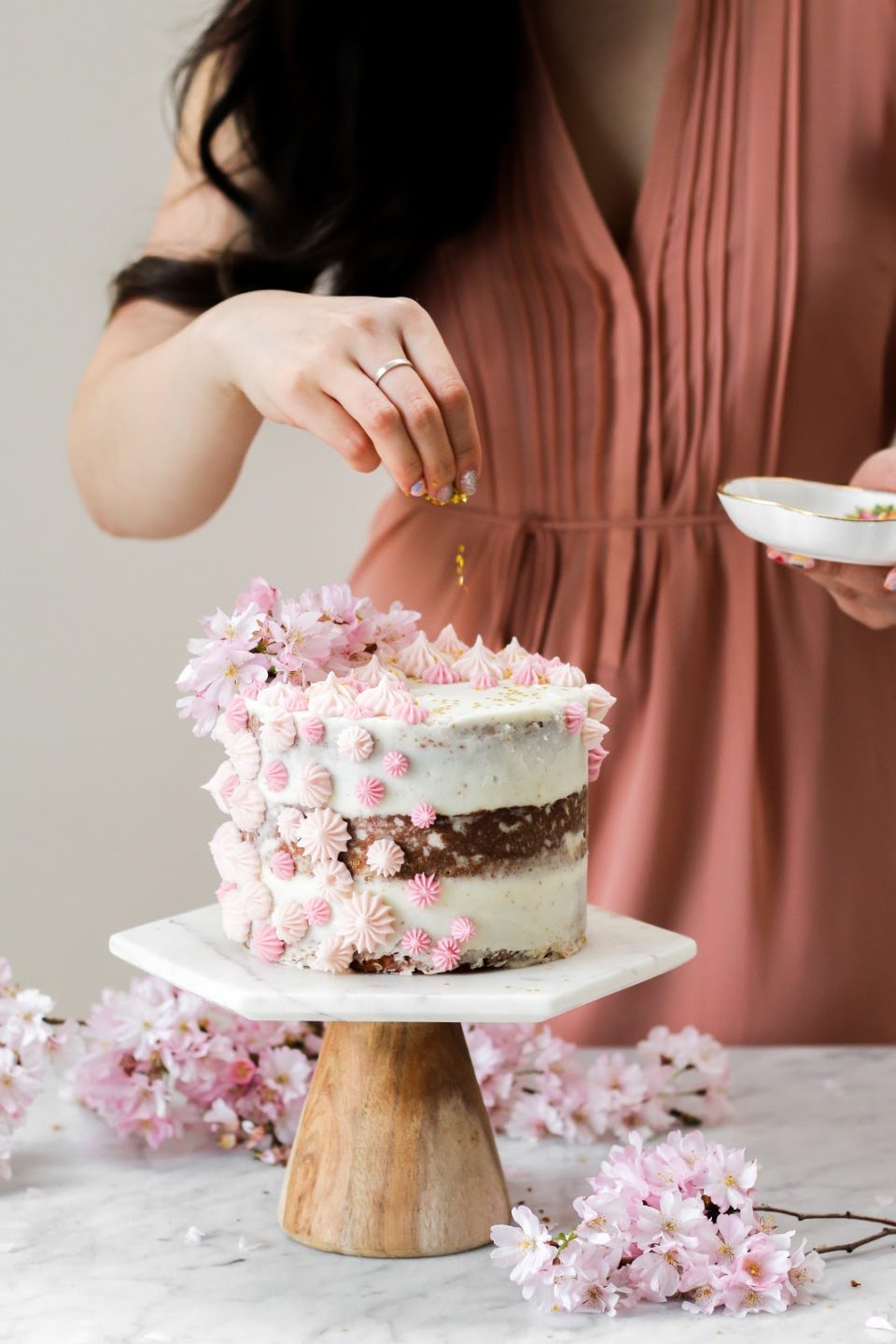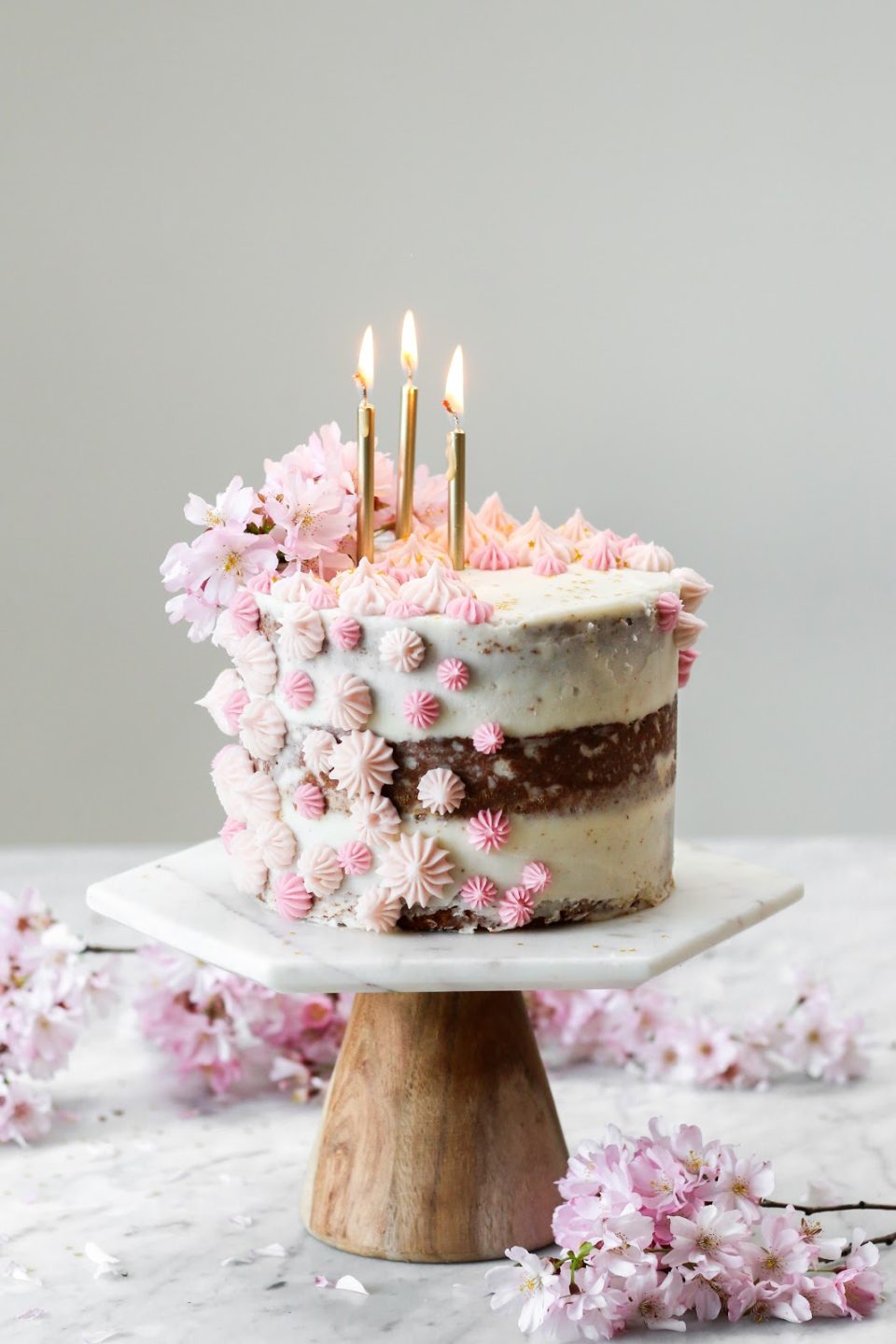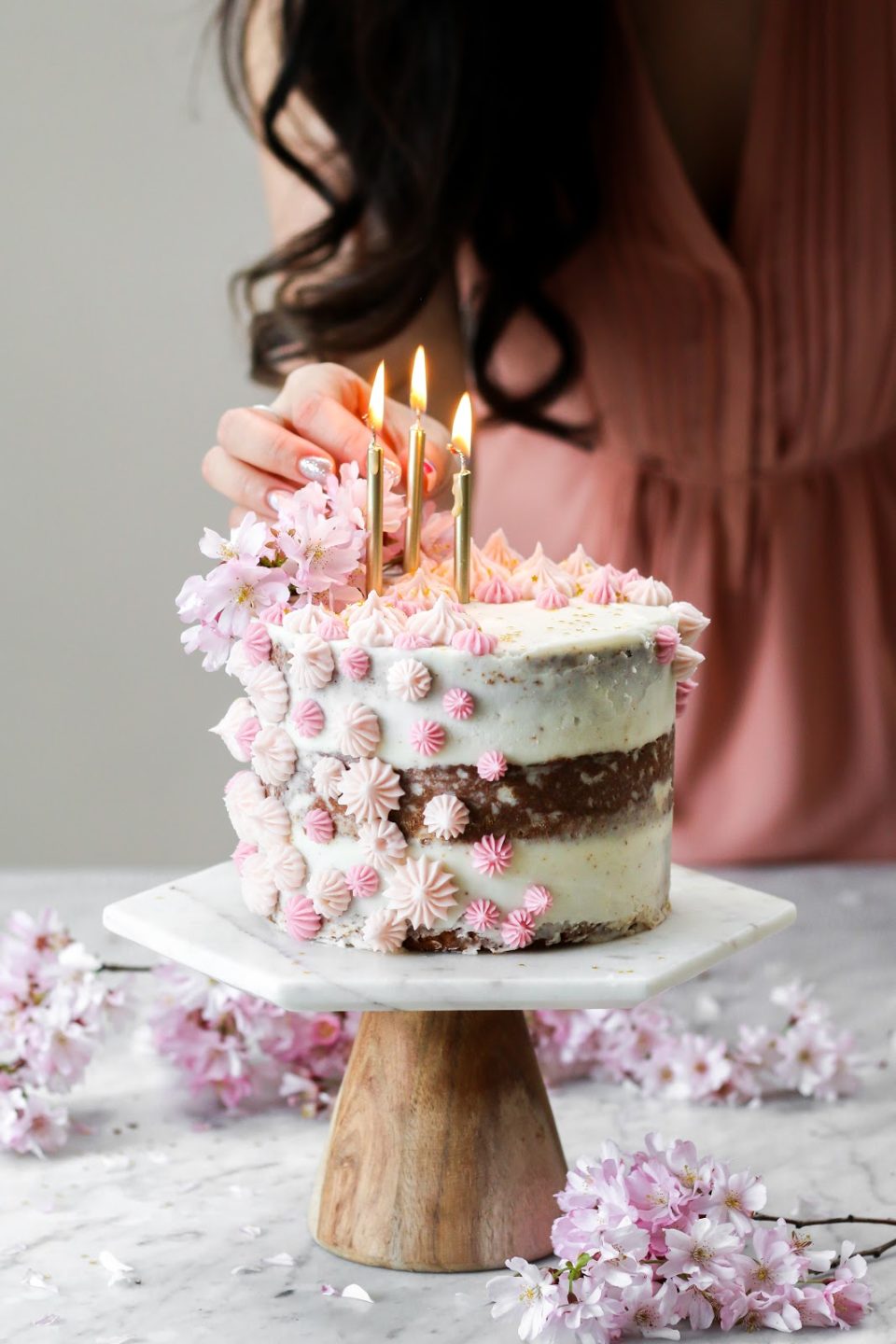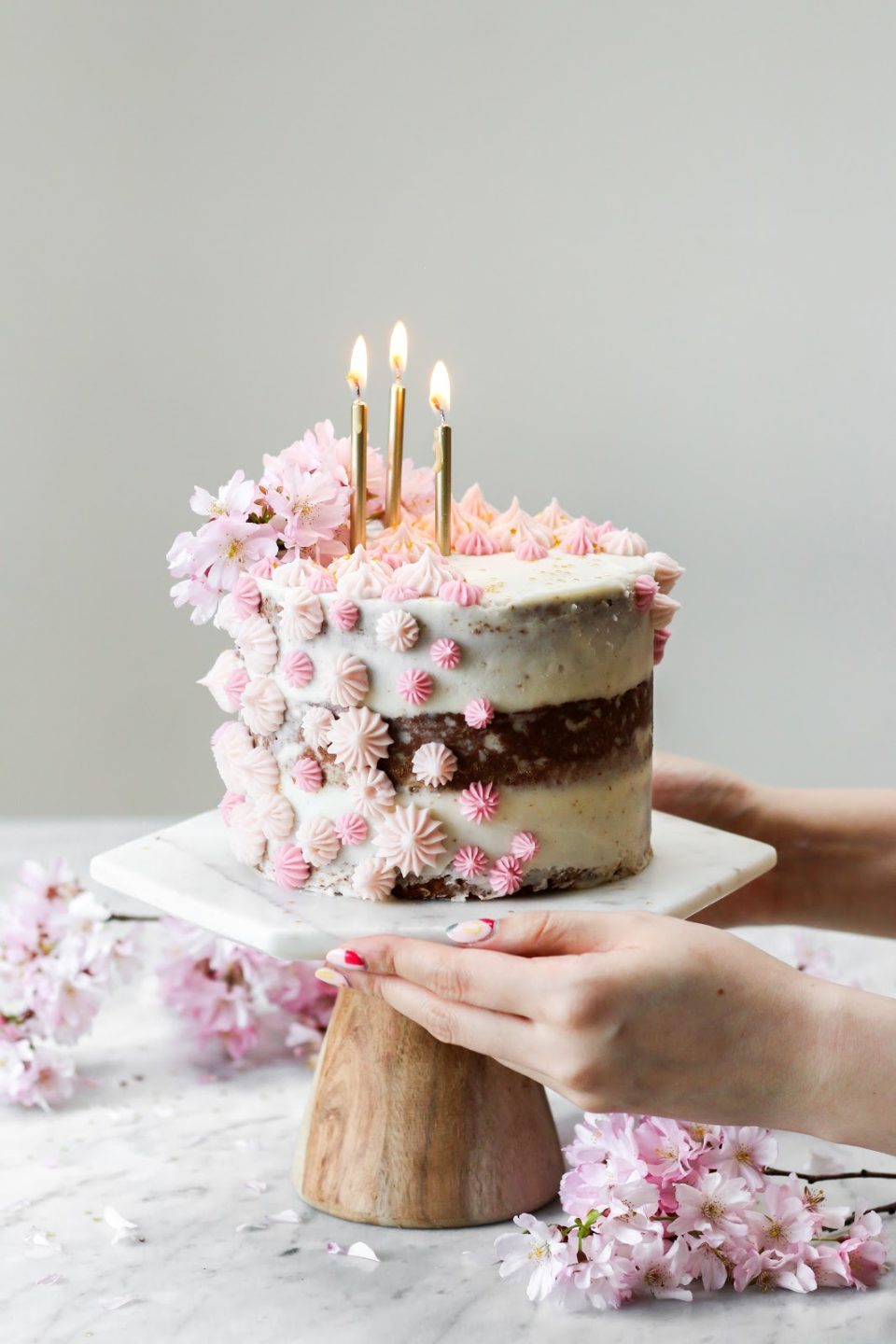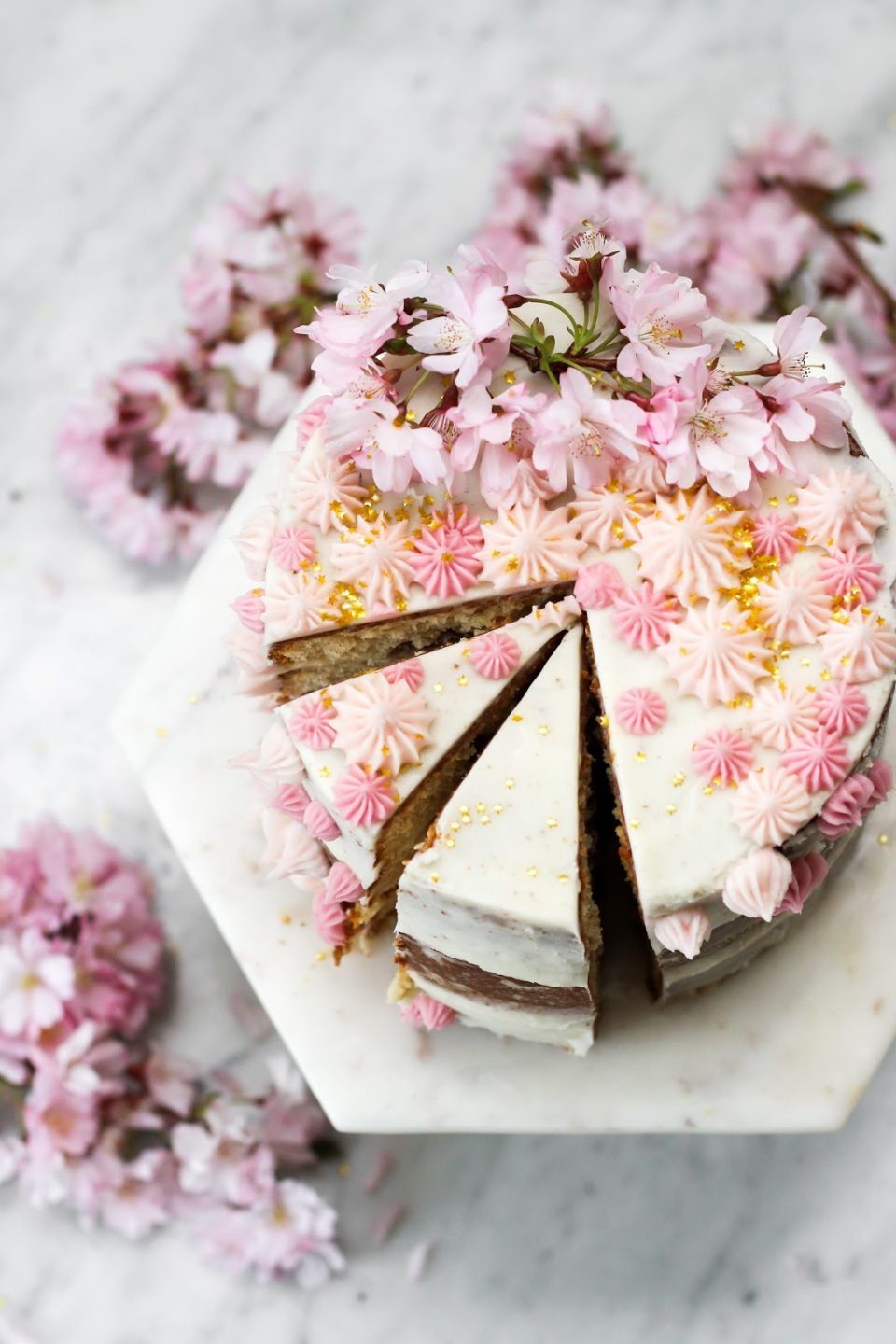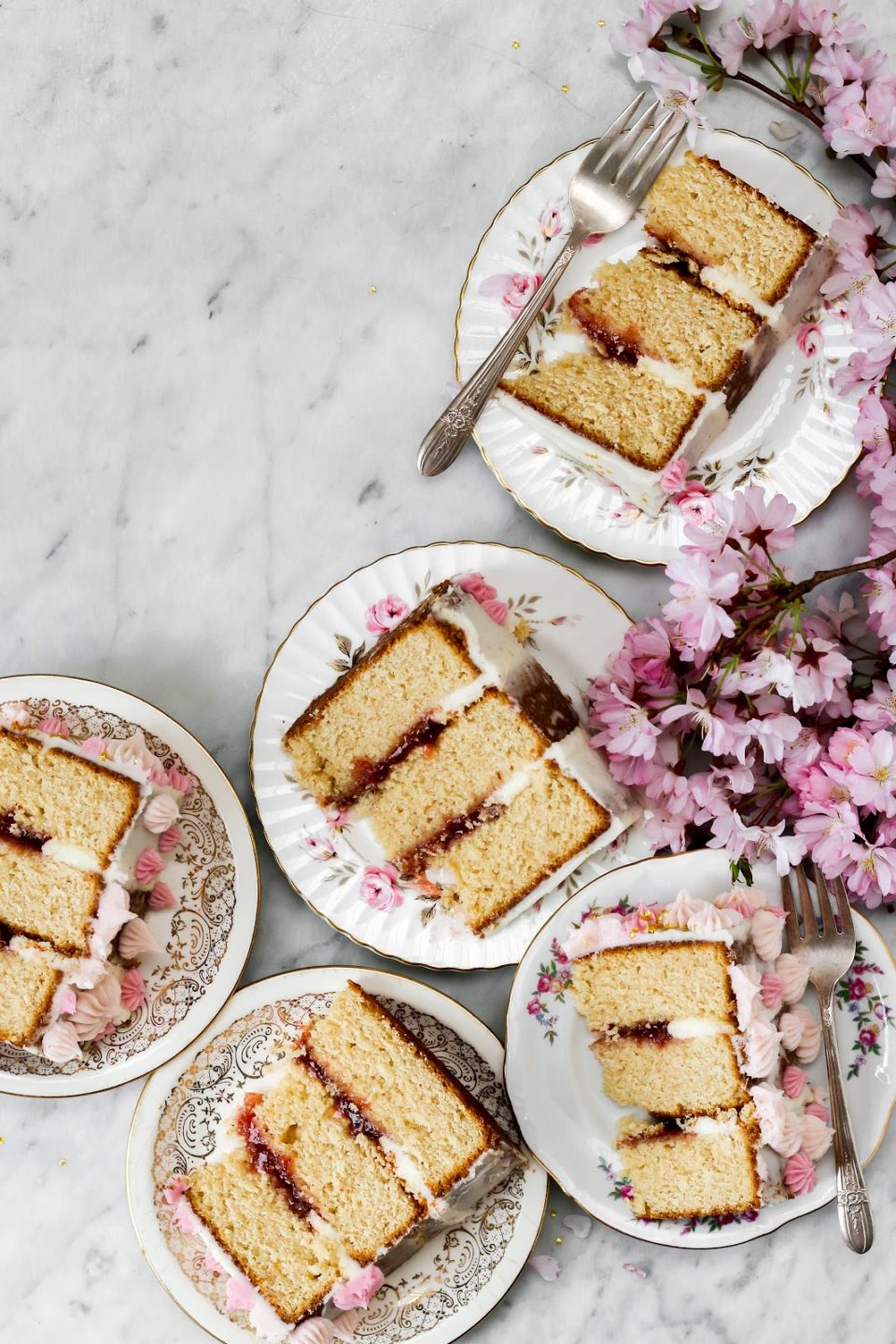 Happy baking!
Equipment
For Decorating (All from Wilton!)

Disposable Decorating Bags

Pastel Gel Food Colouring (Garden Colours Set)

Round and Open Star Decorating Tips (as part of Stainless Steel Master Tip Set)

Coupler

Gold Star Edible Accents

Tall Gold Birthday Candles
Ingredients
Peanut Butter Cake
1/2

cup

unsalted butter

,

room temperature

1/2

cup

+ 2 tablespoons smooth peanut butter

,

You want to use peanut butter like Kraft or Skippy's, not the natural peanut butters where the nut butter and the oil separates.

1 1/2

cups

granulated sugar

2

large eggs

1 1/2

teaspoon

vanilla extract

2 1/4

cup

all-purpose flour

2

teaspoons

baking powder

1/2

teaspoon

salt

200

mL

milk
Vanilla Buttercream
1

cup

unsalted butter

,

at room temperature

4 – 5

cups

icing sugar

1

tablespoon

vanilla

1/8

teaspoon

salt

6

tablespoons

milk
Instructions
Peanut Butter Cake
Preheat oven to 350F. Prepare three 6-inch cake pans

In the bowl of a standing mixer, cream together butter, peanut butter, and sugar until smooth.

Add in eggs one at a time, adding the second one only after the first has been fully incorporated. Add vanilla and mix well.

In a separate bowl, whisk together flour, baking powder, and salt.

Alternating between the dry ingredients and the milk with the mixer on low, combine with butter-sugar mixture.

Mix until just incorporated.

Divide batter equally into the three prepared cake pans. Bake for 28 – 31 minutes, or until or until a wooden skewer inserted into the center comes out clean. Let the cakes cool in their pans for 15 minutes before carefully transferring them out and onto a wire rack to cool completely.
Vanilla Buttercream
In a stand mixer fitted with a paddle attachment, beat together the butter, powdered sugar (one cup at a time), salt, vanilla.

Once combined, beat in milk. Use more or less milk depending on desired consistency.

Separate butter cream into three bowls – half the buttercream in a large bowl (to frost the cake) and the remaining half divided into two bowls (to colour).
For Assembly
Transfer plain vanilla buttercream into a piping bag with large round tip and coupler. Transfer the other two coloured-buttercreams into piping bags with open star tips and coupler. Set aside.

Once the cake layers have cooled, level cake layers with a serrated knife or cake leveller. Place the first cake layer cut side facing up onto a cake stand. Using the plain vanilla buttercream, pipe a ring of butter cream at the edges of the cake layer to create a "mote" for the strawberry jam. Put ¼ cup of strawberry jam inside the ring of butter cream. Using an offset spatula, even out the layer of jam.

Gently place on second cake layer. Repeat previous steps of creating a ring with buttercream. Use remaining ¼ cup of jam.

Press on the final cake layer, cut side facing down.

Using the piping bag of plain vanilla buttercream, pipe big dollops of the white buttercream onto the sides of the cake. Using a bench scraper, smooth out the buttercream. Use more buttercream if a less naked look is desired.

Using white buttercream and an offset spatula, cover the top of the cake.

Using the coloured buttercreams, create small dollops of star-shaped of buttercream on the tops and side of cake.

Apply additional cake decorations like flowers, edible gold star accents, and candles.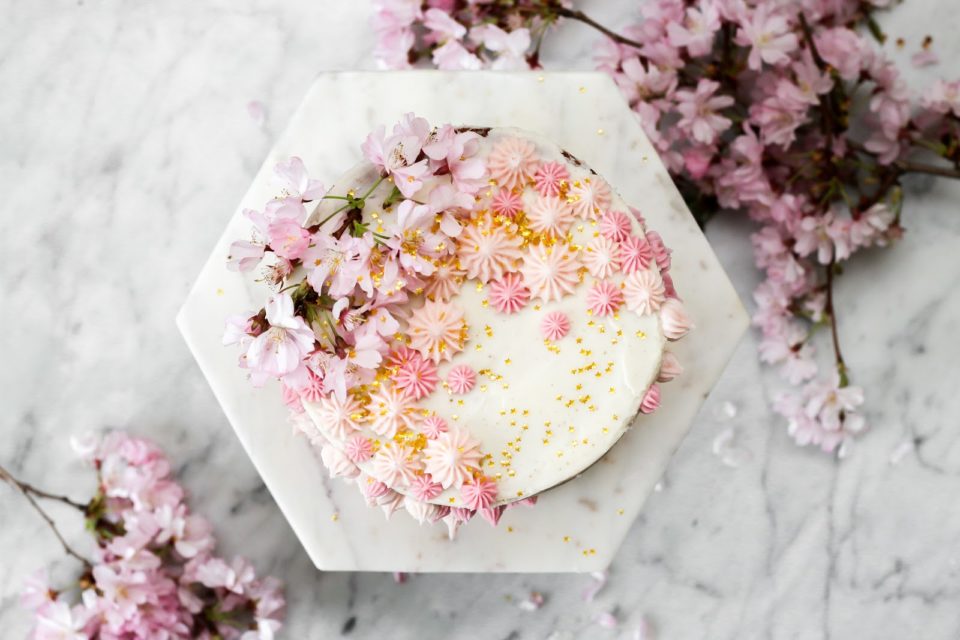 Thank you Wilton for supporting Constellation Inspiration!
Reader Interactions