Hiiiii! It is so cold in Vancouver right now that it makes me feel okay for posting a (belated) winter post. It has been snowing a lot here, which is not that typical of Vancouver. It occasionally snows here during winter, but we did not get this much snow in the past few years. I am not complaining about the cold, do not get me wrong. I love the extra excuse I get for drinking hot chocolate, eating all the ramen, and having hot pot dinners with my family all the time. Is it cold where you are? Okay. I am going to stop talking about the weather. Weather is what people who do not really know each other talk about right?
Speculoos. Let us talk about speculoos. I think the first time I had speculoos was in the form of the infamous Trader Joe's cookie butter. I am pretty sure the majority of people's first encounter with speculoos was in this spreadable (and extremely lovable) form. Living in Canada, we do get to experience the luxury that is Trader Joe's. It is a sad, sad world for us here. Luckily there is one store here in Vancouver that SMUGGLES Trader Joe's products to Vancouver. It was/is a huge deal. TJ banned him from their stores and this man wears a disguise to go into TJ now. He also got sued by TJ. Oh the things we do for a jar of cookie butter. Like pay $10 CDN for it.
Yes. Cookie butter? Obsessed. I had my first real Speculoos cookie though, on an airplane. I cannot remember where I was flying to, but I do remember the tiny pack of Speculoos the flight attendant handed out as a snack alongside the vile swamp water coffee. Man, oh man. So good.
So this brings us here. Found a speculoos cookie recipe on Bon Appetit, decided I had to make it, and then proceeded to eat fifty million speculoos cookies. You might think this is an exaggeration but trust me, it is not. This recipe yields quite a large amount of cookies. It makes around three or four dozen? I would love to give you a more exact number but I cut out this cookies in so many shapes and sizes it makes it quite difficult to quantify. Usually recipes that yield over two or three dozen cookies really bother me. I do not ever need three dozen cookies. I may want it, but it is not a need. These cookies though, are a need. They are also great for gifting and stay super fresh in the freezer for a long time if you have any left over.
The spices in these cookies are perfect for winter. They are really warm but are not overly spicy, at all. I decided to pair these cookies with hot chocolate because like I said previously, any extra excuse to have hot chocolate is a good one. I topped off the hot chocolate with snowmen marshmallows a la I Am a Food Blog style and squealed at how cute they looked.
Before I let you go, I need to tell you about my dress situation. So…I really like the colour of this dress. I tried it on before I bought it and really liked it despite it being a tad short. The back dips quite low and is super cute! When I got home I realized it is actually way too short for me to pull off, so I have never worn it. BUT since in the blogosphere you do not see past my thighs, it is completely a-okay for me to blog in this dress!! Okay. I am done here.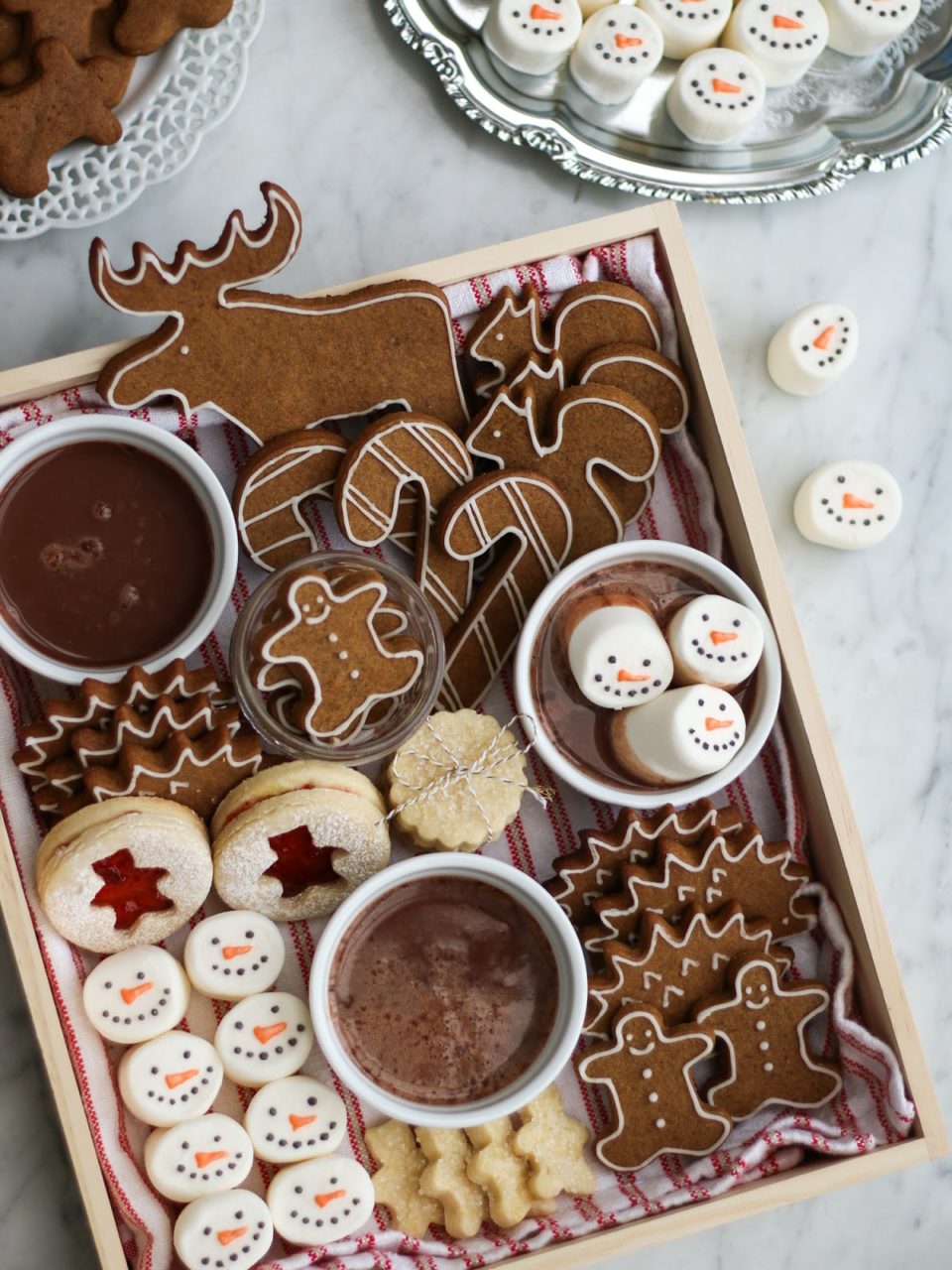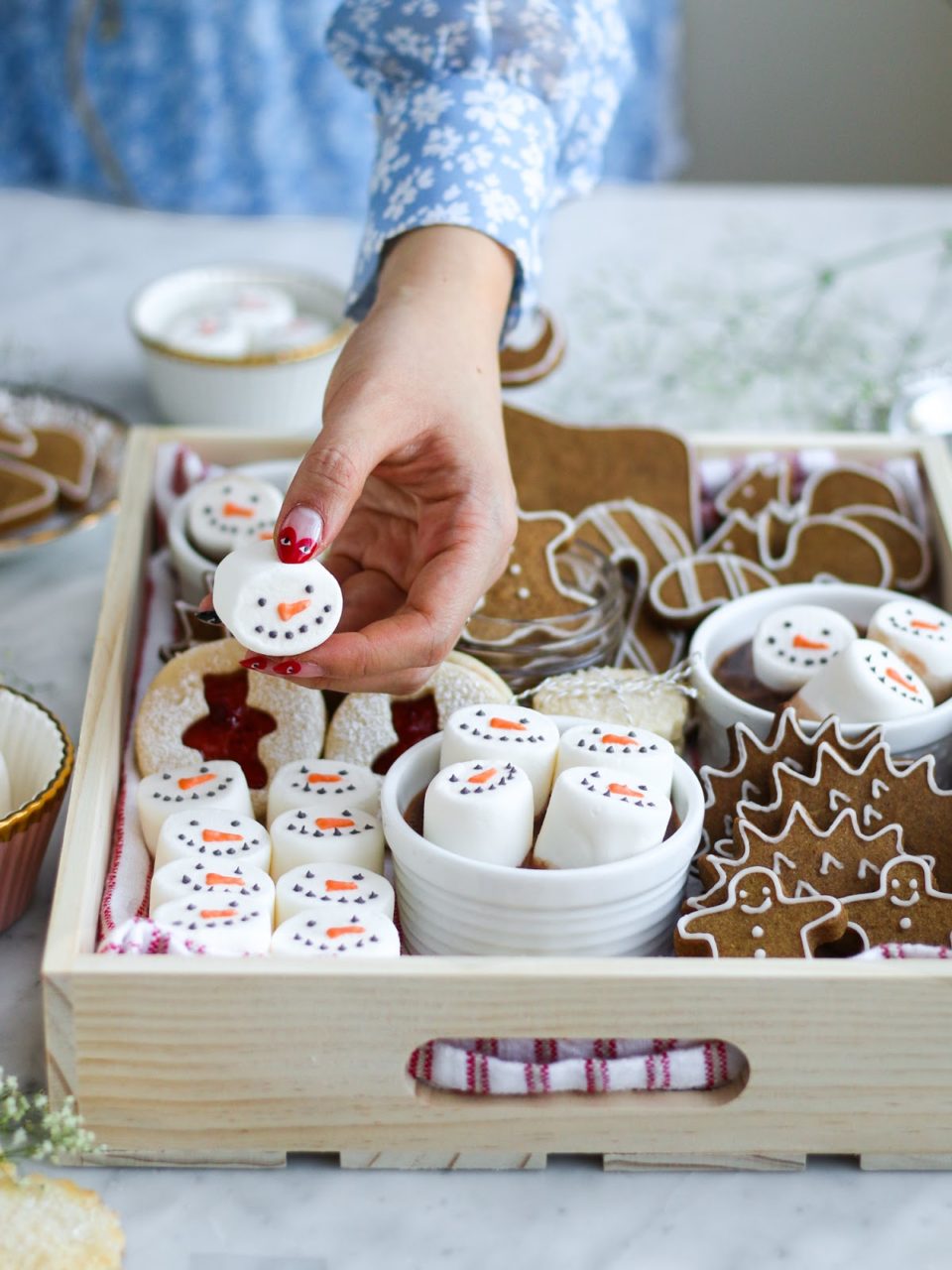 Ingredients
Speculoos Cookies
2 1/4

cups

all-purpose flour

1

tablespoon

ground cinnamon

3/4

teaspoon

ground ginger

1/2

teaspoon

freshly grated nutmeg

1/8

teaspoon

ground cloves

1/2

teaspoon

fine sea salt

1/2

cup

1 stick unsalted butter, room temperature

1/2

cup

packed brown sugar

1/4

cup

sugar

2

tablespoons

molasses

1

large egg

,

room temperature

1

teaspoon

vanilla extract
Royal Icing
1

tablespoon

+ 1/4 teaspoon meringue powder

2

cups

powdered sugar

2

tablespoon

warm water
Instructions
Speculoos Cookies
In a medium-sized bowl, whisk together flour, cinnamon, ginger, grated nutmeg, ground cloves, and salt. Set aside

In the bowl of a standing mixer, cream together butter and both sugars at medium speed until fluffy. Add molasses, egg, and vanilla. Mix until well-incorporated.

Reduce mixer to low speed and incorporate the dry ingredients. Scrape down the sides of the bowl to make sure there are no dry ingredients left unincorporated at the bottom. Dough should be quite tacky at this point

Divide the dough into thirds, shaping them into three flat discs. Tightly wrap them in plastic wrap and refrigerate for at least two hours. (I tried to roll the dough out after one hour and it was still too sticky. Have patience!)

Preheat oven to 375F and line baking trays with parchment.

Remove discs from the fridge and roll out dough to 1/8″ thickness. Cut cookies into desired shapes and place on baking sheet. The cookies will not spread much.

Transfer cookie sheet with cut out cookies into freezer and let them chill there while you roll out next disc of dough. Shape and design of cookie will retain better if you freeze them before baking.

Bake for 11- 13 minutes until golden brown and centres are almost firm. Transfer cookies to wire racks and let cool.

These cookies freeze really well!
Royal Icing
Mix together all the ingredients in a large bowl.

Transfer icing into pastry bag with a piping tip. I like piping tip #1 – 3 for decorating cookies.

Let icing harden completely before stacking.
Notes
Adapted from Bon Appetit 
Reader Interactions