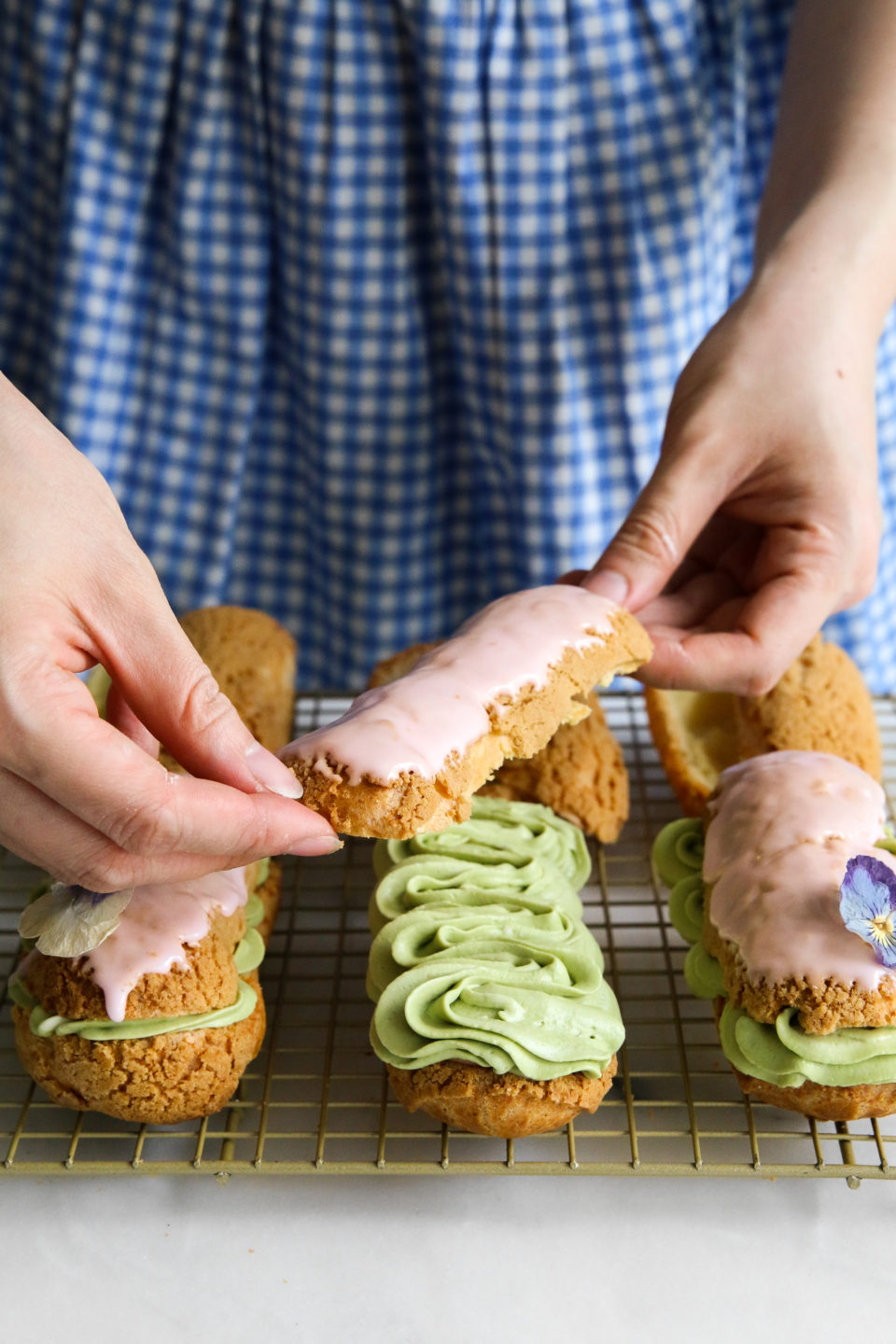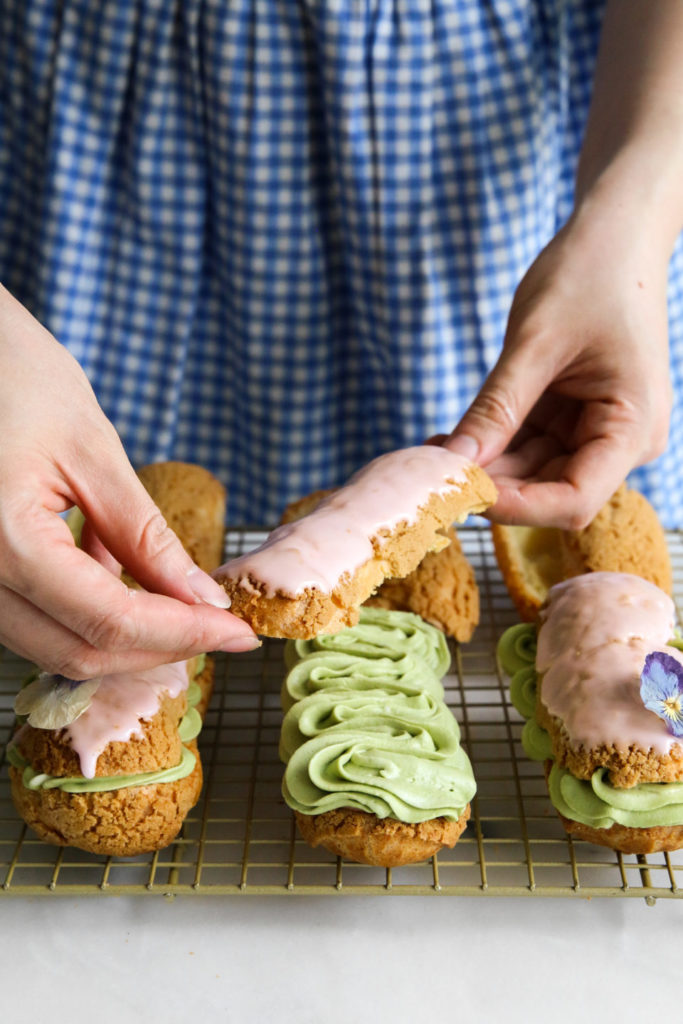 Thank you Williams Sonoma Canada for supporting Constellation Inspiration!
I make a lot of cream puffs, whether it's for the blog or to share with my friends and family. I make them so often that I have my choux memorized, even down to the gram (57g of unsalted butter and 110g of eggs which is about 2 large eggs and a spoonful of egg whites). Choux is such a versatile recipe to master and have on hand because you can make so many other things with it — profiteroles, crullers, gougeres, churros (yes!!), Parisian gnocchi, the list goes on.
Today we'll be making one of my personal favourites, the éclair. While the choux batter for cream puffs are piped as a mound so they become round as they bake, the batter for éclairs is piped into an oblong shape and baked until it is crisp and hollow inside. After the pastry has cooled, it is then filled with crème pâtissière (pastry cream) or whipped cream and the top is glazed with icing.
I have always loved eclairs, even though the first "éclair" was far from it is supposed to be. My high school cafeteria was divided into two stations: hot food and a snacks bar. The snacks bar was superior because they always sold 75 cent cookies, one dollar chocolate cake slices (it was McCain's deep n delicious which is arguably my favourite cake), and the $1.50 éclair. There was no choux found in this éclair. It was a store-brought long john doughnut filled with whipped cream. It was the furthest thing away from homemade but it was always the perfect treat between my science and English classes. Maybe one day we'll revisit that version on an éclair but we're sticking with more of a classic preparation today.
These eclairs are a celebration of spring — crisp, golden brown choux pastry is filled with an intensely fruity whipped strawberry ganache and matcha cheesecake whipped cream, before being topped with it's little hat glazed with a simple royal icing. I served these with edible flowers and edible gold flakes because we might as well go all the way.
There are a few things that make it much easier to achieve the perfect éclair (especially for those who are beginners at making choux):
Using a scale: The ingredient list for choux is quite short and usually only includes basics like butter, water, milk, flour, and eggs but choux pastry requires a delicate balance of wet to dry ingredients for it to rise properly. Instead of relying on a leavening agent like basic soda or powder, choux pastry uses its high moisture content to create steam, which evaporates when baked and puffs the pastry during the baking process.

Using a sturdy baking sheet: There is nothing more frustrating than creating the perfect choux batter, piping it out, and finding all the pastries lopsided or shaped irregularly because the baking sheet warped in the oven. This tends to happen with thinner and cheaper baking sheets, hence why I think it's important to invest into good quality baking sheets, whether you're using it for choux or cookies. I like using the Williams Sonoma Goldtouch® Pro half sheet pan because distributes heat quickly and evenly for consistent results and never loses it shape when baking.

Adding craquelin: Craquelin is a cookie top that is often added to cream puffs. Besides being very delicious and a good addition of texture to the pastry, a layer of craquelin also helps the pastry rise more evenly. The craquelin is very easy to make and only require three ingredients: butter, brown sugar, and flour.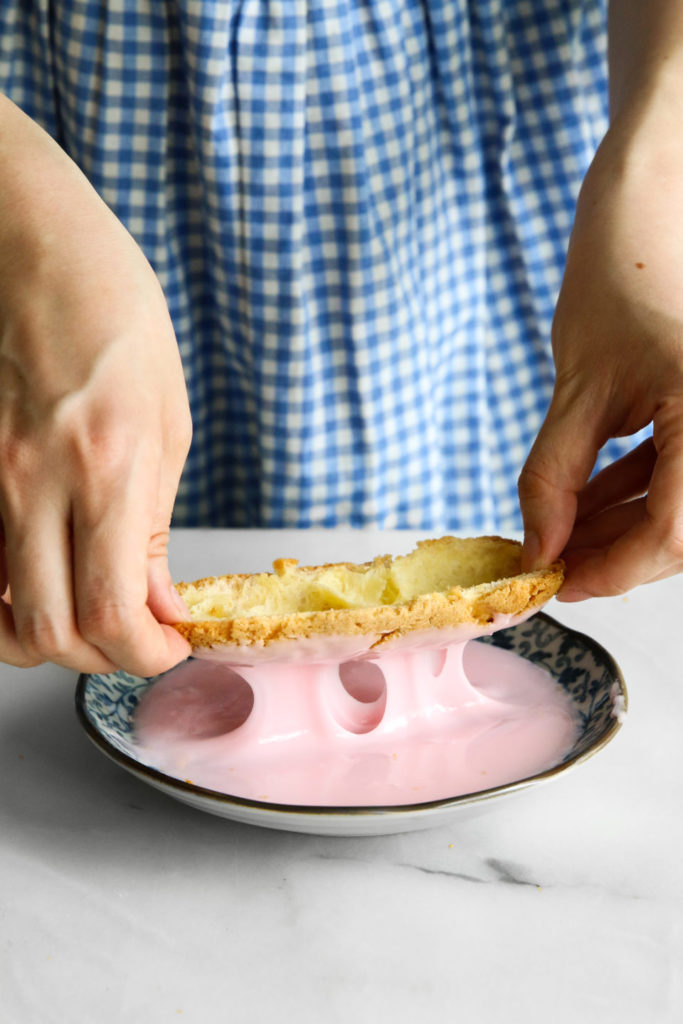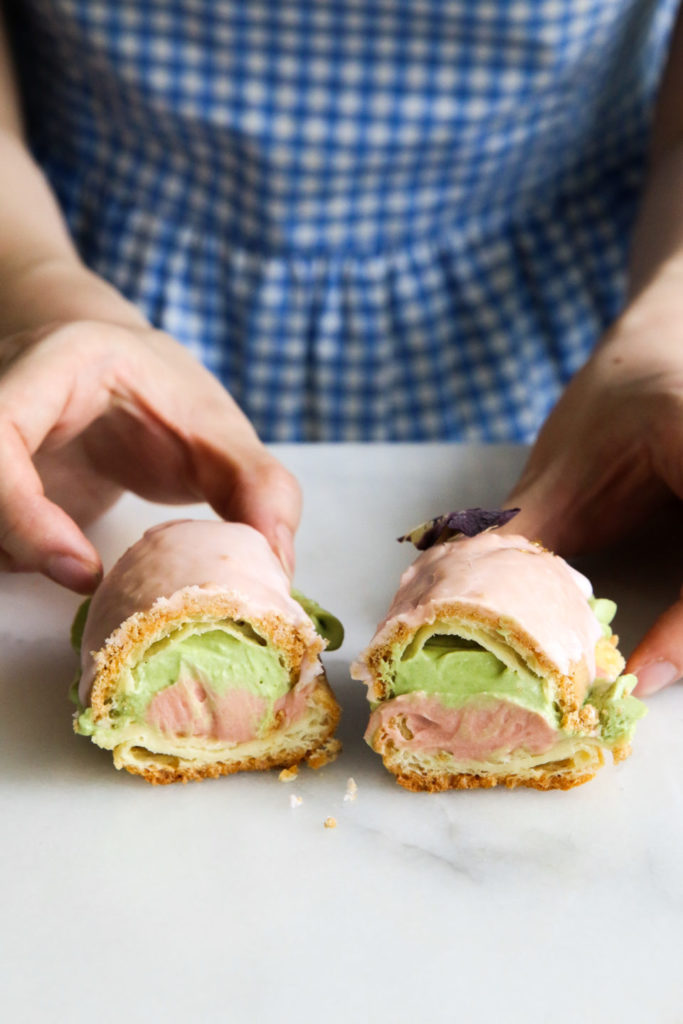 Matcha Strawberry Éclairs
My favourite flavour combination: strawberry and matcha! Crisp choux pastry is filled with a strawberry ganache and topped with a whipped matcha cheesecake cream.
Ingredients
Craquelin
30

g

(2 tbsp) unsalted butter

,

room temperature

30

g

(2 tbsp) brown sugar

30

g

(5 tbsp) all-purpose flour
Pâte à Choux
57

ml

(1/4 cup) water

57

ml

(1/4 cup) whole milk

1/2

tsp

granulated sugar

1/2

tsp

salt

57

g

(1/4 cup) unsalted butter

70

g

(1/2 cup and 2 tbsp) all-purpose flour

110

g

(~2 1/2) large eggs

,

lightly beaten
Whipped Strawberry Chocolate Ganache
114

g

strawberry chocolate

,

or white chocolate with 3 tbsp of freeze-dried strawberry powder

228

g

(1 cup) heavy cream

1/4

tsp

salt
Whipped Matcha Cheesecake
228

g

(1 cup) heavy cream

250

g

(1 block) cream cheese

,

softened

30

g

(1/4 cup) powdered sugar

3

tbsp

culinary-grade matcha powder

1

tsp

vanilla extract

1/4

tsp

salt
Royal Icing
120

g

(1 cup) powdered sugar

1-2

tbsp

whole milk

A few drops of food colouring

,

optional
Instructions
Craquelin
In a small bowl, combine all ingredients and mix with rubber spatula until smooth.

Roll out the craquelin dough to 1/8-inch in thickness. Using a knife, cut. Set aside.
Pâte à Choux
Preheat oven to 350F. Line a baking sheet with parchment and set aside.

In a saucepan, combine the water, milk, sugar, salt, and butter. Bring to a light boil, remove from heat, and immediately add in all the flour. Quickly stir in the flour, using a rubber spatula, and return saucepan back over medium-high heat.

Continue to stir the mixture, without stopping, until the paste is smooth, about 1-2 minutes. It will pull away from the sides of the pan and leave a thin coating of cooked paste on the bottom when ready. The texture should resemble dry mashed potatoes.

Transfer the paste to a stand mixer bowl fitted with the paddle attachment. Mix on low for the choux to cool down.

While the mixer is running on medium, gradually stream in the lightly beaten eggs. Mix until well combined.

Transfer the pâte à choux to the prepared piping bag with a round tip. Pipe out 6 oblong strips (3 – 4 inches in length) onto the prepared baking sheet, leaving roughly 2 inches between each eclair. Add the craquelin to the choux strips.

Place the baking sheet in the oven and immediately bake eclairs for 35 minutes. Rotate the baking sheet and turn down the oven to 325F, then bake for 10 minutes more until choux are deeply golden. Remove from oven and set on cooling rack to cool.
Whipped Strawberry Chocolate Ganache
Finely chop the strawberry chocolate and place into a bowl.

In a saucepan, bring the heavy cream to a boil. Once mixture has boiled, pour milk mixture over the chopped chocolate and let sit for 1 minute.

Whisk the chocolate mixture until thoroughly melted and combined. Set in the refrigerator to chill, at least 3 hours.

Once chilled and ready to use, transfer the ganache to the bowl of stand mixer fitted with the whip attachment. Whip ganache to medium-stiff peaks. Transfer to a piping bag fitted with a medium round pastry tip to pipe into choux pastries once baked.
Whipped Matcha Cheesecake
In the bowl of a stand mixer with a whisk attachment, whip heavy cream, until it reaches to medium-stiff peaks. Transfer to another bowl and set aside.

In the bowl of a stand mixer with a whisk attachment, whipped cream cheese, powdered sugar, matcha powder, and vanilla on medium speed until smooth and no clumps remain, 1 – 2 minutes.

With a rubber spatula, fold in the whipped cream into the cream cheese mixture.

Transfer the whipped cheesecake cream to a piping bag fitted with a large star pastry tip.

Keep whipped cheesecake cool until ready to use.
Royal Icing
In a small bowl, combine all ingredients and whisk until smooth.
Assembly
With a sharp serrated knife, cut choux lengthwise. Dip the craquelin top into royal icing, allowing excess to drip off.

Pipe the choux cavity with whipped strawberry ganache until it reaches the brim of the bottom choux half.

Pipe a layers of whipped matcha cheesecake on top of the strawberry ganache.

Top eclair with other choux half like a hat.
Reader Interactions