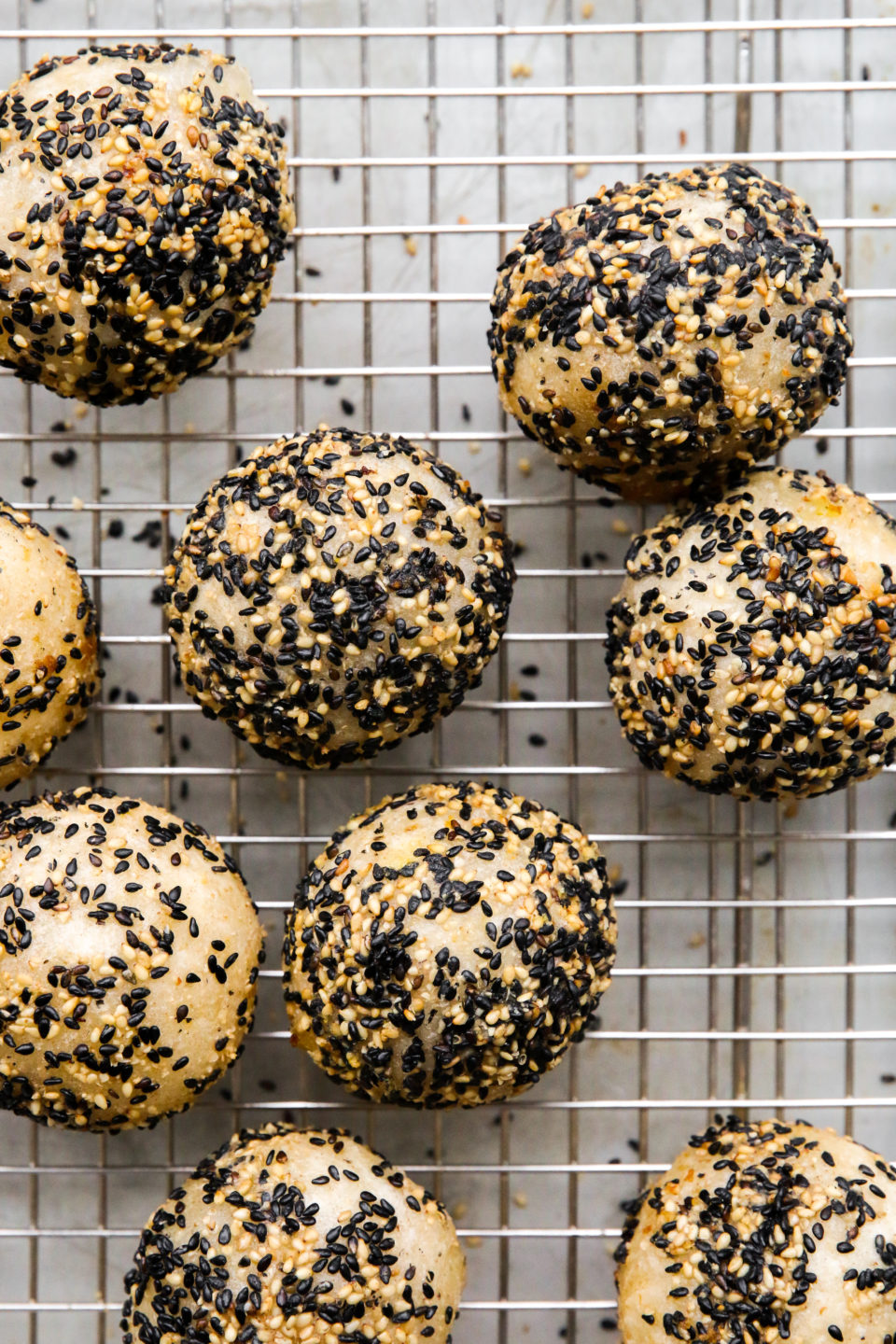 There are exceptions for everything and sesame balls are my exception for my indifference towards sesame. I like sesame when it's part of furikake mix, when its used to dress gomae, or sprinkled on top of a stir fry, but I never gravitate towards a slice of black sesame cake, cookie, or sesame in any sweet application. I think the redeeming factor of a sesame ball for me is it's intensely chewy and tender mochi-like layer.
Sesame balls are commonly found as part of Lunar New Year celebrations because its round shape is suppose to symbolize togetherness and unity though they can be found year round at dim sum restaurants and Chinese bakeries. They're made with relatively little ingredients — glutinous rice flour, sugar, water, sesame seeds, and your filling of choice. The pastry is coated with whole sesame seeds on the outside and is crisp and chewy. The filling sits inside a hollow interior that is caused by the expansion of the glutinous rice flour dough. I don't care for the traditional black sesame filling, but the mochi encasing the black sesame? Sign me up. For my ideal sesame ball, the mochi layer would be thick and the black sesame centre would be swapped for something else that's creamy. The sesame on the exterior can stay because it is a 'sesame ball' after all.
These sesame balls have a traditional exterior but the filling is a mix of my two favourite things: kabocha squash and salted egg yolks. I made a similar filling for mooncakes in the past, but it is even better inside a sesame ball. The crisp exterior serves as a nice contrast for the creamy, sweet and salty filling. Sy are best right after they are fried so you get the wonderful contrast of crisp exterior and chewy interior.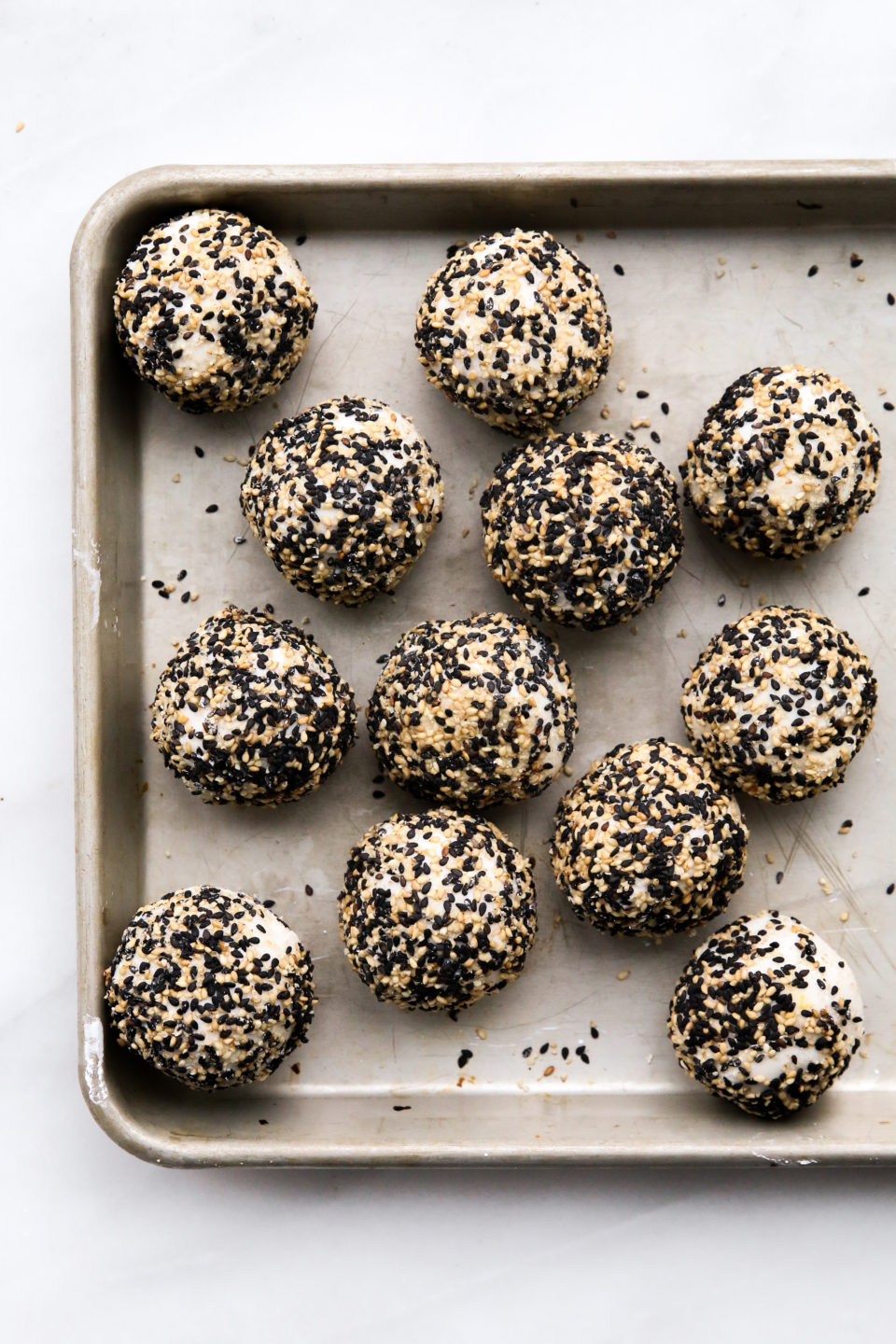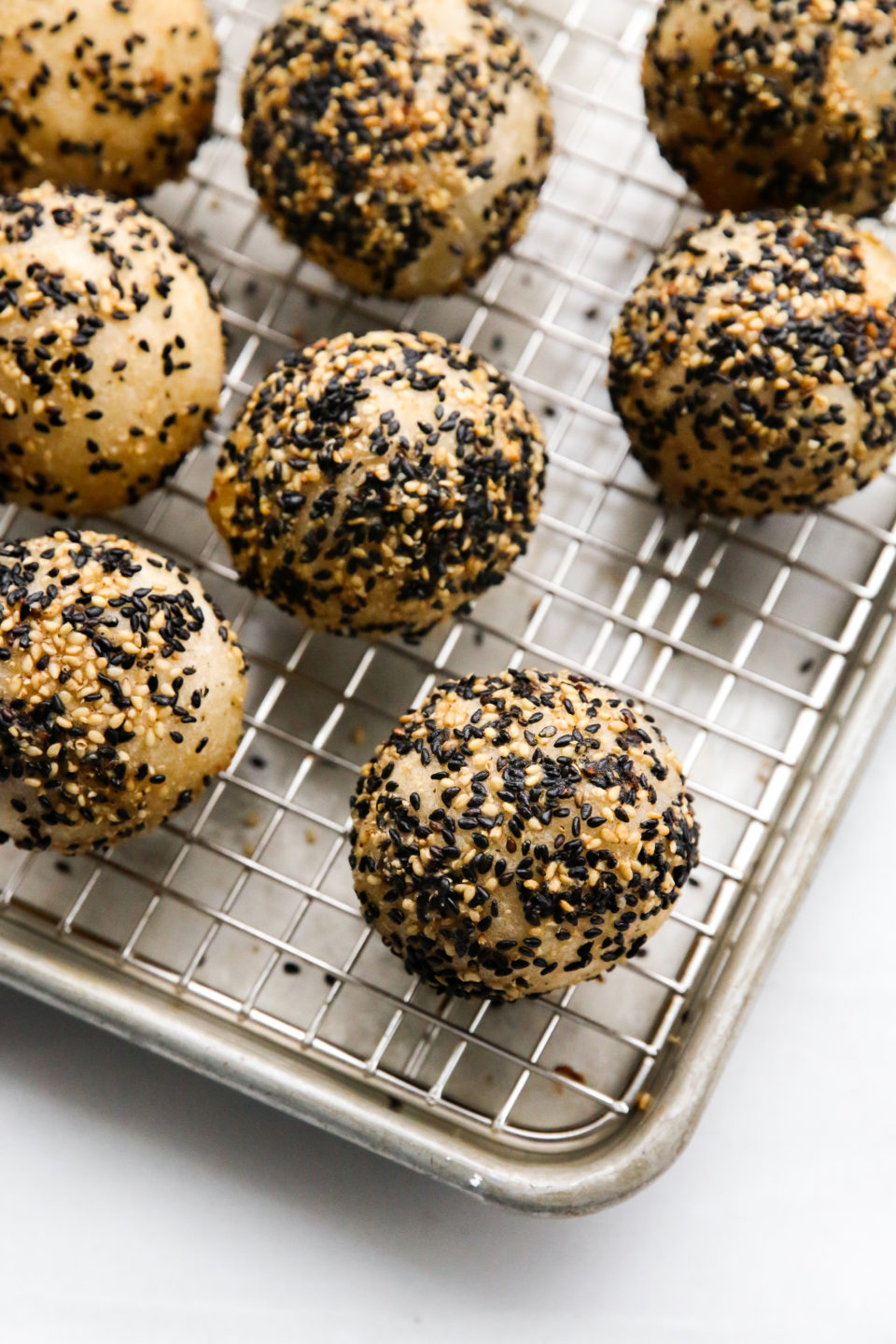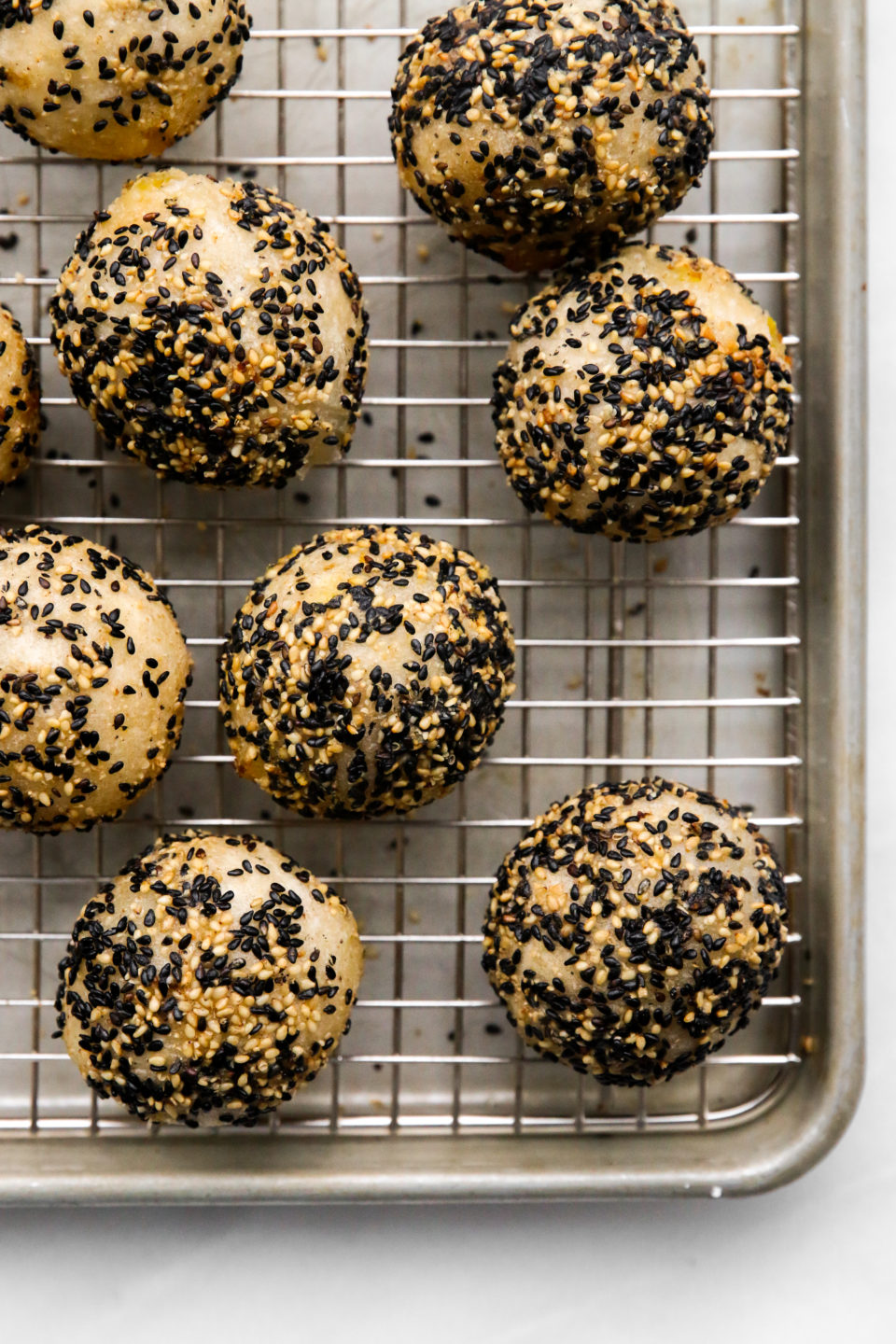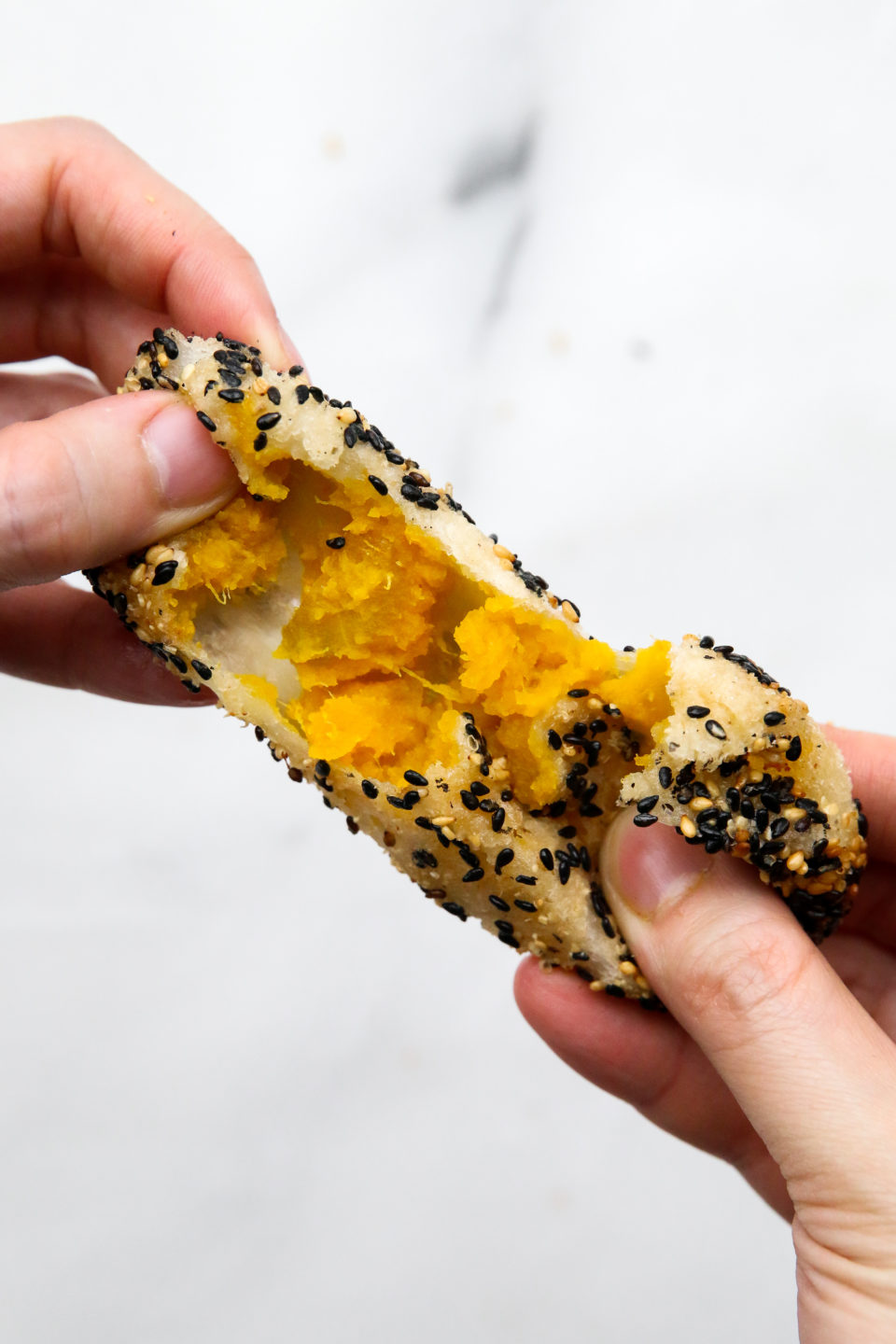 Salted Egg Yolk Kabocha Sesame Balls
The sesame balls have a crisp exterior and very tender, mochi-like interior. The filling is not the typical black sesame or lotus paste, but a creamy sweet-and-salty kabocha squash and salted egg yolk paste.
Ingredients
Filling
250

g

(1 cup) steamed kabocha squash

,

mashed

60

g

(1/4 cup + 1 tbsp) granulated sugar

2

salted egg yolks
Wrapper
250

g

(2 cups) glutinous rice flour

67

g

(1/3 cup) granulated sugar

80

ml

(2/3 cup) hot water
Coating
8

g

(2 tbsp) glutinous rice flour

45

ml

(3 tbsp) water

75

g

(1/2 cup) sesame seeds
Instructions
Filling
Remove peel and seeds from kabocha squash. Cut squash into 1-inch cubes and steam on medium heat until tender, about 10 minutes.

Transfer steamed kabocha into a medium-sized bowl. Add salted egg yolks and using a spatula, mix to combine, making sure no large pieces of salted egg yolk remain.

Add sugar to the mixture and mix until smooth.

Portion out the filling into 15 equal portions (about 1 heaping tablespoon for each portion) on a plate or small baking sheet.

Transfer the portioned filling to the freezer to set while you make the wrapper.
Wrapper
In a large bowl, whisk together glutinous rice flour and granulated sugar.

While mixing with a rubber spatula, stream in hot water. The dough will be shaggy and dry at first. Add it more water, a tablespoon at a time, if dough is not coming together.

Once the dough is cool enough to the touch, start kneading the dough until it becomes smooth and forms a ball, about 5 minutes.
Coating
In a small bowl, combine glutinous rice flour and water and whisk to combine. Set aside
Assembly
Portion out the dough into 15 equal pieces.

Using your fingers, flatten out each piece of dough into a circle about 2.5-inches in diameter.

Place filling into the centre of the dough. Fold in the edges to cover the filling, then roll into a ball.

Using a pastry brush, brush a layer of the coating onto the ball. Roll ball in sesame seeds.

Repeat until all the dough and filling is used up.
Frying
Heat 6 cups of vegetable oil in a large pot until it reaches 325F (163 C).

Carefully drop a few balls in the hot oil, leaving enough space for each one to nearly double in size.

Use a pair of chopsticks or slotted spoon to gently move around the balls. Fry for 10 – 12, until deeply golden brown and crispy. The ball should sound hollow when you remove it from the oil and give it a tap. Transfer to a cooling rack.

Let cool for 15 minutes before serving.
Reader Interactions