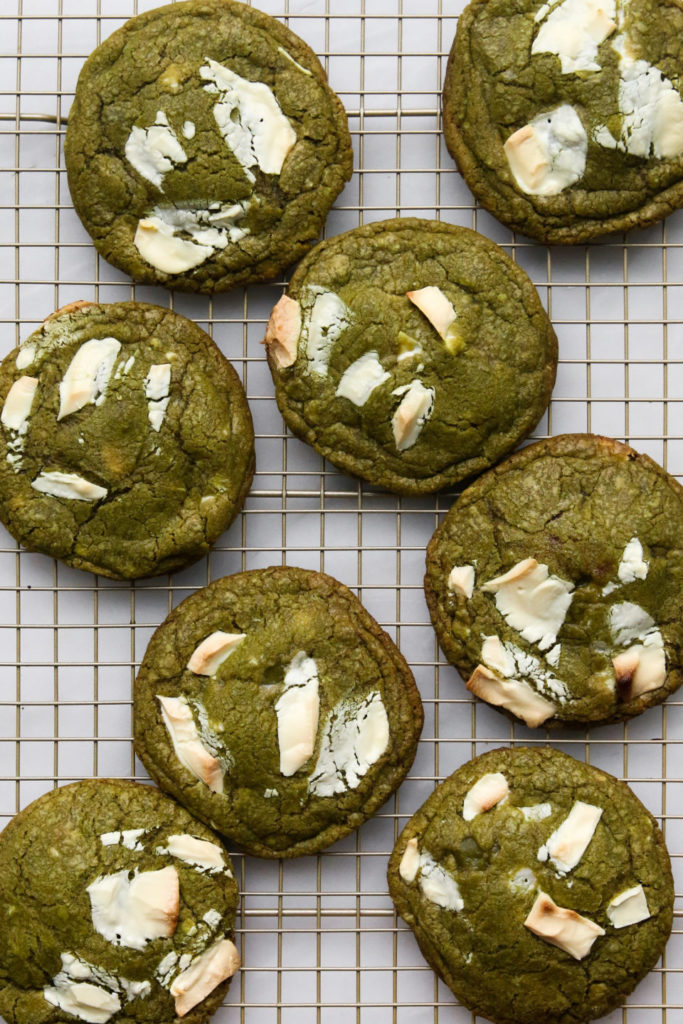 I've been trying to make the ✨ perfect ✨ mochi cookie for quite sometime. I was testing a salted egg yolk mochi cookie last year but as glorious as it looked, the recipe never got to a place where I was confident enough in it and wanted to share it. The flavour of that cookie was so good but the texture of it was good for… maybe an hour after it came out of the oven. The cookie dough absorbed the moisture of the mochi during the baking and cooling process which made the structure of the cookie a 6/10 at its best. I abandoned the idea of a mochi cookie for quite some time but I once I started playing around with the idea of a mochi-filled cookie instead of a mochi-studded cookie, my desire to figure out how to add one of my favourite things (mochi) to my other favourite thing (cookies) returned.
I make matcha cookies quite often but never shared an official recipe on the blog. My matcha cookies often have white chocolate and gianduja hazelnut chocolate but for this matcha mochi cookie, I opted for just white chocolate. The matcha cookie is filled with a homemade matcha mochi and really takes the texture and matcha flavour of the cookie to a new level. The mochi is tender and chewy and is the best when the cookie has cooled completely. If you're not the biggest fan of mochi you can omit it — the matcha cookie recipe is great on it's own.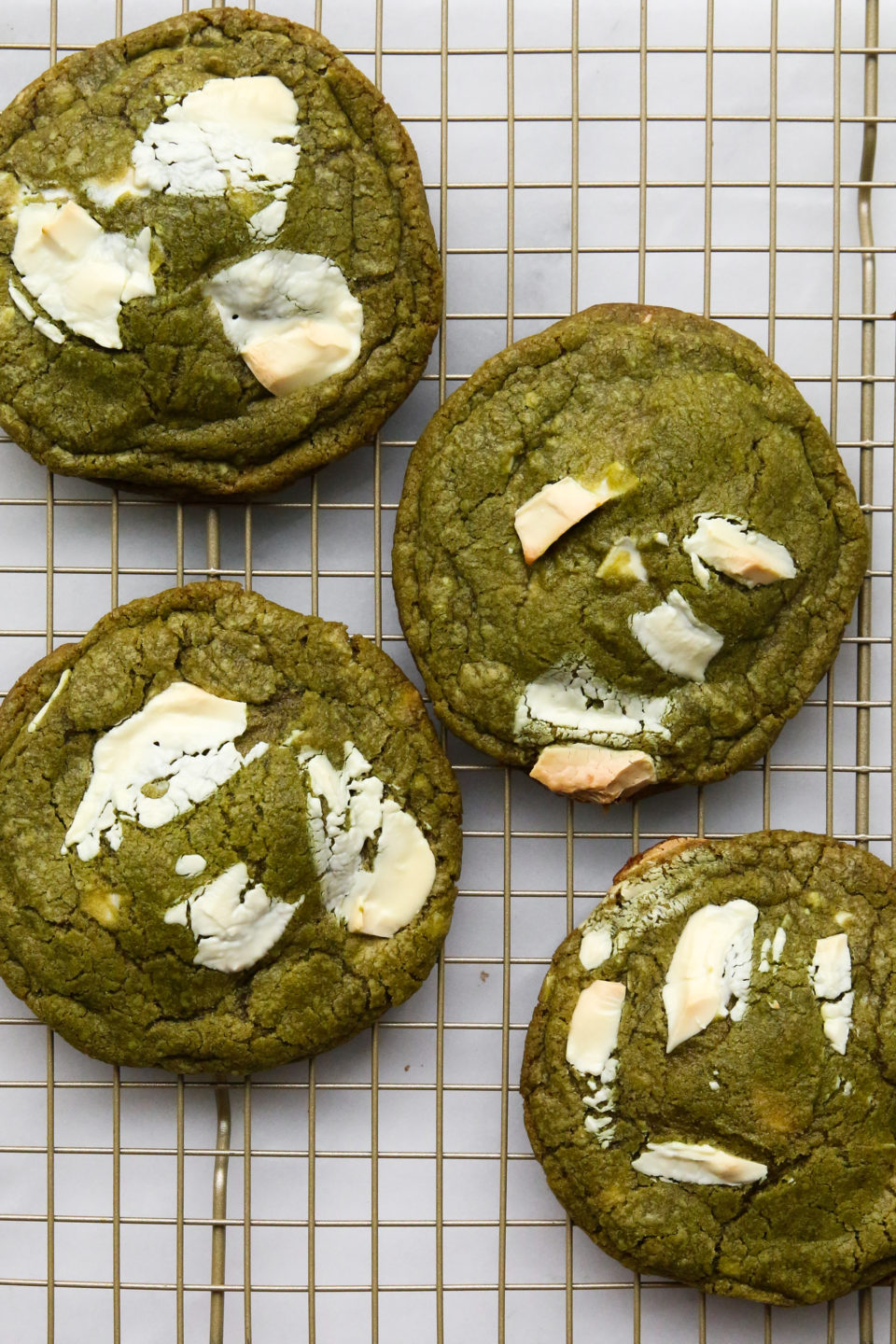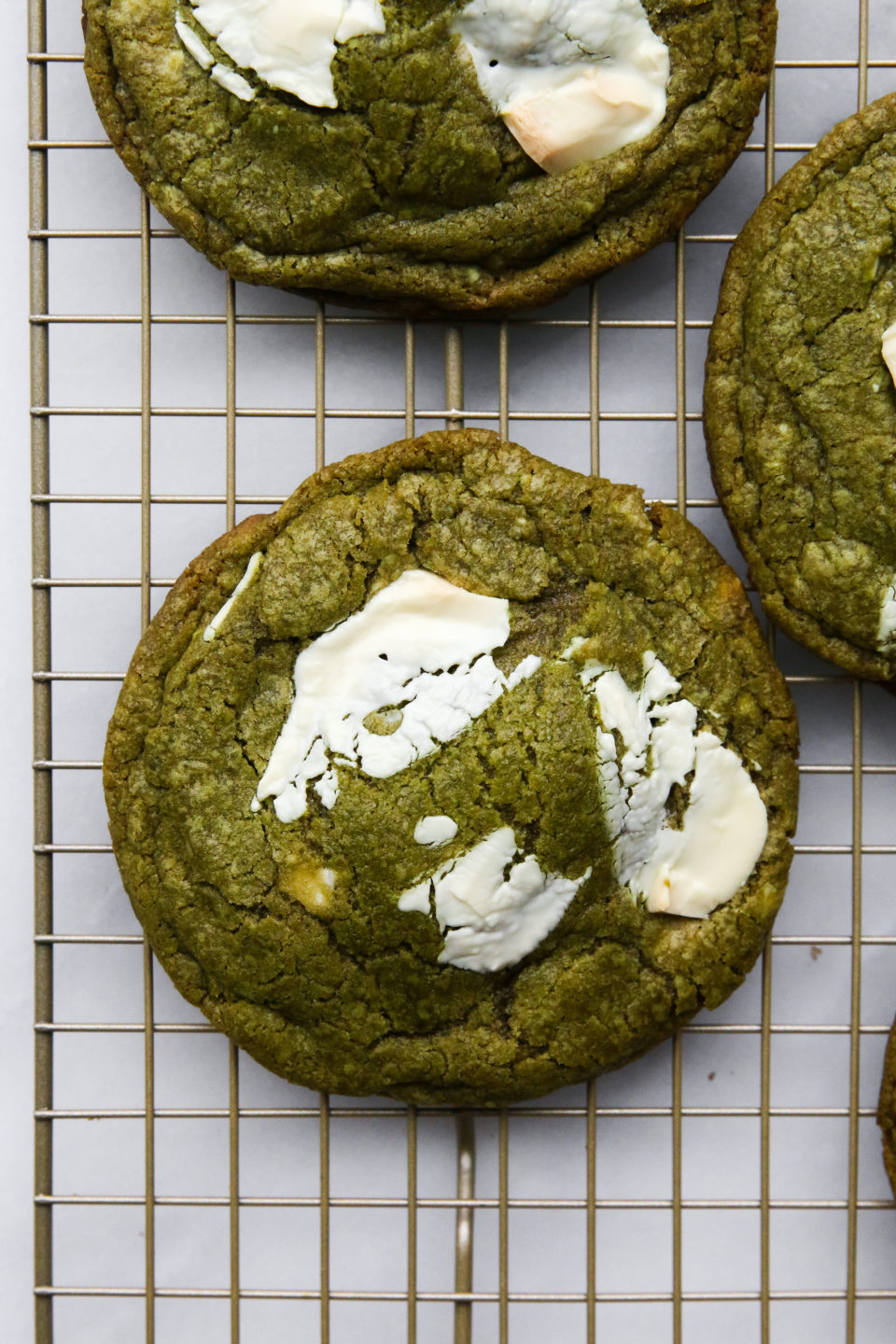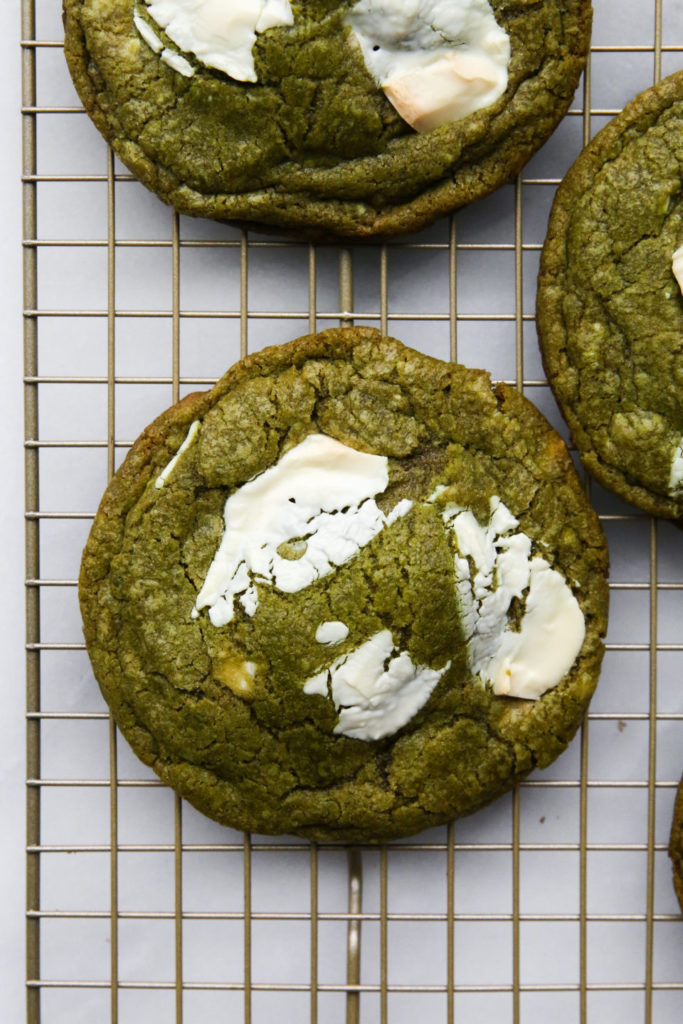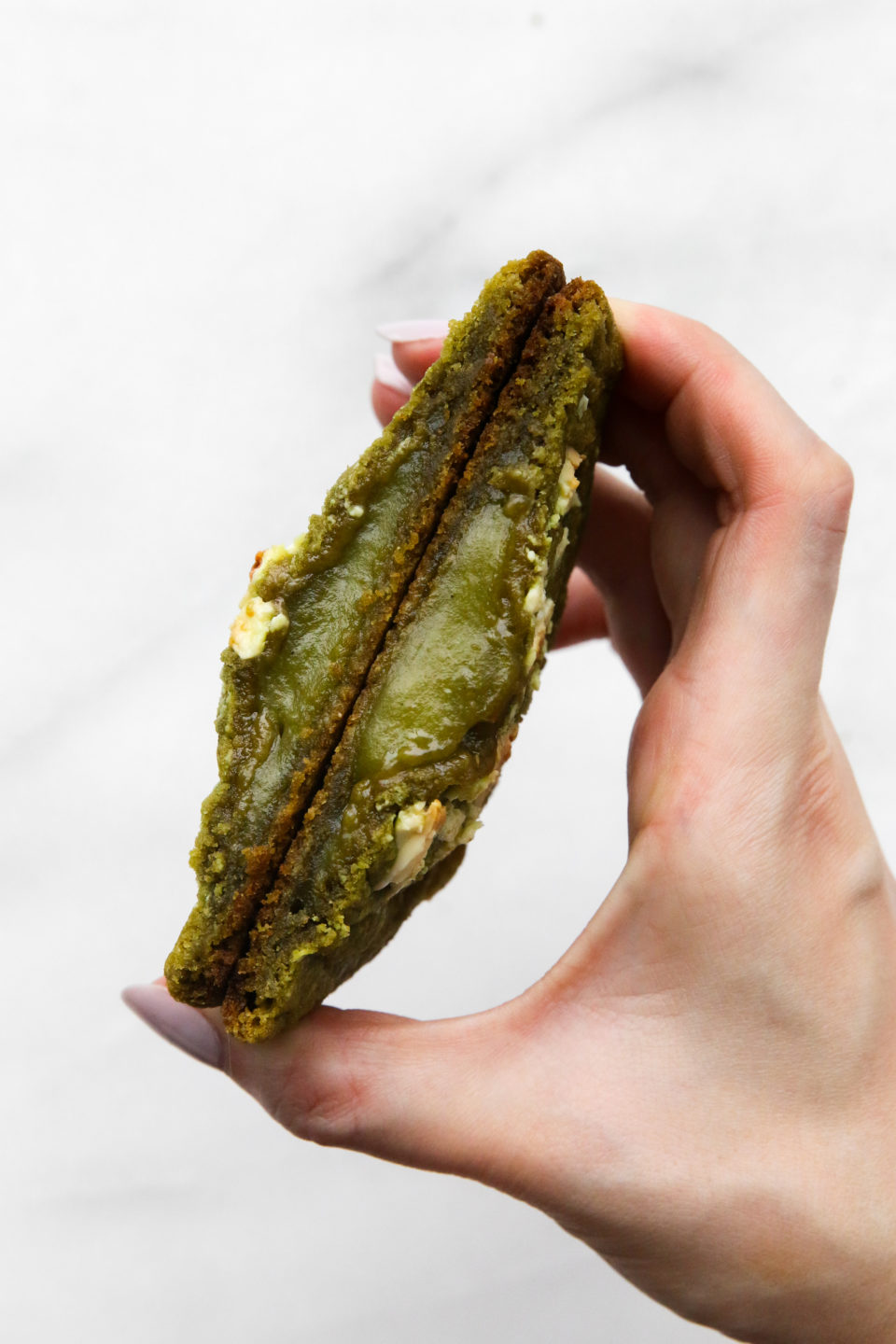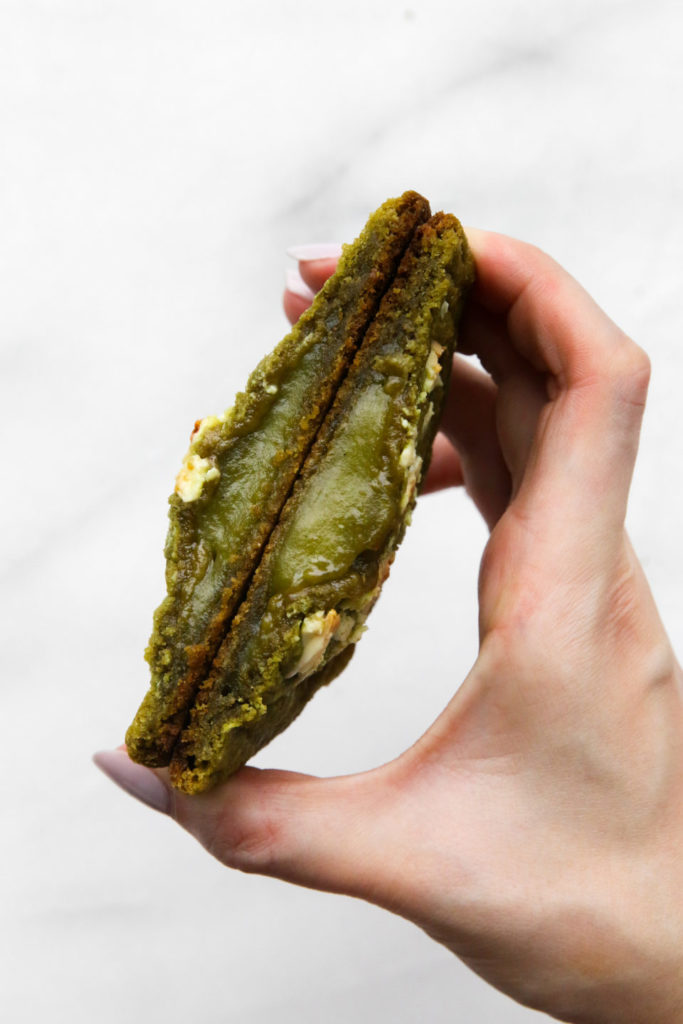 Matcha Mochi Cookie
These intensely matcha cookies are stuffed with a homemade matcha mochi filling. The cookies have a crisp exterior and chewy centre. They're best consumed the day they're made!
Ingredients
Matcha Mochi
100

g

(3/4 cup) glutinous rice flour

,

I prefer Mochiko

50

g

(1/4 cup) granulated sugar

5

g

(1 tbsp) matcha powder

100

mL

coconut milk

75

mL

water
Matcha Cookie Dough
140

g

(1/2 cup plus 2 tbsp) unsalted butter

,

at room temperature

126

g

(1/2 cup plus 2 tbsp) brown sugar

100

g

(1/2 cup) granulated sugar

2

tsp

pure vanilla extract

1

large egg

,

at room temperature

220

g

1 3/4 cup plus 2 tbsp all-purpose flour

5

g

(1 tbsp) matcha powder

1

tsp

salt

3/4

tsp

baking powder

1/2

tsp

baking soda

117

g

(2/3 cup) coarsely chopped white chocolate
Instructions
Matcha Mochi
In a medium-sized bowl, whisk together glutinous rice flour, granulated sugar, and matcha powder.

Add coconut milk and water to the dry mixture. Whisk until smooth. If there are clumps, push the mixture through a fine-meshed sieve.

Cover bowl with saran wrap.

Put the covered bowl into a steamer basket and steamed for 20 minutes. Halfway cooking, stir with a wet rubber spatula and cover to finish cooking. The mochi should change from opaque to almost translucent.

Allow mochi to cool completely before diving up into 10 portions for the cookies.
Matcha Cookie Dough
In the bowl of a stand mixer fitted with a paddle attachment, cream the butter, brown sugar, and granulated sugar on medium speed until they are smooth, about 1 minute.

Add the vanilla and egg to the butter mixture and mix on medium speed until they are fully incorporated, scraping down the sides of the bowl as needed.

In a medium bowl, whisk together the flour, matcha powder, salt, baking powder, and baking soda. With the mixer on low speed, add the flour mixture in two batches to the butter mixture, and mix until the ingredients are just combined, about 1 minute.

Separate the chopped chocolates into two portions; I like to reserve the larger pieces to top each cookie dough ball before baking. Add one portion of the chocolates to the bowl, and mix until they are just incorporated with the dough, about 30 seconds. Set second portion of chocolates aside.
Assembly
Preheat the oven to 350°F (177°C). Line a large baking sheet with parchment paper.

With a standard ice cream scoop, form even balls of dough.

Using your thumb, create a deep indent in the cookie dough ball. Fill each cavity with a piece of cooled matcha mochi. Seal the doughball.

Place filled dough balls about 2 inches (5 cm) apart on the baking sheet. Place several pieces of reserved chocolate onto each dough ball.

Bake the cookies for 12 to 14 minutes, or until the cookies are browned and caramelized along the edges and the centres are just set. If you would like your cookies to have the crinkled edges, give the pan a few taps on the oven rack before you take them out of the oven.

Allow the cookies to cool on the baking sheet for 5 minutes, then transfer them to a wire rack to cool completely. Mochi-filled cookies are best once they have cooled completely.
Notes
The matcha cookie dough is a great recipe even if you're not filling it with matcha mochi. They're also best consumed the day they're made!
Reader Interactions