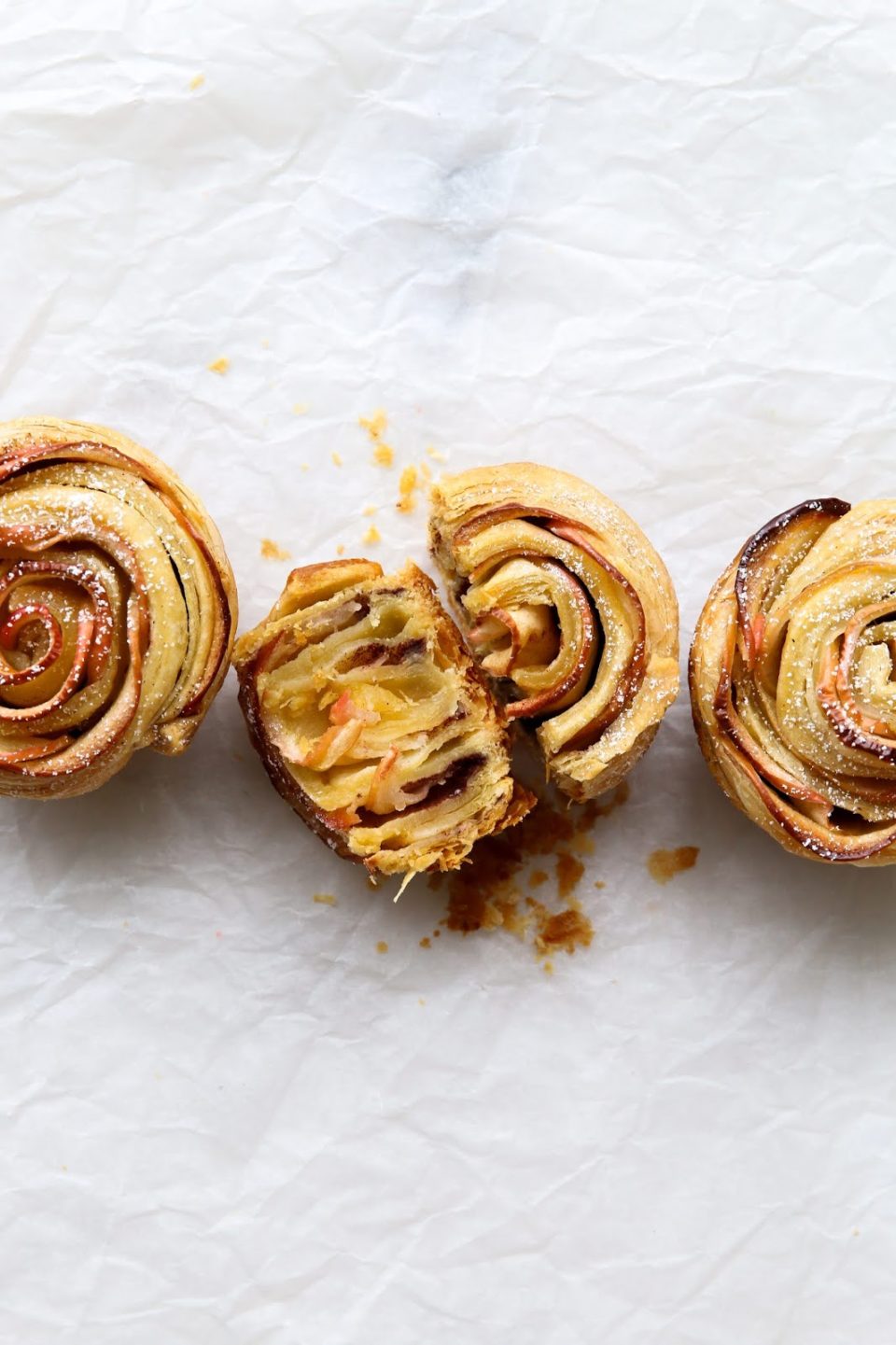 I met Kelsey almost five years ago when we bonded online over rustic cakes and lattice pie tops. We bonded so much online that I invited a stranger into my apartment for a baking and sleepover date. Surprisingly, Kelsey said yes. Unsurprisingly, we connected in person right away. After that first baking date (back when I did not own a camera), we had many more dates where we made confetti cakes, a big cake spread that almost gave us both nervous breakdowns, and many more buttercream-coated treats. I even got to visit her on her family's farm, where we made brown butter apple cakes and many pies that we styled between the rows of apple trees right before sunset. Between all those baking dates, we would text regularly to talk about recipes we are working, to daydream about travelling to Paris together, and plan when we would see each other next. I wish I met Kelsey sooner, perhaps when we both attended UBC at the same time, but I am so happy that I know her now. Not only is she an amazing baker, she is almost an amazing friend.
Kelsey has been working really hard on her cookbook, The Farmer's Daughter Bakes, and I am so happy that she can finally share it with the world today. The book shares many stories and recipes from the farm and each recipe transports to the farm where apples, plums, and squash are in abundance. I have had the pleasure of visiting Willow View Farms several times and I know these recipes will take you right there even if you cannot visit in person. I have so many recipes already bookmarked but I knew I had to make these apple tarts first.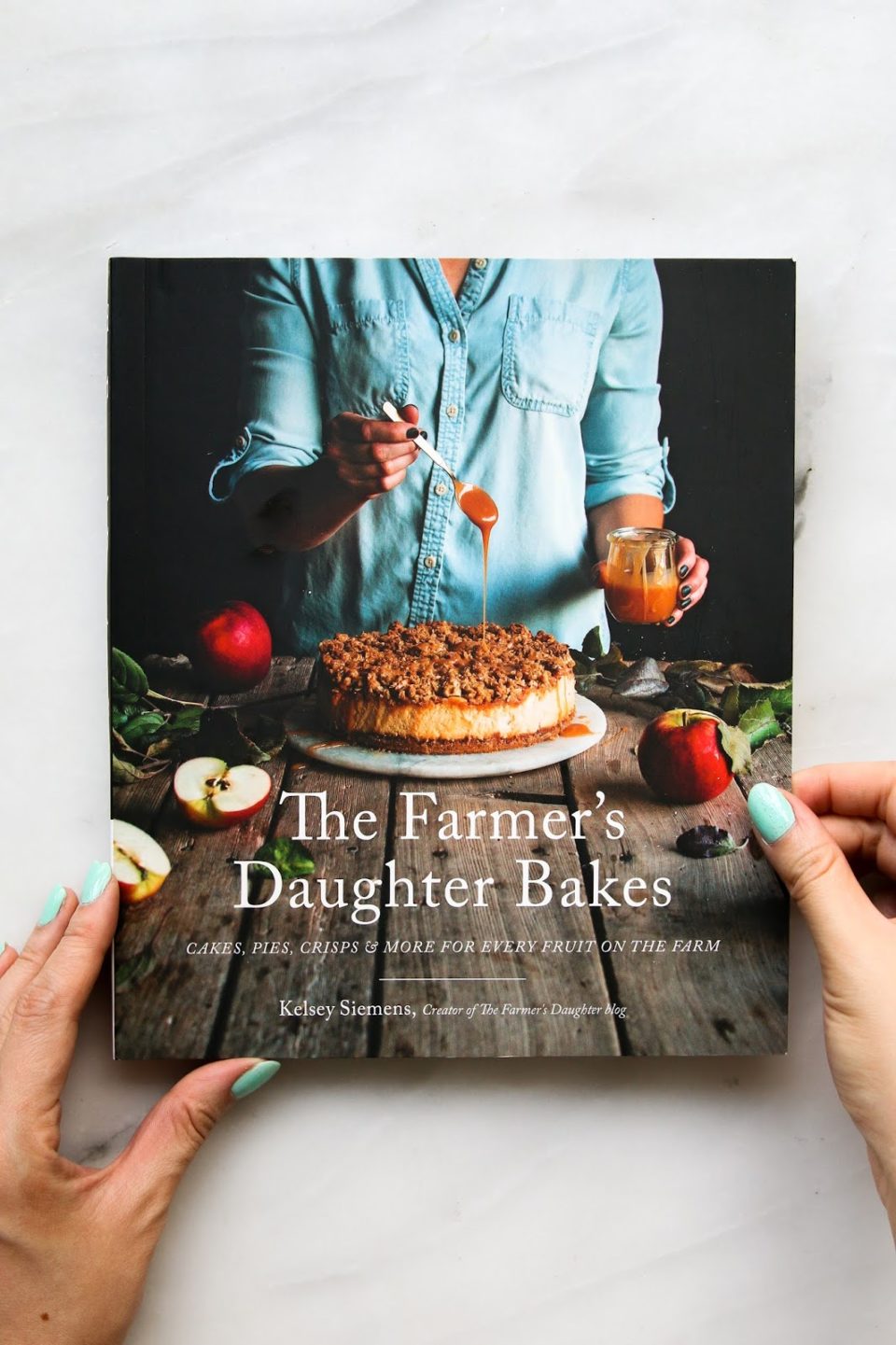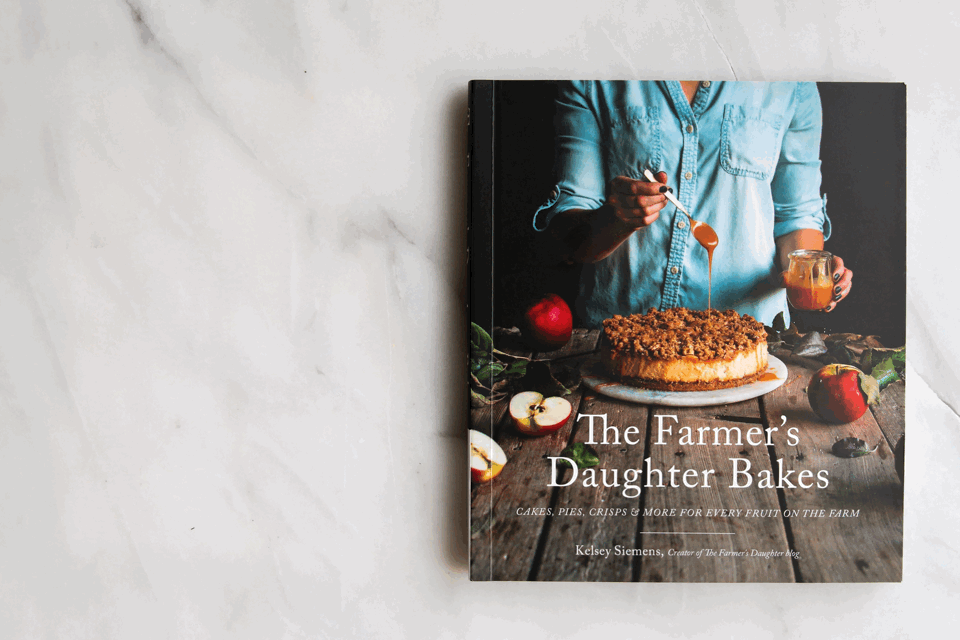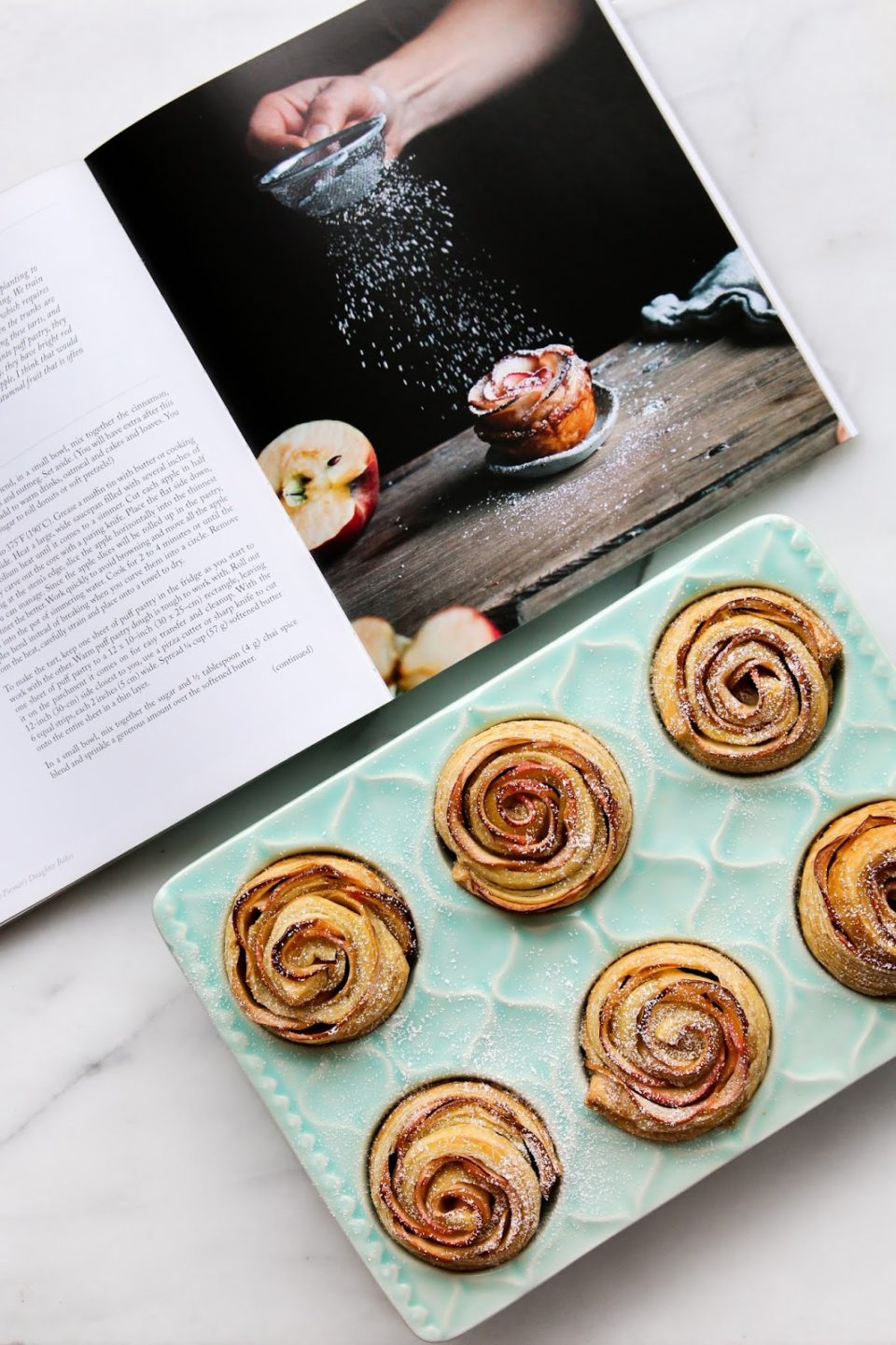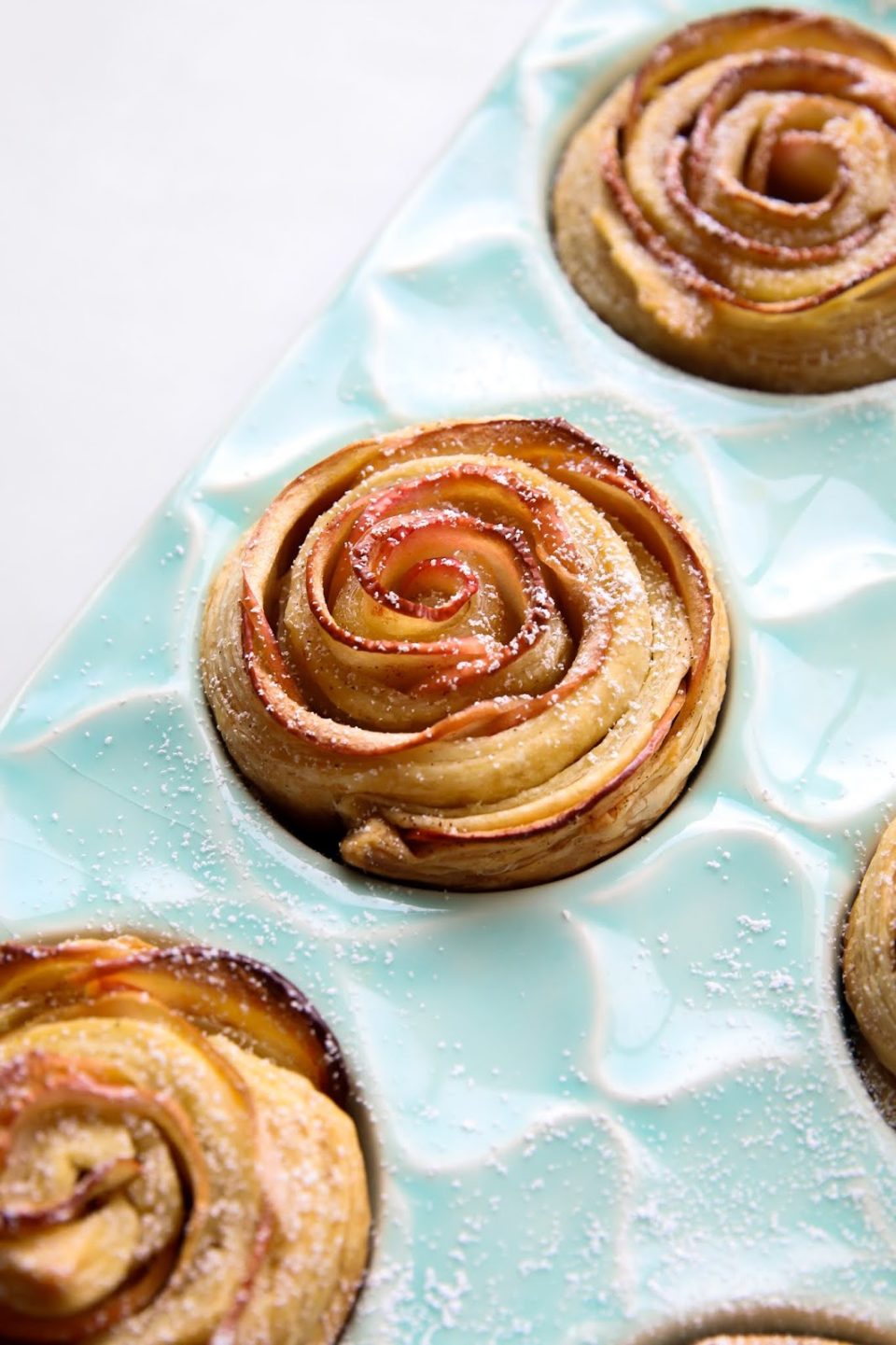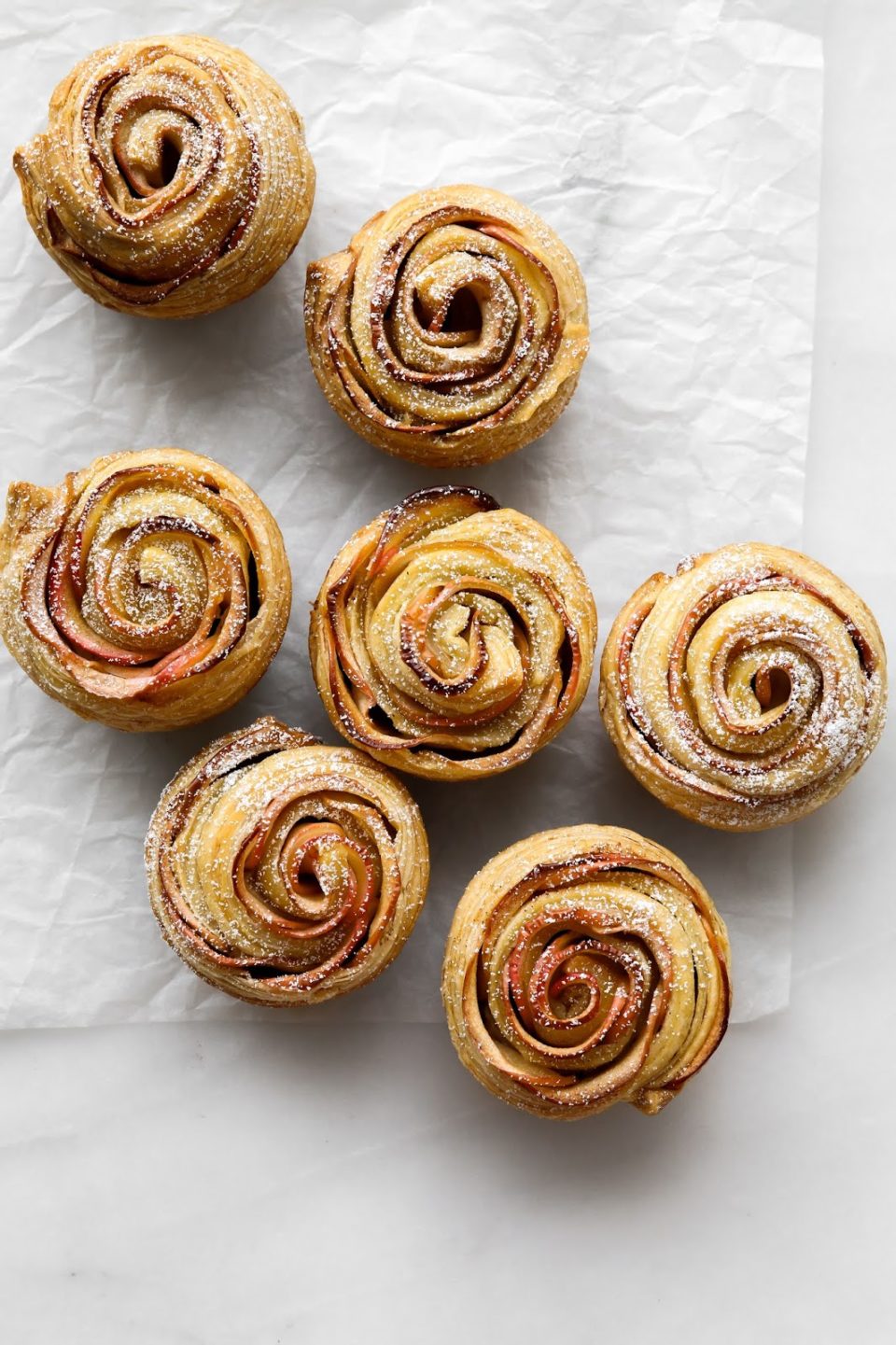 Apple Puff Pastry Rose Tarts
Recipe from The Farmer's Daughter Bakes by Kelsey Siemens (Page Street Publishing) – shared with permission
Ingredients
Chai Spice Blend
1

tbsp

8g ground cinnamon

1

tbsp

5g ground ginger

1

tsp

ground cardamom

1/2

tsp

ground cloves

1/2

tsp

ground nutmeg
Tarts
4

medium tart baking apples

,

Kelsey recommends Pink Lady

2

sheets frozen puff pastry

,

thawed 2 hours before use

3/4

cup

170g unsalted butter, softened, divided

1/2

cup

100g granulated sugar)

1/2

tbsp

4g chai spice blend, divided

Powdered sugar

,

for serving
Instructions
To make the chai spice blend, in a small bowl, mix together cinnamon, ginger, cardamom, cloves, and nutmeg. Set aside.

Preheat oven to 375F. Grease a muffin tin with butter or cooking spray and set aside. Heat a large, wide saucepan filled with several inches of water over medium heat until it comes to a simmer. Cut each apple in half and carefully carve out the core with a pairing knife. Place the flat aide down, and starting at the stem's edge, slice the apple horizontally into the thinnest slices you can manage. Sine the apple slices will be rolled up in the pastry, the thinner the better. Work quickly to avoiding browning and move all the apple slices into the pot of simmering water. Cook for 2 – 4 minutes or until the apples bend instead of breaking when you curve them into a circle. Remove from the heat, carefully straining and place onto a towel to dry.

To make the tart, keep one sheet of puff pastry in the fridge as you start to work with the other. Roll out one sheet of puff pastry to a 12 x 10 inch rectangle, leaving it on the the parchment it comes on for easy transfer. With the 12-inch side closest to you, use a pizza cutter or sharp knife to cut 6 equal strips, each 2 inches wide. Spread 1/4 cup of softened butter onto the entire sheet in a thin layer.

In a small bowl, mix together 1/2 tablespoon of chai spice and sugar and sprinkle a generous amount over the softened butter.

Start the first strip with the thinnest apple slice, as it will form the middle of the rose and will need to be the most flexible. Place the apple about halfway down the puff pastry strip with the skin side poking up over the dough.

Place a second apple slice over the first, overlapping about a quarter of a slice. Repeat until you reach the end of the dough.

Carefully fold the half of the strip without apple slices on it over top of the apples.

Melt 1/4 cup of butter. Once the dough has been folded up, brush the edge with some melted butter.

Roll the strip up as tightly as you can.

Press the end of the strip firmly to the rest of the dough and transfer the rose to the prepared muffin tin. Repeat with the remaining 5 strips of dough.

Bake for 35 – 40 minutes, or until the pastry is puffed and golden. Rotate the muffin tin halfway through baking and place a sheet of aluminum foil on top if the apples are cooking too quickly. Cool on a cooling rack for about 5 minutes, and carefully remove roses from muffin tin. Top with powdered sugar and serve. The apple tarts are best served the first day.
You can find The Farmer's Daughter Bakes here!
Congratulations, Kelsey!
Reader Interactions