Frangipane. No matter where you put it — inside a double baked almond croissant, nestled inside a shortcrust pastry tart, or tucked inside a galette, my heart will always belong to frangipane. The moment I saw this Food52 recipe for an apple galette with tahini frangipane, I knew I had to make it. I love traditional almond frangipane and I also love tahini so the marriage between the two sounded more than perfect. Instead of making a galette, I transformed the components of the galette into a tart. A classic pâte sablée crust filled a layer of tahini frangipane and topped with thinly sliced apples. The tart is finished with a hibiscus honey glaze, which adds the most beautiful colour to the apples.
Making an apple tart also seemed like the right thing to do after visiting my friend Kelsey, which you may know as The Farmer's Daughter, on her farm earlier this apple harvest season. I have been to her farm once before but that was for a blog shoot more so than an apple picking experience. Kelsey lives in Abbotsford, which is an hour drive away from where I live. I do not go to Abbotsford often but every time I am there, I make a promise to myself I would go back soon because they have the cutest bakeries and coffeeshops. I started my day exploring downtown Abbotsford and picking up some pastries from Duft & Co. Bakehouse. Their Honey Bee Danish could have easily been one of my favourite pastries I have had in a long time. (Oh, and a pro-tip is that they make doughtnuts every Saturday!) After picking up some pastries I was off to Oldhand, a coffee shop that is always lovely every time I visit. With a perfect Americano in hand, I lingered for a bit longer inside Oldhand before heading to Willow View Farms to see Kelsey and to have many, many apple slushies.
Kelsey's farm was bustling — with people and apples. And goats. But I will save my ode to these goats for another time. I had an apple slushie (which I swear was a gateway slushie because I had many more after that first one), picked some Elstar apples (Kels said those are the best for baking), and bought some Honeycrisps from the farm store so I would have a snack for the drive back. I also got a large bag of kettle corn but let's not talk about that because I inhaled the entire bag quicker than you can say 'kettle corn' five times. I did not get to pick apples with Kelsey because she was working. Spoiler alert: she does not just pose in pretty dresses in the orchard all day. Kels actually works on the farm (and sometimes will send me photos of her digging up potatoes in the rain) and makes caramel apples for the blog when she has spare time. Though I am not sure if she has free time in the midst of apple season. Perhaps next time I go back, she will make a little cameo in the photos.
Enjoy these little snippets from my afternoon at Willow View Farms and a tart that is the perfect fall dessert.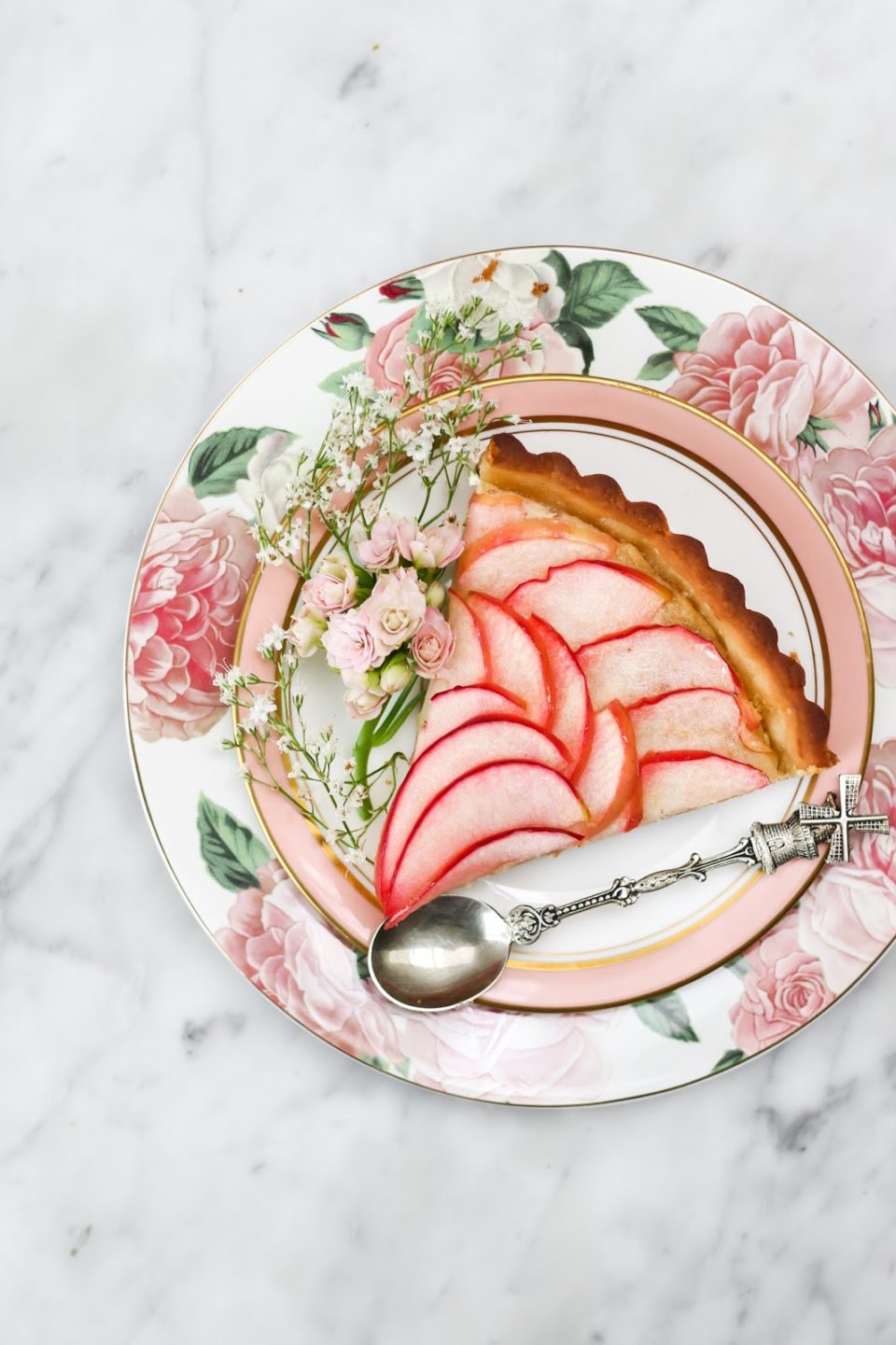 Ingredients
Pâte Sablée
8

tbsp

unsalted butter

,

room temperature

1/3

cup

powdered sugar

1

large

egg yolk

1/2

tsp

salt

1 1/4

cups

all-purpose flour
Tahini Frangipane (From Food52)
1/2

cup

tahini

1/4 + 2

tbsp

granulated sugar

4

tbsp

unsalted butter

,

softened

1

egg

1

pinch

salt

1

tsp

vanilla extract
Apple Layer
4-5

medium

apples

,

(I used Elstar)
Hibiscus Glaze
1

tbsp

dried hibiscus flowers

1/2

cup

honey

1

tbsp

lemon juice

1

pinch

salt
Instructions
Pâte Sablée
Beat the butter and powdered sugar in the bowl of a stand mixer until creamy.

Beat in the egg yolk and mix until fully combined.

With the mixer on low speed, beat in the salt and flour just until the dough comes together and there is no more visible flour. Careful not to overmix. Remove dough from the bowl and press the dough into the tart pan, making sure it is evenly distributed. Using a fork, prick the bottom of the tart shell to prevent the bottom from puffing up when baking.

Wrap the pan loosely in plastic and chill 30 minutes.

Bake the tart shell at 350F or until the crust is a light golden brown (approximately 13 minutes). Remove carefully from oven and let rest on a wire rack.
Tahini Frangipane
In a stand mixer fitted with the whisk attachment, whip the tahini on high speed for 5 minutes, until slightly thickened.

Gradually add the sugar and beat to combine. 

Scrape down the sides of the bowl and whisk again—all of the sugar should be dissolved (and no longer visible). 

Add the butter, piece by piece, scraping down the sides of the bowl, until fully incorporated. [Note: I found that adding 2 additional tablespoons of butter was helpful, especially if the brand of tahini you have on hand is on the drier side]

Add the egg and salt and beat until well combined.

With an offset spatula, evenly spread out the tahini frangipane in the tart crust.
Apple Layer
Quarter and core the apples, then thinly slice the apple quarters. Fan them out on top of tahini layer before baking.

Bake the tart for 35 to 40 minutes, rotating halfway through, until the crust is a deep golden-brown. If the apples are browning too quickly, place a piece of aluminum foil loosely on top.
Hibiscus Glaze
Place hibiscus in small saucepan with 1 cup of water. Simmer until the hibiscus has imparted a deep pink colour. Strain through a fine mesh sieve.

Return the liquid back to the pot, then add the honey, lemon juice, sugar, and a pinch of salt.

Bring to a simmer and reduce, stirring very frequently with a rubber spatula, until thick and syrupy.
Happy baking and apple picking!
Reader Interactions