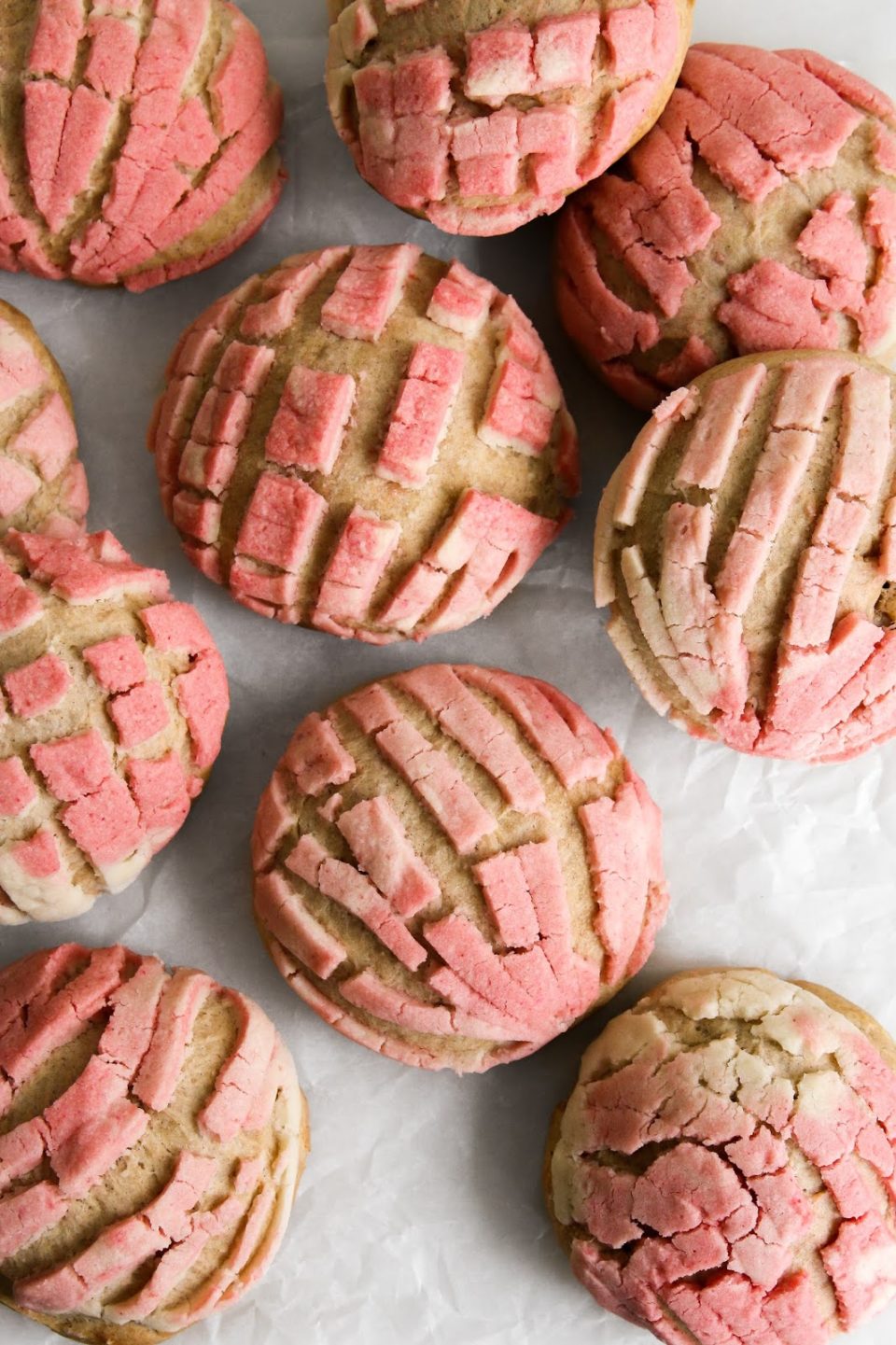 My favourite thing about attending the Saveur Magazine blog awards last year was meeting all the wonderful, creative people both within and outside my Best Baking and Sweets category. Even thought it was a short 3-day stay in Cincinnati, I bonded with so many great bakers, photographers, and storytellers. I still stay in contact with many of them — Erika and I still chat regularly about recipe testing and about how we cannot wait to visit each other, Hannah and I love to vent about the process of writing recipes and share our love of getting our nails done (haha), I love watching all of Alexandria's fun TikTok videos, and I am always so blown away by Bryan's talent when it comes to bread making (a skill that I wish to one day possess).
Today we are celebrating Bryan Ford of Artisan Bryan's upcoming cookbook, New World Sourdough. I am kind of embarrassed to admit that before the Saveur blog awards, I was not too familiar with Bryan's work. Before Saveur, I mostly followed cake decorators and sugar cookie artists because that is more aligned with what I do here. Since learning more about Bryan's work, I have been obsessed. Bryan's knowledge of all things sourdough is beyond impressive. His website showcases sourdough baking heavily influenced by his Honduran roots but he also gives a spotlight to his New Orleans upbringing with recipes like New Orleans King Cake, Sourdough Beignets, and more. He also shares many of his recipes in Spanish and creates step-by-step tutorial videos of techniques that will help one become a better bread baker.
I was so excited (but also a bit nervous) to receive Bryan's book. I am not at all familiar with bread/sourdough baking but I am glad that this book is one of my first introductions to this area of baking. New World Sourdough is so informative and breaks down the process of creating a sourdough starter, to building a levain, to the final bake with the greatest detail. The recipe I chose to make first is for Semitas de Yema, a semisweet and dense brioche-style bread capped with a crisp mixture of coconut oil and sugar. Bryan said that the crispy sugar layer can be made into different colours, so I chose to make mine white (like his!) swirled with a bit of soft pink. This is how Bryan introduces this recipe:
"Almost every day after school, I would wait for my dad to bring home a bag of semitas from the local Honduran bodega. My parents enjoyed afternoon coffee more often than not, and as these are best dipped in hot coffee, it was a ritual of sorts for us to enjoy semitas with warm beverages on the porch. I didn't drink coffee when I was young, so warm milk or hot chocolate was my go-to. Even when we moved to a New Orleans suburb, there were pockets of Central American people and markets, so finding these classic treats was easy."
Congratulations on your new book, Bryan! I am so happy to have met you last year in Cincinatti.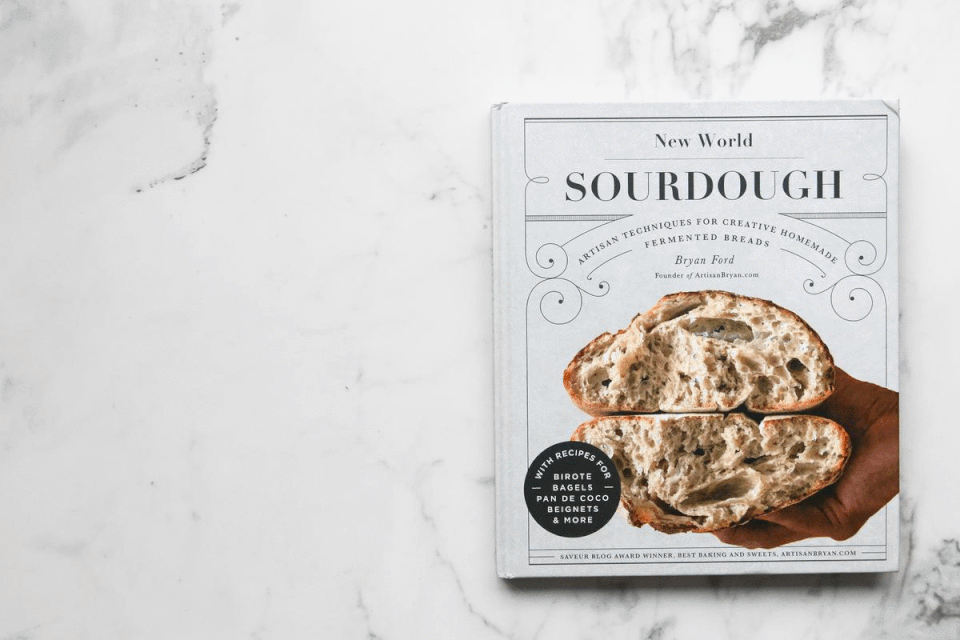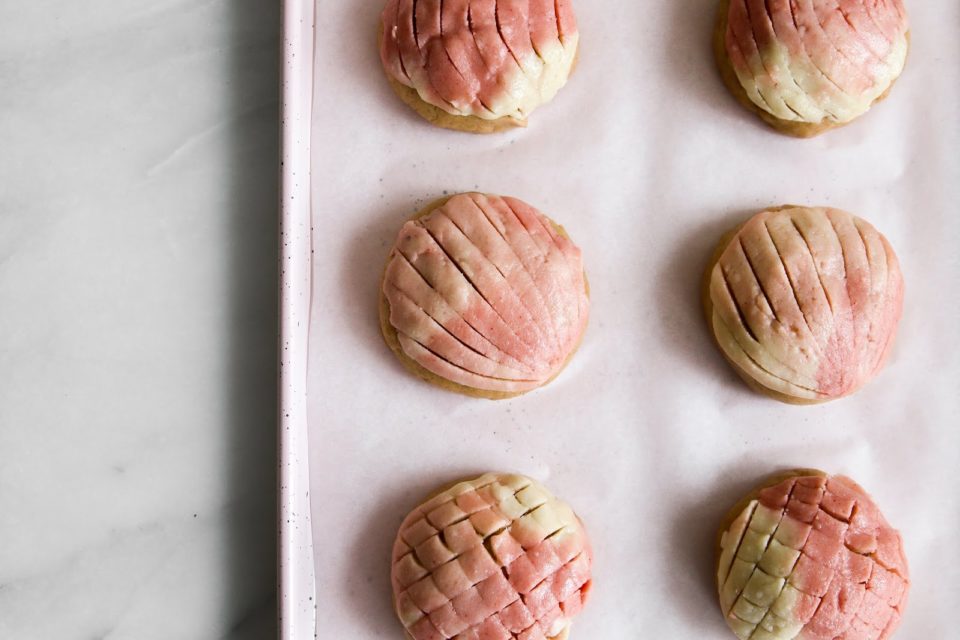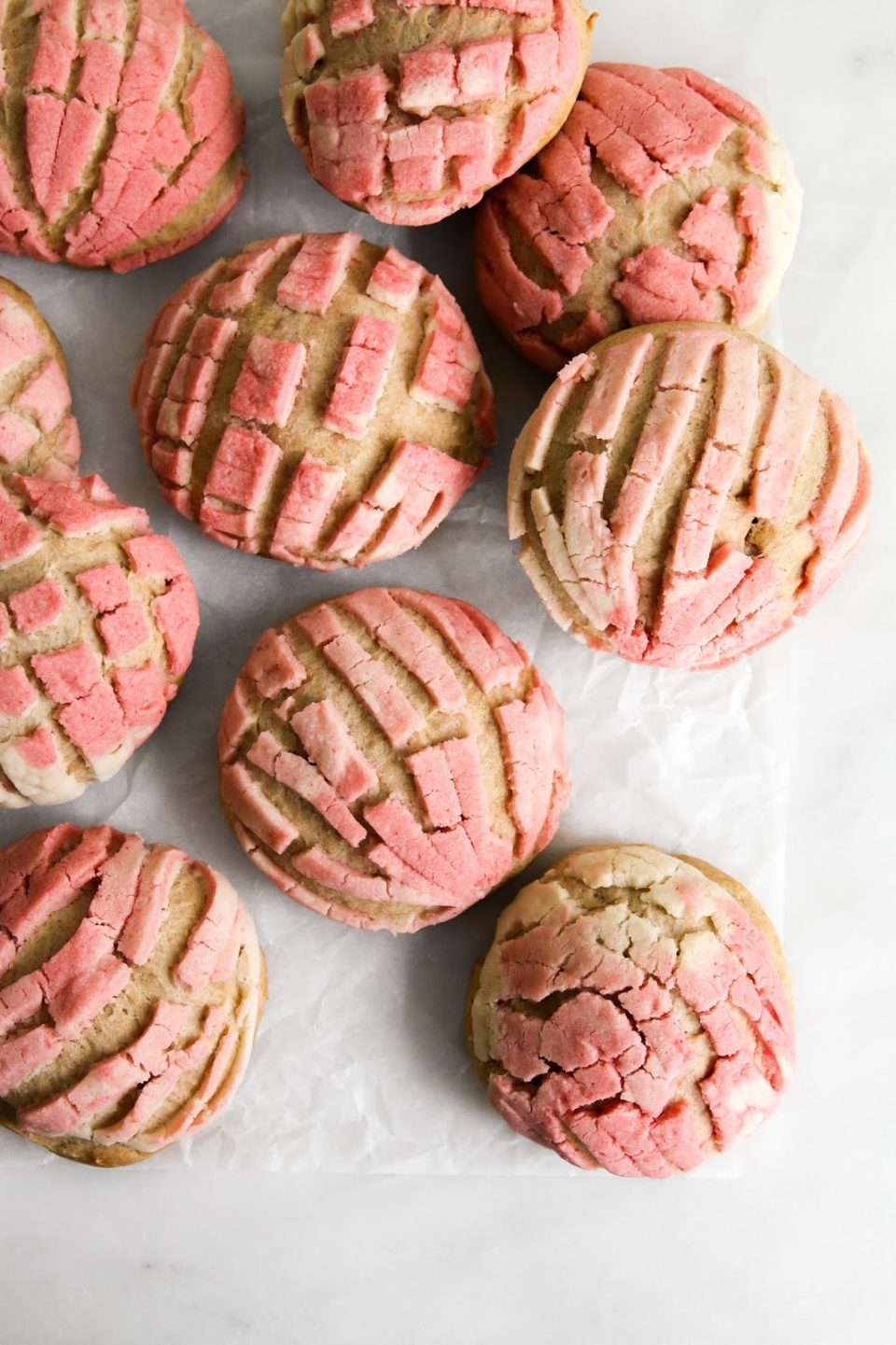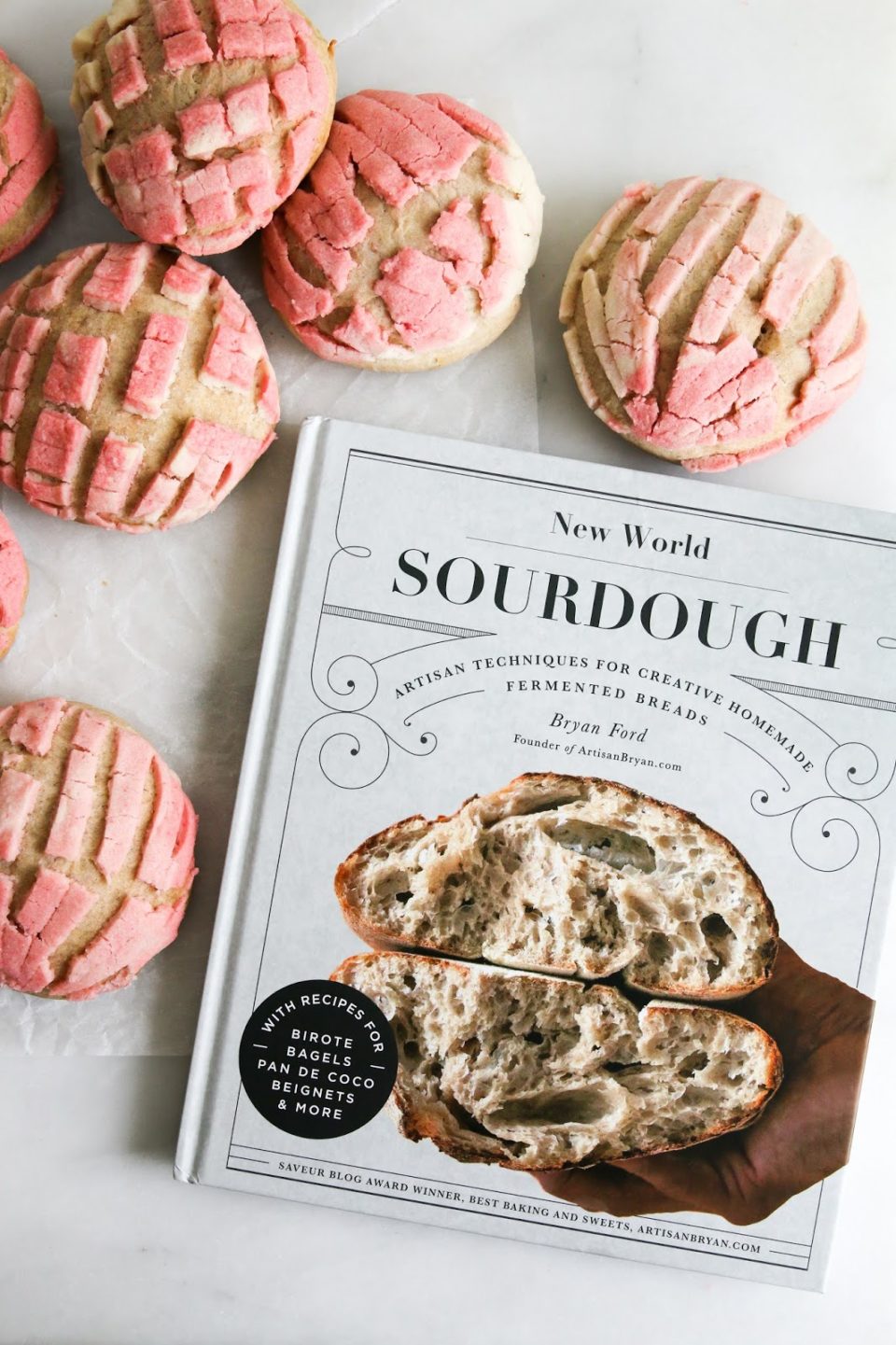 Happy baking!
Ingredients
Levain Build
100

g

mature sourdough starter

150

g

bread flour

50

g

whole-wheat flour

200

g

warm water
Final Dough Mix
500

g

bread flour

500

g

all-purpose flour

200

g

egg yolks

250

g

granulated sugar

250

g

unsalted butter

,

at room temperature

100

g

water

350

g

levain

5

g

salt
La Cubierta
200

g

all-purpose flour

,

plus more as needed

150

g

coconut oil

100

g

granulated sugar
Instructions
To build the levain
In a tall jar or medium bowl, mix the mature starter, flours, and warm water until incorporated. Cover with a lid or clean kitchen towel and leave in a warm place for 3 to 4 hours until doubled. You can use your levain immediately, or refrigerate it for 12 hours to use later or the next day.
To make the final dough mix
In a large bowl, mix all the final dough mix ingredients, squeezing them with both hands until a dough starts to come together.

Cover the dough with a clean kitchen cloth or plastic bag and let ferment at room temperature for 6 hours. Refrigerate the dough for 12 hours.
To make la cubierta
Remove the dough from the fridge and let it sit on the counter while you make la cubierta.

In a medium bowl, combine the flour, coconut oil, and granulated sugar. Whisk rapidly until you have a soft, crumbly mixture. You want it to be more dry than wet, so, if needed, add a bit more flour. Turn the mixture out on to a work surface and gently knead it into a ball. Set aside.
To shape and proof the dough
Line a sheet pan with parchment paper and set aside.

Divide the dough into 120-g pieces (about 16 pieces) and shape each one using the balling up technique.

Take a small handful of the cubierta mixture (around 20 g, but you don't need to measure); make a flat disk with the mixture and place it on top of each rounded dough ball. Place the dough rounds on the prepared sheet pan.

Proof the dough at room temperature for 4 hours until you see some cracking in the cubierta and growth in size.

You'll know the dough is ready to bake when the cubierta is cracking; however, it may not always crack. Use a razor blade or knife to cut some designs into the cubierta before baking, as desired.
To bake the bread
Preheat the oven to 375°F (190°C).

Bake the semitas on the sheet pan for 30 minutes, or until golden brown.

Let cool for 15 or 20 minutes to ensure they are cooked all the way through before eating.

Remember, these are best enjoyed with your favourite cup of coffee. Dip it in and enjoy.
Notes
Reader Interactions