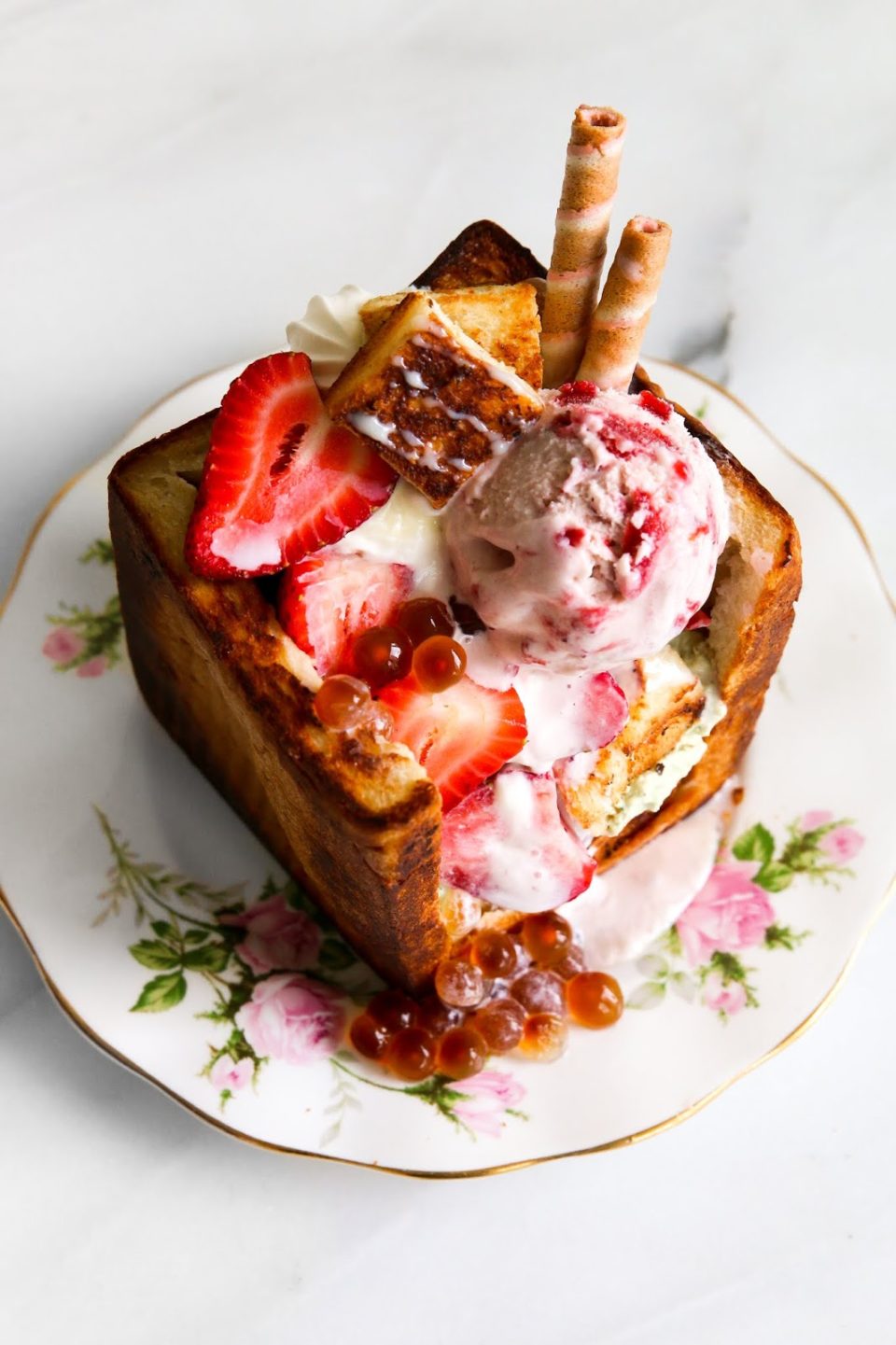 There are classic, humble Asian sweet snacks like bubble tea, bubble waffles, and wheel cakes, but when the occasion calls for an over-the-top dessert (both architecturally and in terms of the amount of ingredients used), toast boxes prevail. Toast boxes (also known as honey toast, brick toast, or Shibuya toast) are exactly what their name suggests — a buttery crispy bread box filled with all sorts of sweets. Huffington Post calls a toast box 'a cabin construction of buttery French toast bricks' and I like that description a lot. When I was growing up, toast boxes were as synonymous to tea shops as bubble tea. Every Friday night, my friends and I would visit our go-to bubble tea shop and order our favourite drinks and several different flavours of toast boxes to share. I feel like they have lost a bit of their popularity throughout the years, but that does not make them any less special to me.
Toast boxes may sound complicated and laborious but they are actually extremely simple to 'make'. I put make in quotations because toast boxes are more about assembly with pre-made, often store-bought, ingredients rather than making each component from scratch.
First things first, a toast box starts with the fluffiest white bread. Milk bread is my preferred bread when it comes to assembling this edible architectural masterpiece. The loaf of bread is hollowed out, buttered, and fried/baked until golden. The hollowed out bread pieces do not go to waste. The bread is cubed and also toasted until golden. These cubes are layered with the other ingredients of the dessert. You can fill your toast box with whatever you like but the more colour, texture, and height the better, so do not skimp on the fillings and garnishes. Typically, there will be a fresh fruit component, some sort of whipped cream, sweetener (condensed milk or honey), and ice cream. Since strawberries are in season right now, I filled my toast box with variations of strawberry (fresh fruit, ice cream, filled cookie straws), matcha whipped cream, tapioca pearls, and condensed milk. Toast boxes are best served fresh, when the toast is still a bit warm and provides such nice contrast to the ice cream and chilled fruit.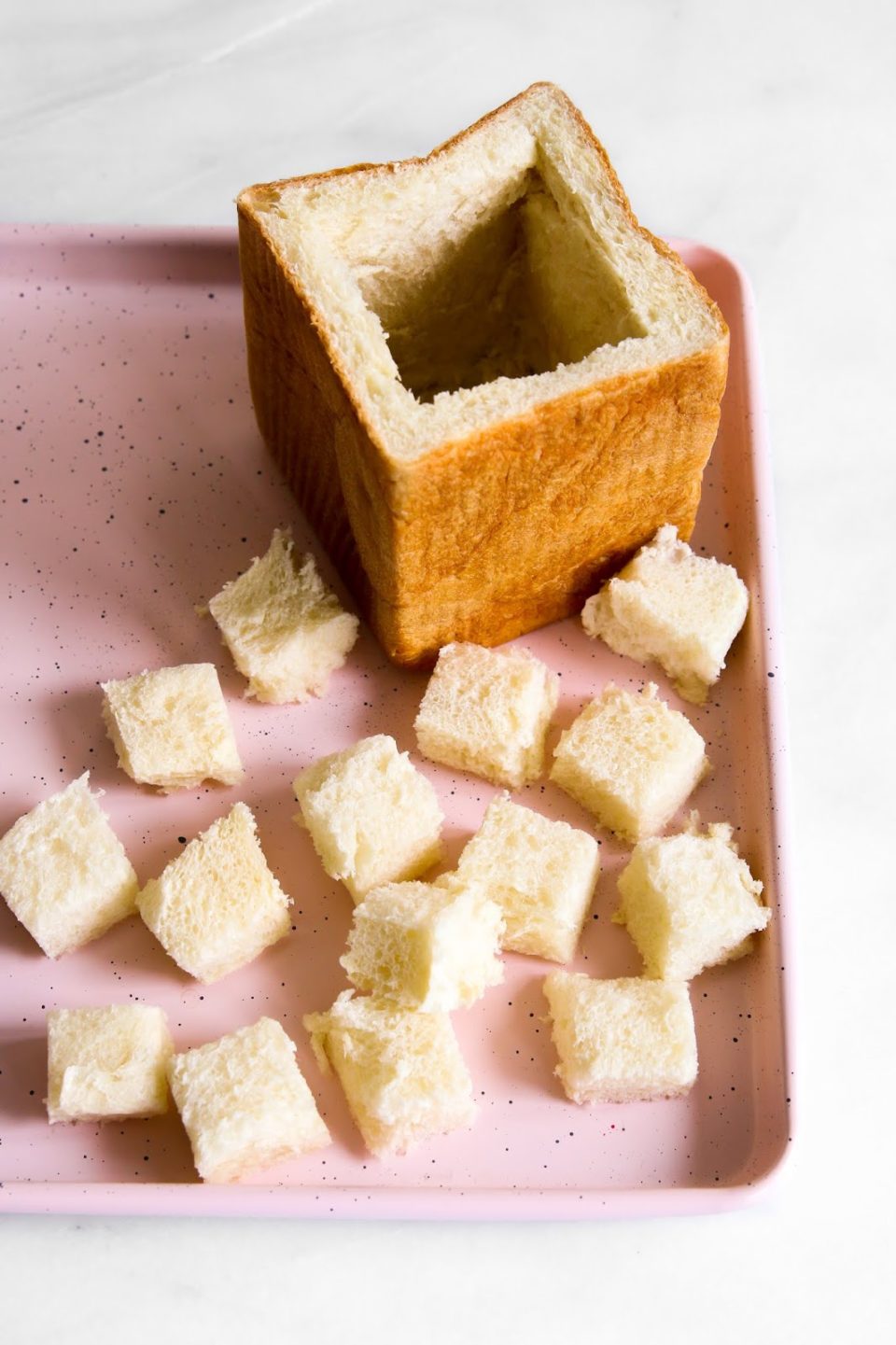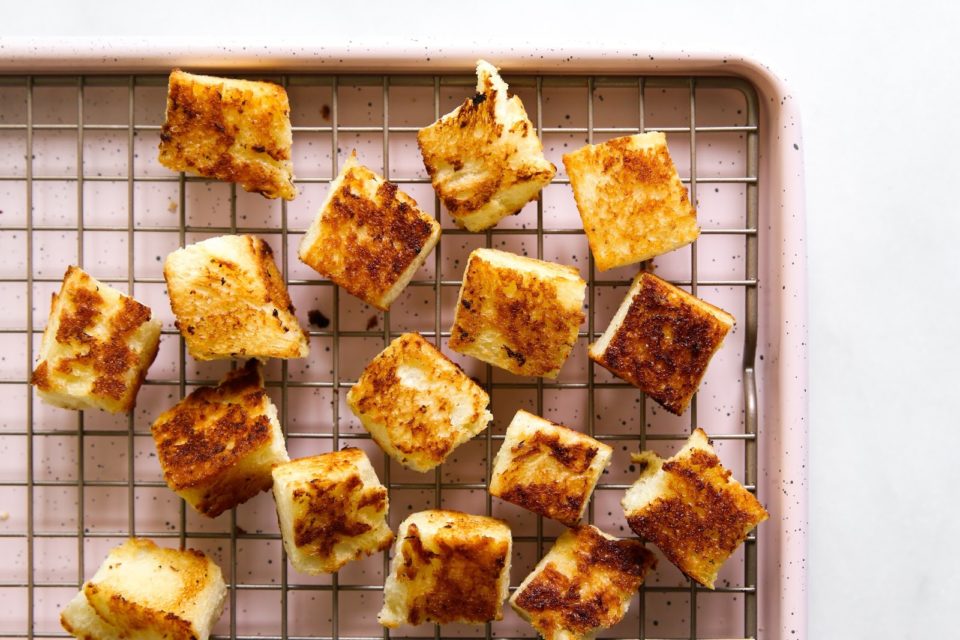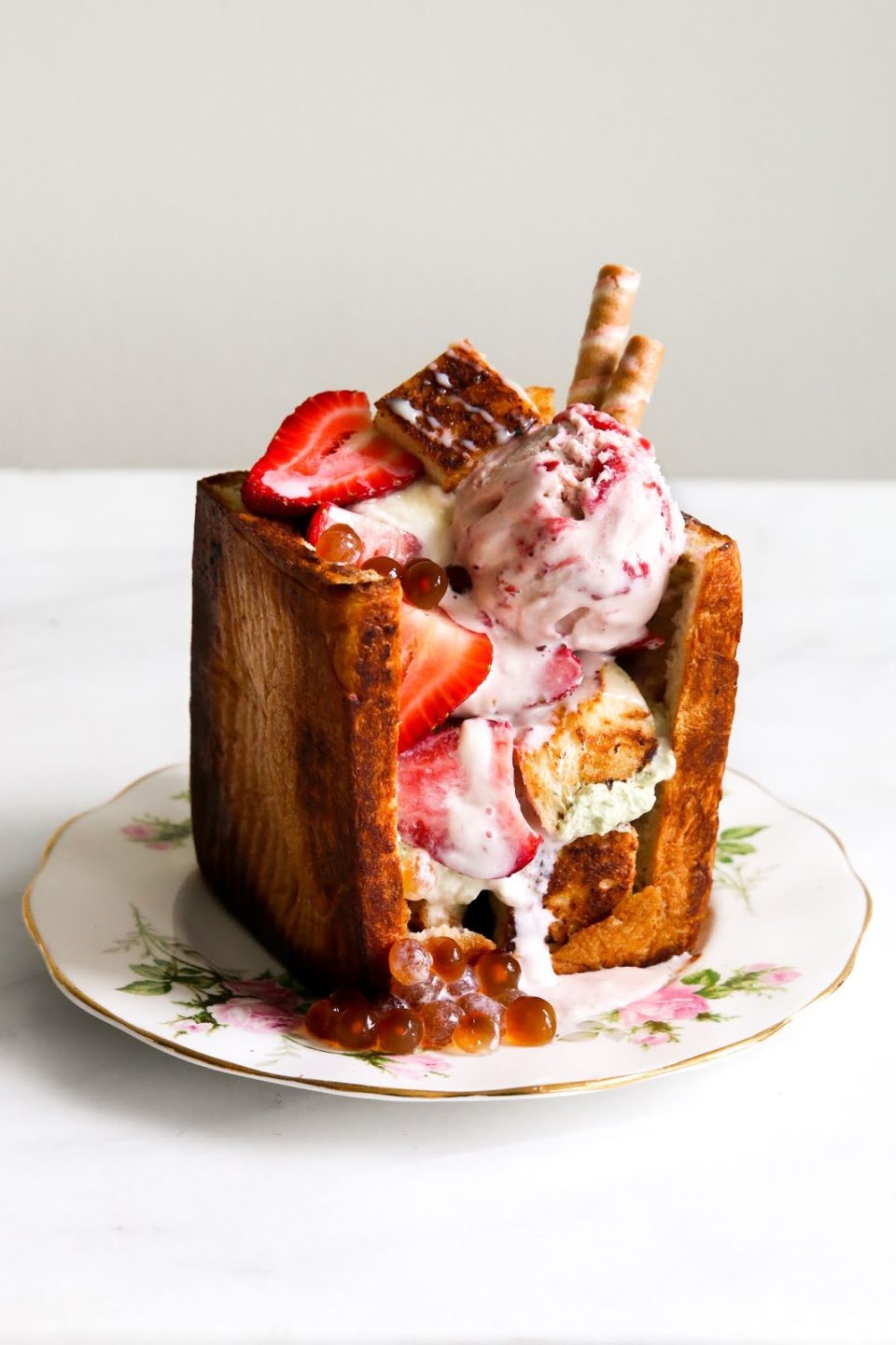 Happy baking!
Ingredients
1

4-inch loaf

milk bread or soft

,

unsliced white bread of your choice (there should be crust on 5 sides)

3

tablespoons

butter

,

melted

6

to 8 strawberries

,

halved and quartered

1/2

cup

whipped cream

,

divided

1

teaspoon

matcha powder

1/4

cup

cooked tapioca

,

'boba' pearls

2

tablespoons

condensed milk

1

scoop strawberry ice cream

2

cookie straws
Instructions
Place loaf onto a cutting board with the crustless side of the loaf facing upwards. Starting from the crustless side of the bread, use a sharp serrated knife to cut a square out of the centre of the loaf (do not cut all the way through), leaving a 1/2-inch border on all four sides and at the bottom crust. Turn the loaf onto its side, with the crustless side facing your left. Using the same knife, make a slit along the right edge of the now top side (crusted), leaving a 1/2-inch border. This will make the removal of the interior of the bread easier.

Remove the cube of bread that you have now detached with the cuts. Cut the cube of bread into 1-inch pieces. Leave the box intact.

Swirl 1/2 tablespoon of melted butter onto a pan over medium heat. Place the bread box onto the pan and fry the first side until golden. Repeat with remaining sides until all sides of the box is golden, adding more melted butter when necessary. Transfer toasted bread box to a cooling rack.

Add remaining butter to the pan and toss 1-inch bread cubes in the butter and fry until golden. Using chopsticks to flip the bread cubes is helpful. Transfer bread cubes to the cooling rack as well.

*Alternatively, you can do these steps in the oven and bake the bread box and bread cubes until they are golden. I find that you get a more even golden colour when you do it on the stove.

Transfer bread box to a plate, with the hollowed side facing upwards. Add half of the toasted bread cubes into the box. Top with a handful of strawberries. Layer with 1/4 cup of the whipped cream (I divided my whipped cream into two portions and folded in matcha powder to the first portion). Drizzle a tablespoon of condensed milk. Add remaining bread cubes, strawberries, and whipped cream. Spoon on tapioca pearls, top with ice cream, drizzle with remaining condensed milk. Garnish with cookie straws.

Enjoy immediately.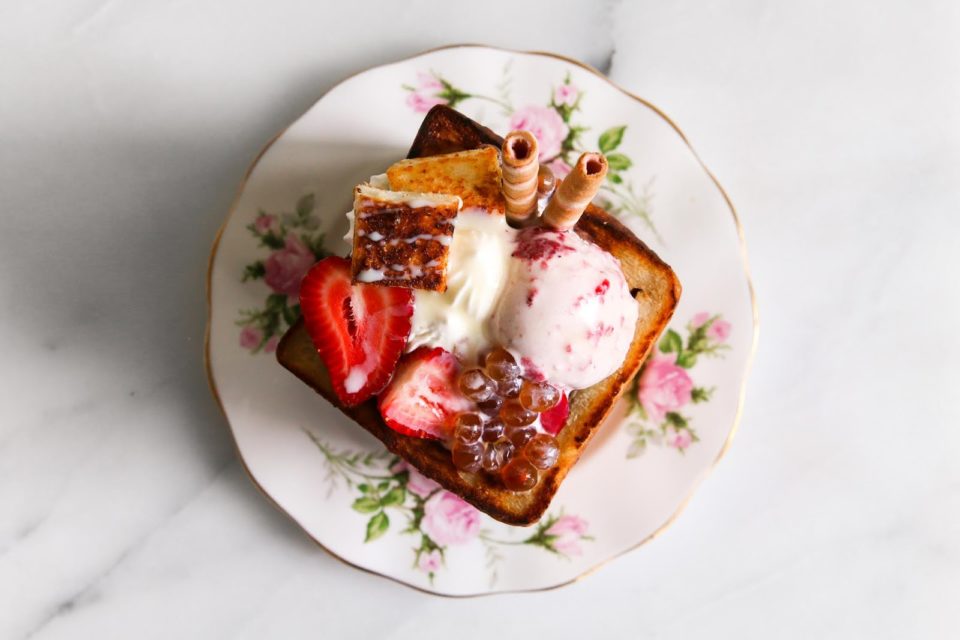 Reader Interactions