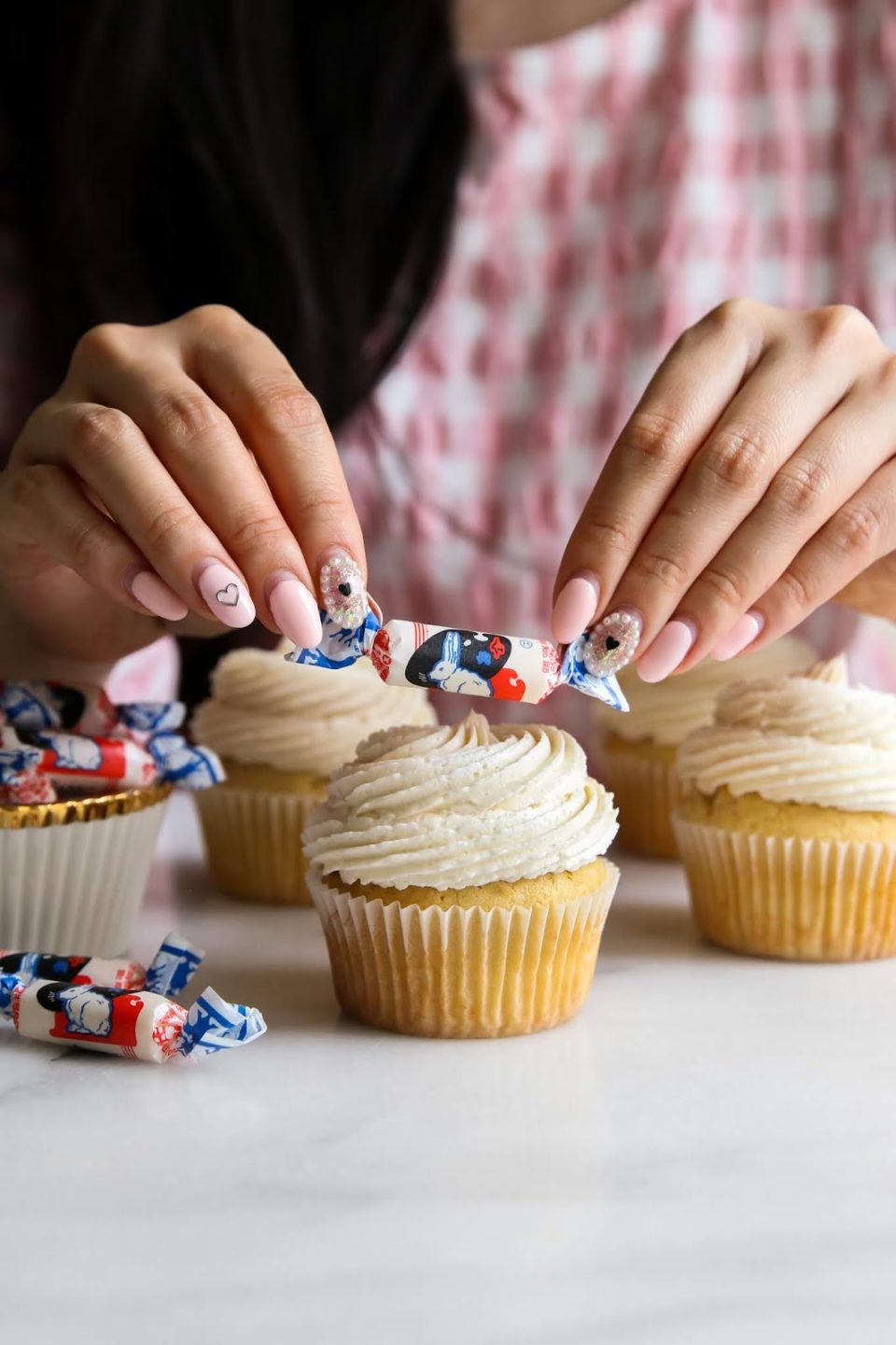 If you asked me what sweets I grew up eating, I would tell you that white rabbit candy (大白兔奶糖) was my candy of choice. Tucked inside the iconic blue, red, and black wrapper, white rabbit candy is a creamy, vanilla-scented candy similar to nougat or taffy in texture. Each candy is wrapped in a printed wax paper wrapper, but within this, the sticky candies are again wrapped in a thin edible paper-like wrapping made from sticky rice, which is meant to be eaten with the candy. The candy has always been quite affordable, being no more than two or three dollars for a large bag, and could be found at most if not all Chinese grocery stores.
As I grew up, my consumption of white rabbit candy decreased (I probably have not had one in years!) and it was not until recently that white rabbit candy came back to my (and apparently everyone's) radar. I first noticed the return of white rabbit candy when I saw Wanderlust Creamy in Los Angeles collaborated with Foodbeast to launch a white rabbit candy ice cream in celebration of Chinese New Year. That ice cream flavour went quite viral. Since those ice cream cones first surfaced the internet, so many iterations of white rabbit candy have popped up including white rabbit cookies (hi Andrew!!), bubble tea, cakes, and more forms of ice cream. I love all these homages to the the original milky candy and would never give up an opportunity to try them.
So here is my homage to my favourite candy — a light vanilla cupcakes topped with the fluffiest white rabbit candy buttercream. White rabbit candies are cooked down in milk to create a white rabbit syrup, which is then whipped into the buttercream. Each cupcake gets its own little candy to make sure you get an extra treat with your treat.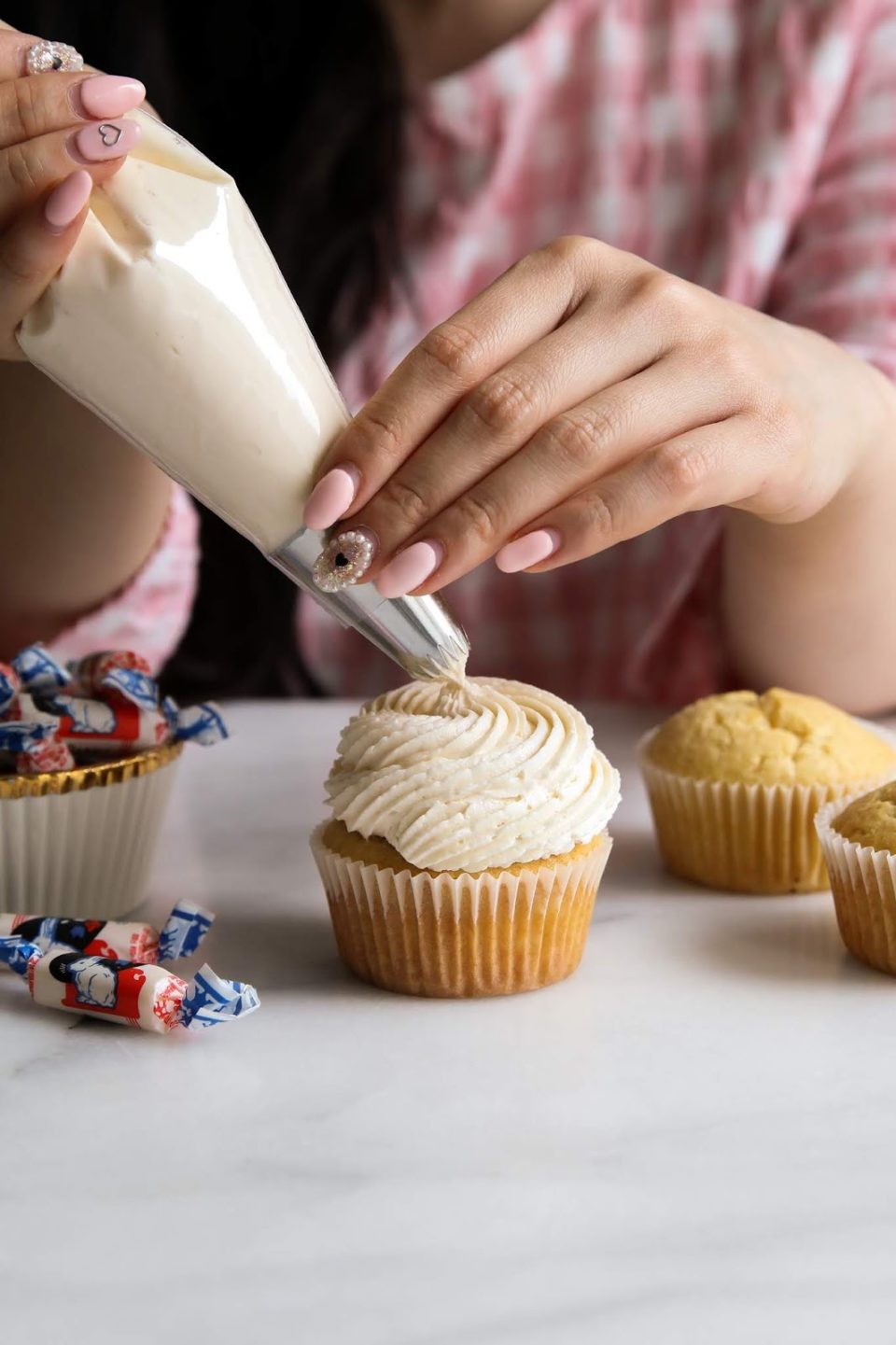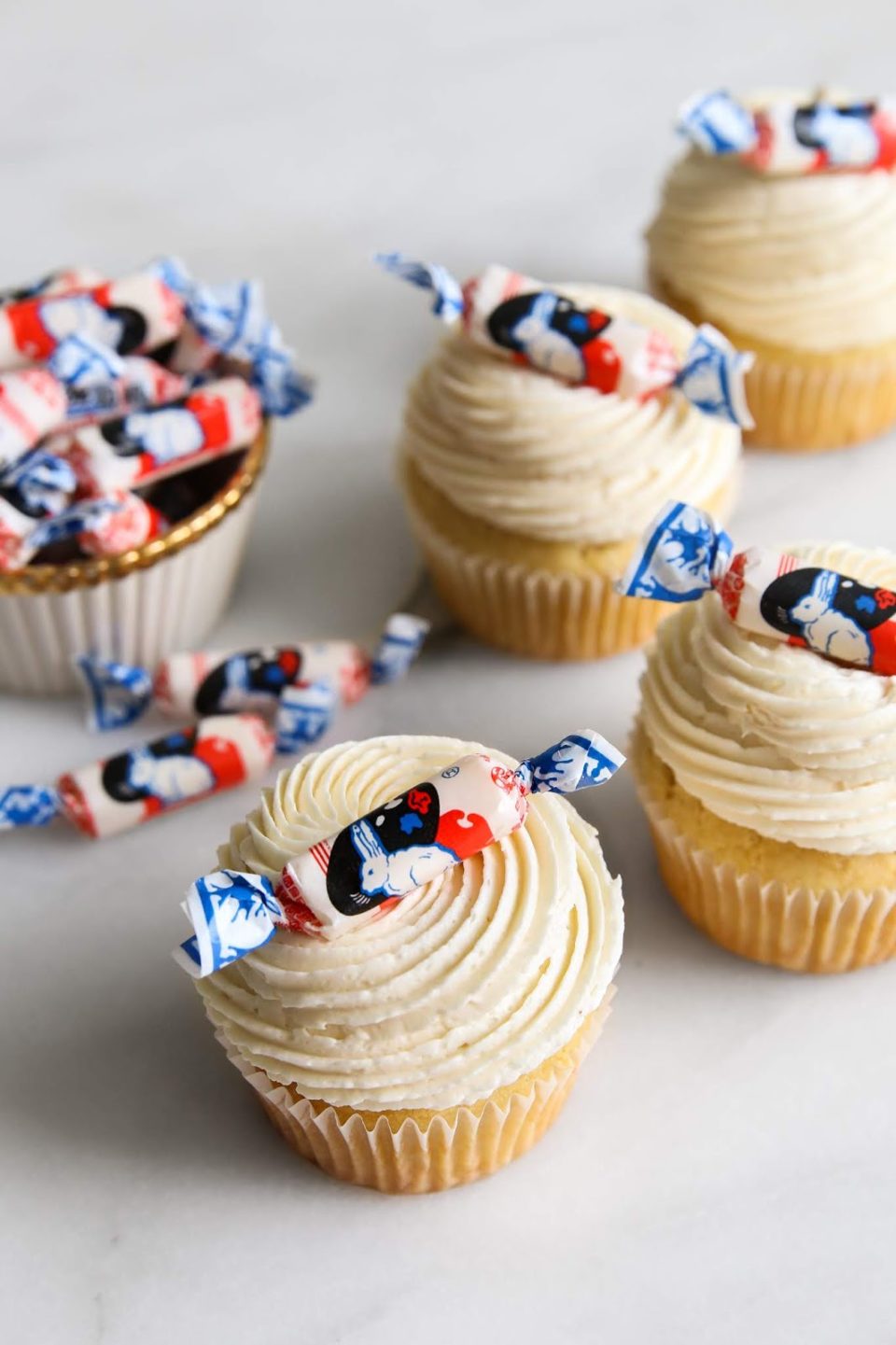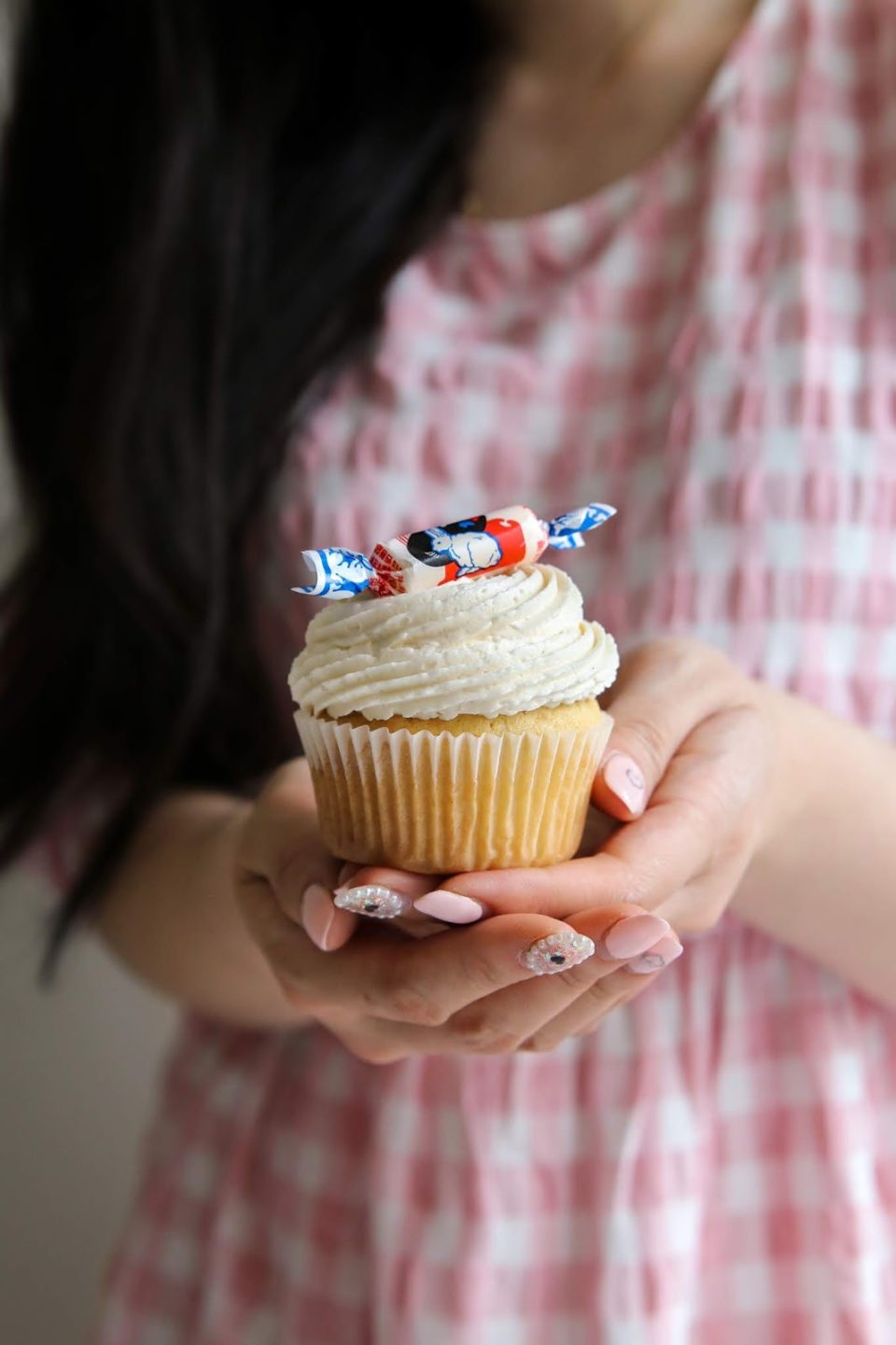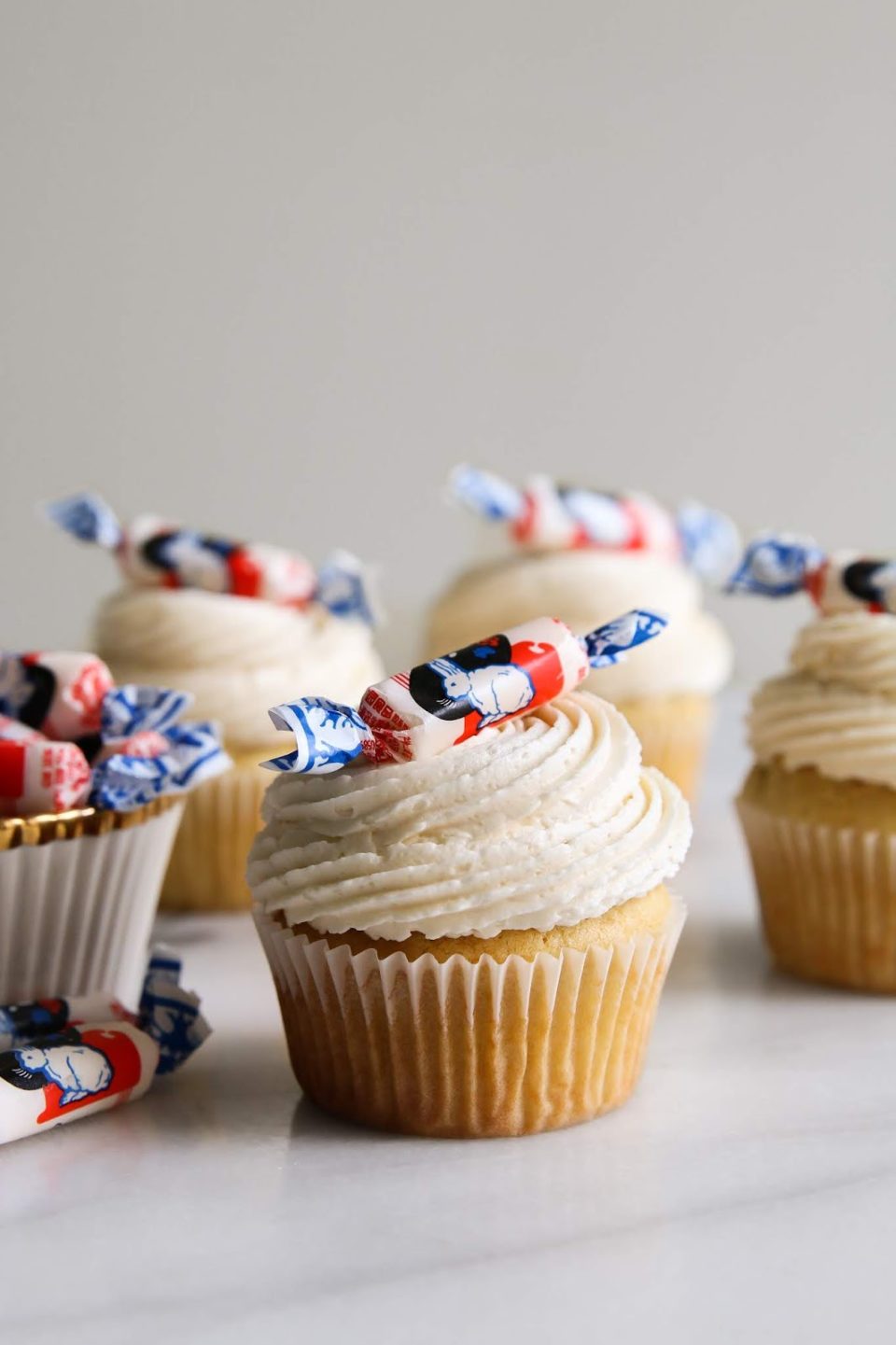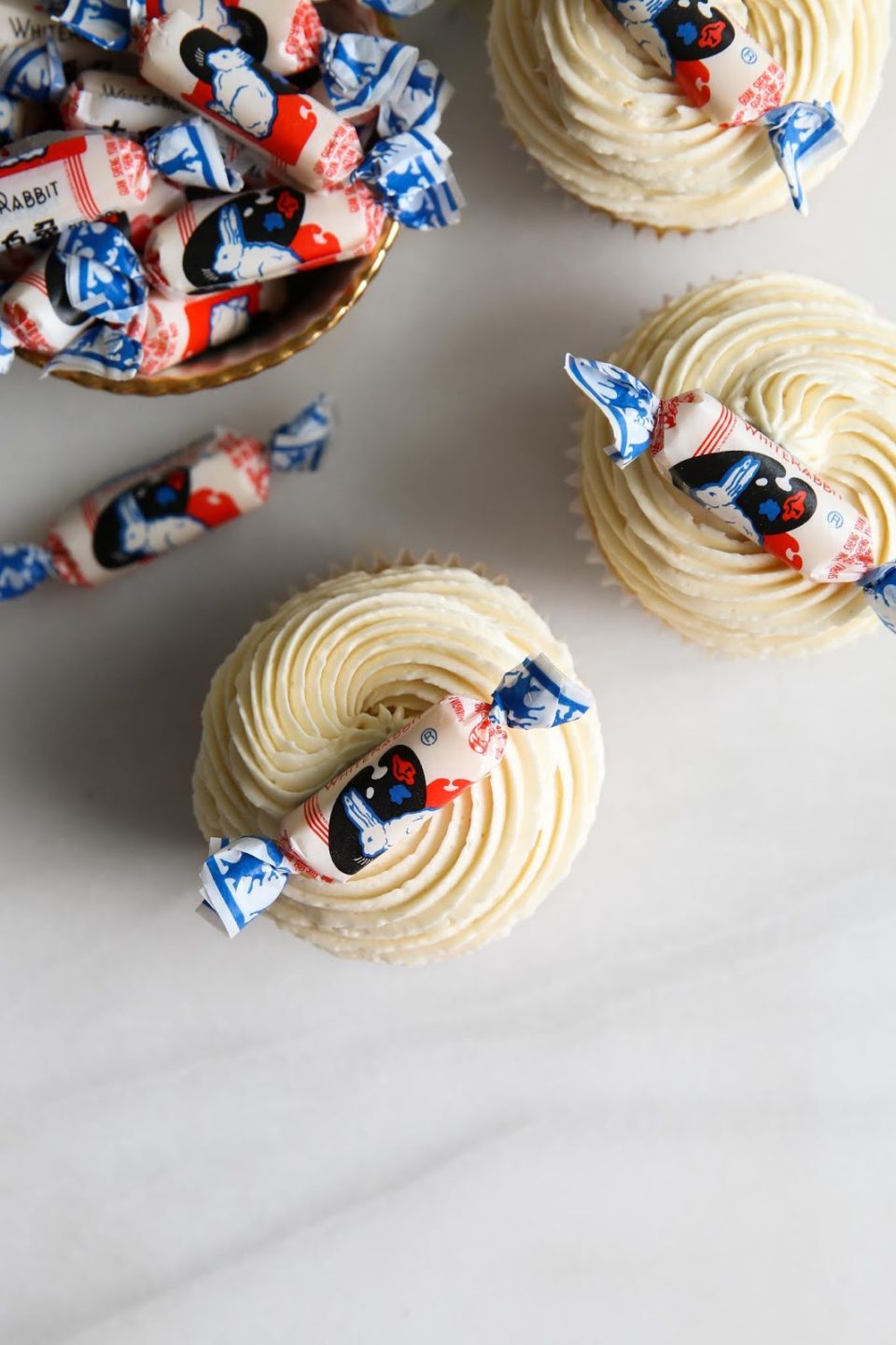 Happy baking!
Ingredients
Vanilla Cupcakes
2

tablespoon

unsalted butter

,

at room temperature

1/2

cup

granulated sugar

1

large egg

,

at room temperature

3/4

cups

all-purpose flour

3

tablespoon

cornstarch

3/4

teaspoon

baking powder

1/4

teaspoon

baking soda

1/4

teaspoon

salt

3

tablespoon

full-fat sour cream

2

tablespoon

vegetable oil

1

tablespoon

vanilla extract

1/3

cup

whole milk

,

room temperature
White Rabbit Candy Buttercream
In

a small pot over medium heat

,

combine white rabbit candy and milk. The candy will slowly melt and turn the mixture syrupy. Keep on stirring with a rubber spatula until all the candy has fully melted. Once the candy has all melted, set mixture aside and let cool.

In

the bowl of a mixer

,

beat butter until light and fluffy. Add icing sugar, one cup at a time, and mix until fully incorporated. Add vanilla and cooled white rabbit candy syrup.

Continue beating buttercream on high speed until fluffy

,

3 – 5 minutes.

Transfer buttercream to a piping bag fitted with a piping tip and decorate away.
Instructions
Vanilla Cupcakes
Preheat oven to 350F and line a cupcake pan.

In a bowl of a mixer, beat butter and sugar until smooth. Add egg and mix until incorporated.

In a medium-sized bowl, whisk to combine flour, cornstarch, baking powder, baking soda, and salt. Set aside.

In a measuring cup, combine sour cream, vegetable oil, vanilla extract, and milk.

Add the dry ingredients the butter mixture and while the mixer is running on low, slowly add the milk mixture. Mix until combined.

Fill cupcake liners 3/4 way full and bake for 14 – 16 minutes. They are done when they are lightly golden brown and when a toothpick comes out without wet batter stuck to it.

Let cupcakes cool completely before frosting.
White Rabbit Candy Buttercream
8 pieces white rabbit candy

2 tablespoon milk

2/3 cup unsalted butter, at room temperature

2 cups icing sugar

1 teaspoon vanilla extract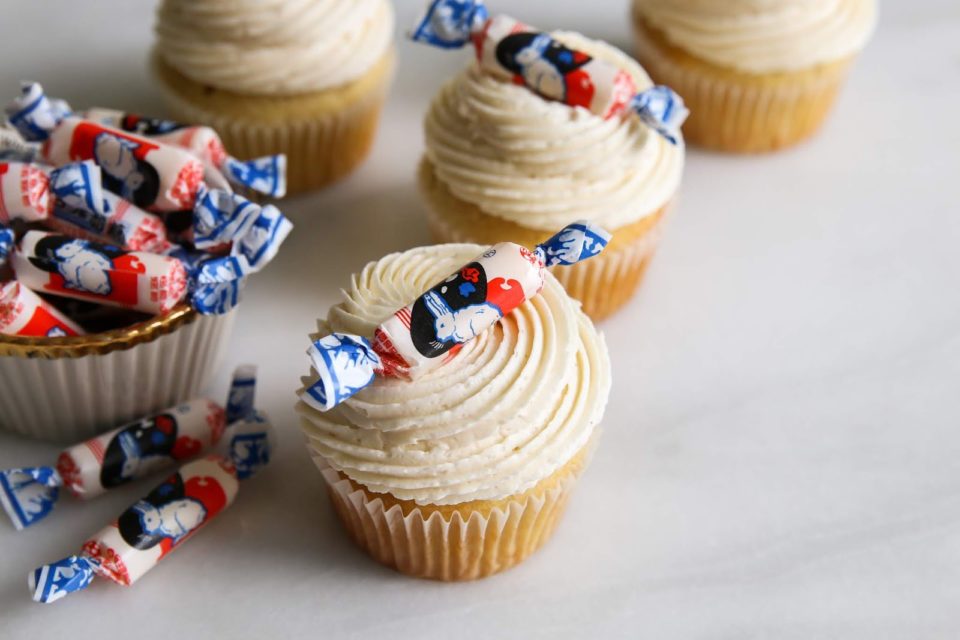 Reader Interactions