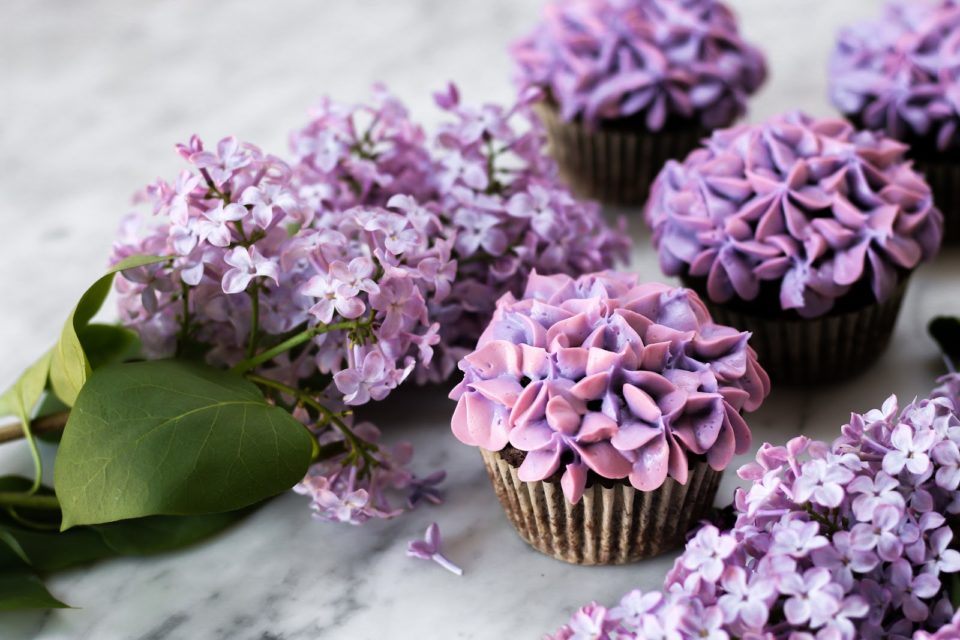 As I am writing this, the honeyed scent of lilac flowers leftover from these cupcakes perfume the room. The sun is hitting my translucent lace curtains, producing the most beautiful shadows on my wall adorn with photos, postcards, and a calendar still displaying the month of April. There's a great sense of stillness but as the gentle breeze moves my curtains, the shadows start dancing on my wall and it disrupts my gaze from here to over there. The light and the shadows change, but the sugared scent of lilacs stay as a constant. I was never aware of my affinity towards lilacs until last weekend, when I was strolling around the farmers market and I saw a sea of purple petals accompanied by the sweetest scent. The scent also carried some sort of nostalgia, reminiscent of the undertones of perfumes I grew up smelling. I picked up a bouquet and then another for good measure. Lilac sugar, lilac simple syrup, and all the ideas for buttercreams, cakes and decorating just flowed steadily.
Here is a simple and small batch recipe that is perfect for Mother's Day tomorrow. It makes six devil's food cupcakes that are not overly sweet, which means you want to use a good quality cocoa because it is what sings here. A light brush of lilac simple syrup keeps the cake extra moist and renders the sweet scent of the beautiful flowers into something edible. When you are the at the market, remember to double check if the lilac flowers you are getting are organic and do not have any chemicals sprayed on them. A whipped cream cheese frosting tops off the cupcakes and I chose for them to piped to resemble the lilac petals. This can easily be achieved with a drop flower piping tip. If you do not have a drop flower tip, the frosting piped in whichever way you are most comfortable with will work just as well.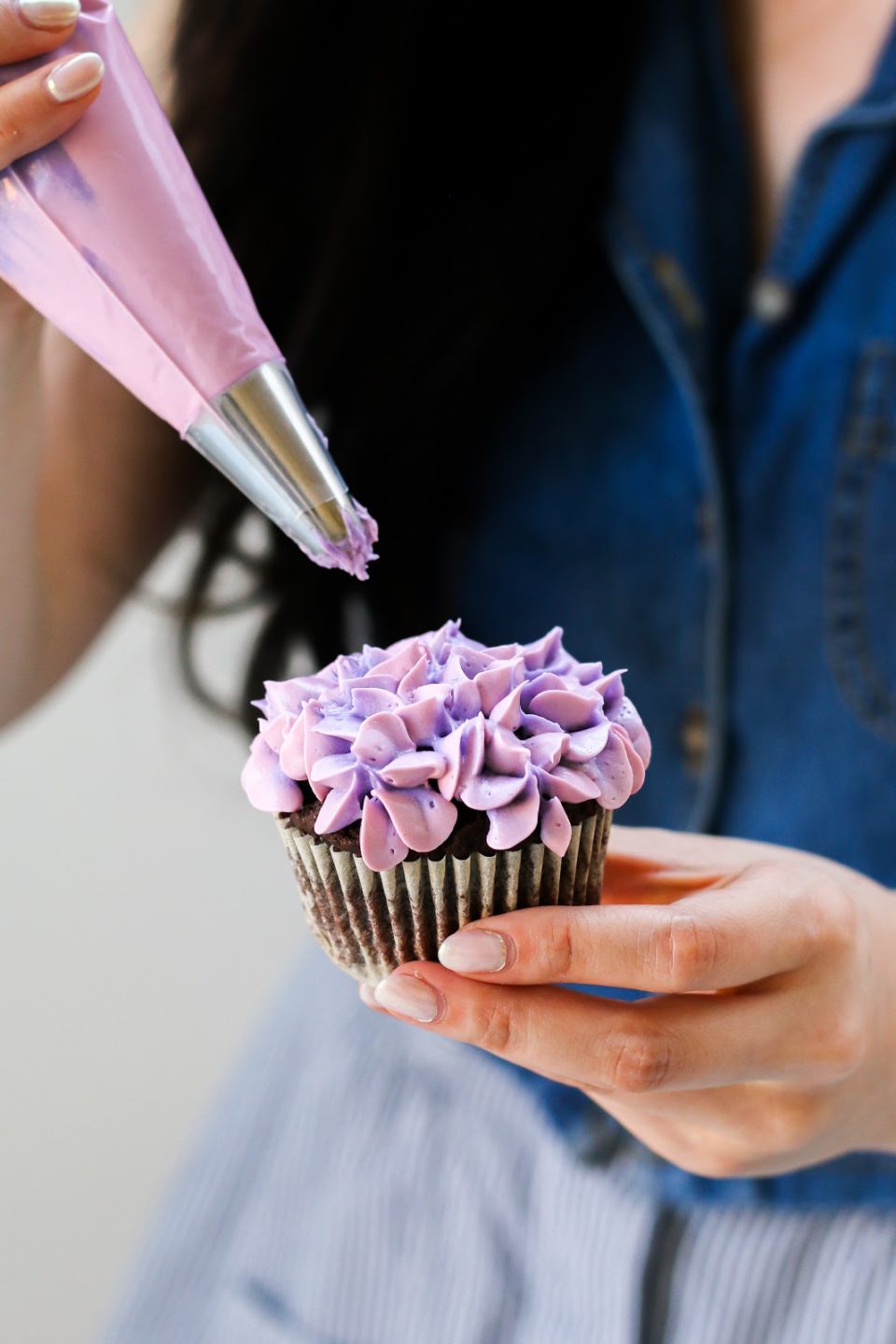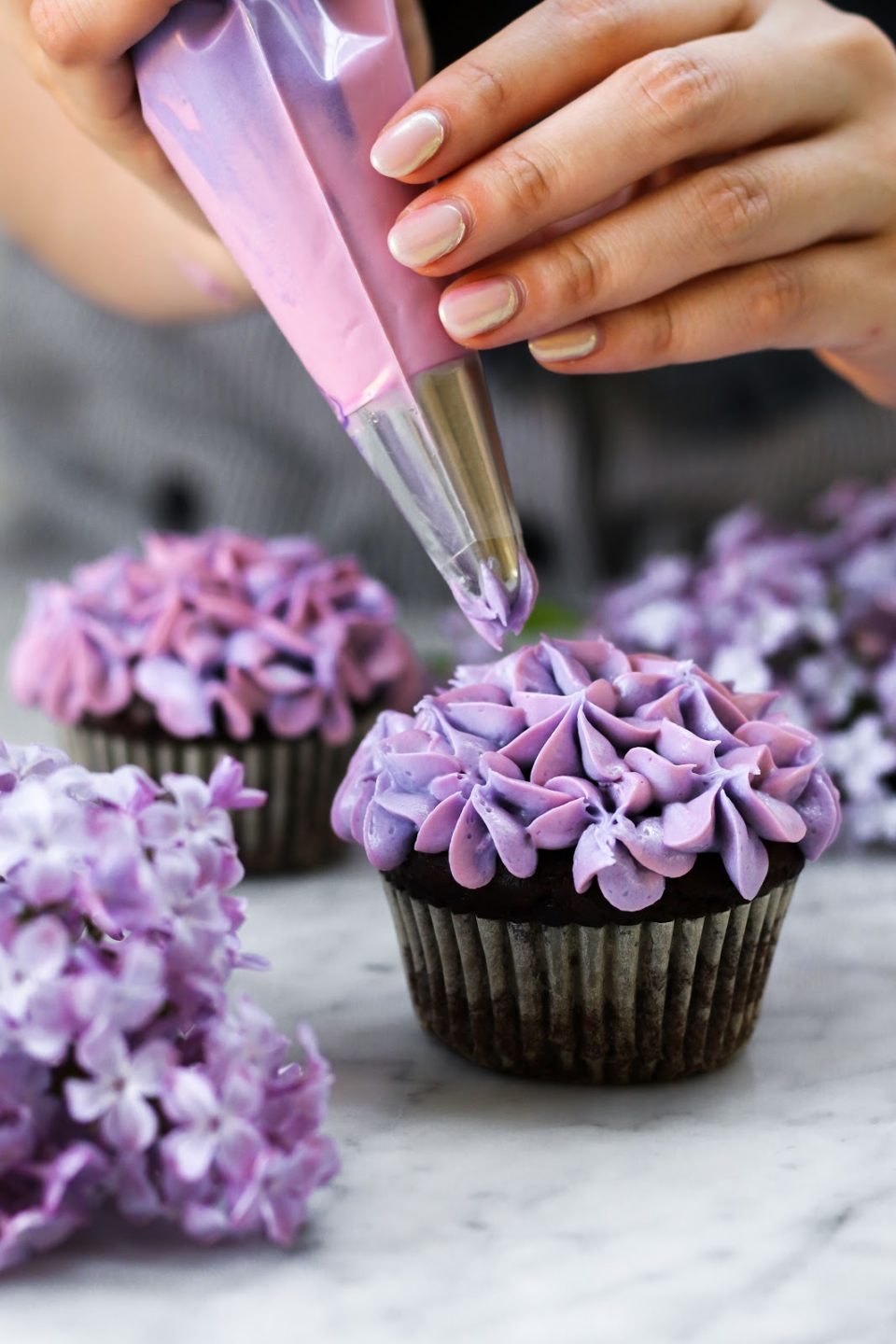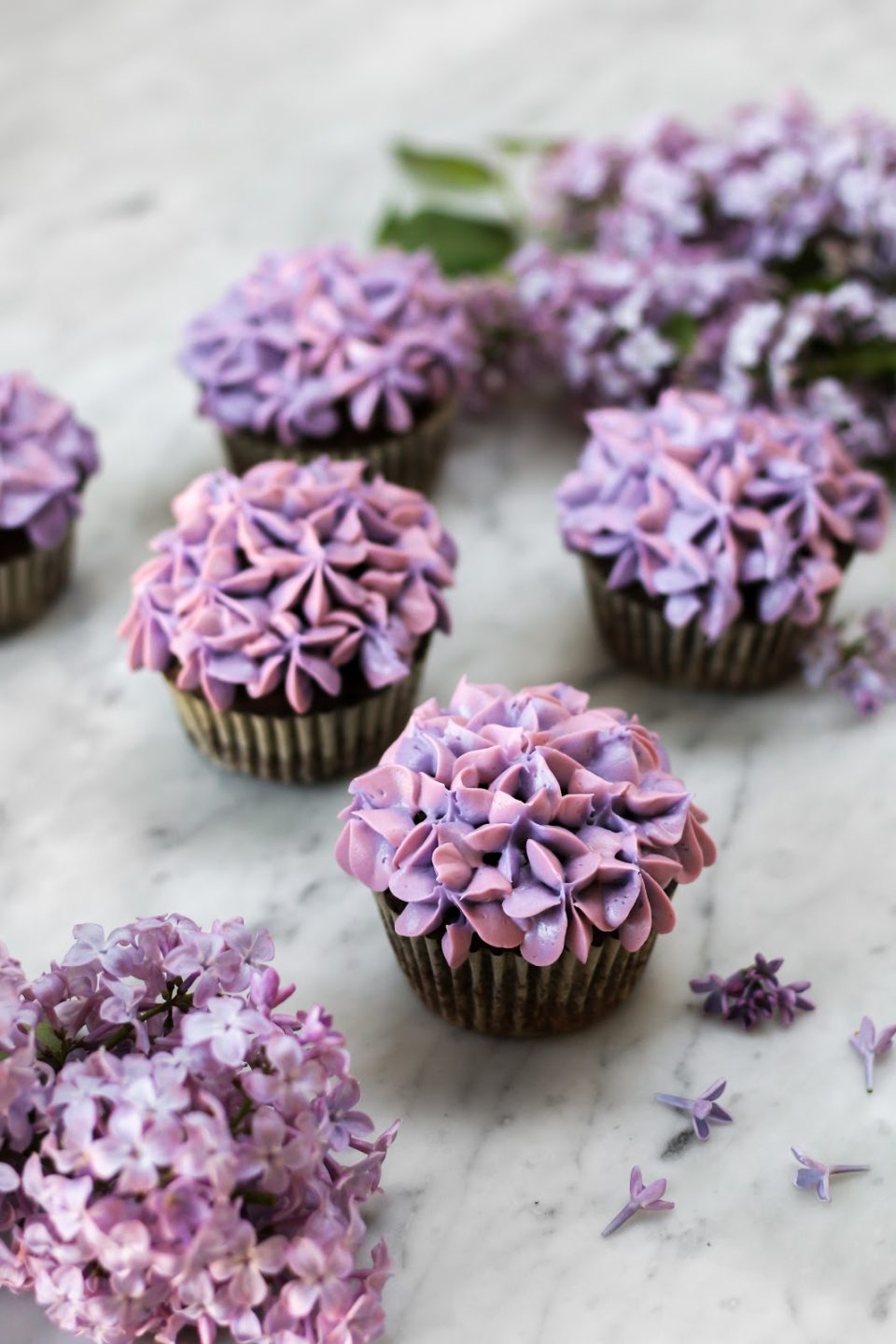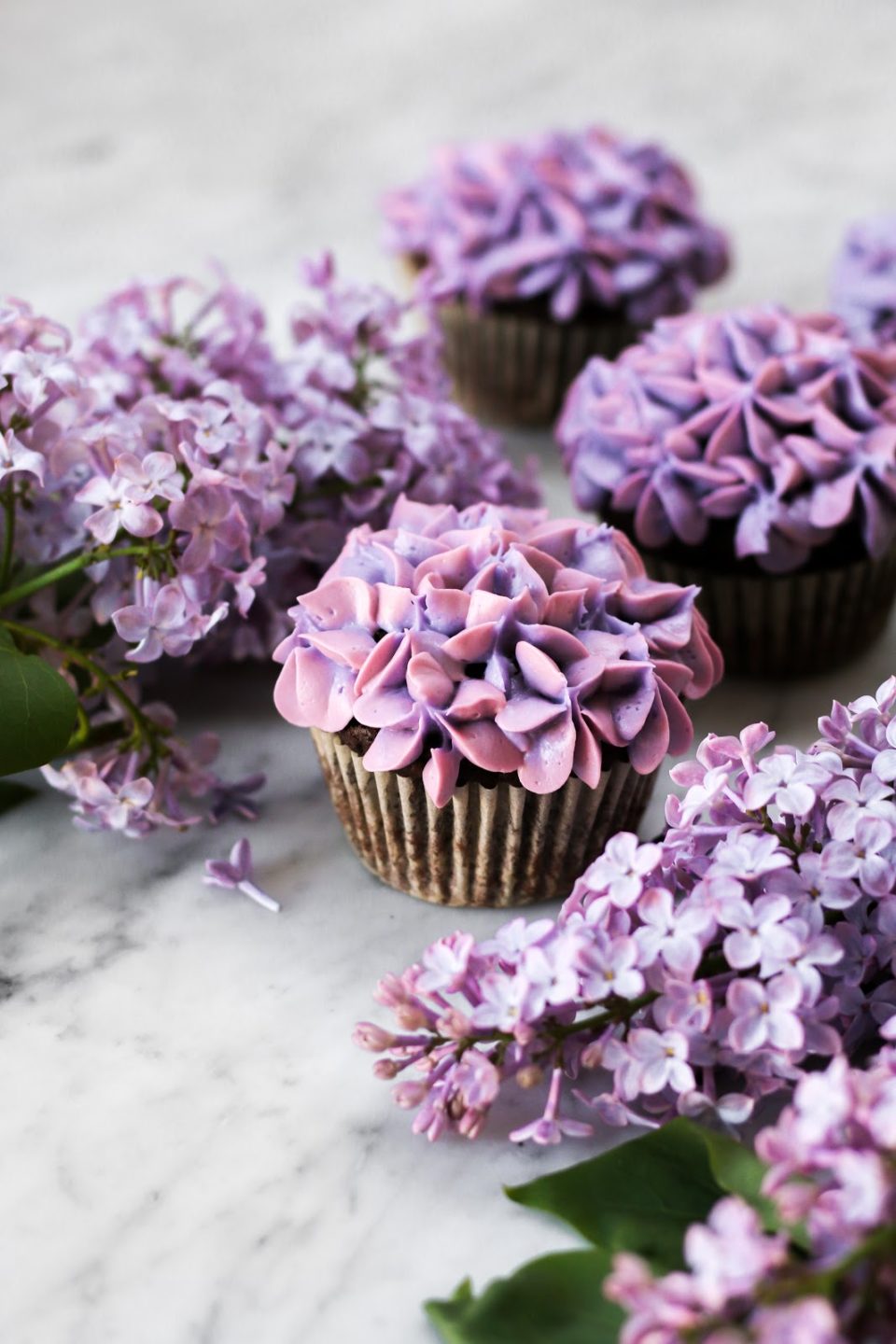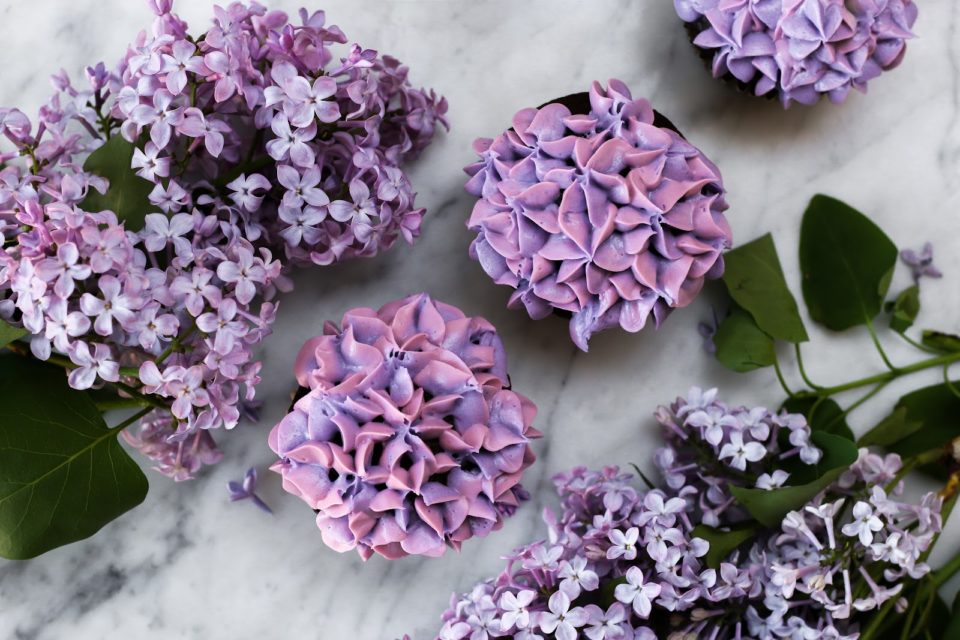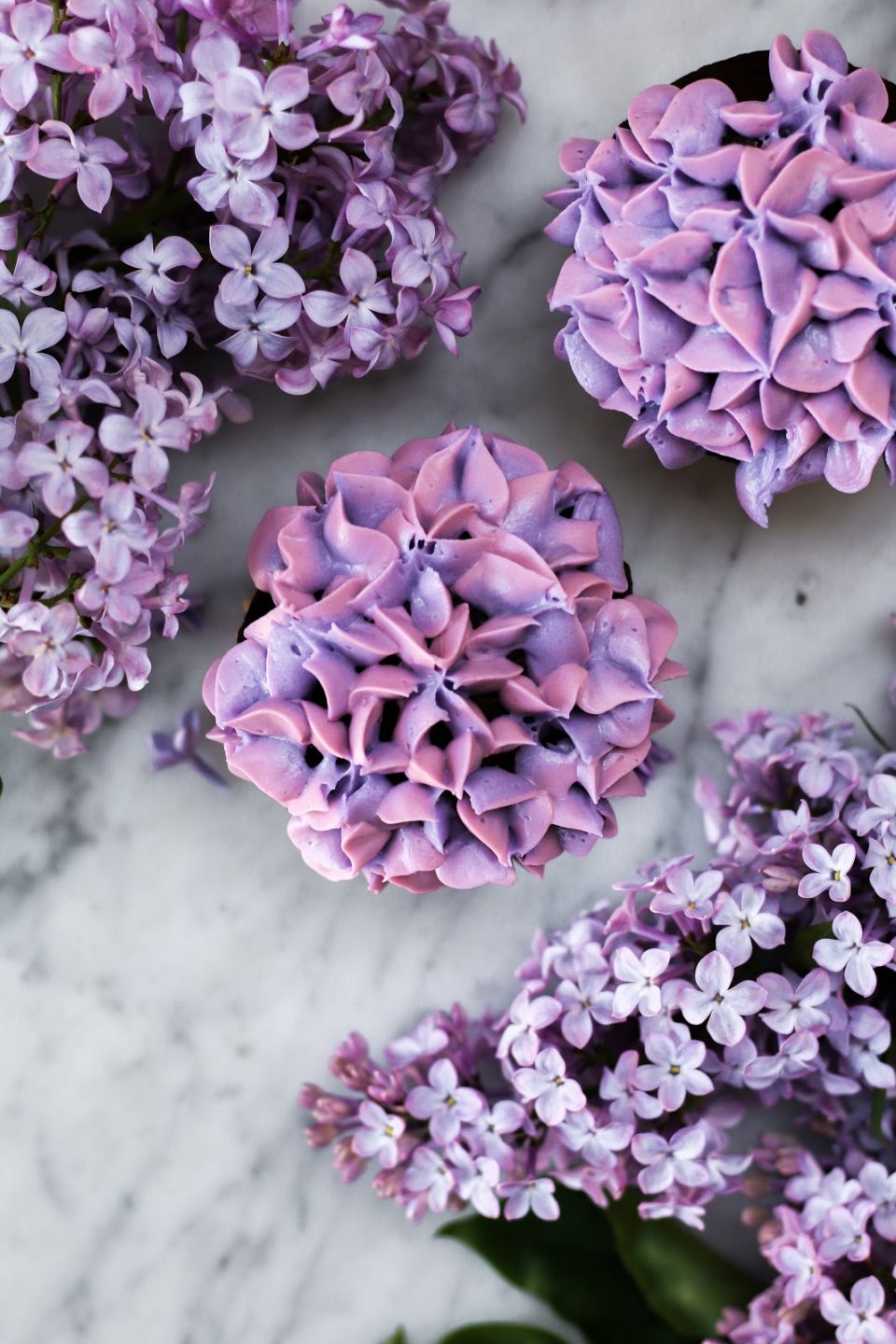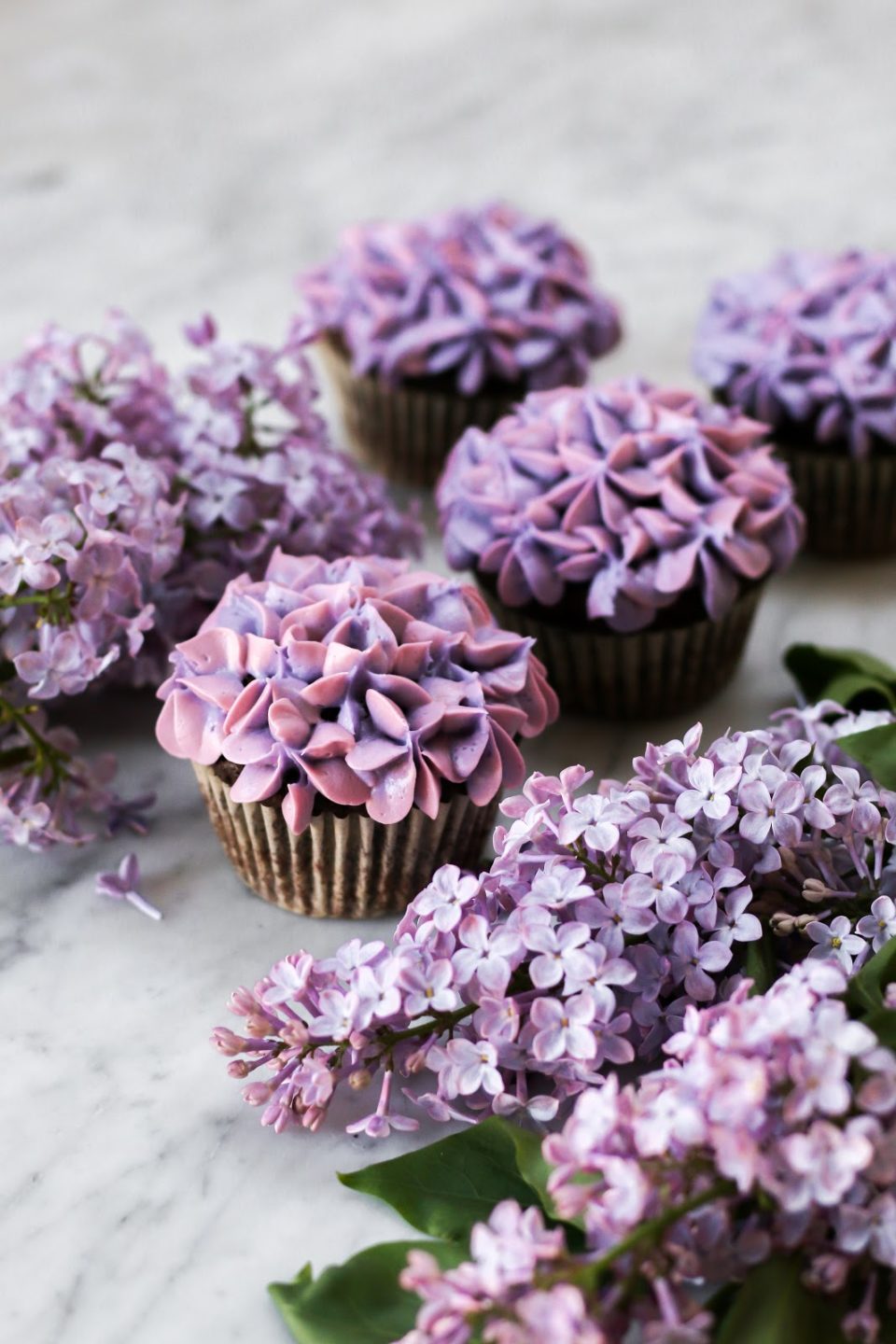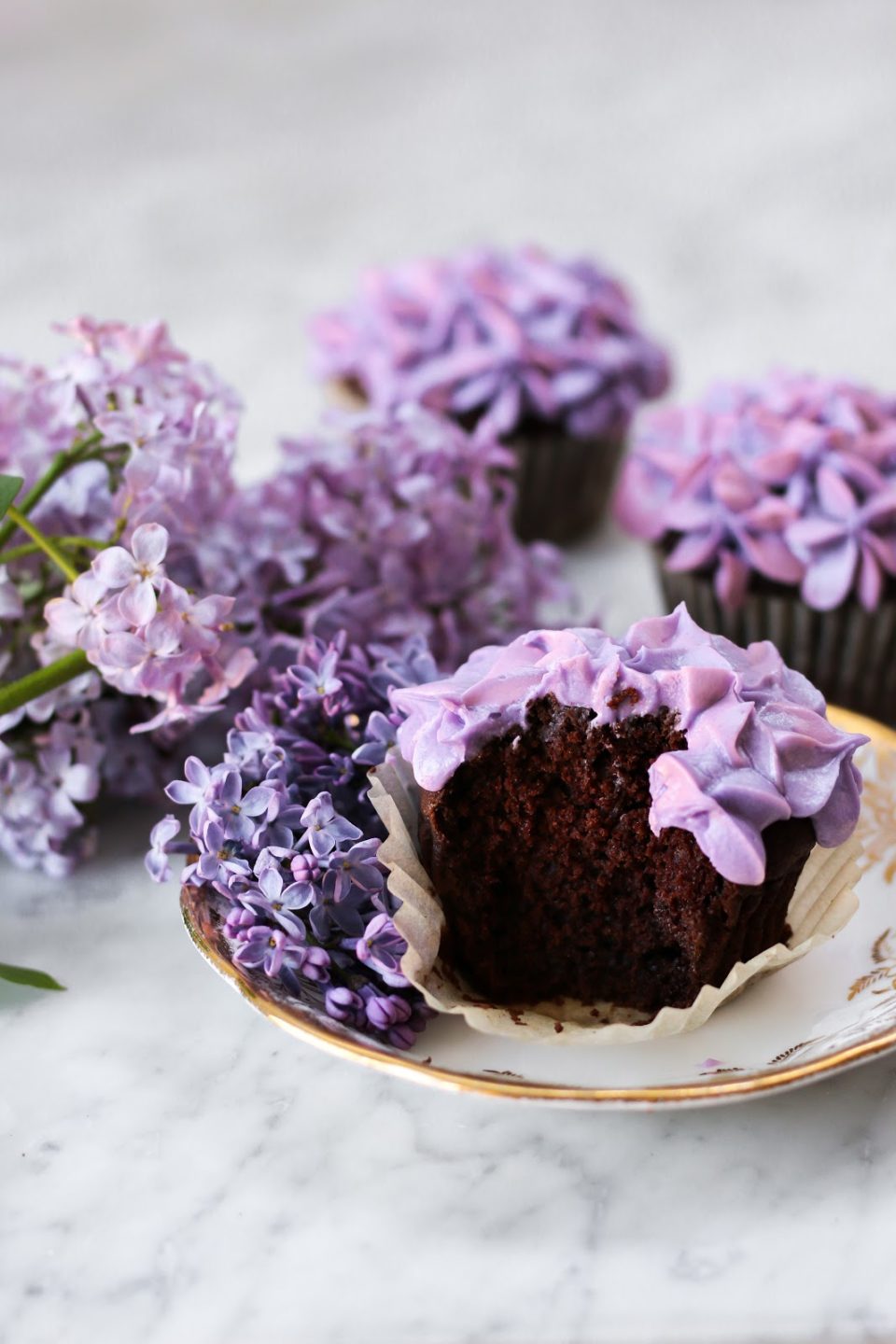 Happy baking!
Ingredients
Lilac Simple Syrup
1

cup

lilac flowers

,

washed and trimmed

1/2

cup

sugar

1/2

water
Devil's Food Cake
4 1/2

tablespoons

(60g) unsalted butter

,

room temperature

1/2

cup

(80g) brown sugar

1

large egg

1/2

cup

+ 2 tablespoons all-purpose flour

1/4

cup

cocoa

1/2

teaspoon

baking soda

1/8

teaspoon

salt

100

ml

whole milk

3

tablespoons

sour cream
Cream Cheese Frosting
6

tablespoons

cream cheese

,

softened

1/3

cup

unsalted butter

,

softened

2 – 3

cups

icing sugar

2

tablespoons

whole milk

1

teaspoon

vanilla extract

1

drop violet food colouring

1

drop dusty pink food colouring
Instructions
Devil's Food Cake
Preheat oven to 350F.

In the bowl of a standing mixer, cream together butter and and brown sugar until smooth. Add egg and beat until mixture is fully-incorporated and fluffy.

In a bowl, whisk together flour, cocoa, baking soda, and salt. Set aside.

In a large measuring cup, combine milk and sour cream. Set aside.

Alternating between the dry and wet ingredients, add them to the butter-sugar mixture in two parts.

Using an ice cream scoop, scoop out cake batter into the cavities of the lined cupcake pan.

Bake for 20 – 22 minutes, or until cake insert comes out clean.
Cream Cheese Frosting
In the bowl of a standing mixer, beat together cream cheese and butter until smooth.

With the mixer running on low, add icing sugar one cup at a time. Add milk and vanilla.

Beat on high until frosting is fluffy.

Separate frosting into two small bowls. Colour one bowl purple and one bowl pink.
Assembly
Fit the piping bag with a Wilton 2D (drop flower) tip. Fill one side of the piping bag with the pink frosting and the other side with purple. I find it easiest to fill the piping bag with an offset spatula. Do not mix the colours inside the piping bag to ensure a two-tone frosting.

Once the cupcakes have cooled, use a pastry brush and brush on a thin layer of the lilac syrup.

Start at the centre of the cupcake, pipe dollops of the frosting using the 2D tip. continue piping around the centre dollop until you reach the edge of the cupcake.

Repeat with the remainder of the cupcakes.

If any point the frosting is too soft, chill the piping bag in the fridge for fifteen minutes and continue piping.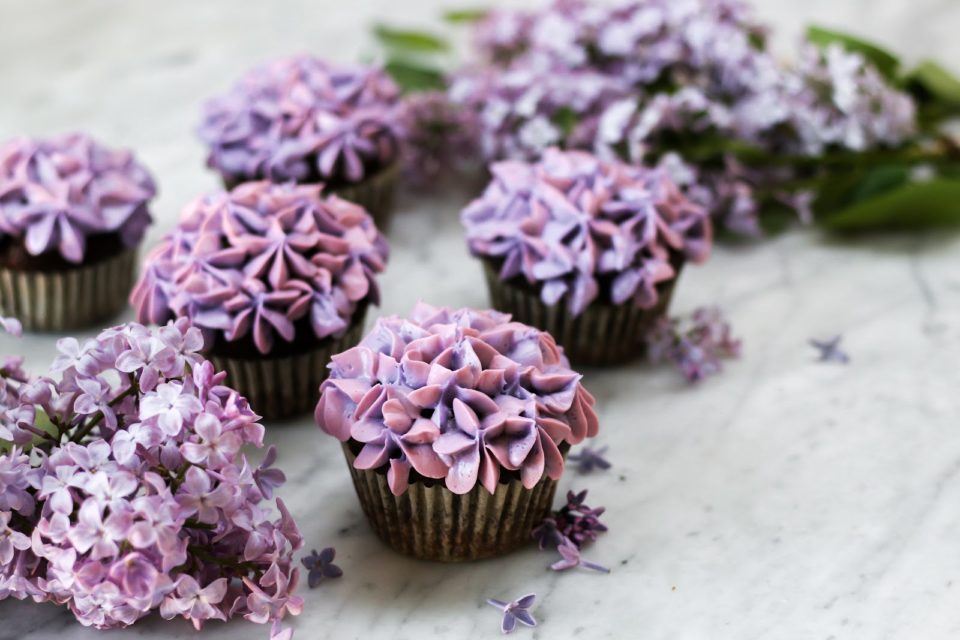 Reader Interactions