If you look over on my phone screen at any given time, there is a 67% chance that I am looking at a pug video on Instagram or TikTok. If you look over on Rich's computer screen, there is a 110% chance he is looking up pugs up for adoption. I have a huge soft spot for these heavy-breathing doggos and I would never fail to give them a double (or triple) take when I see one in real life. I am not fully ready to adopt a pug of my own yet (maybe perhaps once all the book stuff calms down!) so Rich bought me a little pug cookie cutter from one of my favourite cake decorating and baking supplies stores. If you are ever in Langley, BC or you are close by, I highly recommend checking them out because they have two full walls of cookie cutters (organized by shape and occasion) and the largest sprinkle selection I have ever seen. All the sprinkles are sold by weight, so it is perrrrfect for buying small quantities of specialty sprinkles for my shaker cookies. The pug cookie cutter outlines the details of the tail and the ears, which you do not find in most dog-shaped cookie cutters, let alone a pug-shaped one.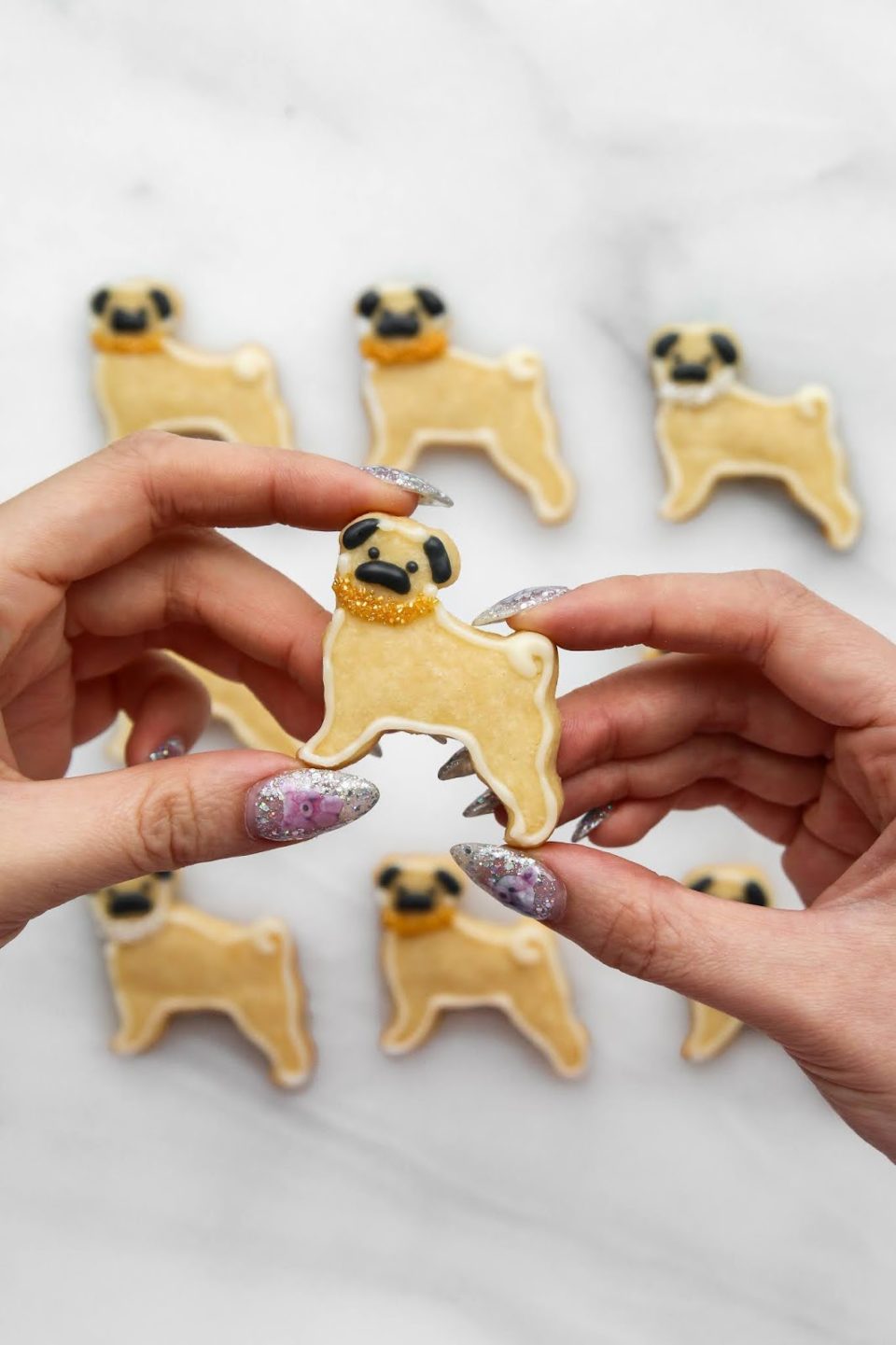 When the BC SPCA (BC Society for Prevention of Cruelty to Animals) reached out and asked if I would help spread the word about their annual Treat Week fundraising campaign again this year, I immediately said yes. Anyone can participate in Treat Week and the goal of the campaign is give treats (think cookies, cupcakes, anything really) in exchange for donations to raise money for the SPCA. If you are not a baker or treat-maker, you can buy treats to share with your friends in exchange for donations. Alternatively, you can register with friends as a team and make treats together. This year, I will be supporting my friends Kelsey and Kristie's fundraiser event. They are making dog treats in exchange for donations and the event is taking place at a local brewery. I hope you will be joining in on all the Treat Week fun this year and if you do not know what you want to make yet, these mocha cupcakes with the silkiest dark chocolate whipped ganache make the perfect treat. You can top the cupcakes with whatever decorations you like — I chose to top mine with little pugs wearing gold collars.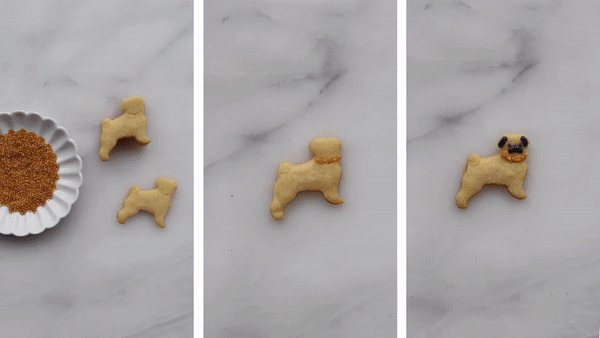 If you do choose to make little dog-shaped cookies for your cupcakes, here are some tips and things you will need!
What you will need:
Your favourite sugar cookie or shortbread cookie recipe (I like to use this one!)
Pug or any dog-shaped cookie cutter
Piping bags
Piping tips
Pale yellow royal icing
Black royal icing
Coloured sanding sugar
Make the cookie dough according to the instructions of your recipe and chill the dough for at least an hour. Between two sheets of parchment paper, roll out the chilled dough to 1/4-inch in thickness. Cut out pugs with cookie cutter. Transfer the cutouts to a large lined baking sheet. Transfer the baking sheet with the cutouts to the freezer for 15 minutes to help the dough firm up. A thoroughly chilled dough will ensure that the cookies will retain their shape when baking.
Bake the cookies according to the instructions of your recipe. Allow the cookies to cool completely before decorating.
Pour coloured or metallic sanding sugar into a shallow dish.
Fill a piping bag fitted with a small round piping tip with pale yellow royal icing. Outline the collar of the dog and dip the iced side of the cookie in metallic sanding sugar. It is important to ice the collar first before icing the rest of the dog because we do not want any sanding sugar to be stuck on the outline of the dog when we are dipping the cookie in sugar.
Fill a piping bag fitted with a small round piping tip with black royal icing. Outline the face and ears of the dog.
Using the same pale yellow icing from before, outline the rest of the dog. Make the rounded tail of the pug extra thick by stacking two rows of royal icing.
Allow cookies to dry completely before stacking or using on top of cupcakes.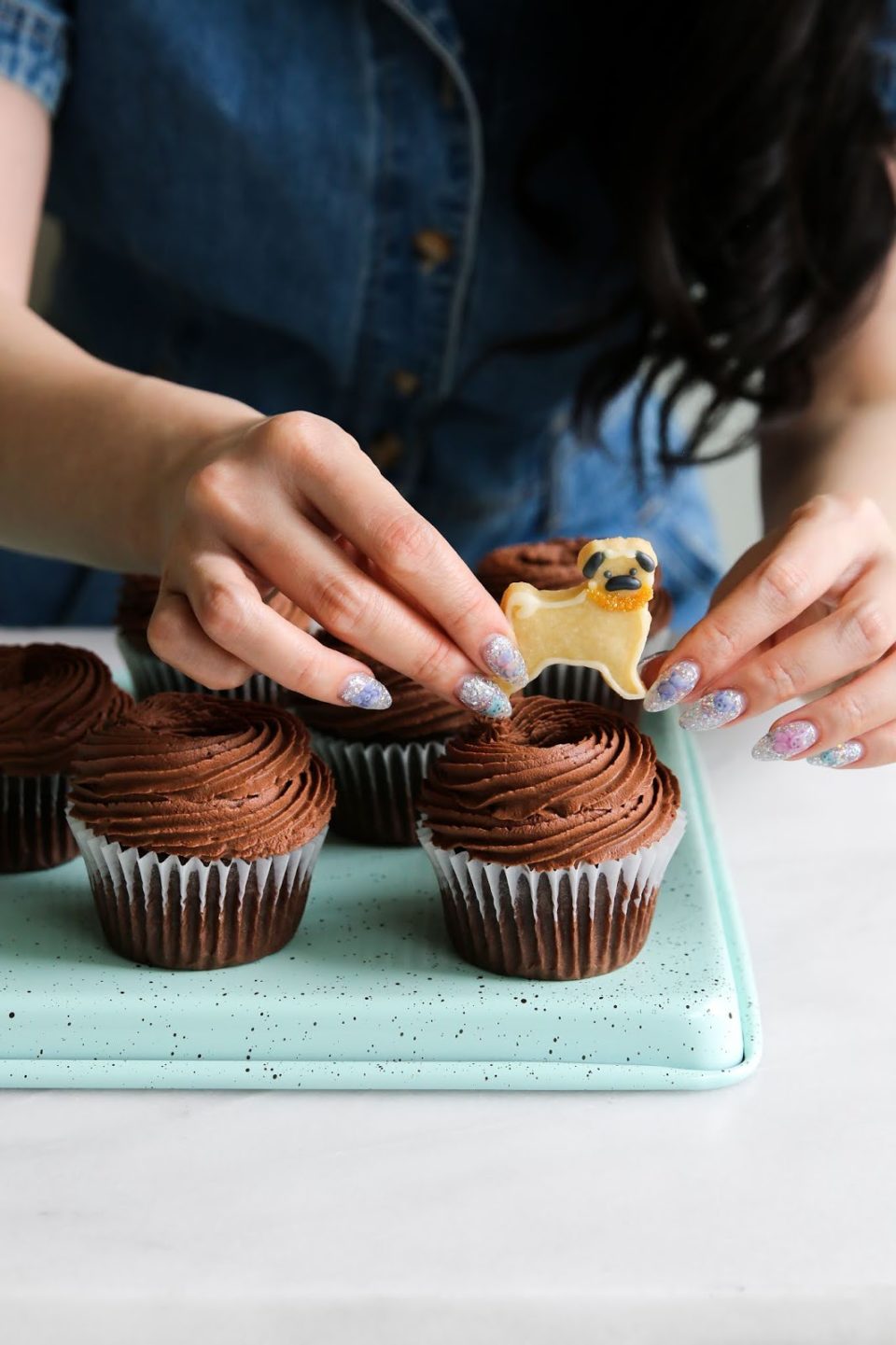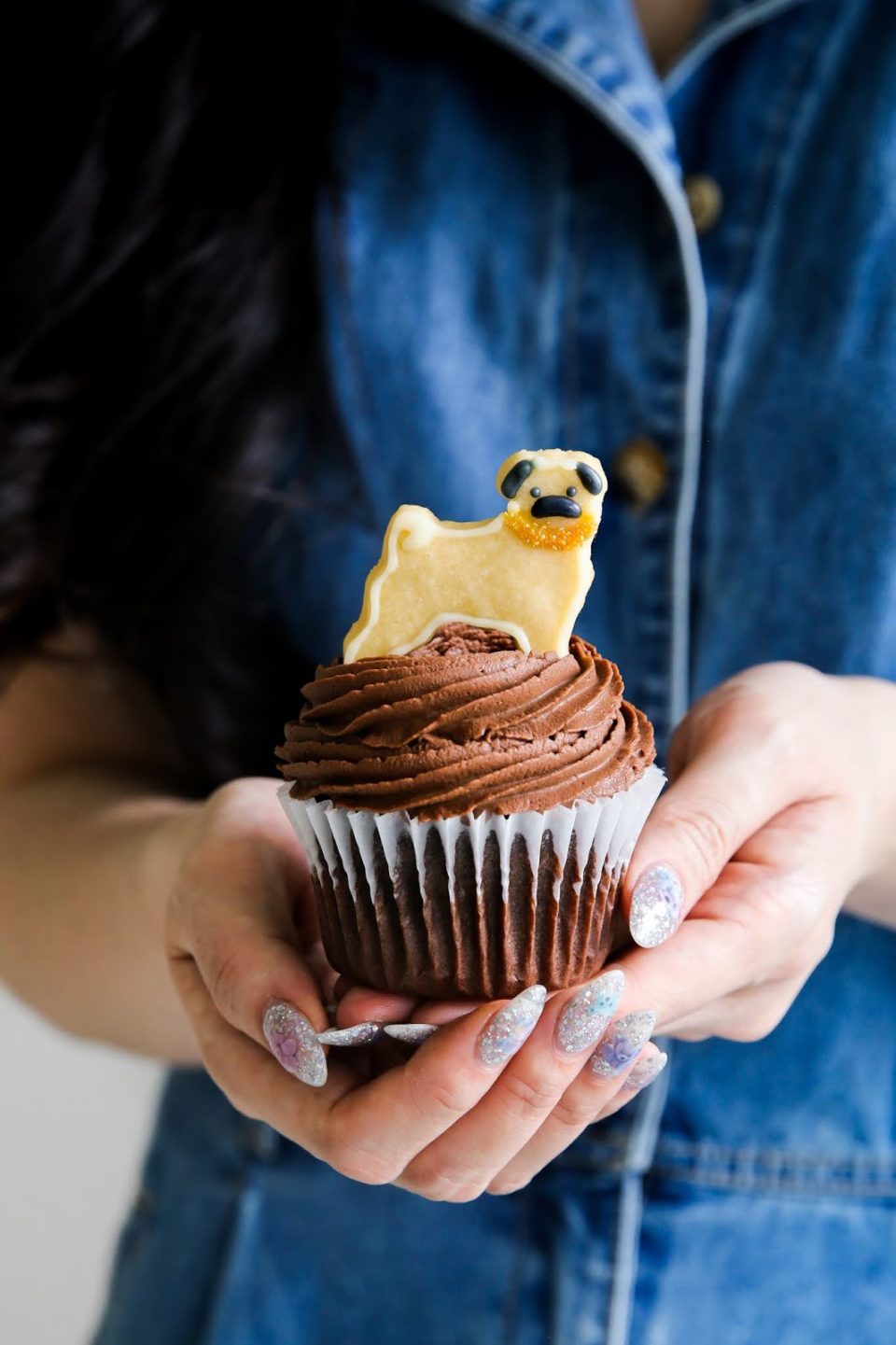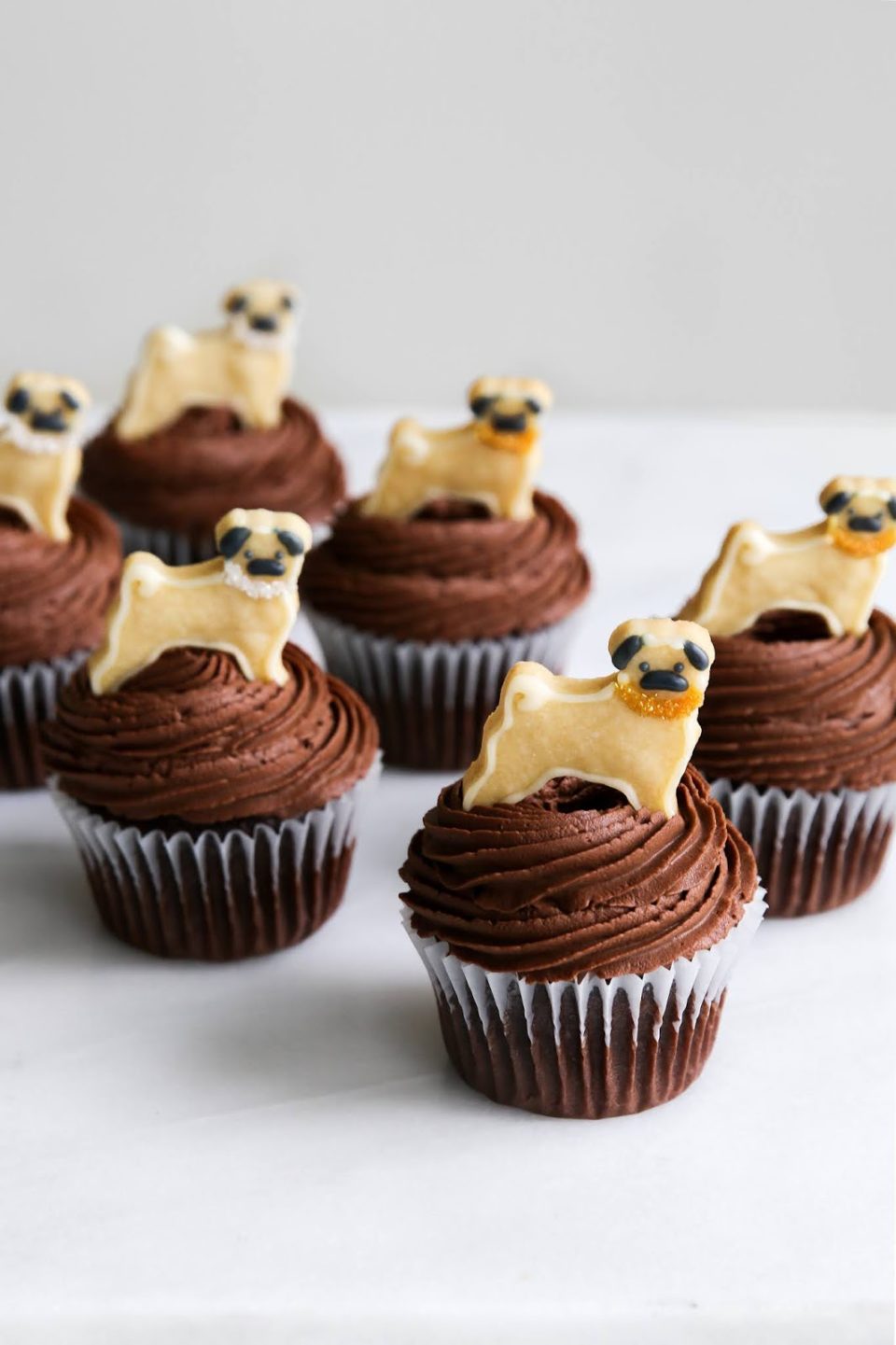 Happy baking!
Ingredients
Mocha Cupcake
2/3

cup

all-purpose flour

1/4

cup

cocoa powder

1/2

teaspoon

baking soda

1/4

teaspoon

espresso powder

1/4

teaspoon

salt

1/4

cup

unsalted butter

,

at room temperature

1/2

cup

brown sugar

1

large egg

,

at room temperature

1/2

cup

whole milk

3

tablespoons

sour cream
Whipped Dark Chocolate Ganache
1

cup

(175g) coarsely dark chocolate

1/4

teaspoon

salt

1 1/2

cup

heavy cream
Instructions
Mocha Cupcake
Line a muffin pan with cupcake liners and preheat oven to 350F.

In a medium bowl, whisk together flour, cocoa powder, baking soda, espresso powder, and salt. Set side. In a separate bowl or measuring cup, stir together whole milk and sour cream.

In a bowl of a stand mixer fitted with a paddle attachment, beat together butter and brown sugar on high speed until smooth and homogenous. Add egg and mix until combined.

With the mixer on low, slowly add in half of the flour mixture.  Mix until just incorporated.  Stream in the milk and sour cream mixture and add in the remaining flour and mix until just combined.

Using a standard ice cream scoop, portion the batter evenly among the cavities in the lined muffin pan. Fill each cupcake liner about 2/3 of the way with batter, roughly one full ice cream scoop of batter.

Bake for 19 – 22 minutes, or until a toothpick inserted into the centre of the cupcakes comes out clean. Cool the cupcakes on a wire rack.
Whipped Dark Chocolate Ganache
Coarsely chop the dark chocolate and place into a bowl. Add salt.

In a saucepan, bring the heavy cream to a boil. Once mixture has boiled, pour milk mixture over the chopped chocolate and let sit for 1 minute.

Whisk the chocolate mixture until thoroughly melted and combined. Set in the refrigerator to chill, at least 3 hours.

Once chilled and ready to use, transfer the ganache to the bowl of stand mixer fitted with the whip attachment. Whip ganache to medium-stiff peaks. Transfer to a piping bag fitted with a large piping tip of choice (I like using the Wilton 4B or 6B). Pipe two rings of chocolate ganache onto the cool cupcakes.

Decorate with pug sugar cookies or any decorations of choice.
Reader Interactions