There was one point in my life where kabocha was all I ate. I had it for all three meals of the day. I avoided going out to eat because I needed to eat kabocha. I have these phases where I get overly obsessed over certain things. Squash, especially kabocha squash, was one of my biggest obsessions. I eat other things besides kabocha now, but it is still the comfort food I always gravitate towards. Other obsessions in my life include: getting to my fav coffee shop before 7:34am, really good chocolate ice cream (I used to be a vanilla > chocolate kinda gal), and inserting Drake lyrics into normal everyday conversation. Because of my affinity towards squash among other things, I get overly excited when my love of baked goods and my love of squash get to be combined. (Hello, mini kabocha muffins, I'm talking about you.) 
I was a little late to the game in terms of getting my copy of Sweeter Off the Vine. Yossy's blog has always been one of my favourites and I do not know why it took me so long to get a copy of her book. After I got my hands on the last copy at the bookstore, I just could not put it down. The book is organized by the seasons and you can really see the progression of the seasons when you flip through the pages. When I came across the 'Butternut Squash Tea Cake' recipe, I knew that had to be the first recipe I make from her book. Yossy calls for butternut squash but I was already thinking about kabocha.
This tea cake is like a complete dream. It is soft, subtly spiced, and is a great mélange of all things that epitomize fall baking. Because of this recipe I will always be torn by how to use my kabocha squashes – do I wanted to roast it and eat it as is or do I want to transform it into something really magical like this tea cake? This is really a dilemma I do not mind having.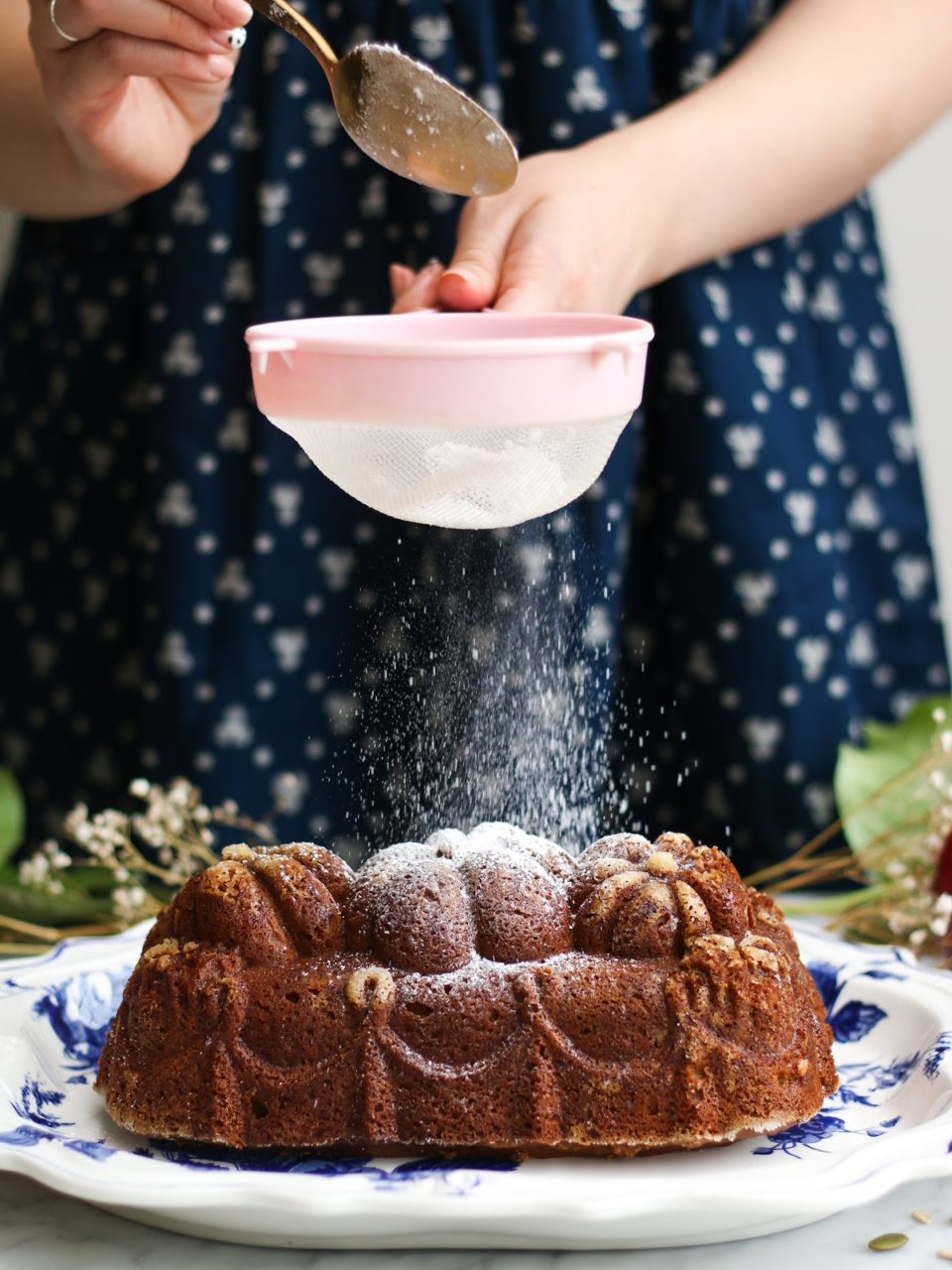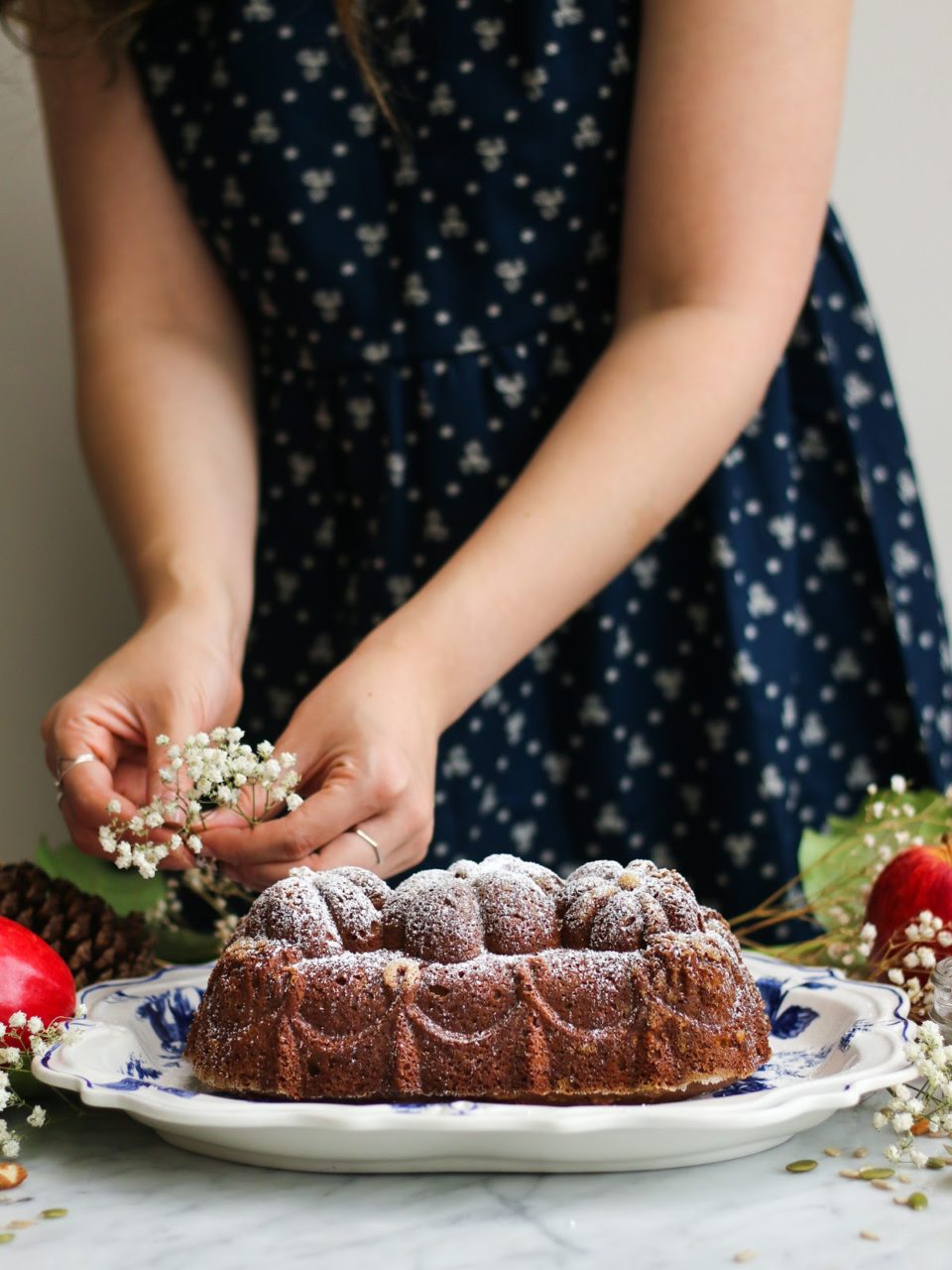 Ingredients
1/4

cup

hazelnuts

1/4

cup

pecans

1/4

cup

pumpkin seeds

1 1/4

cup

all-purpose flour

1/2

cup

whole wheat pastry flour

1

teaspoon

baking soda

1

teaspoon

baking power

1 1/4

teaspoon

salt

1

teaspoon

cinnamon

1/4

teaspoon

nutmeg

,

freshly grated

1/2

cup

coconut oil

,

melted and cooled

1/2

cup

light brown sugar

1/2

cup

granulated sugar

1

cup

225g roasted kabocha puree*

2

large eggs

,

at room temperature

90

ml

buttermilk

,

at room temperature
Instructions
Preheat oven to 375F.

Spread nuts and pumpkin seeds in a thin, even layer on a baking sheet and bake for 15 minutes. Allow nuts to cool and chop them into medium-fine pieces.

Turn the oven down to 325F and prepare the loaf pan.

Reserve a tablespoon of the toasted nuts and set aside. Whisk together all the dry ingredient – flours, baking soda, baking powder, salt, spices, and nuts.

In the bowl of a standing mixer with a paddle attachment, combine the sugars and coconut oil. Add the squash puree and mix well, on medium speed for two minutes. At the eggs one at a time, remembering to scrape down the sides.

Turn mixer down to low speed and alternate adding the flour mixture and buttermilk in three additions. Mix until just combined.

Pour batter into prepared loaf pan smooth out the top. Gently tap loaf on counter to get rid of any air bubbles. Sprinkle loaf with reserved nuts and seeds. Bake for 50 – 60 minutes. Test for doneness by using a toothpick – the toothpick should come out clean.

Let loaf cool for 30 minutes before unmolding and serving.
*Roasted kabocha puree
225g of roasted kabocha puree will require approximately 280g of raw skin-on kabocha squash.

To roast kabocha squash: cut squash in half and brush each cut half with olive oil, roast at 375F for 45 minutes until tender, scoop out seeds, scoop out flesh, and process in a food processor.

Every squash is different; if you find that the puree you made is slightly more wet than the consistency of mashed potatoes, strain the puree over a fine mesh sieve for 30 minutes being using (I found that kabocha tends to be less watery compared to other squashes)
Notes
Adapted from Sweeter Off the Vine
Reader Interactions