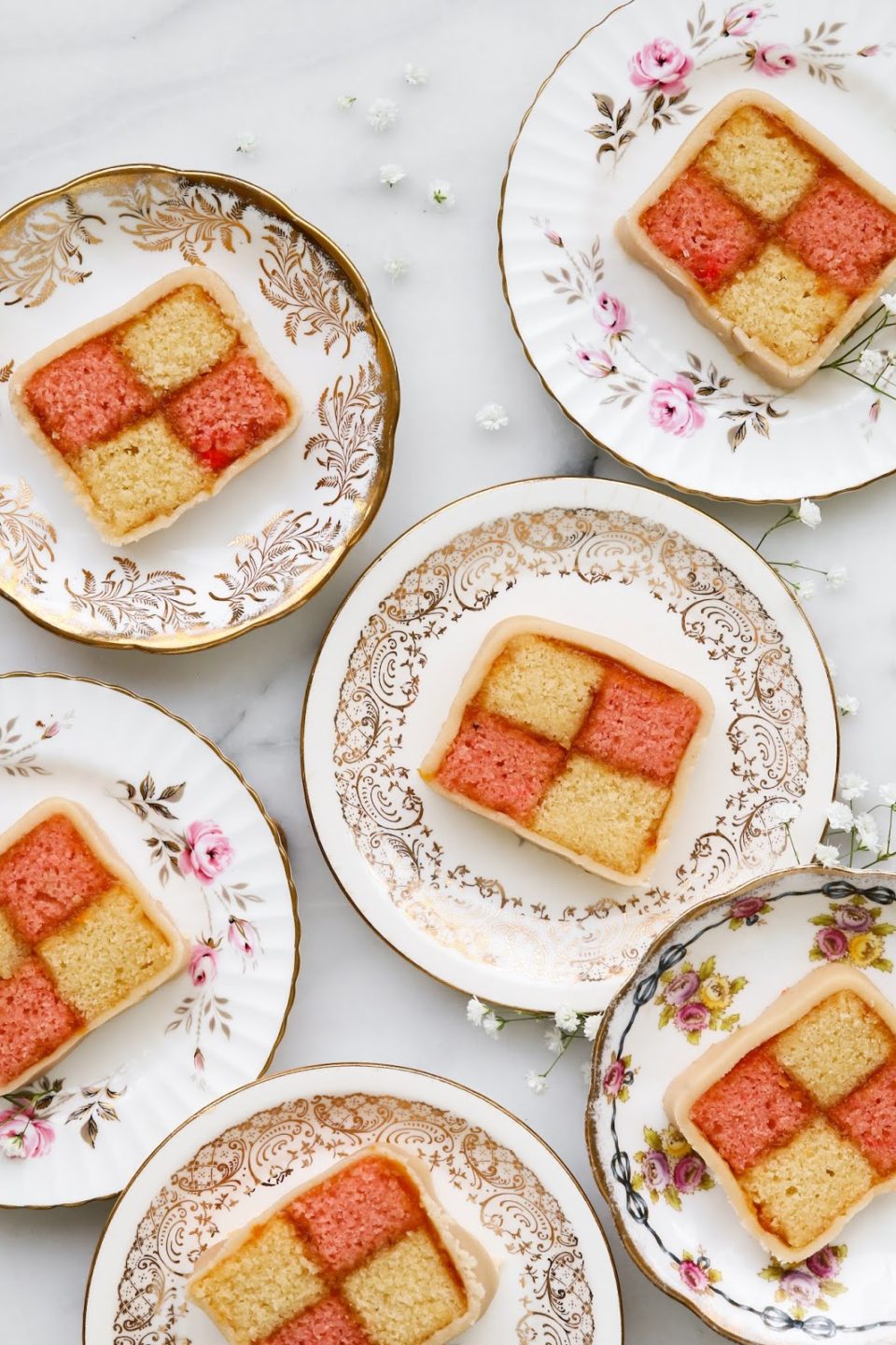 Blogging can sometimes feel isolating — you spend a majority of your day measuring flour, waiting for butter to soften, picking up the sprinkles that missed the mixing bowl, editing photos, and writing up the blog post. It can be monotonous and it sometimes make you question why you picked up baking and blogging as a hobby or career because it can be so stressful. But sometimes you come across the most beautiful photo of a cake or a tray of cookies and it inspires the hell out of you. And sometimes you get to meet the wonderfully talented person behind that photo over coffee (or mango bingsoo) and you get to talk about the joys and lament together over this weird little blogging world you are both part of.
Somehow the stars aligned and a few blogging friends coincidentally book trips to Vancouver for the same weekend. Erin flew in from New York, Michelle came from Portland, and Tessa, Lyndsay, Steph, and I all ventured our from our little corner of Vancouver. It was my first time meeting Erin in person but I have met Michelle a few years back when she lived in San Francisco. She introduced me to the wonderful carby situation of the Blue Bottle liège waffle and told me I had to order the lemon tart tart from Tartine Bakery, which is now one of my favourite pastries. We all met at Phnom Penh for dinner, where Michelle found the love of her life (PP's chicken wings), and shared the largest bowl of mango bingsoo and hot-off-the-griddle (?) taiyakis. It is fun moments like these that make blogging seem less like a lonely hobby.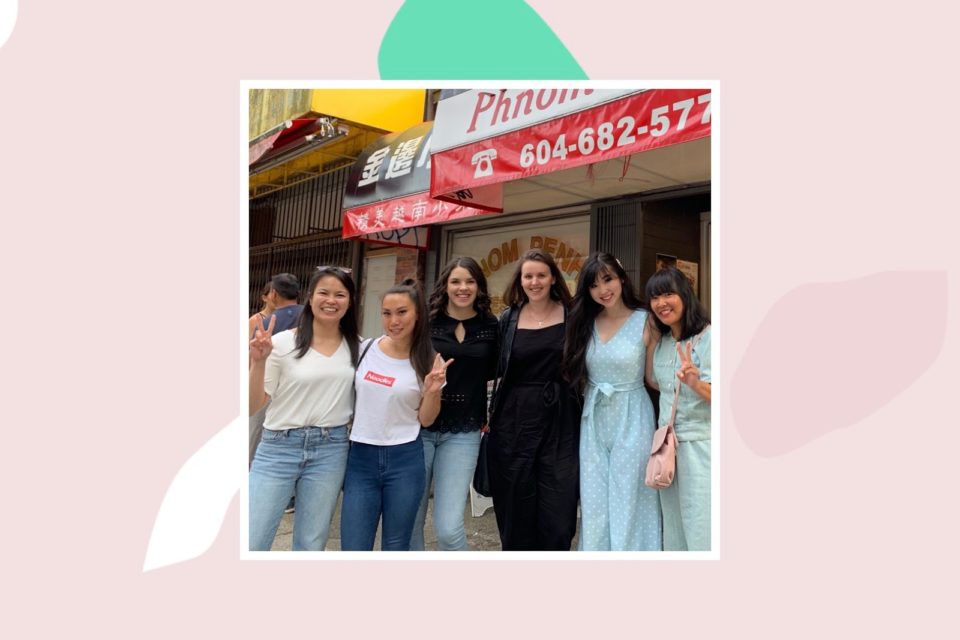 Tessa is one of the bloggers I have known for the longest. I met Tessa before her first cookbook Layered was released, when the photos she had been taking for her first book were still all pinned up on her wall. Even long before Tessa released her book, I have been following her blog. To this day, Tessa's butter cake recipe is still one of my favourite recipes to make. Every single one of her recipes that I have made (and I have made a ton) have been absolutely perfect.
Tessa's second book, Icing on the Cake, dives deeper into cake decorating and is full of tips and detailed tutorials. I am always drawn to making layer cakes but with all the helpful step-by-step photos, I decided to make a type of cake I have never made before. The battenberg cake has always been something I have wanted to make but the idea of having to wrap the entire cake log with marzipan has always scared me a bit. Tessa's battenberg cake is an ode to the classic, with two differently coloured almond cake logs arranged in a checkerboard pattern. Apricot jam acts as the 'glue' for the cake logs and marzipan layer. The cake itself is extremely flavourful and one of those recipes that I would make again and again even if it were not to take the form of a battenberg cake.
Congratulations again on your new book, Tessa. Like Layered, this book has become one of my favourite cookbooks on my shelf. Thanks for always sharing the best recipes and for the encouraging text messages you send my way when work/blog/things are a bit tough.
PS PS PS. find my hands on page 206 and 210!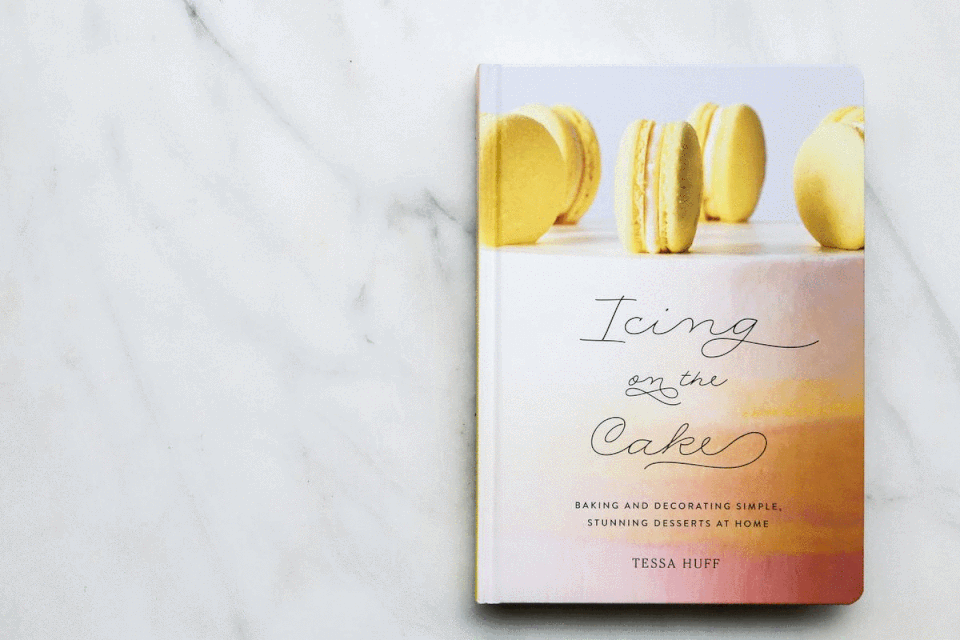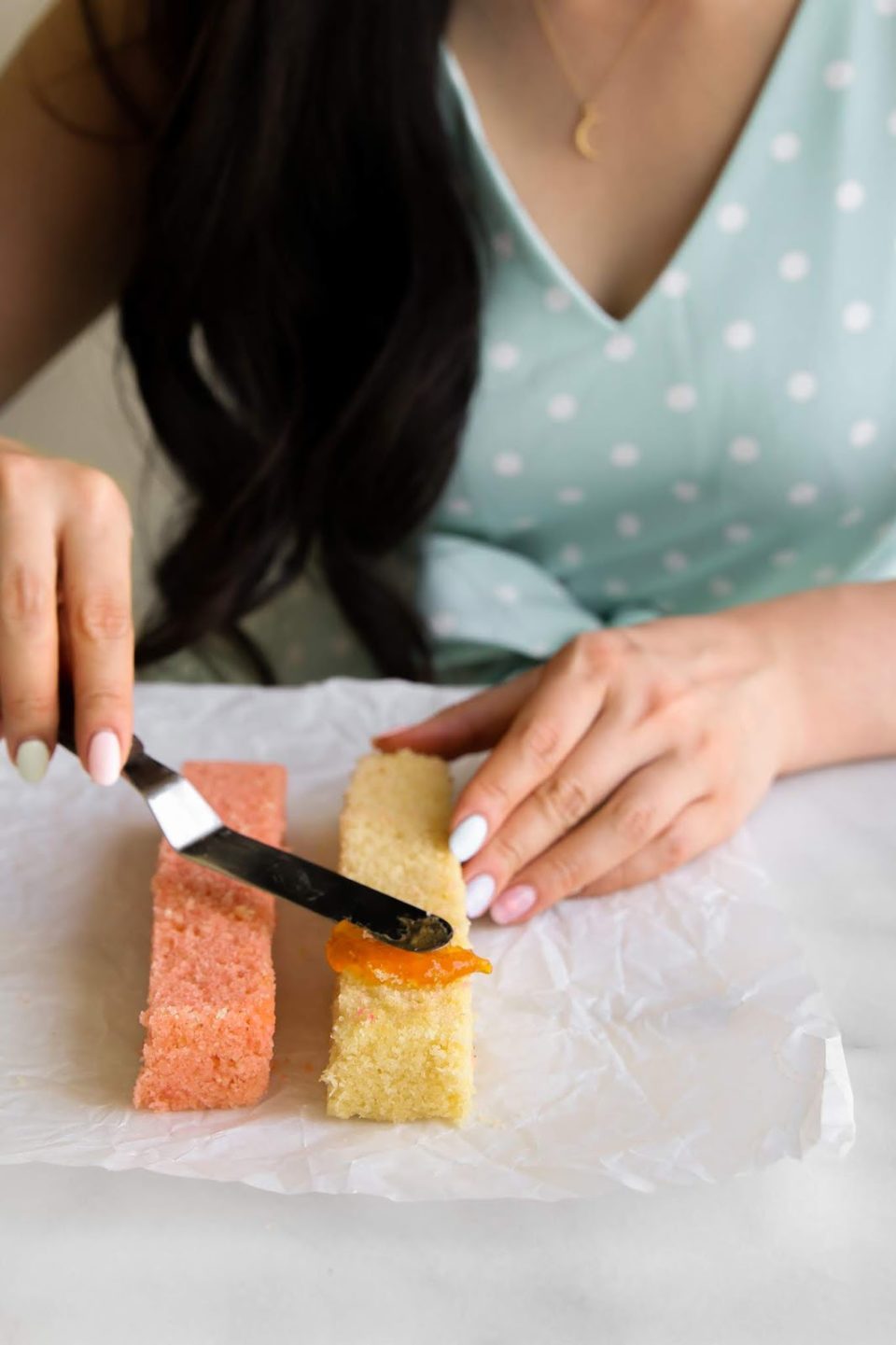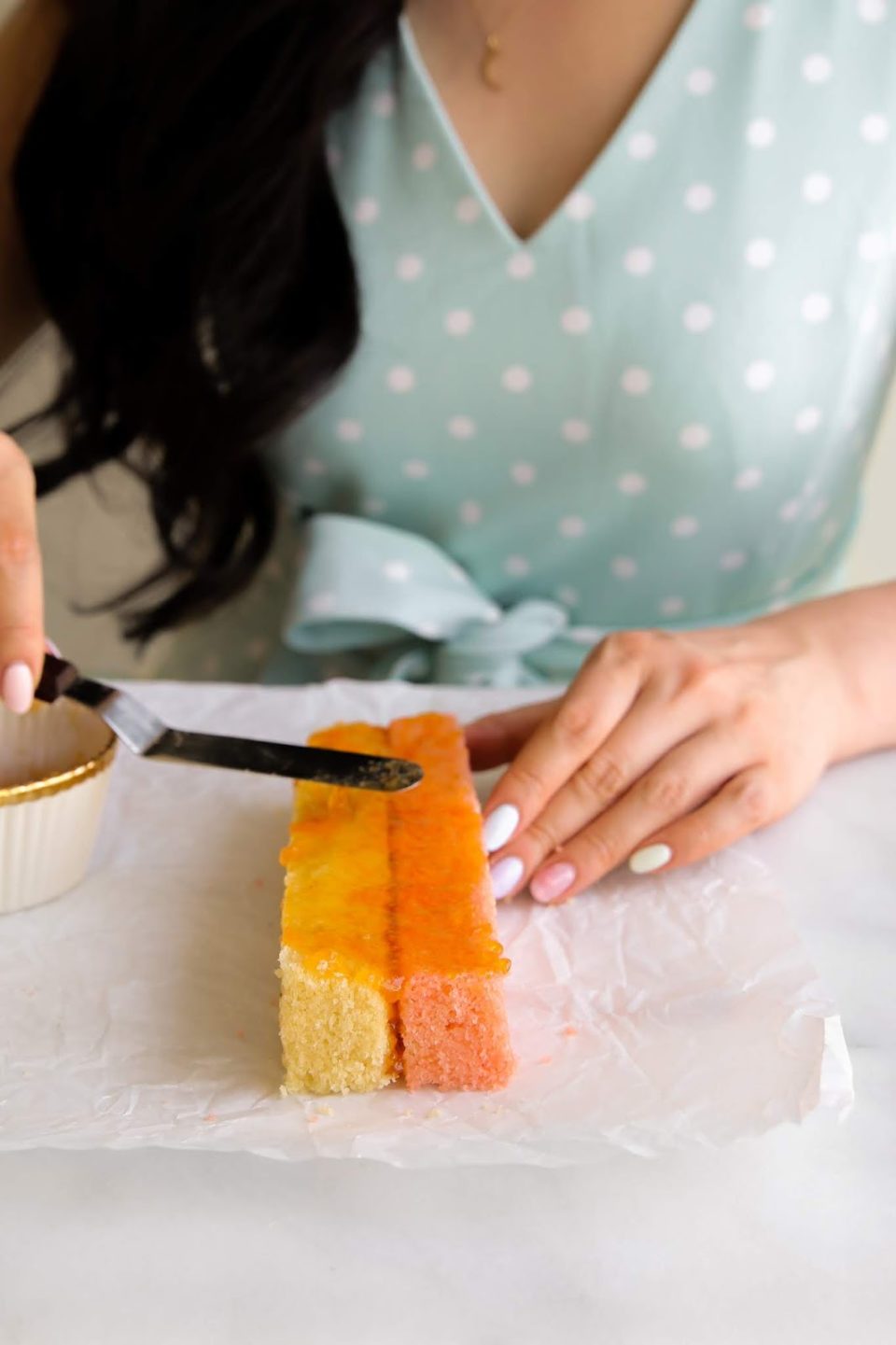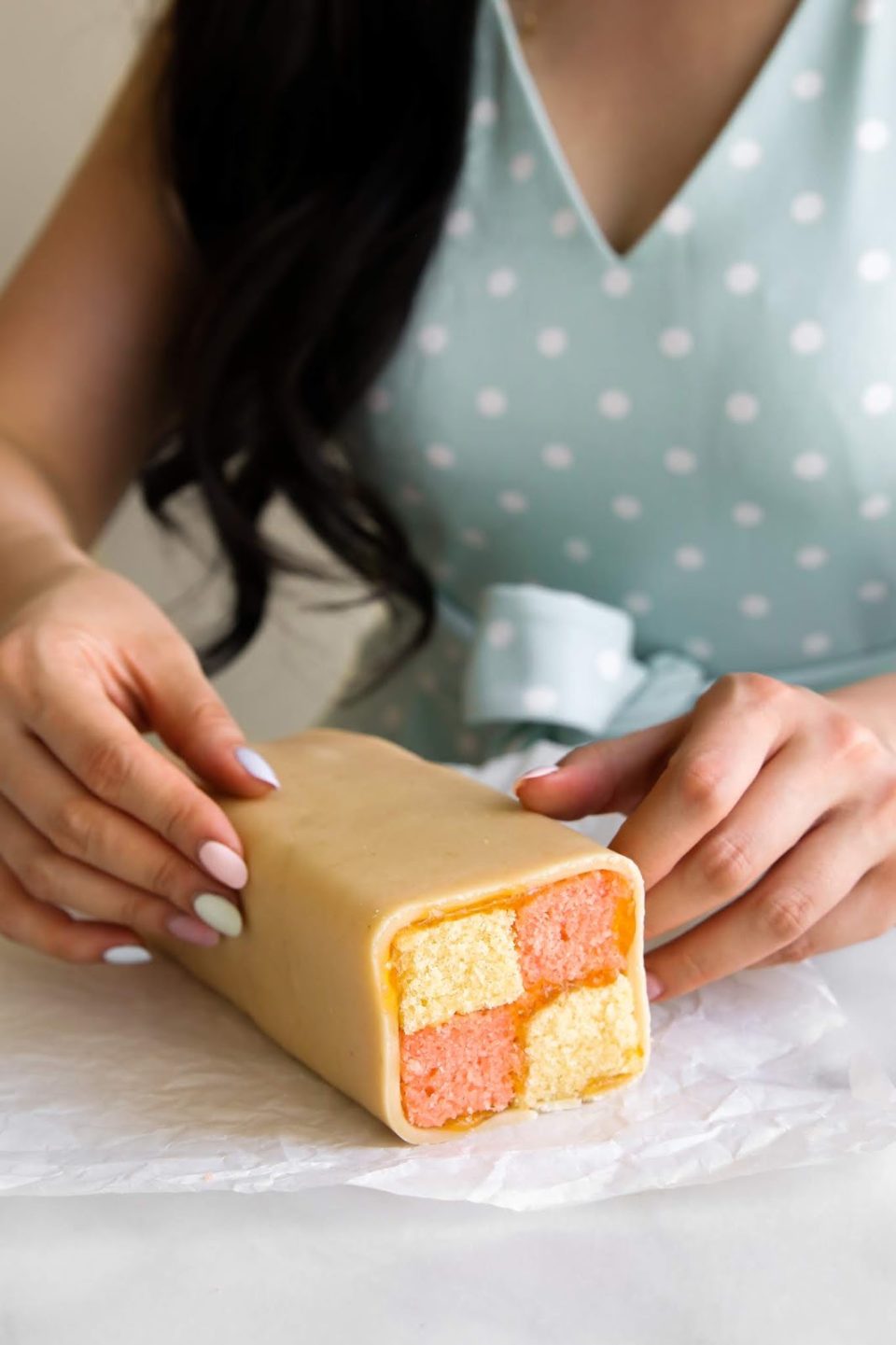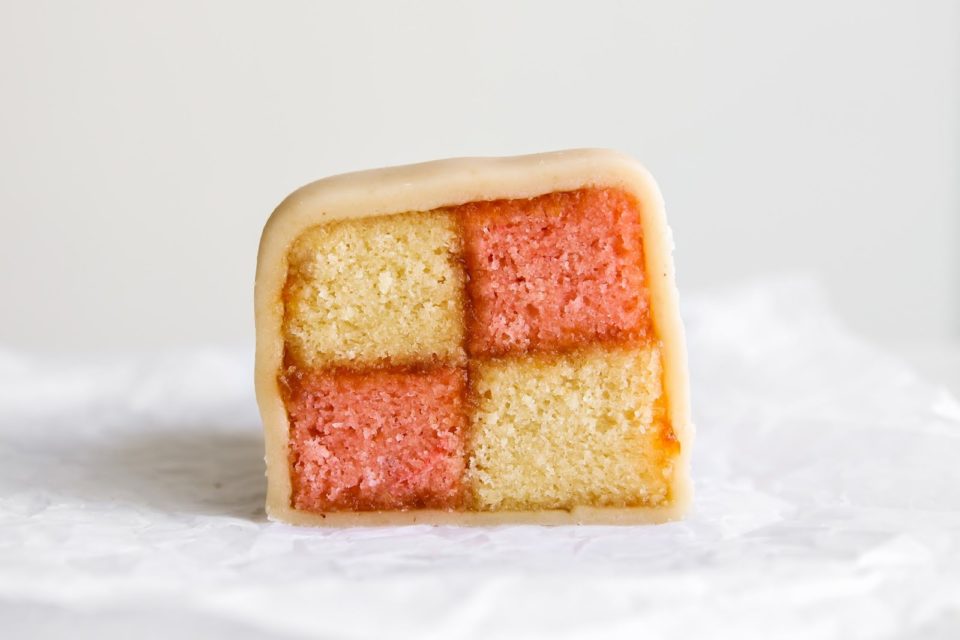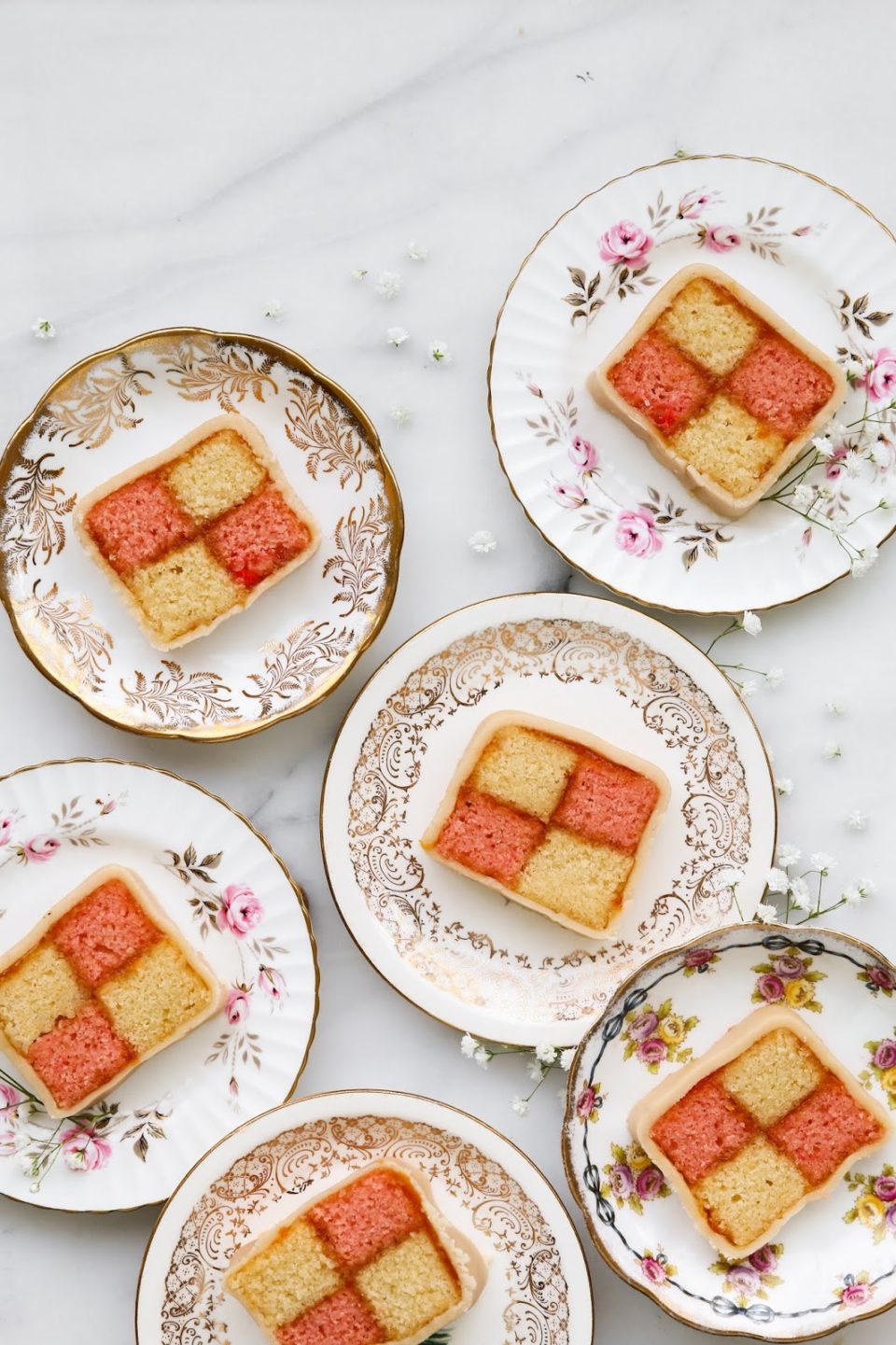 Happy baking!
Ingredients
1

cup

all-purpose flour

3/4

teaspoon

baking powder

1/4

teaspoon

salt

1

cup

granulated sugar

1/2

cup

almond flour

3/4

cup

unsalted butter

,

at room temperature, diced

2

tablespoons

whole milk

3

large eggs

1/2

teaspoon

pure vanilla extract

1/2

teaspoon

pure almond extract

Pink gel food colouring

1/2

cup

apricot jam

7

ounces

marzipan
Instructions
Preheat oven to 350F. Line two 8 bu 4 inch loaf pans with parchment paper.

Sift the all-purpose flour, baking powder, and salted into the bowl of a stand mixer fitted with the paddle attachment. Add the sugar and almond flour, Stir to combine. Add the pieces of butter and mix on medium speed until evenly distributed. Stream in the milk and mxi until all the dry ingredients are moistened, about one minute. Step the mixer and scrape down on the sides and bottom of the bowl.

Whisk together the eggs, vanilla, and almond extract. Add the egg mixture to the flour mixture and mix on low until combined. Turn the mixer to medium and beat for about one minute.

Divide the batter into two medium bowls. Tint half of the batter with the pink gel food colouring. Pour the plain and pink batter into the two prepared loaf pans and bake for 25 – 28 minutes, until a toothpick inserted into the centre of each cake comes out clean. Let the cakes cool completely on a wire rack before removing from the pans. Remove the parchment.

To create the checkerboard cake pattern, trim each cake into two 3/4 by 3/4 by 8 inch blocks to make four blocks total. Spread a thin layer of apricot jam on one side of each pink cake blocks and sandwich together with one of the plain cake blocks. Spread the top of one pair of the cake blocks with more jam and place second pair of cake blocks on top making sure the colours from a checkerboard pattern.

Roll out the marzipan into an 8 1/2 inch square. Spread a thin layer of jam on one of the long sides of the checkerboard cake and place it jam-side down on one edge of the marzipan. Spread a thin layer of jam on the remaining long edges of the cake and carefully roll up the cake in the marzipan. Press gently to seal and trim the marzipan and cake as needed.

To serve, slice into 1-inch thick pieces with a serrated knife.
Reader Interactions