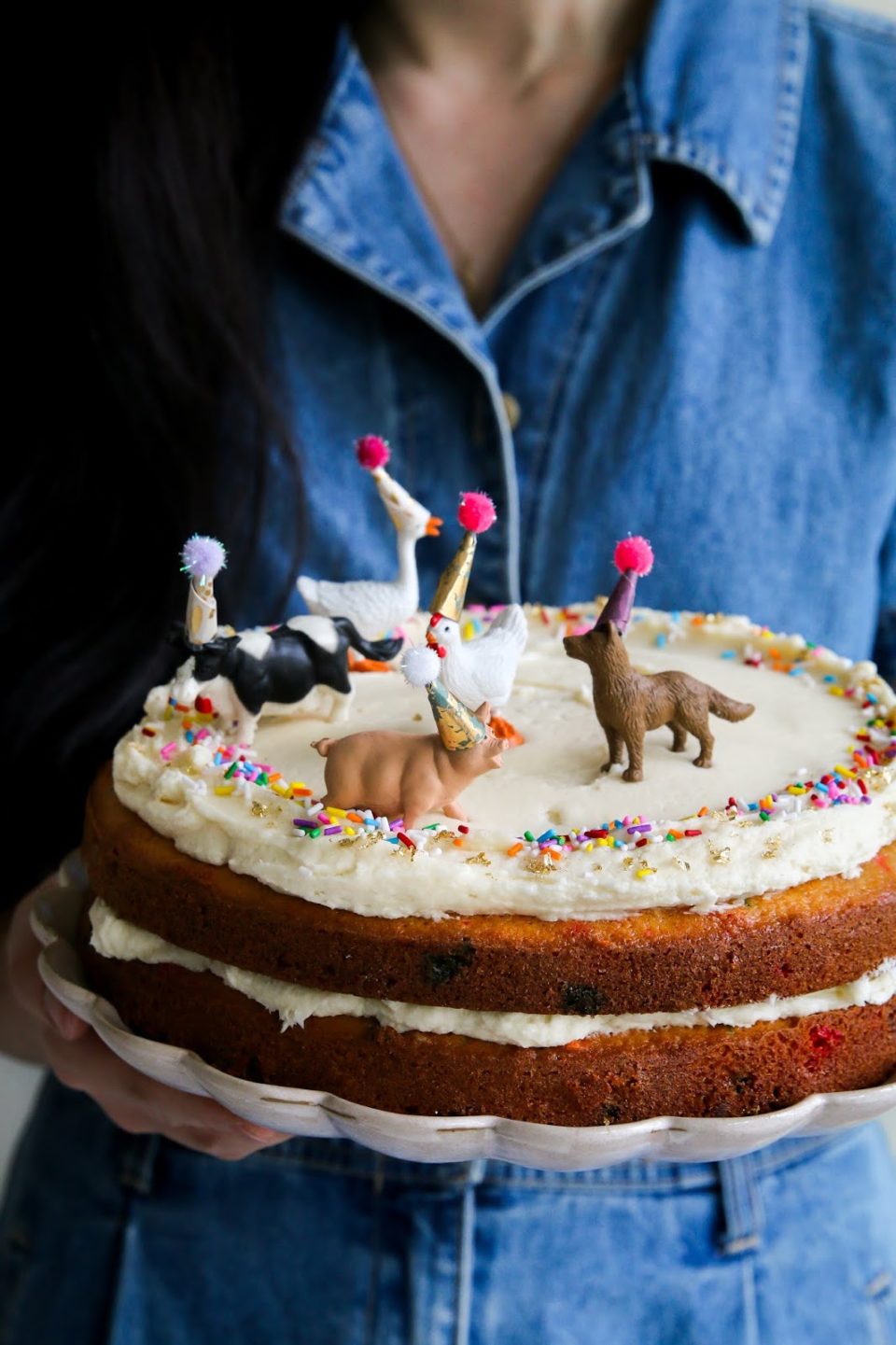 When I was in graduate school completing my master's degree, I always leapt at the opportunity to attend research conferences in different cities and countries. Each year, our research grants covered at least one trip to present at a conference of our choice (assuming the conference committee accepted your presentation topic). I actually hated presenting my research because I loathe public speaking but the opportunity to explore a new city always outweighed that. In the several years I was in graduate school, I got to visit New Orleans (love!!), Hong Kong (will always love!!), and DC (didn't know what to expect but loved so much!!). Washington, DC was one of the cities I wasn't necessarily super excited to visit because I didn't know anything about the city but turned out to be one of the most memorable trips. Between all the conference workshops and panels, I snuck off to cupping sessions at La Colombe, found my favourite cortado at Chinatown Coffee Co., ate too many treats at Baked and Wired, had the most memorable meal at Rose's Luxury, so many breakfasts at Founding Farmer, and ate many cupcakes from Georgetown Cupcakes. After all the incredible meals, Washington, DC is now one of my favourite food cities and I always miss it.
When Williams Sonoma reached out and asked if I would like to do something fun with their exclusive Georgetown Cupcake cake mixes, the answer was an obvious 'yesss!!!' with many exclamation marks. I would do anything to relive one of the many amazing treats I had in Washington, DC. Their confetti cake mix and strawberry champagne cupcake mix came just in time for New Year's so I wanted to share a very simple tutorial on how to decorate a cake to celebrate the arrival of the new year. These party animal decorations come together so easily and turn any cake into a celebration cake. I followed the instructions of both the cake mixes and made the buttercream recipes on the back of the packaging. Obviously, you can use your homemade confetti cake and champagne cake recipes with these decorations, but if you want to try Georgetown Cupcakes in your home, I'm here to tell you that the mixes produce very lovely plush and moist cakes like the ones fresh from their bakery.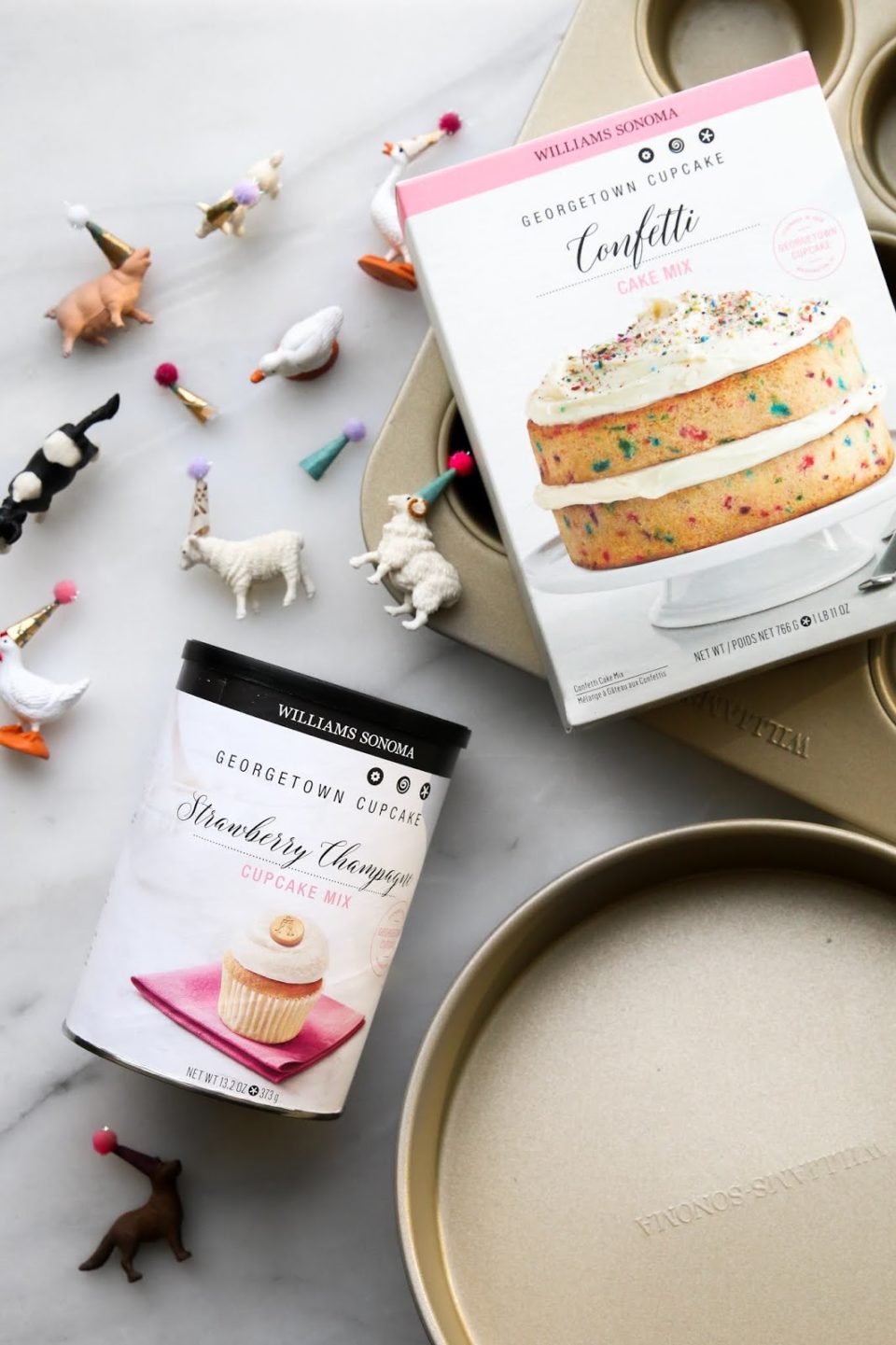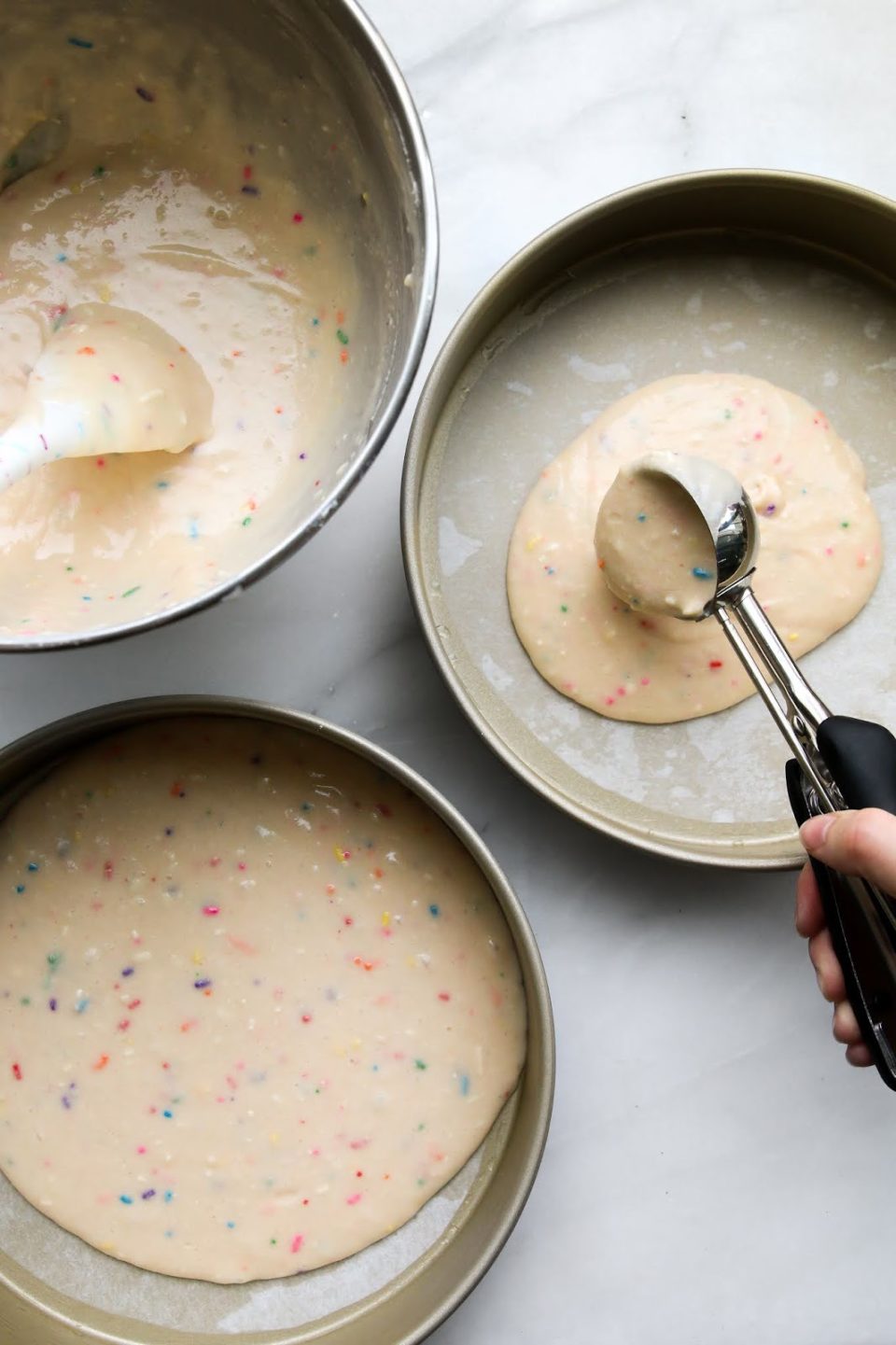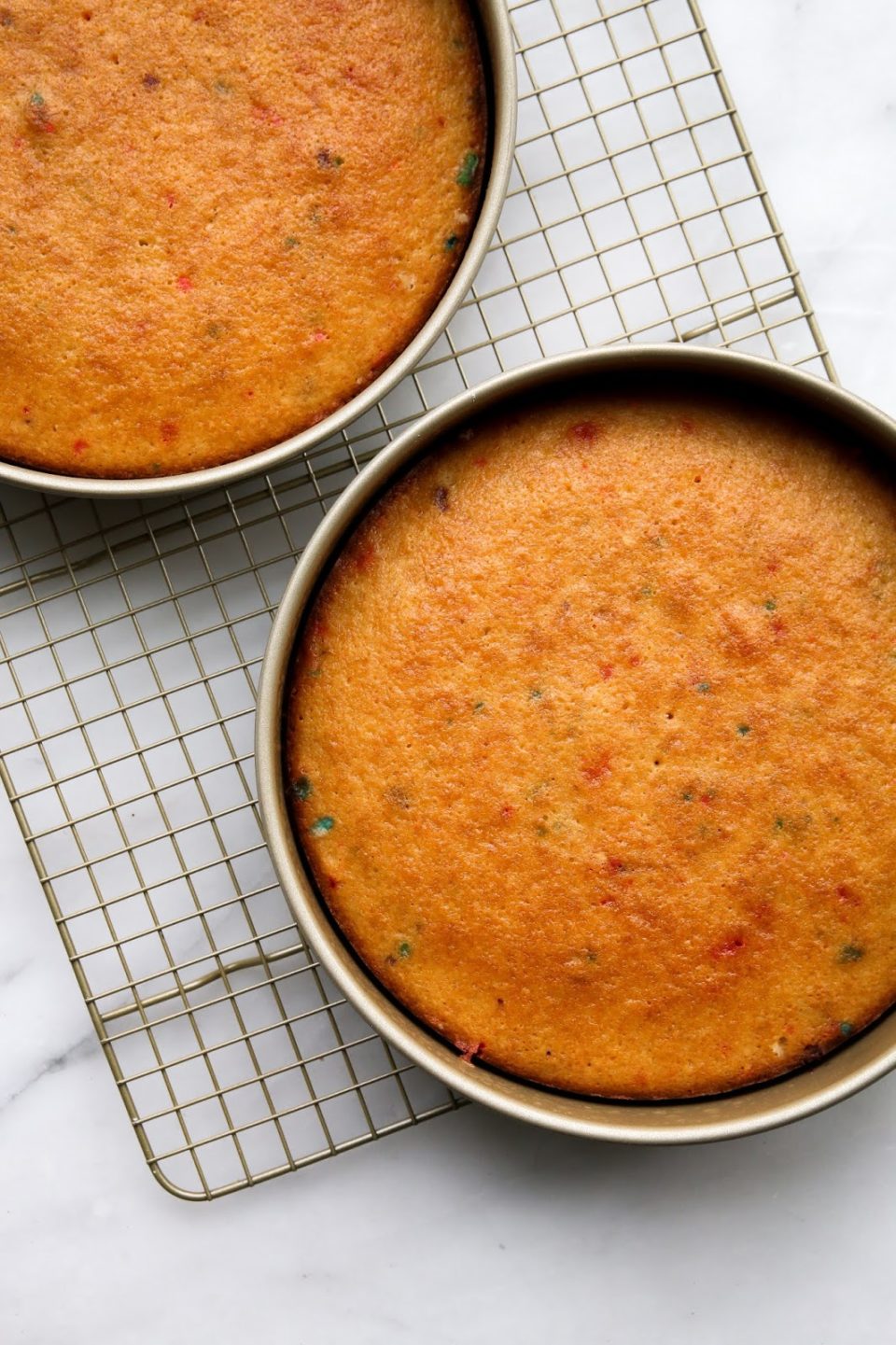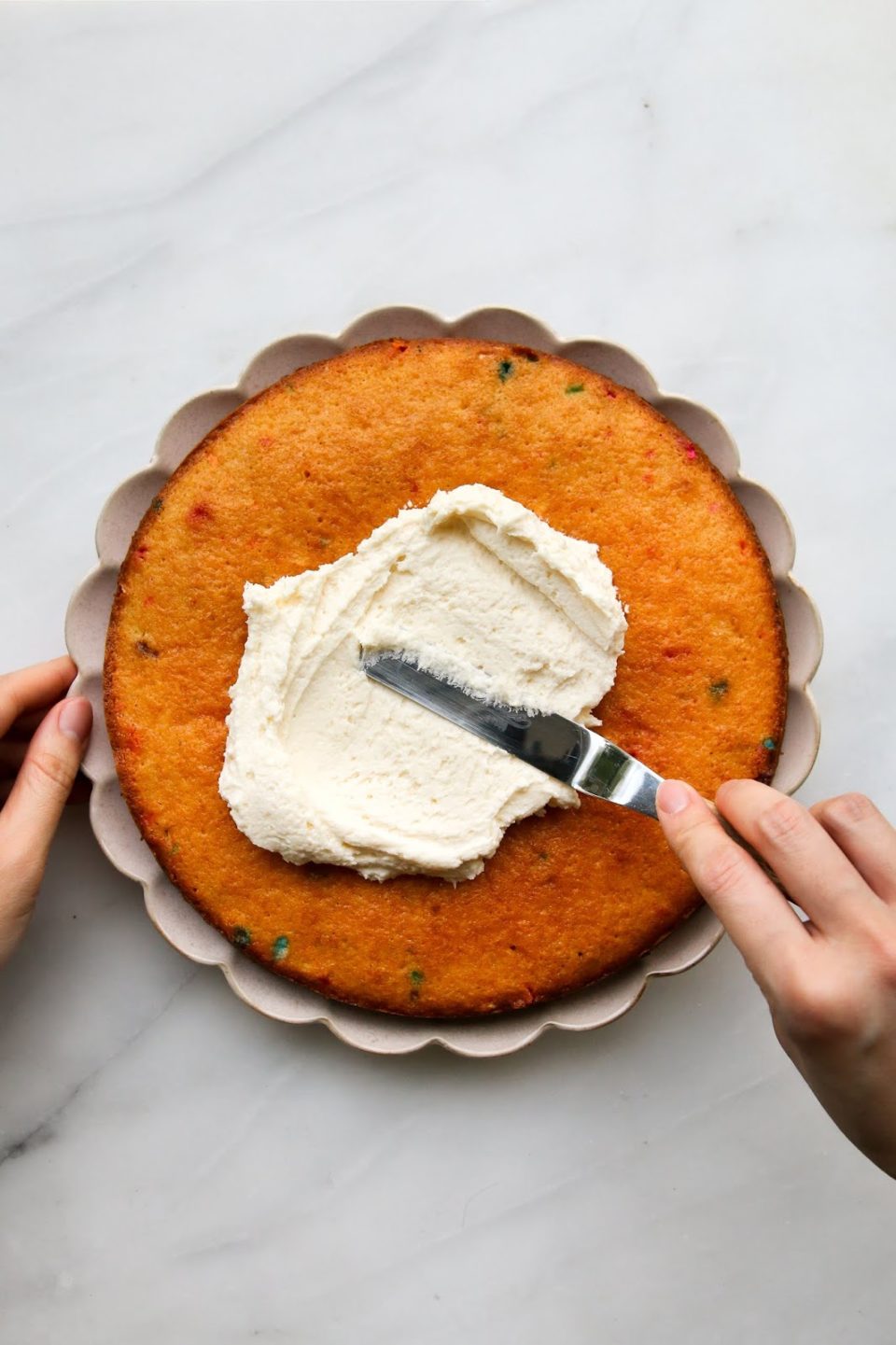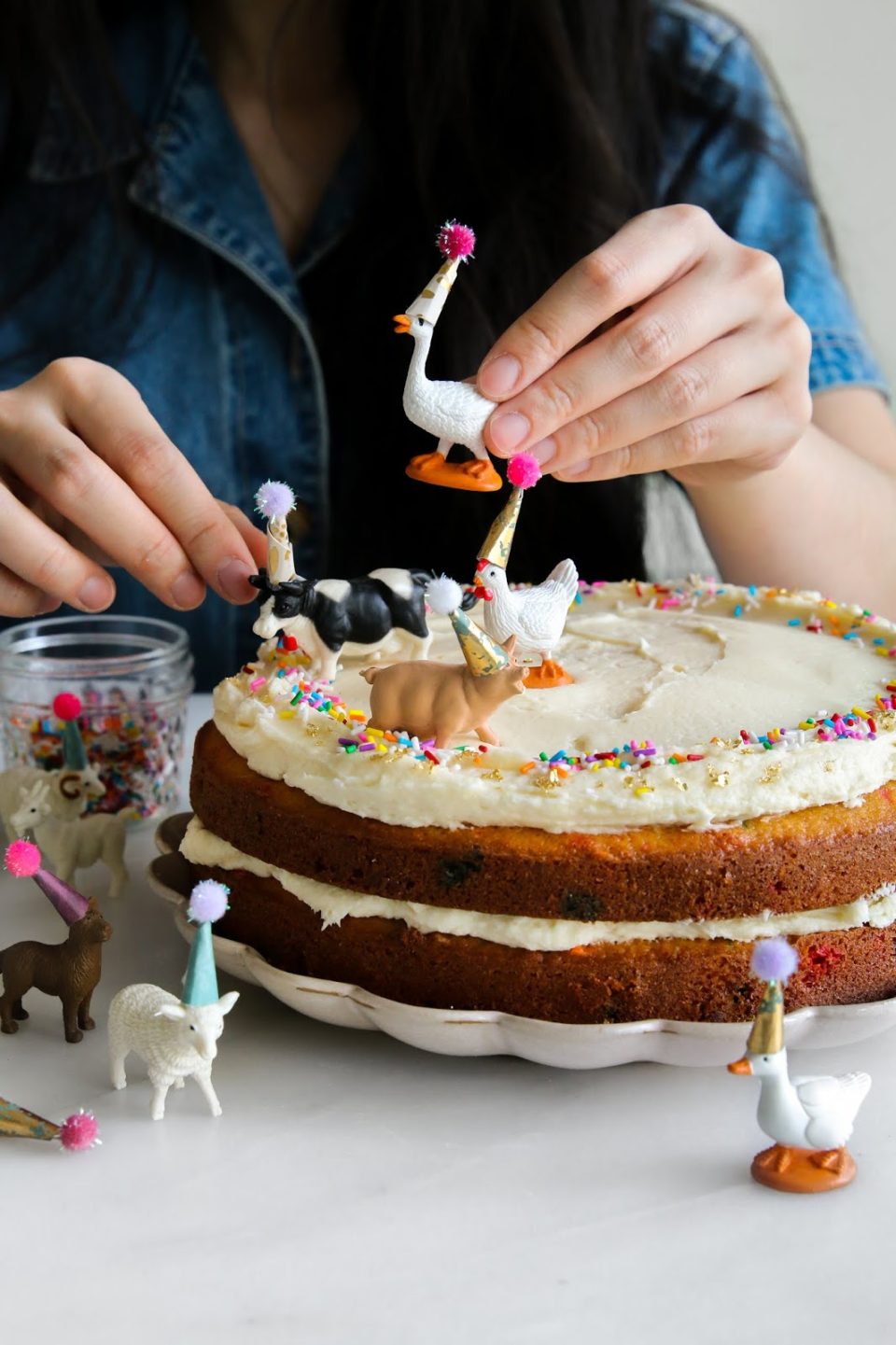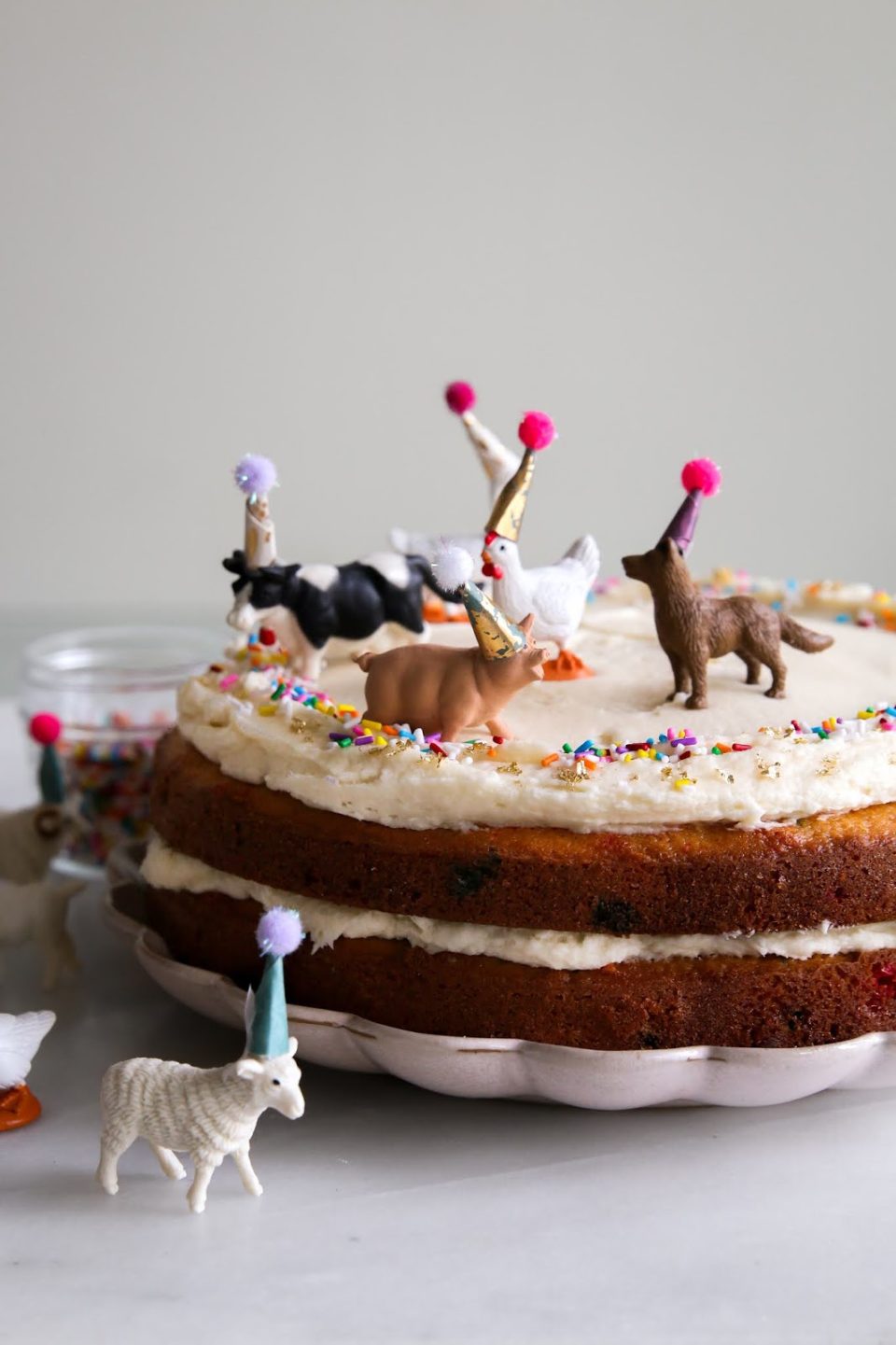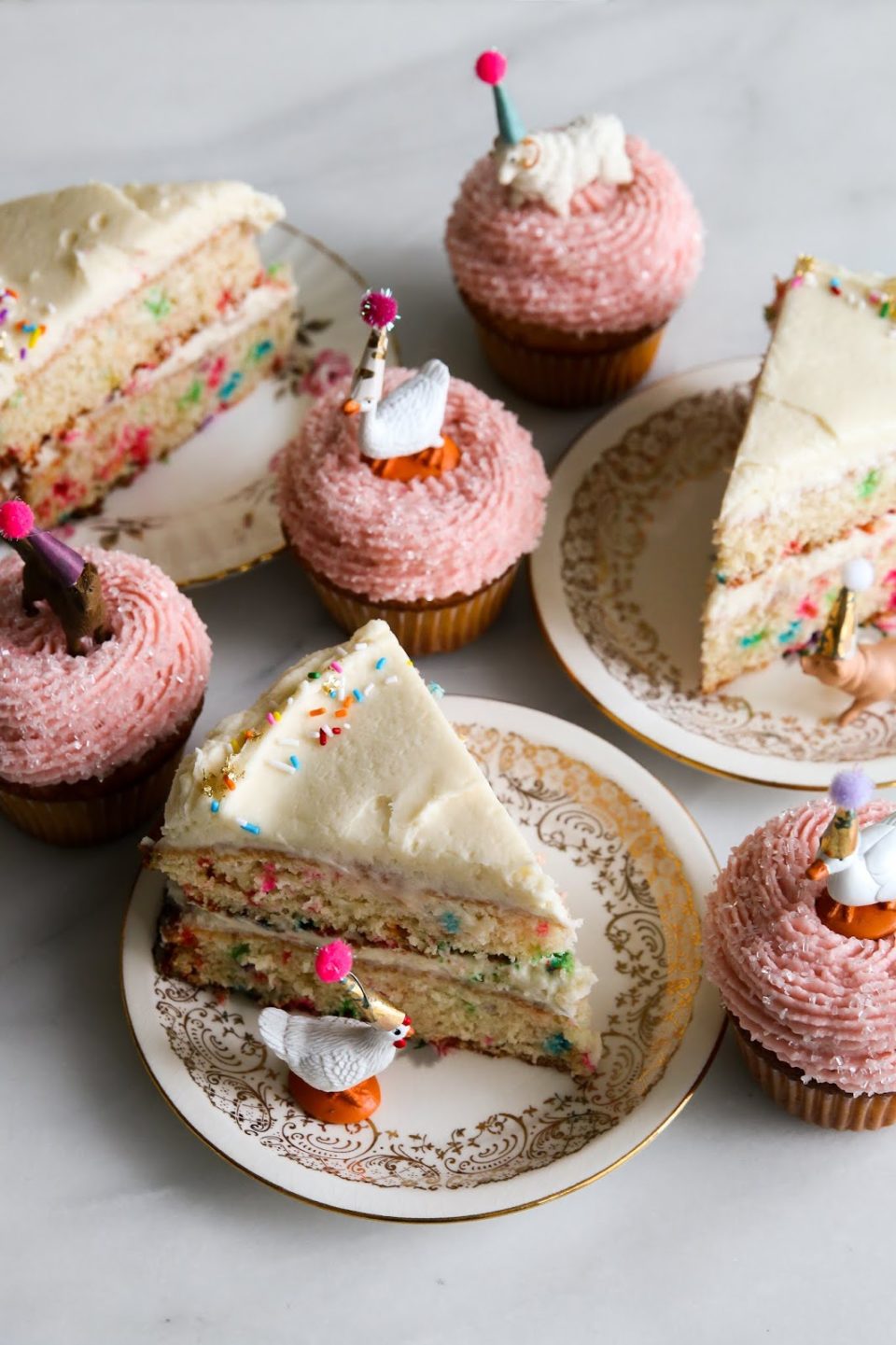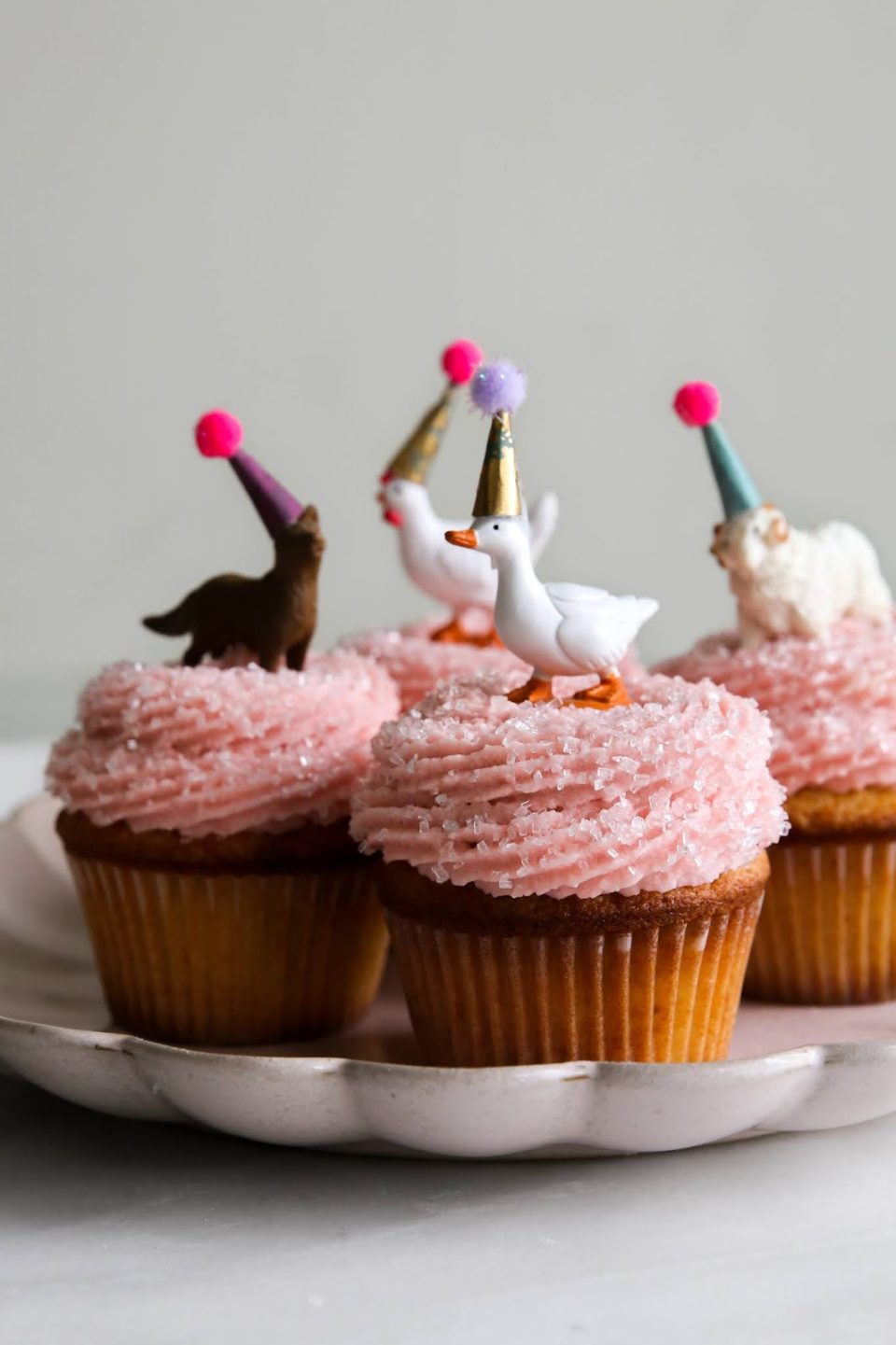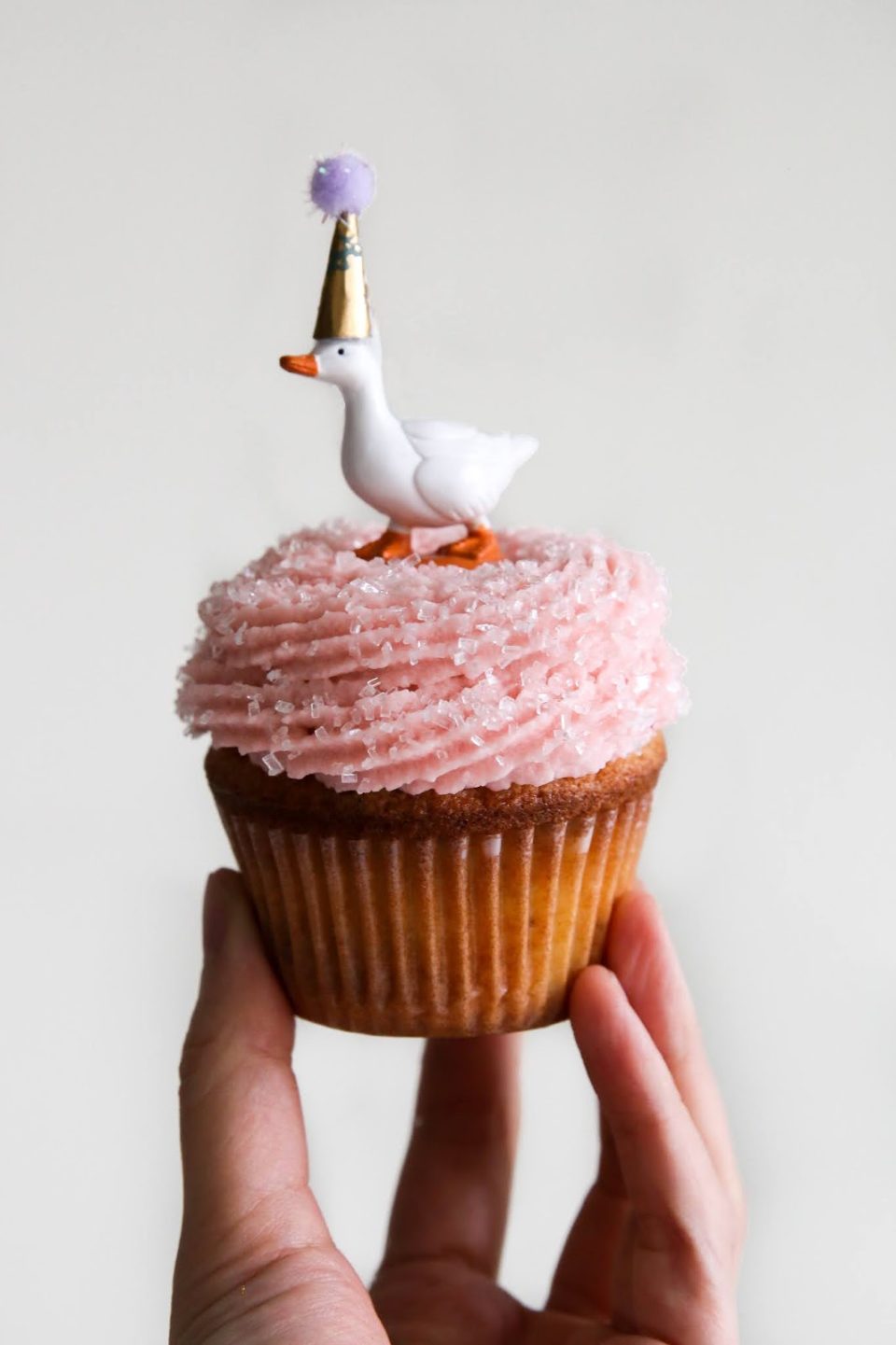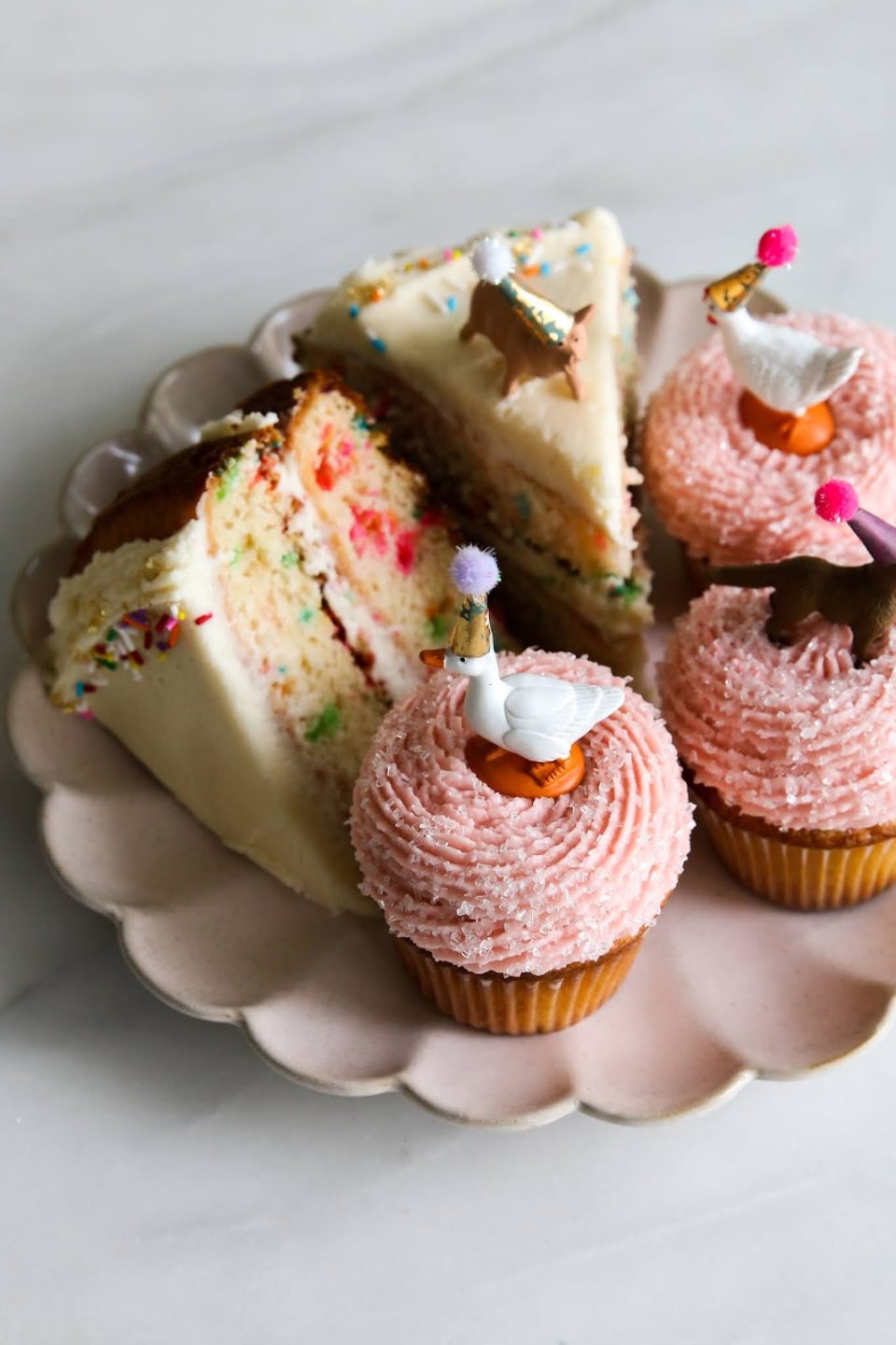 Party Animals Confetti Cake Decorating Tutorials
Equipment
Williams Sonoma Goldtouch® Nonstick 6-Piece Essentials Bakeware Set (cake pans and muffin tin)

Georgetown Cupcake Cake Mix

Confetti Georgetown Cupcake Mix

Strawberry Champagne

Animal toy figurines

Card stock or scrapbook paper

Mini pom poms

Tape

Glue gun

Assorted sprinkles and sanding sugar
Instructions
Line cake rounds with parchment paper and muffin pan with cupcake liners.

Bake cake and cupcakes and make buttercream according to instructions of the back of the packaging. Allow cake to cool completed before frosting.

Remove animal toy figurines from packaging and wash with warm soapy water. Wipe figurines dry.

Cut out cardstock into small squares (the size will depend on the size of your toy), roughly about 1-inch on each side. Roll the square into a cone shape and use a bit of tape to secure the cone shape. Using a hot glue gun, attach a mini pom pom to the top of each cone to form the hat. Attach a hat to each animal with hot glue.
For the layer cake
Place the first cake round on a plate or cake stand. Transfer half of the buttercream to the cake layer. Using an offset spatula or back of a spoon, spread the buttercream evenly to the edge of the layer.

Place second cake layer in top, flat side up.

Frost the top of the cake with remaining icing.

Apply sprinkles to the edge of the top layer.

Take several of the party animal figurines and place on top of the cake
For the cupcakes
Transfer buttercream to a pastry bag fitted with a large open-star tip.

Pipe two rings of buttercream on each cupcake and sprinkle sanding sugar on the buttercream.

Place animal figurine to the centre of each cupcake.