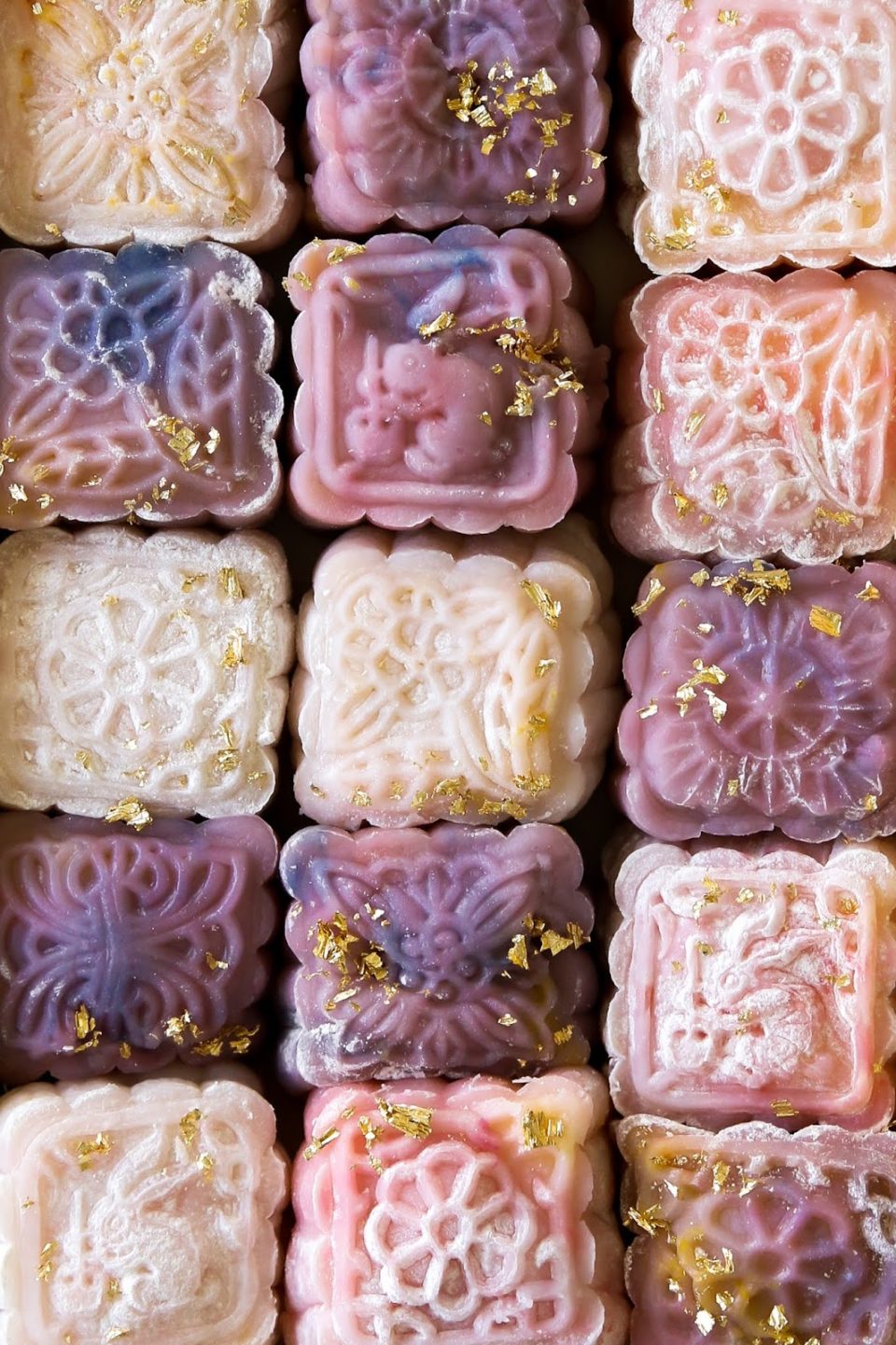 I cannot believe we are already three days into September. The summer fair has wrapped up and the $1 ice cream cone special from you-know-where has ended. I still have an ice cream sandwich blog post (for these!) I want to share but it seems out of season now? Do we still care about three easy homemade ice cream sandwich hacks? Can I still make a cake that features a flamingo floatie on top? Those are the type of questions that have been floating in my head for the last few days. I. Am. Dreading. Fall.
I have stated in the past that my least favourite type of baking is fall baking. I am not that into all the warm spices and the lack of berries and stone fruits makes me a bit sad. Also, I do not want to add pumpkin purée in any of my baked goods. Occasionally I can find some joy in making a fall apple or pear pie (lattice top, of course) but if I had to choose a favourite type of fall treat to make it would be mooncakes to celebrate Mid-Autumn Festival. I started making mooncakes last year, both the traditional kind with a salted egg yolk centreand the 'snowy skin' variety with taro and coconut, and have become obsessed since. I love buying all the different patterns for my moon cake press. Since last year, I bought a new mooncake press! A smaller square one! My older press makes a mooncake with 100g of dough and filling while this new one makes 50g moon cakes. I actually prefer the smaller press because I really like mooncake dough, especially snowy skin mooncake dough because if the mochi-like consistency. I decided to make snowy skin mooncakes again this year because A) they do not require the use of lye water B) are so beautiful with all their different colours and C) are so tasty. My mooncakes this year are galaxy inspired, with different shades of blue and purple swirled throughout and topped with a good amount of edible gold leaf. The filling is made with one of my favourite things to eat, kabocha squash! And because it is not a mooncake without salted egg yolk, I folded salted egg yolk into the squash purée so you get a bit of it with every bite. Sago pearls are also folded into the filling for more texture and chew.
Mid-Autumn Festival falls quite early this year, on September 13th, but you still have almost two weeks to perfect your mooncakes! Brb, I am going to make more mooncakes now! (PS. I gave you measurements in grams because mooncake dough can be finicky if the ratios are off)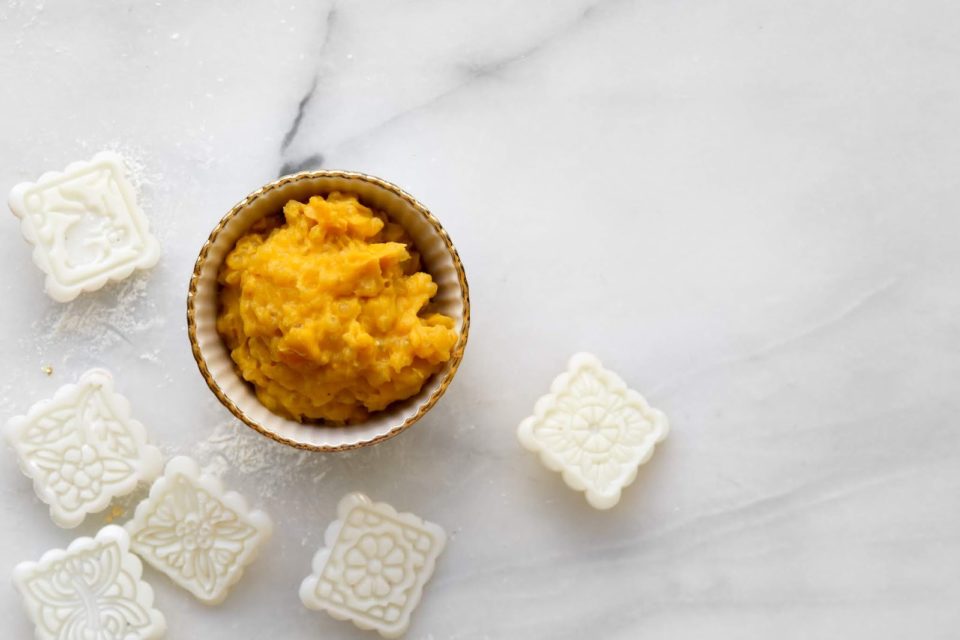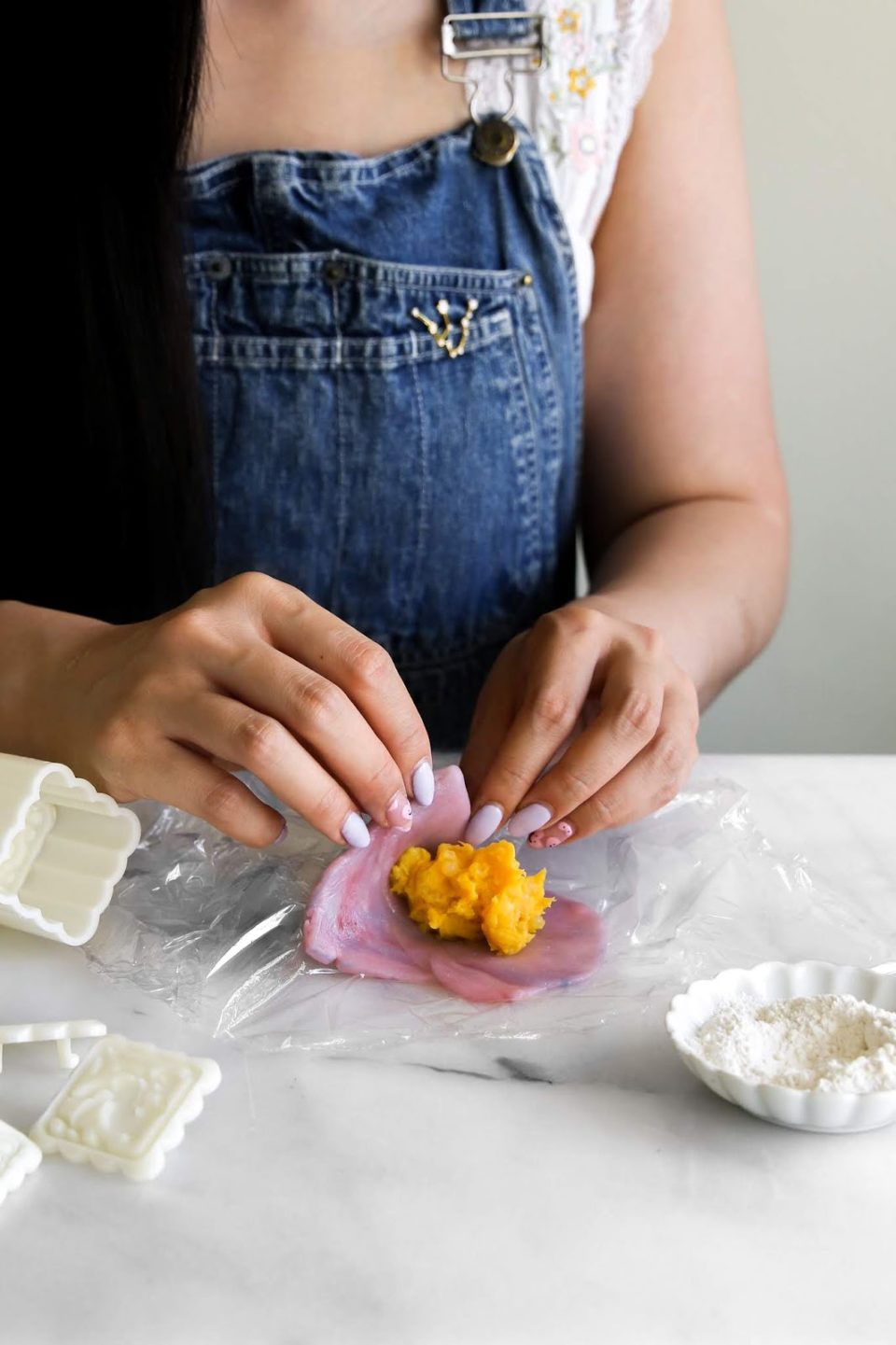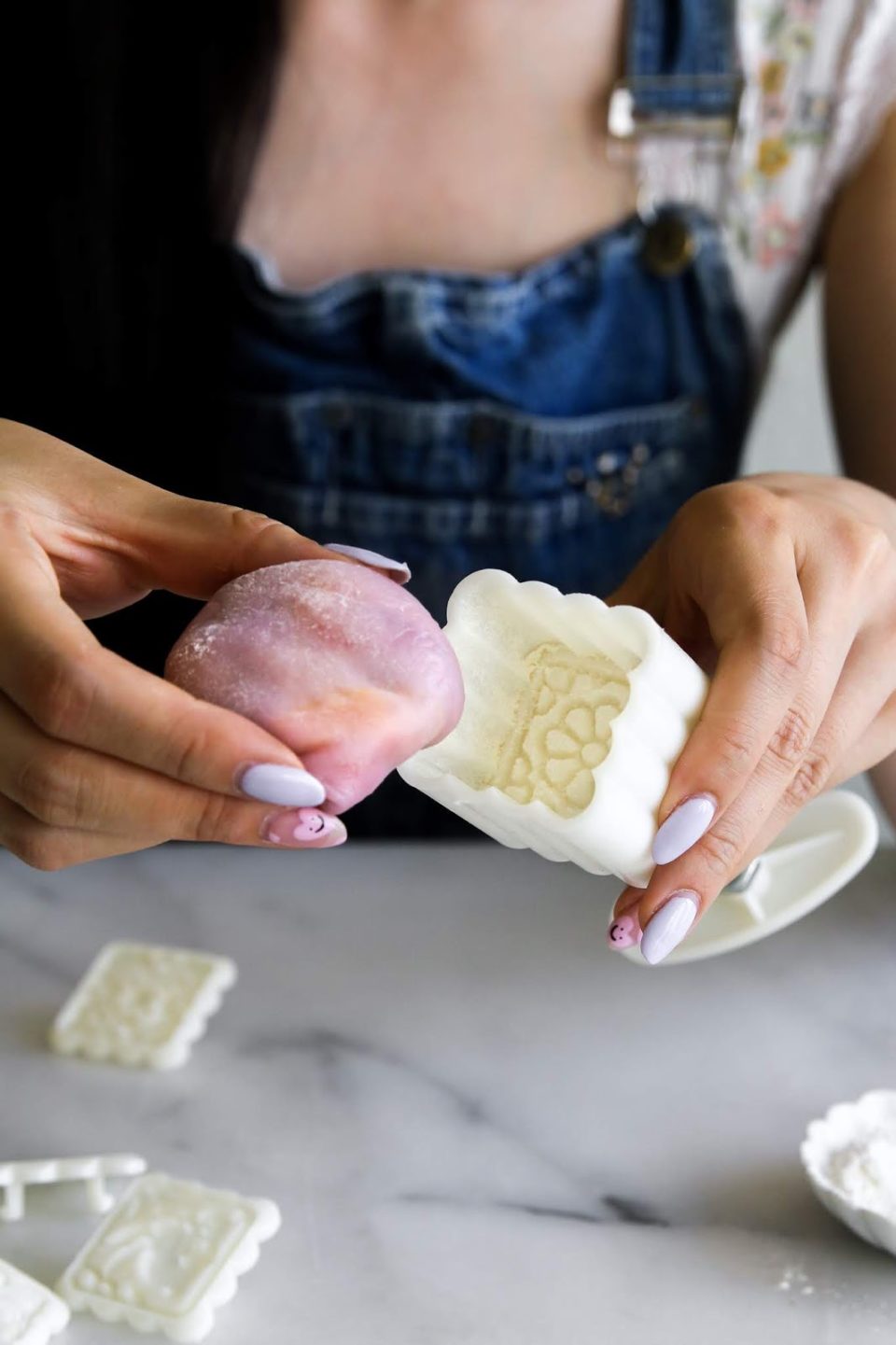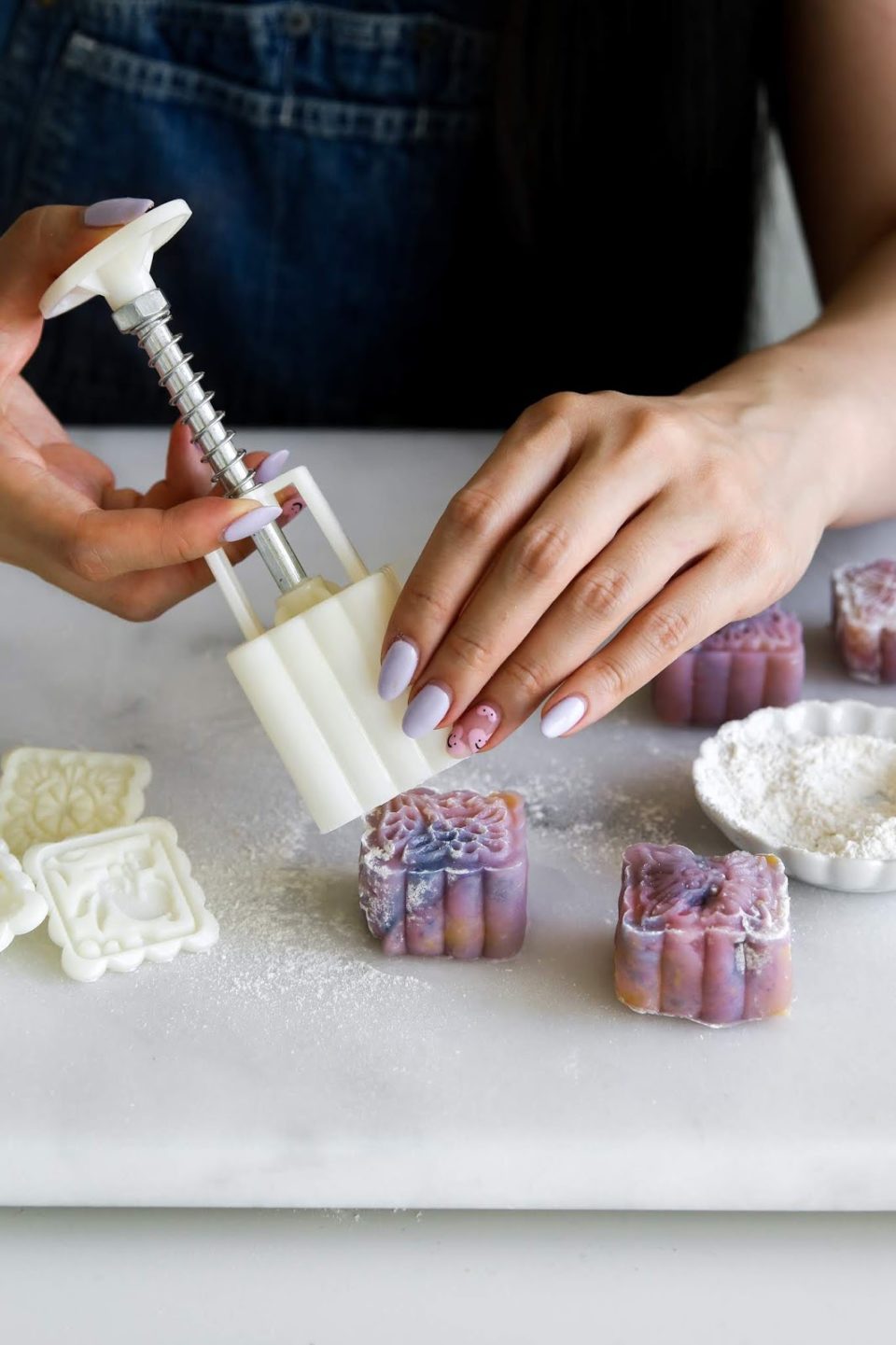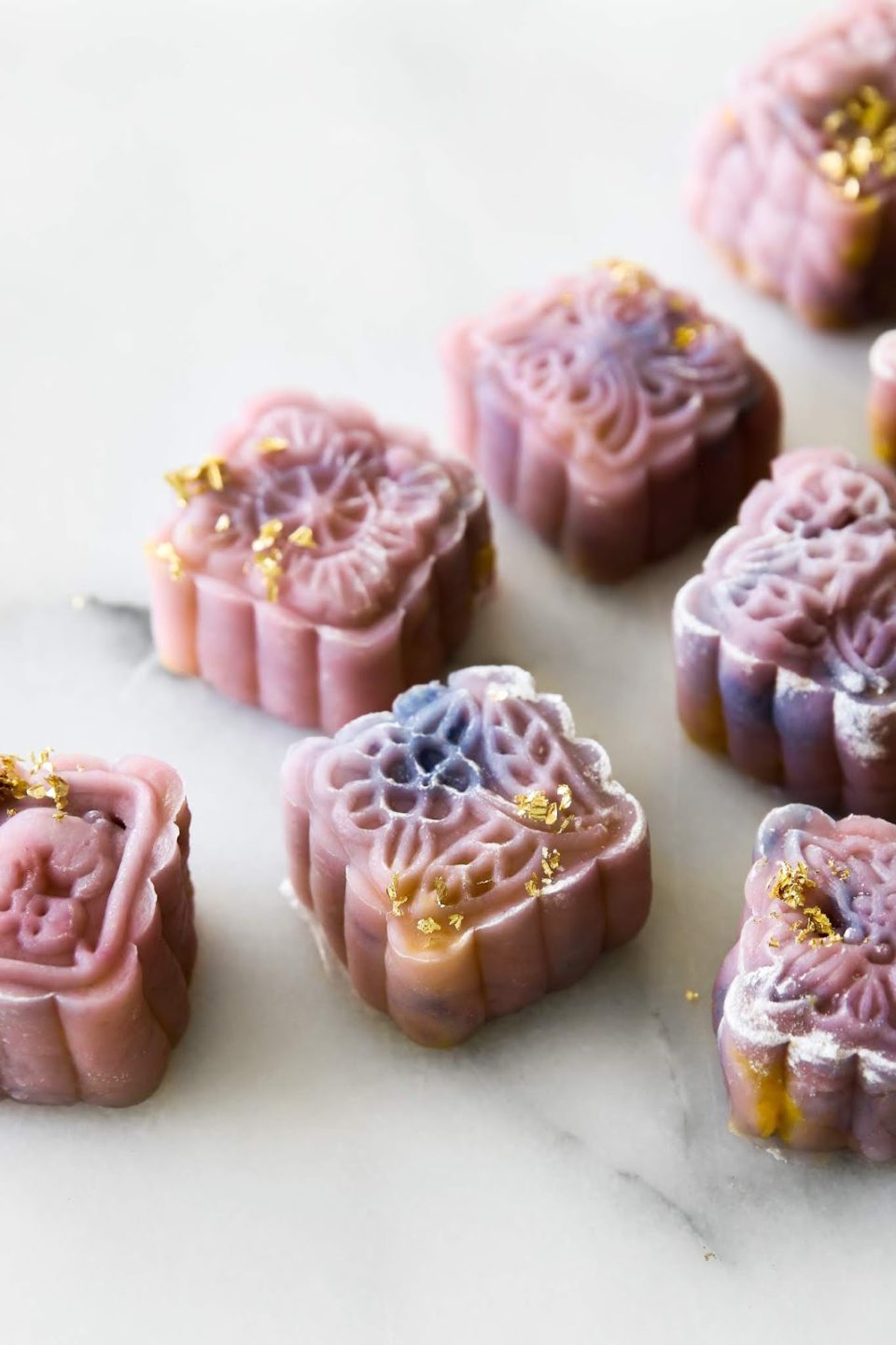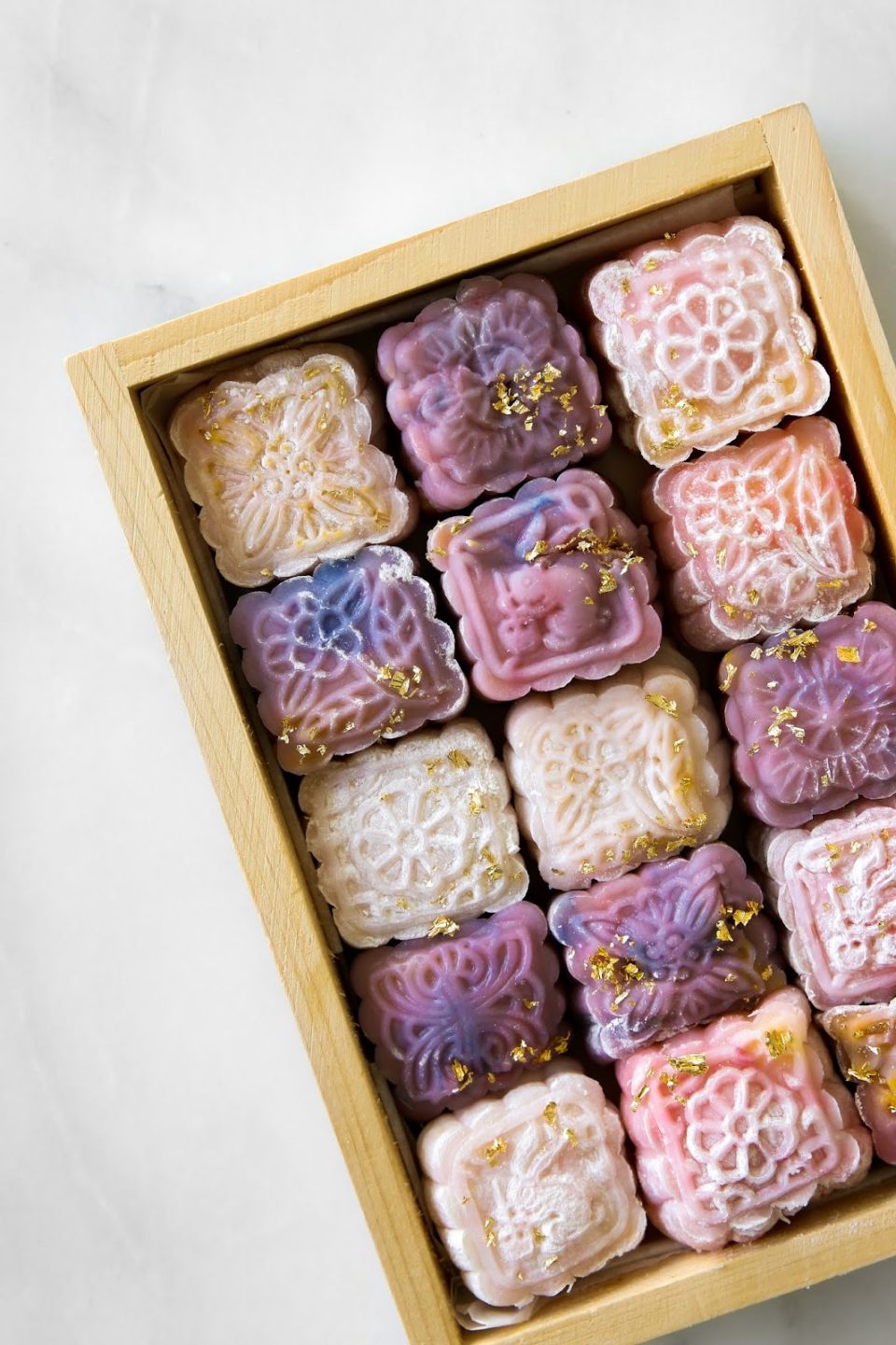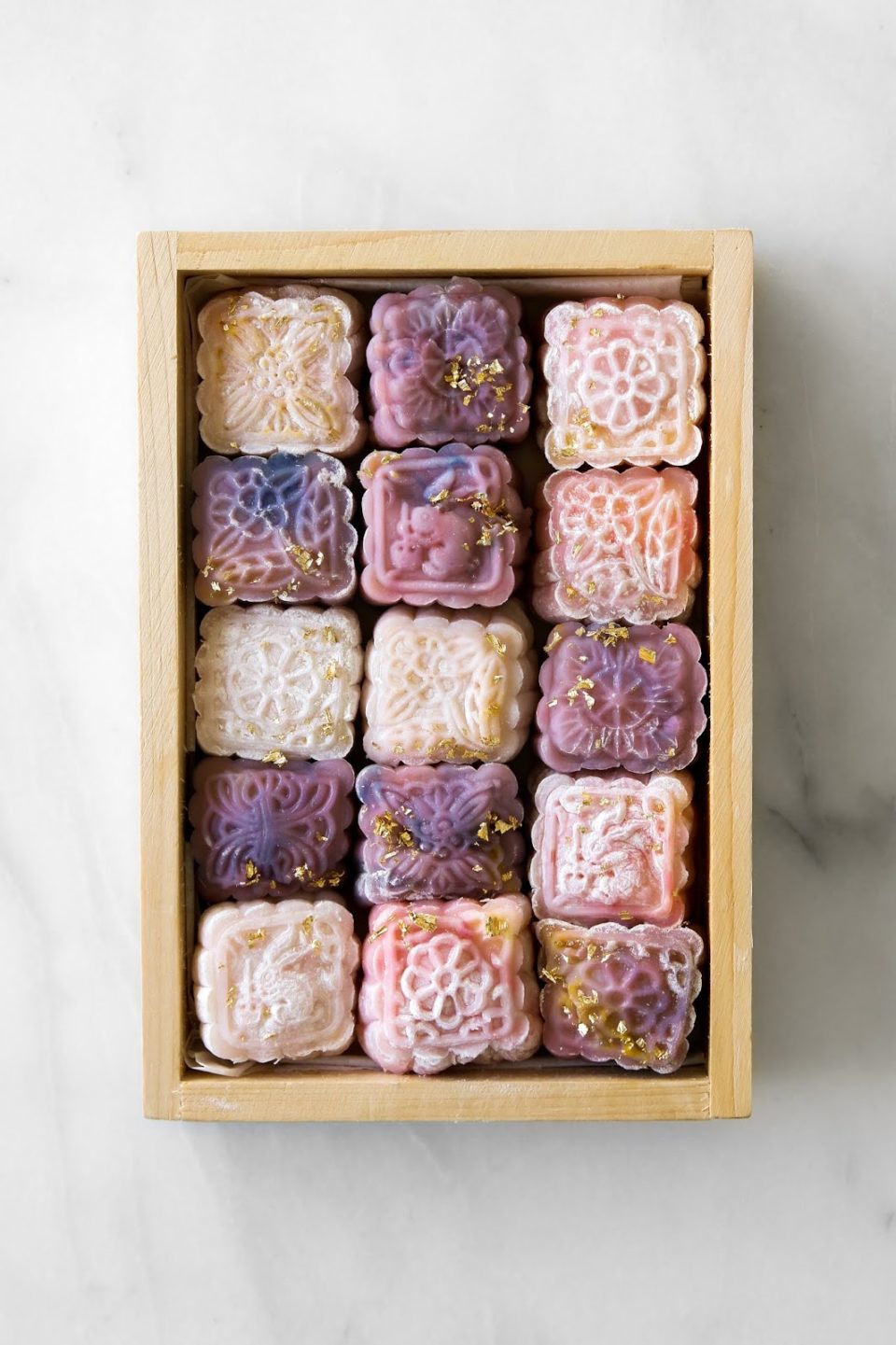 Ingredients
Snowy Mooncake Wrapper
180

g

unsweetened full-fat coconut milk (~200ml)

15

g

vegetable oil (1 tablespoon)

50

g

glutinous rice flour

35

g

rice flour

20

g

tapioca flour

45

g

icing sugar
Kabocha Salted Egg Yolk Filling
160

g

kabocha squash

,

steamed and mashed

3

salted egg yolks

,

cooked

25 – 40

g

(3 – 5 tablespoons) powdered sugar

28

g

(2 tablespoons) full-fat coconut milk

1/2

cup

sago pearls, cooked (~1/3 cup uncooked)
Toasted Rice Flour (for dusting)
Instructions
Snowy Mooncake Wrapper
In a measuring cup, combine coconut milk and vegetable oil.

In a separate bowl, whisk together glutinous rice flour, rice flour, tapioca flour, and icing sugar.

Pour the wet mixture into the dry mixture and mix well using a whisk, making sure no clumps remain.

Strain mixture through fine-meshed sieve to remove any clumps. Use the back of a spoon to press on any clumps to smooth it out.

Over medium heat, steam the mixture in the bowl for 30 minutes, until it becomes slightly transparent.

Remove the bowl from the pot and stir the mixture with chopsticks for several minutes until the mixture is glossy and smooth.

Transfer the dough to a plate and cover with saran wrap. Knead  for several minutes until the surface becomes oily.

Form the dough into a disc and refrigerate for at least three hours before assembling the mooncake. A warm dough is too sticky to handle.
Kabocha Salted Egg Yolk Filling
Wash kabocha to remove any dirt that may be on the exterior. Cut kabocha in half and scoop out the seeds. Depending on the size on the squash you have, you may only need 1/3 or 1/2 of the squash.

Place kabocha half into a steamer or steaming basket. Steam until tender to the fork, roughly 20 – 25 minutes.

Remove squash from steamer. Using a fork or potato ricer, mash the kabocha into a smooth paste.

In a separate bowl, separate the cooked salted egg yolks from the whites. Mash the the yolk with a fork until it becomes a coarse paste.

Combine the egg yolk mixture and kabocha paste. Mix in powdered sugar. Add the coconut milk, a tablespoon at a time, until it forms a thick paste. You may need more or less coconut milk depending on how much moisture is inherently in your squash. At this point, I also like to taste the mixture to see if it needs more sugar. Salt levels of salted egg yolk can vary depending on brand.

Lastly, fold in cooked sago pearls. Chill the mixture in the refrigerator until ready to use.
Toasted Rice Flour (for dusting)
Toast rice flour in a dry frying pan over medium heat for about 3 – 5 minutes until rice brown turns a light golden colour.

Set aside to cool.
Assembly
For a small (50g) mooncake press, weigh out 35-gram scoops of squash filling and gently shape each portion into balls. Set aside.

Divide and weigh the dough into 15-gram pieces. Roll out each piece of dough between to pieces of saran wrap until 1/8 inch in thickness.

Place ball of filling in the centre of each piece of dough. Wrap the squash filling with rolled-out wrapper dough and seal completely. Shape into an oval shape, so it will easily slide into the mooncake mold. Dust the bottom of the mooncake ball with toasted rice flour.

Dust the mooncake mold with toasted rice flour and insert dough ball into the press. Press on the mooncake mold to shape the mooncake. Carefully remove from the mold. If any sides of the mooncake is too tacky, brush on toasted rice flour.
Notes
Yields 8 – 10 mooncakes (*depends on size of mooncake press)
Reader Interactions