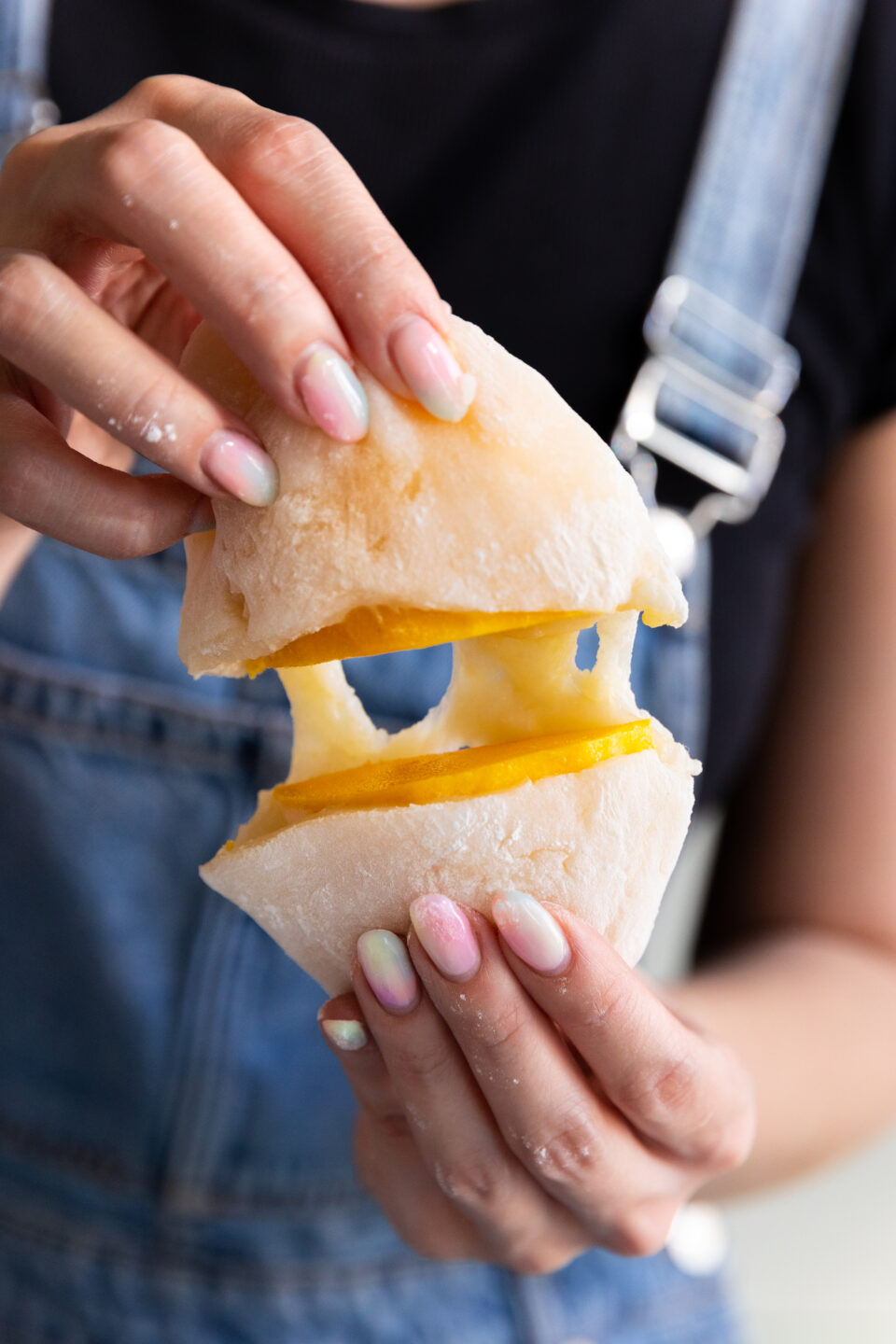 Find yourself a friend that would spend their Saturday morning lining up for fresh mango mochi for you because that is the true testament to true friendship. This isn't just normal mochi you can get at the grocery store, but whole mango mochi that when you search 'mango mochi richmond' on TikTok, you will notice that it has more than 620K views. It is being sold at the most unassuming place — a food court stall in a somewhat neglected (*neglected in it's pre-mochi era) Chinese mall that specializes in… rice bowls? This rice bowl stall generates a ridiculous line every day that weaves throughout the entire food court and upper level of the mall it is in. I haven't braved this line myself because the disappointment of lining up for the mochi and being told it has sold out would crush my soul. Last weekend, one of my closest friends decided it was time I tried this viral mochi so she spent a good amount of time lining up for the mochi before the stall was even open to get it for me. (I love you, Jen!!!)
It may sound like a bold statement but mochi is the superior treat. Out of all Asian desserts (or maybe even desserts in general), mochi has been and always will be my favourite. The tenderness! The chew! The elasticity! It has all the textures that I love. I grew up making mochi via the steaming method but recently I've been converted by the convenience of microwaving mochi. Microwave mochi has the same ingredients — glutinous rice flour, sugar, and water — making this mango mochi a naturally gluten-free and vegan dessert. The mochi component of this dessert comes together easily and quickly. It takes about five minutes to prepare the mochi and a couple of minutes to assemble the treat. Because there are only two parts to this dessert — mango and mochi — choosing a ripe, fragrant mango is key to making the perfect mango mochi.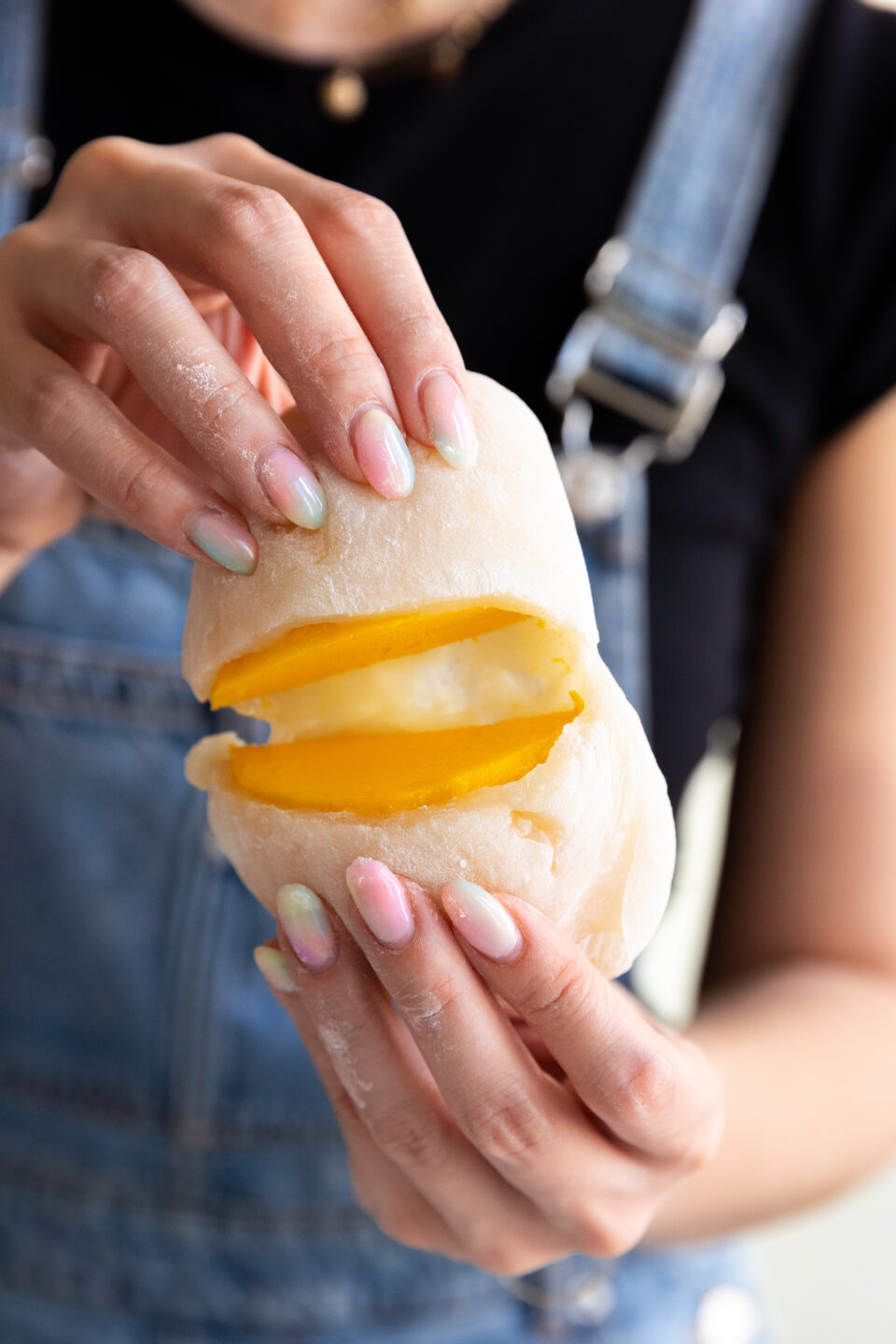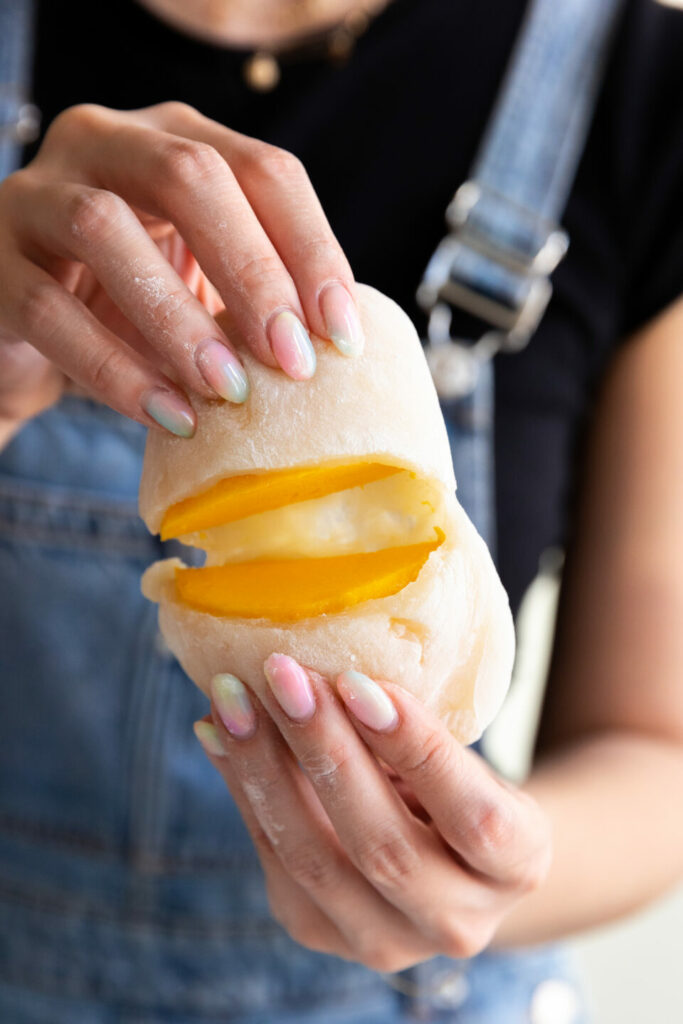 Whole Mango Mochi
Whole pieces of ripe mango is wrapped in a thin layer of homemade, soft mochi. The mochi can be made in the microwave with just three ingredients — glutinous rice flour, sugar, and water. Mango mochi is vegan and gluten free!
Ingredients
43

g

(1/3 cup) mochiko or glutinous rice flour

26

g

(2 tbsp) granulated sugar

80

ml

(1/3 cup) water

1

large mango

43

g

(1/3 cup) mochiko or glutinous rice flour

,

toasted, for dusting
Instructions
In a medium, microwave-safe bowl, whisk to combine glutinous rice flour and sugar.

Add water and whisk until mixture is smooth.

Cover the bowl with a microwave-safe plate that is slightly larger than the bowl. Microwave mochi mixture for 1 minute, stir with a wet spatula, and return to microwave. Repeat two more times. The mixture will turn slightly translucent as it cooks. Allow mochi to cool.

Peel mango and remove flesh from pit into two pieces. Set aside.

Dust work surface with toasted glutinous rice flour. Transfer cooled mochi to work surface and dust the top of mochi with more toasted glutinous rice flour.

Divide the mochi into two equal portions.

Using a rolling pin, roll out mochi to a thin layer, about 1/8-inch in thickness. Adding more toasted glutinous rice flour if mochi is sticking to rolling pin.

Place a piece of mango to the centre of the rolled out mochi and wrap the mochi around the mango, using your fingers to pinch the mochi seams to create a seal. Repeat with second portion of mochi.

Enjoy the day the mochi is made.
Reader Interactions