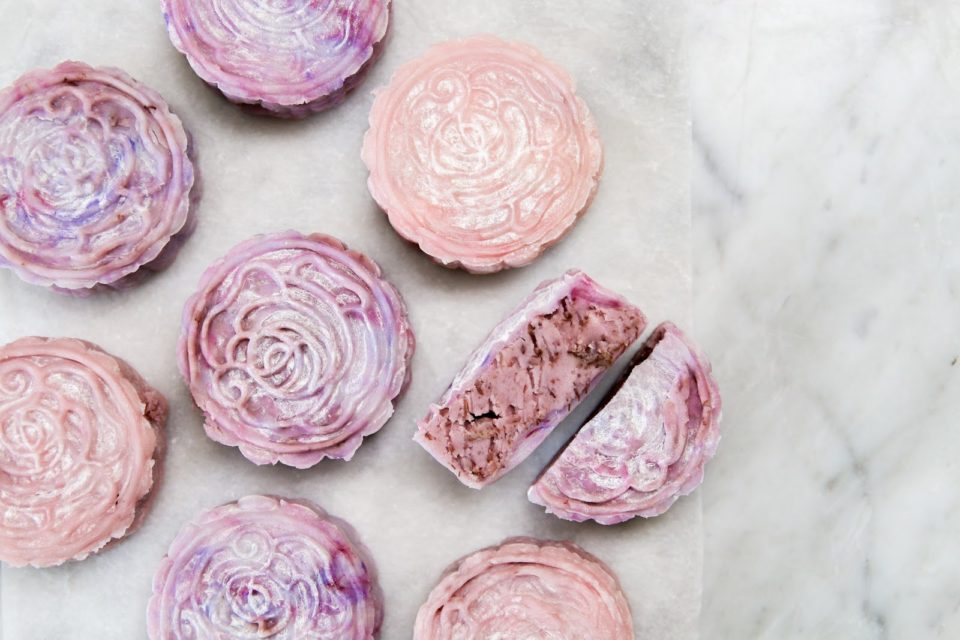 Happy Mid-Autumn Festival! I did not intend on making more mooncakes this year after making the baked taro and purple yam with salted egg yolk mooncakes last weekend. I had so much taro leftover from the previous week and I found two other sets of mooncake molds, that it only seemed appropriate to be extra festive and make more mooncakes this weekend. Even though it might be a bit too late to share this recipe (though I highly encourage making these the day of Mid-Autumn), it is too good not to share.
Unlike traditional mooncakes, snowy or 'snow skin' mooncakes are not baked. Snowy mooncakes can have similar fillings as traditional mooncakes but their wrappers have a soft and chewy mochi-like consistency rather than the consistency of a pastry dough. The wrapper dough takes on whatever colour you want it to be. A teaspoon of matcha powder could be added to make a beautiful green mooncake and beetroot powder could create many shades of pink. Next year, I will make snowy matcha mooncakes filled with custard, please hold me to that.
For the mean time, I have these little gems for you. These snowy mooncakes are filled with a velvety taro and coconut mixture. The filling is encased in a soft and chewy wrapper that I coloured pink and purple to match. To achieve the marbling effect for the wrapper, simply add different types of gel food colour to the dough and mix lightly. Mix the dough until the desired marbling is achieved. Working with glutinous rice flour can be tricky because it tends to stick to all the surfaces and your hands. To make the dough more workable, a light dusting of rice flour will do the trick.
Lastly, I have the recipe written in grams for you instead of cups and teaspoons. Mooncake measurements are finicky and I highly recommend using a scale to weigh out your ingredients for the best mooncakes.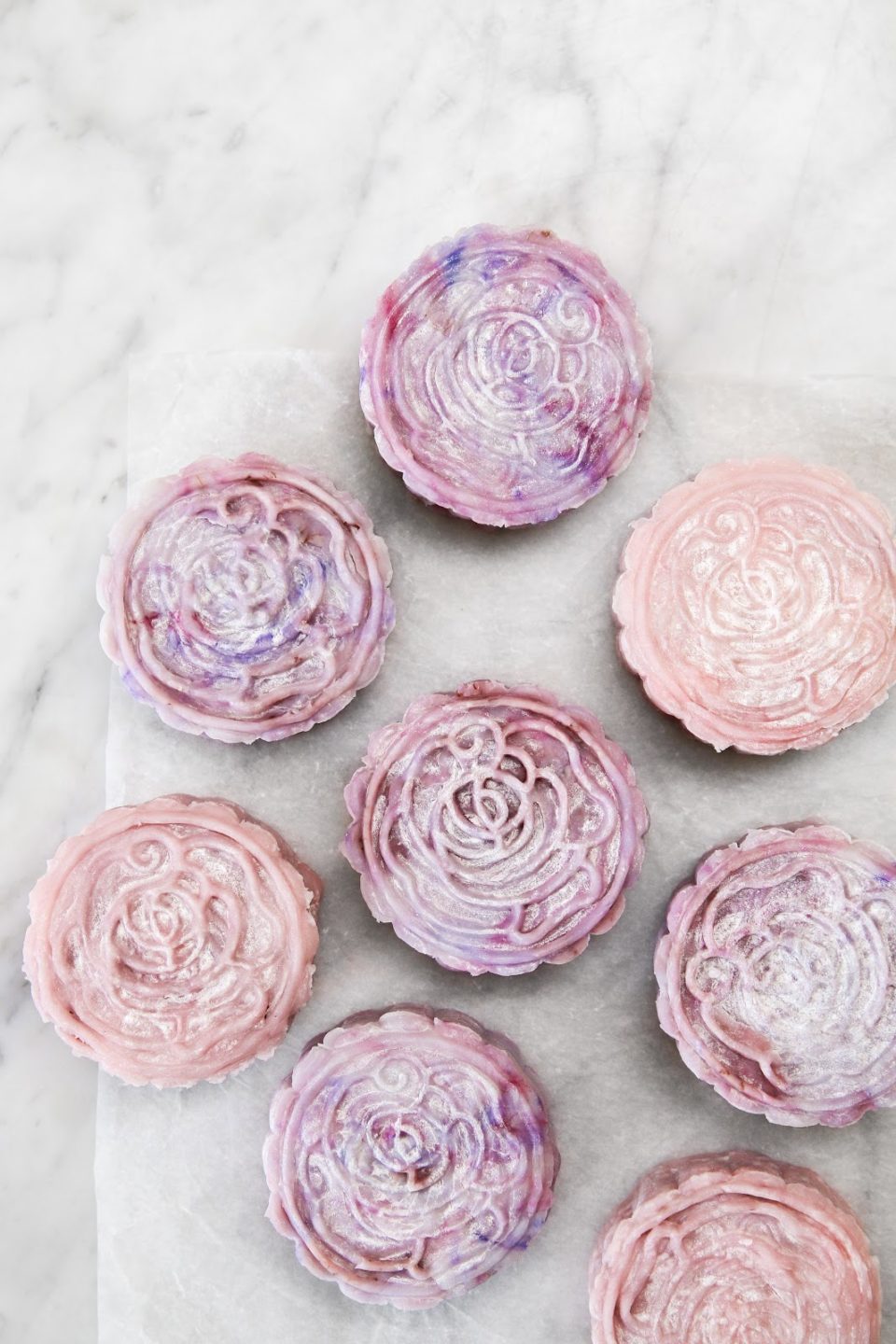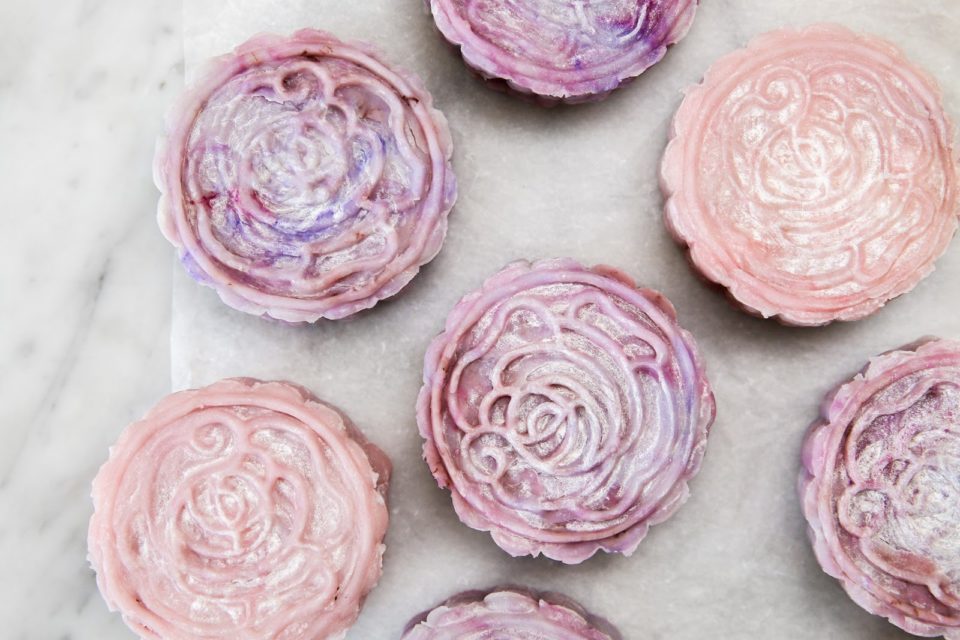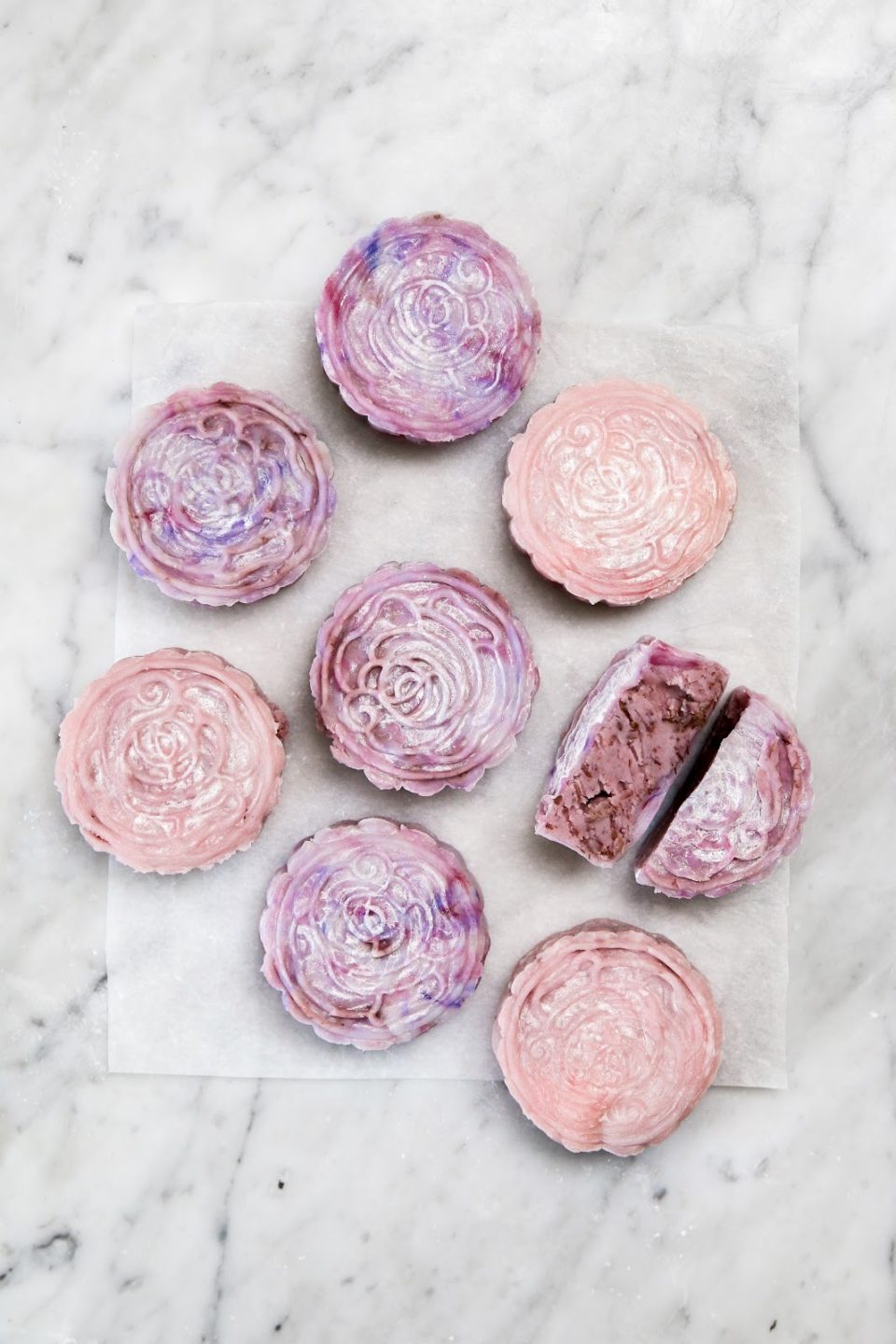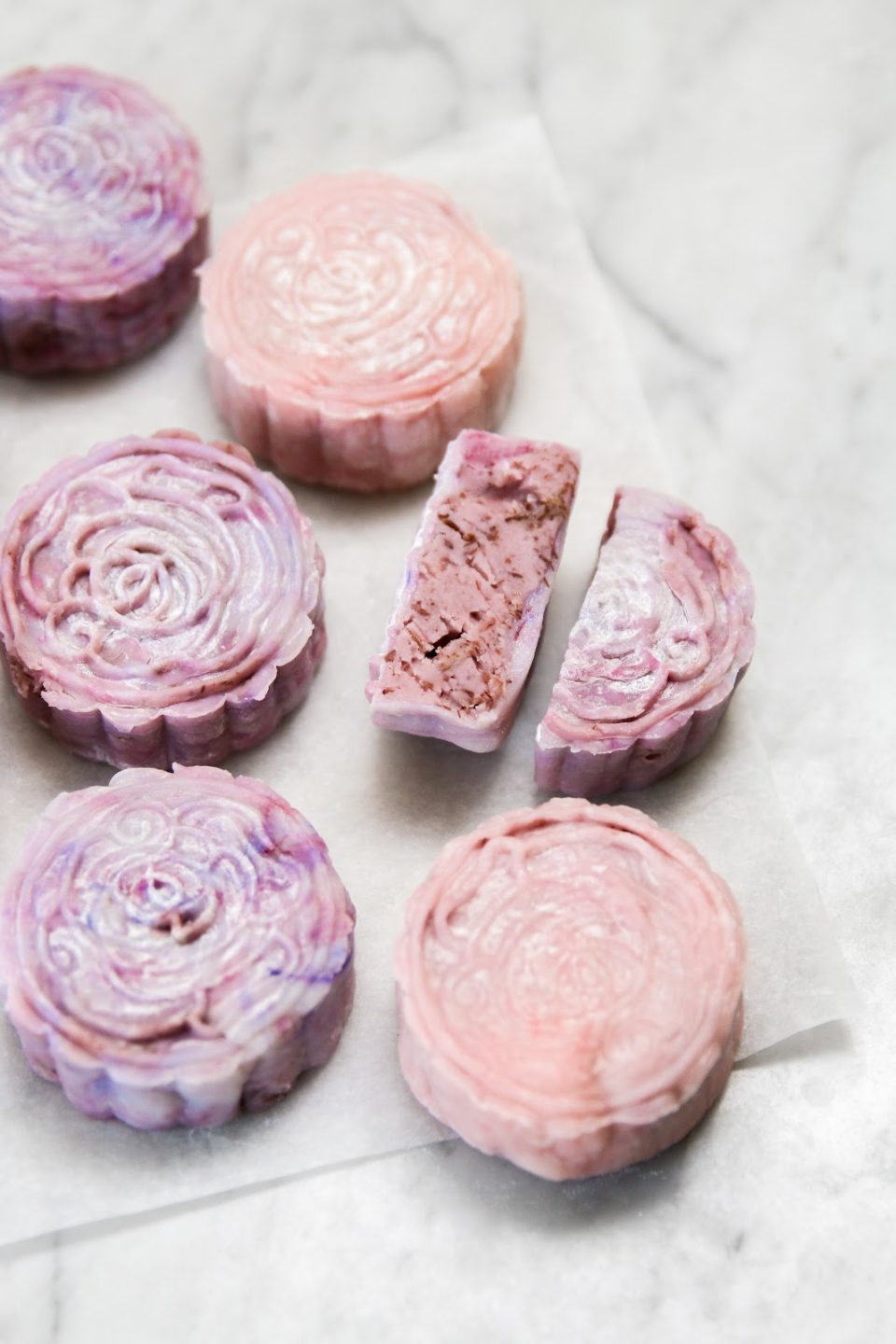 Happy Mid-Autumn Festival!
Ingredients
Taro Coconut Filling
340

g

taro

1/2

teaspoon

kosher salt

1/2

cup

granulated sugar

1/8

cup

+ 1 tablespoon vegetable oil

1/3

cup

unsweetened full-fat coconut milk
Snowy Mooncake Wrapper
50

g

glutinous rice flour

35

g

rice flour

20

g

tapioca flour

45

g

icing sugar

180

g

unsweetened full-fat coconut milk

15

g

vegetable oil

1/4

cup

toasted rice flour

,

for dusting
Instructions
Taro Coconut Filling
Wash and peel taro root with potato peeler. Wearing gloves for this step is helpful because raw taro can leave skin feely waxy and itchy. Cube taro into 1 inch cubes.

Place taro into a steamer or steaming basket. Steam until tender to the fork, roughly 30 – 40 minutes.

Remove taro from steamer. Using a fork or potato ricer, mash the taro into a smooth paste.

Add salt, sugar, vegetable oil into mixture. Mix until well combined and paste is smooth.

Add coconut milk to mixture and mix well. Adjust the consistency of the paste by adding more or less coconut milk.

Set aside and let the filling cool. Chill the mixture in the refrigerator until ready to use.
Snowy Mooncake Wrapper
In a measuring cup, combine milk and oil

In a separate bowl, whisk together glutinous rice flour, rice flour, tapioca flour, and icing sugar.

Pour the wet mixture into the dry mixture and mix well, making sure no lumps remain.

Strain mixture through fine-meshed sieve.

Over medium heat, steam the mixture for around 30 minutes until it becomes slightly transparent.

Remove the bowl from the pot and stir the mixture with chopsticks for several minutes until the mixture is glossy and smooth.

Transfer dough to a plate and cover with saran wrap. Knead  for several minutes until the surface becomes oily.

Form the dough into a disc and refrigerate for at least two hours before assembling the snow skin mooncake. A warm dough is too sticky too handle.
Assembly
Weigh out eight 75-gram scoops of taro filling and gently shape each portion into balls. Set aside.

Divide and weigh the dough into eight 35-gram pieces.

Dust the mooncake mold with toasted rice flour.

Wrap the taro filling with wrapper dough and seal completely. Shape into an oval shape, so it will easily slide into the mooncake mold. Dust the bottom of the mooncake ball with more toasted rice flour.

Press on the mooncake mold to shape the mooncake. Carefully remove from the mold. If any sides of the mooncake is too tacky, brush on toasted rice flour.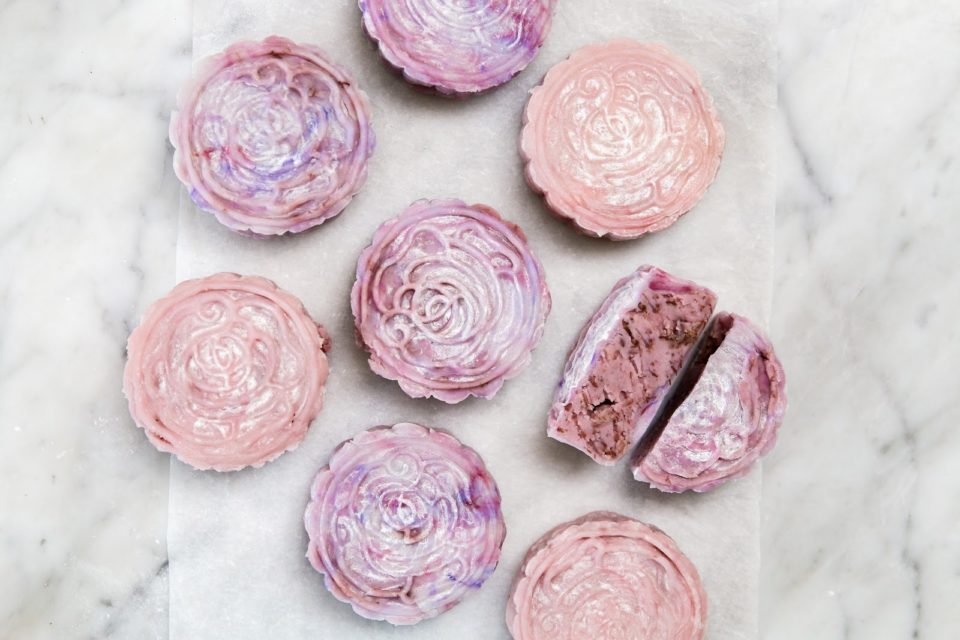 Reader Interactions