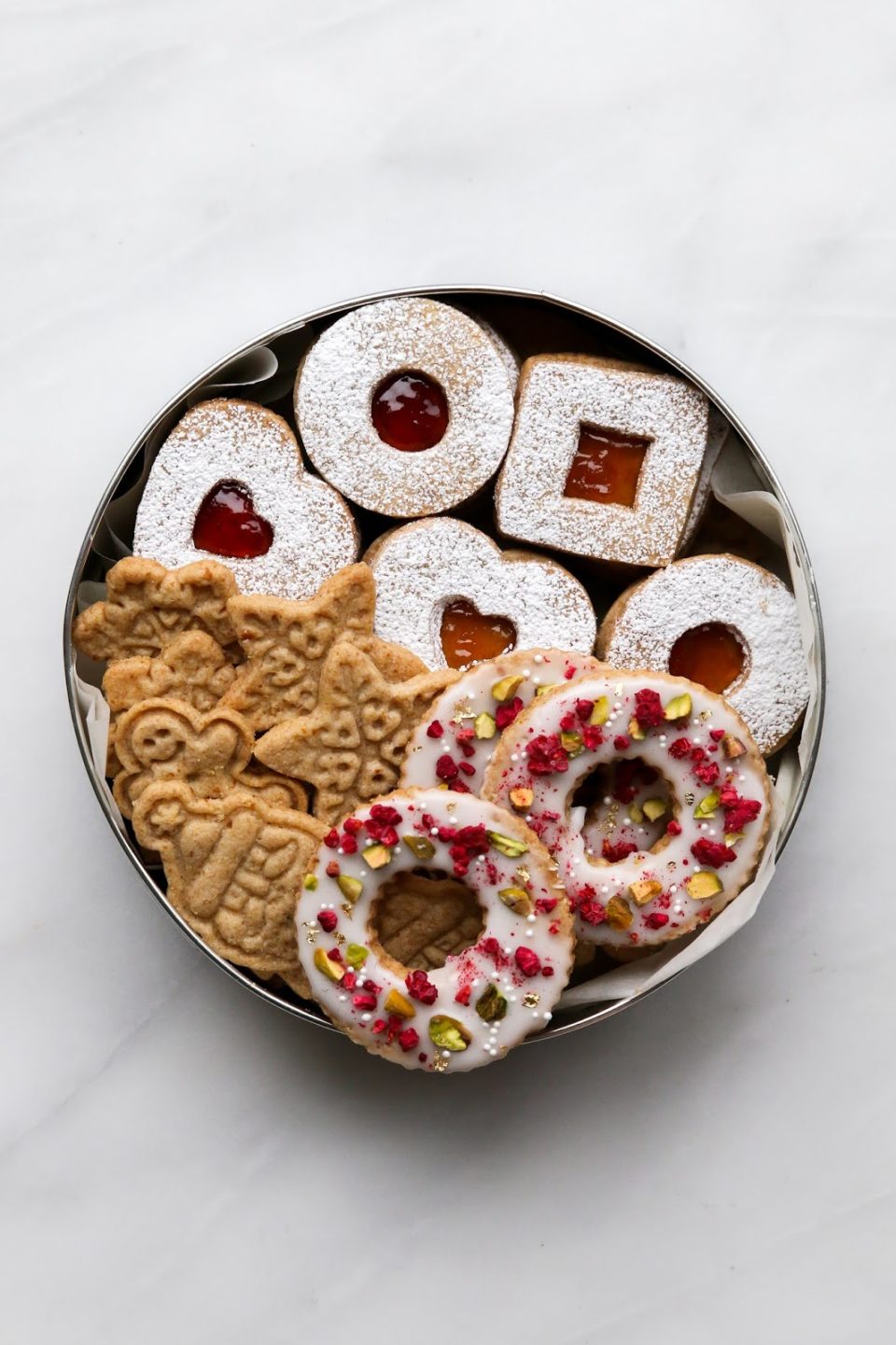 I've never really liked pretzels. I like those little pretzel nubs covered in cheesy dust and the pretzels filled with peanut butter but real pretzels? I'll pass. I don't like them even if they're the only snack offered on a long flight. But if you take these aforementioned pretzels (the original ones, not the cheese-covered ones), turn it into a pretzel flour, and add butter and sugar to it… it becomes something incredibly magical. You get the signature flavour (from the malt syrup!) and saltiness of pretzels and you get everything you love about shortbread. I don't know why I haven't made pretzel shortbread sooner, but this dough is going to be one of my new go-to cookie recipes for cutout cookies.
Holiday baking is all about being super efficient so you have more time to decorate the cookies and gift them to friends and family. My favourite holiday hack is to make one type of cookie dough (like sugar cookie, shortbread, or gingerbread) and transform it into two or three different types of cookies by shaping them differently, filling them with a variety of jams and spreads, and decorating them with all types of toppings. With this pretzel shortbread dough, I made holiday wreaths, jam-filled linzers, and festive stamped cookies. The linzers are filled with strawberry and apricot jam and my wreaths are topped chopped pistachios, freeze-dried raspberries, and festive sprinkles. What I love most about these pretzel shortbread cookies is that you can fill and decorate your pretzel cookies with any of your favourite things.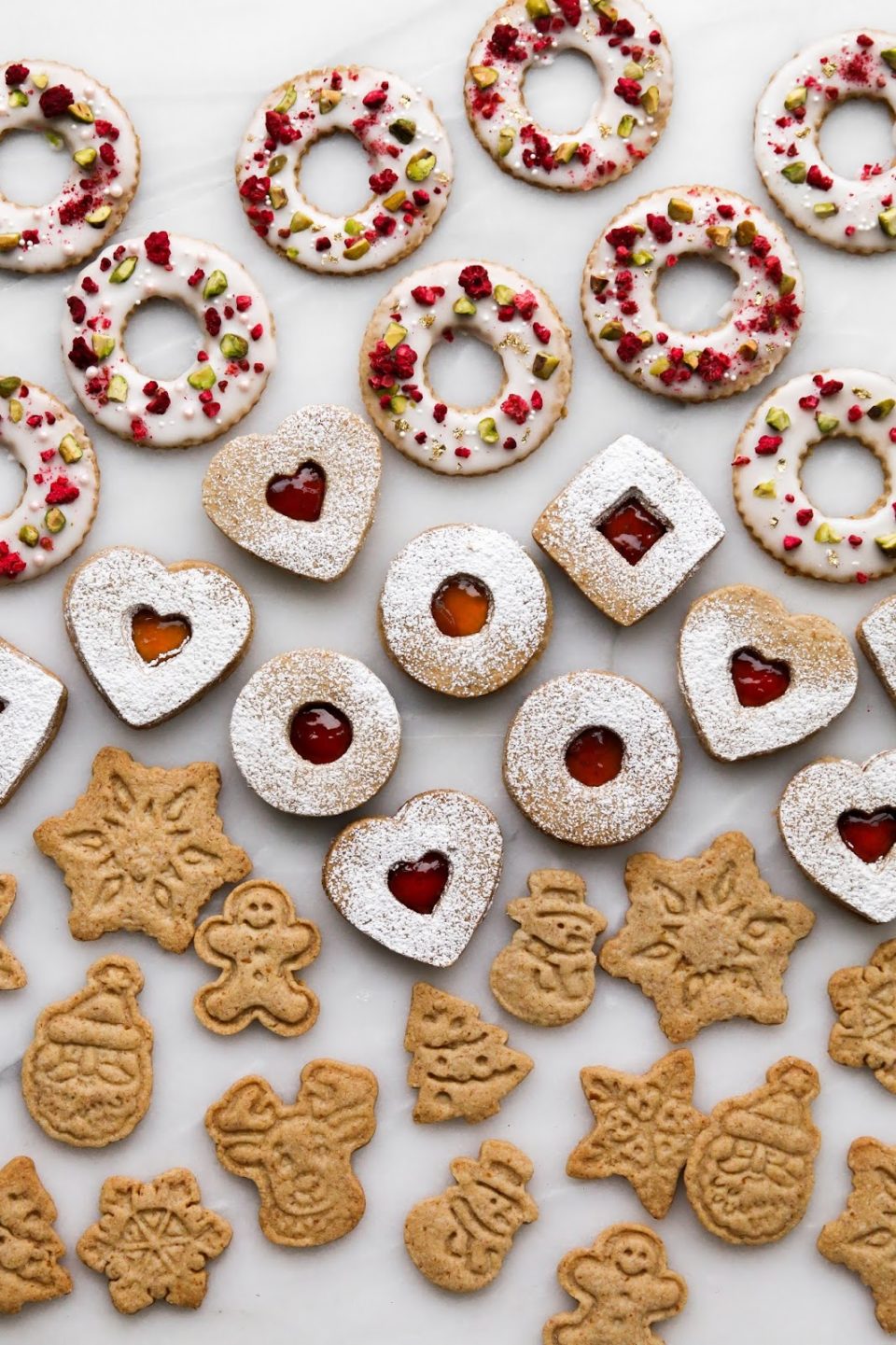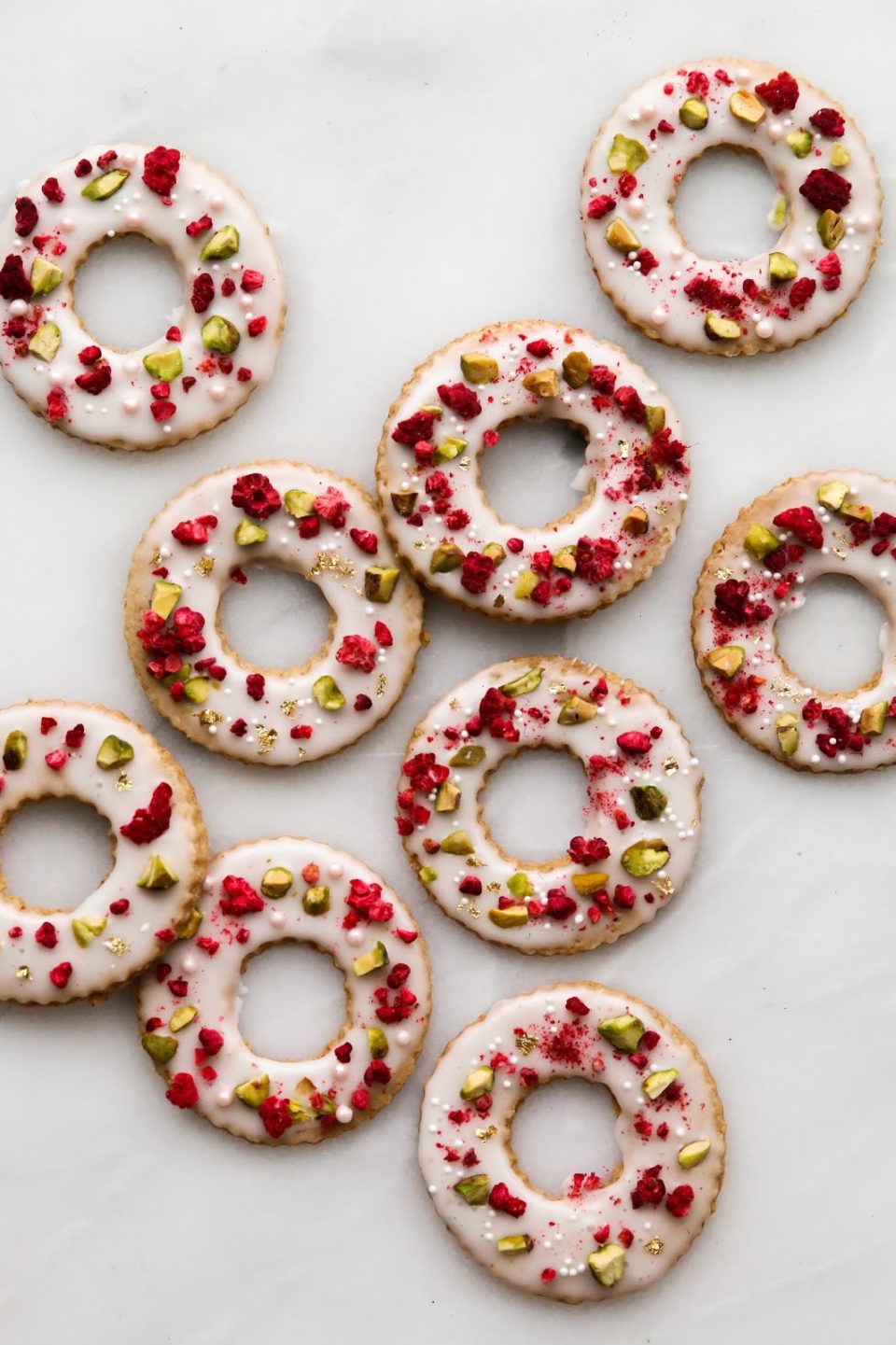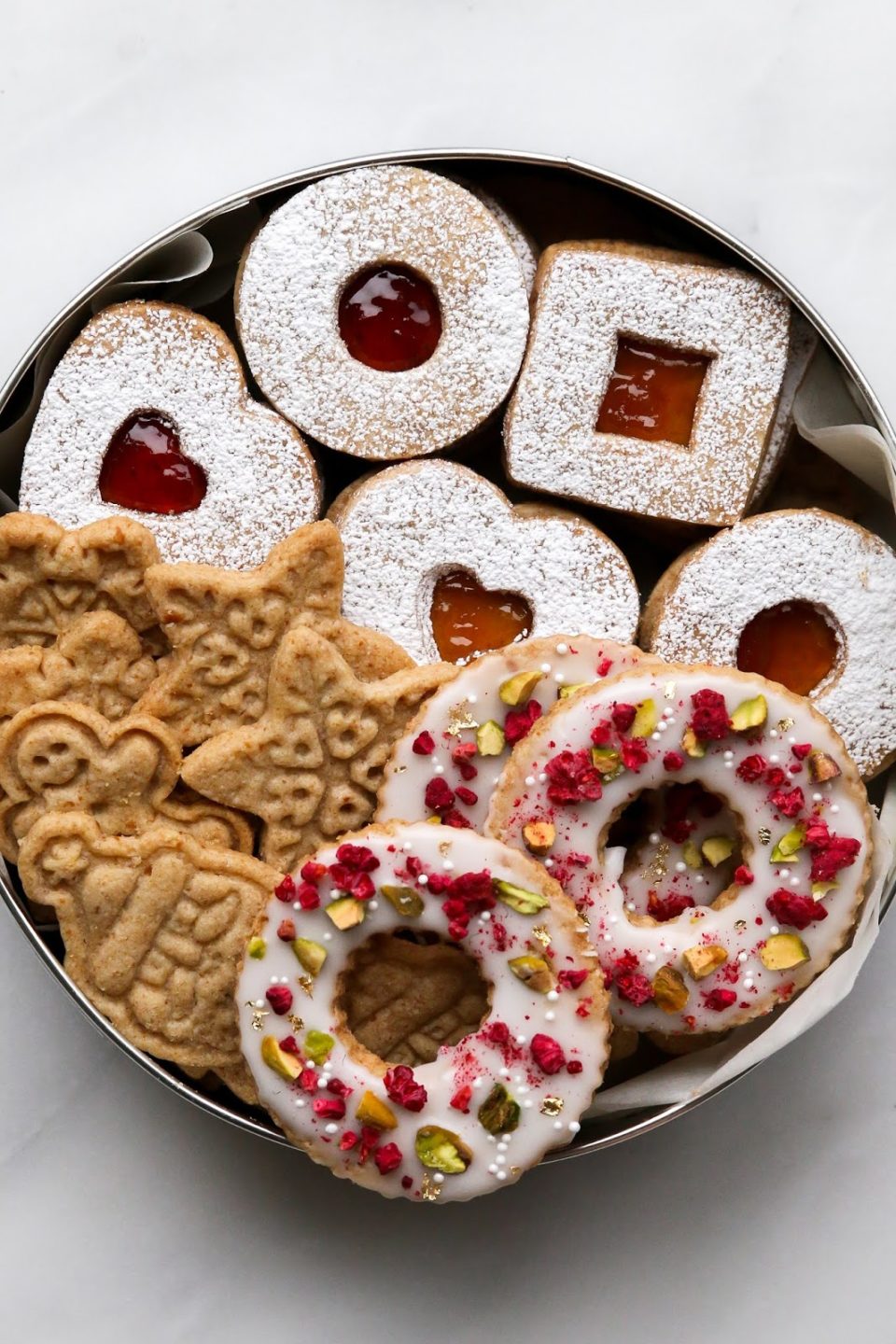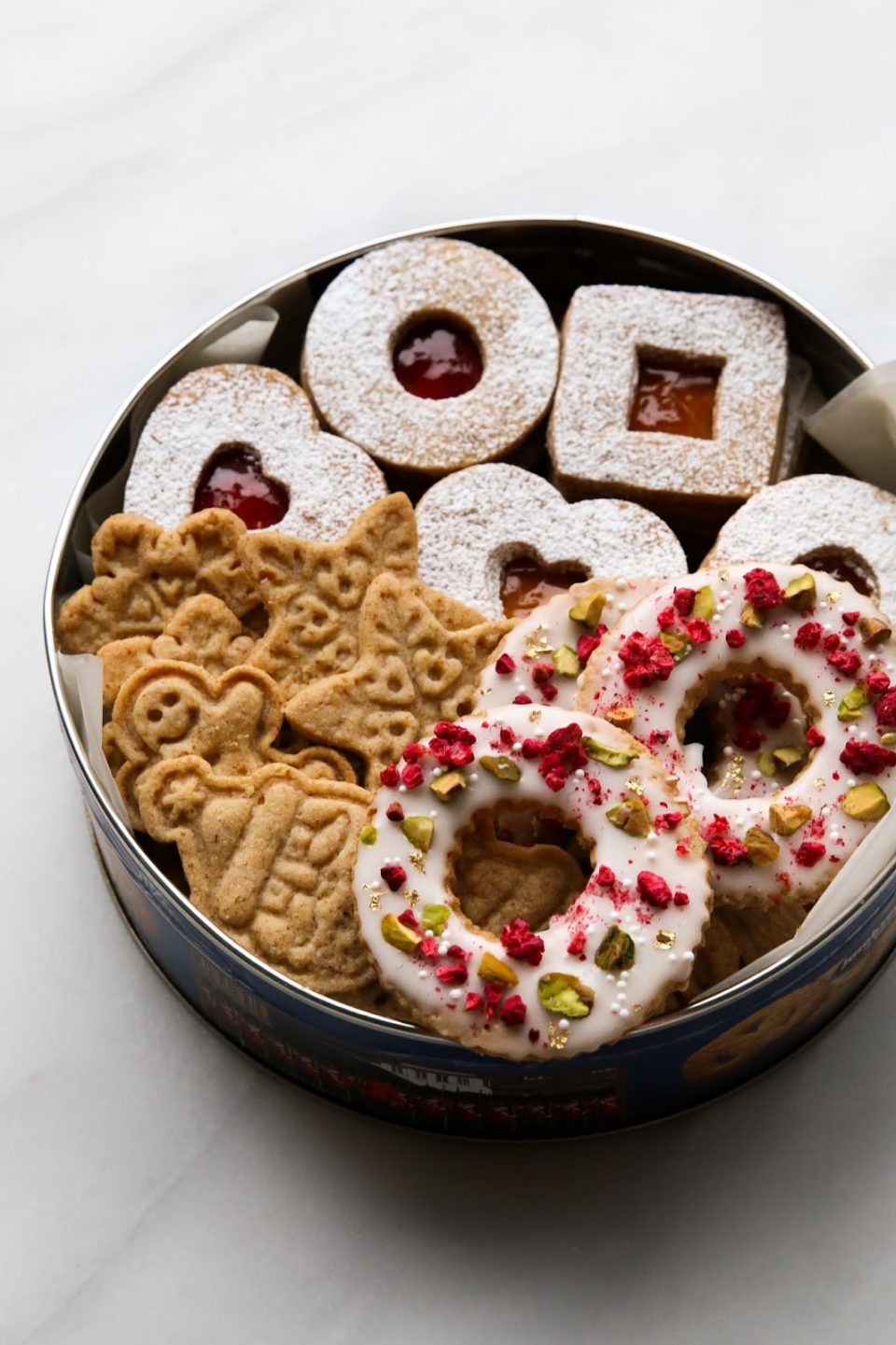 Ingredients
1 1/4

cup

(150g) pretzel flour (I pulsed pretzels in my blender until it reached flour consistency)

1

cup

and 2 tbsp (132g) all-purpose flour

1

cup

( 227 g) unsalted butter

,

at room temperature

1

cup

(120 g) powdered sugar

1

tsp

vanilla
For decorating wreaths
Royal icing

Pistachios

,

chopped

Freeze-dried raspberries

Sprinkles and edible gold leaf
For filling and decorating linzers
Jam of choice

Powdered sugar

,

for dusting
Instructions
In a food processor or blender, pulse pretzels until the texture resembles flour. Transfer pretzel flour into a medium bowl. Whisk in flour. Set aside.

In the bowl of a stand mixer fitted with the paddle attachment, beat the butter on medium speed until smooth, 1 – 2 minutes. Add powdered sugar and vanilla and mix until fully combined.

Scrape down the sides of the bowl and mix on medium speed for another 2 – 3 minutes, until the colour lightens and the texture becomes fluffy and smooth.

Add pretzel flour mixture to the bowl and mix on low speed until just combined. Gather the dough into a ball. Lay a large piece of plastic wrap on a flat surface and transfer the dough to the centre of the plastic wrap. Flatten the dough to form a disc. Wrap tightly and refrigerate for at least 1 hour.

Preheat oven to 350F.

After dough has chilled, rough out dough on a lightly floured surface or between to sheets of parchment paper to 1/4-inch in thickness. Using cookie cutters of your choice, punch out the desired shapes. Transfer the cutouts to a baking sheet lined with parchment paper and transfer baking sheet to freezer for 5 – 10 minutes. Freezing the cutouts will prevent the cookies from spreading in the oven.

Bake cookies until golden brown, about 8 – 11 minutes, depending on the size of your cutouts. Wreaths tend to bake quickest since they are hollowed out. Keep a close eye!

When ready, remove cookies from the oven and allow them to cool for at least 10 minutes on the baking sheet. Transfer cookies to cooling rack to cool complete.
To decorate wreaths
Make your royal icing (a combination of icing sugar and milk/water should be at the consistency of honey). Dip the top of a wreath cookie in royal icing and allow excess to drip off. Return dipped cookie to cool rack. Before the icing sets, sprinkle chopped pistachio, freeze-dried raspberries, and sprinkles. Repeat with remaining wreath cookies. You want to dip them one at a time so the icing doesn't set before you get a chance to decorate them. Allow glaze to dry completely before serving
To make linzers
Arrange cookies with the cutouts on a separate cooling rack. Dust a thin layer of powdered sugar on the cookies. Using a spoon, put a teaspoon or so of jam at the centre of the bottom cookie (without the cutout). Take a sugar-dusted cookie and place it on top of the jam.

Arrange all the decorating and filled in a cookie tin! I like to store the jam filled ones and the plain shortbread cookies separately so they last longer.
Notes
Yield: 40 – 50 small shortbread cookies (more if you don't make any sandwiches, less if you do!)
Happy baking!
Reader Interactions