Blooms and Baking is here!!! It is out on all the virtual bookshelves until real bookshelves are open to all of us again!!! Thank you for all your messages of excitement over the last few weeks, each message made my heart so full. Recently, I have shared a few sneak peeks of the book — like the recipes for the chewy lavender earl grey sugar cookies, my jasmine vanilla bundt cake, and if you are a newsletter subscriber, you received early access to the lavender hot chocolate cupcakes recipe. If you enjoyed those recipes, you will fall in love with the rest of Blooms and Baking. If you have not ordered your copy of the book yet, you can find it here:
I wish I could send each of you a dozen rose cream puffs and I wish we could decorate all the cakes in the world with fresh flowers together to celebrate the arrival of the book. I hope we can take a rain check on this cake decorating date and celebrate together in the (hopefully near) future. When your book arrives in the mail or if you make something from Blooms and Baking, I would love to see it! Feel free to send me a photo of your baked goods or tag me on social media. I look forward to all your creations.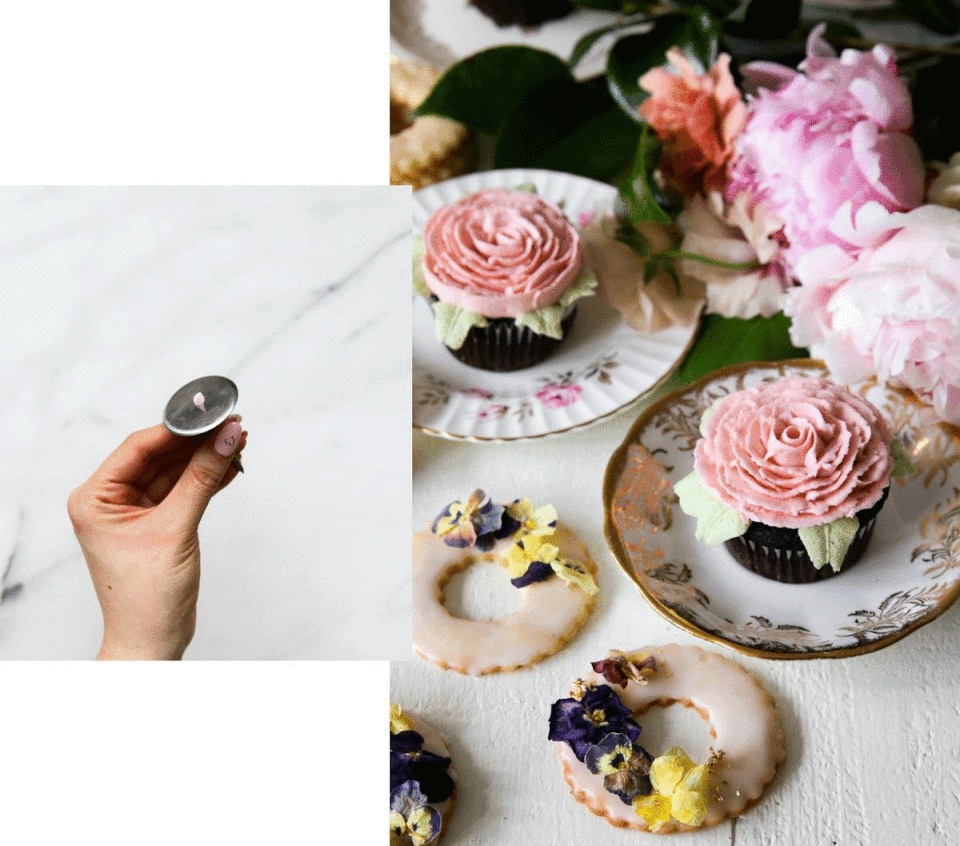 My wonderful friends and colleagues said the most wonderful things about Blooms and Baking:
"Amy Ho has created an inspiring collection of ingenious and beautiful ways to work flowers into every bit of our baking, so we can enjoy the fragrance and flavor of our favorite ephemeral blooms just a little bit longer and in new and exciting ways (hello Chocolate Lilac Cake!). She covers everything, from infusing the flavors of flowers into cakes, cookies, and creams, to piping floral decorations, candying fresh flowers, and of course, decorating with fresh flowers. Amy's obvious talents are on full display here, and I'm so excited that she decided to share her lovely ideas with all of us."
Susan Spungen, Cookbook Author of Open Kitchen and Food Stylist
"Whenever I see one of Amy's posts on Instagram or Pinterest, it's instantly recognizable as one of her recipes. Amy has one of the most unique creative voices in the blogging world; her signature cookies and cakes are always decorated SO beautifully, with her signature care and flourish. I'm so excited that she's finally sharing all her tips and tricks in this cookbook!"
Michelle Lopez, Cookbook Author of Weeknight Baking
"Get excited to taste and explore your way through an edible garden of treats.  In Blooms and Baking, each dessert is as gorgeous as it is delicious!  Amy's beautiful designs and invigorating flavor combinations have me preheating my oven and readying my piping bags."
Tessa Huff, Author of Layered and Icing on the Cake
"If you can't decide between flowers or cake for the centerpiece of your next celebration, look no further than this AMAZING book by Amy Ho! I'm always so inspired by everything she creates and things have certainly been taken to the next level in this combination of floral meets delicious cake collection of recipes and tutorials!"
Brian Hart Hoffman, Editor-in-chief of Bake from Scratch Magazine 
"Amy Ho has the remarkable ability partner whimsy with technical precision and her imaginative creations never fail to delight. From her blog, to her collaborations, and now to her book, Amy brings a romantic sensibility to modern baking."
– Tara O'Brady, Food Writer and Author of Seven Spoons
Thank you so much for following  along on this baking journey. This blog and this cookbook would not exist without each and everyone of you. This book is as much mine as it is yours.
I am forever grateful.
Lots of love and flowers,
 Amy