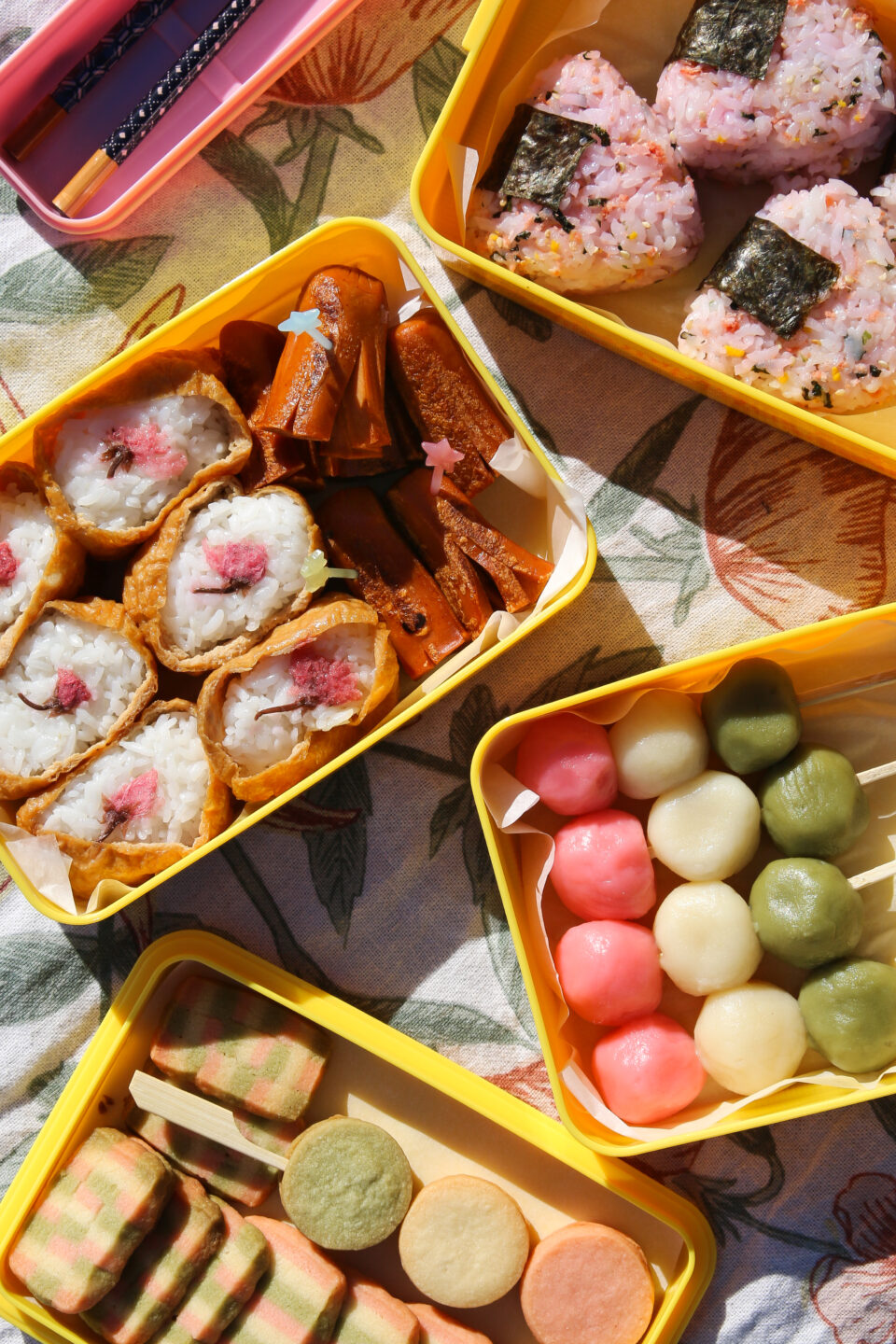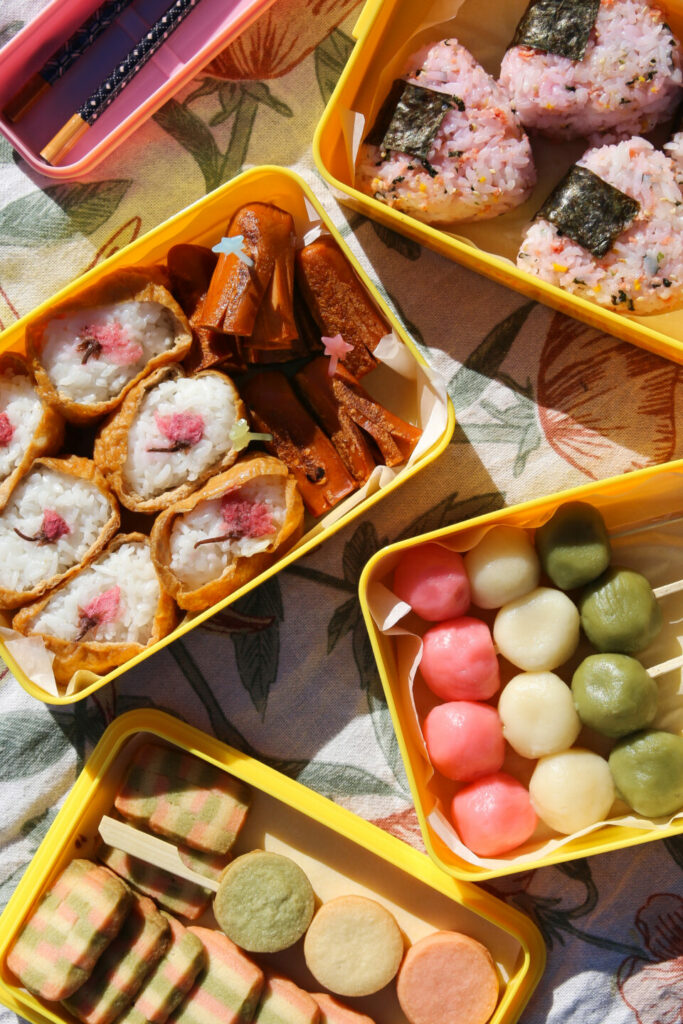 Cherry blossom season is in full bloom here and I can't think of a more beautiful time of the year. The soft pink petals flutter in the wind and everything looks so effortlessly romantic. Having a hanami (Japanese for "flower viewing") picnic under the cherry blossom trees has not become an annual tradition yet, but I'm making more of an effort to make bento boxes filled with springtime sweets and sakura snacks for enjoying under the blossoms. People in Japan take their hanami bentos very seriously but for my first all-homemade bento, I thought I would start with something for manageable and least likely to cause any mental breakdowns. I've only had one and a half breakdowns so far.
The first thing I had to do was get a bento box! I knew I wanted a multi-layer one but didn't expect to find most perfect four-tiered Rilakkuma box at the mall. It has three deep compartments and one shallow one, which was perfect for small sweets and cookies. It also came with matching utensils. I can't find the exact one I used but these San-X or pastel-coloured lunch boxes would be just as cute. After finding the box, it was time to design the menu:
First savoury layer: sakura onigiri
Second savoury layer: sakura inari sausage octopus
Third sweet layer: hanami dango
Final sweet later: assorted butter cookies
🌸 Creating the first layer: sakura onigiri
One of my favourite snacks of all time: onigiri. Onigiri are Japanese rice balls made of steamed rice that have been compressed into a rounded triangular shape that are usually wrapped in a nori seaweed sheet. I love plain onigiri, I love ones filled with tuna, and I especially love ones filled with a piece of shrimp tempura. These sakura onigiri are coloured pink with Japanese plum rice seasoning (I found this at my local Japanese market) and is speckled with ebi furikake throughout. I used a strip of nori for each onigiri because I didn't want a full sheet of seaweed to hide the beautiful pink rice. The pink plum powder is very easy to use. The instructions on the back of the packaging said to use 1 tablespoon of plum powder for every 320g of cooked rice. After adding the plum powder to the warm rice, I then added a generous sprinkle of furikake to the rice and mixed until everything was distributed. Onigiri can be formed with just your hands (wetting hands with water will prevent the rice from sticking to your fingers!) but you can also use an onigiri mold.
🌸 Creating the second layer: sakura inari & sausage octopus
Inari is a traditional sushi made with a vinegared rice ball tucked inside a seasoned deep-fried tofu pocket. Inari is quite common at sushi restaurants and is one of the easiest sushi dishes to make at home. Most Japanese grocery stores will have packets of the sweet and salty tofu pockets in the refrigerated section of the store and some will even come with the vinegar seasoning for the rice. To make the inari pockets more festive, I topped each one with a salted cherry blossom flower.
Sausage octopus is something I've always loved (despite not being something I've grown up eating), so I knew it had to go in my sakura bento box. I used vegetarian sausages but you can use your favourite kind. First, cut each sausage in half. Then cut an 'X' halfway down the sausage, this will create the first four 'legs.' Rotate the sausage and carefully cut another 'X' between the slits. In a frying pan, heat a little bit of oil and cook sausages on medium heat. The octopus legs will start to flare outwards as it begins to cook. Once thoroughly cooked, remove the sausages from the heat and pack in the lunch box.
🌸 Creating the third layer: hanami dango
If you like mochi, you will love dango! Hanami dango, as its' name suggests, is dango that is enjoyed during cherry blossom season. It features three chewy, tender rice balls on a stick. Each skewer will have a green rice ball, a white one, and a pink one, in that order. Each colour has a special meaning: the pink to symbolize the cherry blossoms, the white to symbolize the melting snow, and the green represents the green colours that come with spring. I've made hanami dango many times using many different recipes, but I've recently started incorporate soft tofu into my dango rice dough (thank you for the wonderful tip, Okonomi Kitchen!) and it's my favourite version yet. You can find the updated hanami recipe dango here.
Hanami dango can also be purchased at Japanese grocery stores (when it's in season) or some Japanese restaurants will offer it a special during this time of year!
🌸 Creating the final layer: assorted sakura cookies
For the final sweet layer, I made strawberry, vanilla, and matcha shortbread dough and shaped them three different ways to make three different types of cookies. First, the doughs were rolled out and I used a small round cookie cutter to cut out circles. Once baked, half of the cookies were filled with a matcha cream cheese buttercream. I placed a skewer in the middle and topped each cookie with its corresponding coloured cookie to form a cookie hanami dango skewer.
The next two cookies were variations of checkerboard cookies and layered cookies. Rolled out dough was stacked on top of each other, cut in half, and stacked again. Cookies were baked until golden brown around the edges. You can find a tutorial on how to create checkerboard cookies here. Any type of shortbread or sugar cookie dough (no leaveners) will work with this technique.
🌸 Assembling the bento box
Once all the food has been prepared, pack it in the bento box. I like to pack the food items tightly in the box. Not only does this make a more beautiful box, but it also prevents the food from shifting around when be transported. If you are bringing different dipping sauces for items in your bento box, pack it separately in it's own little container so it doesn't spill inside the box. Bento boxes are also meant to be eaten at room temperature so keep that in mind when planning your menu!
After I packed all four layers of my bento box and made sure everything is secure, I headed to the park in my neighbourhood that has the best cherry blossoms. It was very busy at the park but we were able to find a shaded spot under a big blossoming tree. The bento box might've taken five hours to create and only five minutes for us to consume, it was such a lovely experience to enjoy the blossoms this time of year.