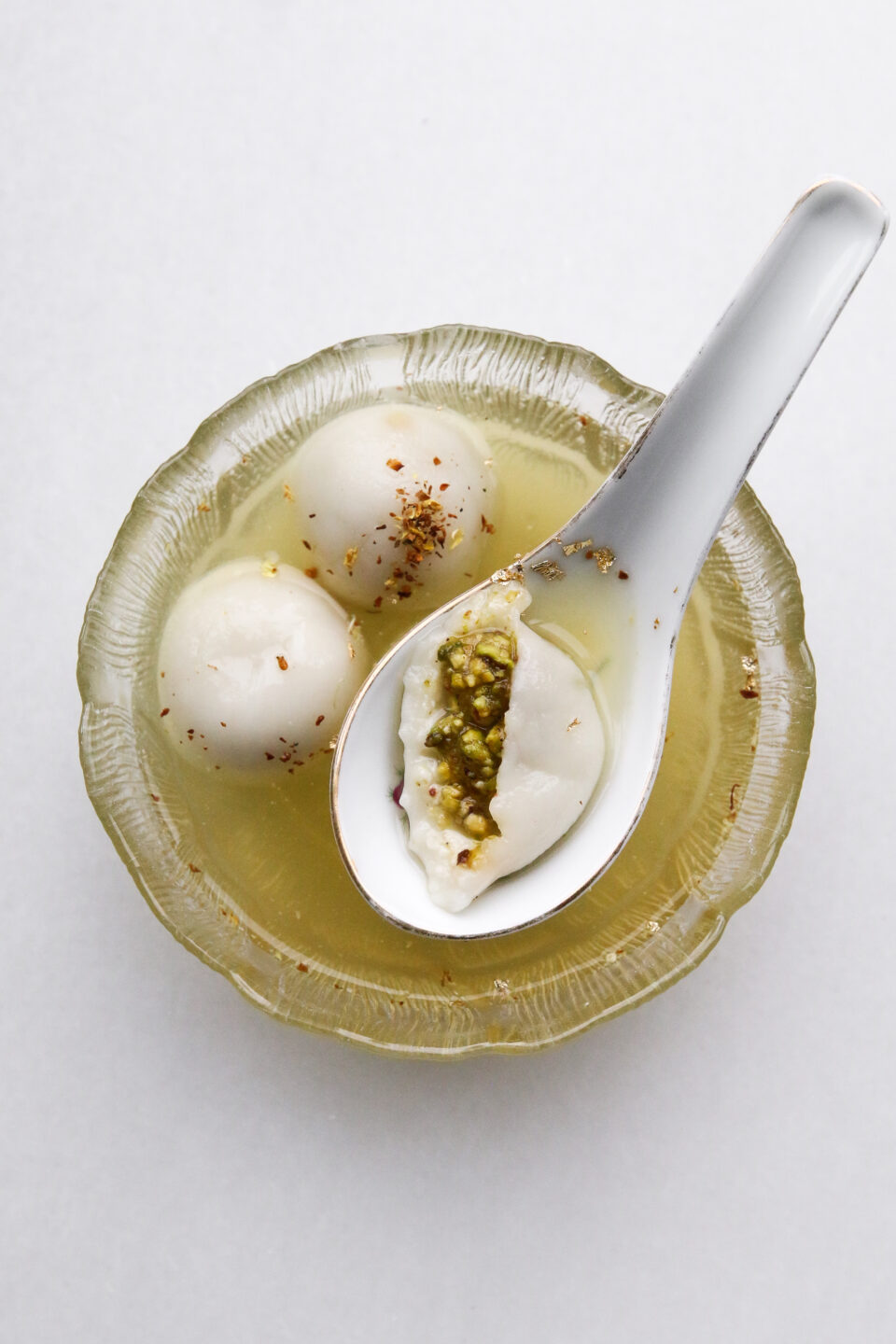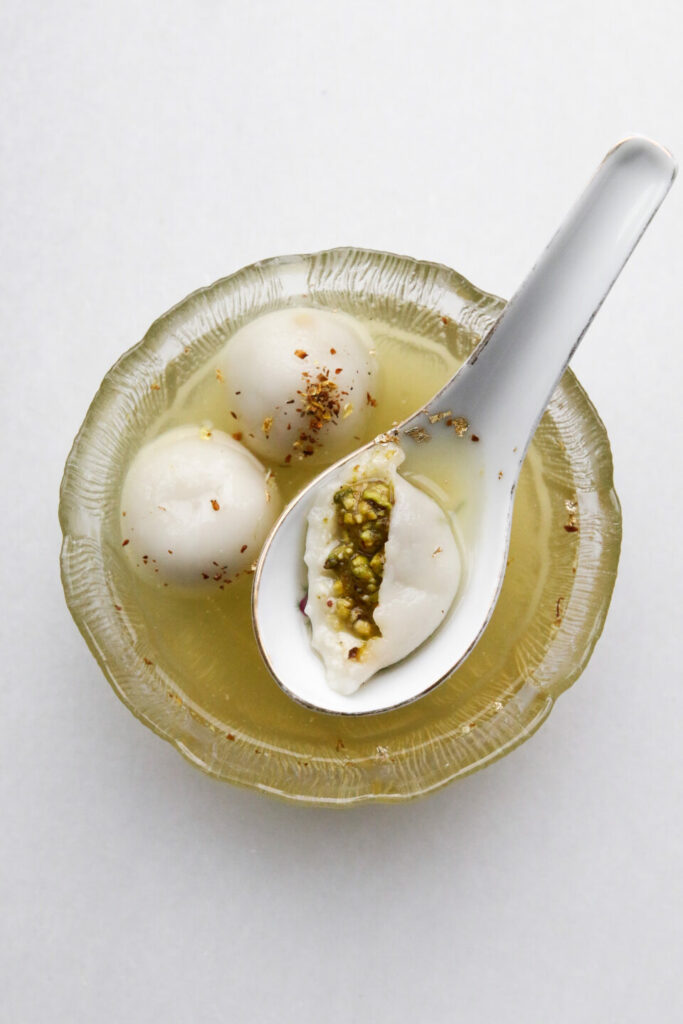 My favourite thing about Lunar New Year is all the food, especially all the sweet treats that are shared among family and friends. What makes Lunar New Year sweets superior to all the other types of desserts out there is that everything! is! so! chewy! The main character of Lunar New Year celebrations is the nian gao (年糕), or new year cake, which is a steamed glutinous rice flour-based cake (which you then pan fry!) and it is the chewiest of them all. New year cake symbolizes progress and growth, making it a popular gift to give when visiting family and friends during the holiday. My family usually eats nian gao leading up to the big day but we always have a big breakfast revolving around nian gao the morning of Lunar New Year. Next is the tang yuan (湯圓) glutinous rice balls. Tang yuan have a chewy yet tender wrapper and the filling can vary from sesame paste, peanut, or custard. The circular shape of the rice balls symbolizes one's family coming together and the name of the rice balls sound like Chinese word for reunion (tuanyuan 團圓). My love for nian gao and tang yuan knows no bounds and if I could have it my way, I would eat nian gao all year round.
Growing up, I only liked tang yuan for their wrapper. I ate tang yuan solely for the mochi-like wrapper and would scoop out the nutty fillings so that they wouldn't "ruin" the perfect texture of my beloved chewy rice ball. As I got older, I learned to appreciate how the different fillings complemented the wrapper and ate the rice balls in its entirety. I still had a preference for the the fillings though: custard reigned supreme, followed by peanut, then sesame. Tang yuan are traditionally served in a warm ginger broth, but my mom always served the rice balls in a warm, sweetened milk. I still prefer it to this day.
Now that I make my own tang yuan, I get to be creative with the fillings of the rice balls. My go-to filling to make has been taro or purple yam because I love a creamy filling, but after making these salted honey pistachio tang yuan, they might be my new favourite. Coarsely ground pistachios are combined with honey and sea salt to create a vibrant green filling. I love pairing pistachio with floral flavours so I made a osmanthus broth for the rice balls. Dried osmanthus flowers can be found at some Chinese supermarkets but you will be able to find them easily at the shops in Chinatown.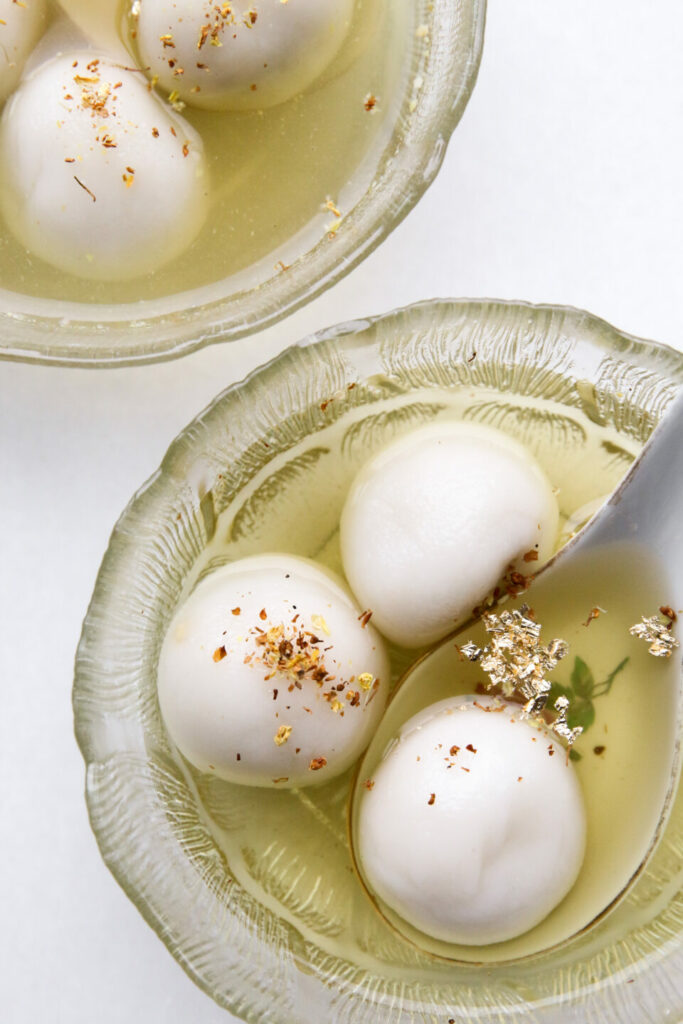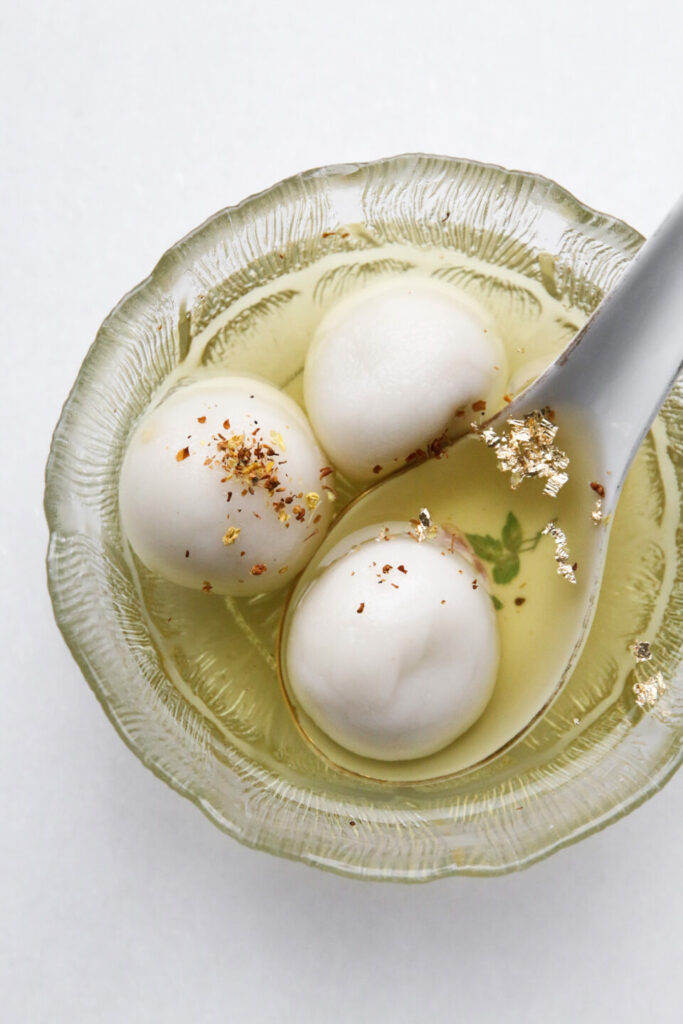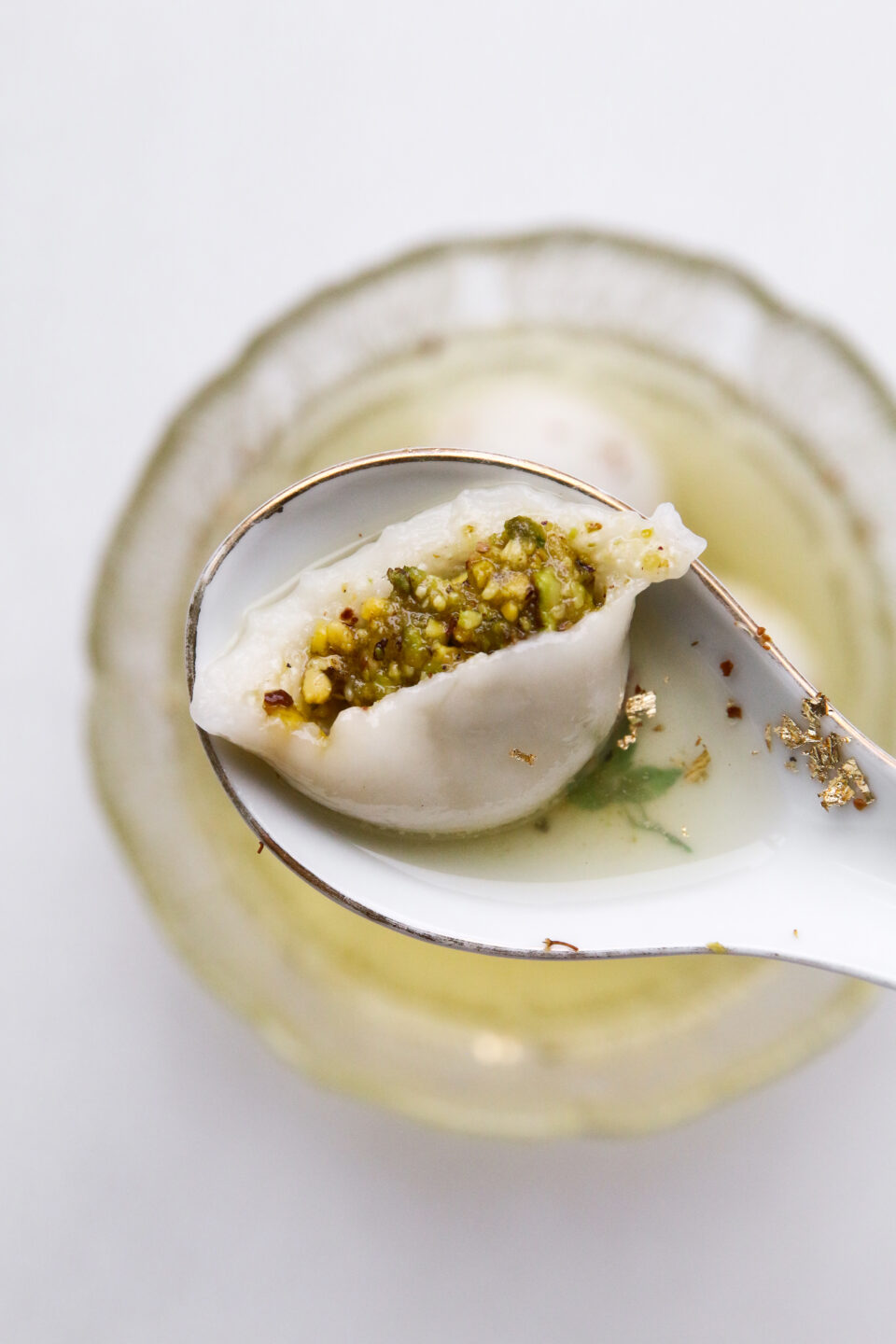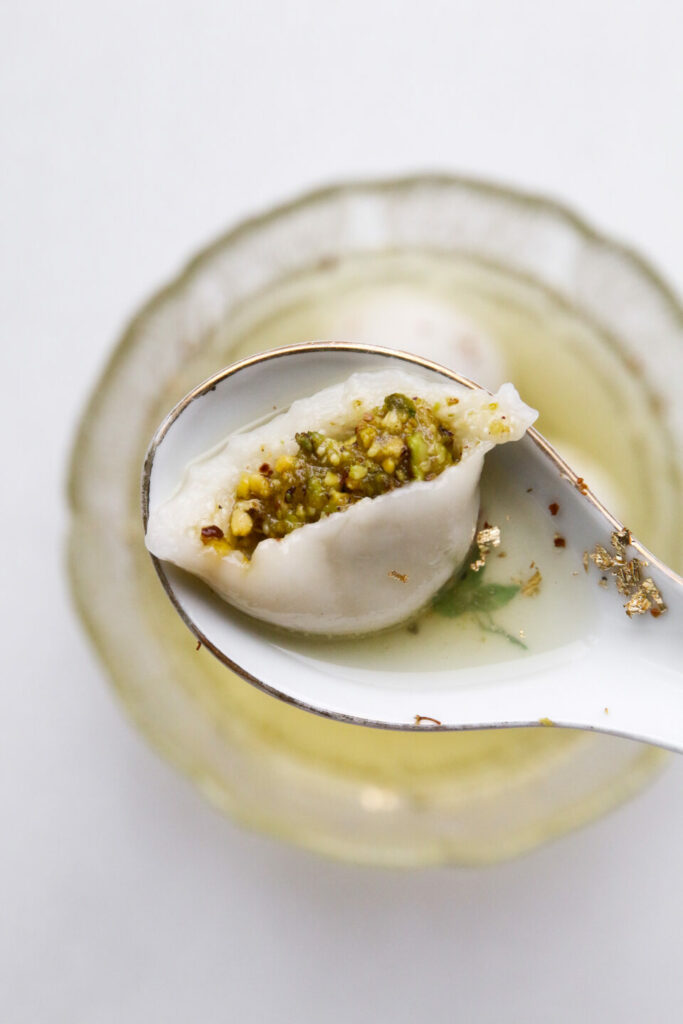 Salted Honey Pistachio Tangyuan 湯圓 Rice Balls
Tang yuan are my favourite Lunar New Year dessert. Traditionally, glutinous rice balls are filled with sesame paste or peanuts. For these rice balls, coarsely ground pistachios are combined with honey and sea salt to create a vibrant green filling. I love pairing pistachio with floral flavours so I made a fragrant osmanthus broth for the chewy rice balls.
Ingredients
Pistachio Filling
40

g

(1/4 cup) roasted pistachios

2

tbsp

honey

1

tbsp

granulated sugar

1/2

tsp

salt

,

*if the pistachios you are using are salted, decrease salt amount to 1/4 tsp
Rice Ball Dough
130

g

(1 cup) glutinous rice flour

,

plus more as needed 

120

ml

boiling water
Osmanthus Broth
480

ml

(2 cups) water

80

g

(1/3 cup + 1 tbsp) rock or granulated sugar

1 tbsp

dried osmanthus flowers
Instructions
Pistachio Filling
On a food processor, blitz pistachios until it reaches a coarse crumb, some larger pieces are okay. 

In a bowl, combine blitzed pistachio, honey, sugar, and salt. Mix until filling comes together. The filling will be loose but should form a ball when your squeeze it.

Portion filling into 12 equal balls. transfer balls to a plate and place in freezer to set while you make the wrapper
Rice Ball Wrapper
In a medium-sized bowl, combine glutinous rice flour and boiling water. Using a spoon or spatula, mix until it forms a cohesive dough.

Once the dough is no longer too hot to the touch, knead the dough for 3 minutes. If dough is sticking to your hands, add an extra tbsp of glutinous rice flour.

Portion the dough into 12 equal portions, keeping the balls under a damp towel to prevent the dough from drying out,
Assembly
Remove the filling from the freezer. Take a piece of dough and using your fingers, press the dough until it becomes a 2-inch round disc. Place a piece of the filling into the centre and pinch seams shut and roll between palms of hands until smooth. Repeat with the remaining filling and dough.

In a large pot of boiling water, cook rice balls over medium until they float to the top, about 8 minutes.
Osmanthus Broth
While the rice balls are cooking, bring water to boil in a medium size pot. Add osmanthus flowers and sugar. Mix until sugar has dissolved. Allow flowers to steep for an extra 5 mins. Strain flowers before serving.
Reader Interactions