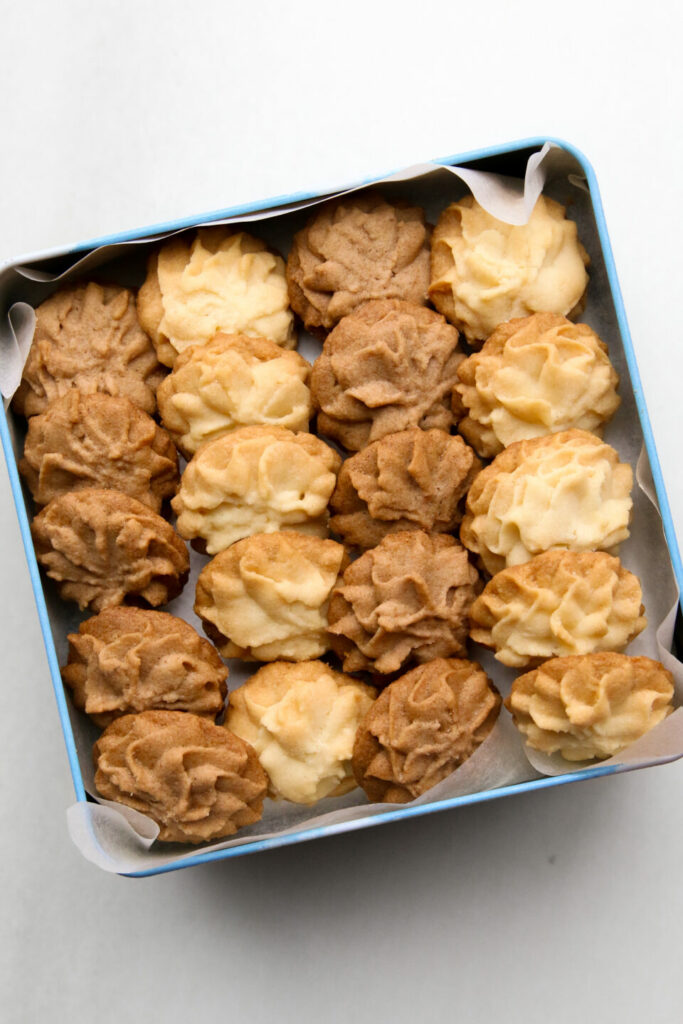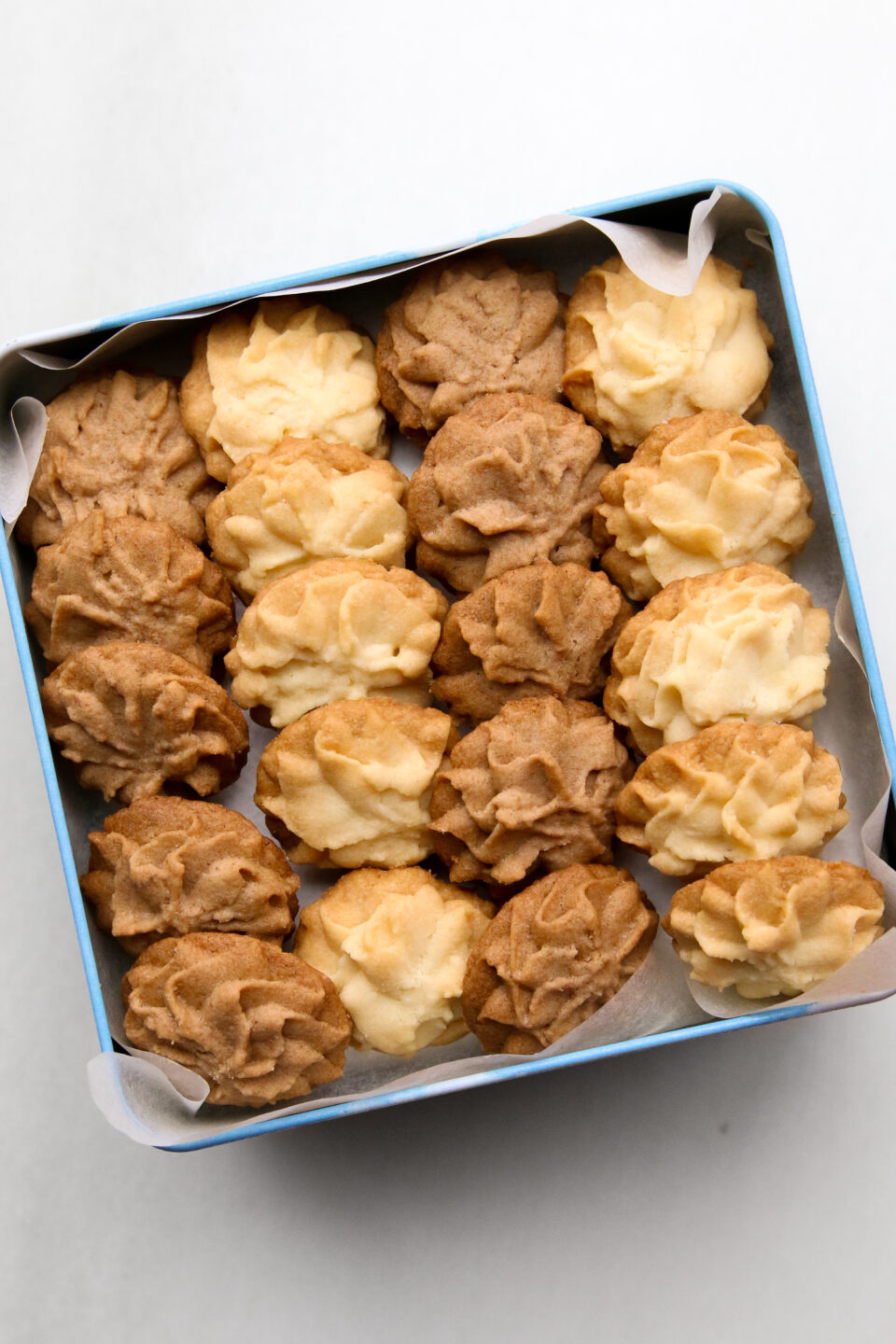 Never have I wanted to try a cookie more than I wanted to try Jenny Bakery's butter cookies. They've had a cult (can it still be considered cult at this point?) for years and I was never able to successfully get my hands on some (for anything less than an astronomical price). If you are not familiar with this Hong Kong-based bakery, here's the the quick 101:
they make melt-in-the-mouth butter cookies that amasses endless queue lines and long waiting times
the cookies are packed in its signature tins with monthly changing teddy bear designs and motifs to prevent knock offs
…and apparently you can pay people to line up for these cookies for you???
I found out that you can get Jenny's cookies locally in Vancouver at T&T Supermarket but the price has been marked up to $65 for a box and I wasn't ready for that type of commitment yet. It was during this time of cookie despair when my friend Tammy was coming back for a visit and offered to bring a box of these cookies to me (!!!!!!!!). Tammy brought back the 4-mix box for me so I would be able to try all the different flavours. Bless Tammy.
The cookies didn't disappoint and were truly some of the best butter cookies I've ever had. I feel like I need to preface all this by saying I am a crisp, melt-in-your-mouth cookie girl through and through and I will always choose a rich shortbread over a gooey chocolate chip cookie despite making the latter very often. I know it's a very unpopular opinion. Since I can't get these cookies often, I've made it my life purpose to recreate these cookies at home. There were many delicious test batches but I needed them to be more than just 'delicious.' I needed them to be a good plan B when my box from Tammy runs out (cookie count in the original tin is down to ONE). Through the many trials, I've concluded that there are two very important factors to recreating Jenny's cookies at home:
1. The type of butter you use is VERY important. I would make the same recipe using different butters and they would all taste drastically different. This is when you want to find the best salted butter you can get your hands on. I recommended using a grass-fed butter with high fat content for these cookies.
2. You want to make sure that your recipe is stiff enough so the cookies hold its shape when baking but still pliable enough to be piped through the piping bag with a star tip. I'll admit that Jenny's cookies have a more defined shape than mine but I as long as I see the ripples of cookie dough, I'm happy. Chilling the cookies before baking will help them retain their shape.
I really enjoy the classic butter flavour but if you want, you can add a teaspoon of espresso powder or matcha powder to your cookie dough!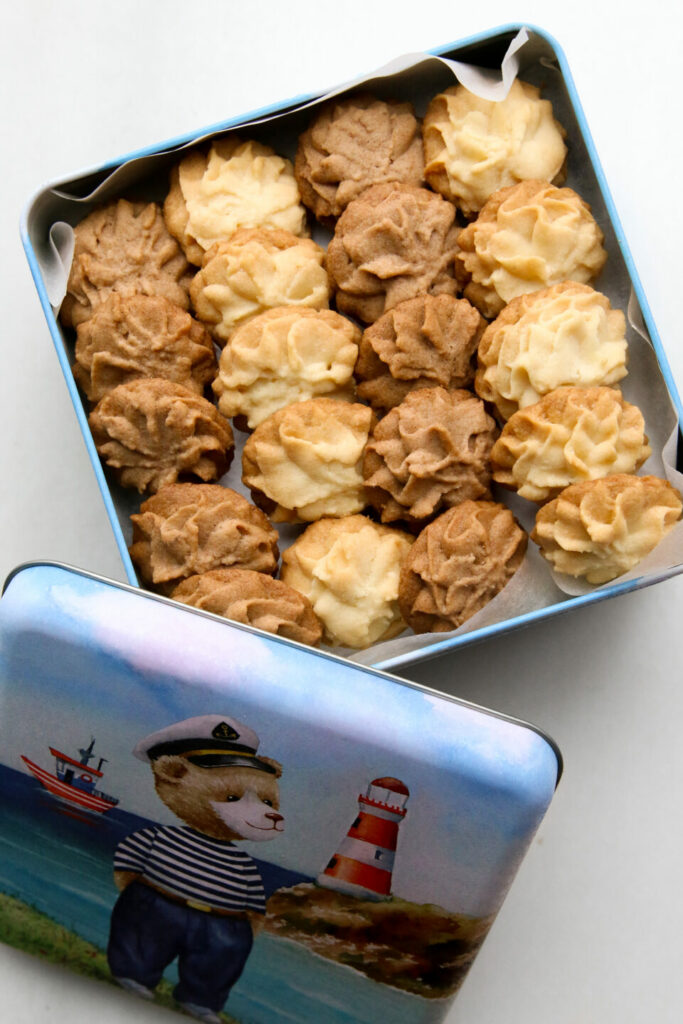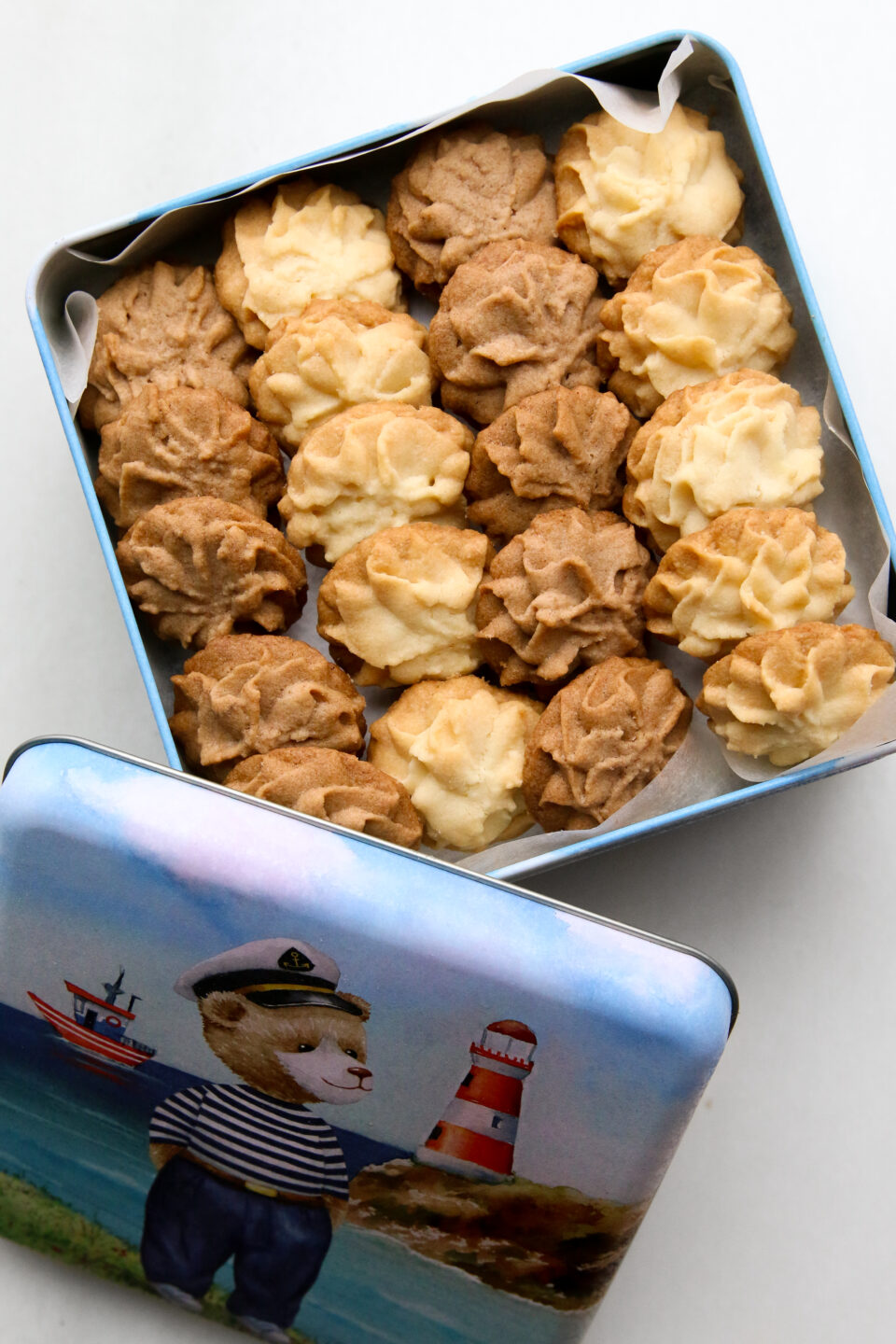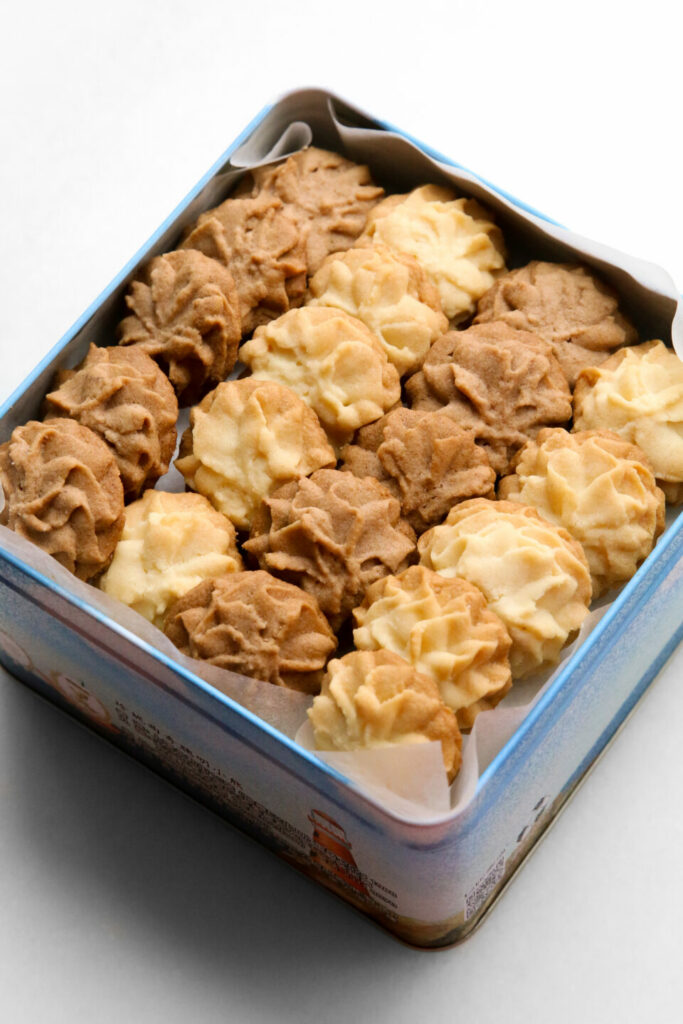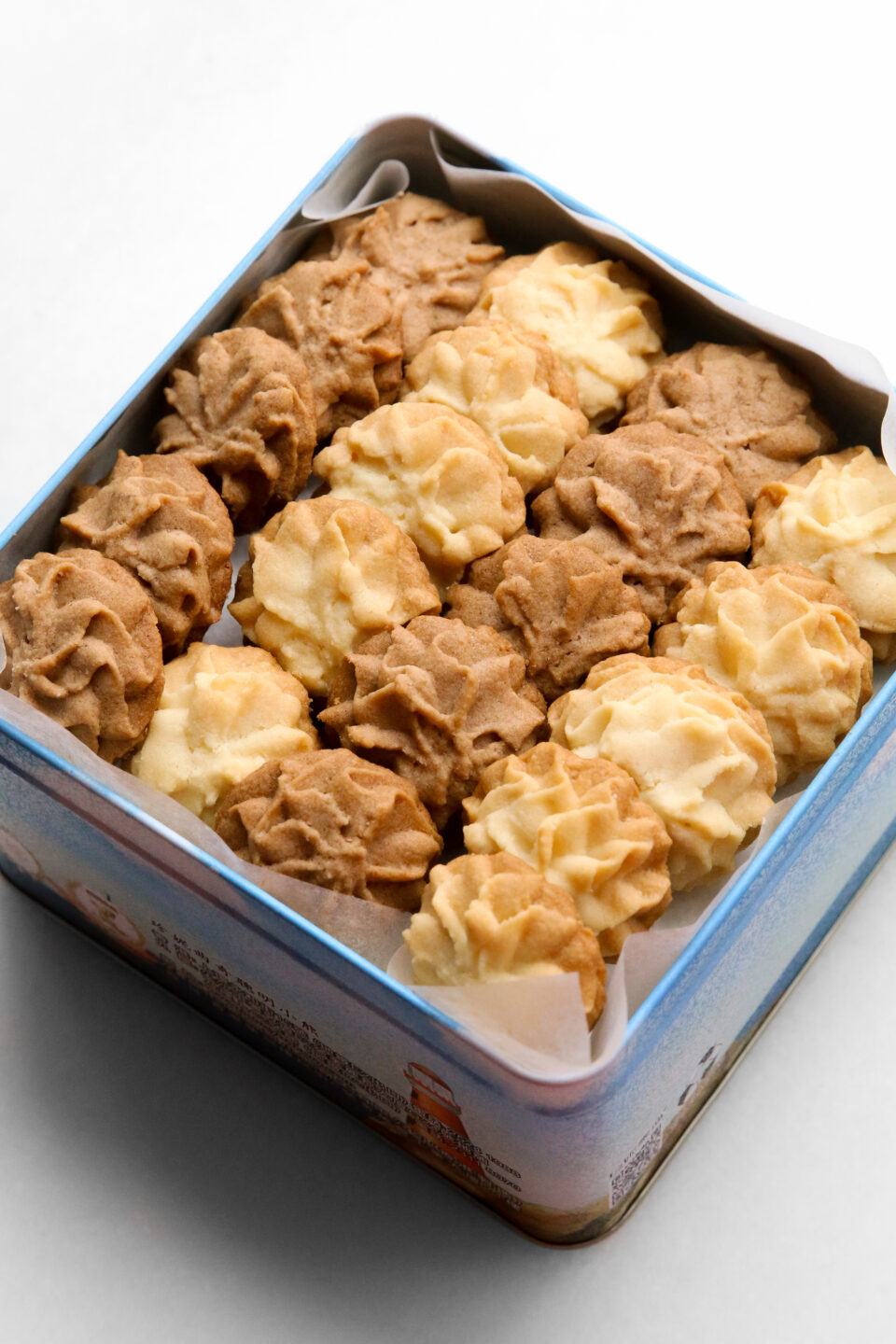 Hong Kong Butter Cookies
These piped butter cookies are inspired by the melt-in-your-mouth butter cookies from the famous Jenny's Bakery in Hong Kong. The key to achieving these delicious cookies is using the highest quality butter you can get your hands on! (Note: I highly recommend using a scale for measuring ingredients for this recipe! I developed this recipe using a scale.)
Ingredients
133

g

salted butter

,

softened

42

g

icing sugar

42

g

cornstarch

113

g

cake flour

1 tsp espresso powder or 2 tsp matcha powder

,

optional
Instructions
Line a baking sheet with parchment paper and set aside.

In the bowl of a stand mixer with a paddle attachment, beat softened butter on medium speed until smooth, about 1 minute.

Add icing sugar to the bowl and gradually increase the speed of the mixture. Increase the speed to medium and continue to beat until the butter and sugar turns pale and creamy.

Sift in cake flour and cornstarch (and any additional flavours you want, like espresso or matcha powder) and mix on low until the dough comes together, about 30 seconds – 1 minute.

Transfer the dough to a piping bag fitted with an open star tip.

Apply pressure to pipe the dough onto the prepared baking sheet. As you pipe, you want to gently twist the piping bag so you get the ripples on the side of the cookie. Leave 1 inch between each cookie; the cookies will not spread much.

Transfer the sheet of piped cookies to the freezer while you preheat the oven to 325F. Chilling the dough will prevent the cookies from spreading in the oven.

Bake the cookies until the bottoms are golden, about 25 – 30 minutes,.

Allow the cookies to cool on the baking sheet for 5 minutes before transferring them to a cooling rack to cool completely.
Reader Interactions