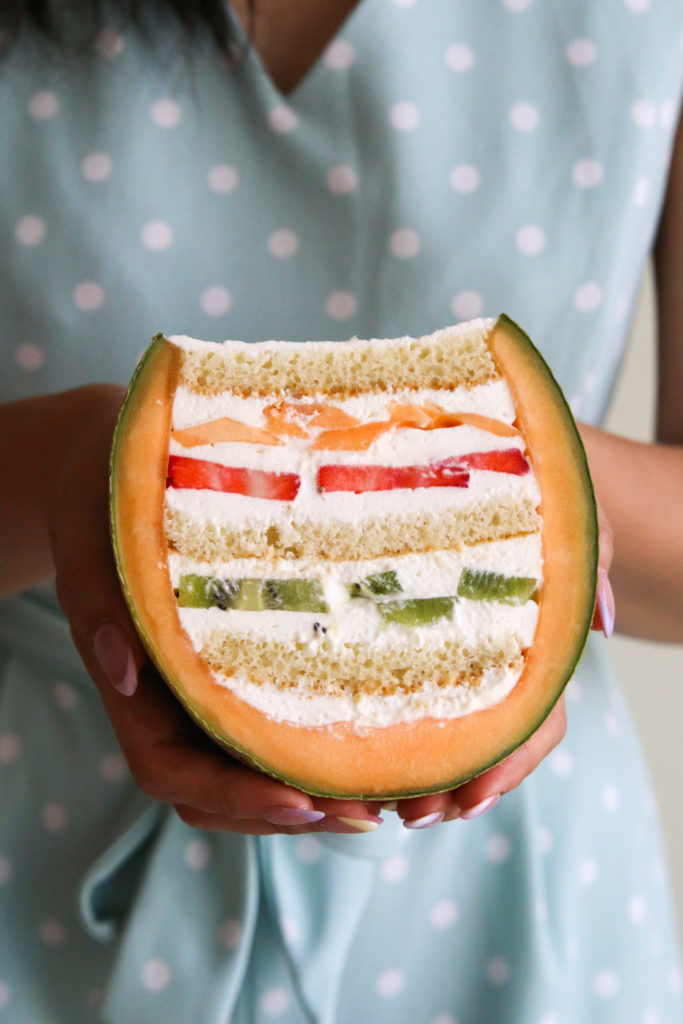 A whole melon cake has been on my to-bake list since 2020. I put it on my list along with dalgona coffee and homemade boba but somehow the melon cake took the backseat when I went through my dalgona and boba phase. But better late than never, here we are. I first saw the Marugoto Melon Cake or 'whole melon cake' on a Japanese food news website I follow when they shared that Japanese pastry chef Koki Kato started offering the cakes at his patisserie Atelier Kato. The cake features a hollowed out muskmelon filled with delicate layers of fluffy sponge cake, melon-flavoured cream, melon, and strawberries. Since the introduction of the melon cake, Chef Kato also makes a whole pineapple and whole orange cake. I can't wait to try the original marugoto melon cake when I finally visit Japan, but until then, here is my whole melon cake.
Making a whole melon cake looks a lot more difficult than it really is. Compared to making a decorating a layer cake, I find making a melon cake much more straightforward. You don't need any experience in leveling, layering, or frosting a cake — all you need to do is bake the cake and alternate cake layers with layers of whipped cream and fresh fruit inside the hollowed melon. The hollowed melon shapes the cake for you and is sure to impress when you cut it open. One thing to note is that you need much less cake than you think you would need. Once you hollow out the melon, you'll realize there isn't too much room for you to fill. A small batch cupcake recipe that makes 6 – 8 cupcakes baked in a small sheet pan or 6-inch round cake pan will be plenty. I used the recipe for my small batch cupcakes and it was the perfect amount of cake for a medium-sized melon. They key to a beautifully layered melon cake is to give it enough time to chill in the fridge before cutting. If the cake and cream layers are too soft, the cake layers will get squished when the knife goes through the melon. Allow the cake to chill in the fridge for at least 2 hours after assembling.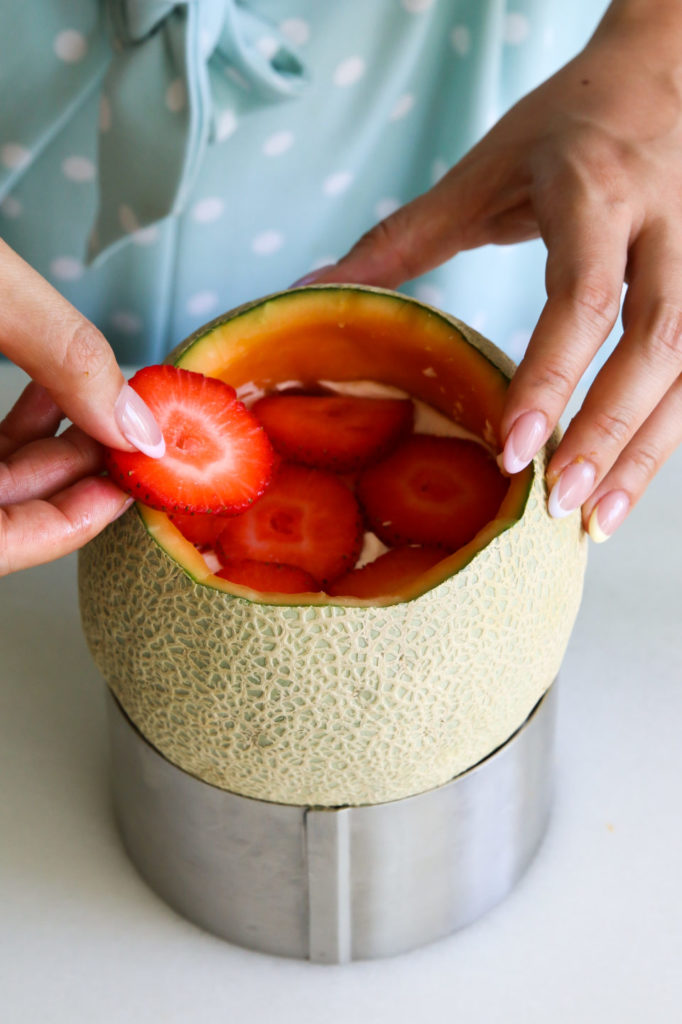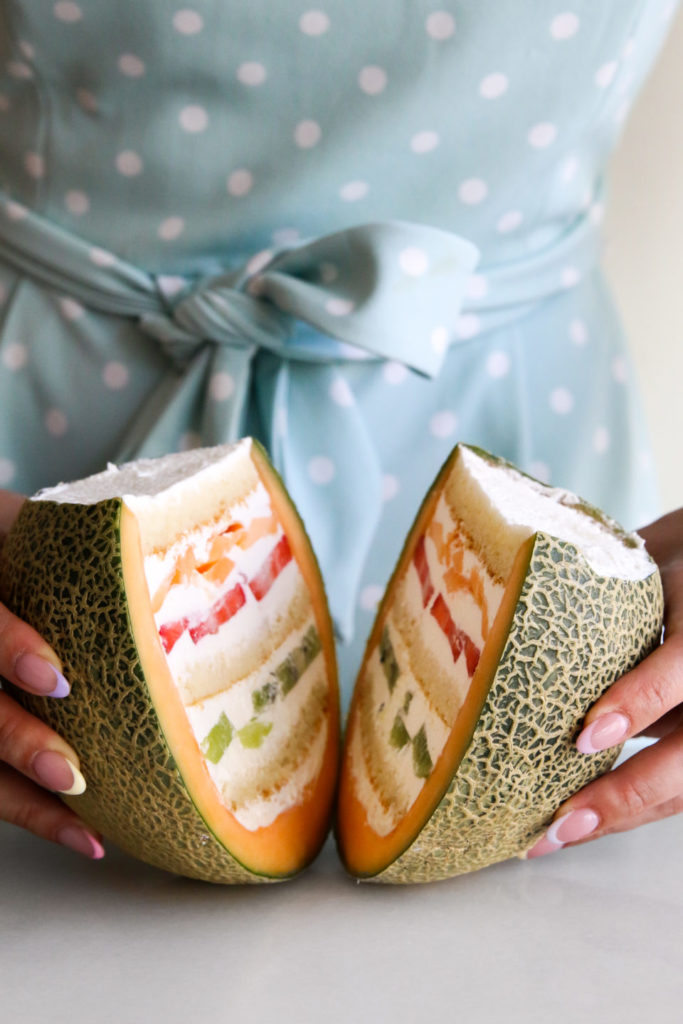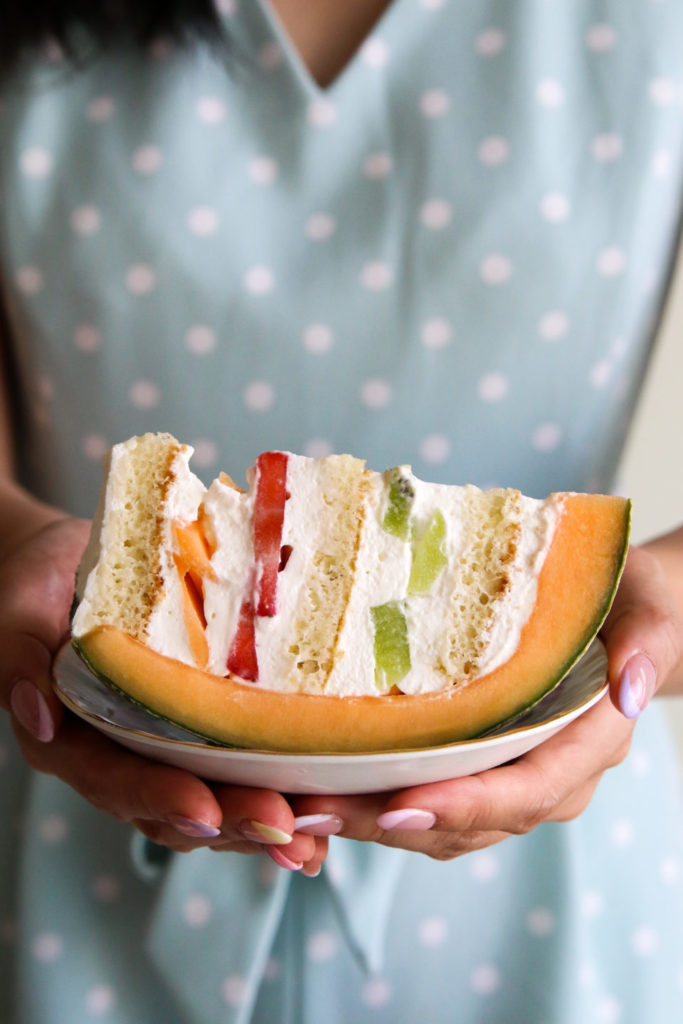 Whole Melon Cake
A hollowed out melon is filled with layers of fluffy cake, whipped cream, and fresh fruit. You assemble the layers inside the whole melon before cutting it to reveal the impressive cross section!
Ingredients
Vanilla Cake (or small batch cake recipe of choice)
100

g

(1/2 cup) granulated sugar

30

g

(2 tbsp) unsalted butter

,

room temperature

1

large egg

90

g

(3/4 cup) all-purpose flour

24

g

(3 tbsp) cornstarch

3/4

tsp

baking powder

1/4

tsp

baking soda

1/4

tsp

salt

45

g

(3 tbsp) full-fat sour cream

30

ml

(2 tbsp) vegetable oil

15

ml

(1 tbsp) vanilla extract

80

ml

(1/3 cup) whole milk
Assembly
1

melon

240

ml

(1 cup) heavy whipping cream

2

tbsp

powdered sugar

3

strawberries

,

sliced

1

kiwi

,

sliced
Instructions
Vanilla Cake
Preheat oven to 350F and line a 6-inch cake pan

In a bowl of a mixer, beat butter and sugar until smooth. Add egg and mix until incorporated.

In a medium-sized bowl, whisk to combine flour, cornstarch, baking powder, baking soda, and salt. Set aside.

In a measuring cup, combine sour cream, vegetable oil, vanilla extract, and milk.

Add the dry ingredients to the butter mixture and while the mixer is running on low, slowly add the milk mixture. Mix until combined.

Fill cake pan with batter. Bake at 350 for 22 – 27 minutes. The cake is done when it is lightly golden brown and when an inserted toothpick comes out clean.

Allow cake to cool completely.

Using a serrated knife, level the cake into four even layers. I also trimmed two of the four cake layers smaller for the first and last layers of the melon cake.
Assembly
In a bowl of a stand mixer or using a hand mixer, beat heavy whipping cream until medium peaks form. Add powdered sugar until incorporated. Transfer whipped cream into a piping bag and set aside in the fridge until ready to use.

Using sharp knife, cut off the top of the melon. Set aside the melon cap.

Using a large metal spoon, remove seeds and hollow out melon. Set aside.

Slice strawberries and kiwis. Set aside.

Pipe a layer of whipped cream at the bottom of the melon and place a small cake layer on top of the cream. Pipe another layer of cream.

Add a fruit layer and cover with cream, followed by cake. Repeat the steps until all the cake, cream, and fruit are used.

Once the last layer of cream has been piped on, place the melon cap back on and transfer cake to the fridge to chill for at least two hours.

When the cake has chilled, cut the cake in half before cutting it into slices.
Notes
*You can use a cake ring or a large round cookie cutter as the 'anchor' for cutting and layering the melon cake. This will prevent the melon from rolling around.
Reader Interactions