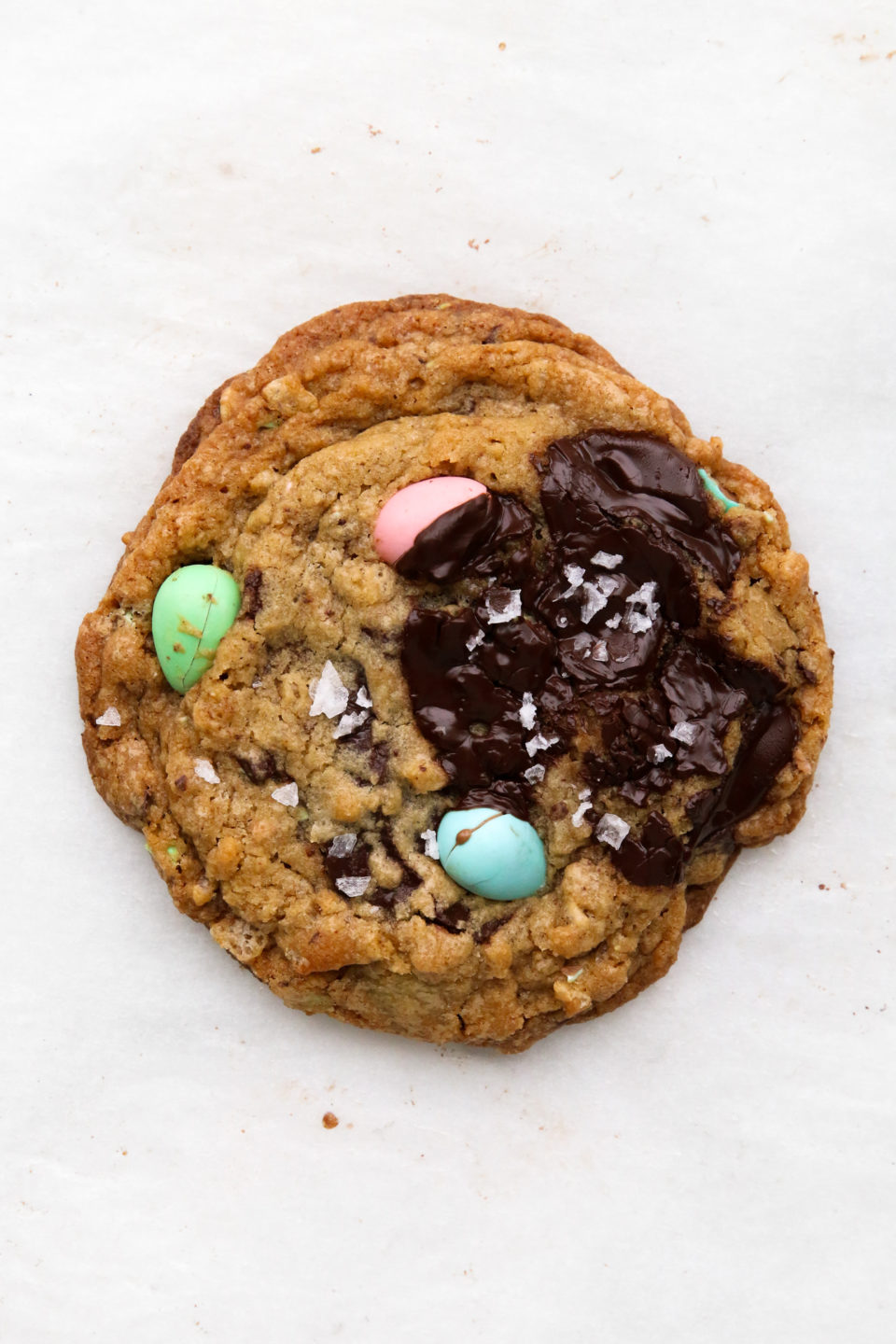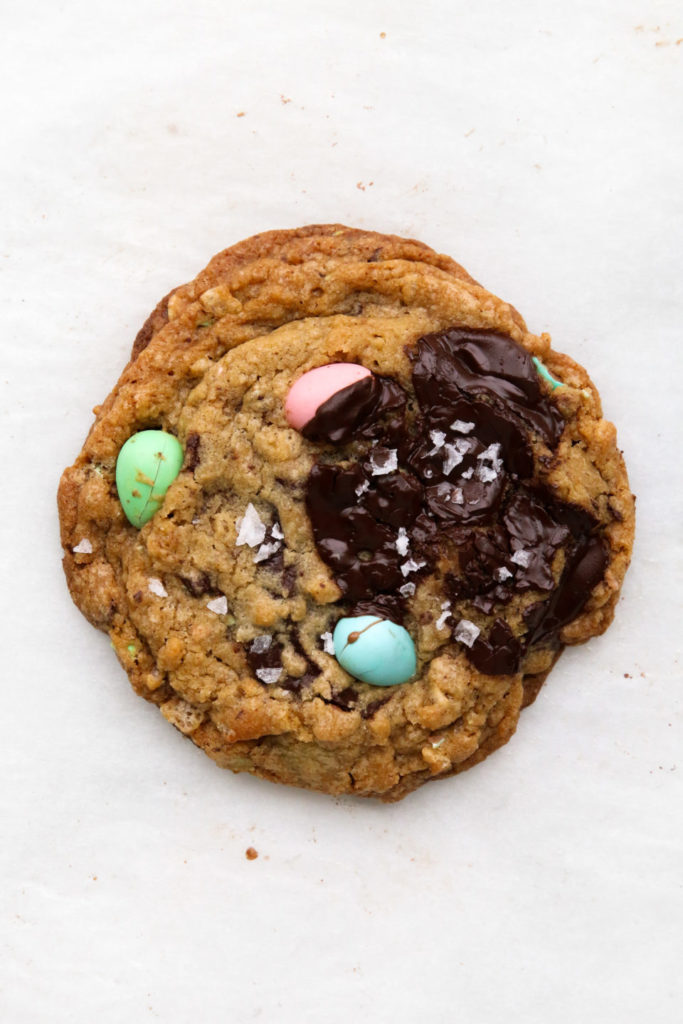 I didn't intend to create a new mini egg cookie recipe for Easter this year. Originally, the goal was to take new photos of an existing fudgey mini egg cookie recipe and call it a day. I made these mini egg crackle cookies on a whim to share with friends and posted them to my Instagram Stories last weekend. A few of you seem quite excited to make them too, so here we are! If you've made my favourite chocolate chip cookies before, you'll be familiar with this ingredient list — the composition of the dough is quite similar with a few adjustments of dry ingredients to make room for the addition of rice krispies cereal. I've also made them without the mini eggs and I think they're going to become a staple in my kitchen all year long.
The trick to get the best looking mini egg crackle cookies is to coarsely chop half of the mini eggs for the cookie dough while keeping the other half to top each cookie before it goes into the oven. This is a general "rule" I follow for all my chocolatey cookies — fold in half and reserve the other half for the top. When you do this with chocolate chunks, it creates very beautiful pools of chocolate at the top, which in my opinion is always at the top of the checklist on my imaginary checklist of desirable chocolate chip cookie qualities. If you're adding a sprinkle of flakey sea salt to the cookies (which I always insist you to do), I like to add it after the chocolate puddles have had a couple minutes to set. This will prevent the large salt flakes from melting into the chocolate so you will still get the crunch of the salt.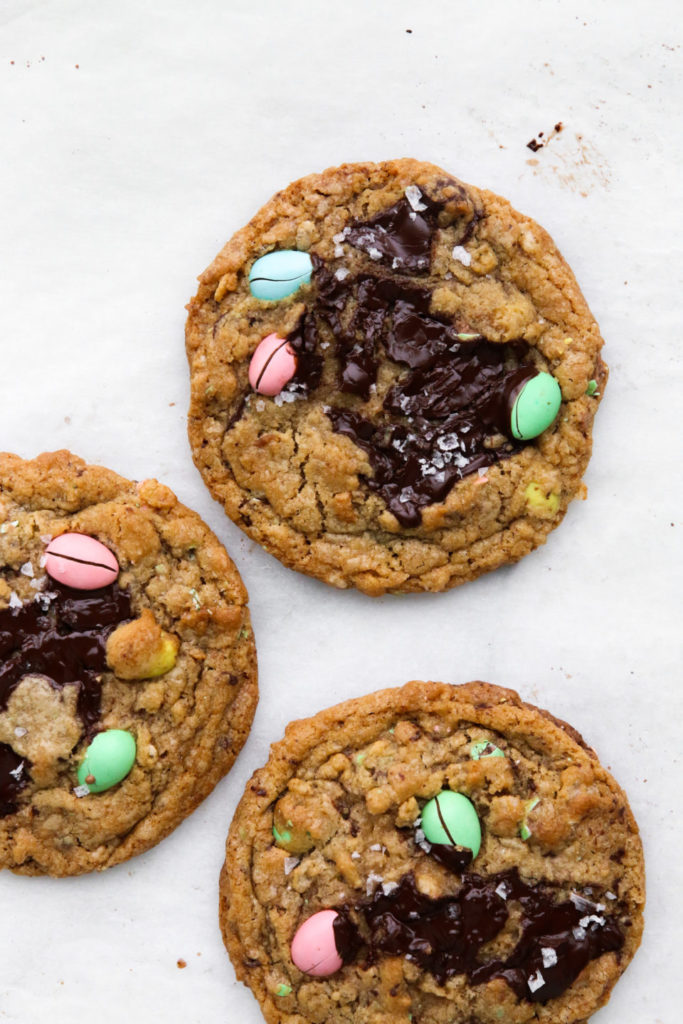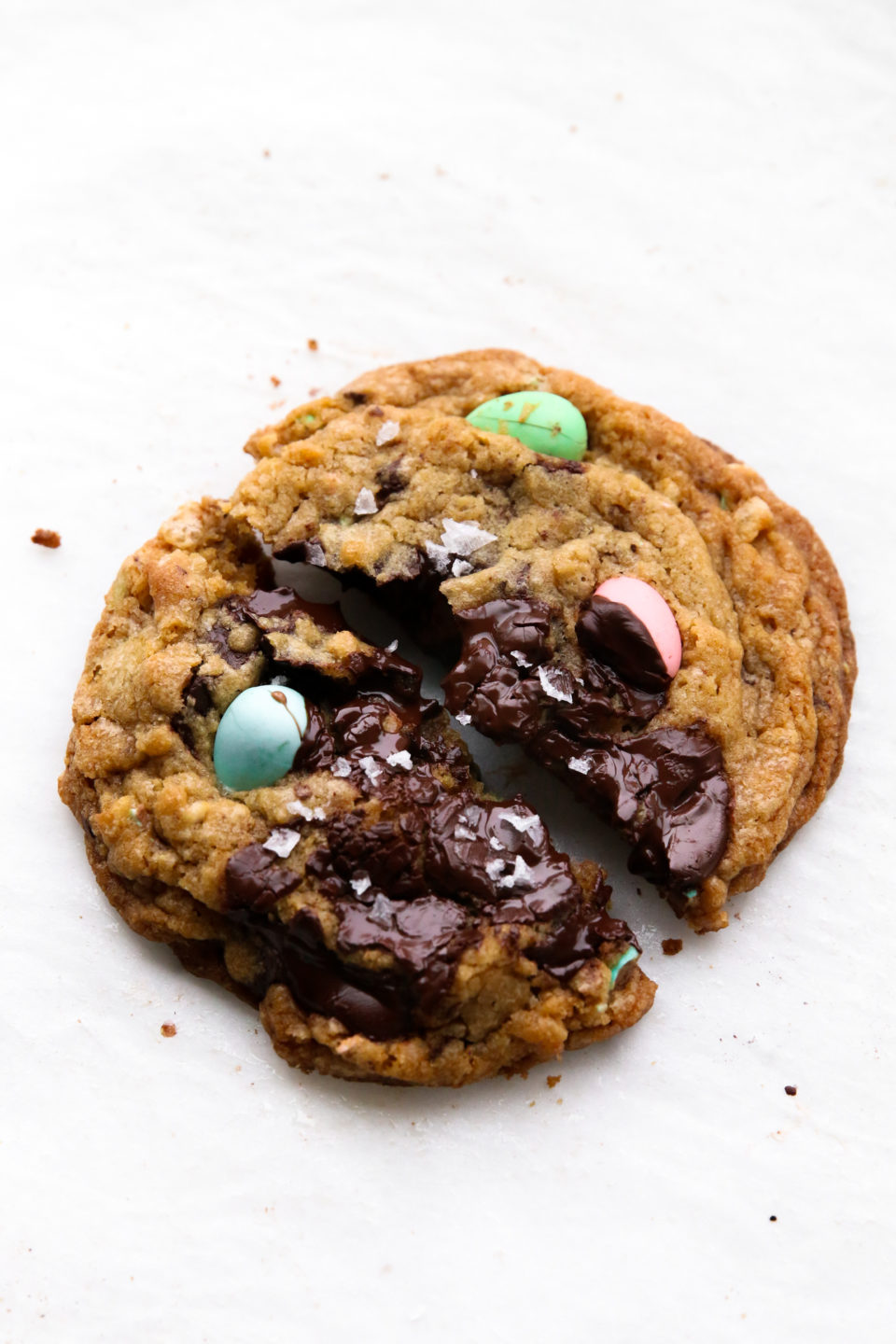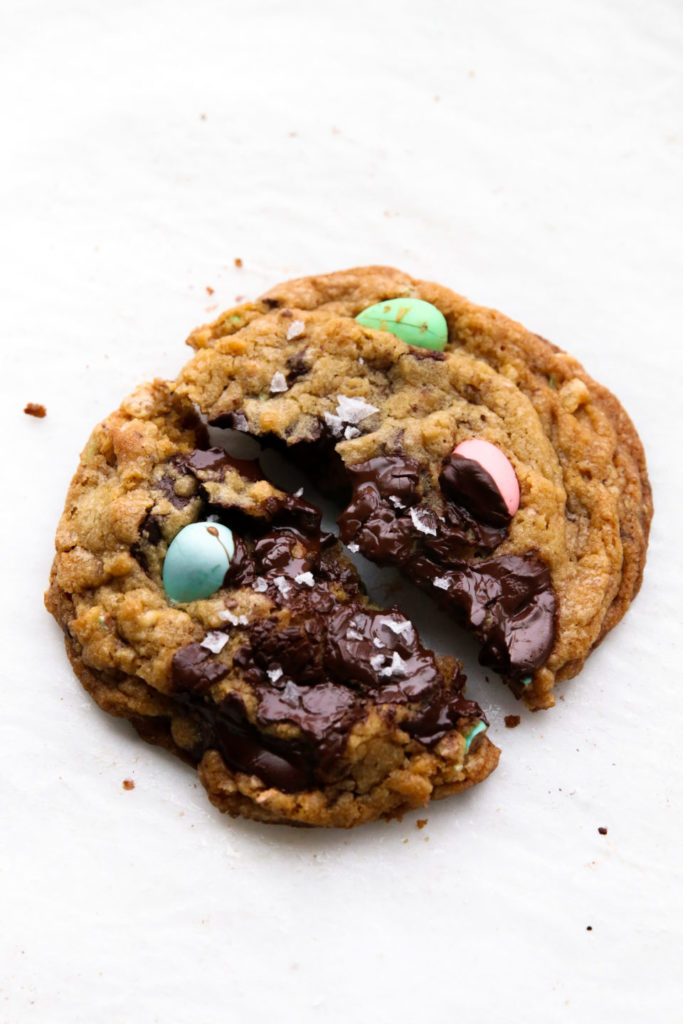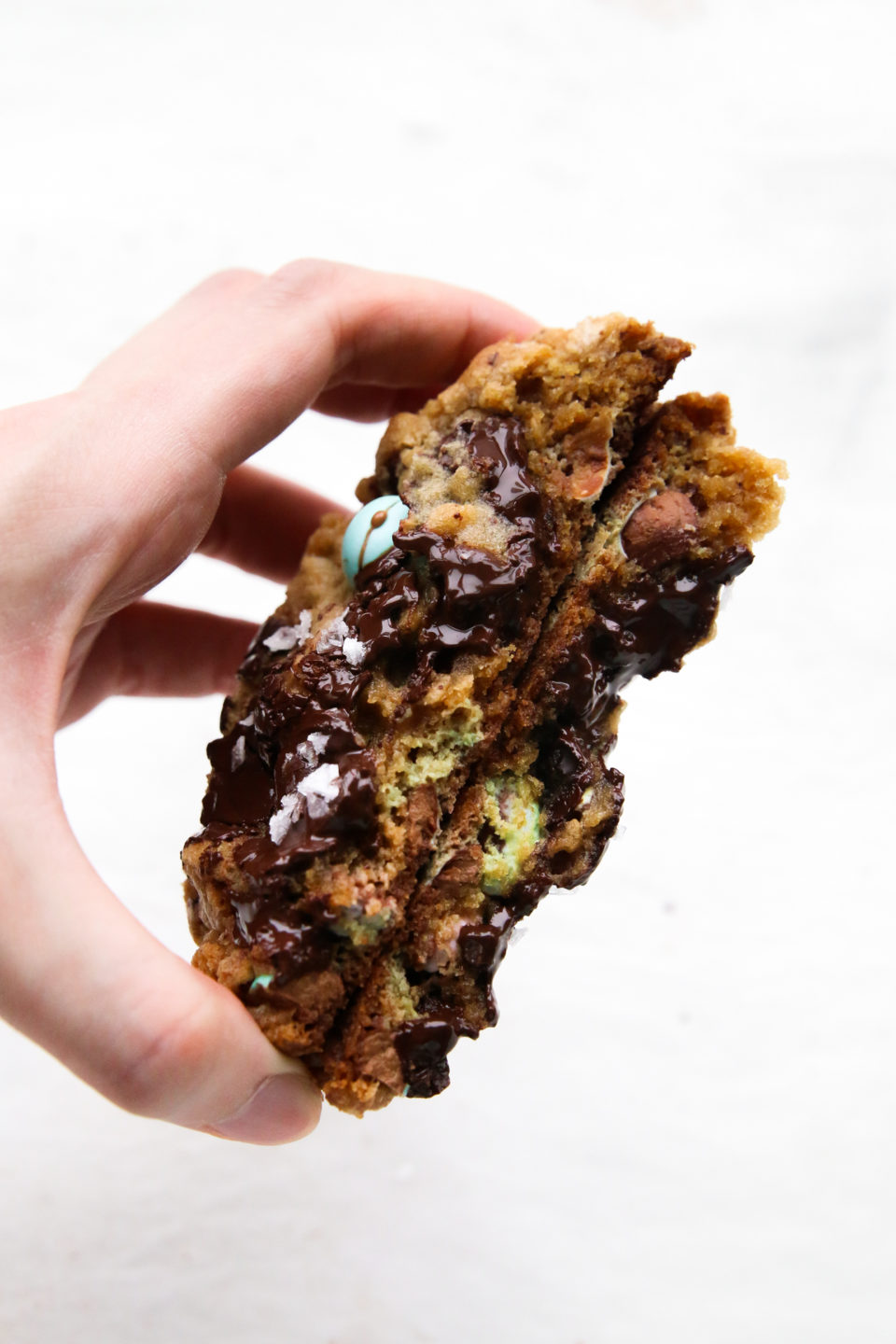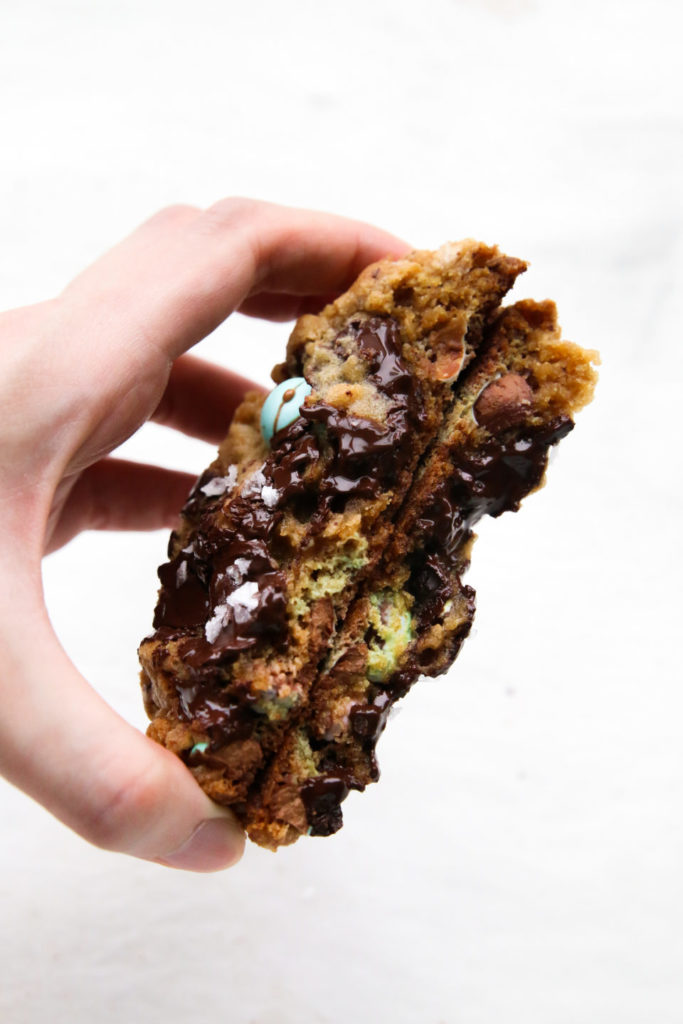 Mini Egg Crackle Cookies
These mini egg crackle cookies are the perfect Easter twist on a classic chocolate chip cookie. Don't have mini eggs in hand? Substitute with your favourite chocolate and I promise they will be just as good!
Ingredients
140

g

(1/2 cup plus 2 tbsp) unsalted butter

,

room temperature

126

g

(1/2 cup plus 2 tbsp) brown sugar

100

g

(1/2 cup) granulated sugar

2

tsp

vanilla extract

1

large egg

,

room temperature

200

g

(1 2/3 cup) all-purpose flour

1/2

tsp

salt

3/4

tsp

baking powder

1/2

tsp

baking soda

200

g

(1 package) mini eggs

117

g

(2/3 cup) coarsely chopped dark chocolate

30

g

(1 heaping cup) rice krispies cereal

flakey salt

,

to sprinkle
Instructions
Preheat the oven to 350°F (177°C). Line a large baking sheet with parchment paper.

In the bowl of a stand mixer fitted with a paddle attachment, cream the butter, brown sugar, and granulated sugar on medium speed until they are smooth, about 1 minute.

Add the vanilla and egg to the butter mixture and mix on medium speed until they are fully incorporated, scraping down the sides of the bowl as needed.

In a medium bowl, whisk together the flour, salt, baking powder, and baking soda. With the mixer on low speed, add the flour mixture in two batches to the butter mixture, and mix until the ingredients are just combined, about 1 minute.

Coarsely chop half of the mini eggs. I like to leave the other half to top the cookie dough balls. Add the chopped mini eggs and chopping chocolate to the dough and mix until they are just incorporated, about 30 seconds.

With the mixer on low or with a rubber spatula, fold in rice krispies cereal.

With a standard ice cream scoop, form 10 even balls of dough.

Place filled dough balls about 2 inches (5 cm) apart on the baking sheet. Place several pieces of reserved mini eggs onto each dough ball.

Bake the cookies for 12 to 14 minutes, or until the cookies are browned and caramelized along the edges and the centres are just set. If you would like your cookies to have the crinkled edges, give the pan a few taps on the oven rack before you take them out of the oven.

Allow the cookies to cool on the baking sheet for 5 minutes, then transfer them to a wire rack to cool completely.
Reader Interactions