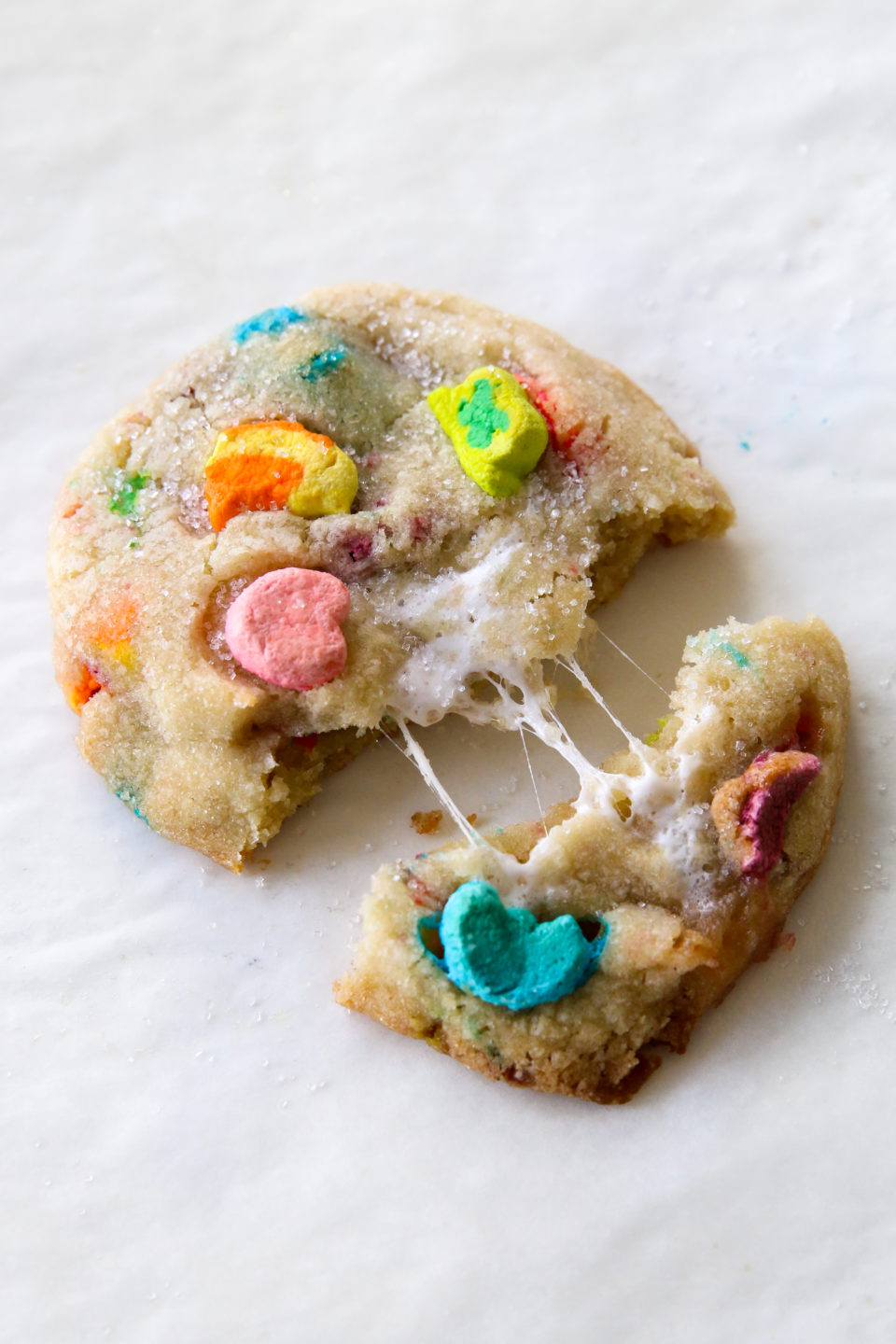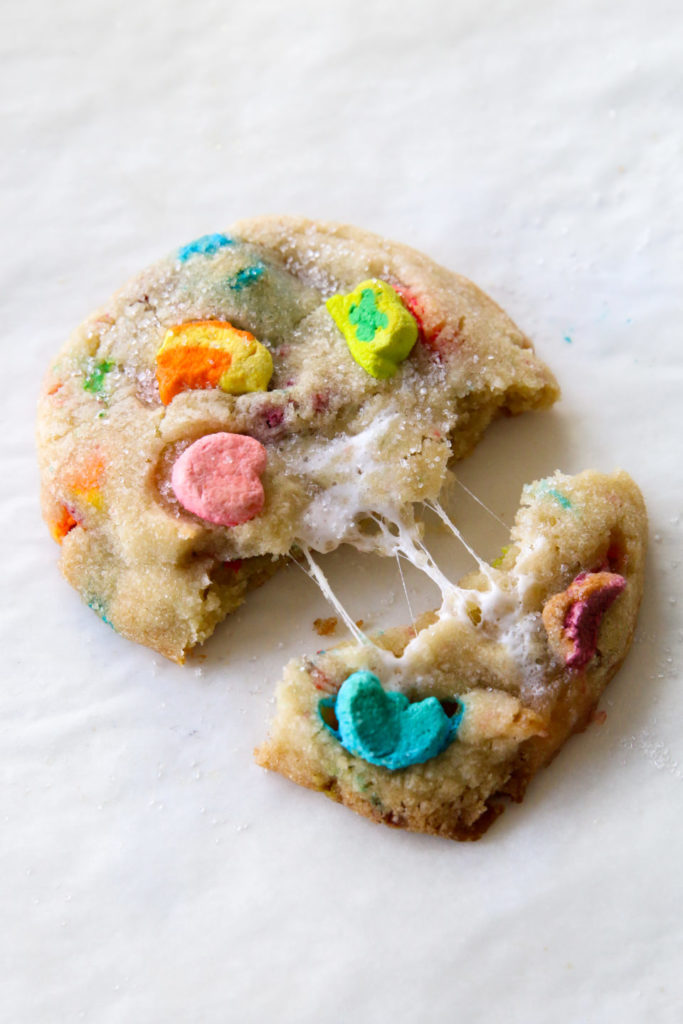 You know how this recipe will start… "I meant to share the recipe for these cereal marshmallow cookies quite a while back but… [enter lame excuses here]. I finally got around to it so here it is!" Yes, that is my story (or excuse) once again but what I'm trying to say is that this recipe was worth the wait. I've made it several times since I first shared it on Instagram and along the way I collected more tips and pointers for the perfect marshmallow cookie. Since I first shared the photo on Instagram 12 months I would regularly receive messages about this recipe — so here we are. Lucky Charms marshmallow cookies, perfect for any day but if you're into St. Patrick's Day, it is the perfect excuse for you to make it.
There are two things that make this cookie so special: cereal 'flour' and the gooey marshmallow centre. I love the idea of cereal flour (which is basically just the Lucky Charm cereal itself minus the rainbow marshmallows, blitzed in a food processor or blender until it reaches a flour consistency) because it uses up all the cereal left behind after you pick out all the rainbow marshmallows to incorporate in the cookie dough and it adds this very nostalgic, dreamy cereal (duh) flavour to the cookie than if you were to only use flour. They gooey marshmallow is centre is to amp up the marshmallow flavour and textures of the cereal marshmallow, which honestly isn't very marshmallow-y. The Lucky charms marshmallows are there for the nostalgia and the real marshmallows are there for the streeeeeetch. The texture of the cookie is like a chewy sugar cookie but with lots of fun flavour and textural surprises with every bite.
These cookies had a very long recipe testing phase. I like to make sure the large marshmallow pieces are wrapped in the centre (vs. mixing it into the cookie dough) because that way you reduce the chance that the marshmallow leaking out of the cookie and caramelizing on the baking sheet. I've made it both ways — some friends prefer to have the lacy caramelized marshmallows that leak out during the baking process and some prefer the gooey centres. I've found that the listed amount of marshmallows to be the perfect ratio of marshmallow to cookie dough — enough for a very chewy and stretch centre, but not too much that it will ooze out of the cookie once it hits the oven.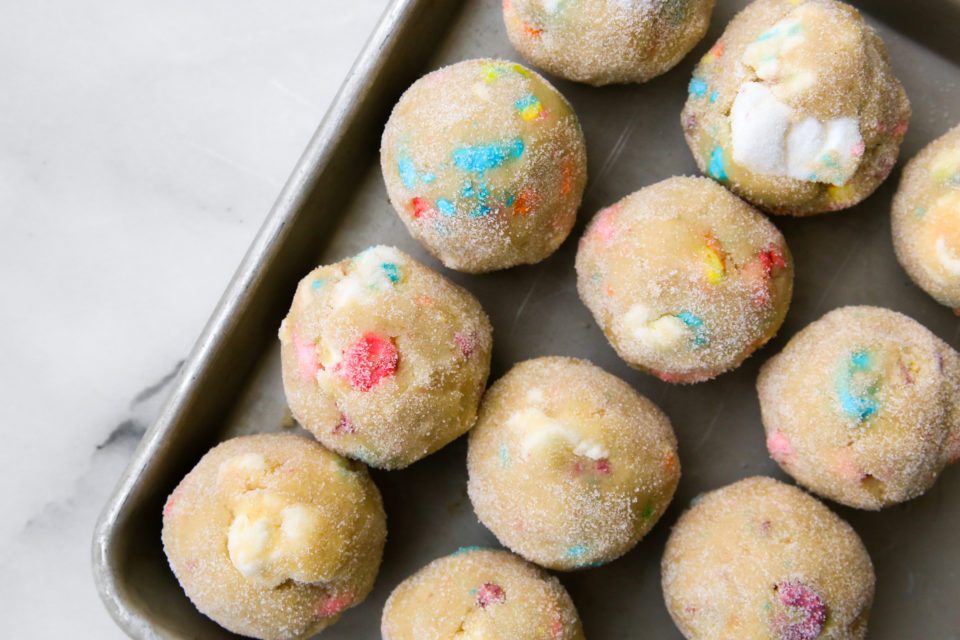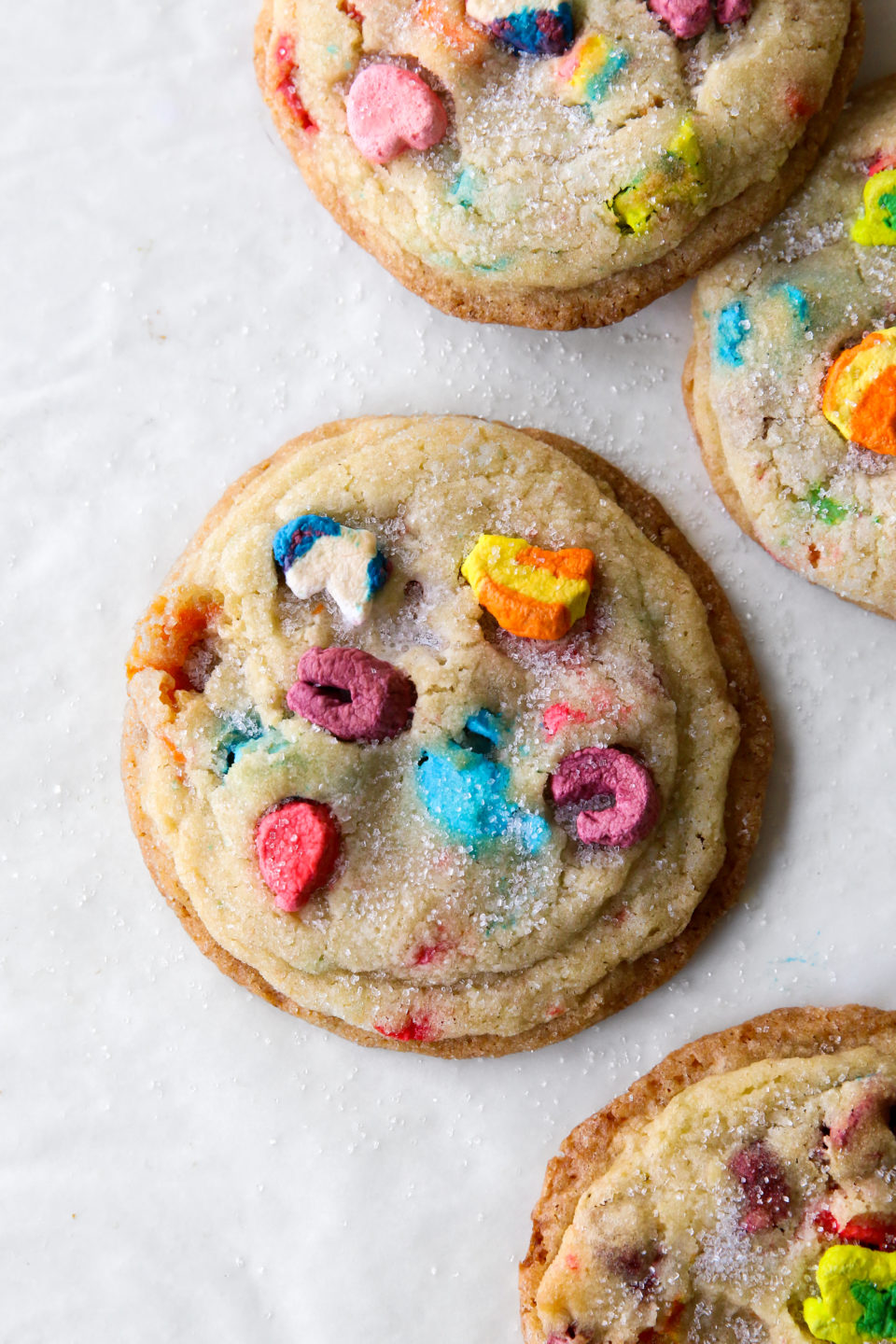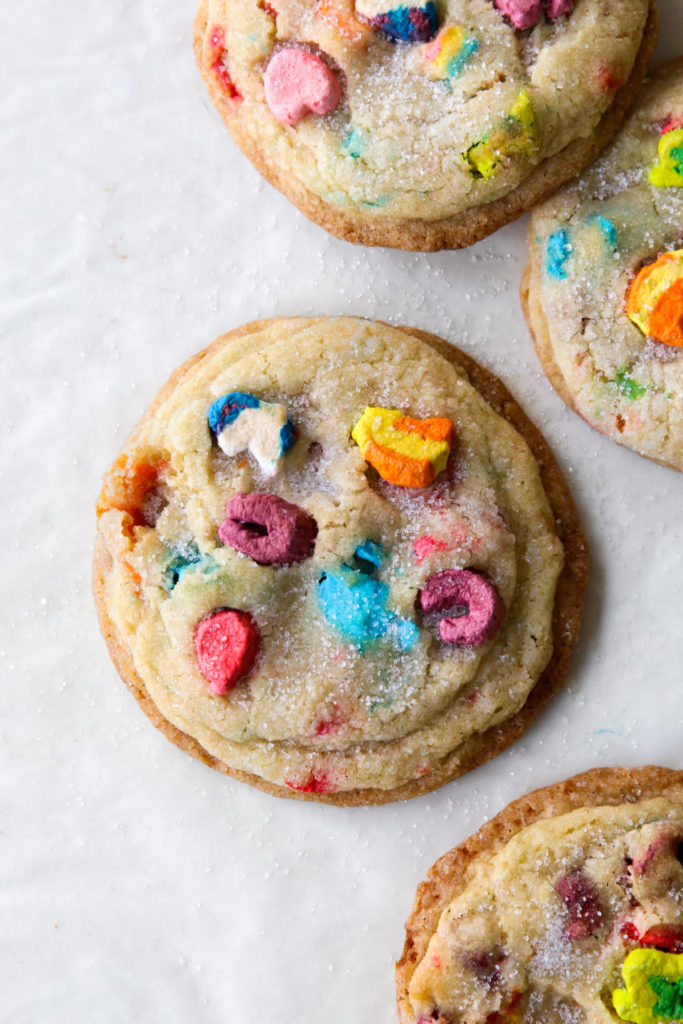 Lucky Charms Cereal Marshmallow Cookies
There are two things that make these Lucky Charms cereal marshmallow cookies so special: cereal 'flour' and the gooey marshmallow centres. The cereal is blitzed in a food processor to create cereal 'flour' which adds so much flavour and nostalgia to this cookie.
Ingredients
227

g

(1 cup) unsalted butter

,

room temperature

200

g

(1 cup) granulated sugar

,

plus more more rolling

1

large egg

,

room temperature

1

tsp

vanilla extract

230

g

(1 3/4 cup and 2 tbsp) all-purpose flour

50

g

(1 1/4 cup) cereal

1/2

tsp

baking powder

1/4

tsp

baking soda

1/2

tsp

salt

35

g

(1 cup) cereal marshmallow

40

g

(6) large marshmallows

,

cut into quarters
Instructions
Preheat oven to 350F and line a baking sheet. Set aside.

In the bowl of a mixer fitted with a paddle attachment, beat unsalted butter and granulated sugar together on medium speed until smooth, about 1 minute.

Add in egg and vanilla. Mix until combined

Using a food process or blender, blitz cereal until it becomes a powder. This will be your cereal 'flour.'

In a medium bowl, whisk together all-purpose flour, cereal 'flour', baking powder, baking soda, and salt.

Add the dry ingredients into the butter-sugar mixture. Mix on medium-low speed until just combined, about 45 seconds.

Using a rubber spatula, fold in the cereal marshmallows until evenly distributed.

Using an ice cream scoop, scoop out dough balls onto lined baking sheet.

Using the knuckle of your index finger, create an ident into the centre of the cookie dough. Place halved marshmallow in the centre and pinch the cookie dough to wrap around the marshmallow. Repeat with remaining cookie dough balls.

Optional: roll each dough ball in granulated sugar before baking.

Bake for 11 – 14 minutes until edges are golden.

Remove from oven and allow cookies to cool on baking sheet for 10 minutes before transferring to cooling rack to cool completely.
Reader Interactions