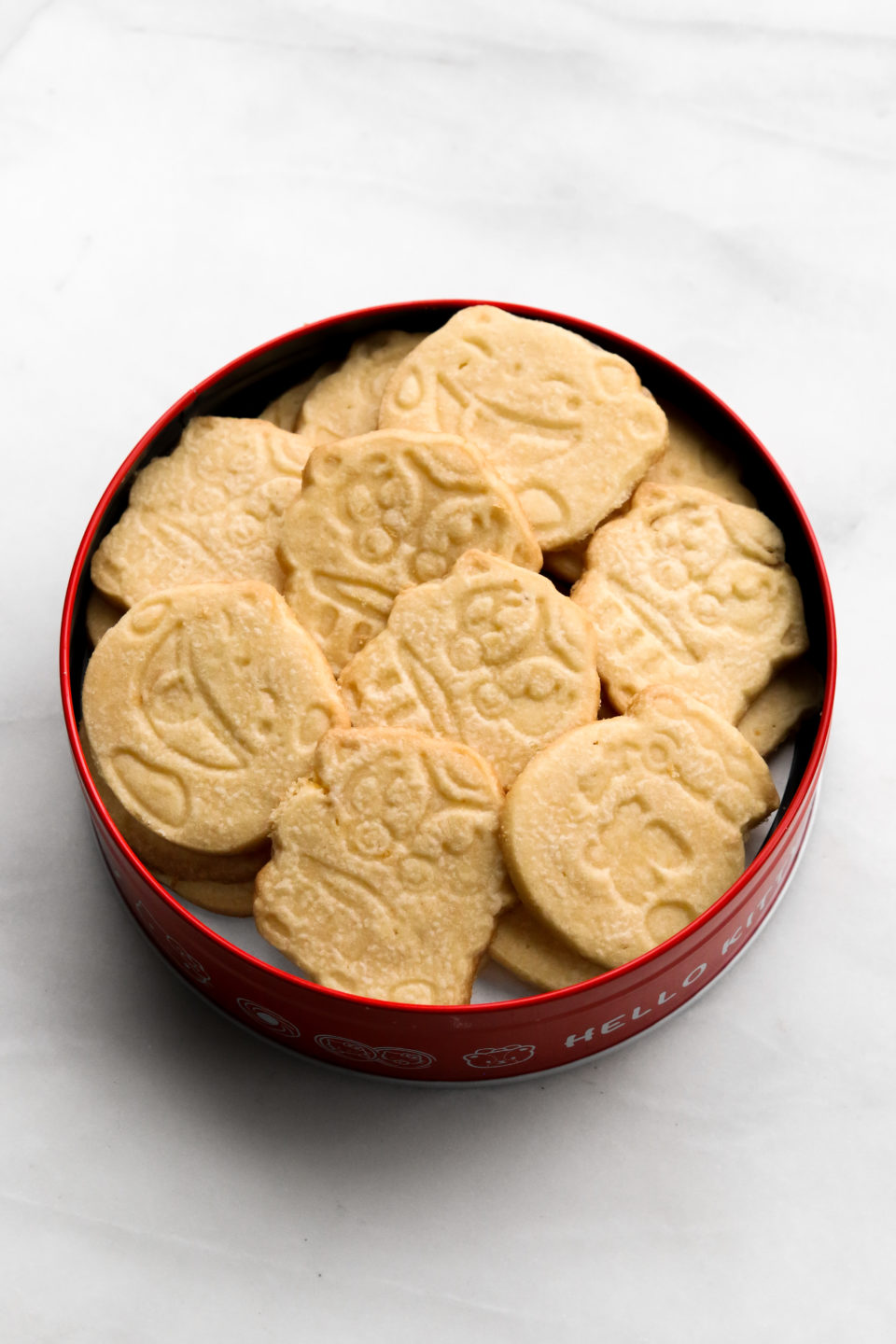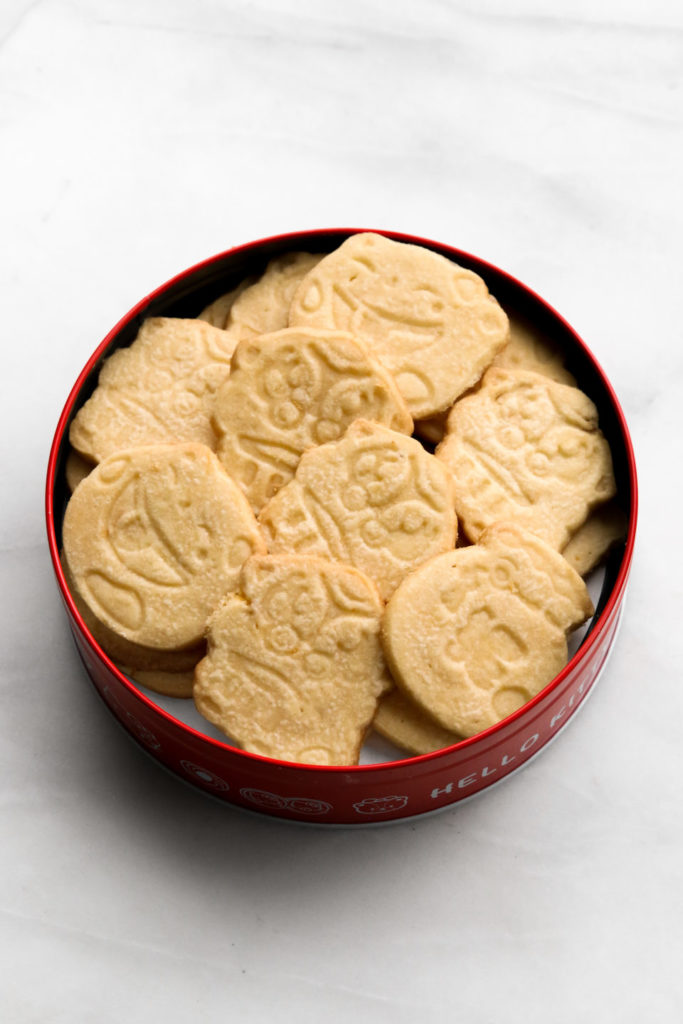 I've been meaning to share a recipe for salted egg yolk shortbread cookies for quite some time. I started making them about two years ago and they've always made great gifts, especially around the time of Lunar New Year and Mid-Autumn Festival. With every batch, I tweak the recipe just a little to make sure the current batch is better than the previous one. I did a fine chop of salted egg yolks for the the first batch and it gave the cookies a hint of salted egg yolk flavour. The several batches after that had larger chunks of salted egg yolk peaking through in the dough because of the rougher chop. I loved seeing the larger chunks of golden yolks but the flavour wasn't as incorporated into each bite of the cookie. This version, which I think is the best one yet, incorporates the yolks earlier in the process. Instead of folding in the chopped up yolks into the already formed dough, the yolks are creamed together until very smooth to make a salted egg yolk butter as the base for the cookies. I've found that the salted egg yolks that come as whole eggs work better for this than buying packs of just the yolks, which is what I prefer for making mooncakes for Mid-Autumn. The yolks that come as whole eggs aren't as translucent or golden, but they are creamier and much easier to incorporate into the butter. These cookies are still sweet, but have the fragrance and savoury qualities of salted egg yolks.
This recipe requires few ingredients like regular shortbread but creates a cookie with so much flavour. I'm including these in my Lunar New Year cookie box or chun hap but you'll find me making them all year long.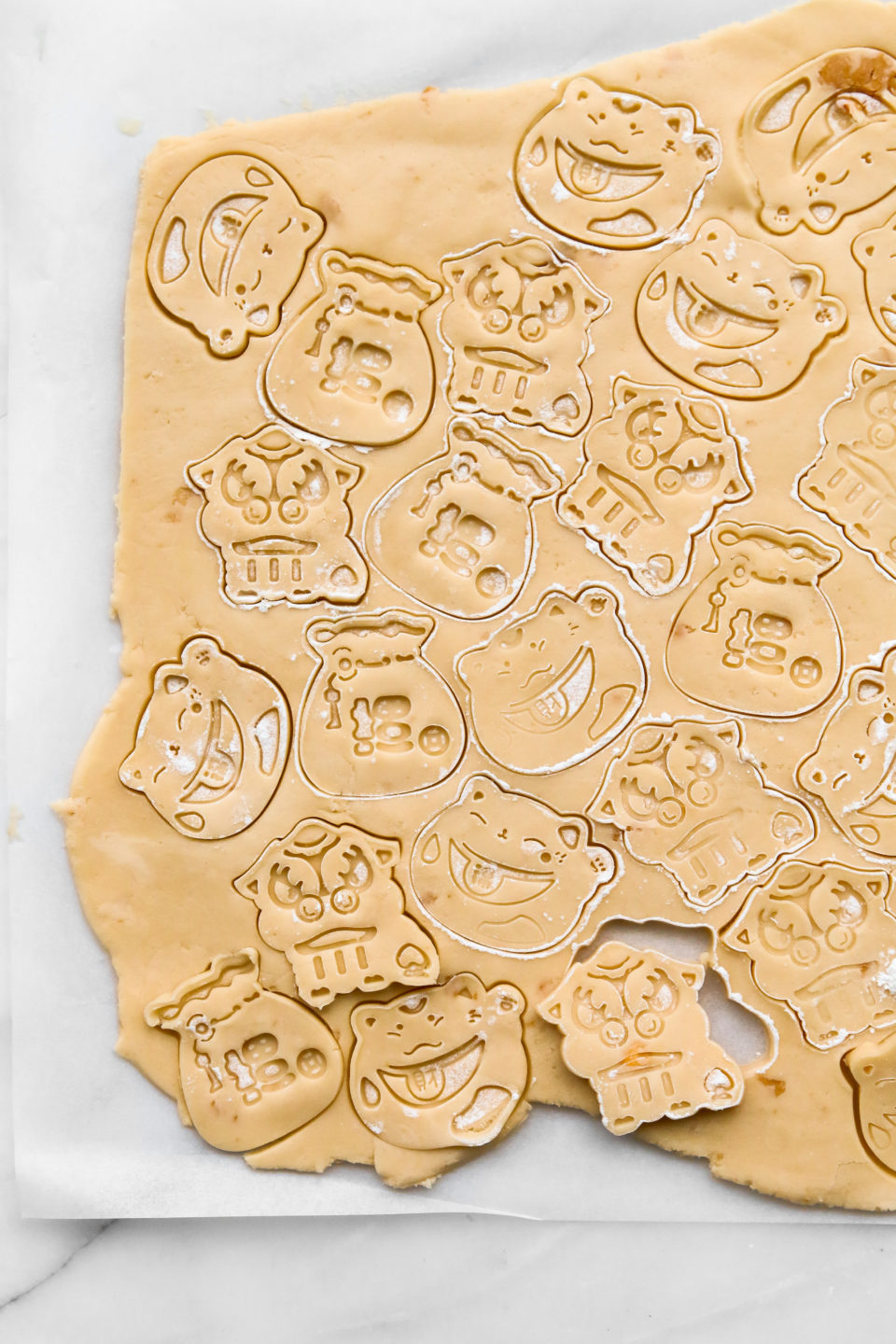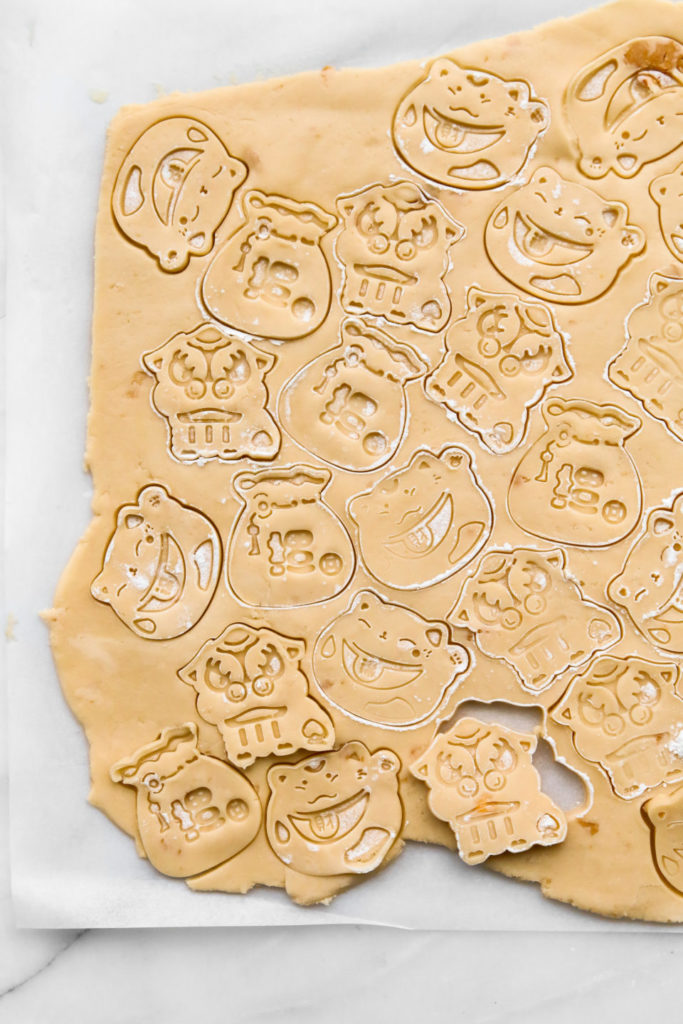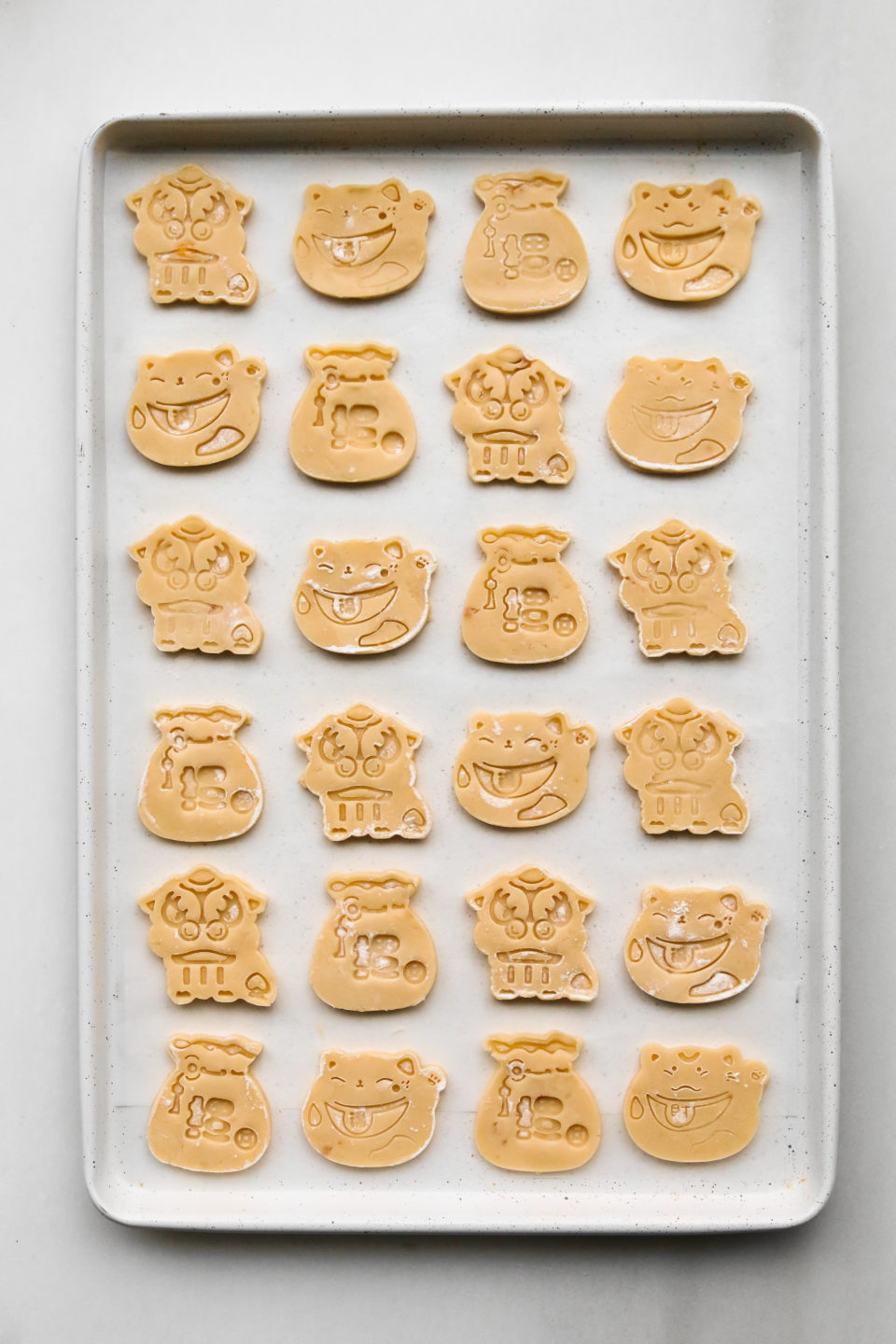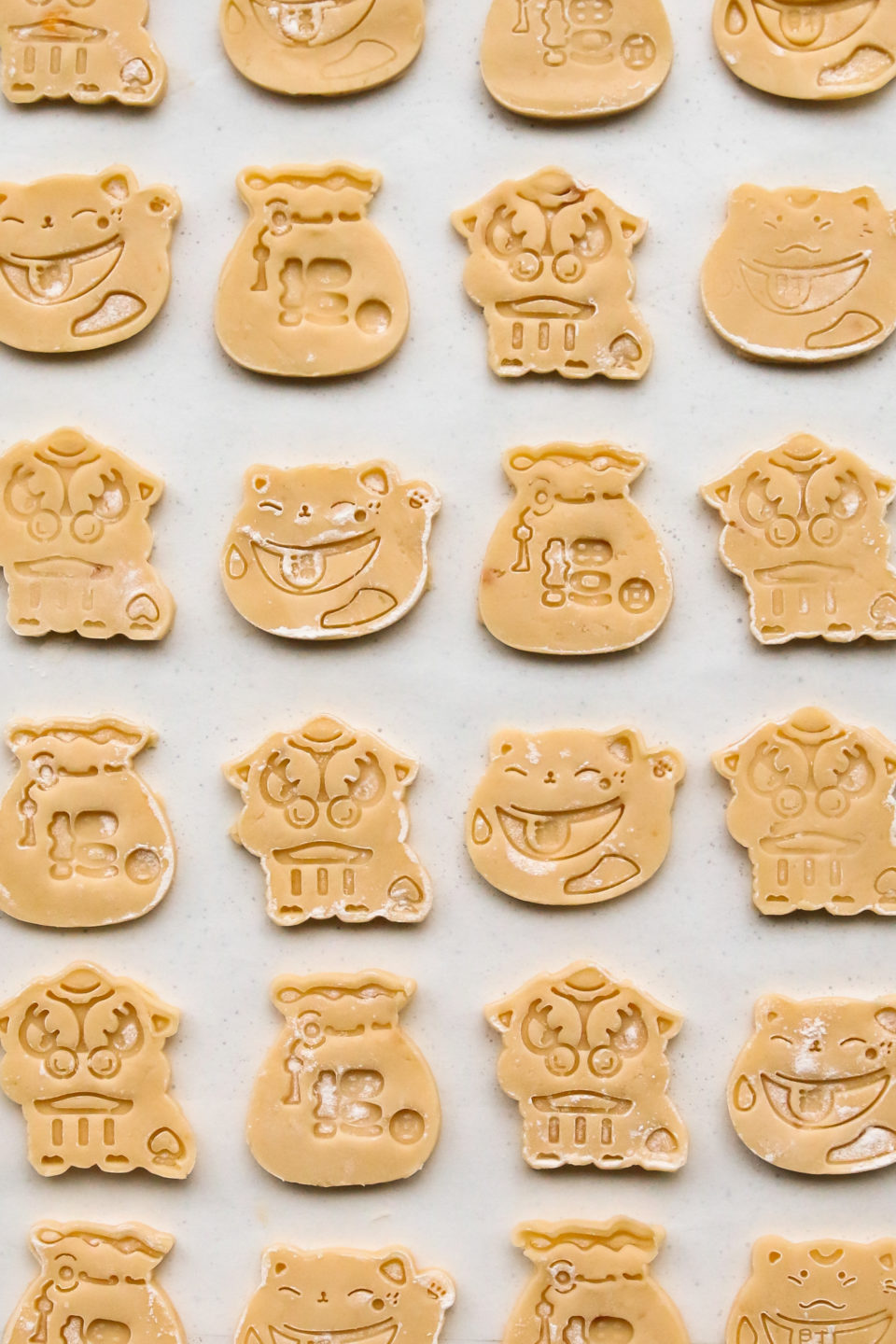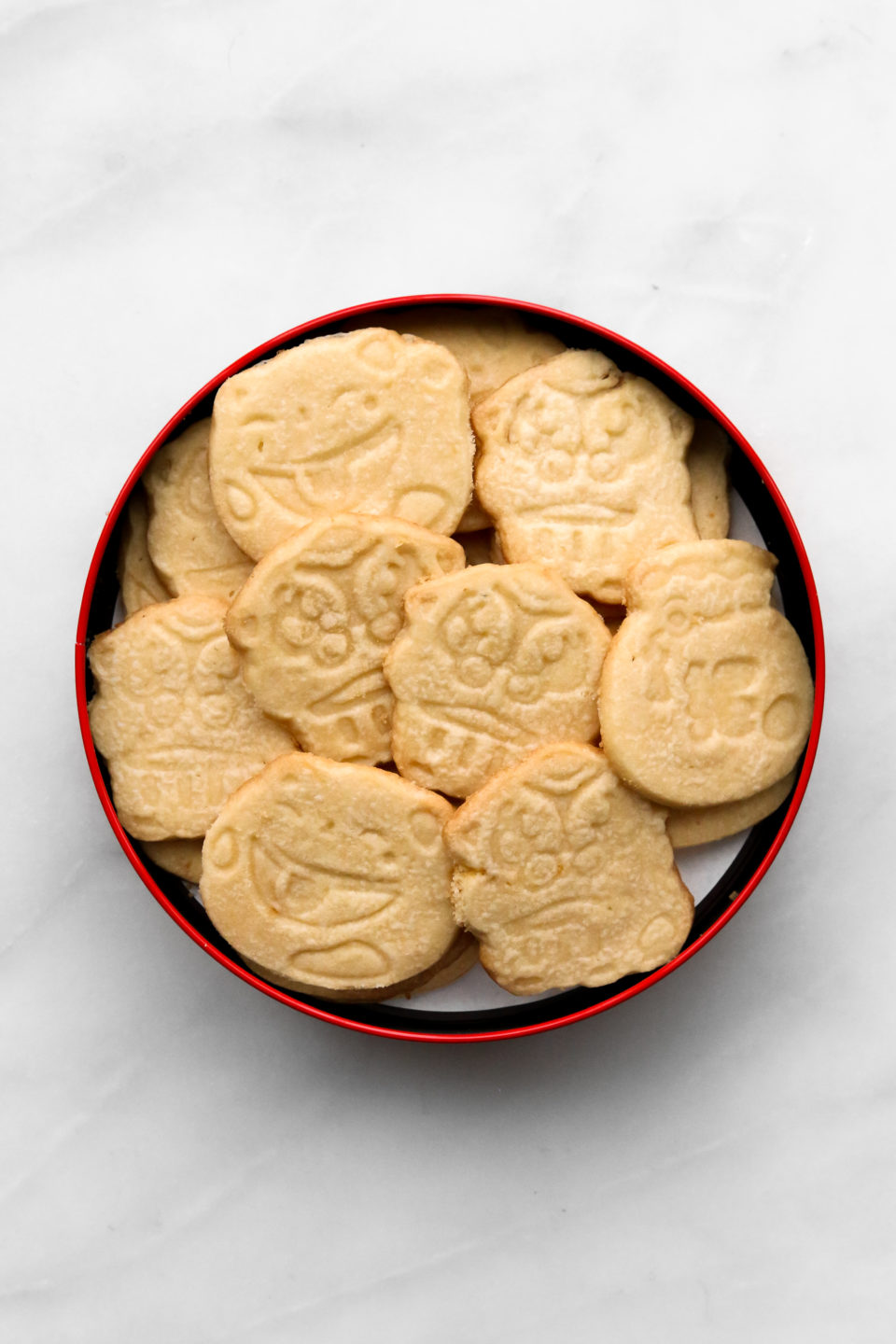 Salted Egg Yolk Shortbread Cookies
Delicate and crisp shortbread cookies with the flavour of salted egg yolks! You can use whatever cookie cutters or stamp you like — I used my favourite lucky cat and dragon stamps for Lunar New Year.
Ingredients
227

g

(1 cup) unsalted butter

,

at room temperature

4

salted egg yolks

120

g

(1 cup) powdered sugar

280

g

all-purpose flour
Instructions
Line a baking sheet with parchment paper and set aside.

In a bowl of a stand mixer fitted with a paddle attachment, cream together butter and salted egg yolks on medium-high speed until smooth.

Add powdered sugar to the butter-yolk mixture and cream together until smooth.

Add the flour and mix on low and gradually increase to medium speed. Mix until no streaks of flour remain, about 1 – 2 minutes

Cut a large piece of parchment paper. Transfer dough to parchment and take a second sheet of parchment paper the same size and roll out dough with a rolling pin. This will prevent the need to add extra flour to roll out the dough. If the dough is soft as this point, transfer it to the freezer to firm up for about 10 minutes.

Using cookie cutters or stamps of choice, stamp out cookies and transfer to prepare baking sheet. Repeat until all the dough is used up. Transfer the tray of cookies to the freezer once again to allow the cookies to firm up as the oven preheats. This will prevent the cookies from spreading as much.

Preheat the oven to 350℉ (175℃).

Once oven has preheated, transfer the tray of cookies to the oven to bake for 10 – 13 minutes, until the edges are golden.

Allow cookies to cool on baking sheet for 10 minutes before transferring to cooling rack to cool completely.
Reader Interactions