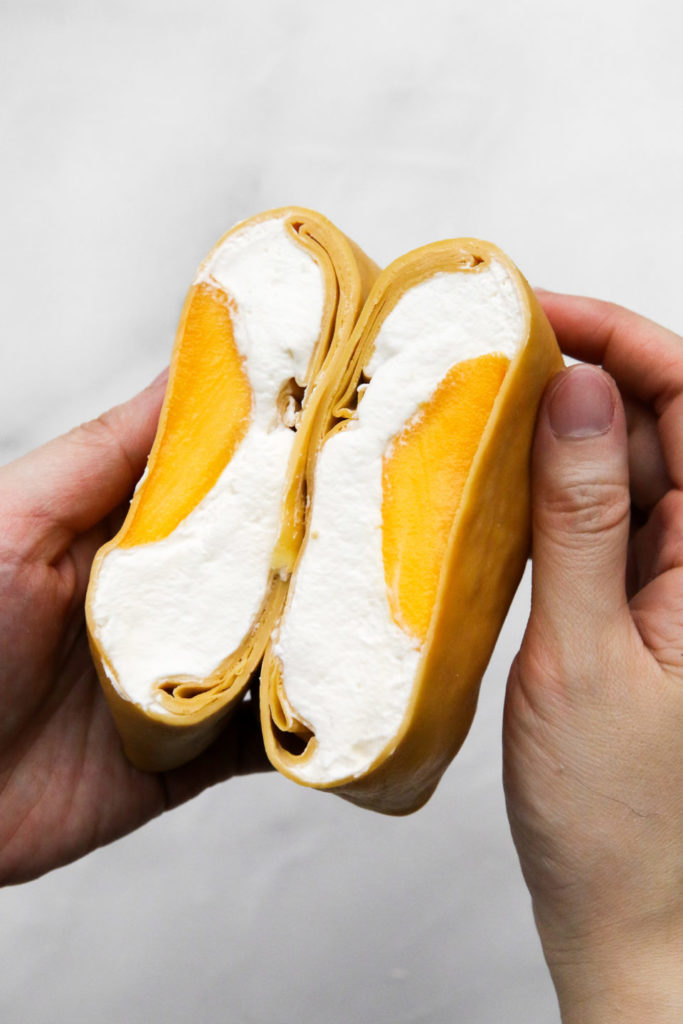 I learned about breakfast pancakes and dim sum-style pancakes at about the same time in my life. Saturday mornings would feature stacks of pancakes with maple syrup and Sunday mornings would involve going out for dim sum and ordering 'pancakes.' The latter were not like the pancakes often associated with breakfast or brunch. Instead, these pancakes often found at dim sum restaurants are golden pillows of freshly whipped cream and fruit (often mango) wrapped inside a bright and smooth yellow crepe. These pancakes are my parents' favourite and are often a highlight to any dim sum meal.
This recipe only requires a few ingredients and is quite simple to make. The toughest part is to get the crepe at the right thickness but after the first pancake that usually ends up as a tester, it gets easier and easier. Using good quality eggs and adding custard powder to the crepe batter give these crepes its signature colour, but you can omit the custard powder without changing the pancakes too much if you don't have it handy. It is important to remember to not flip the crepe when cooking it — leaving onside 'uncooked' is what gives these mango pancakes its very smooth exterior.
These dim sum-style pancakes are usually filled with mango, but other in-season fruit would be just as good. My favourite fruit is papaya, so I might make papaya pancakes next with an orange crepe.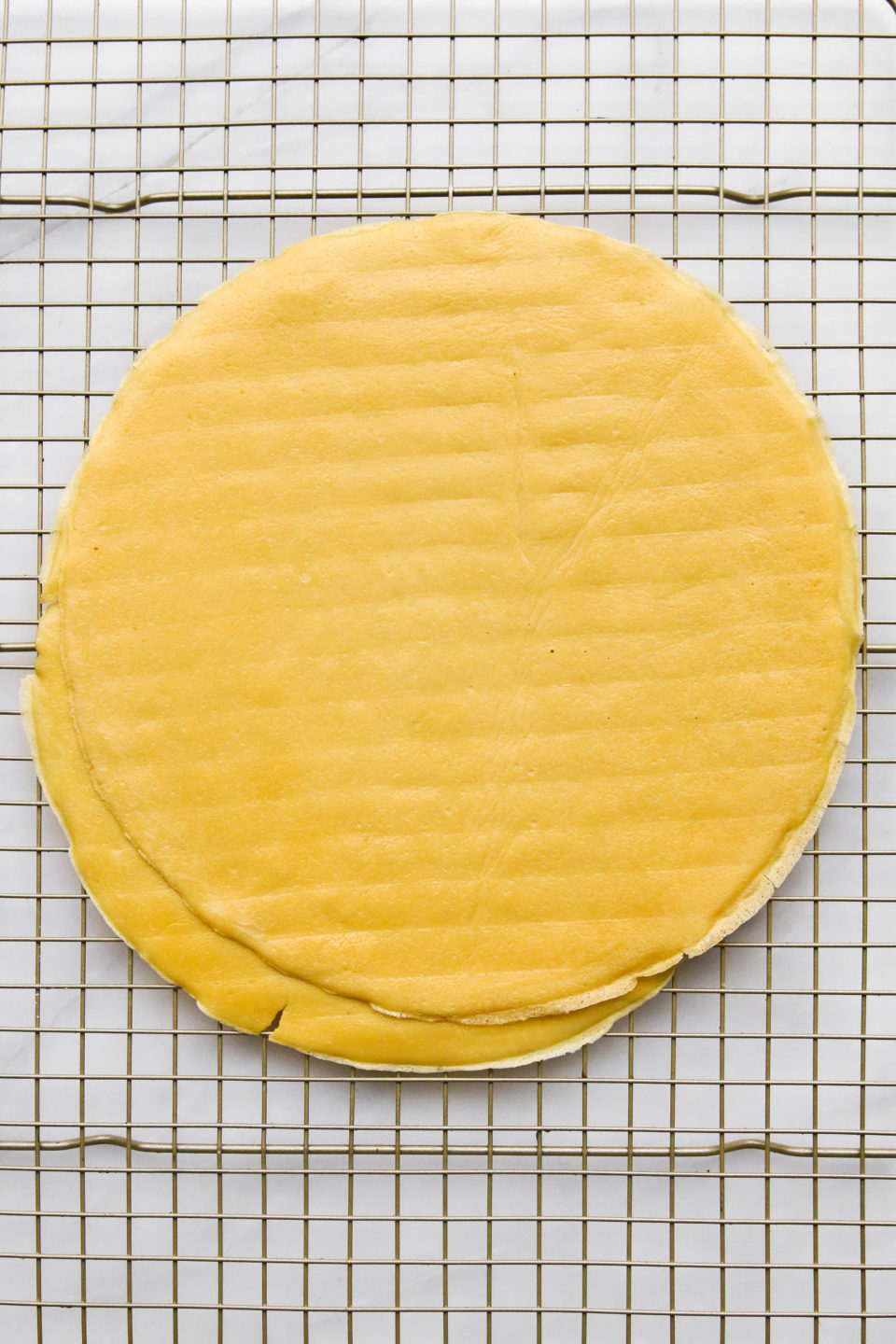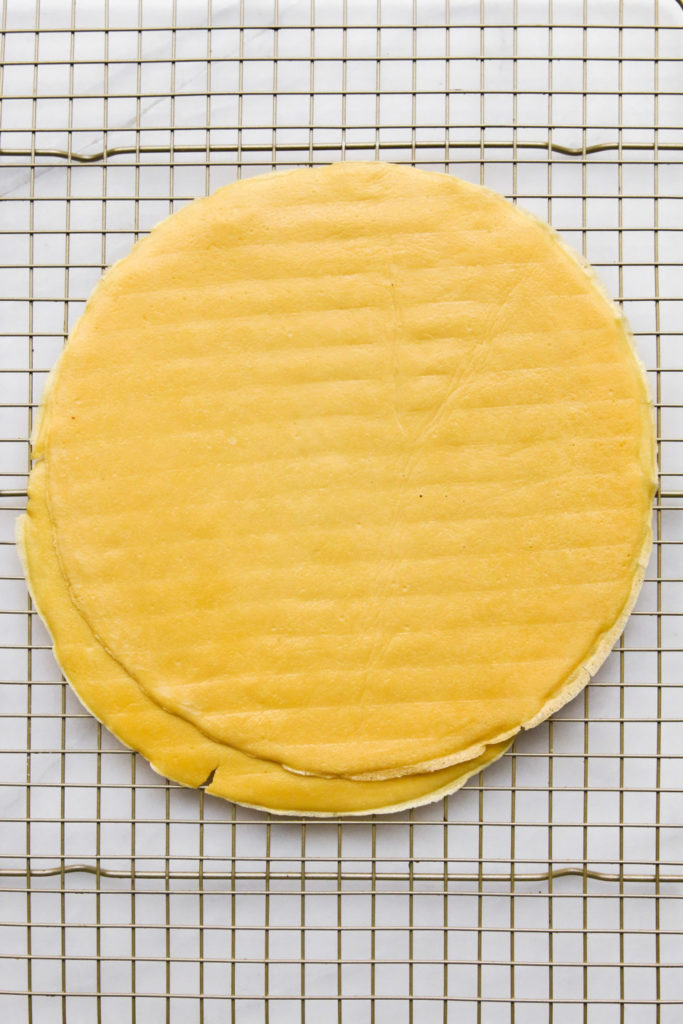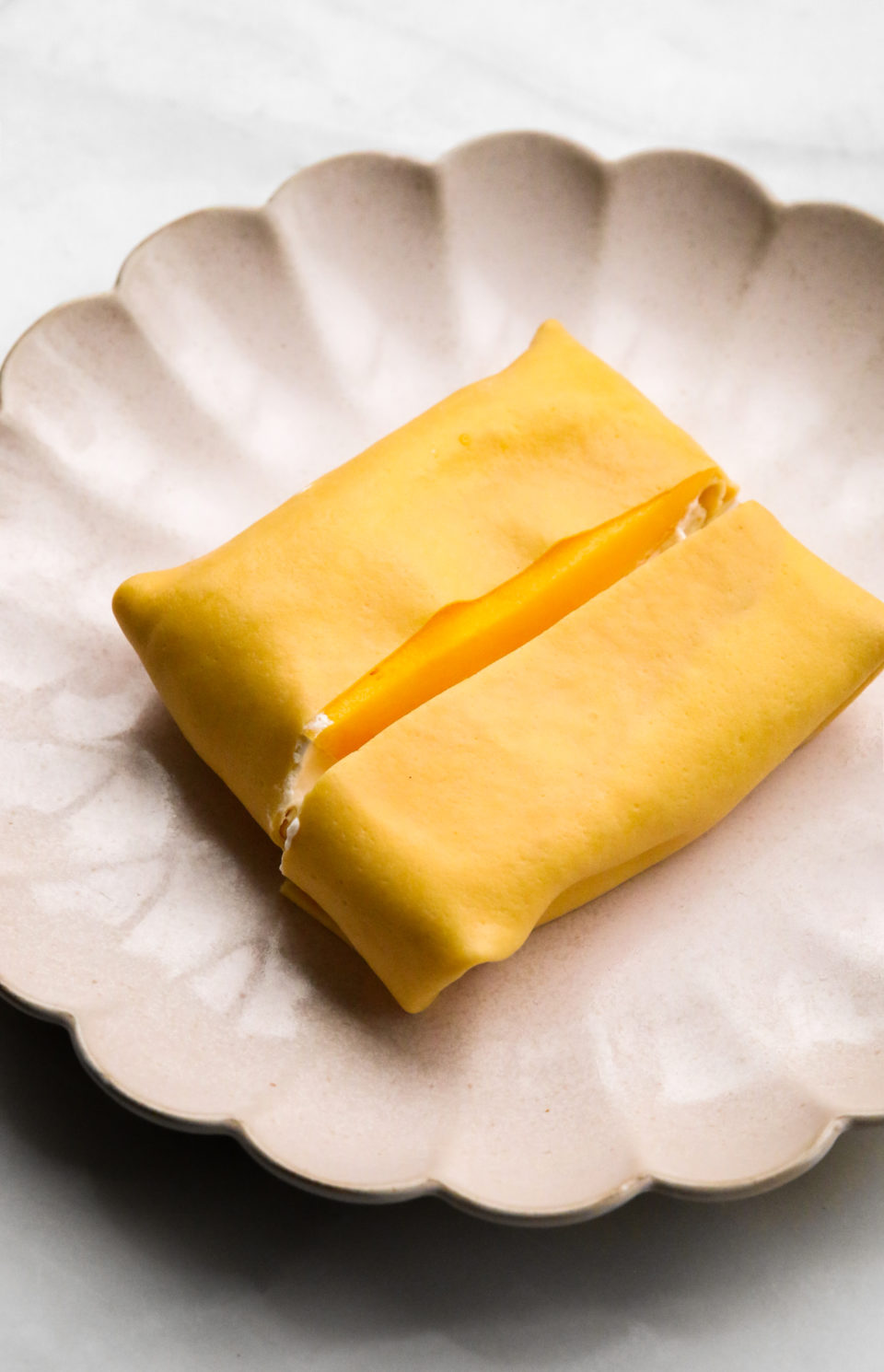 Mango Pancakes (Dim Sim Style)
Mango pancakes are a dim sum classic and they're really easy to make! These mango pancakes are very different than breakfast pancakes, instead they're little fluffy pillows of fresh mango and whipped cream wrapped inside a thin crepe.
Ingredients
Filling
240

ml

(1 cup) heavy whipping cream

30

g

(1/4 cup) powdered sugar

2

ripe mangoes

,

peeled, seed removed
Crepe Batter
160

ml

(2/3 cup) whole milk

2

large eggs

1

tbsp

butter

,

melted

22

g

(3 tbsp) powdered sugar

12

g

(2 tbsp) all-purpose flour

12

g

(2 tbsp) custard powder

Pinch of salt
Instructions
Filling
In a bowl of a mixer fitted with a whisk attachment, or using a hand whisk, whisk heavy whipped cream on medium-high speed until fluffy, 1 – 2 minutes. Transfer bowl to the fridge until ready to use

Peel mangoes. Stand the mango on a cutting board with the point downwards and the stem facing upwards. Cut all the way through the flesh. Each mango should produce 2 pieces of flesh. Set aside
Crepe
In a large measuring cup, whisk together whole milk, eggs, and melted butter.

In a medium sized bowl, whisk together powdered sugar, flour, custard powder, and salt.

Slowly pour the liquid ingredients into the dry and whisk until very smooth. If mixture is clumpy, pour the mixture through a sieve to remove any lumps.

Heat up a pan over medium-low heat, add oil, and use a paper towel to spread it evenly.

Pour batter into the pan and swirl the pan around until the mixture is thin and has completely covered the base. Quickly add more batter if needed to cover pan.

Cook the crepe for 2-3 minutes or until the top has set. Transfer cooked crepe onto a plate to cool. (It is important to not flip the crepe over)
Assembly
Place a crepe on a plate, with smooth side down.

Place a piece of mango in the centre of the crepe.

Spoon a generous amount of whipped cream to cover the mango completely.

Fold each side in, first from the two sides then from the top and bottom to form a square.

Transfer pancakes to fridge to set for 20 minutes before serving
Reader Interactions