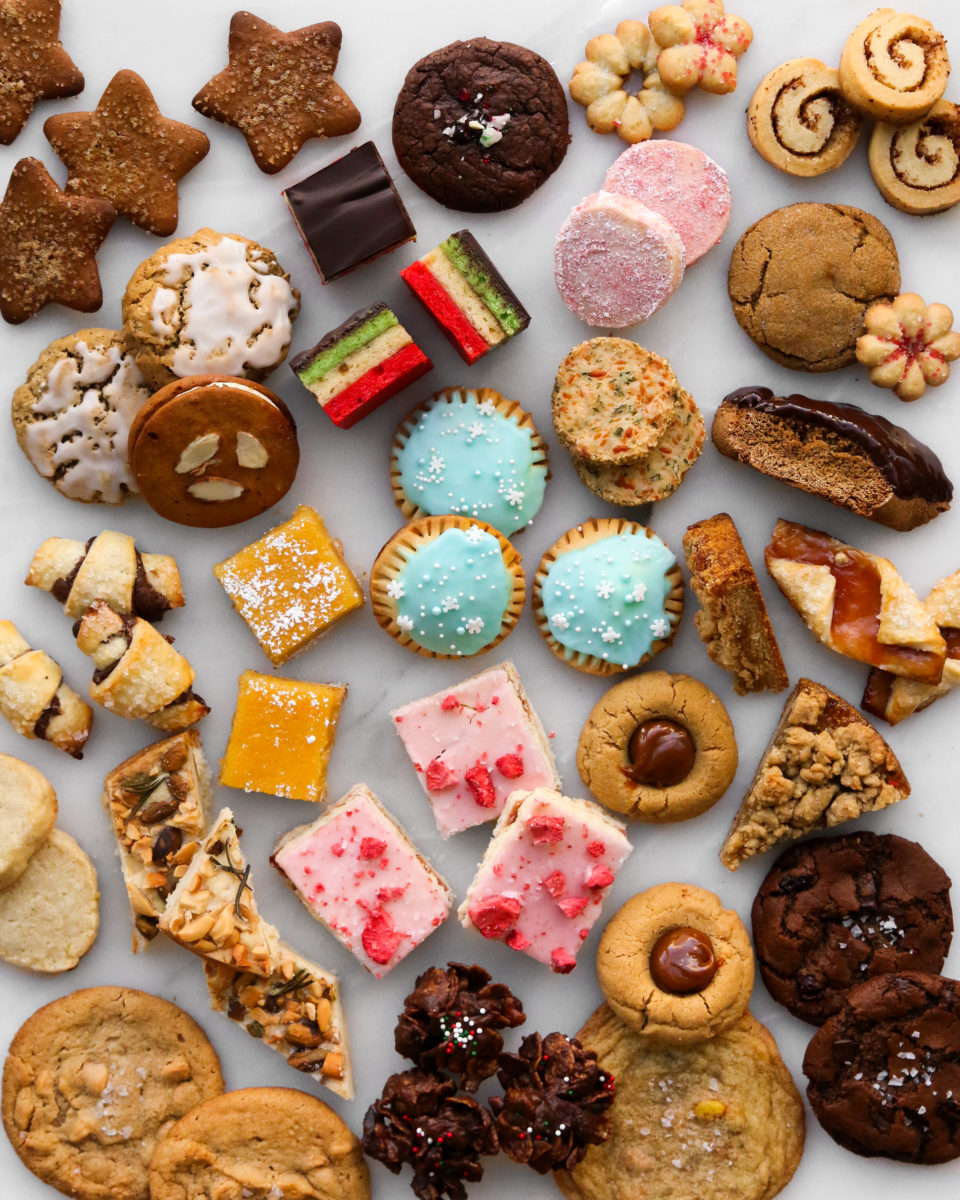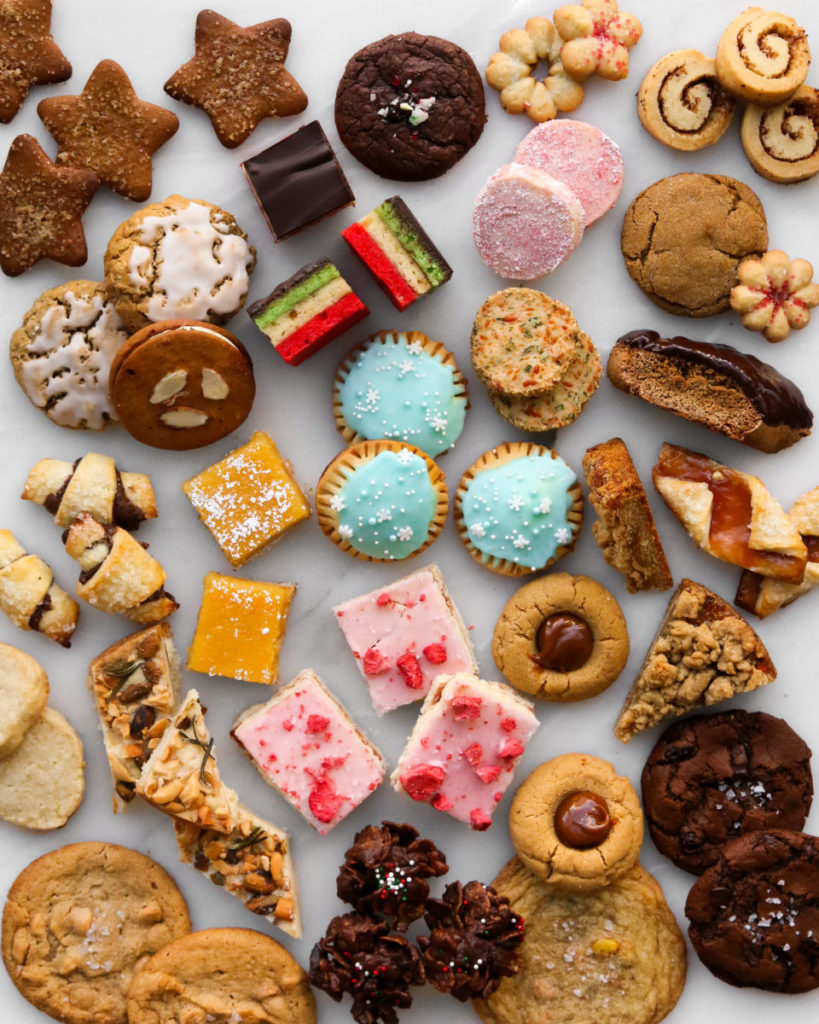 Baking all of the New York Times holiday cookies in one night — this isn't new. Baking 24 recipes at once — this is new territory. If you've been following along on this blog for a while, you might already know that I love a holiday baking challenge. It started in 2019 when I decided to bake all of Bon Appetit's holiday cookies at one go. This was my first time attempting to bake a publication's holiday spread in one night and it was (just) six festive cookie recipes. In the same year (specifically seven days later), I baked all 12 of New York Time's holiday cookies with a help of a good friend. That was the year I learned about baking time management — when to start the dough for the next recipe while the dough of the first recipe is chilling and when to start the third recipe's filling while the first two are baking, etc etc. 2020 was a weird year so I had to tackle NYT's eight holiday cookie recipes by myself, but was able to accomplish in five hours with the aforementioned time management skills. Even before this year's NYT recipes got released, I knew I was going to bake them all. I was ready. But little did I know, NYT was going to release 24 (YES, TWENTY FOUR!) new recipes because 'tis the season to never sleep again. When the holiday cookies hit their Instagram page, I immediately clicked on the link that directed me to the holiday feature. Then I saw the title and byline: '24 Days of Cookies. These recipes from New York Times Cooking are sure to make your holidays bright.' I wanted to get mad because I felt like I've been lied to. 'It's suppose to be the 12 days of Christmas…why are there 24 cookies?!' I couldn't stay mad because the holiday cookie site looked so cute and festive — damn you, moving cookie imagery. I printed all the recipes, reviewed the ingredients list, and headed to the grocery store. Fortunately, I had most of the ingredients at home. Compared to previous years, list year's cookies required less speciality ingredients. A lot of cookies this year required ginger so that was thing I really needed. I started baking at 9:50pm and finished the next day around 2:00pm. I took a one hour nap at 1:00am but otherwise, I kept busy with these recipes.
I had a little photoshoot with all the cookies and shared it with everyone that evening. NYT reshared the image the next morning and I got an influx of questions about the cookies.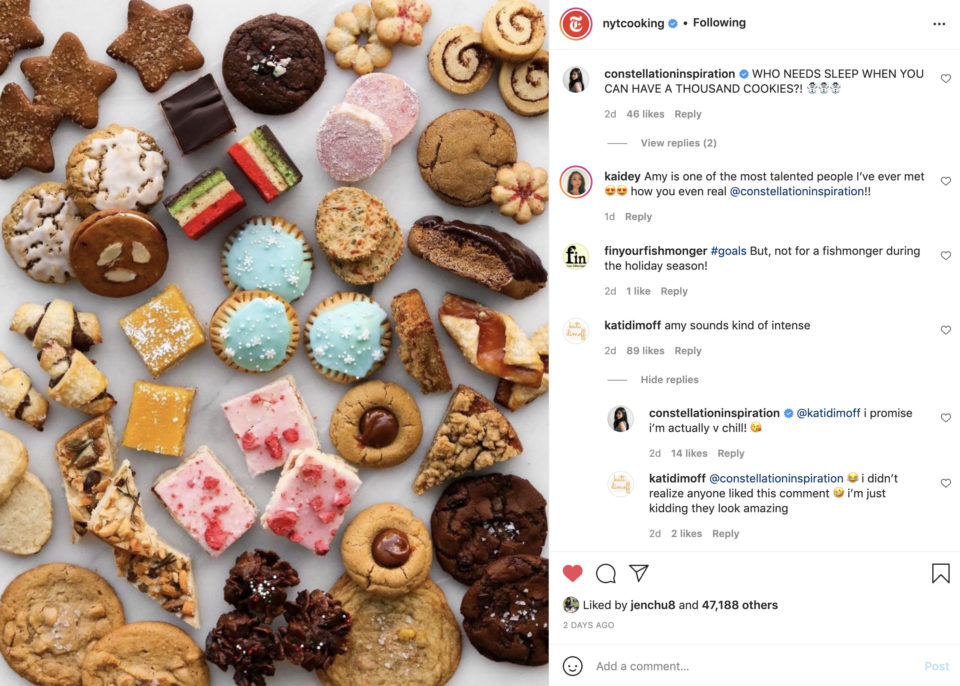 Some were interested in knowing about my process but the majority of people wanted to know which cookie was best. The latter is the question I get most every year when I do a big bake like this and it's also the question I look forward to answering the least. I think that when a publication produces a big holiday feature like this, they try to have a good mix of recipes – crisp cookies, soft and chewy cookies, fruity ones, chocolately ones, and no two cookies are the same. It's always so hard to pick a favourite because they are so different and my taste in cookies might be different from yours. I know that answer is not what you were looking but I'll try my best to 'pick a favourite' but my favourite will definitely change based on what I'm looking for.
"I want a good cutout cookie that's good for stamping out intricate shapes but I want it a bit more special than a classic sugar cookie."
Piparkakut.
"I want something sweet, tangy, and luscious. I don't care if it's more involved and requires several steps."
Minty lime bars.
"I want something super fudgey, chocolately, and chewy. But it needs to taste like Christmas."
Peppermint brownie cookies.
"I love nutty flavours and want a really tender cookie."
Tahini thumbprints with dulce de leche.
"Nostalgia, nostalgia, nostalgia."
M&M cookies or almond spritz cookies.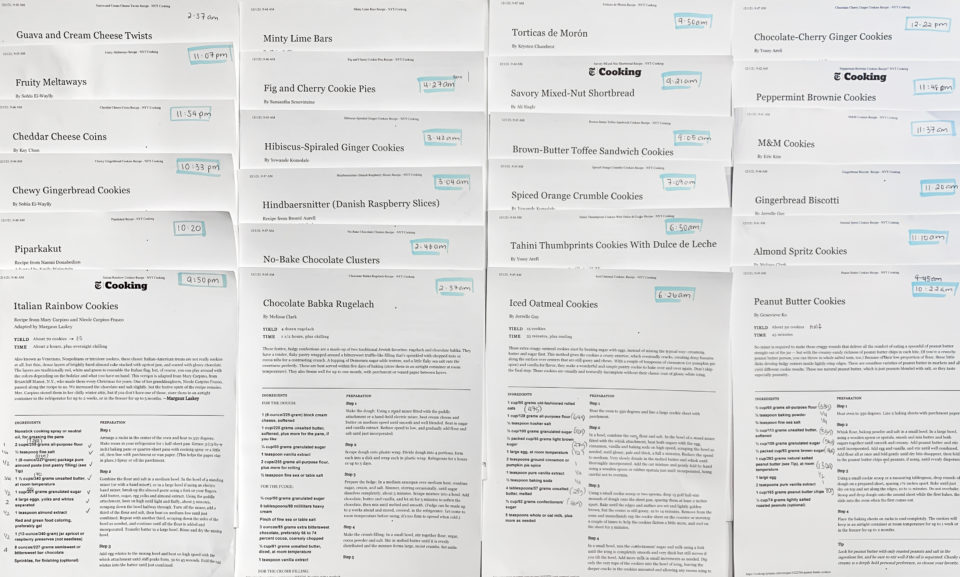 If you're here because you want to know how to bake 24 recipes in 15 hours, repeat after me: time management is key. You want to be working on more than one recipe at any given time. A lot of the recipes require chilling, so when the dough of one recipe is chilling, you can start on the next. Here is the order I made the cookies and the start time of each recipe:
9:50 pm Italian Rainbow Cookies
10:20 pm Piparkakut
10:33 pm Chewy Gingerbread Cookies
11:54 pm Cheddar Cheese Coins
11:07 pm Fruity Meltaways
2:27 am Guava and Cream Cheese Twist
2:37 am: Chocolate Bakba Rugelach
2:46 am: No-Bake Chocolate Clusters
3:04 am: Hindbaersnitter (Danish Raspberry Slices)
3:42 am: Hibiscus-Spiraled Ginger Cookies
4:27 am: Fig and Cherry Handpies
5:00 am: Minty Lime Bars
6:26 am: Iced Oatmeal Cookies
6:50 am: Tahini Thumbprints with Dulce de Leche
7:09 am: Spiced Orange Crumble Cookies
9:05 am: Brown Butter Toffee Sandwich Cookies
9:21 am: Savoury Mixed Nut Shortbread
9:50 am: Torticas de Morón
10:22 am: Peanut Butter Cookie
11:10 am: Almond Spritz Cookie
11:20 am: Gingerbread Biscotti
11:37 am: M&M Cookies
11:48 am: Peppermint Brownie Cookies
12:22 pm: Chocolate-Cherry Ginger Cookies
FIND THE RECIPES HERE: https://www.nytimes.com/interactive/2021/11/30/dining/cookie-calendar.html
By no means am I recommending that you bake 24 recipes in one night. If you want to enjoy the baking process (I promise I do even if it's 24!), pick three or four recipes and invite some friends over to enjoy the fruit cookies of your labour. If you do bake all the recipes, whether it's in one go or over several days, I would love to see it and learn which were your favourite recipes. Happy baking!