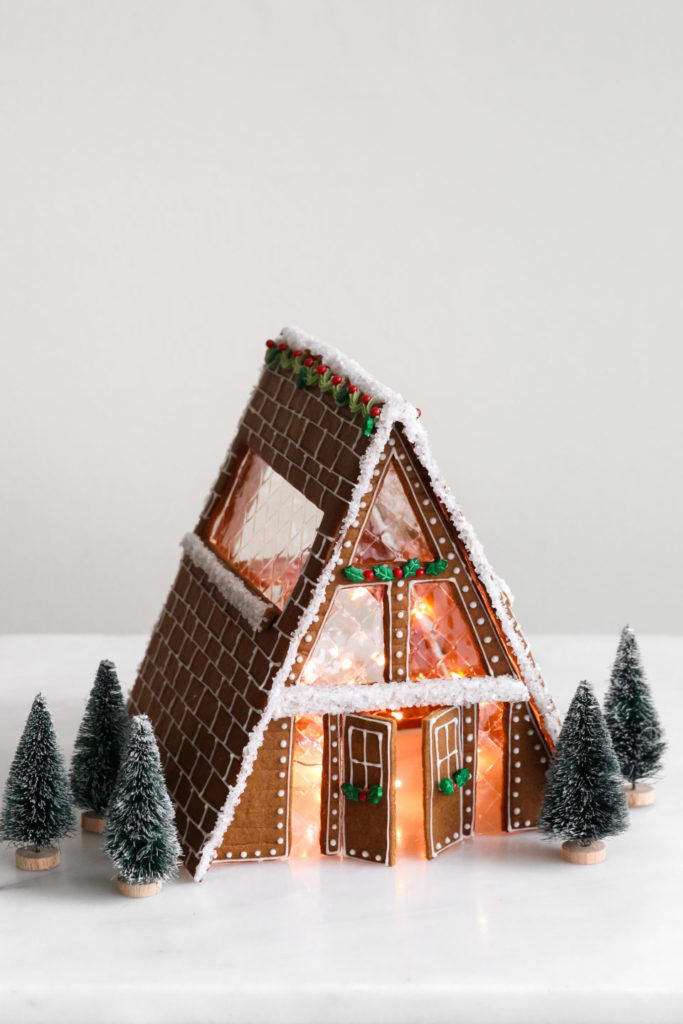 Happy Christmas Eve! I almost didn't make a gingerbread house this year because I was overthinking everything and somehow convinced myself that I *needed* to make this year's gingerbread house better than the houses I built in the previous years. Cherry Bombe asked me to be part of their holiday baking print issue with a feature on my gingerbread creations and I told them I want to create something inspired by Paris since we weren't able to travel this year. I considered making Du Pain et des Idées (the shape of the bakery was a bit confusing) and Au Vieux Paris d'Arcole (couldn't find miniature wisteria branches… but maybe next year!). I actually started making Shakespeare and Company bookstore but accidentally broke the main piece was filing it done with my microplane. I left the broken pieces of my bookstore on the kitchen counter for several days and only threw it out when I decided to make this a-frame house last minute. I made this house in 3 – 4 hours two nights ago and I'm so happy that I did. It may sound dramatic but I finally felt at ease about this year's gingerbread house. I did so much holiday baking (exhibit A and exhibit B) including festive shaker cookies but it felt like something was missing without a gingerbread house.
So here is this year's official gingerbread house and it's measurements if you want to create it on Christmas Day. It is by far the simplest house of all of them and can be easily finished in a day. Find tips and tricks in past tutorials:
Gingerbread Greenhouse 2019 (includes gingerbread 101)
Gingerbread Greenhouse 2020 (includes gingerbread FAQ)
Gingerbread Farmstand 2021
Gingerbread Storefront 2021
Happy holidays, friends!