I feel like I'm stuck in this weird phase in between two major themed baking holidays — Halloween and Christmas. Is it too late to still share pumpkin recipes? Are we still into fall baking while slowly listening to more Christmas music everyday? Or is it okay as long as I do it before December 1? I'm going to leave you with the recipe for these kabocha cheesecake cream puffs and you can take what you need.
Kabocha squash is one of my favourite things to eat, whether it's in a sweet or savoury preparation. I had a phase in my life where I would eat the squash everyday and part of almost every meal — it was a wild time. I don't eat it nearly as much now but still really enjoy a kabocha filled chewy rice cake from one of my go-to bakeries in Chinatown, in the form a pumpkin croquette at Japanese restaurants, and my mom's kabocha cream soup whenever I go home for dinner. I also love using kabocha in a few of my recipes including kabocha salted egg yolk mooncakes during Mid-Autumn Festival, taro coconut sago dessert soup (I add cubes of kabocha!), as well as subbing kabocha for yam in these dessert cups with grassy jelly. If you have a recipe you love making that features kabocha squash, please share it with me! In the meantime, I hope you love these pumpkin-shaped kabocha cheesecake cream puffs.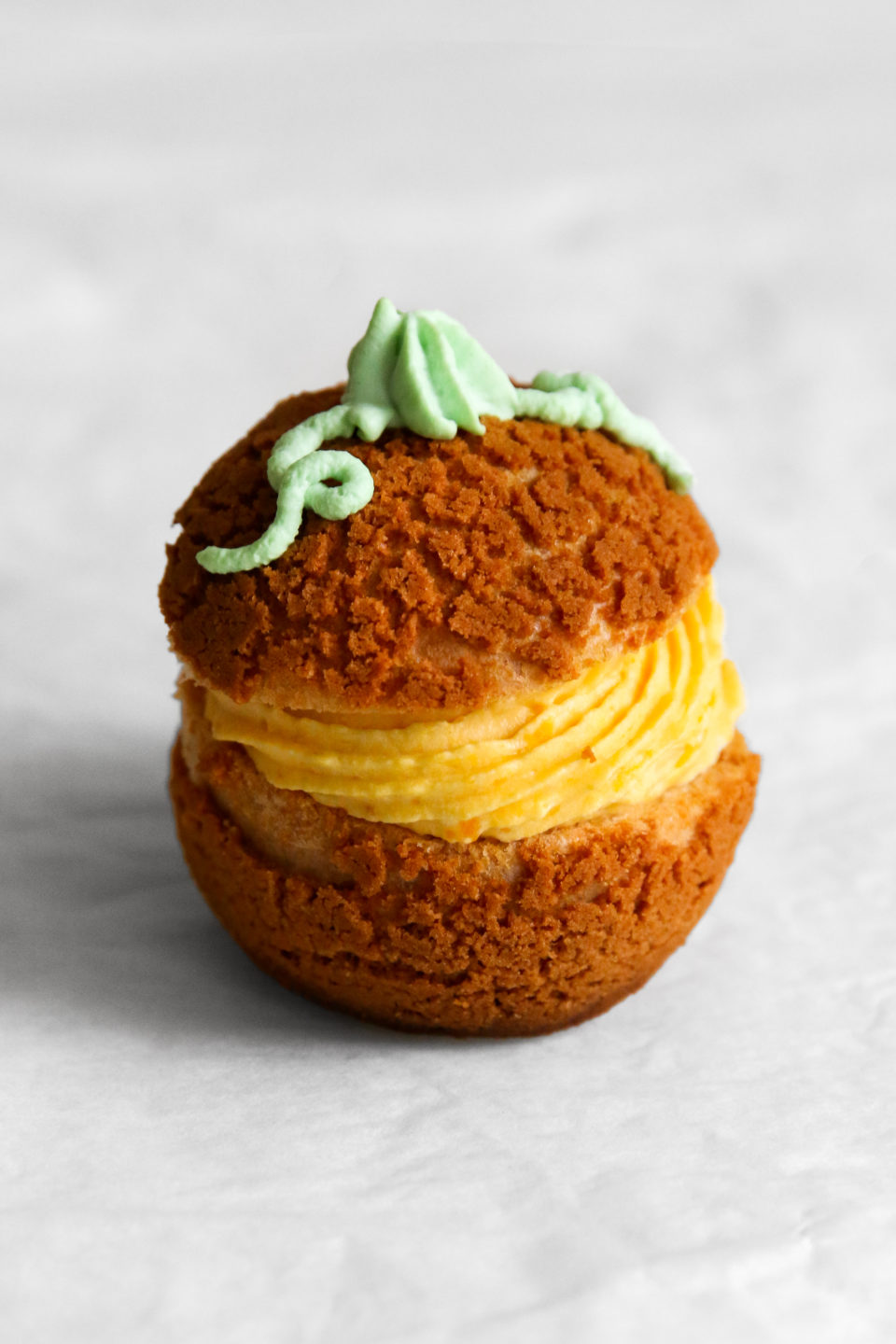 Kabocha Cheesecake Cream Puff
Kabocha squash is one of my favourite things to eat, whether it's in a sweet or savoury preparation. These pumpkin-shaped cream puffs feature a light choux pastry with a crispy craquelin top filled with a subtly sweet whipped  kabocha cheesecake filling. I used some extra whipped cream for garnish to really make it look like a little pumpkin.
Ingredients
Craquelin
25

g

(2 tbsp) unsalted butter

,

softened

25

g

(2 tbsp) brown sugar

25

g

(4 tbsp) all-purpose flour

A few drops of orange food colouring

,

optional
Pâte à Choux
57

mL

(1/4 cup) water

57

mL

(1/4 cup) whole milk

1/2

teaspoon

sugar

1/2

teaspoon

salt

57

g

(1/4 cup) unsalted butter

70

g

1/2 cup and 2 tbsp all-purpose flour

110

g

(~2 1/2) large eggs

,

lightly beaten
Kabocha Cheesecake Filling
210

g

(1 cup) kabocha squash

,

steamed and mashed

226

g

(1 block) cream cheese

,

room temperature

240

g

(1 cup) heavy whipping cream

60

g

(1/2 cup) confectioner's sugar
Instructions
Craquelin
In a medium bowl, combine all ingredients and mix with rubber spatula until smooth.

Roll out the craquelin dough to 1/8-inch in thickness. Use a cookie cutter and cut out 10 2-inch circles. Set aside.
Pâte à Choux
Preheat oven to 350F.

In a saucepan, combine the water, milk, sugar, salt, and butter. Bring to a light boil, remove from heat, and immediately add in all the flour. Quickly stir in the flour, using a rubber spatula, and return saucepan back over medium-high heat.

Continue to stir the mixture, without stopping, until the paste is smooth, about 1-2 minutes. It will pull away from the sides of the pan and leave a thin coating of cooked paste on the bottom when ready. The texture should resemble dry mashed potatoes.

Transfer the paste to a stand mixer bowl fitted with the paddle attachment. Mix on low for the choux to cool down.

While the mixer is running on medium, gradually stream in the lightly beaten eggs. Mix until well combined.

Transfer the pâte à choux to the prepared piping bag with a round tip. Pipe out 10 choux mounds onto the prepared baking sheet, leaving roughly 2 inches between each puff. If you are making choux with a craquelin top, this is when you want to add the craquelin to the choux mounds.

Place the baking sheet in the oven and immediately bake choux puffs for 35 minutes. Rotate the baking sheet and turn down the oven to 325F, then bake for 10 minutes more until choux are deeply golden. Remove from oven and set on cooling rack to cool.
Kabocha Cheesecake Filling
Steam kabocha squash until fork tender. Remove the skin before mashing with a fork. Allow mashed kabocha to cool completely before using for the filling.

In a bowl of a standing mixer fitted with whisk attachment, whisk heavy whipping cream until medium peaks form, about 2-3 minutes. Transfer whipped cream to another bowl. (If decorating cream puffs to look like a pumpkin, reserve 3 tablespoons of whipped cream to use at garnish)

In a bowl of a standing mixer fitted with a paddle attachment, beat cream cheese on medium-high speed until fluffy, about 2-3 minutes. Add confectioner's sugar and beat until combined.

With a rubber spatula fold in whipped cream into cream cheese mixture.

Fold in cooled and mashed kabocha with a spatula into fully incorporated.

Transfer mixture to a piping bag fitting with an open star tip.
Assembly
Cut off the top of the choux with a serrated knife.

Pipe the choux cavity with kabocha cheesecake filling.

Top cream puff with other choux half like a hat.

Optional: pipe a few squiggles of green whipped cream for the vine.
Notes
I used 1/2 cup of confectioner's sugar for the filling but you can add more if you prefer the filling to be a bit sweeter. My kabocha squash was pretty sweet already so I found 1/2 cup to be perfect.
Reader Interactions