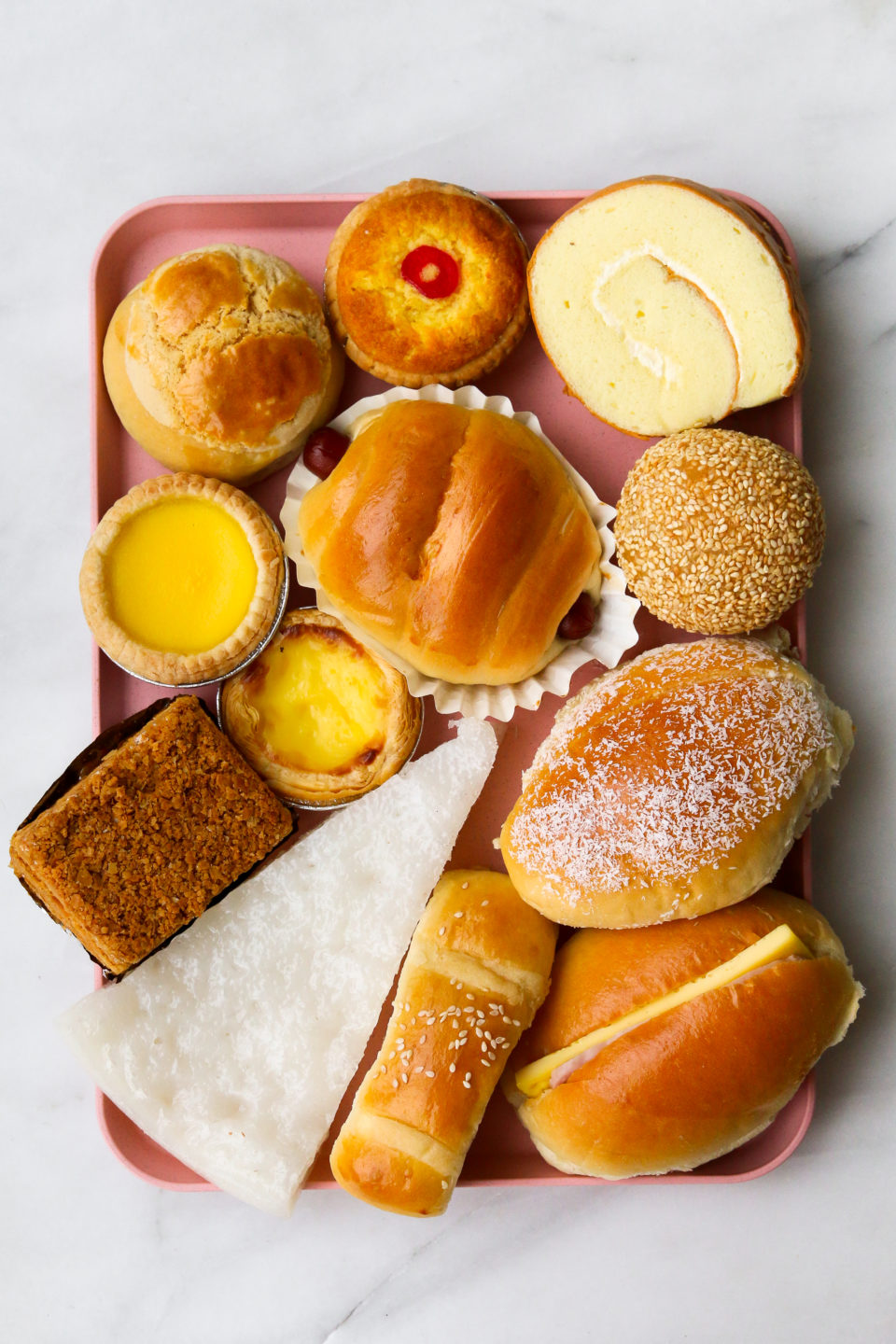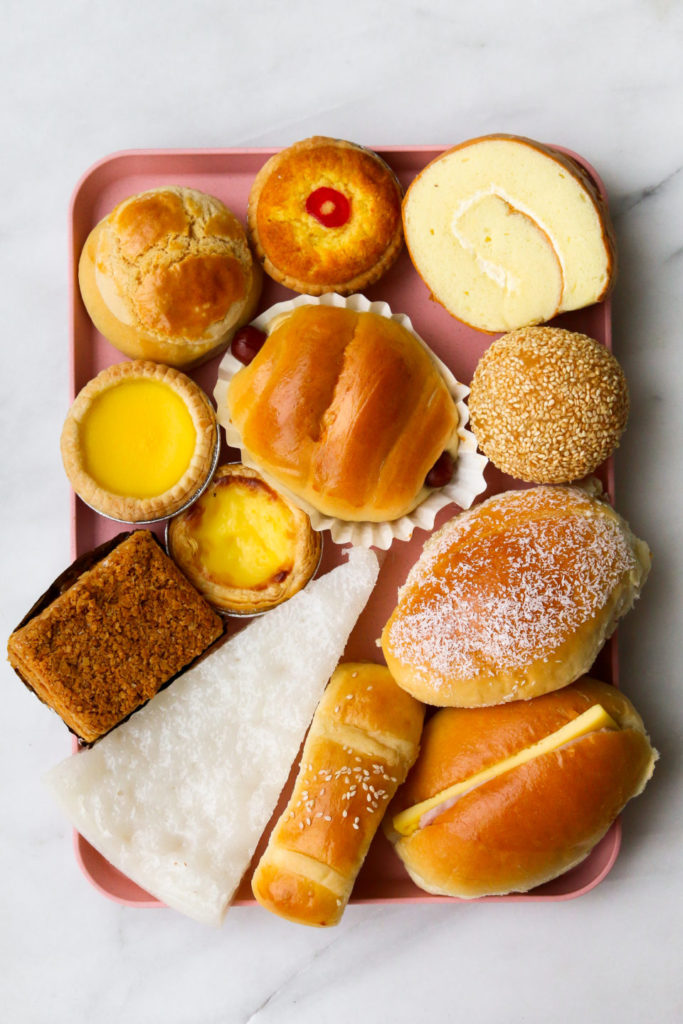 I made a goal for myself over the last several years to always be actively challenging the assumption and stereotype, of my own and of others', that Chinese baking is always cheaper and inferior. Why are the 'not-that-sweet' Chinese buns and cakes I grew up eating not as special as a croissant or a danish? Why was I so willing to pay $7 for a slice of mille feuille but any Napoleon pastry at a Chinese bakery with a price tag over $2.50 was deemed as expensive? Why is getting an egg tart less of a treat than getting a tarte au citron? Perhaps it's because I grew up eating Chinese pastries regularly as breakfast or an after-school snack. Maybe having $1 pineapple buns with crackly tops and 75 cents steamed white sugar cake around all the time made them less special. But familiarity shouldn't negate the skill needed to create that baked good and how good it objectively is. Just because it's cheaper doesn't mean it's inferior. Perfecting the ideal egg tart takes a long time and just because it has a standard $1 price tag doesn't mean our food is worth $6 less than something from a patisserie.
In the last 2 – 3 years, I've really appreciated Chinese baking a lot more and my desire to learn how to bake Chinese pastry, perfect dessert soups, and roll the perfect mochi grew immensely. Trying to recreate these things in my own kitchen made me realize how hard they actually are to execute and how much precision is needed. Today I tried to make banana mochi rolls, soft glutinous rice rolls with banana oil common at Chinese bakeries, and I failed miserably. I was use to seeing a big box of banana mochi rolls at older Chinese bakeries for $3 and because it was such a 'cheap' item, I always assumed that they were simple to make. These $3 rolls require a delicate balance of glutinous rice flour, tapioca starch, wheat starch, and sugar and getting the ratio correct is key. I specify 'older Chinese bakeries' when it comes to banana mochi rolls because these rolls are almost impossible to find at newer Chinese bakeries. The newer Chinese bakeries tend to incorporate a lot more Western techniques and flavours — the classic Chinese bakery coffee sponge cake has been replaced by an elaborately decorated mousse cake with a mirror glaze and edible gold in their pastry cases. I'm always so scared that one day all these older Chinese bakeries are going to get replaced by the newer ones that serve more Western-Influenced baked goods.
The shops and restaurants in Chinatown have been hit very hard during the pandemic. I would hate to see the smaller restaurants in Chinatown close down while the newer restaurants on the same block that can afford to have a team work on marketing and social media be the ones that survive. I would hate to lose all the tradition and all these stories that each of these places represent and have collected. If there is one thing you should take away from this, it's to support your local Chinese restaurants, bakeries, and small businesses. If one of them close down, we aren't just losing a restaurant, we're losing all the cultural significance that they carry as well.
If you aren't too familiar with Chinese bakeries, especially the ones in Vancouver's Chinatown, I created a very short and sweet guide to help you savour and enjoy all the treats Chinatown has to offer.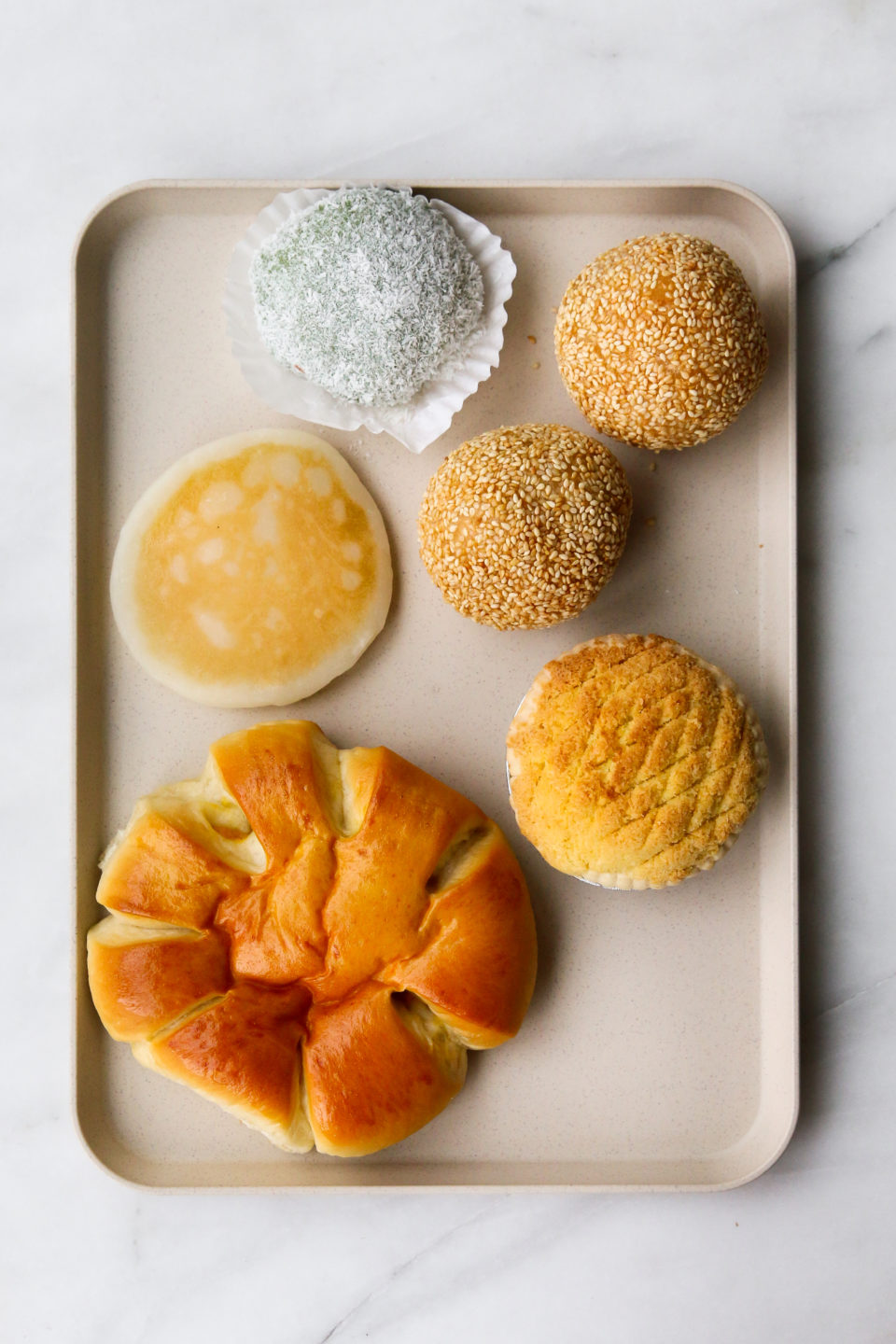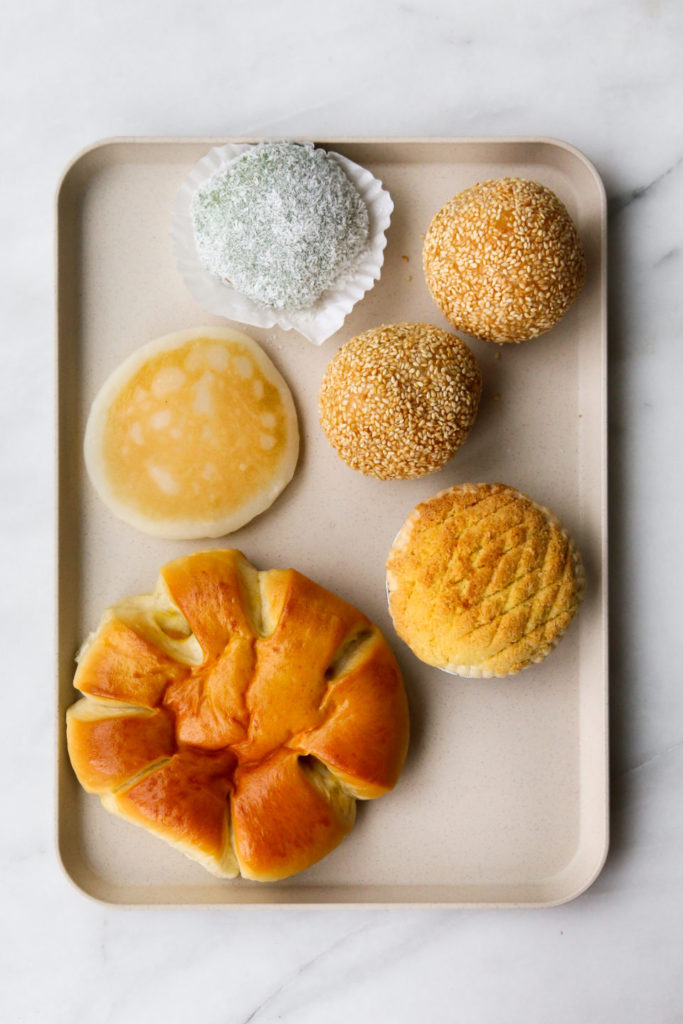 Sun Fresh Bakery (245 Keefer St)
A traditional Chinese bakery that specializes in both baked goods and steamed items commonly found at dim sum restaurants. You will notice that all their baked are quite large. The size of their baked taro buns are the size of my face and you won't find a larger mochi ball anywhere else. They're known for their steamed buns (I love the vegetable one!) and their fried sesame balls.
What I recommend: green tea mochi with red bean filling and fried sesame balls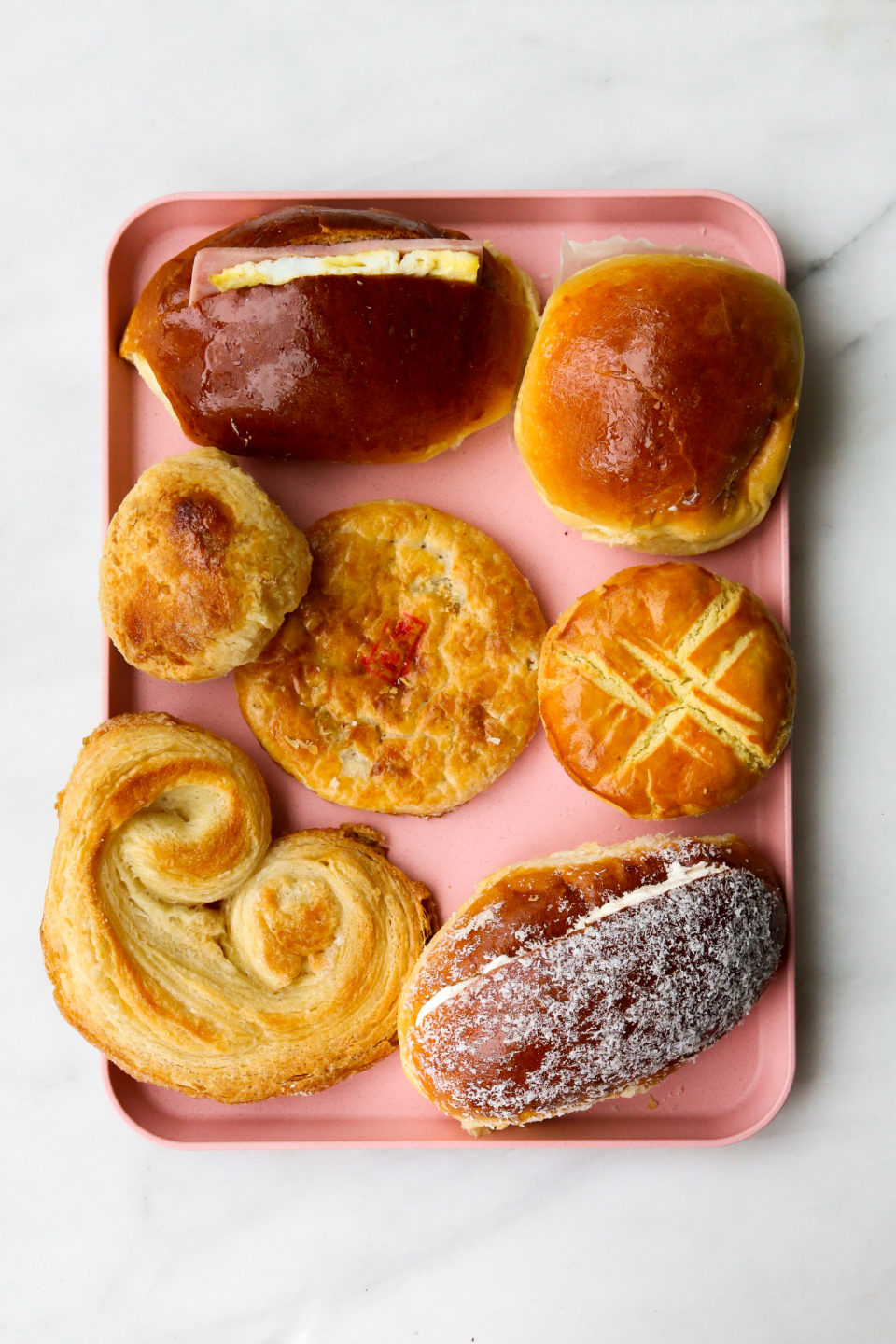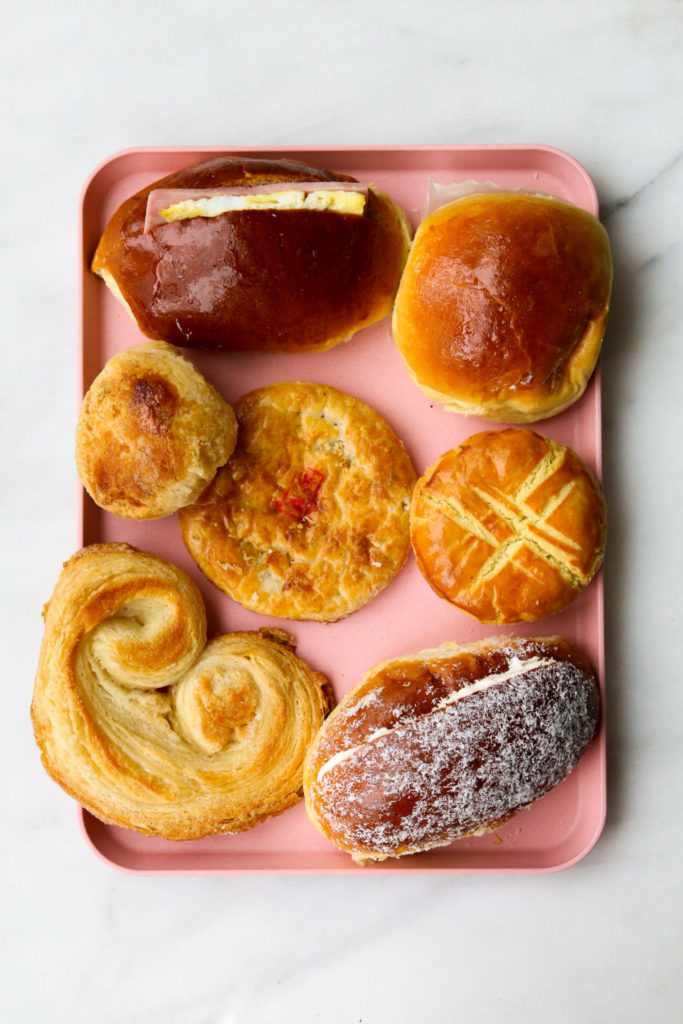 New Town Bakery & Restaurant (148 E Pender St.)
New Town is quite the tourist attraction. On sunnier days, you will always see a line of both both locals and tourists waiting to order fresh apple tarts by the dozen. Like Sun Fresh, they have a large variety of steamed buns (their deluxe bun is iconic) and an even larger pastry case. Apple tarts with a flakey crust and crunchy sugar top are a must try and I grew up eating their tapioca cakes and savoury fritters. For their baked items, they have some of the more flavourful buns compared to the other Chinatown bakeries. My partner and I ordered the same buns across the bakeries to do the most scientific taste test. The baked buns from New Town have a darker exterior and a slightly sweet glaze (honey wash?). If you like Chinese ham and egg buns, we think they have the best one here!
What I recommend: apple tarts, tapioca cake, ham and egg bun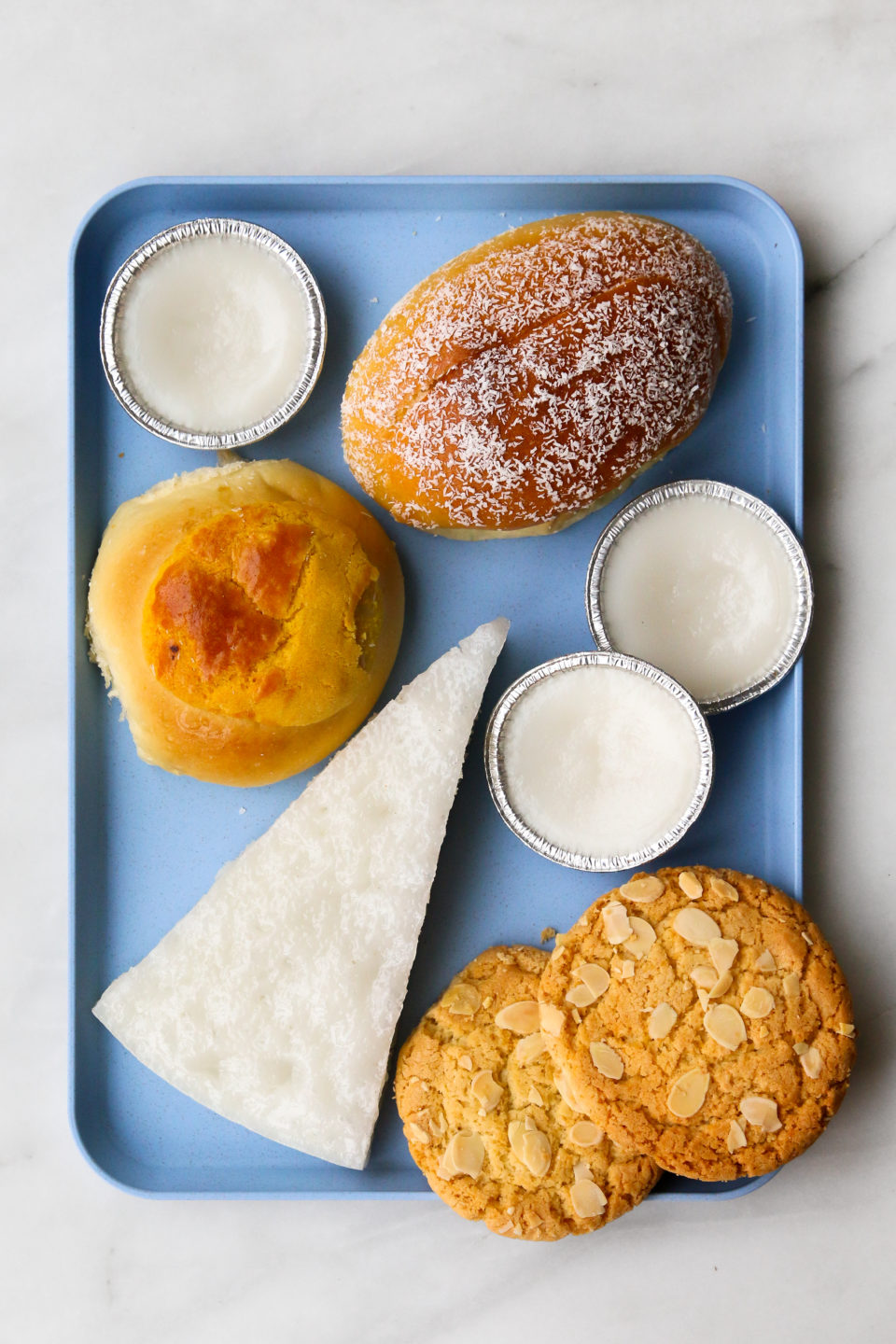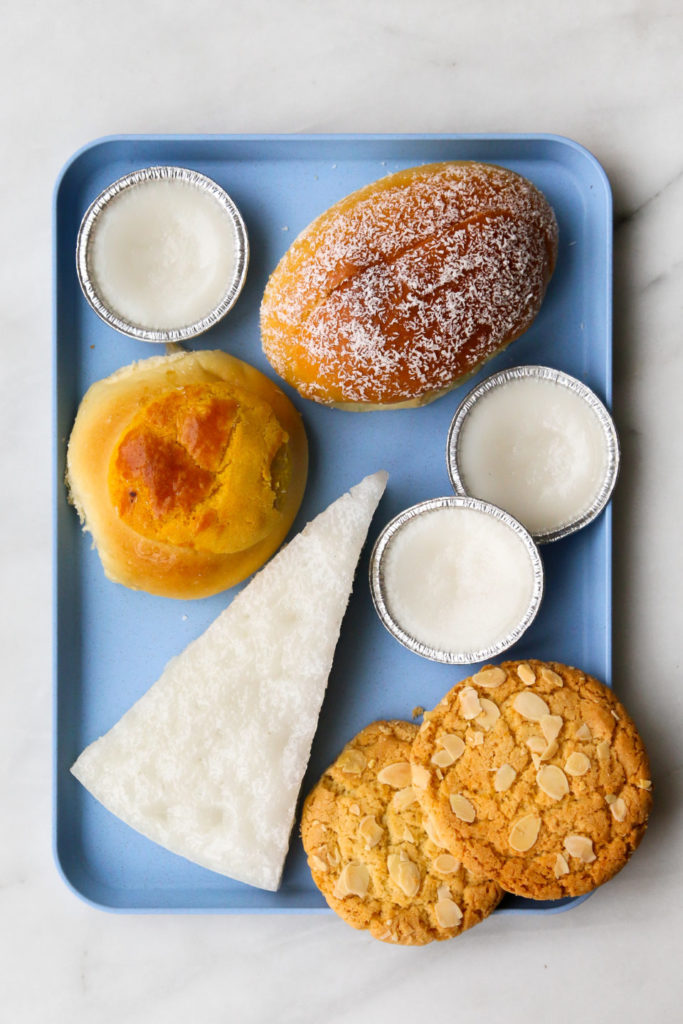 Zhao Mah Bakery (280 E Pender St.)
Zhao Mah is the most hidden of all the Chinatown bakeries — I actually didn't know Zhao Man by name when I first started to compile the information for this list. It's definitely the least renovated/glammed up bakery of the bunch but the owner is one of the sweetest people I had the chance to talk to that day. I was told that I had to try their almond biscuits. Their coconut cream bun had the richest and silkiest cream compared to the other Chinatown bakeries and the texture of the fillig almost resembled a Swiss meringue buttercream. It's very rich!
What I recommend: almond biscuits and coconut cream bun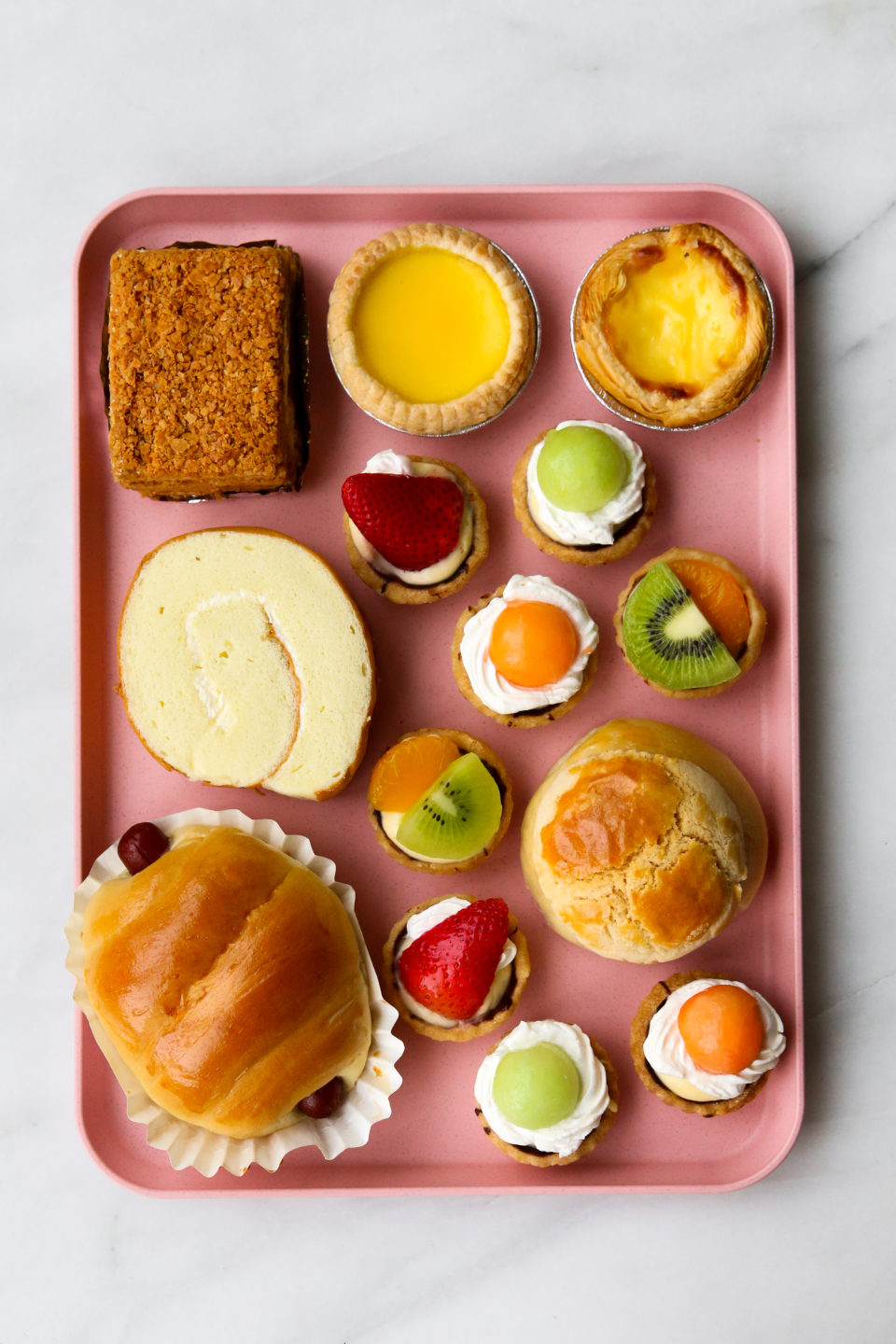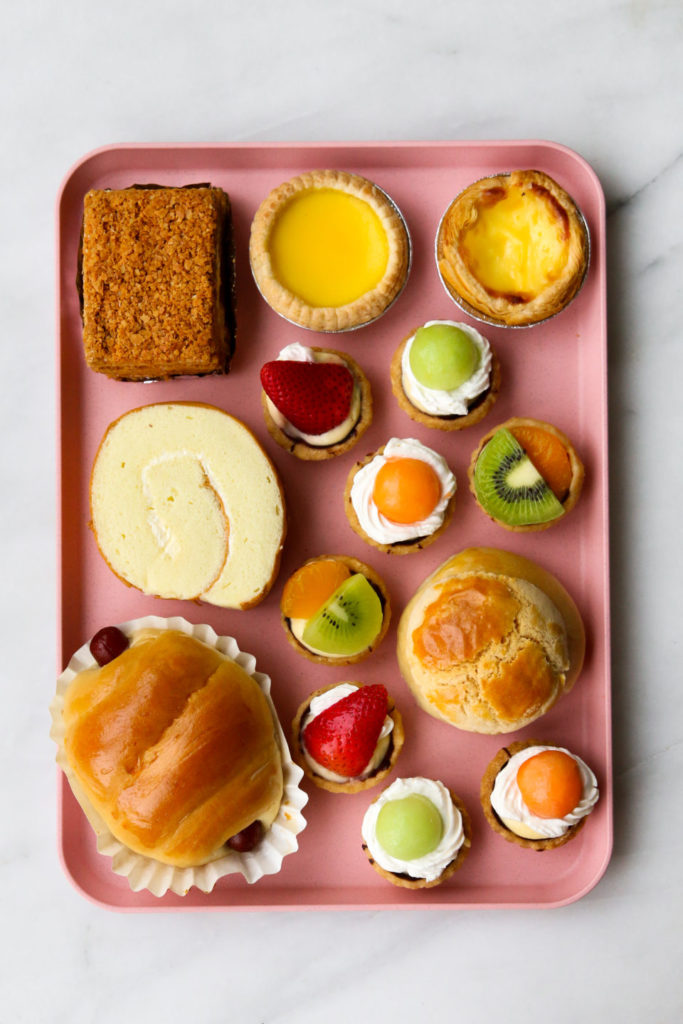 Maxim's Bakery & Restaurant (256 Keefer St.)
Maxim's is one of the more modern Chinese bakeries in Chinatown and when you walk in, you will see a display of roll cakes with panda decorations and a large selection of colourful fruit cake slices. I opted for the items I grew up eating: hot dog bun, egg tarts, mini fruit tarts (my childhood favourite!!!), Napoleon (my mom's favourite), pineapple bun, and a roll cake. The mini fruit tarts were as good as I remembered and the tart shell remained to crisp despite being filled with pastry cream and topped with fruit. Their cakes are light, fluffy, and not that sweet (the key to any Chinese cake).
What I recommend: mini fruit tarts, egg tarts, Portuguese tarts (everything I got was really delicious honestly!)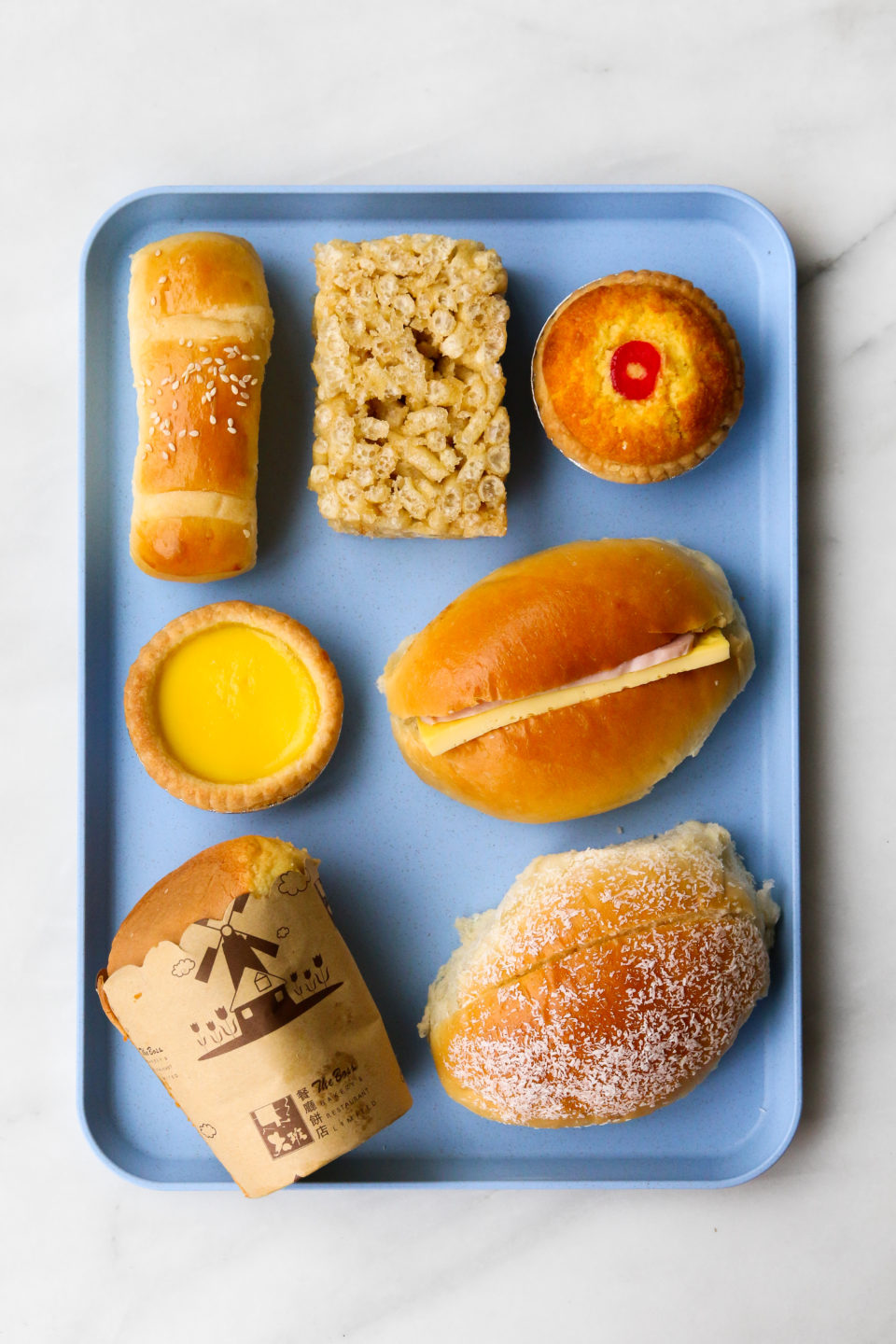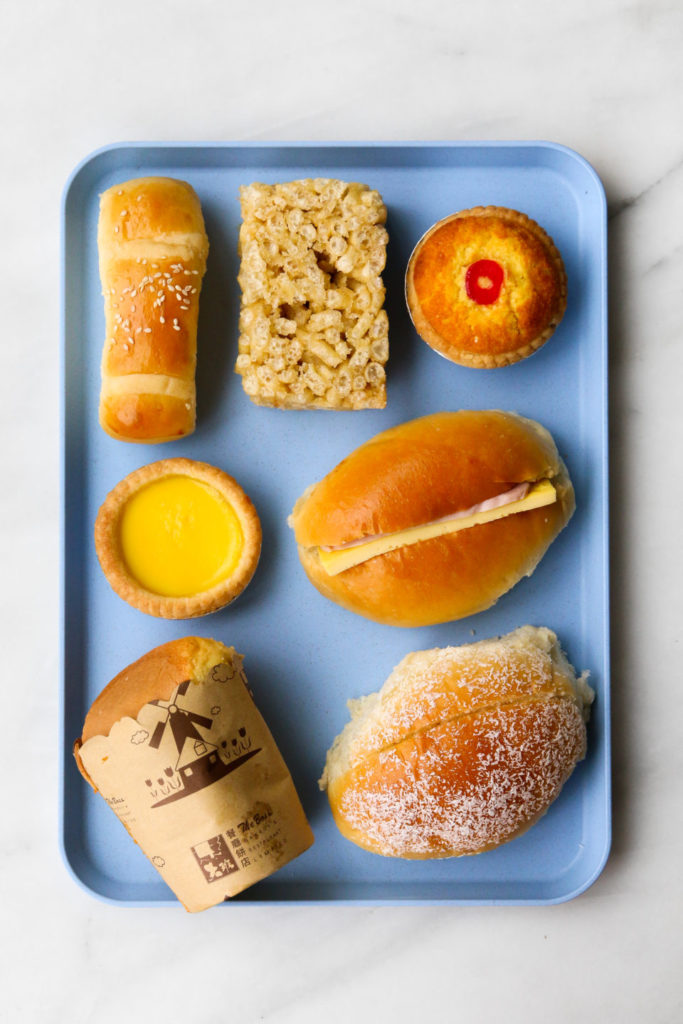 The Boss Bakery (532 Main St.)
The Boss Bakery has similar offerings as Maxim's. I came here with a mission: to try their coconut cream bun. My partner, who is the coconut cream bun expert, agreed that they had the best one. I also ordered a few classics like a cocktail bun, coconut tart, sponge cake, sachima, and egg tart. Everything was delicious but the highlight for me (unexpectedly) was the sachima! I grew up eating sachima, a square of fluffy strands of fried batter bound together by sugar syrup, from the grocery store. I've never had a fresh one from a bakery and WOW. I'm going back tomorrow.
What I recommend: sachima, coconut cream bun, egg tart
A few classic Chinese bakery items from our day of exploring Chinatown — which is your favourite: