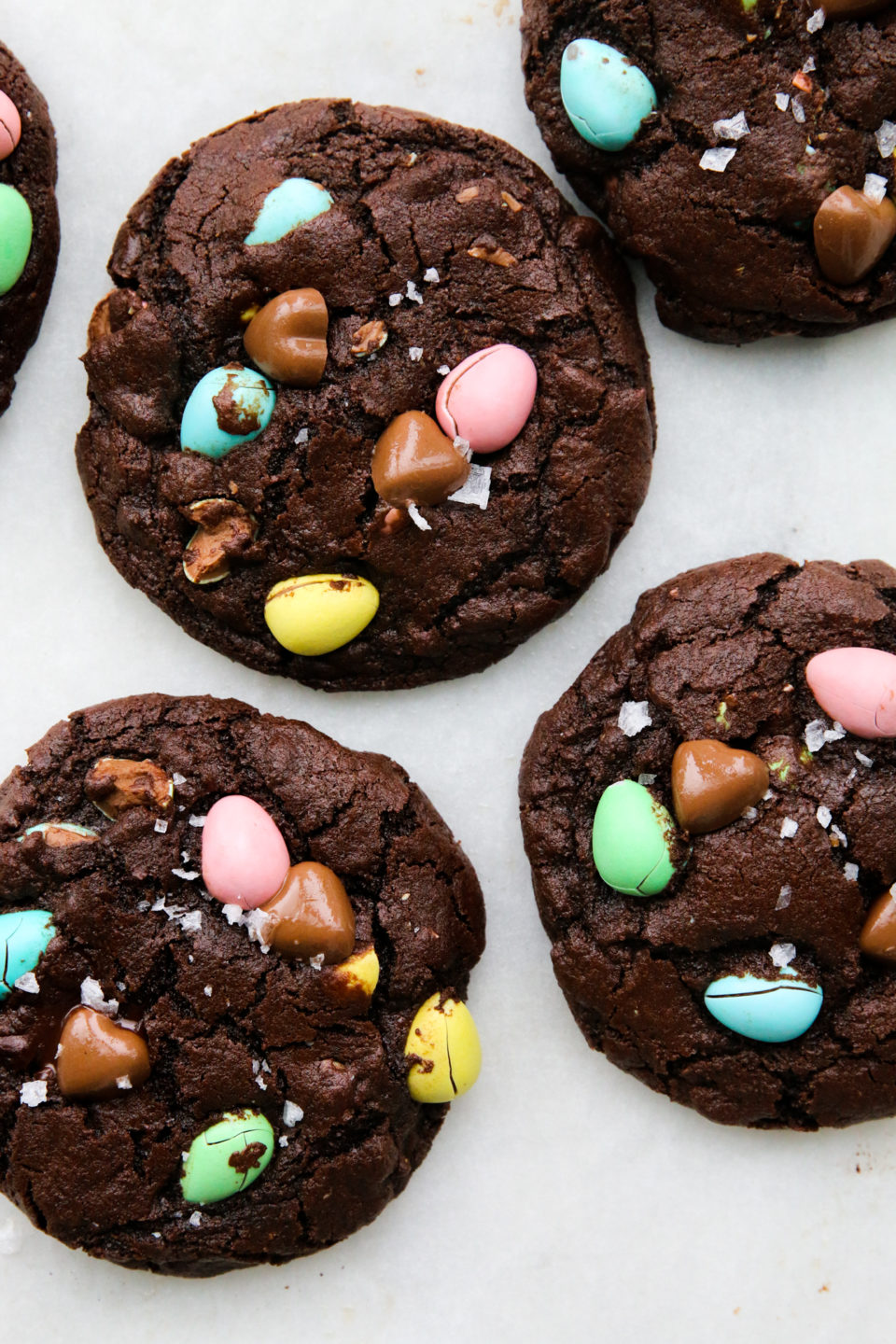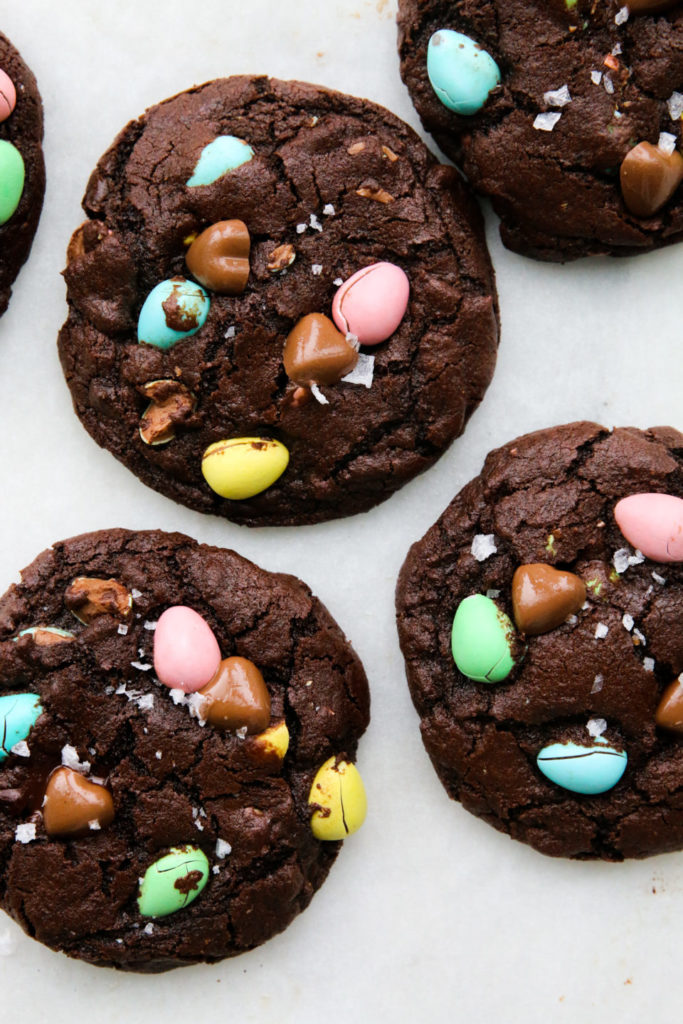 A) How is it almost Easter?
B) How come it's so hard to find mini eggs these days (despite it being available all year round now)?
C) How come no other coated chocolate eggs taste as good as the mini eggs that come in the purple bag?
Those questions aside, I'm here to tell you that you should need to make these cookies. They are the main reason why I'm happy that mini egg chocolates are available all year round because I want to enjoy these beyond Easter weekend. Yes, I could easily use other candy coated chocolates like M&Ms or Smarties but mini eggs just 👏🏻 hit 👏🏻 different 👏🏻 . I think mini eggs superior because of the matte finish of their candy coating, different from the glossy finish of M&Ms and other candies. This matte shell provides better leverage for my teeth to really sink into them and bite down on the crunchy coating.
I have shared a variation of this recipe a few years back as part of a larger Easter recipe blog post but after making them many (and I mean many) times, here is the updated and more perfect version of these brownie-like mini egg cookies. I also axed the addition of milk and changed when we chill the dough to make sure we get the perfect mini egg cookie every time. The additional of espresso powder is optional but the espresso deepens the flavour of the chocolate (it doesn't taste like coffee!) for a richer cookie. Unlike the espresso, the flaked sea salt for the tops of these cookies aren't optional because salt! makes! everything! better!
Here are some other recipes I will be making and sharing with family this Easter long weekend:
Carrot cake cream puffs with whipped cream cheese white chocolate ganache
The perfect (to me) sugar cookies
Ruby and white chocolate chunk cookies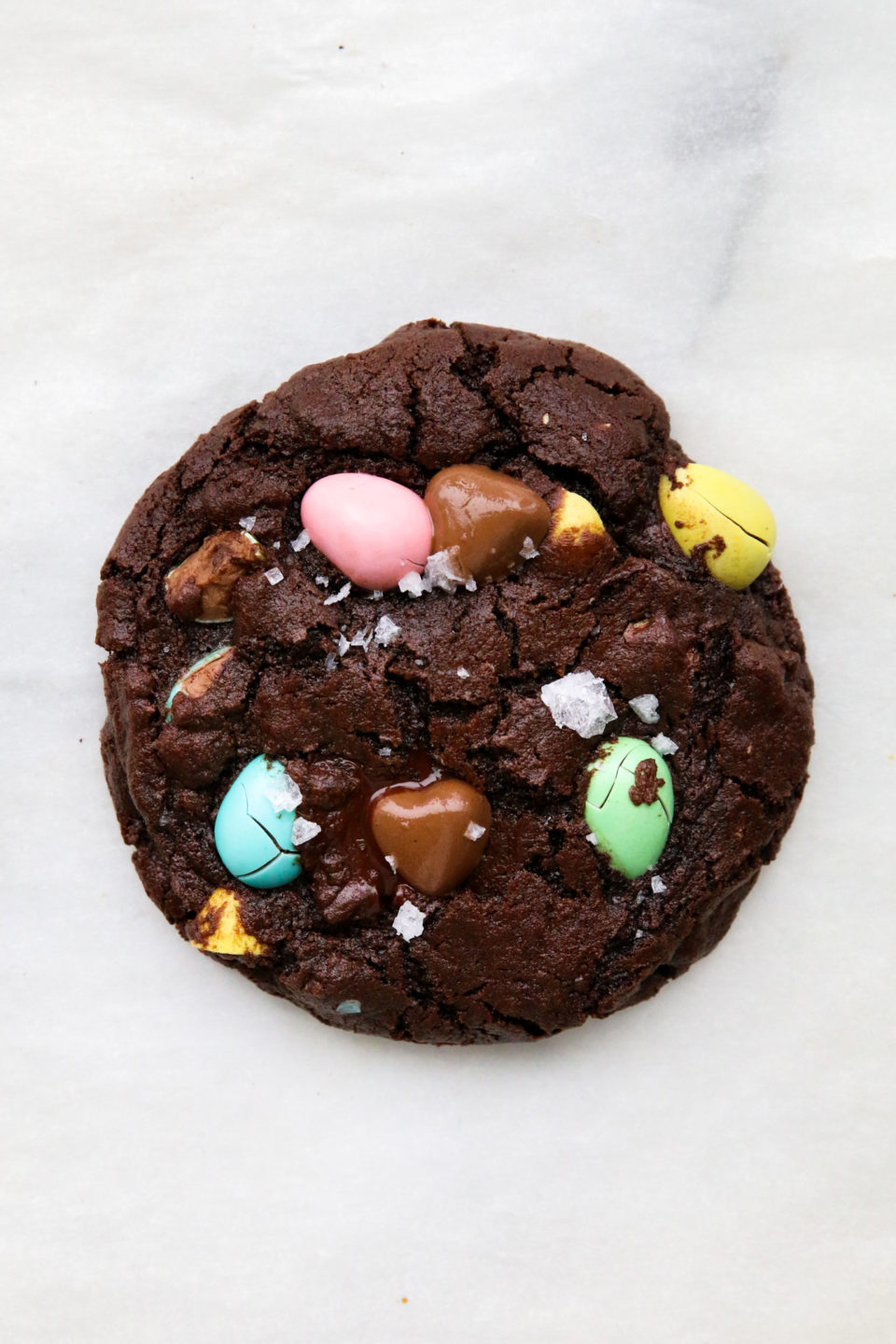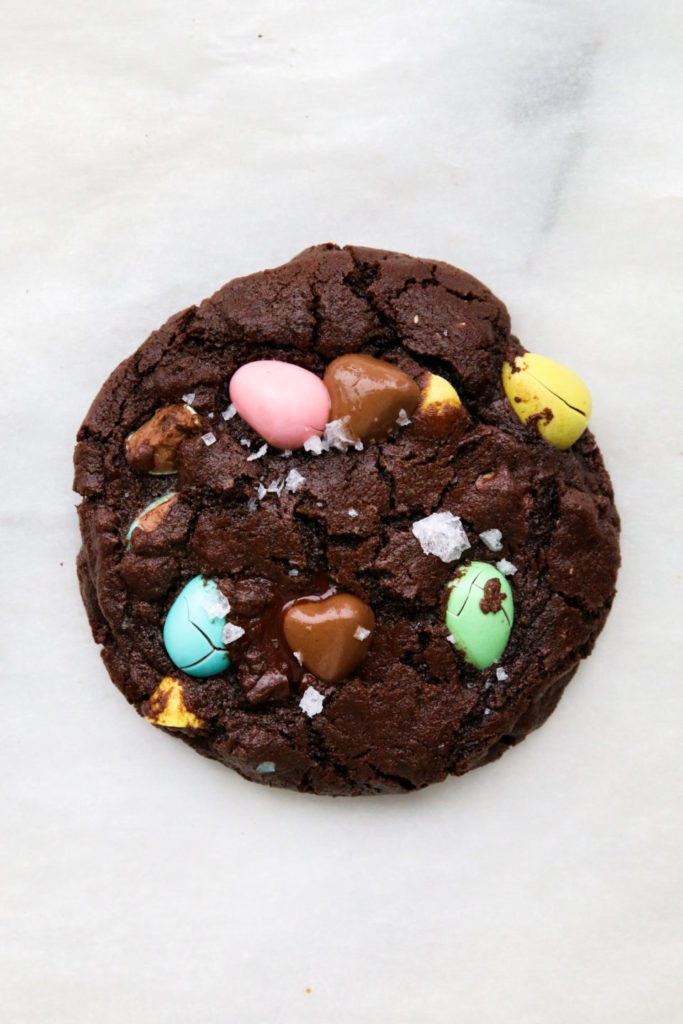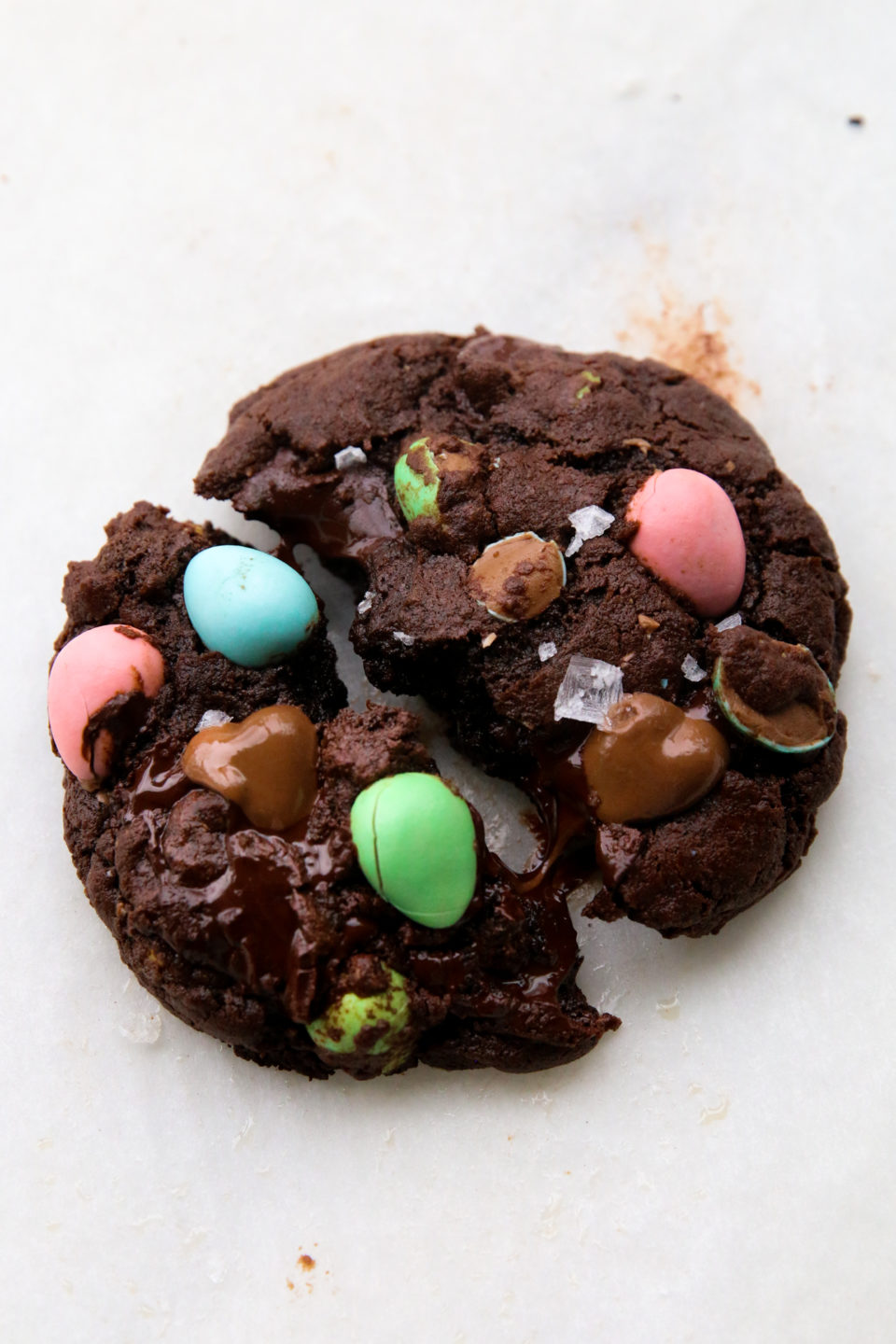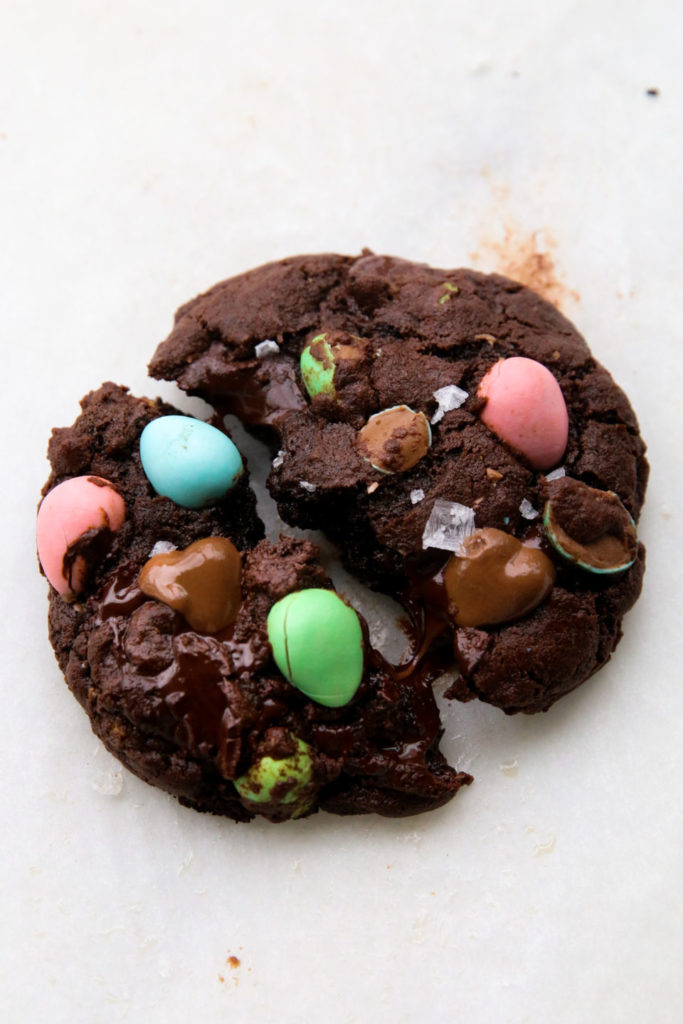 Mini Egg Brownie Cookies
These rich, fudgey chocolate cookies are tender in the centre and crisp on the exterior. They are studded with mini eggs and dark chocolate. The espresso is optional but adding it deepens the chocolate flavour immensely and I highly recommend it. A few flecks of salt to finish makes these cookies so perfect.
Ingredients
113

g

(1/2 cup) unsalted butter

,

at room temperature

100

g

(1/2 cup) brown sugar

80

g

(6 tablespoons) granulated sugar

1

large egg

,

at room temperature

1

tsp

vanilla

132

g

(1 cup and 2 tbsp) all-purpose flour

53

g

(1/2 cup and 2 tbsp) cocoa powder

1

tsp

baking soda

1/2

tsp

espresso powder

,

optional but recommended

1/2

tsp

salt

200

g

(1 bag) mini eggs

,

half roughly chopped, half whole

60

g

(1/3 cup) dark chocolate

,

roughly chopped

Flaked sea salt

,

to garnish
Instructions
In the bowl of a mixer fitted with a paddle attachment, cream together butter and sugars on medium speed until smooth, about 1 minute.

Beat in egg and vanilla. Mix until combined.

In a large bowl, whisk together all-purpose flour, cocoa powder, baking soda, espresso powder, and salt.

Add the dry ingredients into butter mixture and mix on medium-low until just combined, about 30 seconds

Add the mini eggs and chopped dark chocolate and mix on low until incorporated. Dough will be sticky.

Place a piece of plastic wrap over the mixing bowl and chill the cookie dough until it is firm to the touch, 30 – 45 minutes.

While the dough is chilling, preheat oven to 350F. Line a baking sheet with parchment paper.

Scoop out the chilled dough into dough balls with an ice cream scoop onto the lined baking sheet. Top each dough ball with flaked salt.

Bake at 350F for 10 – 12 minutes. Let cookies rest on cookie sheet for 15 minutes before moving to cooling rack to cool completely.
Notes
Recipe makes 8 large cookies or 10 medium-sized ones.
Reader Interactions