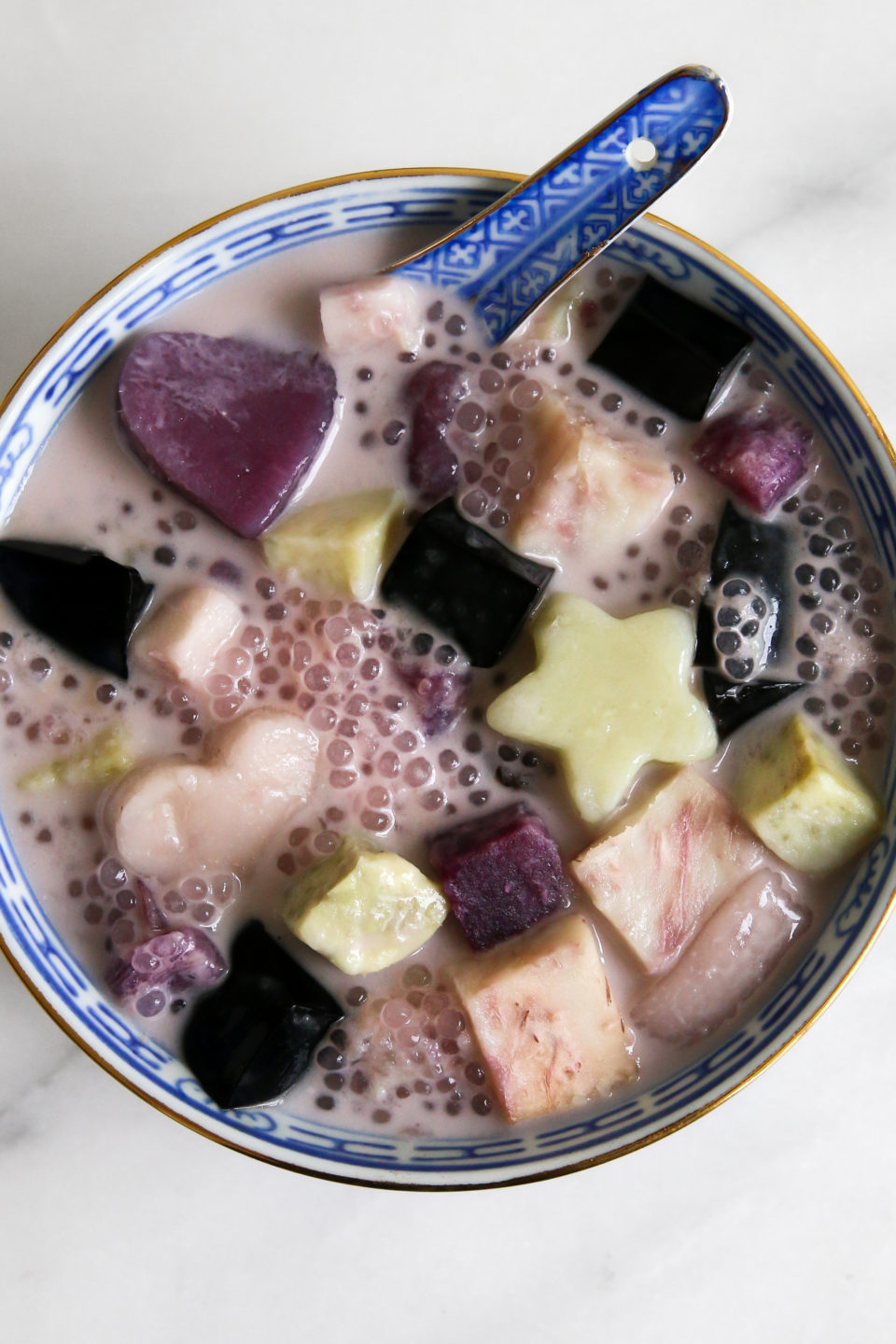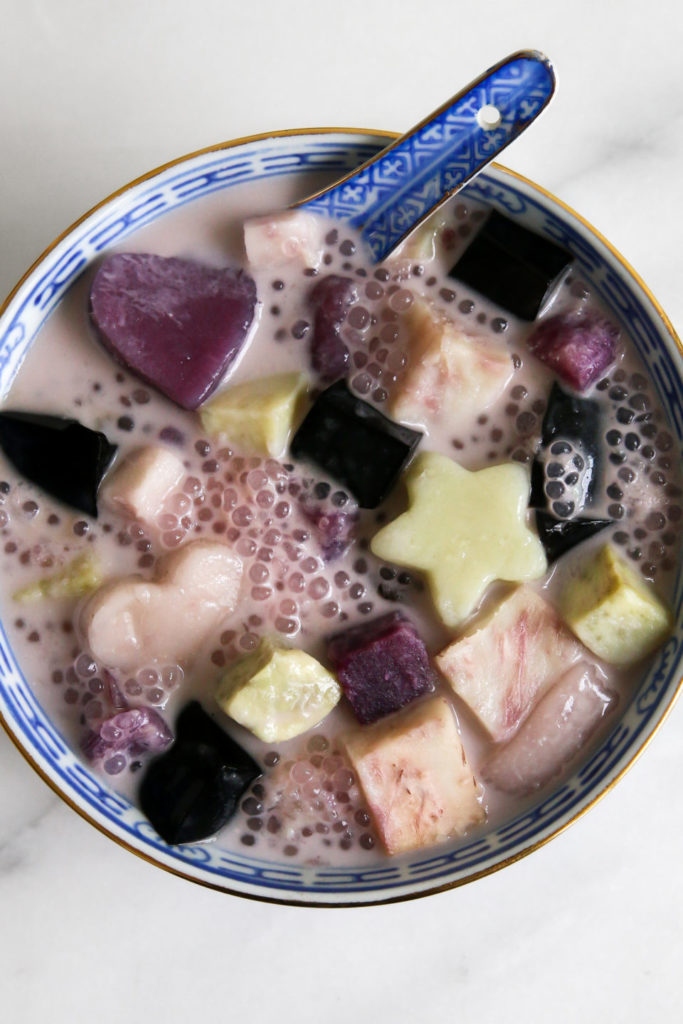 Happy Lantern Festival! Lantern Festival is celebrated on the 15th day of the first Chinese lunar month and it marks the end of the Chinese New Year (Spring Festival) period. Traditionally, people would go moon gazing and send up flying lanterns with friends and family. In addition to flying lanterns, one of the most exciting parts about the festival is eating tong yuen, or glutinous rice balls. These rice balls are filled with a sweet filling (typical black sesame paste) and served in a sweet ginger broth or a sweet fermented rice soup. My family usually serves the tong yuen in a brown sugar 'soup'. Why glutinous rice balls? The name for these glutinous rice balls has a similar pronunciation to the word for 'gathering of the family', so it is believed that eating this dessert will bring family wholeness and togetherness in the new year. Chinese New Year is all about eating auspicious foods that have names similar to themes of family, happiness, and prosperity.
Instead of serving traditional sesame-filled glutinous rice balls this year, I am adding homemade taro and yam 'balls' into one of my favourite traditional Chinese dessert soups, taro and sago pearls in coconut milk. I used my recipe for taro and yam balls, but instead of shaping them into spheres, a rolled them out with a rolling pin, and punched out heart and star shapes with cookie cutters. Because family is such an important theme during Chinese New Year, serving heart-shaped tong yuen is extra meaningful to me.
This recipe for taro coconut sago dessert soup should be "recipe" in quotations. I use quotations because my parents never used a recipe for their version (it is all about taste as you go!) and Chinese dessert soup gives you a lot of freedom when it comes to sweetness level and types and amount of toppings. I listed my suggestions for how sweet I like my dessert soups (which is on the lower side) and how much topping I like in them (higher than usual). If you like to have more taro root in your dessert soup, add more! If you don't like grass jelly, add more sago pearls instead! If you don't want to make your own taro balls, use store bought! Chinese New Year is all about abundance and you can add as much toppings as you like. To those that celebrate Chinese and Lunar New Year, I hope you had a wonderful and safe celebration this year and may Year of the Ox bring you and your loved ones so much happiness.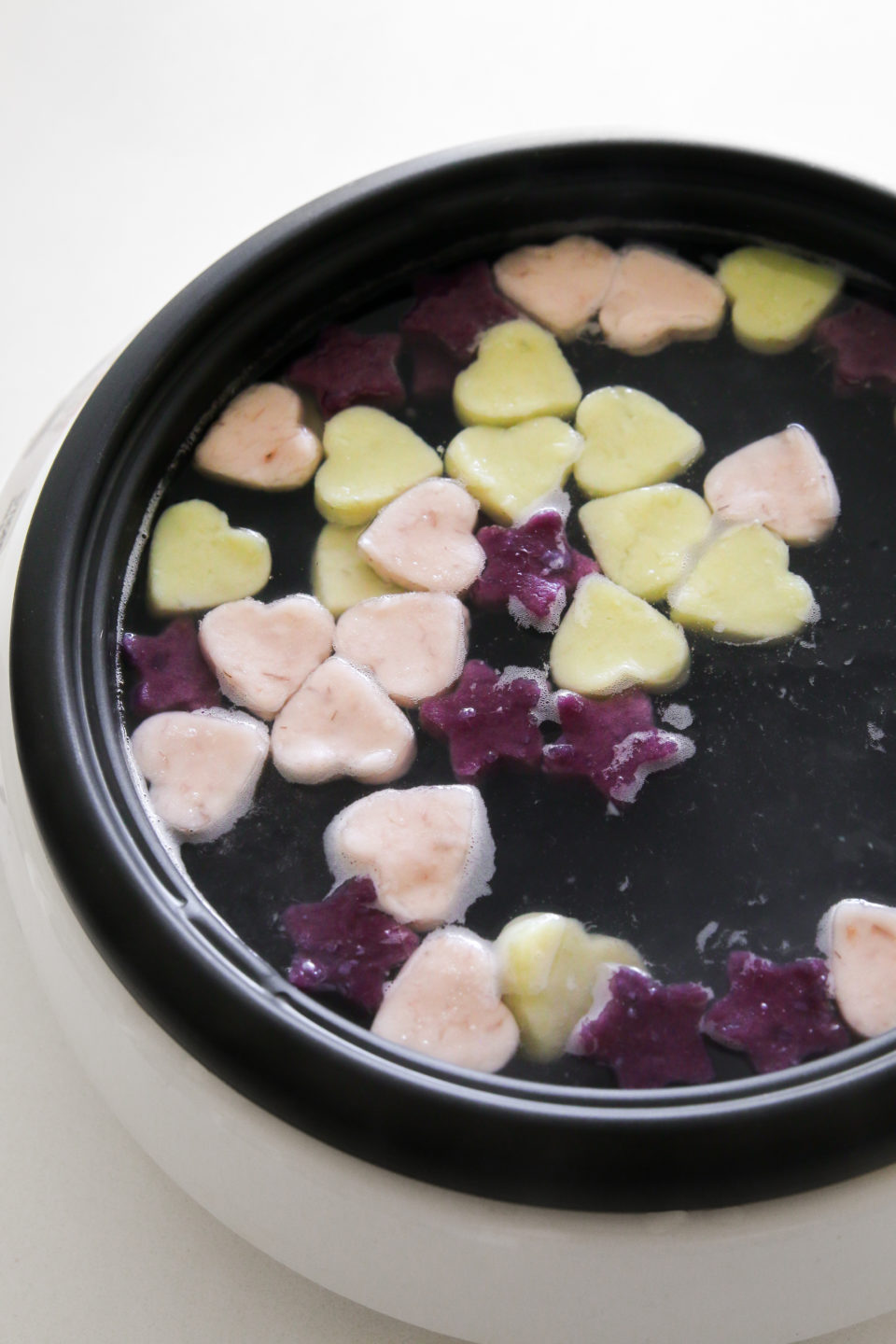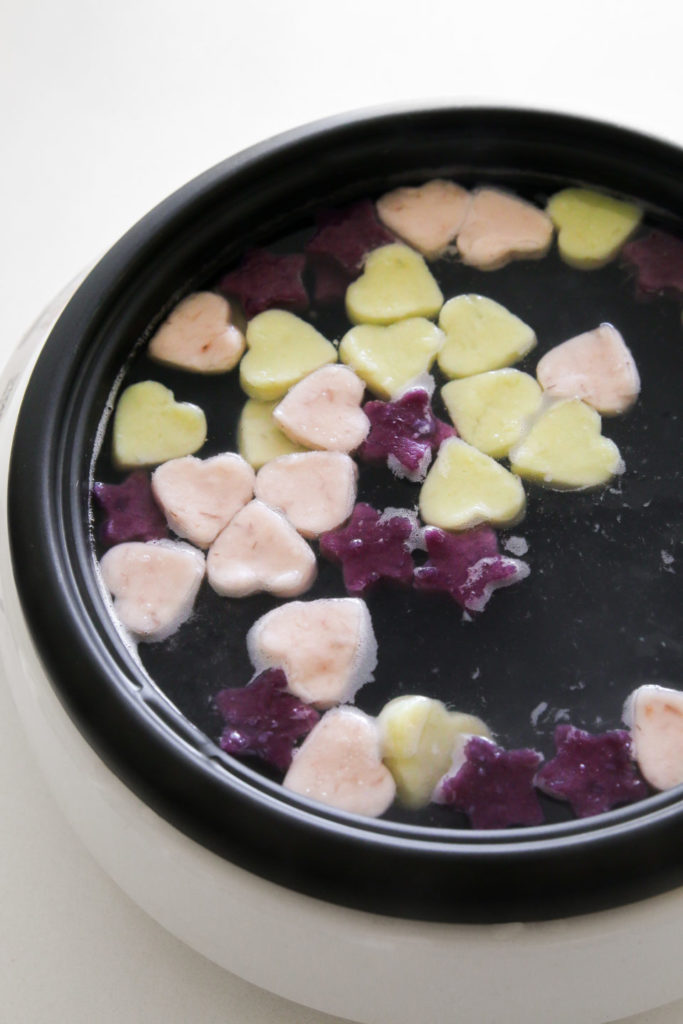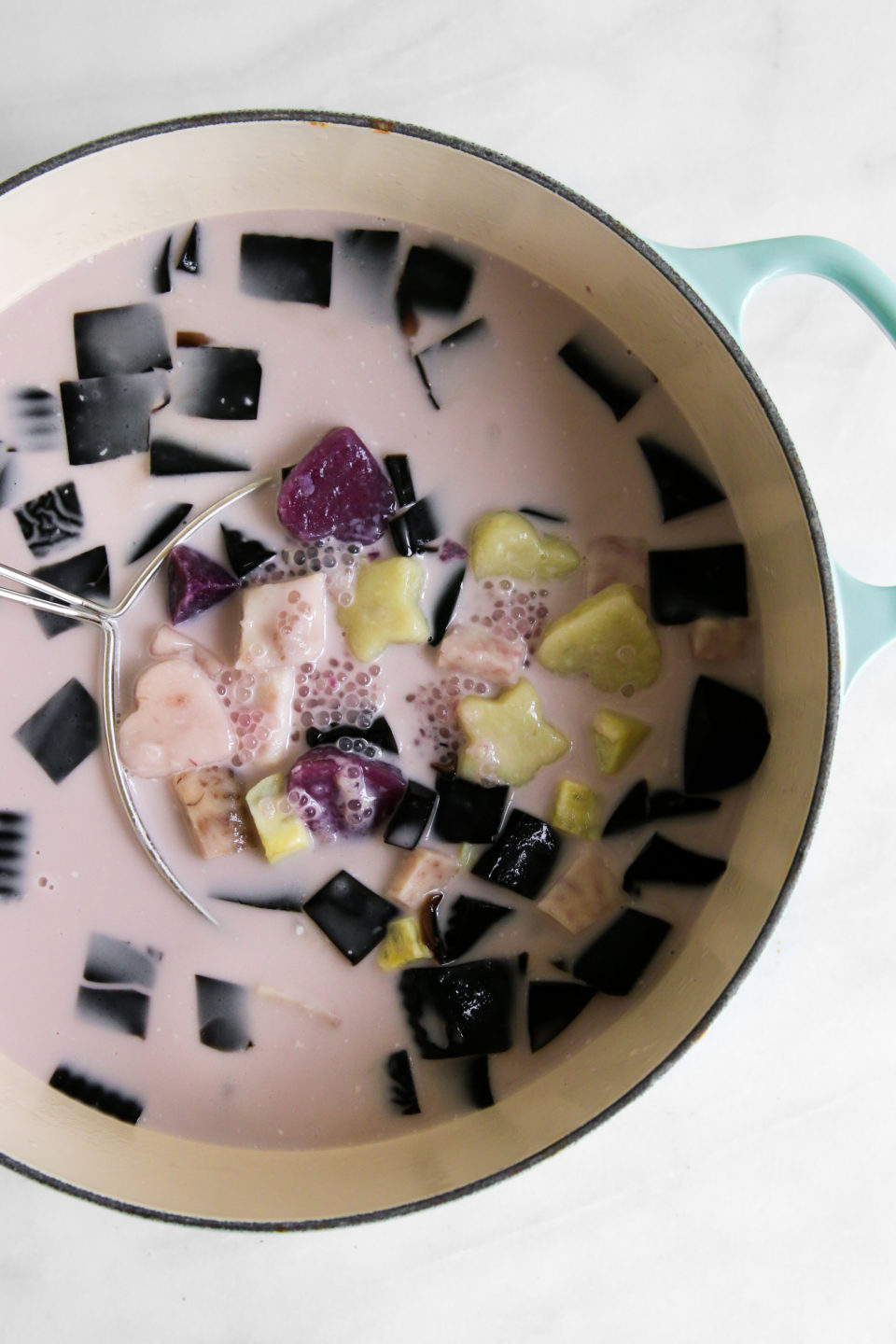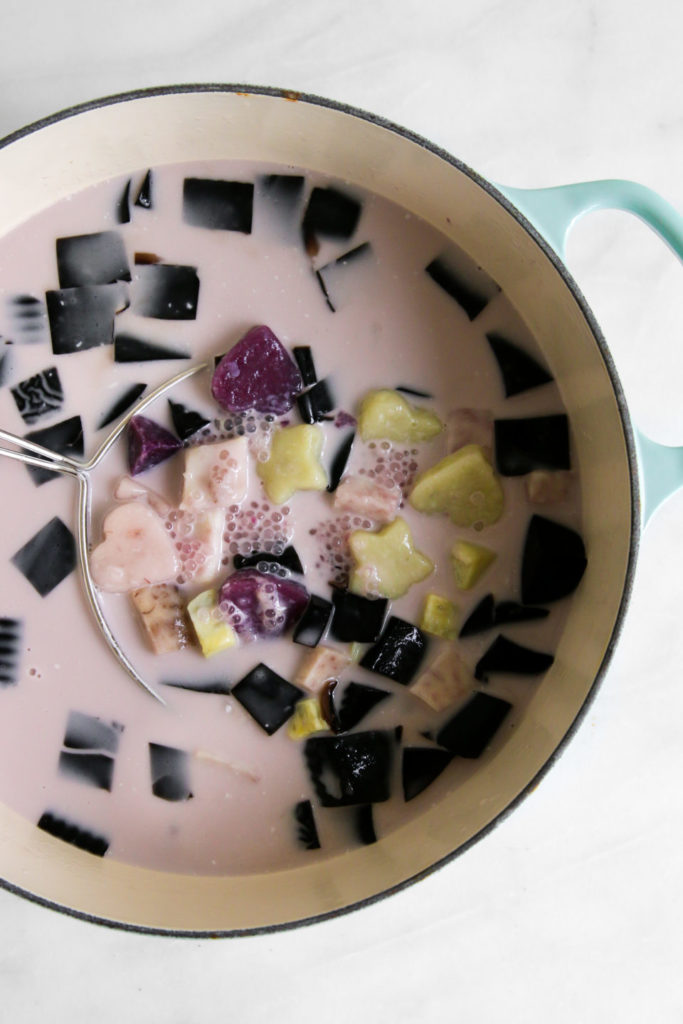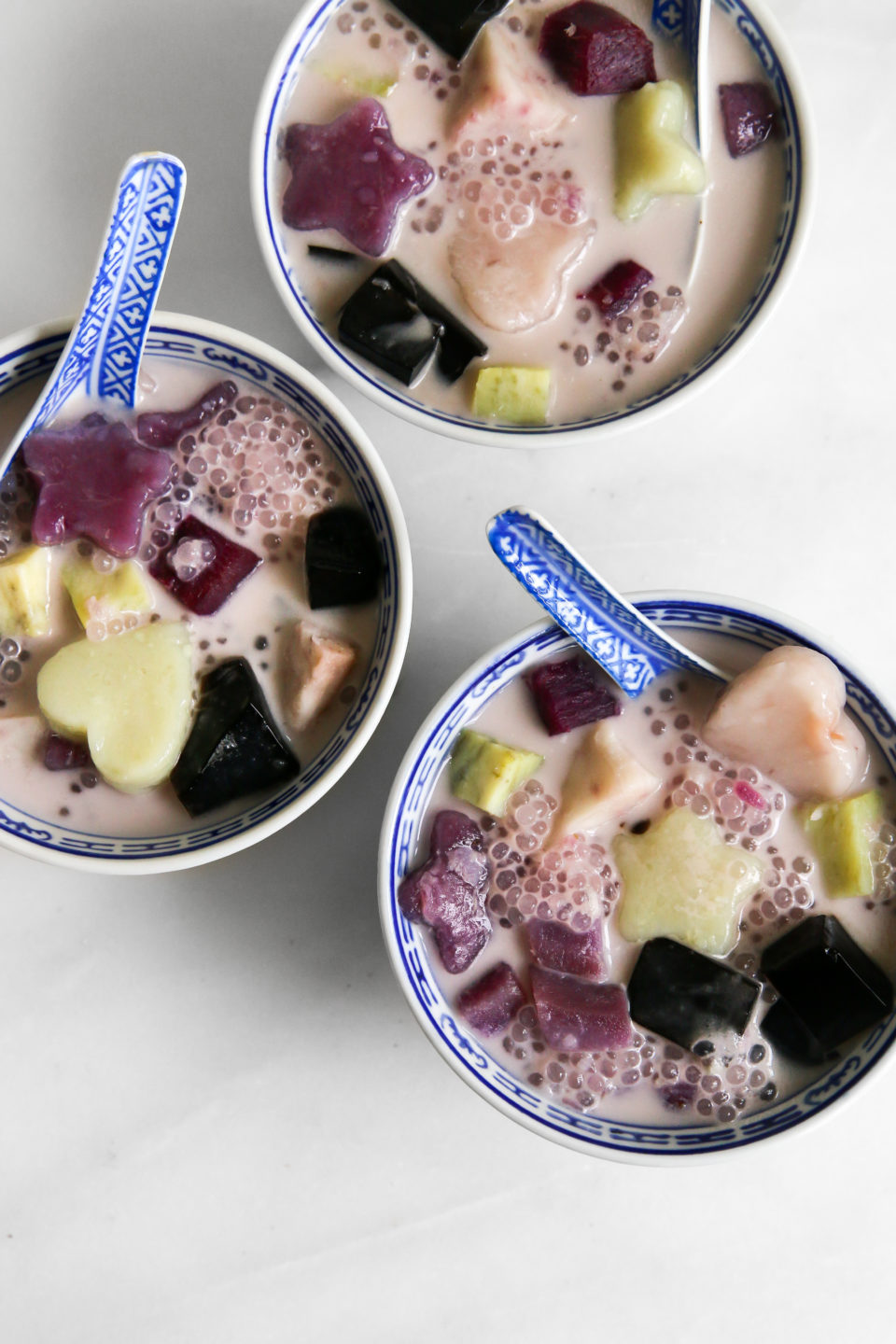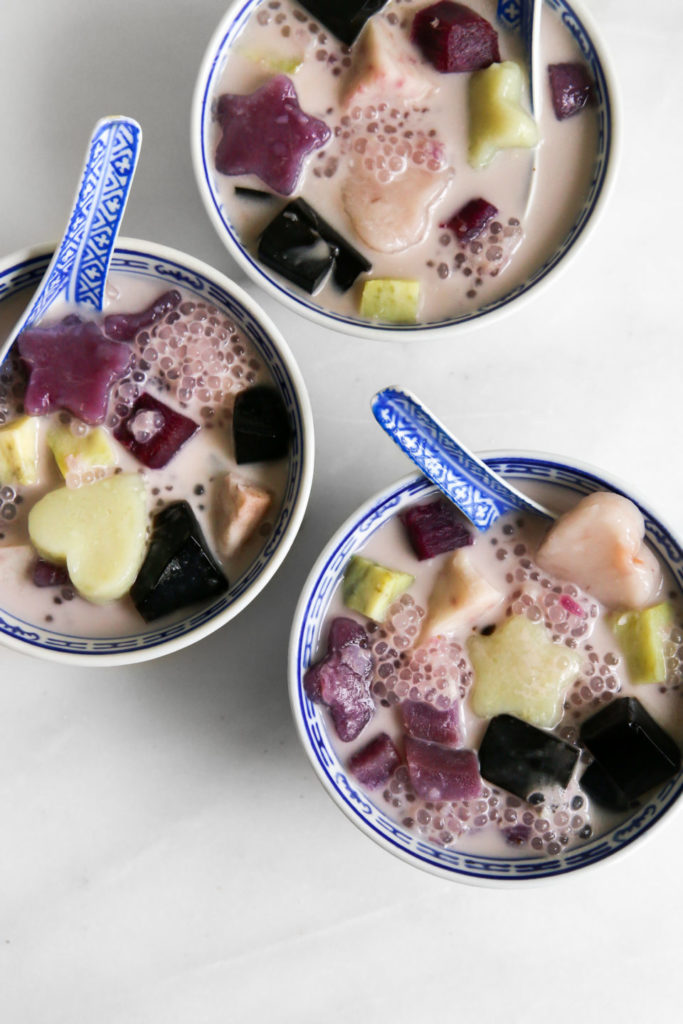 Taro Coconut Sago Dessert Soup (椰汁芋頭+芋圓西米露)
This creamy coconut milk-based "soup" has many treasures in it: cubes of taro, sweet potato, and purple yams, homemade taro and yam balls (tong yuen), sago pearls, and grass jelly. One of my favourite things about Chinese dessert soups is that you can add any toppings you like — these are some my favourites!
Ingredients
Coconut Milk Base
1 1/2

cup

(355ml) coconut milk

1 1/2

cup

(355ml) whole milk

1/3

cup

(67g) granulated sugar

,

more if you like it sweeter
Toppings (*these are just suggestions!)
1 1/4

cup

(160g) taro root, purple yam, or sweet potato (or mixture)

,

peeled, cut into 1/2-inch cubes, steamed

1

cup

homemade or store-bought yam and taro balls

,

cooked

1

cup

(~half can) grass jelly

,

cut into cubes

3/4

cup

sago pearls

,

cooked
Instructions
Coconut Milk Base
In a medium pot over medium heat, combine coconut milk, milk, and sugar.

Bring mixture to a boil and remove from heat. Set side.
Toppings
Peel taro root, purple yam, and sweet potatoes. Dice into small 1/2-inch cubes. Steam under tender and a fork or toothpick pricks through, about 10 – 15 minutes. Set aside.

In a small pot, cook sago pearls according to instructions on the package. Set aside.
Assembly
Add all the prepared toppings to the coconut milk base. Stir to combine.

When ready to serve, add the cubed grass jelly.

The dessert soup can be served hot or cold. If you want to serve the dessert soup cold, I recommend transferring the dessert soup into a container and chilling in the refrigerator for at least 4 hours.
Notes
The best thing about Chinese dessert soup is that you can add whatever and however much ingredients you like! Traditionally, this dessert soup just has taro cubes and sago pearls, but I like adding homemade taro and yam balls and grass jelly for additional flavour and texture.
You can find the recipe for my homemade taro and yam balls here. Instead of rolling the dough into balls, I rolled out the dough with a rolling pin and stamped out the shapes with small cookie cutters. I halved the recipe for this dessert soup. If you have any leftover uncooked taro and yam balls, they can be frozen for later use.
It is important that you cook all the toppings separately, and not in the coconut milk mixture. Each topping has its own cook time and tends to release a lot of starch when cooking. If toppings are cooked in the coconut milk base, it will make the coconut milk very thick and sticky. 
Reader Interactions